A lot of people like to sleep in on vacation, but I've found that on this trip, getting up early has had certain advantages.
For one thing, there's the sunrises. I know I've said it before, but it bears repeating: There's nothing better than sunrises over the ocean.
Then there's the fact that for a runner, there's nothing like killing two birds with one stone by taking in the views as you sail into a port of call while logging a few miles (and burning a few calories) on the treadmill. Whoever decided that gyms aboard cruise ships should reward exercisers with great views definitely deserves an award or something.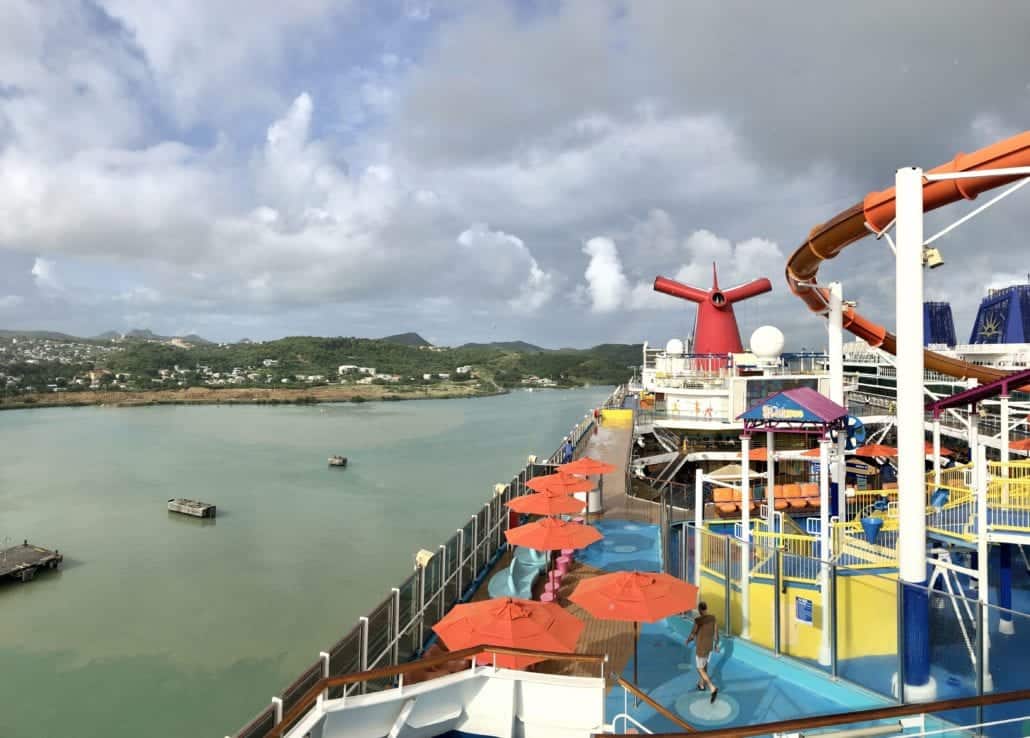 I was working up a sweat as the Carnival Breeze sailed into St. John, Antigua. Britannia — owned by Carnival's sister brand, P&O — had beat us to the port, and it was kind of cool getting to check her out.
How do the two ships stack up? Britannia is about 80 feet longer than the Breeze, and weighs in at about 15,000 gross tons more than our 130,000 gross tons.
In many ways, it's basically the same ship as Princess Cruises' Royal-class vessels. Both have a lot of balconies and a ton of public spaces. And that makes sense, given that despite being a larger ship, the Britannia actually carries fewer passengers than the Breeze.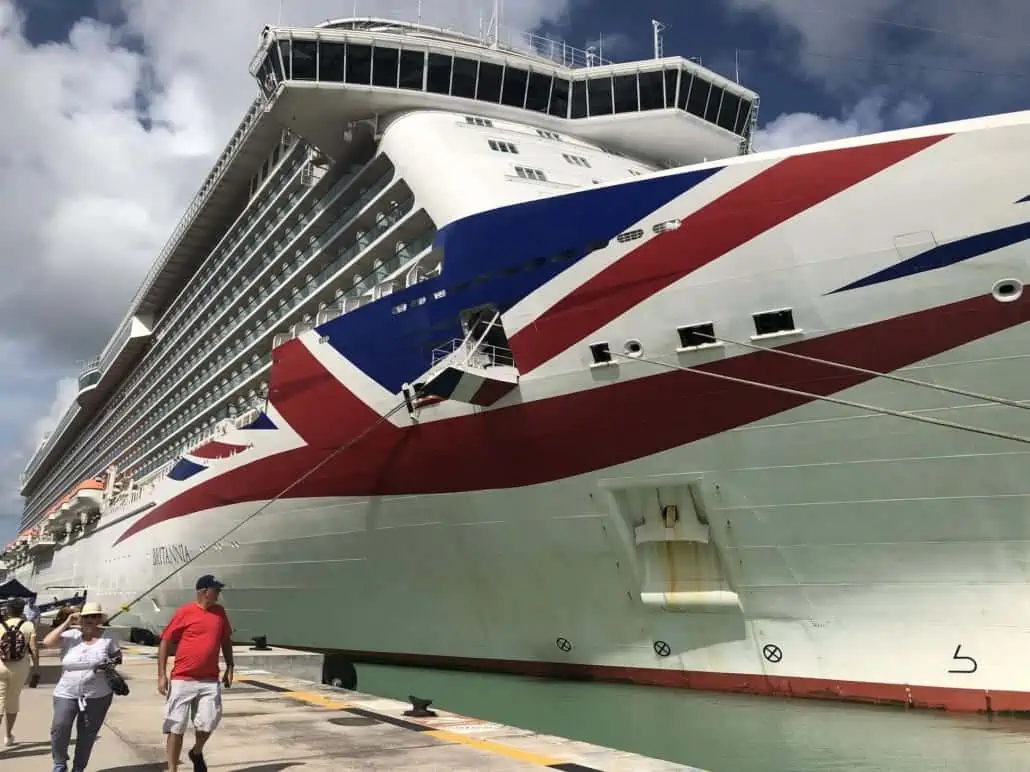 After working out, we had breakfast in the Lido Marketplace. Regular readers know that I like having a sit-down meal whenever possible, but sometimes it's just quicker and easier to hit the buffet. And honestly, they have a pretty big selection of breakfast basics: fruits, cereals, egg, bacon, sausage, waffles, pancakes, French toast, oatmeal and even an omelette station.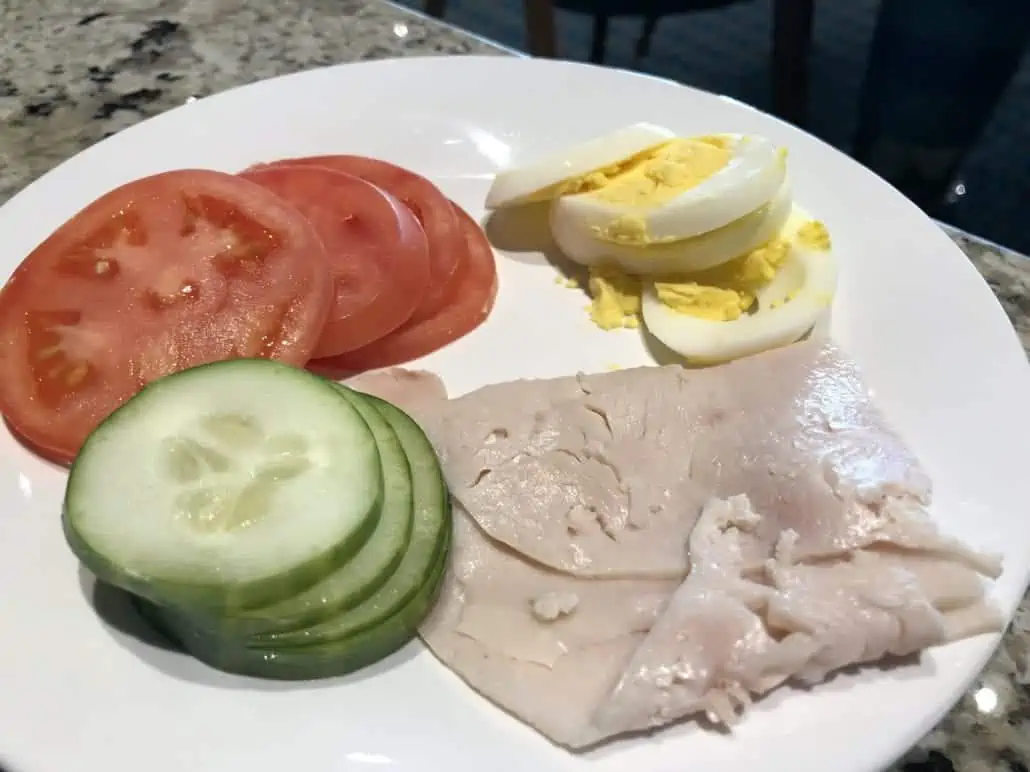 The Lido Marketplace is set up with a front and back section which mirror one another. It's located between the two pools and offers plenty of seating both midship and aft. Because our stateroom is in the aft section of deck 8, we tend to eat on the back part of the ship by default.
A First Time For Everything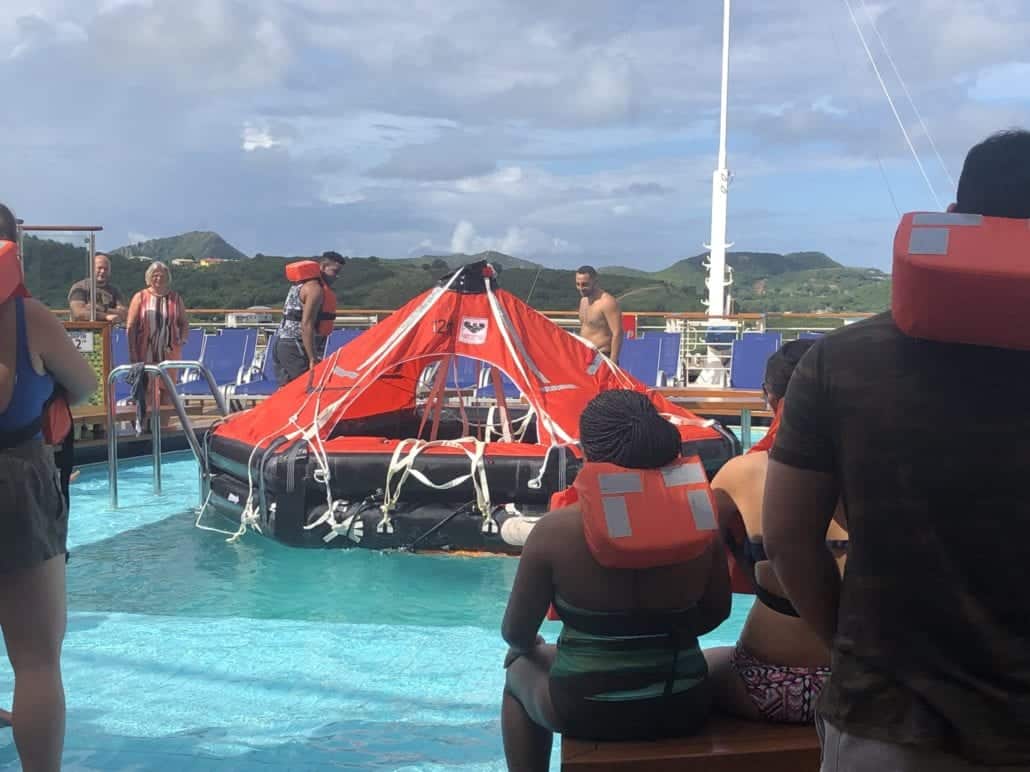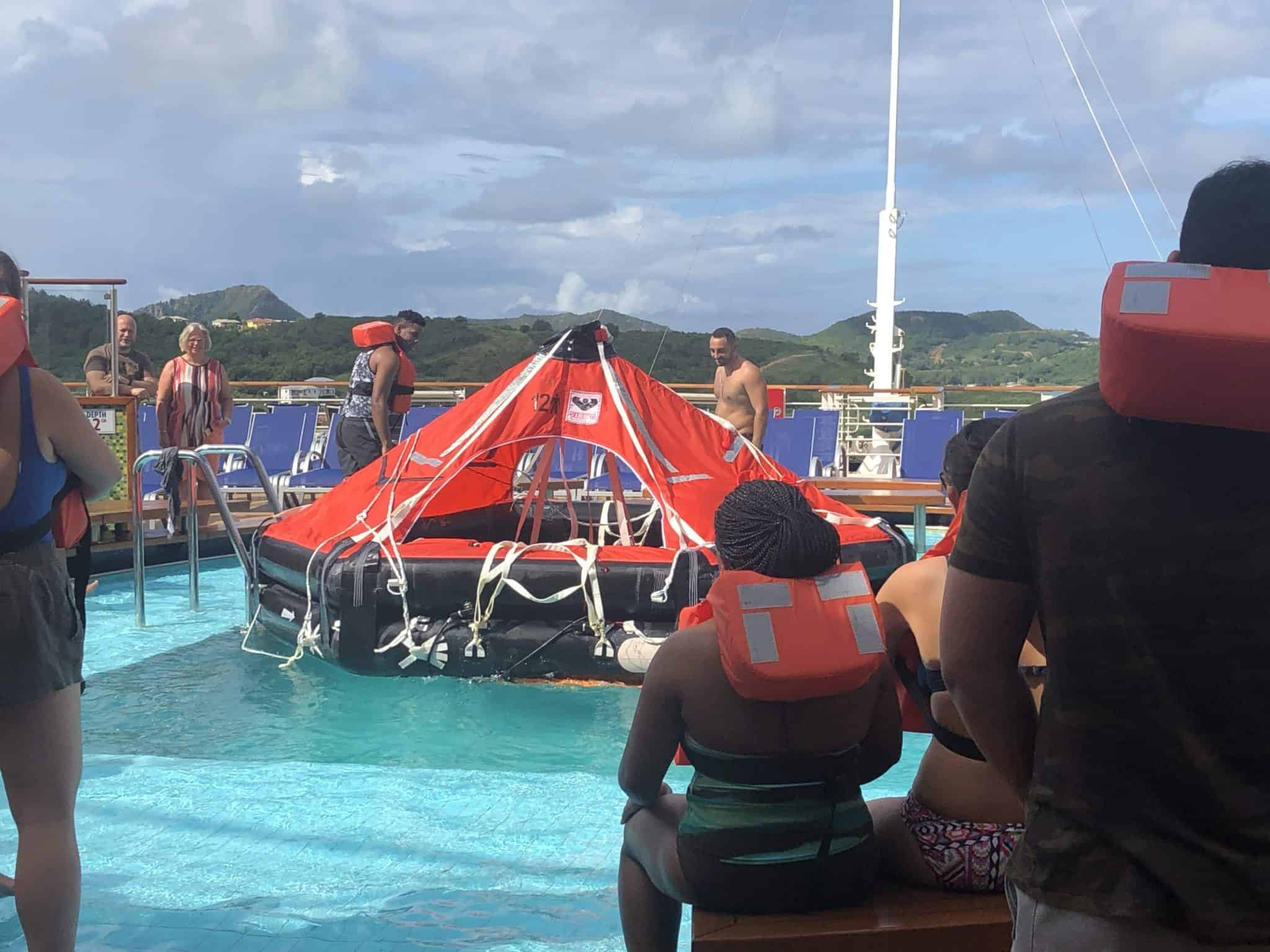 This morning was one for the books, because I saw something I never had before: The crew was doing mandatory lifeboat drill training in the aft pool. Aside from the lifeboats, ships have inflatable life rafts for the crew. Each crew member taking part in the exercise had to climb onto the upside down raft and flip it over so it sat right-side up in the pool. We sat and watched the training for a while because it was interesting to see.
At every muster drill, you hear that the crew is well-trained in how to handle emergency situations, and watching them take part in this drill proved that was definitely the case. They were quick, professional and left me thinking, "If something went wrong, we'd be in good hands."
When in Doubt, Ask The Bartender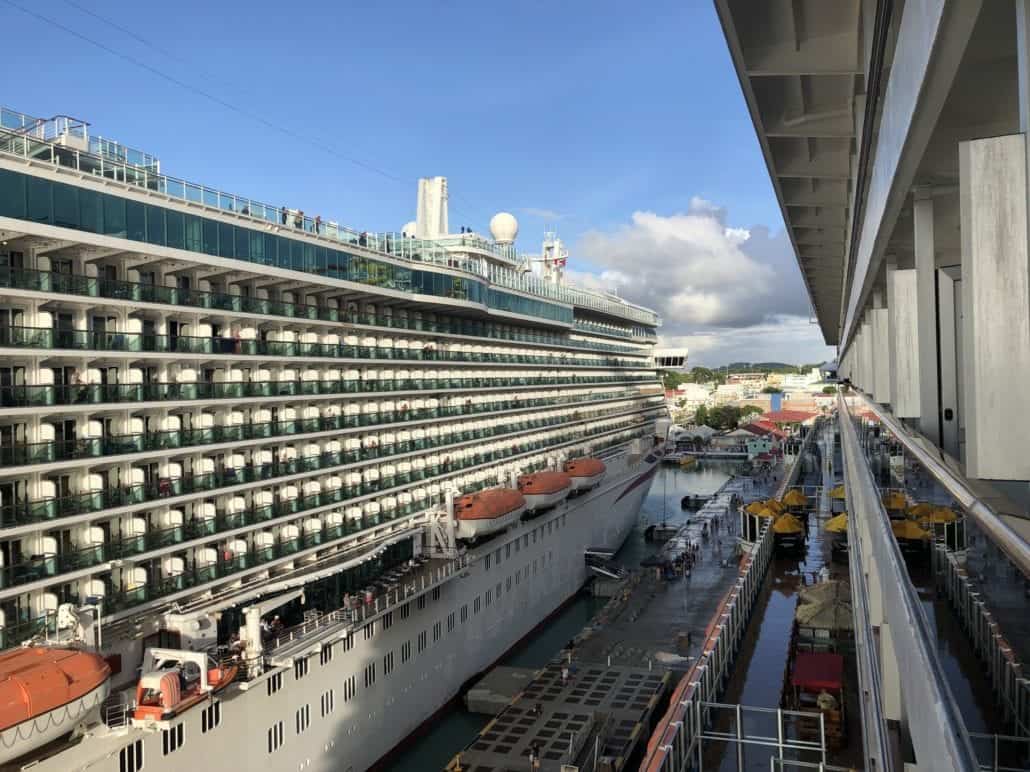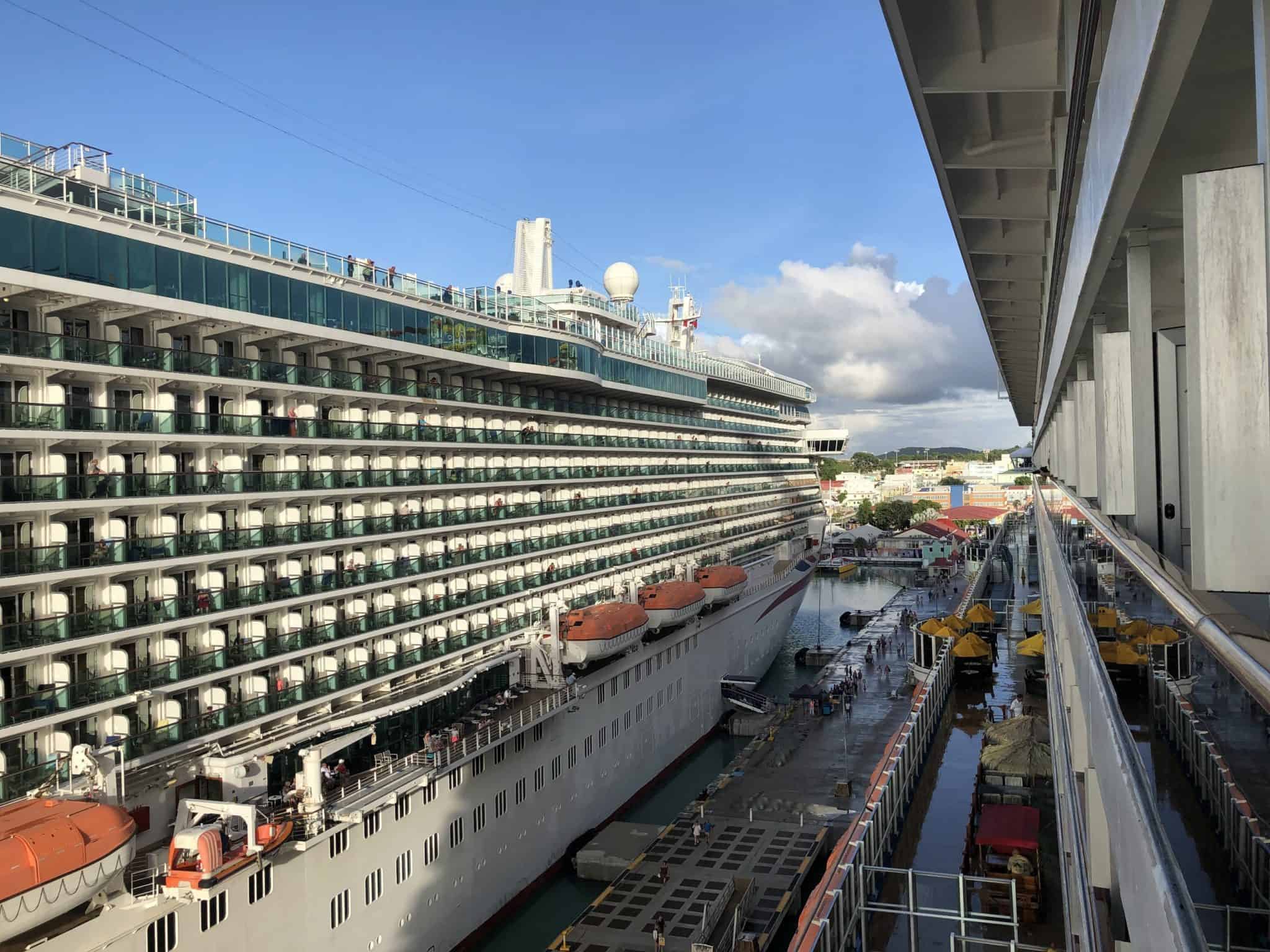 We didn't have anything planned for our day in Antigua, and I can't remember if that was intentional or if we just dropped the ball when figuring out what to do in each port. As soon as we got off the ship, we were approached by some of the aggressive tour operators who were hoping we'd pay them for an island tour. Instead, we headed to go to a local bar close to the pier called Hemingway's Caribbean Cafe and talked with locals. Who better to get advice from than a local bartender, right?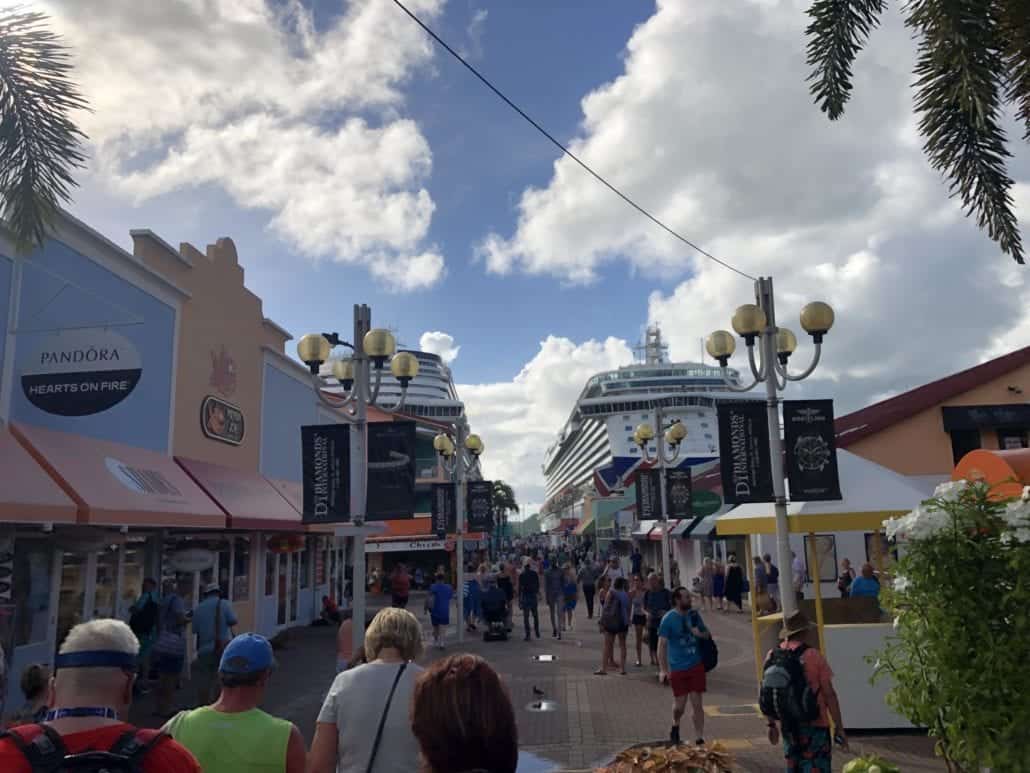 Wrong! At first, it was clear the bartender wanted no part of us. She was pretty cold and seemed about as interested in talking to us as we were in the aggressive tour hustlers out on the pier.
Having both worked in the restaurant business back in college, we knew that no bartender is in the best of moods if they're stuck opening the joint in the morning after having worked a late night.
But she eventually loosened up and suggested Darkwood Beach as a not-to-far-away place we might enjoy. We sort of assumed she rattled off the name of the first place she could think of to get the pesky tourists out of her hair, but decided to take her advice anyway.
For $20, we got a taxi to take us on the 20 minute ride to Darkwood Beach.
Life's A Beach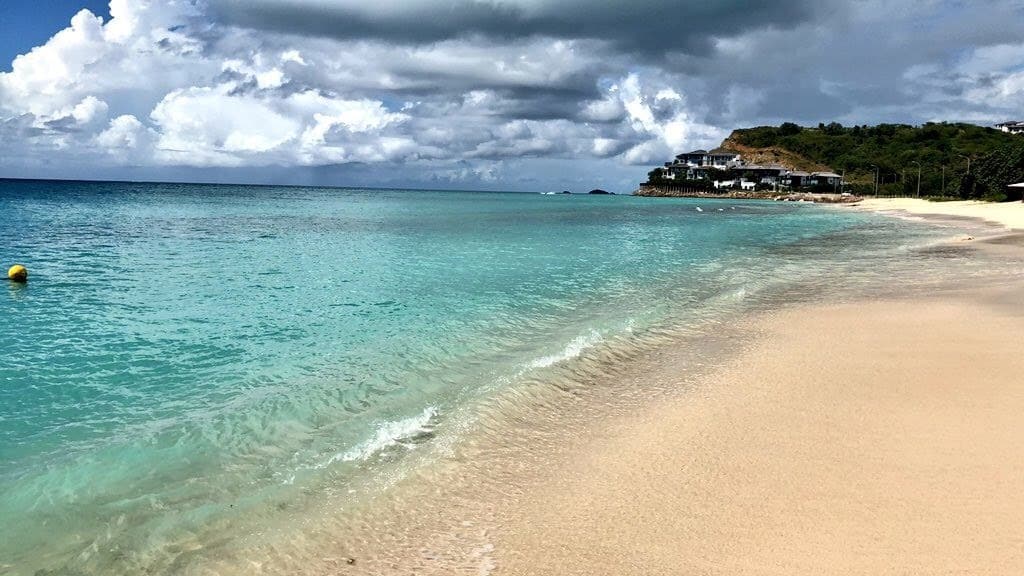 If there's one thing about blindly going off someone's recommendation, it's that you don't have any idea what to expect. Usually before going someplace you've never been, you do at least a little bit of research. But we had no clue what we were walking into. Arriving at the beach, we found two things that immediately indicated this had been a good decision: a beach bar and some of the most beautiful turquoise-blue water you'd ever hope to see.
We headed to the right, which seemed less populated, and I'm glad we did. We pretty much had the beach to ourselves for the next few hours. We rented beach chairs for $5 each from the stand and brought them to the spot we'd staked out. From that point on it was rest and relaxation.
One of the lifeguards on the beach gave me permission to fly my drone so I could get some aerial photos, and as you can see below, they came out great. They also had an inflatable obstacle course in the water (for an extra fee). The kids playing out there seemed to love it, but I saw some adults who were having a pretty good time, too.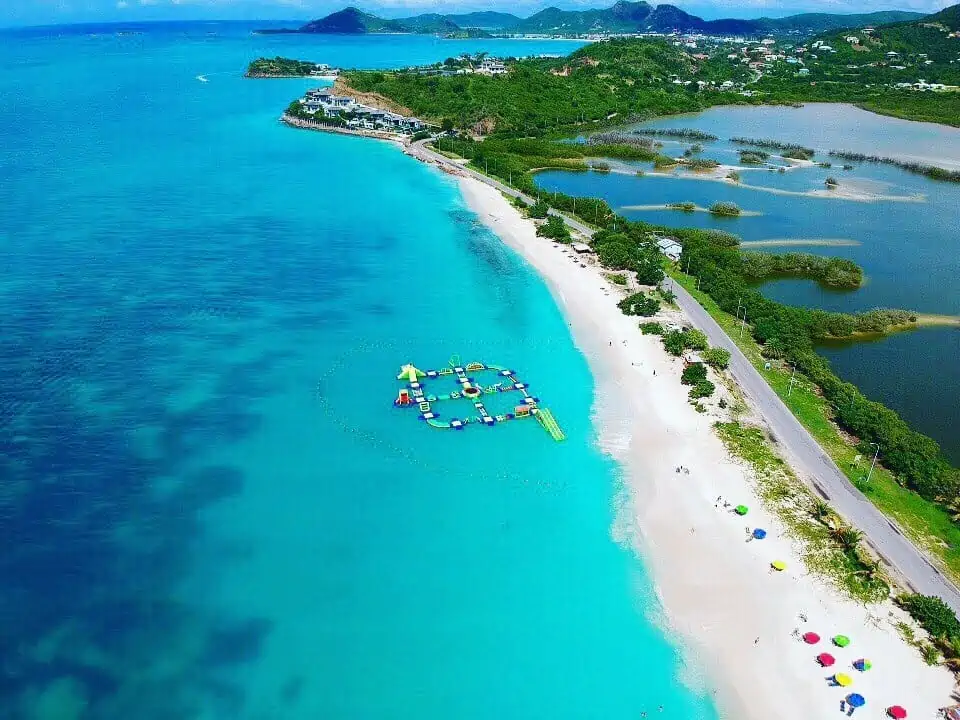 Of course, like any Caribbean beach you have people trying to sell you trinkets, hats, etc. Although, I can't throw stones at the guys trying to sell gear today because it was HOT out, and a lot of people actually bought their Antigua hats and were probably glad to have them.
Like in just about every Caribbean port, hats weren't the only thing they were trying to pedal: Don't be surprised if you're approached by someone trying to see weed, too.
Darkwood Beach has revolving taxis that will take you back to the pier for $8. The reason it was cheaper returning than going was there were only two of us in the van when we headed for the beach. On the way back, there were six people. The more people they can get loaded into the van, the cheaper the ride will be.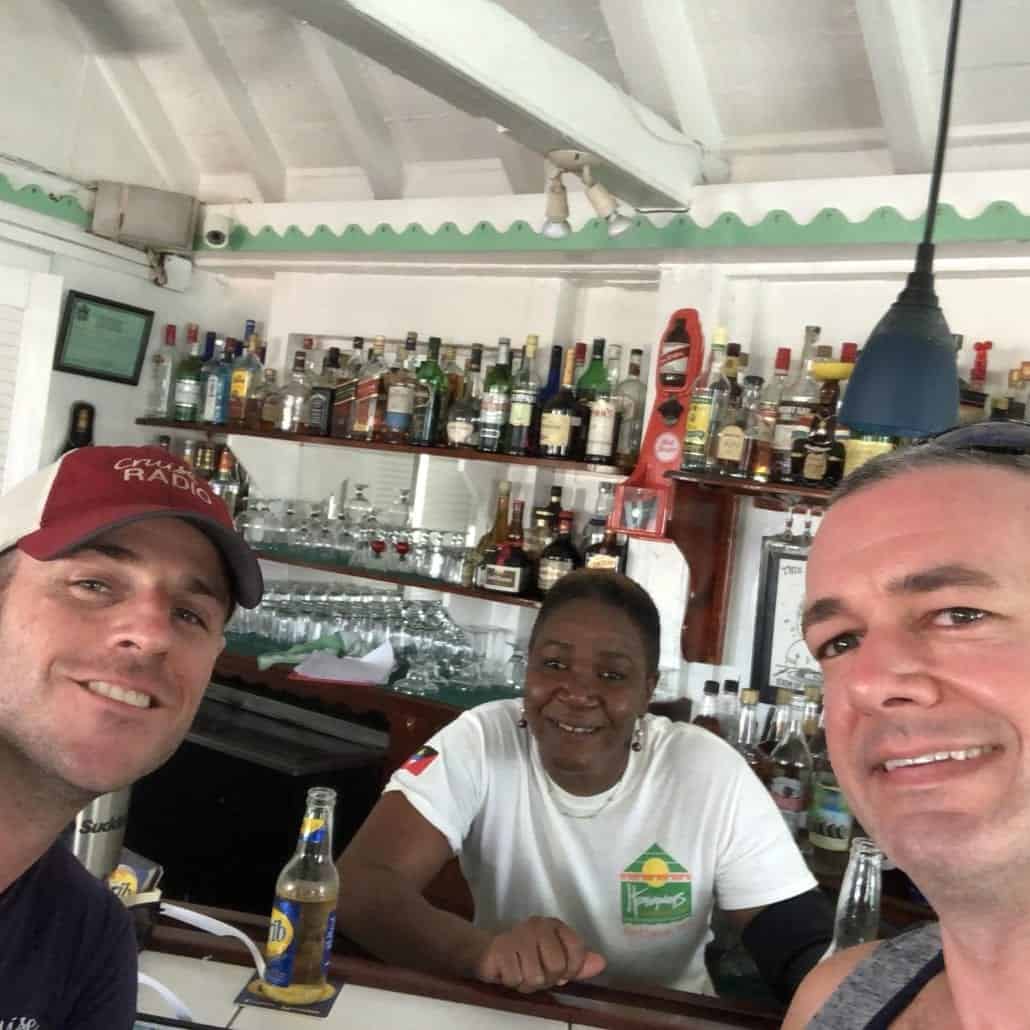 Remember the bartender at Hemingway's Caribbean Cafe who first pointed us to Darkwood Beach? We headed back there to thank her for the recommendation and grab another drink. By then, she he was in a much better mood. By the time we left, she suggested we come back and see her sometime.
To Eat, Or Not To Eat?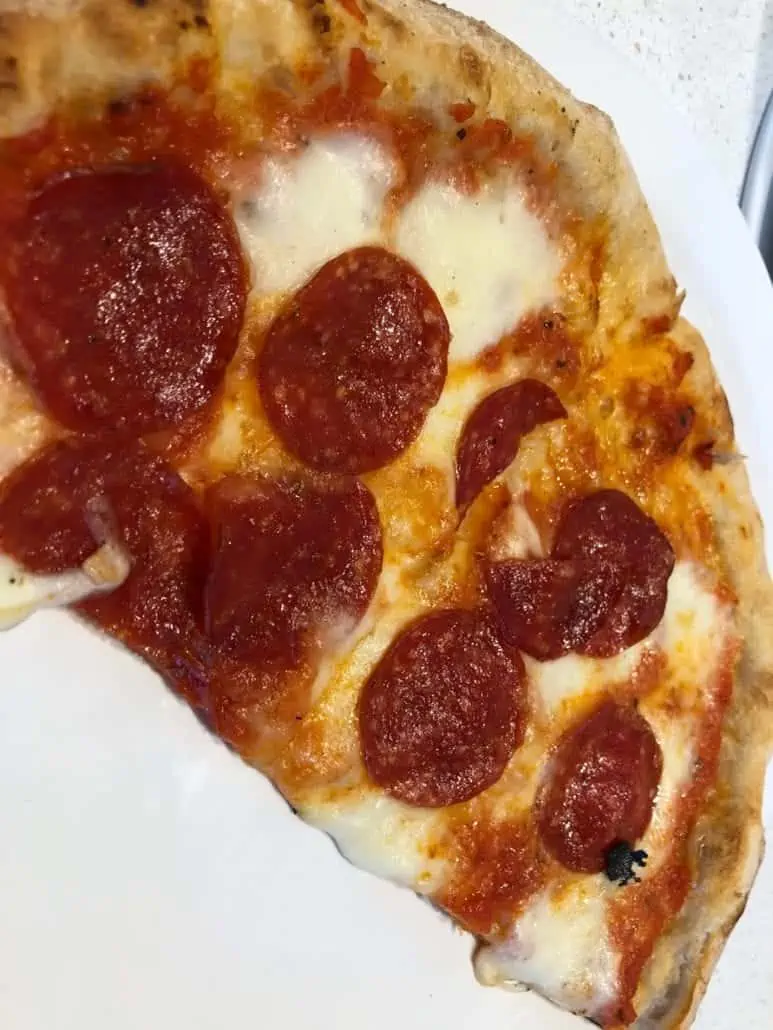 After five hours on the beach we were sun-kissed and ready to head back to the ship. We were also hungry… but when it was around 4 p.m., that is sort of like "food limbo" for two reasons.
For one thing, you're hungry, but dinner isn't all that far away. You want more than a snack, but less than a meal. Then there's the fact that your choices are basically limited to Guy's Burger Joint or pizza.  I went with the lesser of two evils by grabbing two slices of pizza.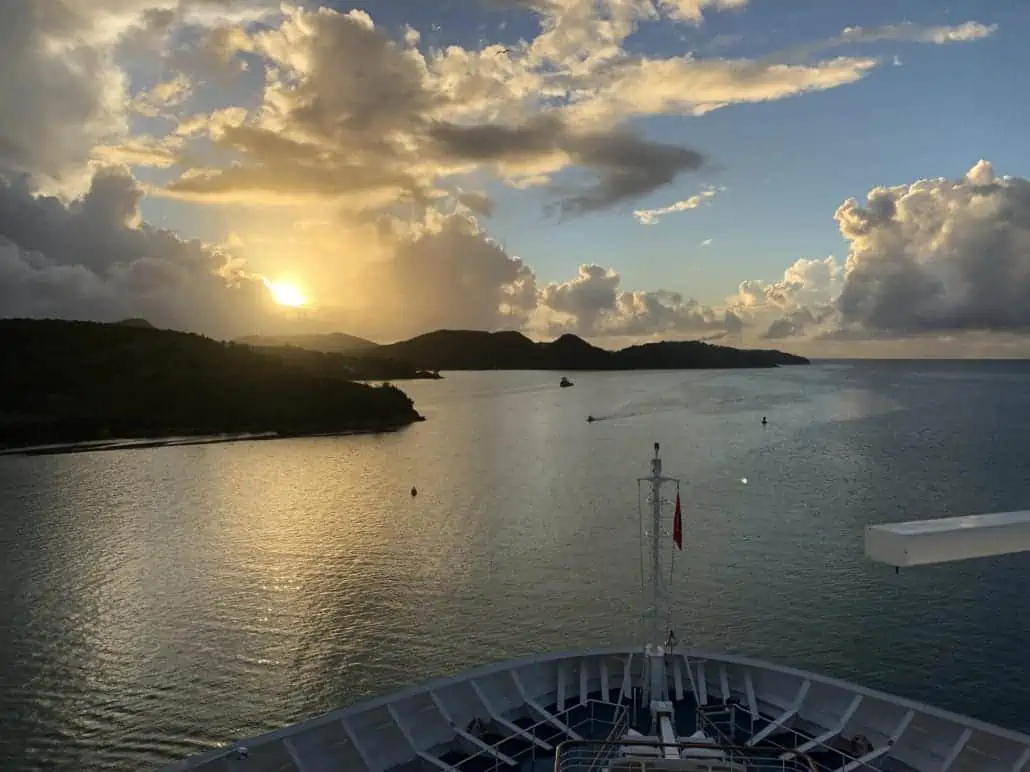 Sailing away from Antigua at sunset was almost indescribably beautiful. It's one of those things where pictures aren't going to do it justice. The P&O ship left a few moments after we did, so there was big fanfare and a massive horn battle.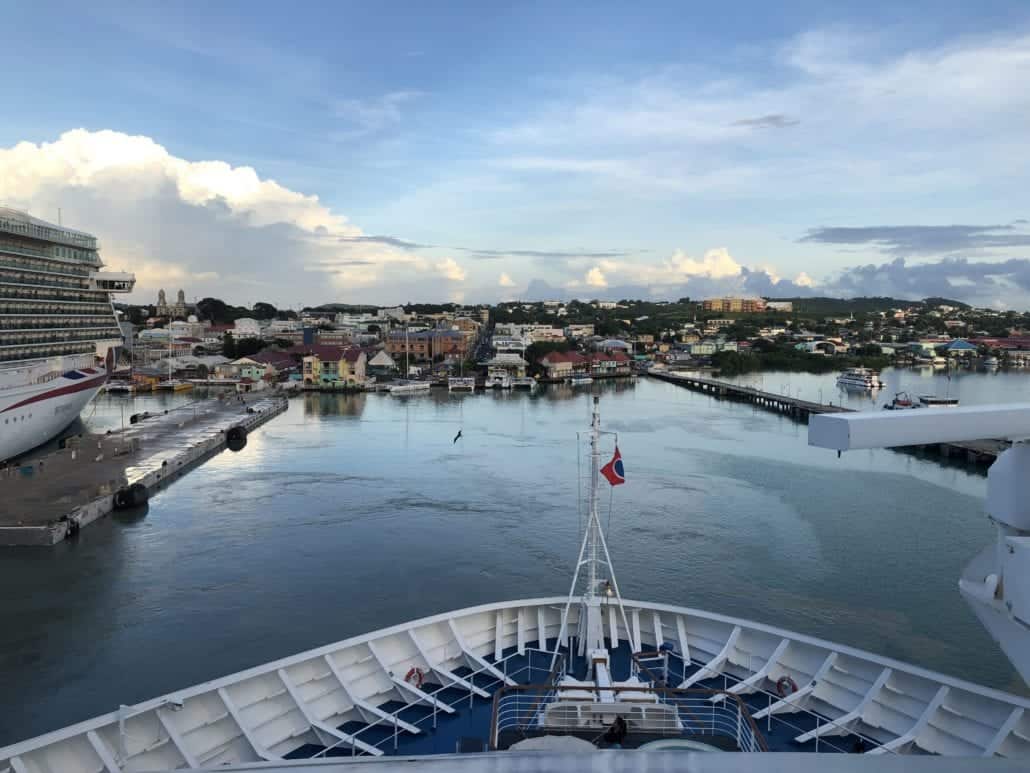 Glad I hadn't stuffed myself after getting back to the ship, we headed to the main dining room for dinner. Tonight's menu had blood sausage as the Rare Finds ("Foods you always wanted to try but haven't yet dared") item.
Just the words "blood sausage" kind of made my stomach turn, but we both ordered it anyway. When the plate arrived, I thought at first it was pumpernickel bread… but it definitely was not. (Turns out, blood sausage is basically what it claims to be in the name… sausage that is filled with blood and filler.)
Let's just say it wasn't for me, and James didn't much care for it either. But hey, we tried it.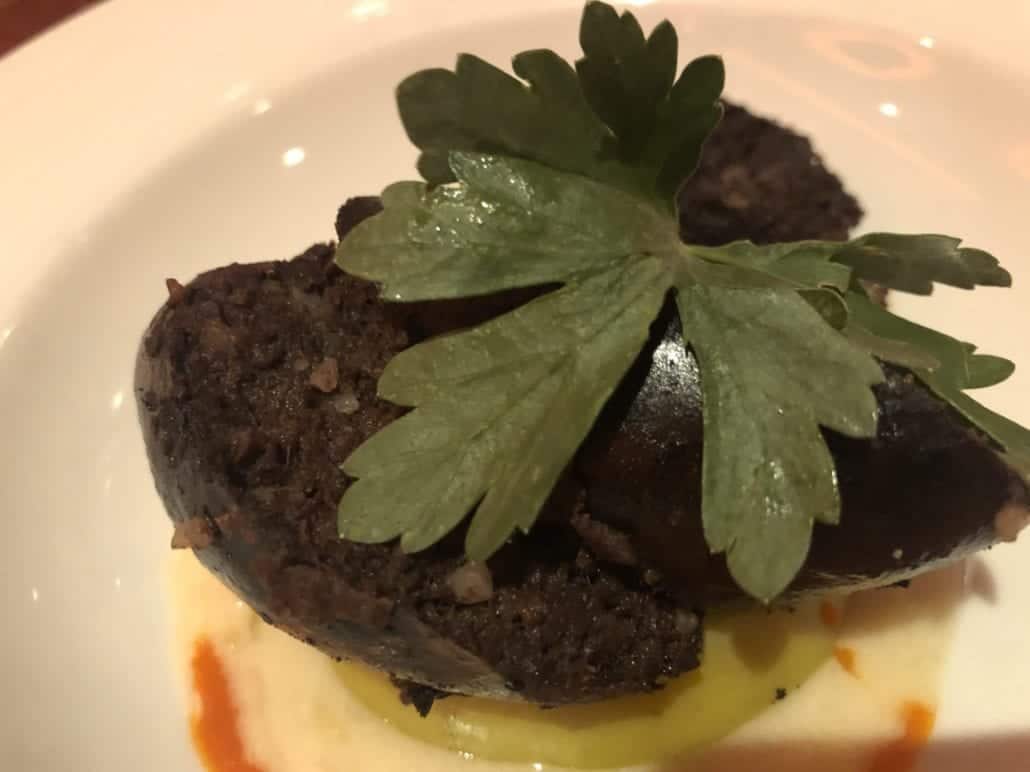 Having sort of suspected the blood sausage might not be for me, I'd also ordered a flatbread which was really good and hit the spot.  For the main course, I went with the lamb chops with green beans and mashed potatoes.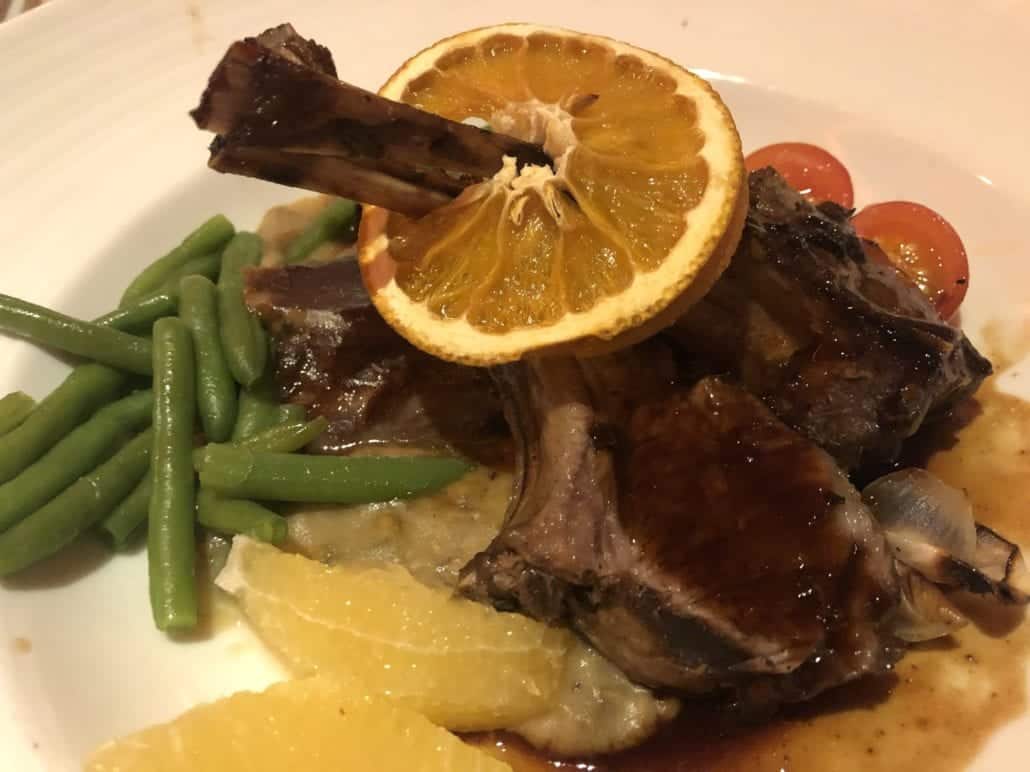 It was so solid, that I had to order another plate just to make sure my first evaluation was on point… which it definitely was. Dessert was a Salted Nutella S'mores Cake.
Listener Question: How do you plan your meals when you don't know in advance what they'll be serving each night?
This is one of the main reasons that I don't like to book specialty restaurants in advance. I want to know what the menu is in the main dining room first, because if they are serving escargot or lobster, then that's where I want to be.
READ MORE: 11 Reasons to Download the Carnival Hub App
Fortunately, all of the menus are uploaded in advance on the Carnival Hub App under dining. You can look at the menus, day-by-day, so that if you want to book a night at the steakhouse or maybe Cucina del Capitano, you can figure out which night you're not really interested in the main dining room's menu.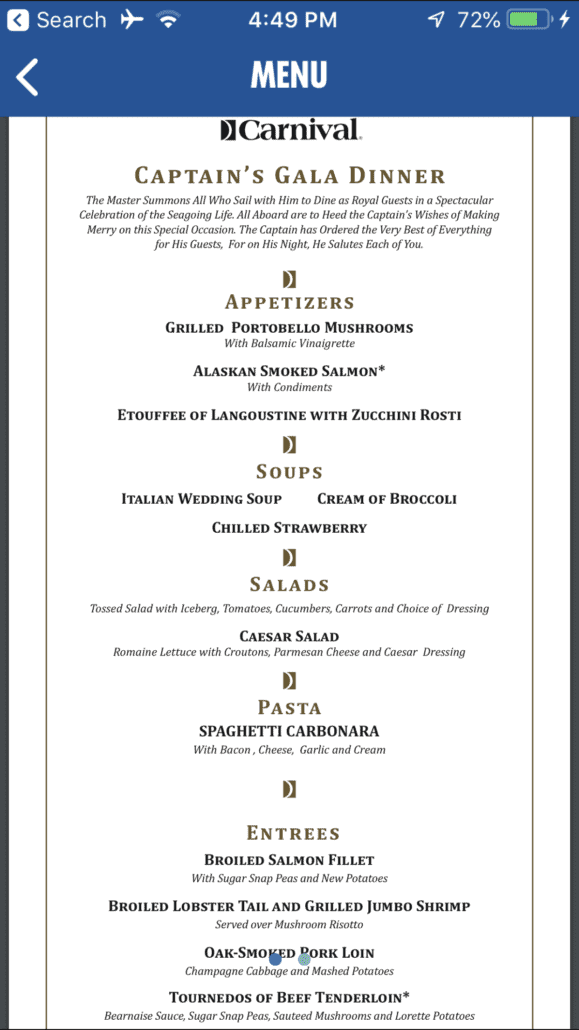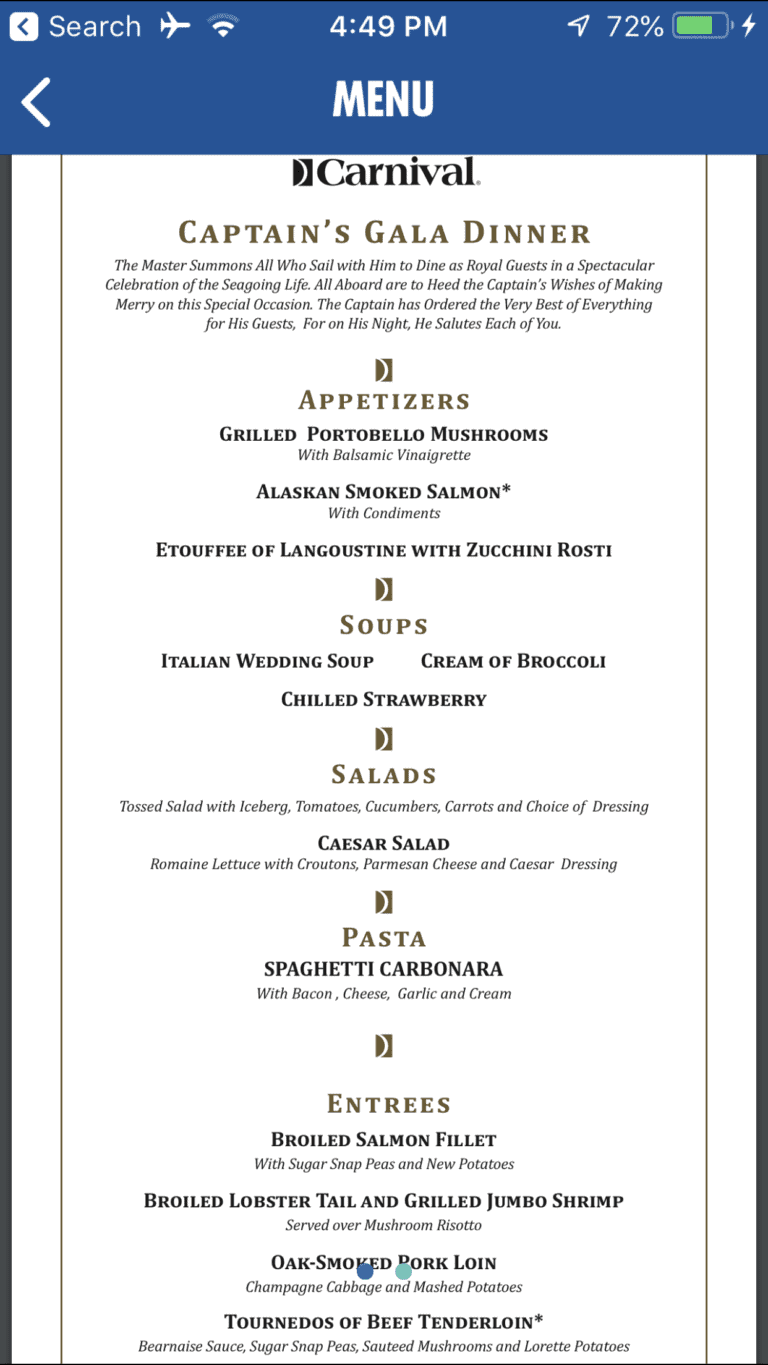 One of the main dining room menus from our throwback sea day.
Between hitting the gym this morning, swimming at the beach in the afternoon and walking around the ship, I wound up logging 9.36 miles, 20,054 steps and 64 flights of stairs.
Tomorrow is St. Lucia, so I'm calling it a night.
Read yesterday's St. Thomas trip report here.