Usually, waking up on the last morning of your cruise is bittersweet. We don't want our vacation to end, but there's a part of us that's ready to go back to the "real world." To our friends, our jobs, and lives. But today, it's all bitter, no sweet because if I'm being honest, I really don't want the trip to end.
Short and Sweet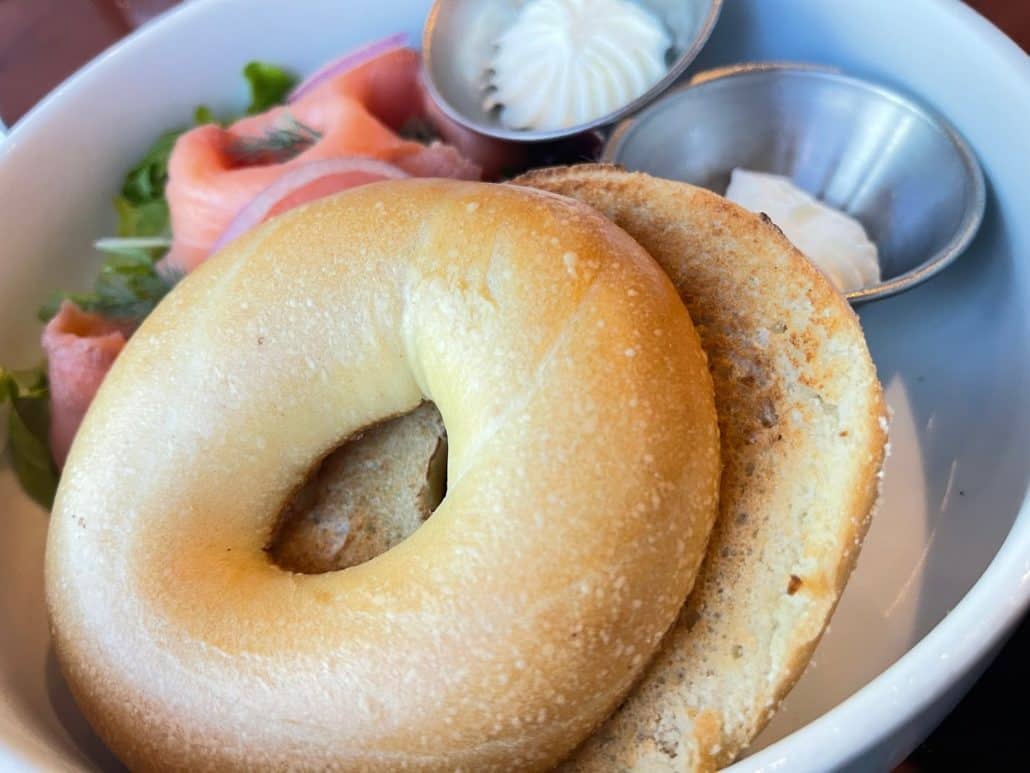 Aside from the steakhouse snafu last night, this really has been an awesome cruise. We've met some great people, enjoyed getting reacquainted with an older ship, and been reminded of all the things we love about being on the high seas. If this trip had a downside, it was that it was only a four-night sailing. 
We actually woke up early enough to have breakfast in the main dining room. I like doing that whenever possible because it just feels like a great way to start the day.
I mean, you're on vacation… why not sit back, relax and let someone else take care of everything, right? I went with my standard toasted bagel with lox and a bowl of oatmeal. I figured it was a good idea to eat something hearty, because if I learned anything during my last visit to the Bimini Beach Club, it was just how pricy the food is!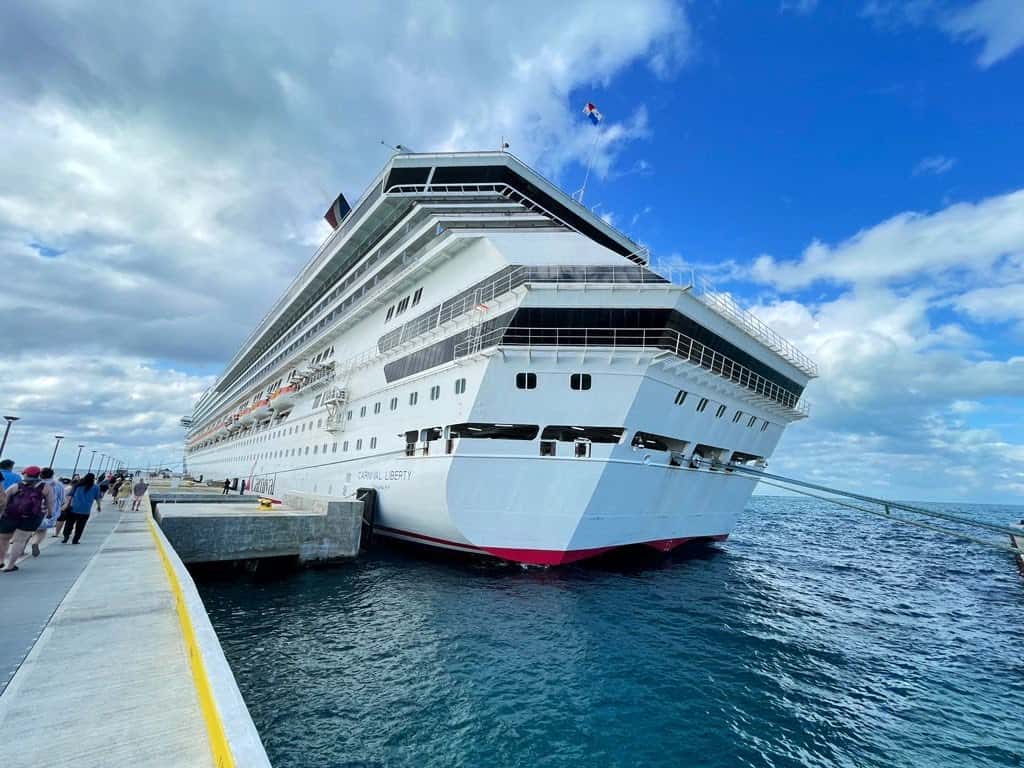 Last night was the Love & Marriage show, and one of the husbands was at a nearby table. I didn't actually see the show, but based on how popular he was with people who stopped to chat with him, he must have been a hit!
The service was fast and they kept the coffee coming, which was just what the doctor ordered with it being pretty early in the morning. We were in and out in about 30 minutes. 
A Day at the Bimini Beach Club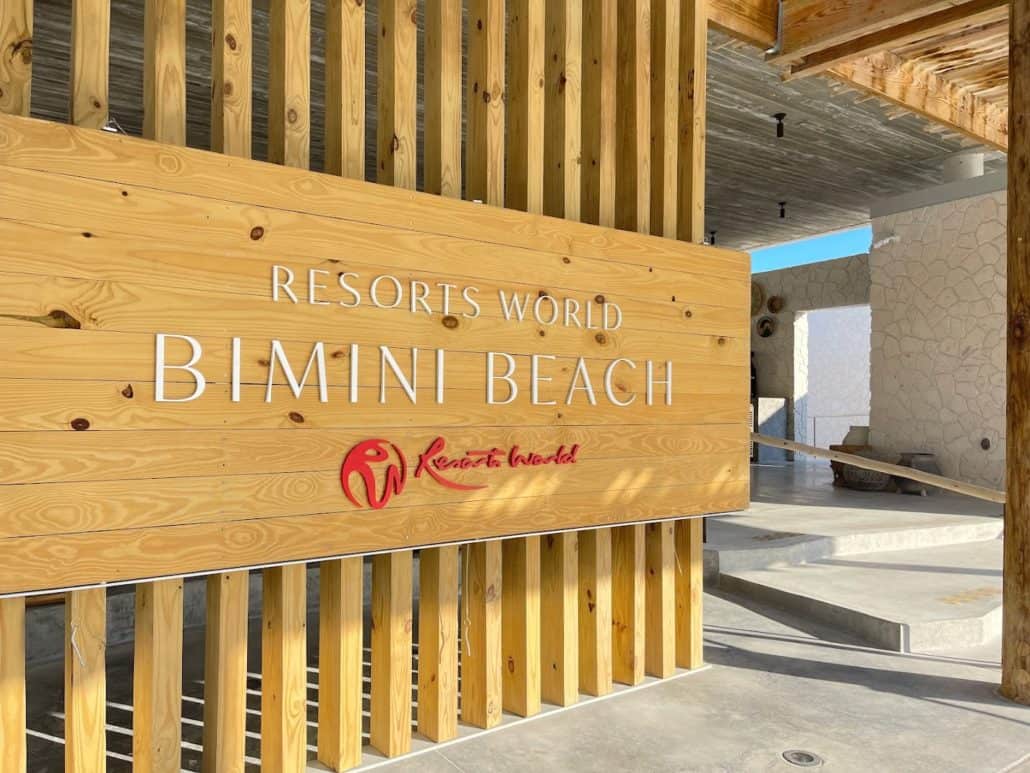 The Bimini Beach Club was originally built for the newly-launched Virgin Voyages, but then along came the shutdown. A handful of cruise lines have been using Bimini Beach Club when Virgin isn't there, including Holland America, Celebrity, and Carnival — when the weather's agreeable. 
For $99 we got the all-you-can-drink Bimini Beach Club package. If you didn't want the alcohol included, a day pass ran $39. There are other beaches around, including a public beach that doesn't cost anything, but it also doesn't have much in the way of necessities like, say, a public bathroom. This just seemed like an all-around better (and easier) way to go.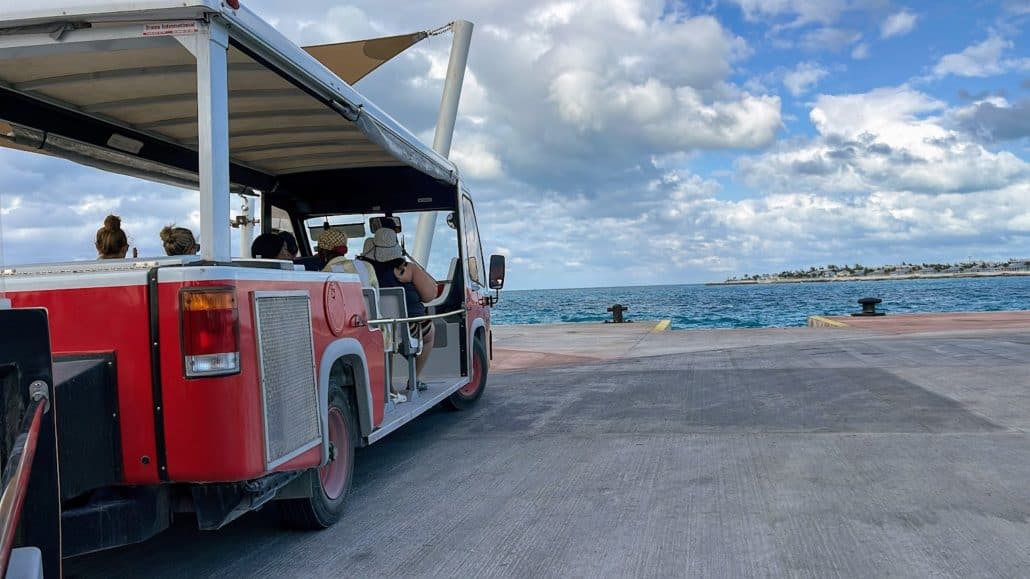 The tram picked us up at the pier at 8:30 for the 10-minute ride to the Beach Club. After being served our welcome drink, we were off to pick where we wanted to sit. There were two pools with a DJ nearby on the far right, swim-up bars, and plenty of beach chairs with shaded seating. It was all first-come first-serve. Since we were on the very first tram from the pier, we basically had our pick of spots. We settled into a great spot by the pool, underneath an umbrella and overlooking the beach.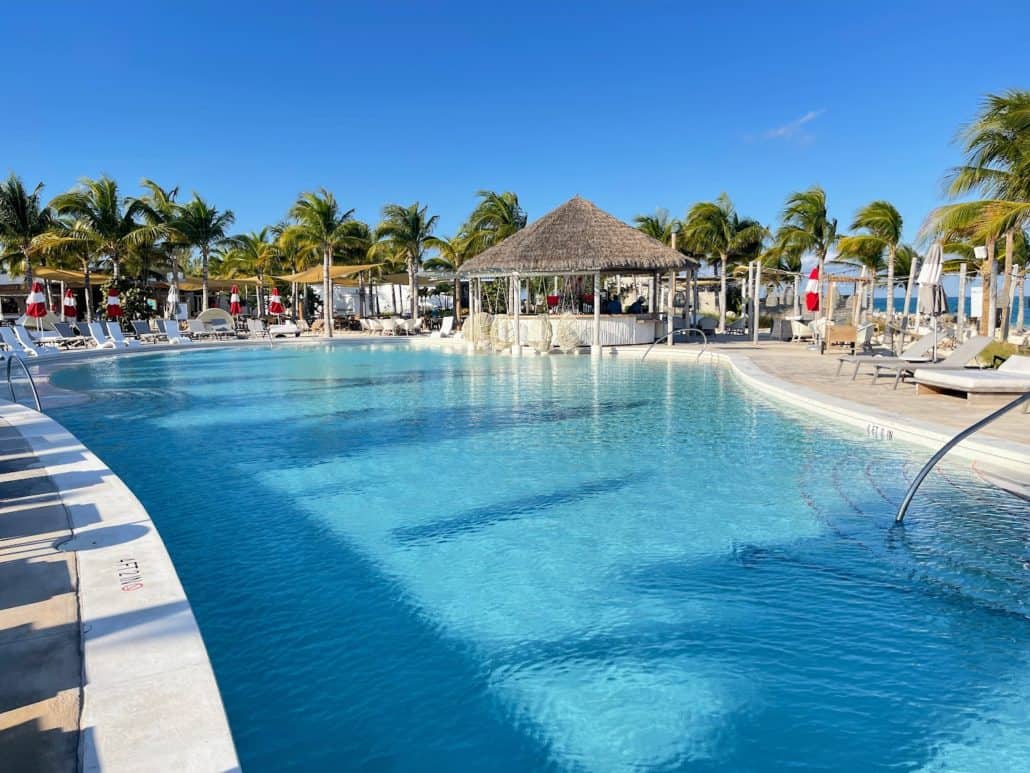 Overall it was a nice day with not a cloud in the sky until late afternoon. We hung out until about 2 p.m. before heading back to the ship. The pool and ocean were both on the chilly side, but that didn't stop us from swimming. A chilly day in the Bahamas is better than a warm day most other places, right?
If I had one complaint about the excursion, it's that they really should have made it clear that the all-you-can-drink alcohol meant well drinks only. We're talking not just bottom shelf, but practically no-name liquor. The vodka they were pouring had a bite going down! I actually wound up paying extra for Titos because I knew that sticking with the cheap stuff would be a one-way ticket to headacheville.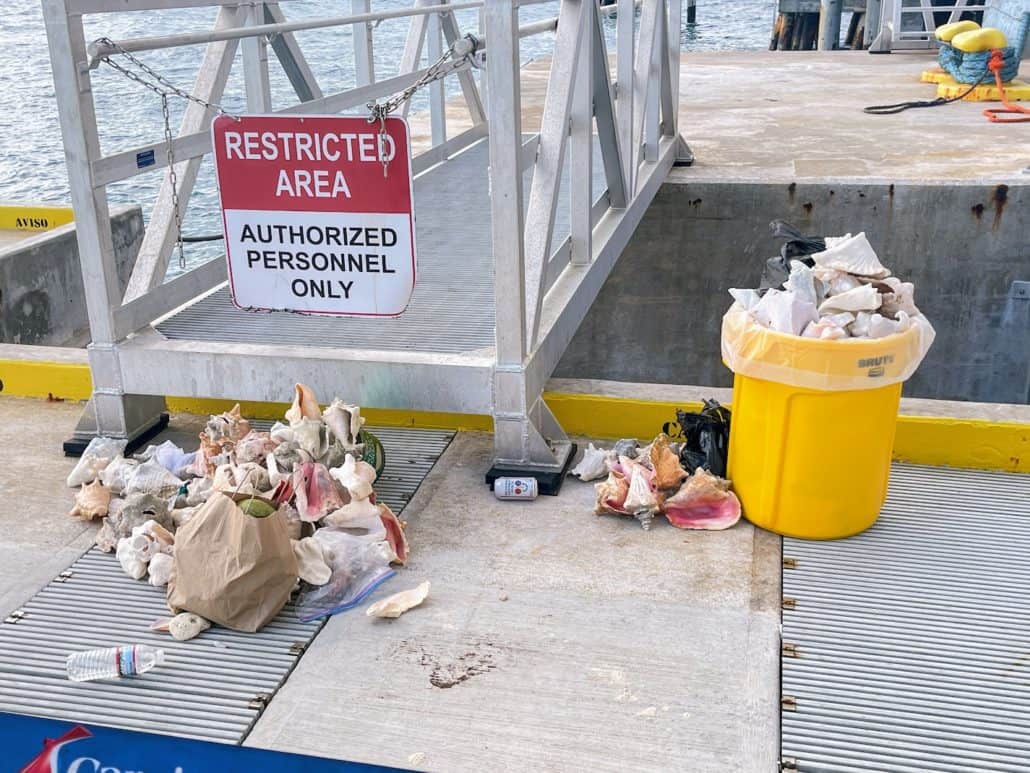 Heading back to the ship, there was a place where people were made to leave the shells they'd collected despite being told multiple times we would not be allowed to bring them on the ship. The policy is also very clearly outlined at the security scanner, where it says that the Department of Agriculture does not allow shells to be brought back into the United States. One couple straight-up had a big box full of conch shells. Needless to say, they were shut down by security at the checkpoint.
My One and Only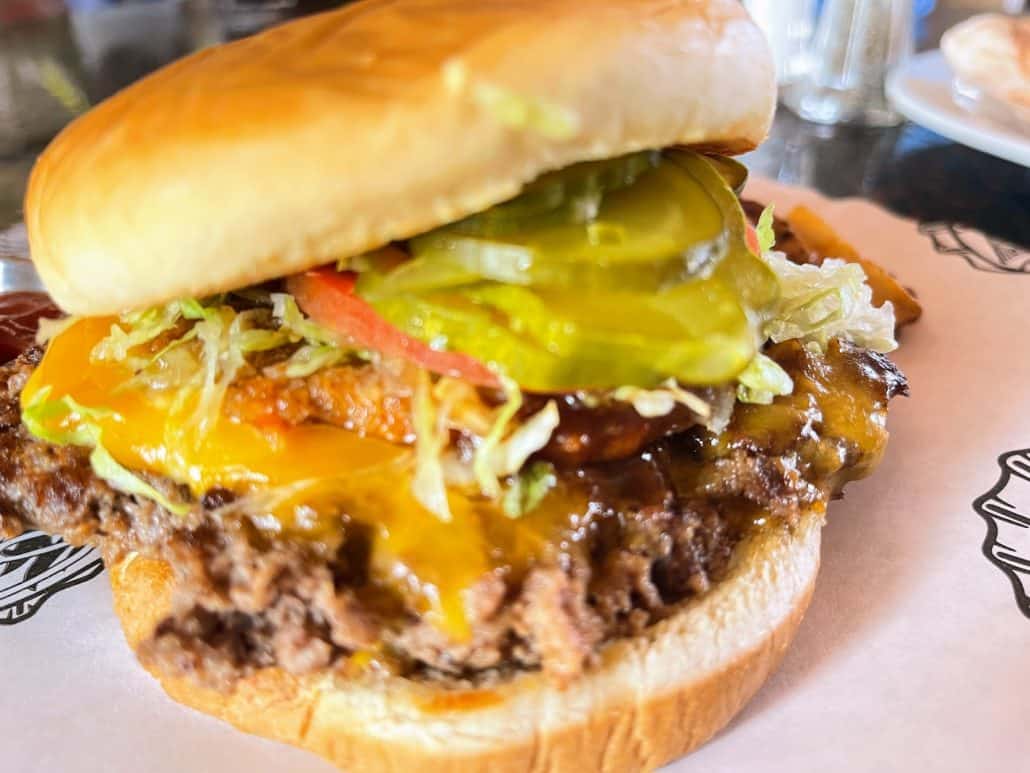 Once we were back on the ship, I had one goal in mind: Heading straight to Guy's Burger Joint to get my first (and last) burger of the cruise. It was every bit as delicious as I remembered them being and, even better, there was no line thanks to the reduced capacity. The burger was fresh off the grill and the fries — those amazing fries — were super hot. 
Before getting ready for dinner, my friends went up to the lido deck to hit the water slides a few times. I had already gone back to my stateroom so I could start packing, but thanks to the way the deck cam was positioned, I could watch them relive their youth. I won't lie… I kinda regretted not having joined them. But hey, there's always the next cruise, right?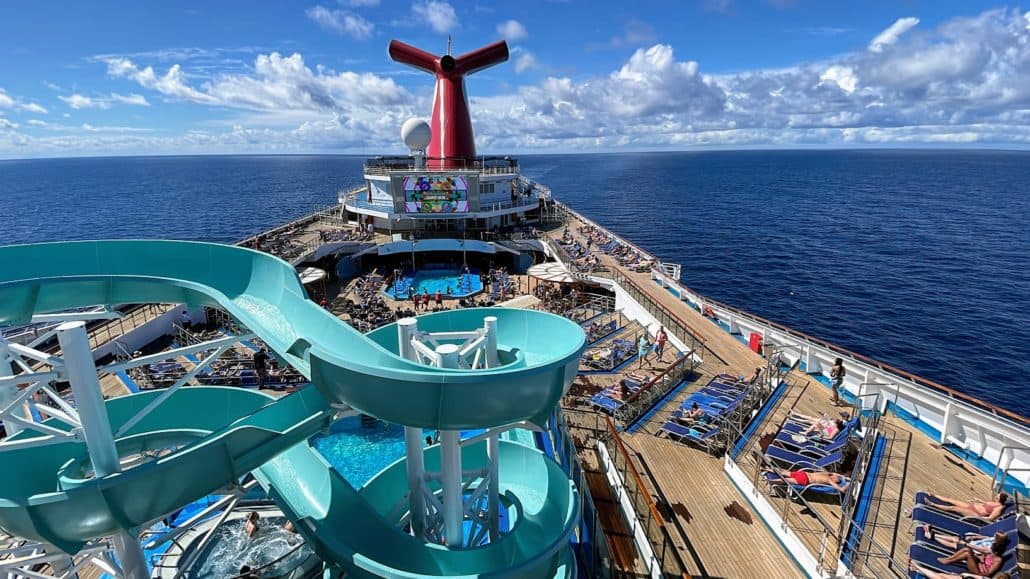 Before dinner, we met at the Alchemy Bar for one last pre-meal cocktail where, I'll admit, I went really basic with a Titos and soda. Then it was off to dinner, and I can't say enough about the main dining room's staff. Not only were they attentive and quick, but they also paid attention to our preferences.
For example, my friend always likes a double-dose of ketchup and, after the first night, never had to ask twice. Another in our party always had a glass of wine waiting for them. I don't know how they do it, given how many tables they're dealing with, but bravo to 'em.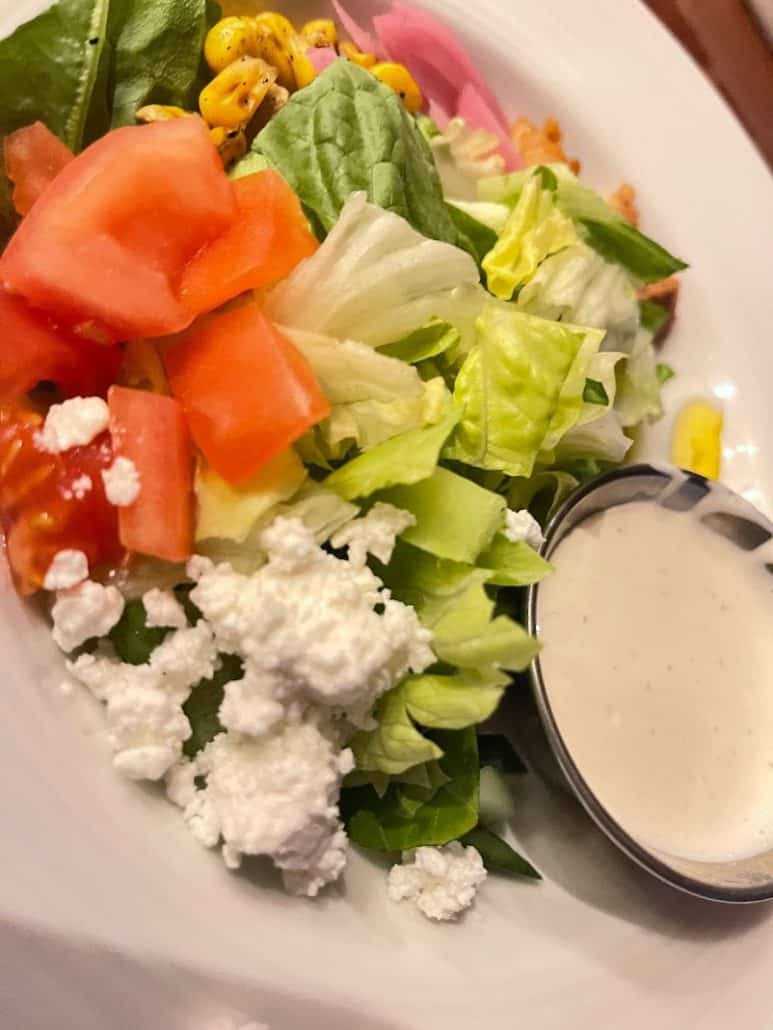 My order tonight was a little all over the map. I started with shrimp cocktail and a cobb salad, then went with spicy chicken strips (which were amazing!) and salmon.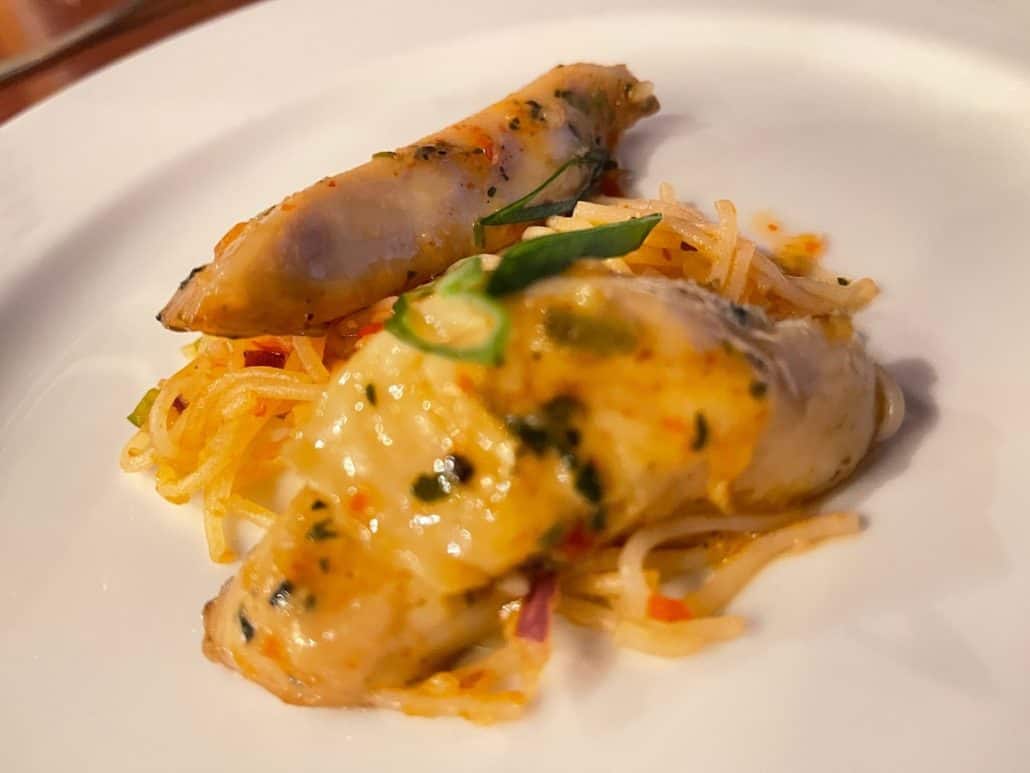 As is traditional on the final night of every Carnival cruise, the evening was capped off with the staff singing Leaving on a Fun Ship, to the tune of John Denver's 1966 hit Leaving on a Jet Plane. This was followed by Baked Alaska which was so good I had two slices before waving the white flag.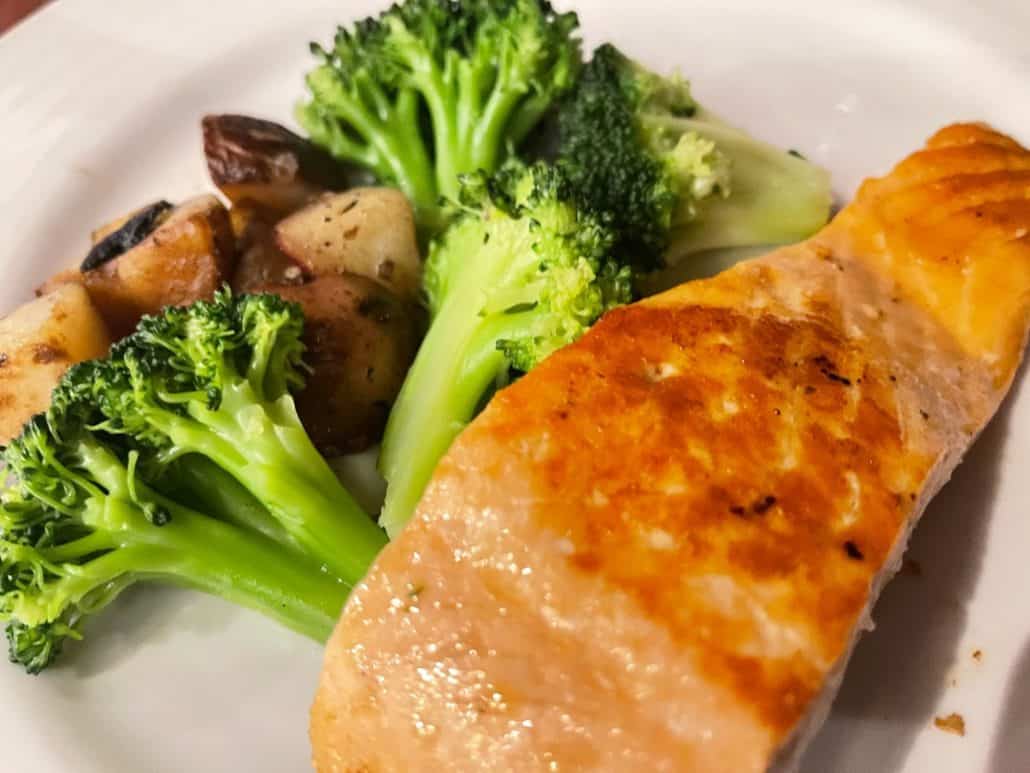 In hindsight, the team in the main dining room could run circles around the folks in Diamonds Steakhouse. I don't think the blame necessarily can fall on the servers. It's not as if they were playing on their phones or anything. But something wasn't working, and that might need to be addressed.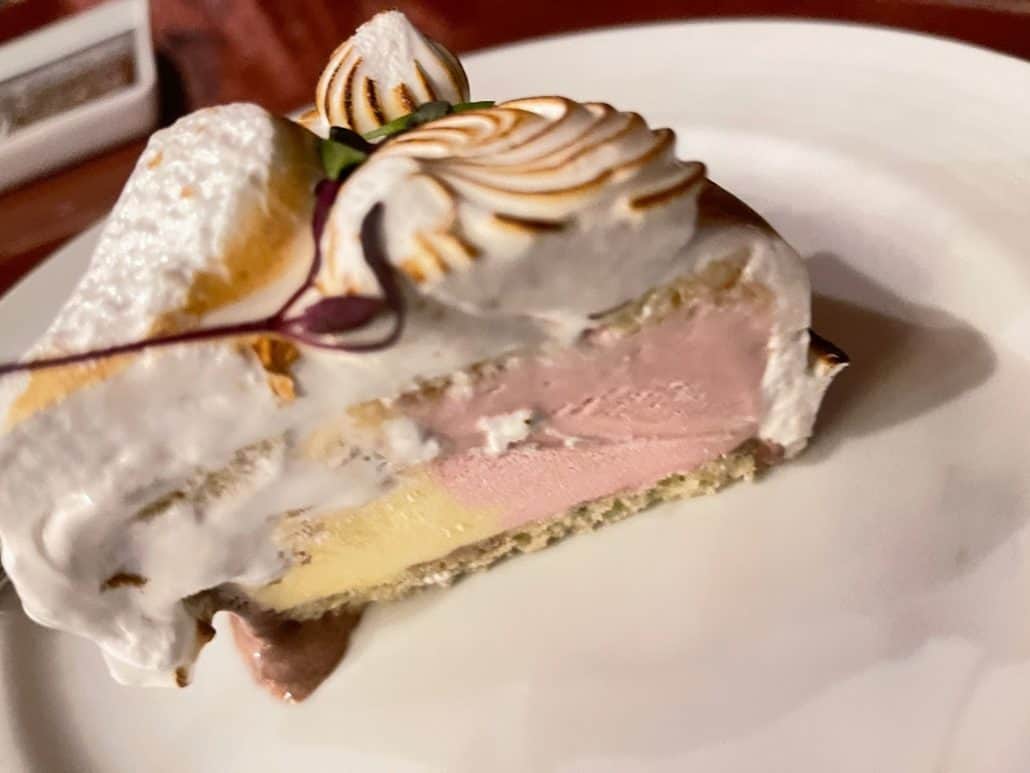 There was supposed to be another Playlist Production show tonight but instead, it was swapped out for the late-night comedy show. I'm not sure if there were technical issues or if one of the performers was ill, but we got what we got. Each of the comics — Jerome and Randy Lubas — did a 30-minute set in the Venetian Palace Main Show Lounge (aka the theater). Comedy is subjective, but I will say this: A comedian who can make me laugh without dropping F-bombs in every sentence is golden in my book.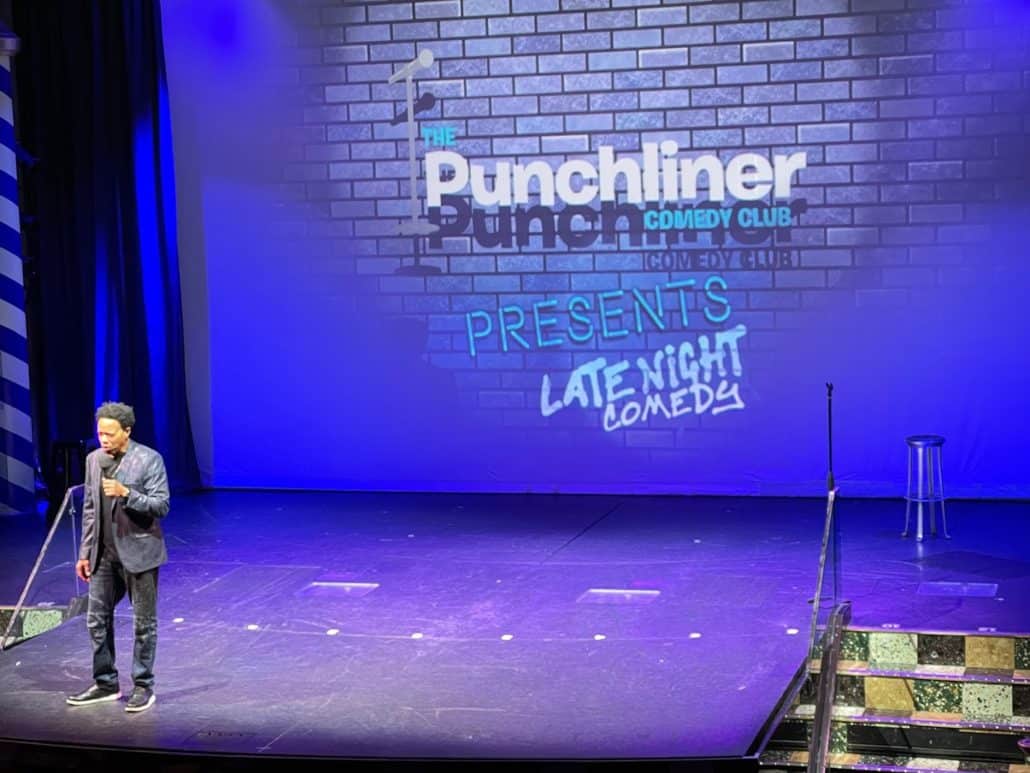 After the comedy show, the ship had that bummed-out vibe because in less than 12 hours we'd be disembarking, so I called it a night. I had to drive back to Jacksonville first thing in the morning and head directly to the studio to conduct a few interviews. Because hey, these cruises don't pay for themselves!
Disembarkation
I was going to make this a separate piece, but the disembarkation process went so smooth that it literally would have been a simple paragraph.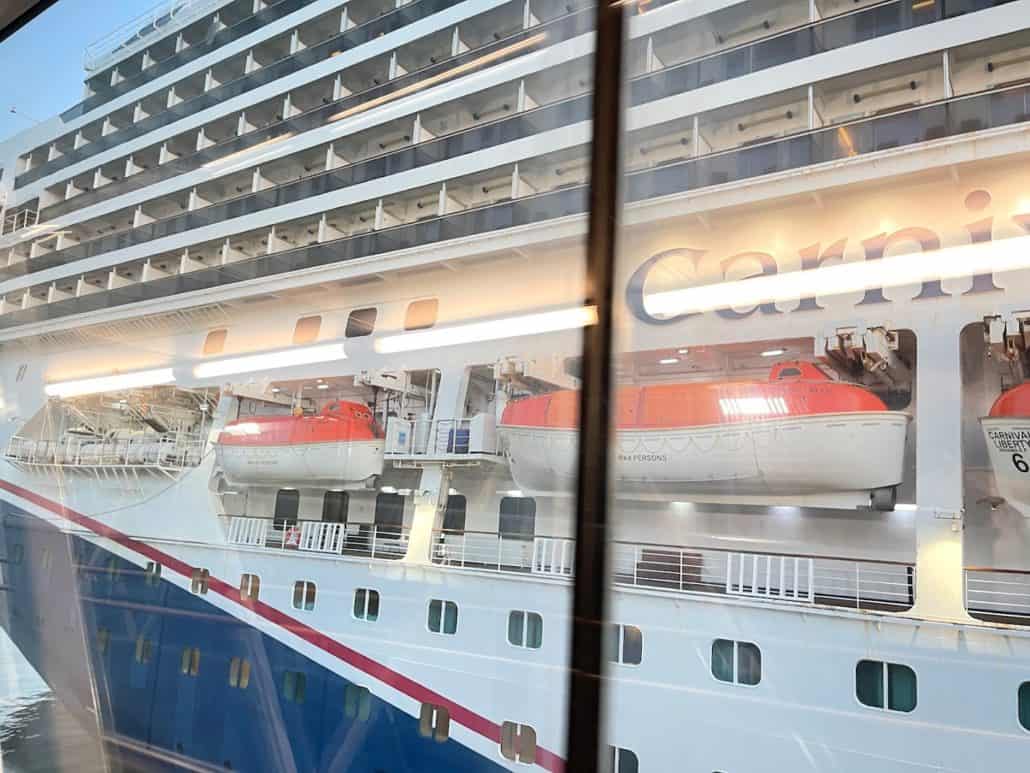 They started self-disembarkation for those who are carrying off their own luggage at 6:45 am. At 7:45 am I went to the gangway where there was no line at all. 10 minutes later, I was in my truck and on my way home.
They really have the embarking and debarking process down to a science, although it only works if everyone sticks to the time they're supposed to be getting off the ship. Some people from Zone 15 got off before Zone 1 had even been called, and guess what? That meant they were going to be waiting a while for their bags. I'm not sure if guests think they're gaming the system or something by walking off early, but the joke's on them because they wind up having to sit around waiting anyway.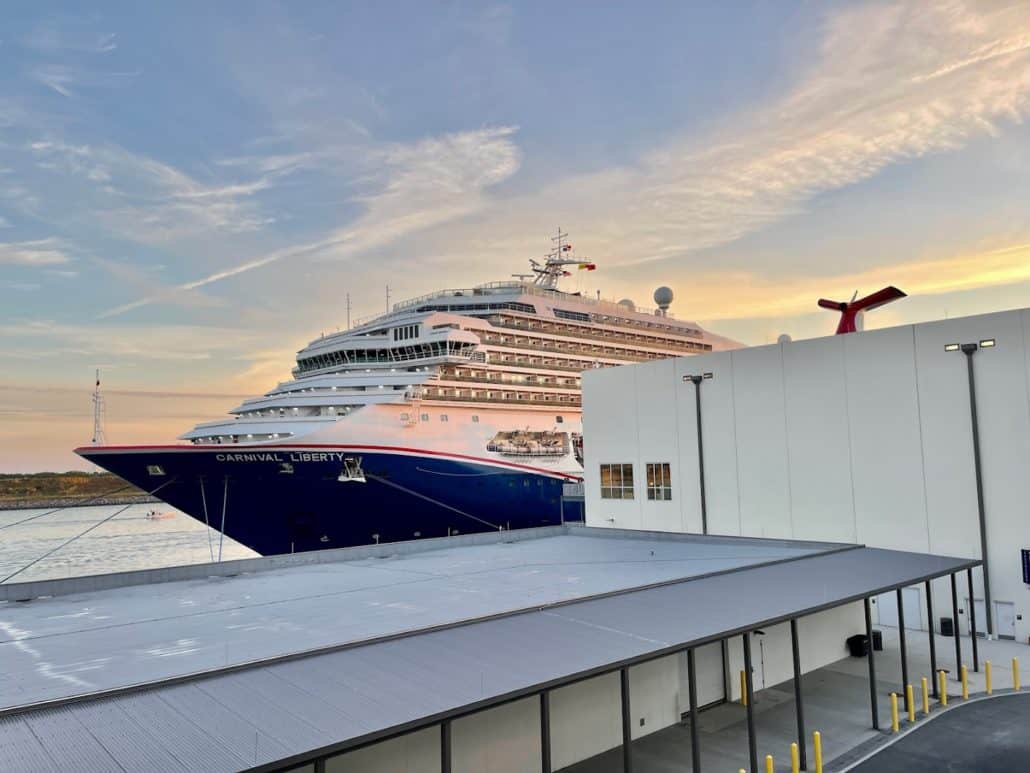 Carnival uses technology to instantly take your photo and get cleared by customs. Again, no lines, no waits, just snap your photo and when the light turns green, you walk out of the terminal. 
The weather was 55 degrees when we stepped out of the terminal — I wasn't expecting that! 
This wraps up the daily trip reports for my latest sailing aboard Carnival Liberty.
To round this out, we'll be publishing one more article with some final thoughts, impressions of the ship, and how Carnival is doing with the restart six months into the resumption of cruising. Thanks for following along.
Catch up on my other Carnival Liberty trip reports!