Today we crossed back below the Arctic Circle, and passed Vikingen Island with a large sculpture that marked the invisible line of the circle. We also received certificates in our cabins tonight that state that we have been into the Arctic Circle! So cool.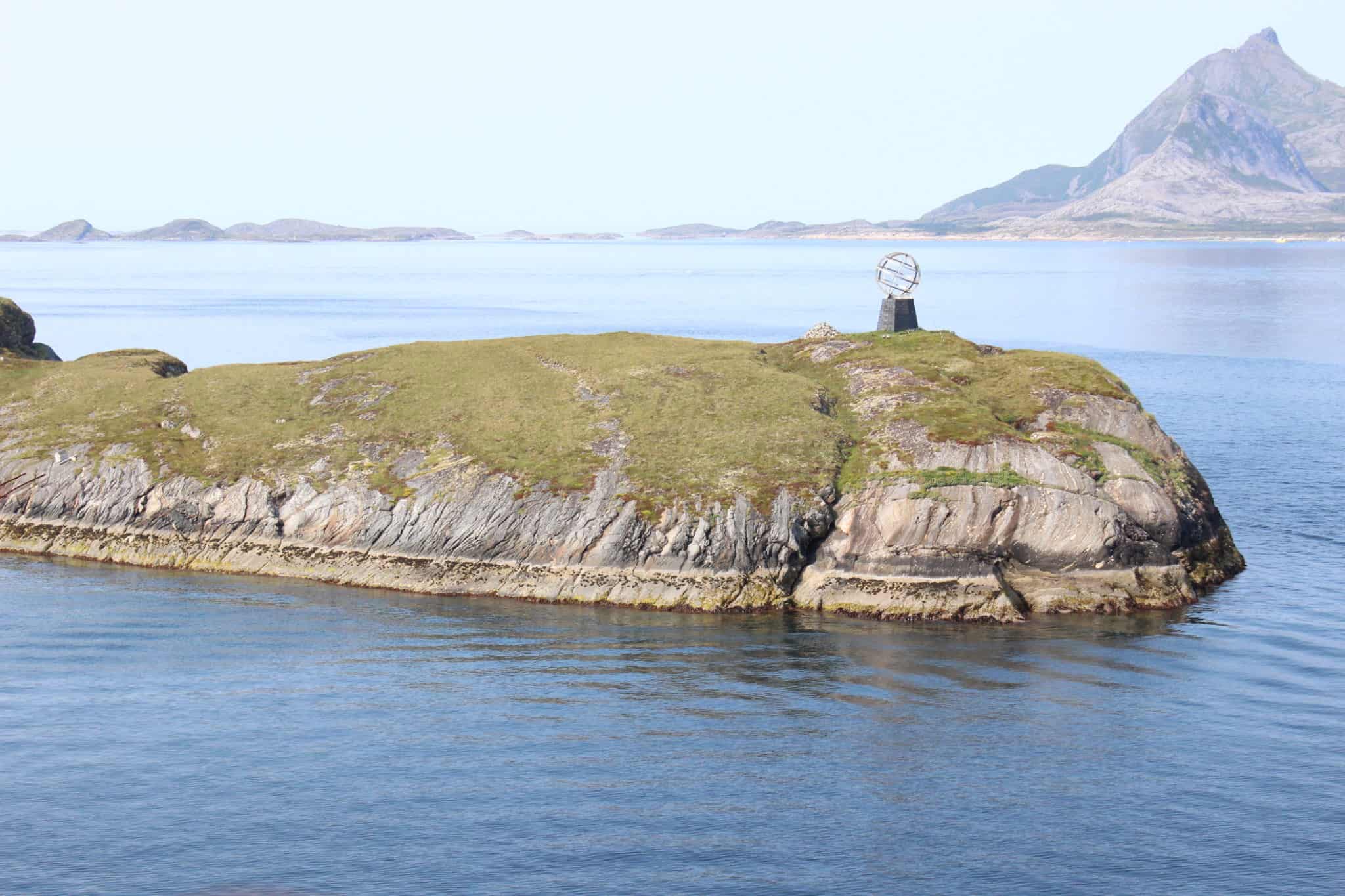 You can read yesterday's trip report here.
Even though I was up so late last night enjoying the midnight sun and taking photos, I still set my alarm for this morning. I had a very good reason, too. One of the onboard shops sells little models of the ship, and at 10:15 this morning the captain was signing them for whoever had bought one and wanted it signed. I was going to buy one anyway, so this morning was the perfect time to do it and get it signed at the same time.
I did that and then made it up to the buffet to grab something just before it closed for breakfast. My mom had started to get me some food just in case I didn't make it in time, which was sweet. She got me a sticky bun and some bacon, and I added some fruit salad to my plate before sitting down. We could tell already that it was shaping up to be a warm, sunny day, which was a nice difference between all of the cloudy days we've been having.
Spa & Lunch
Right away I knew I wanted to get in the water somewhere, somehow. So we both headed to the spa and spent some time in the Vitality Pool, which is the large, warm pool in the middle with jets. I also sat in the hot tub a while and did the cold water bucket before ending my time in the spa with a few minutes in the dry sauna. After that, I headed up to the buffet in search of lunch and ended up with the sandwich they were offering today and some salad. I forgot what the sandwich was called but it was really good! There was also a pop-up bread pudding bar out by the Aquavit Terrace, so I got some of that and it was warm and delicious.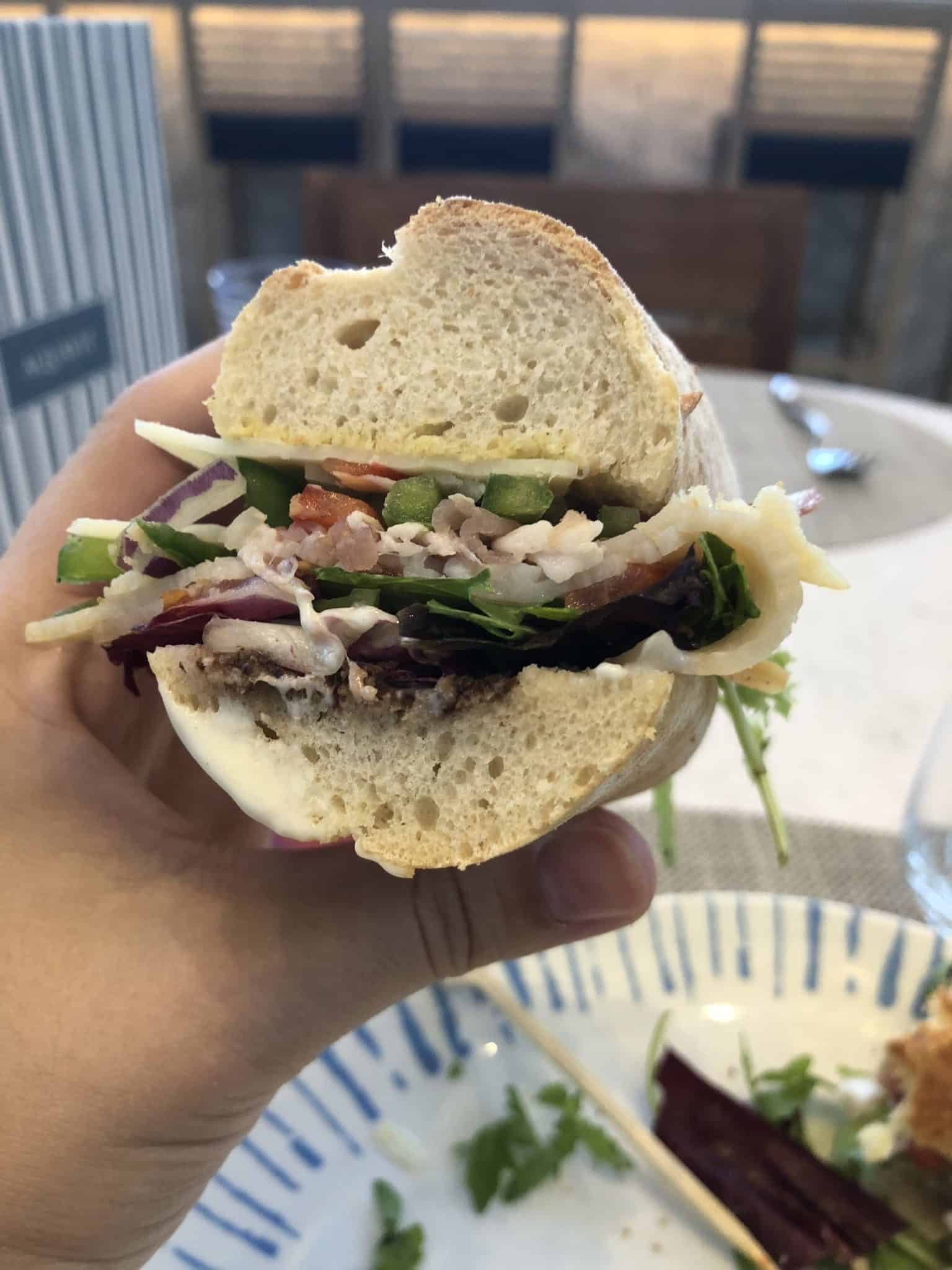 Arctic Circle Blue Nose Ceremony
According to maritime tradition, sailors who cross the Arctic Circle are called blue nose. Sailors who cross the Antarctic Circle are called red nose. So a ceremony rooted in tradition is for guests on cruises that cross the circle to take a "polar plunge" in frigid water, and then receive blue paint on their nose afterward. On Viking, they also receive a shot of aquavit from the captain once the deed is done. This afternoon, they held this fun event. They filled the hot tub adjacent to the pool with buckets and buckets of ice, and a number of ship officers went first in their suits and all – and you have to get completely in – the only part of the body that's allowed to stay above is your head! After that, a huge long line of guests took the plunge, some belly flopping, others jumping in feet-first, and others stepping in from the ledge. Our cruise director was one of the staff members that went in his suit, and he has a gymnastics background so he did a handstand on the edge before falling in backward. It was a neat event to watch, and I kind of regret not taking part! I'll do it next time if I ever go on a cruise that crosses the Arctic Circle again.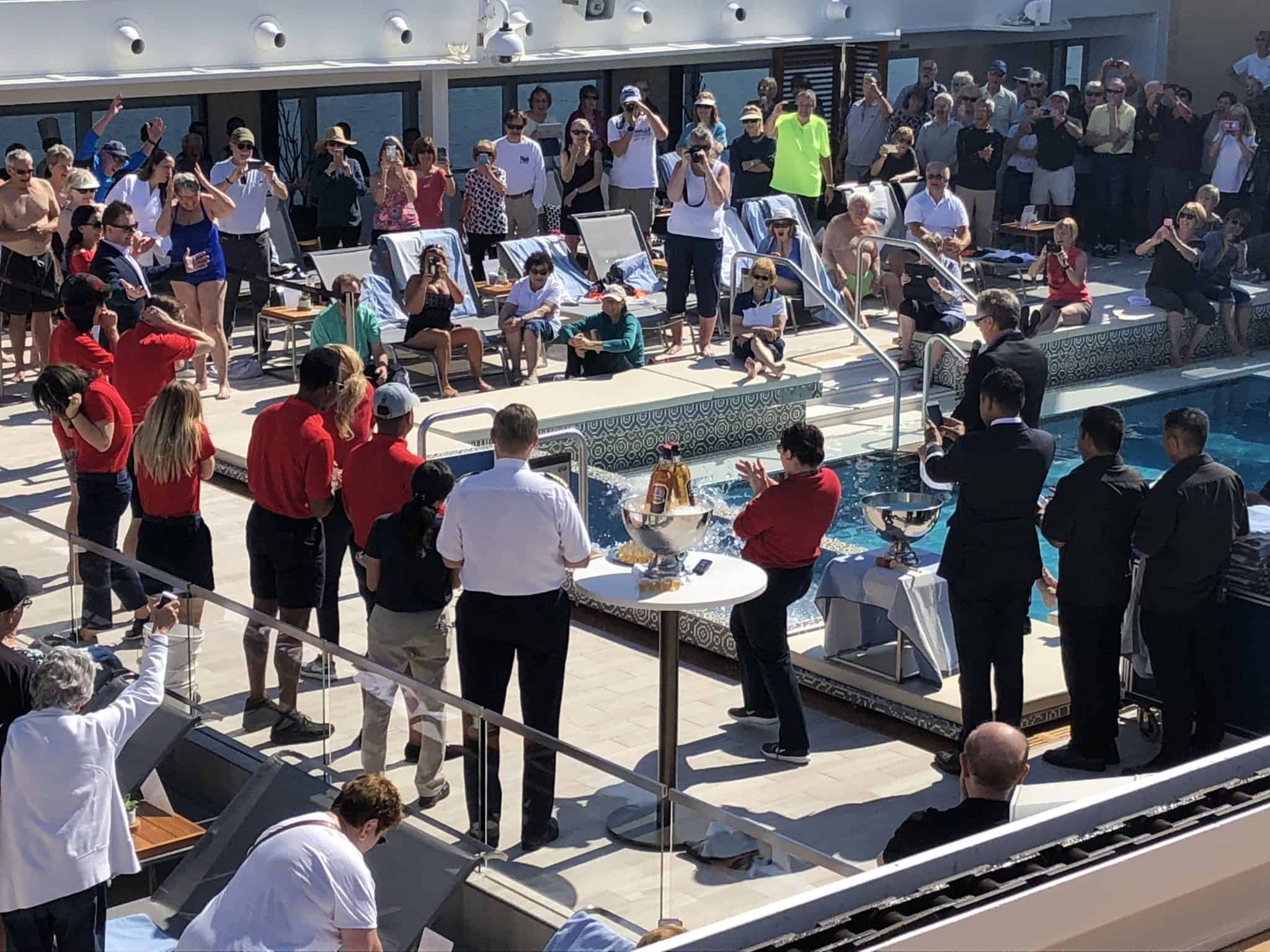 Pool Deck
Before and after the blue nose ceremony, the resident band onboard the ship was playing and singing songs out on the pool deck where all the action was happening, so we stayed out on the deck for a while, along with almost everyone else, to listen. It was sunny and beautiful, and they opened the roof of the pool deck today because it was so warm out. Who would think the weather would be so perfect on a day when we literally crossed the Arctic Circle?! I always thought it was way colder up here no matter the season. People were swimming, and servers were passing out yummy floats made of Sprite, vanilla gelato, and strawberry syrup. They were yummy and I somehow ended up having three!
With the sun shining, I couldn't not swim outside somewhere. I got my still-damp suit back on and ended up in the hot tub at the aft of the ship – adjacent to the infinity pool on the Aquavit Terrace. I know I keep saying this, but the view couldn't have been better. It was like a dream, that I was sitting in warm, bubbling water and looking out at the mountains we were passing by as we sailed through the fjord. Once I had enough of the heat, I settled into the infinity pool, which was still incredibly warm but not hot. I swam a little, talked to some other people in the pool who were very nice, and floated around a bit. After that, it was time to head back to my cabin to get ready for dinner.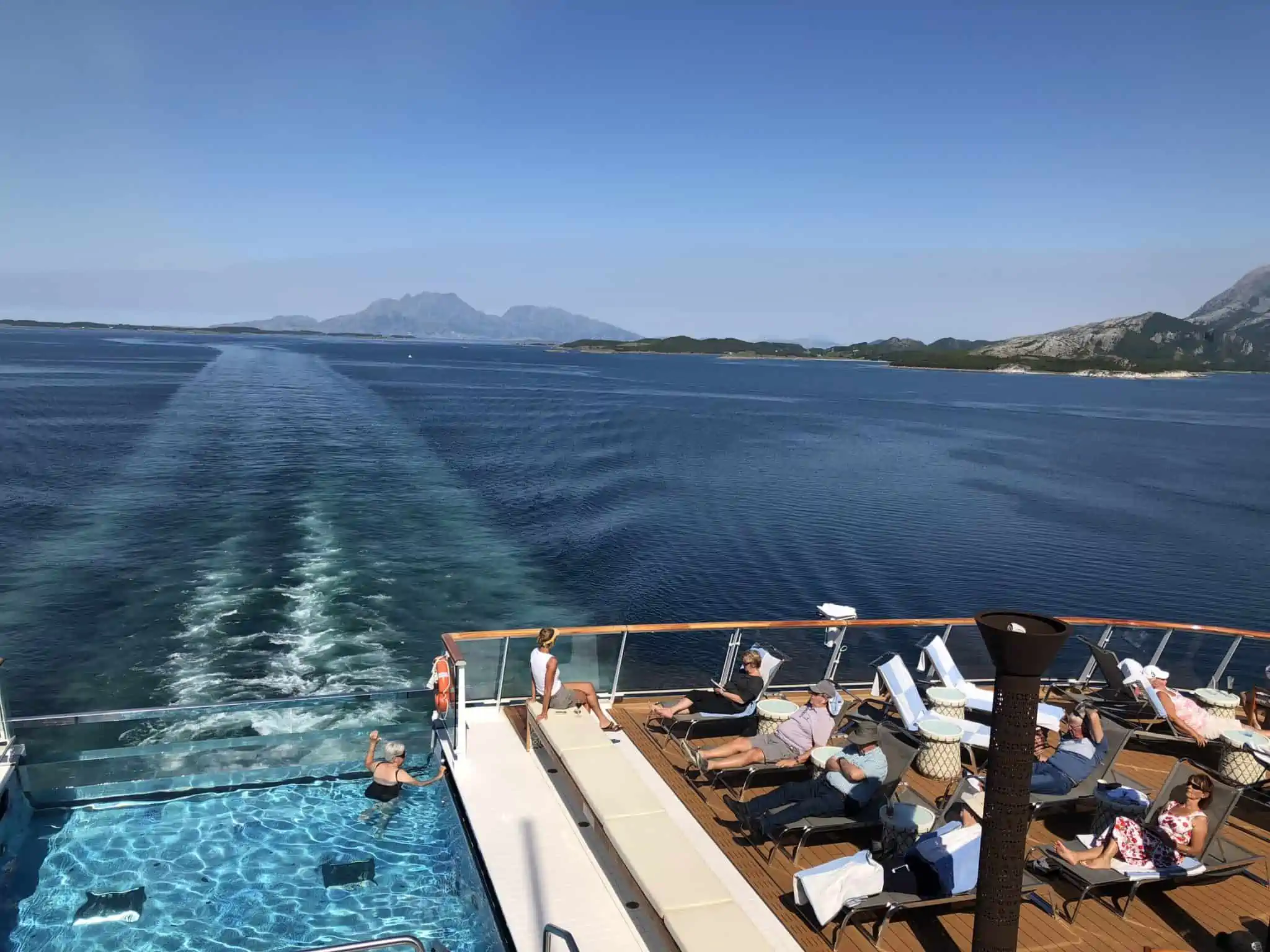 Manfredi's – Round Three
We obviously love the Italian restaurant onboard, Manfredi's. Tonight was our third night there, and we have one more coming up before the cruise is over. This evening's choice for me was cool cucumber soup as my appetizer, which unfortunately was way too salty. It tasted like they had literally used saltwater, which isn't what I want in a soup that sounds so light and refreshing! But my meal was redeemed with the two small plates of pasta I ordered – lasagna and tortellini filled with ricotta and spinach. They were both the perfect size and tasted awesome. Dessert was this amazing flourless chocolate "cake" with cherries in it, but I put cake in quotes because it wasn't like cake at all! It was almost like a candy bar – solid chocolate with some mix-ins including cherries. I have never had a dessert quite like that, but I'd get it again in a heartbeat. In fact, maybe I'll get that again on Thursday when we go back. The service seemed kind of slow in Manfredi's tonight, but it could have been an off-night, because the service as a whole on this ship is absolutely amazing, and the service in Manfredi's has been amazing up until tonight, too.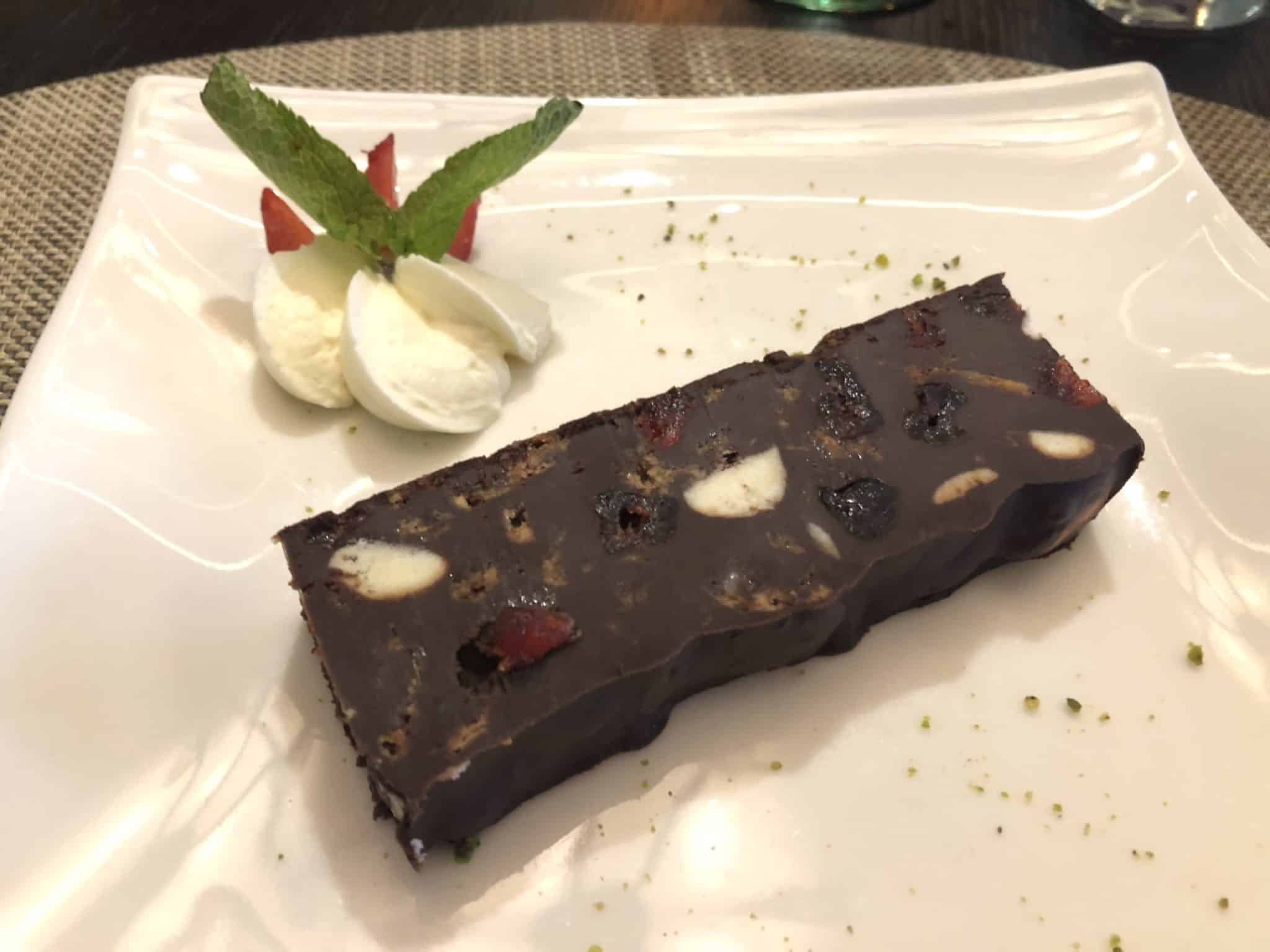 Aaron Syfert's Evening Show
Our Cruise Director, Aaron, is a multi-talented performer in so many aspects. He sings beautifully, has a gymnastics background and can still do handstands like most of us can stand on our feet (effortlessly!), and has done some acting, including a recurring role in All My Children. So tonight, our show in the Star Theater was all him – singing a number of songs backed by the Viking Band and telling us a bit about himself in between. He sang Michael Bublé, an amazing Johnny Cash medley, Pure Imagination from Willy Wonka, and several other songs that the audience loved. He has such a huge vocal range, I could hardly believe it. He easily can switch between genres and gave us a beautiful performance. Look him up on YouTube or Google if you want to know all of the cool things he's done.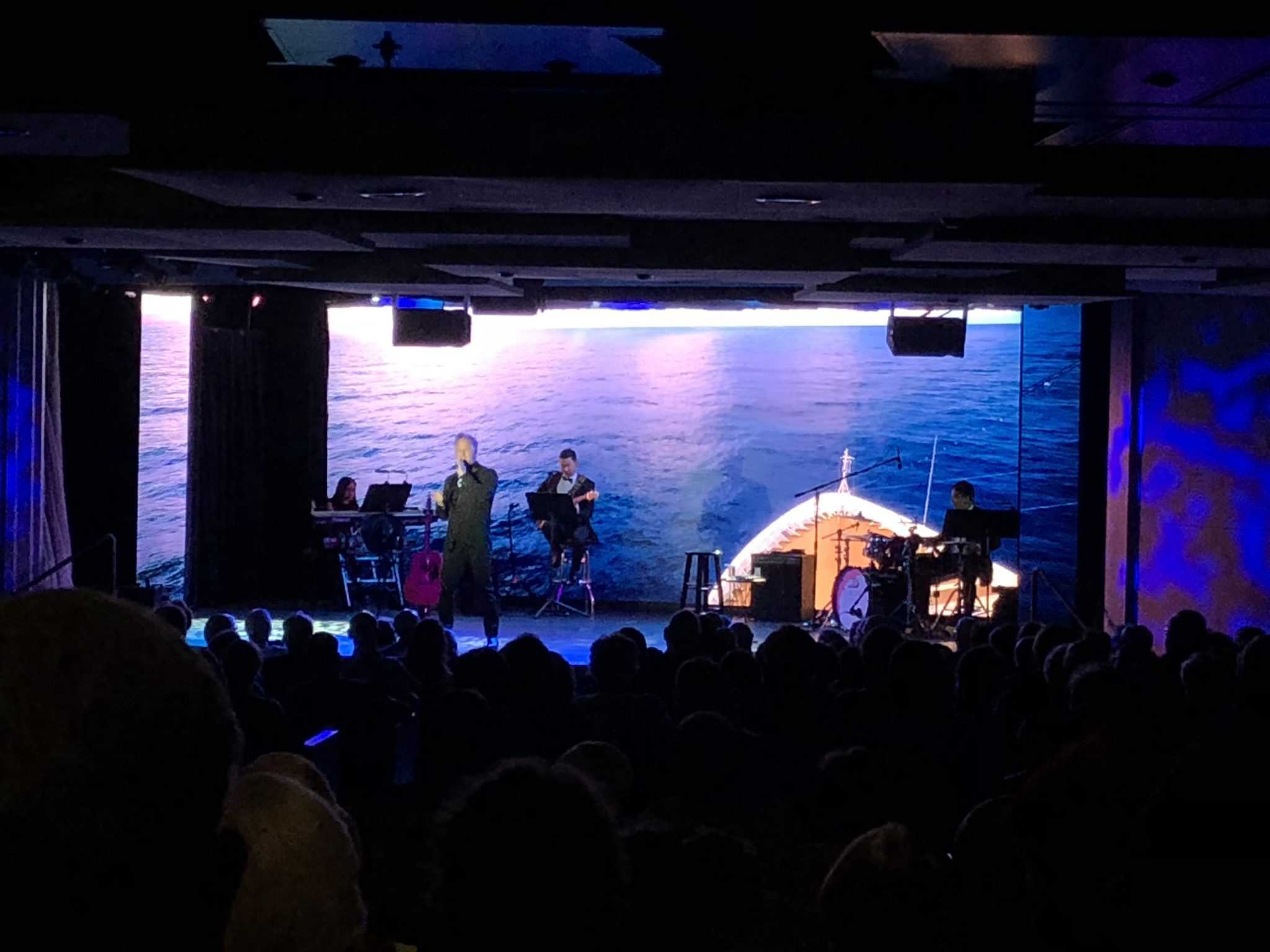 I'm sure you can guess where I am now. If I'm not in my cabin when writing this blog, I'm probably in the Explorer's Lounge! I'm sitting in the corner by the window, and it's already a lot darker now at 11:30 pm than it has been past midnight for the last several days. It's going to be weird to actually have a somewhat dark night tonight!
Hope you have a good night.
Disclosure: Viking invited me on this cruise. As always, my thoughts and opinions are my own.