Greetings from somewhere in Solbergfjorden, Norway. We are sailing through this gorgeous fjord right now and I can't believe we are actually here.
You can read yesterday's trip report here.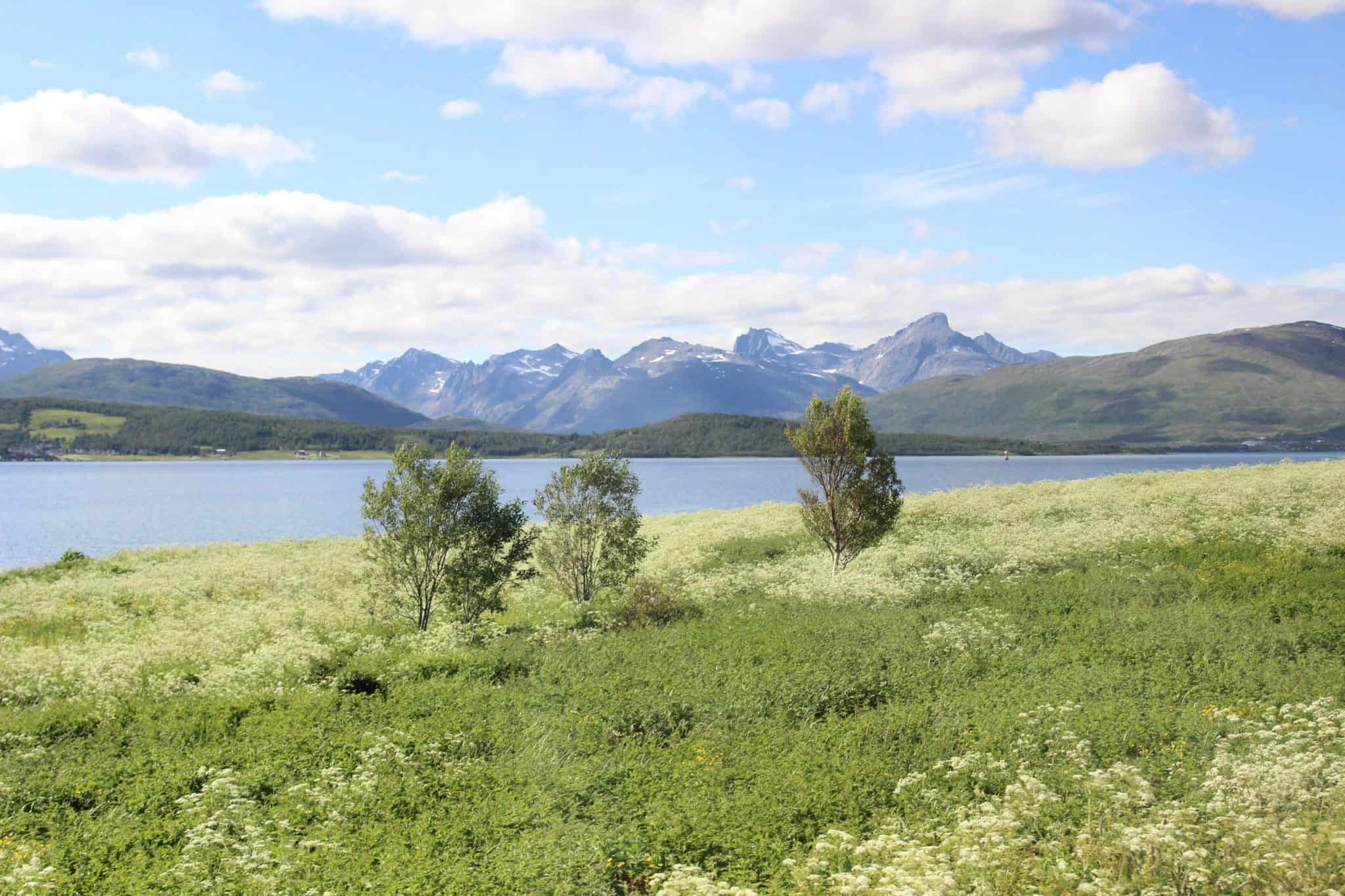 Today we spent the day in Tromsø, Norway. I think this was my favorite port of the cruise so far, but I've loved them all (Norway ones especially!) so I don't know if I can really choose! All I know is, from the small amount of time we were in this city today I loved it, and I would definitely come back on a land vacation to spend more time here. We ate breakfast in the main dining room – I had a waffle with citrus butter and maple syrup, berries with mascarpone, and hot chocolate.
Visiting Tromsø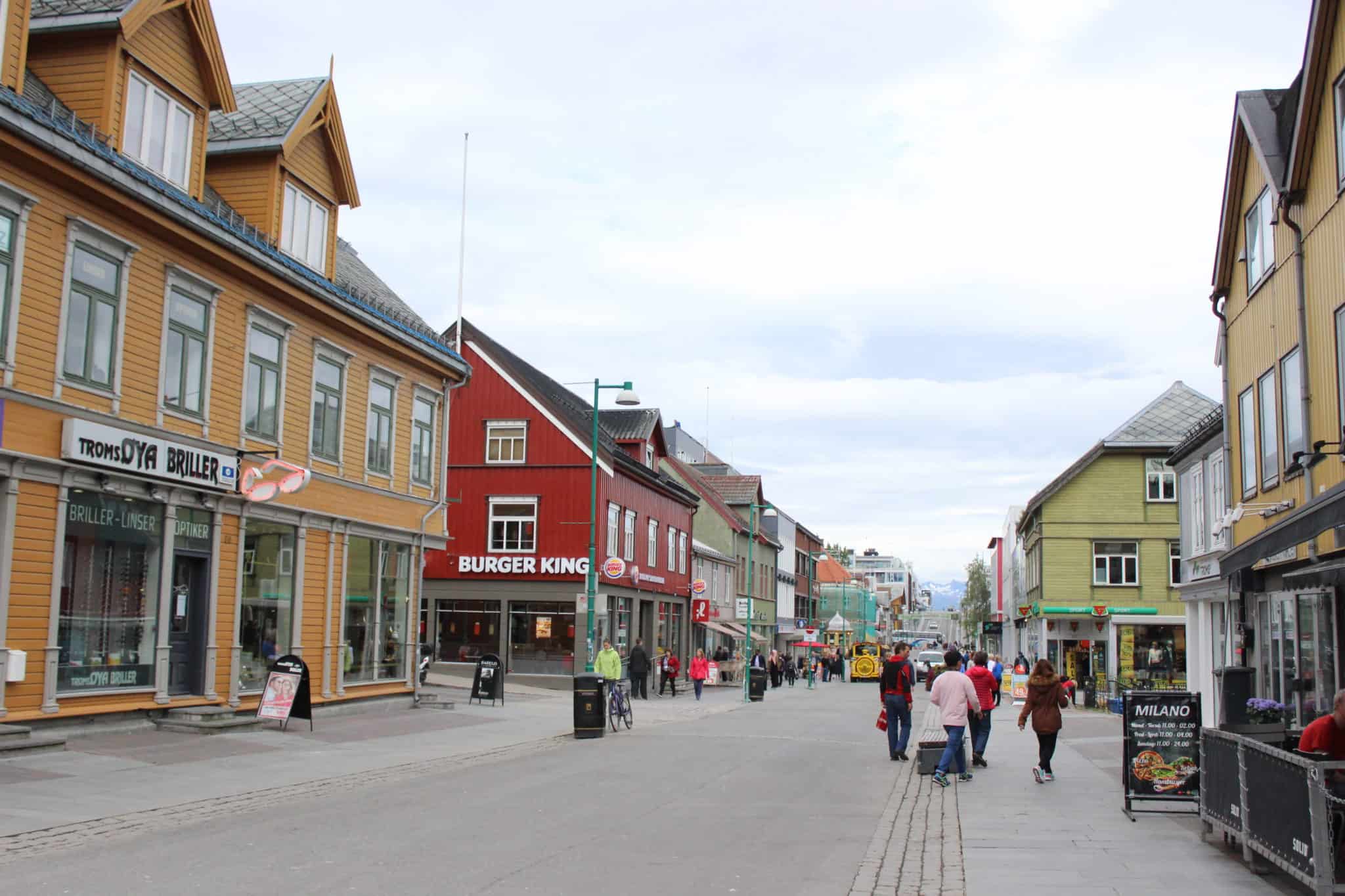 Our excursion wasn't until mid-afternoon, so we decided to head out into the city this morning to just walk around on our own for a while. It's a beautiful place, and it's not too busy at all for a mostly urban area. We visited lots of shops, and saw a lot of cute restaurants and cafés – including those that serve various reindeer dishes! We also stopped at the historic harbor and also saw a beautiful Catholic church in exactly the style you'd expect in Norway. Some souvenirs I bought include reindeer jerky, a magnet with a hand-carved etch of a reindeer made of reindeer antlers, Donald Duck comic books in Norwegian for Doug, and kvikk lunsj candy bars. They're very popular in Norway, and are basically their version of kit-kats – I knew I wanted some before we even left on this trip so I bought four! My mom found some beautiful tapered candles and some fun Christmas ribbon.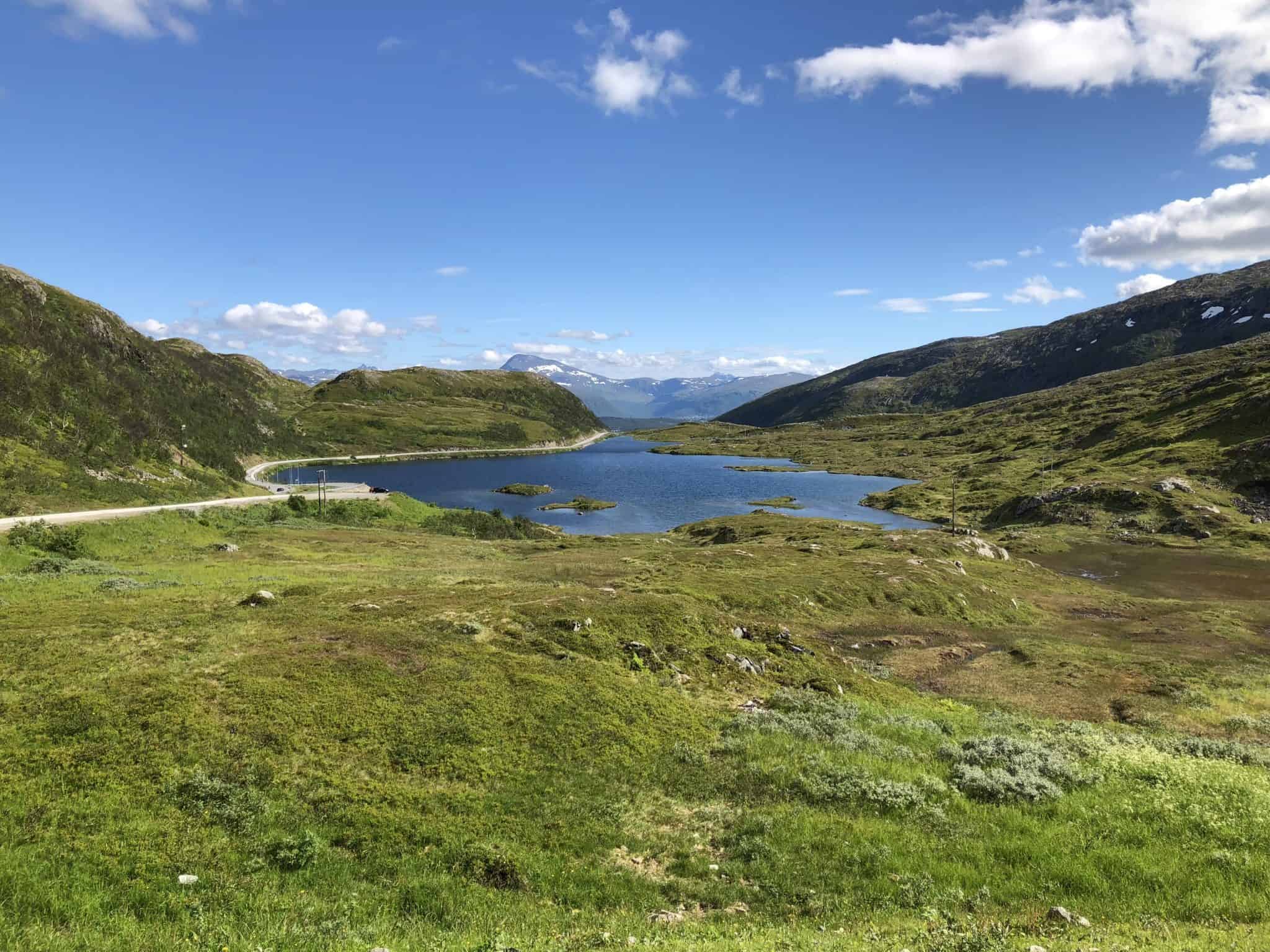 After wandering around for a few hours, we headed back to the ship for lunch in the World Café. I finally tried the pizza they have every day there, and was surprised at how good it was. But the real star of the show was the pasta bar outside on the Aquavit Terrace. You pick white or red sauce and your various mix-ins and the crew cook it up in big pans. I believe the white sauce was lemon butter, which I got and it really hit the spot. Dessert was a tres leches cake and caramel and creme brûlée gelato.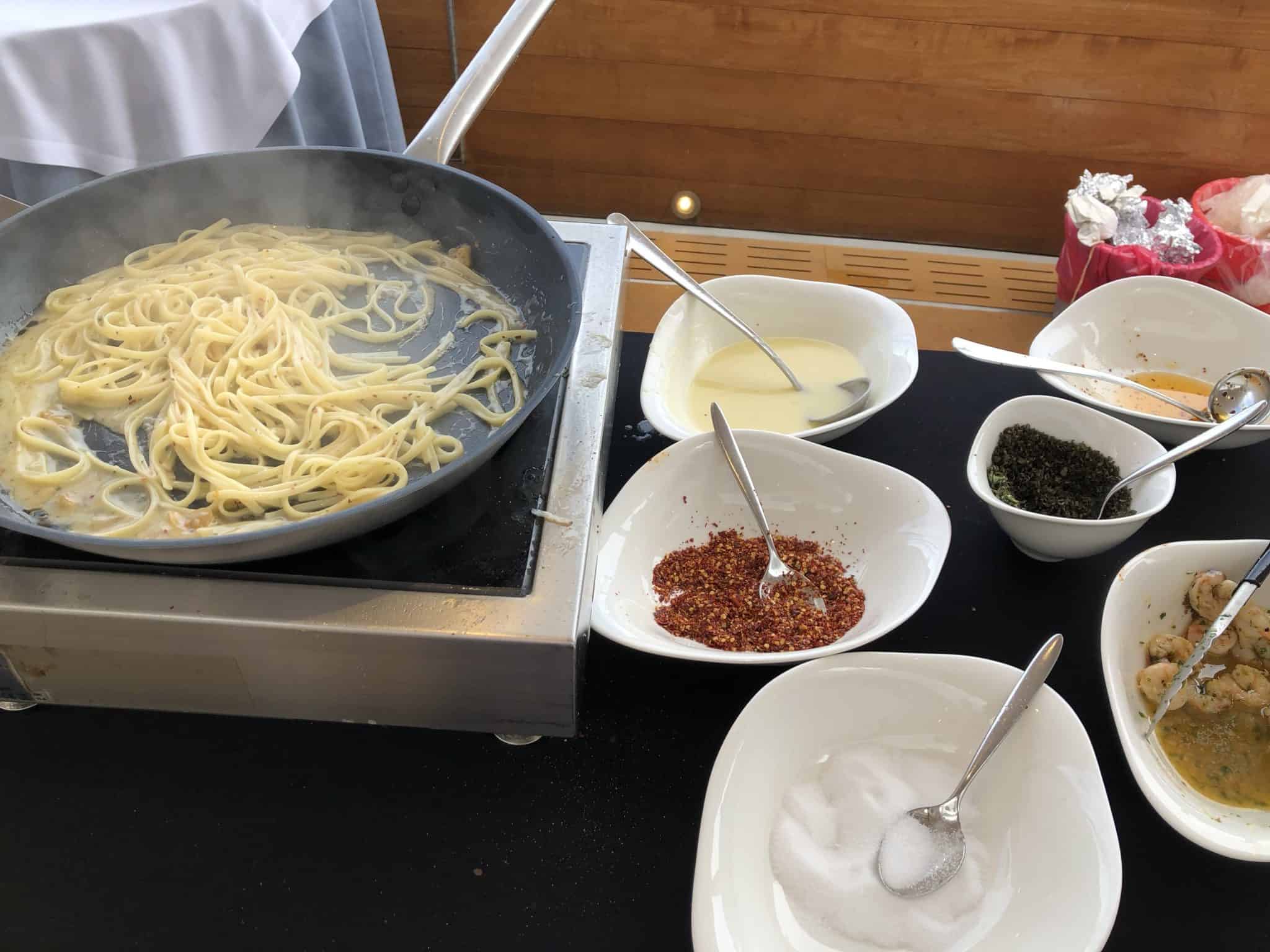 Soon after eating, it was time for our included shore excursion. We got on our excursion bus and headed across from the island in which Tromsø is on to the mainland over an extremely tall bridge. But our guide made a point to tell us that back in the day when they built the bridge, they didn't know how popular Tromsø would be with cruise ships, so they can't actually fit under it! Our first stop was at this stunning Lutheran church called the Arctic Cathedral, which is probably the most modern and unique church architecturally that I've ever seen – I love it. Our tour didn't include admission, but we could take photos from the outside.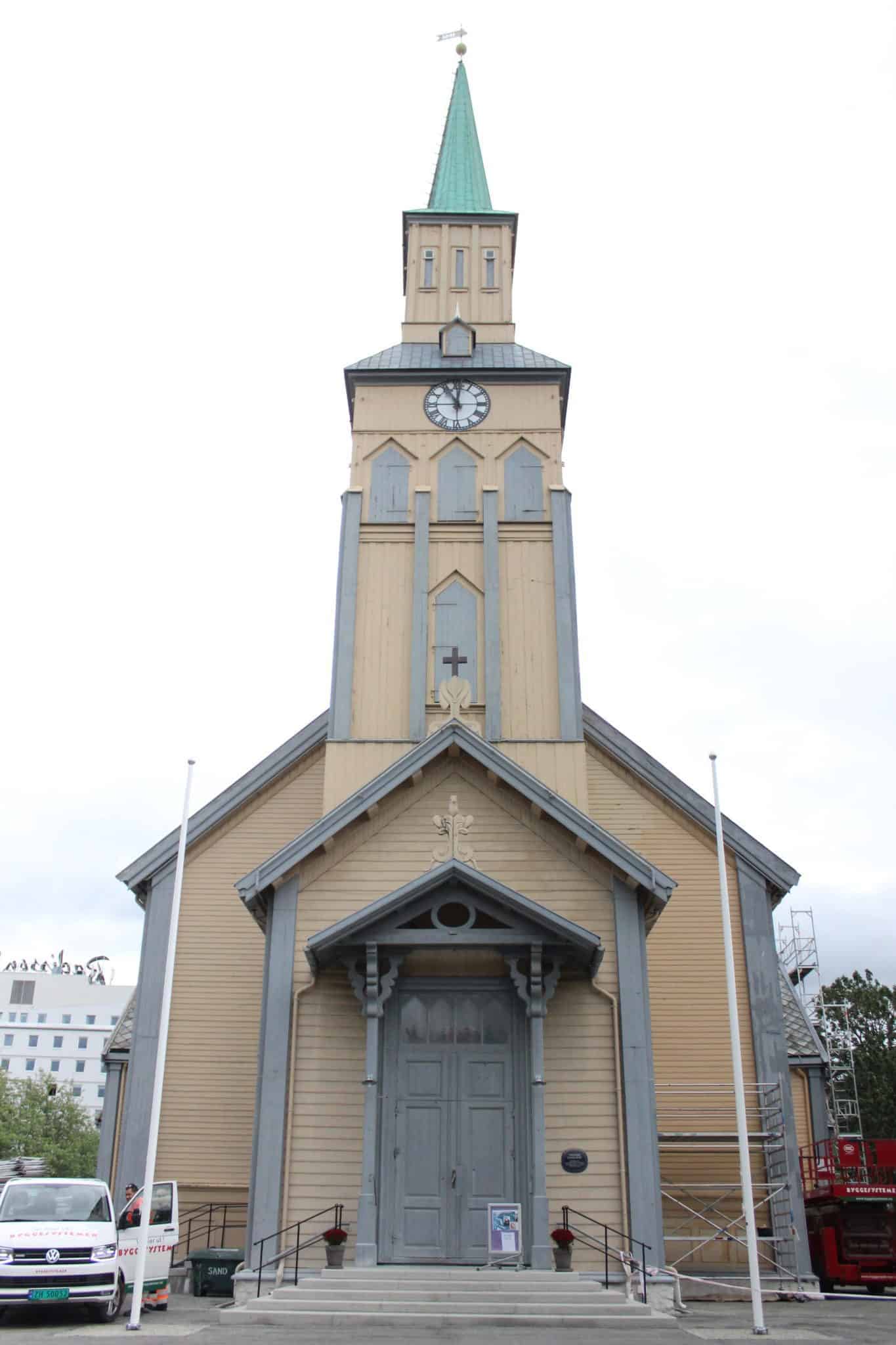 Next we drove through the countryside, where the transition from city to country life is pretty quick. We ended up sort of in a valley but also high above a gorgeous lake and on the other side, the end of a fjord. My camera battery decided to die right before this stop, so I only took photos with my iPhone. But they still turned out okay. We had a leisurely drive back, seeing the university hospital and a massive ski jump that the skiers train on here in the winter. It was so tall and looked terrifying, but as our guide said, it's conveniently located just behind the hospital. That's not very comforting!
We arrived back at the ship right before it was all aboard time, so we were glad we had gone into town earlier this morning.
Infinity Pool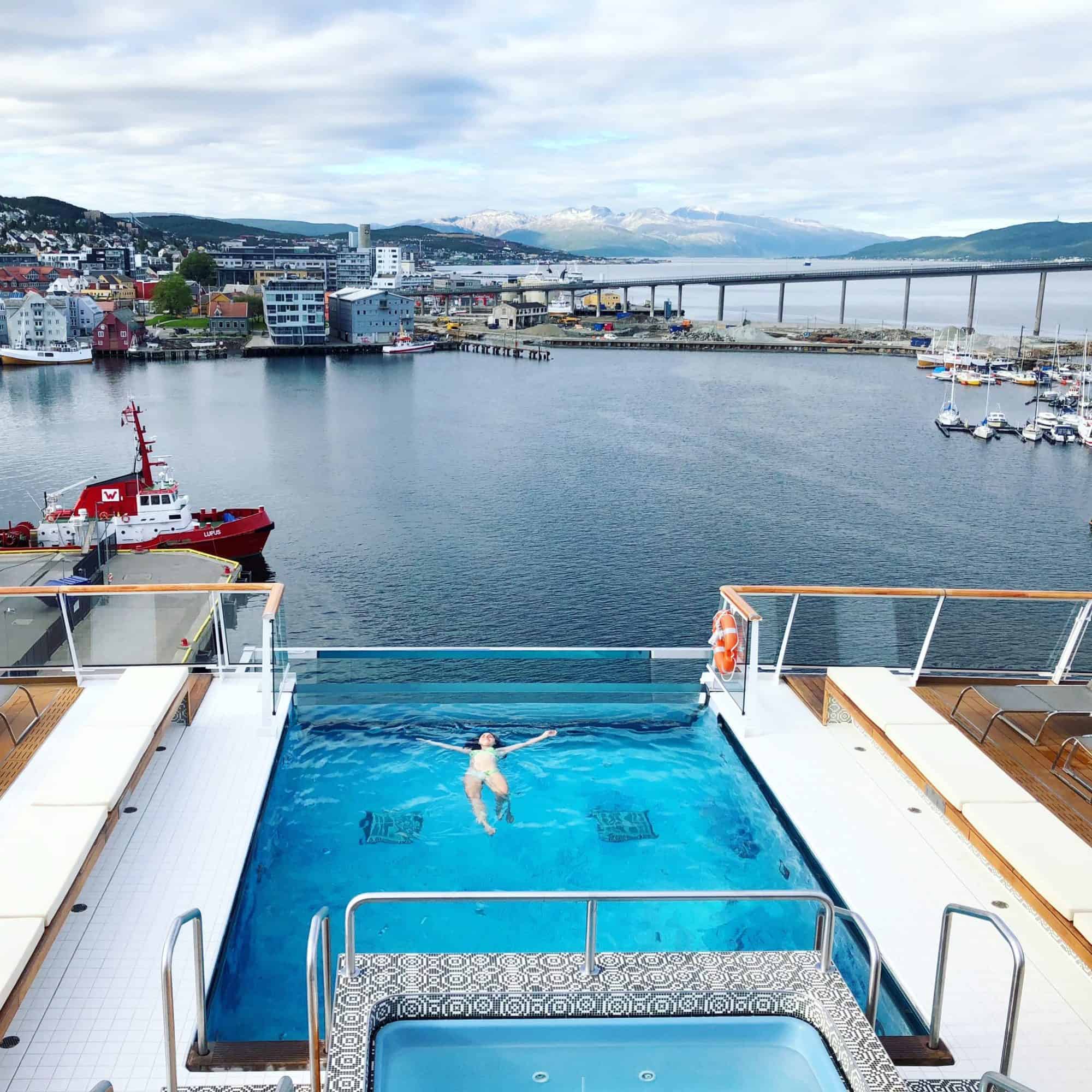 It's taken me over half this cruise to realize that the infinity pool at the aft is heated. So even those chilly days technically being in the water would have been really nice. Since I discovered this, I made a point that today I was going to swim in it, which is exactly what we did once we got back on the ship. What a beautiful view of Tromsø and the bridge we had back there!
The Restaurant Dinner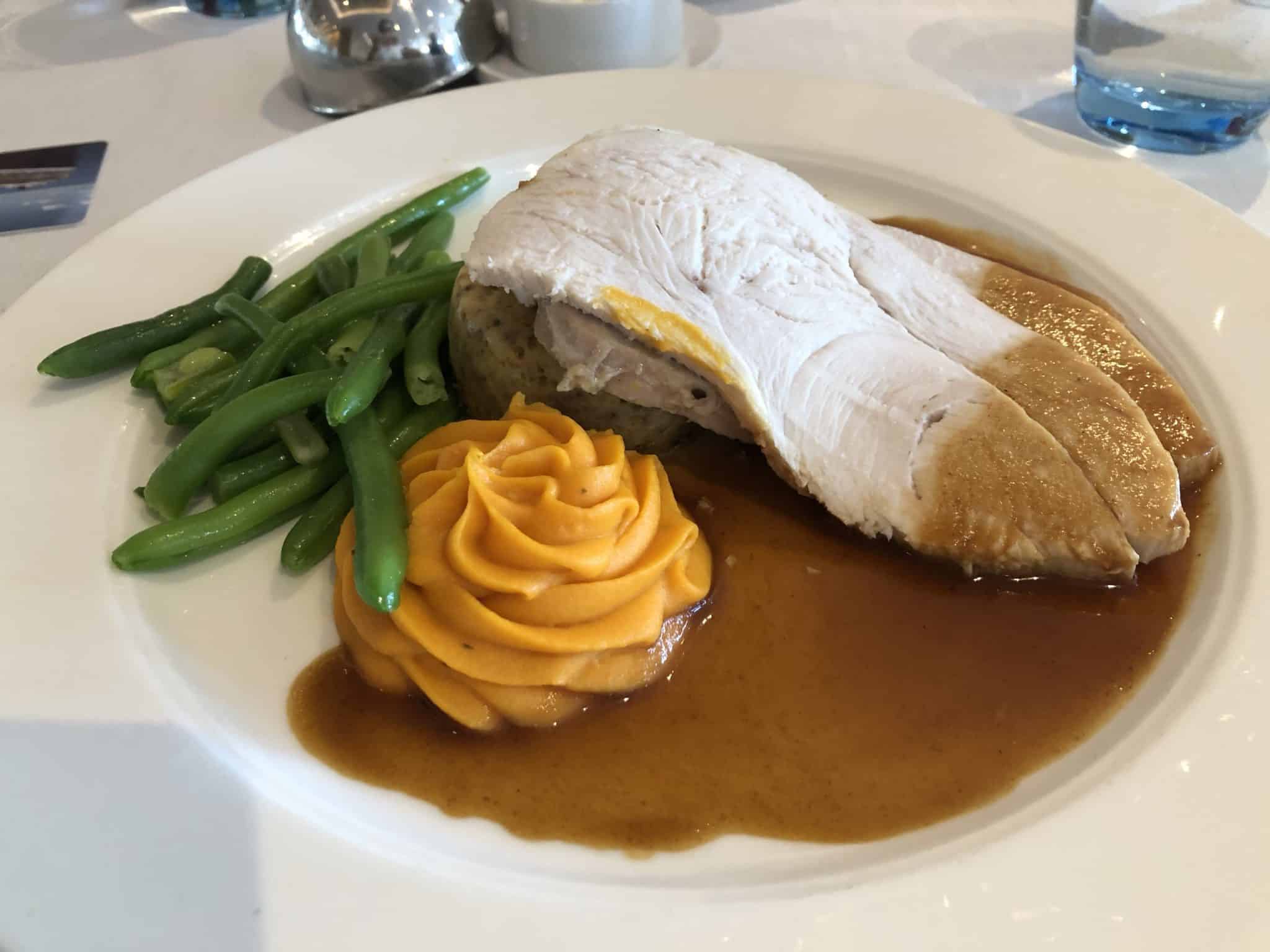 As usual, we had dinner in The Restaurant main dining room today. I was pretty happy, because turkey dinner was on the menu, just like Thanksgiving. There was sweet potatoes, turkey, gravy, green beans, stuffing, and our waitress even came around asking those that ordered turkey if they wanted some cranberry sauce. Of course I did! My mom got the turkey dinner also sans the stuffing, and really enjoyed it as well.
Puzzling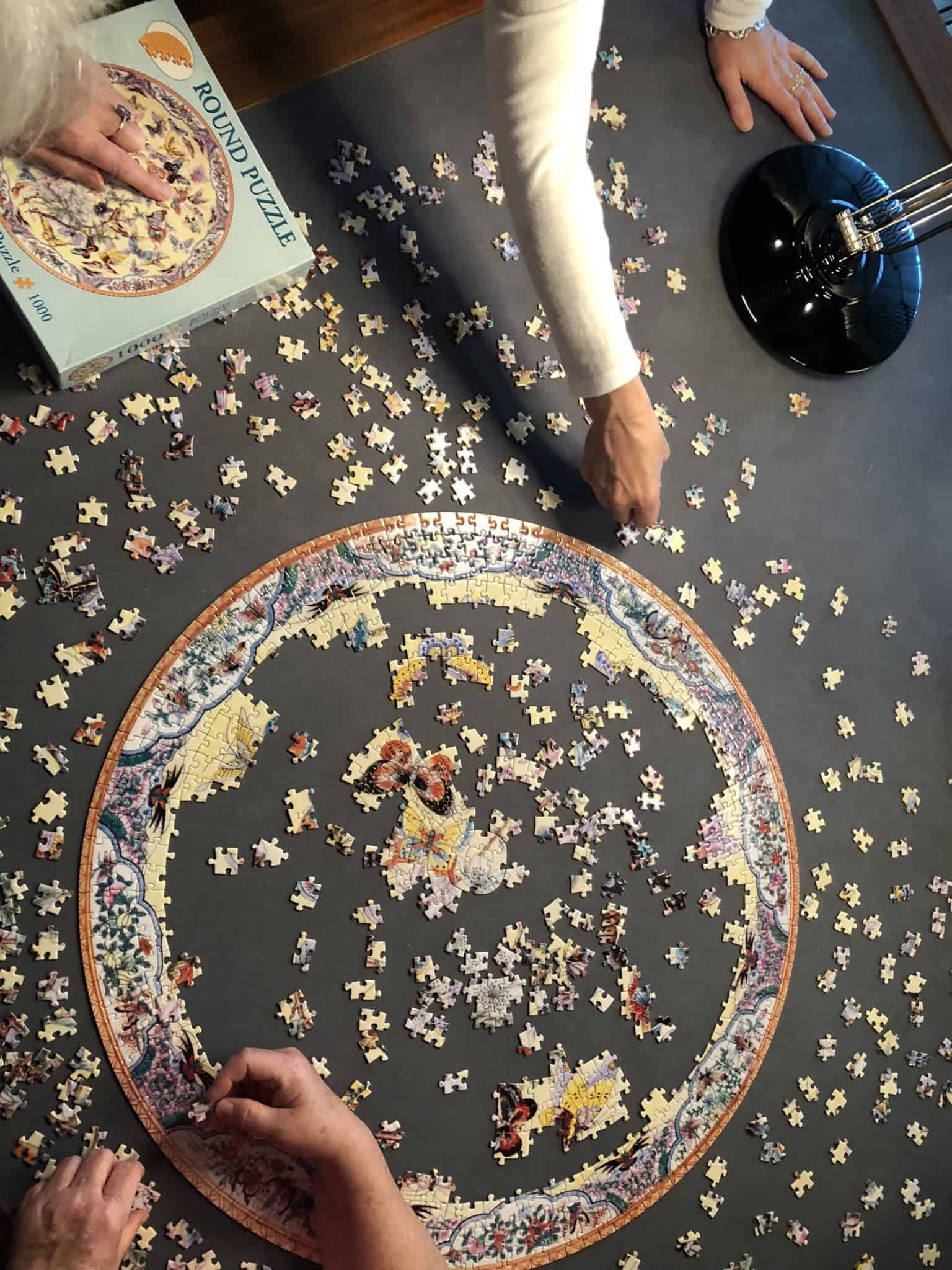 The ship always has a puzzle going out on deck 2 of The Living Room (atrium), and currently the fourth one of the cruise is out. It's a circular puzzle filled with beautiful butterflies, but boy is it difficult! I hadn't worked on any of the puzzles at all, but we got sucked into spending some time on it after dinner. It's really neat, and the table the puzzle is on is meant for that – it has a soft top with raised edges so that pieces can't fall on the floor as easily.
Nightfall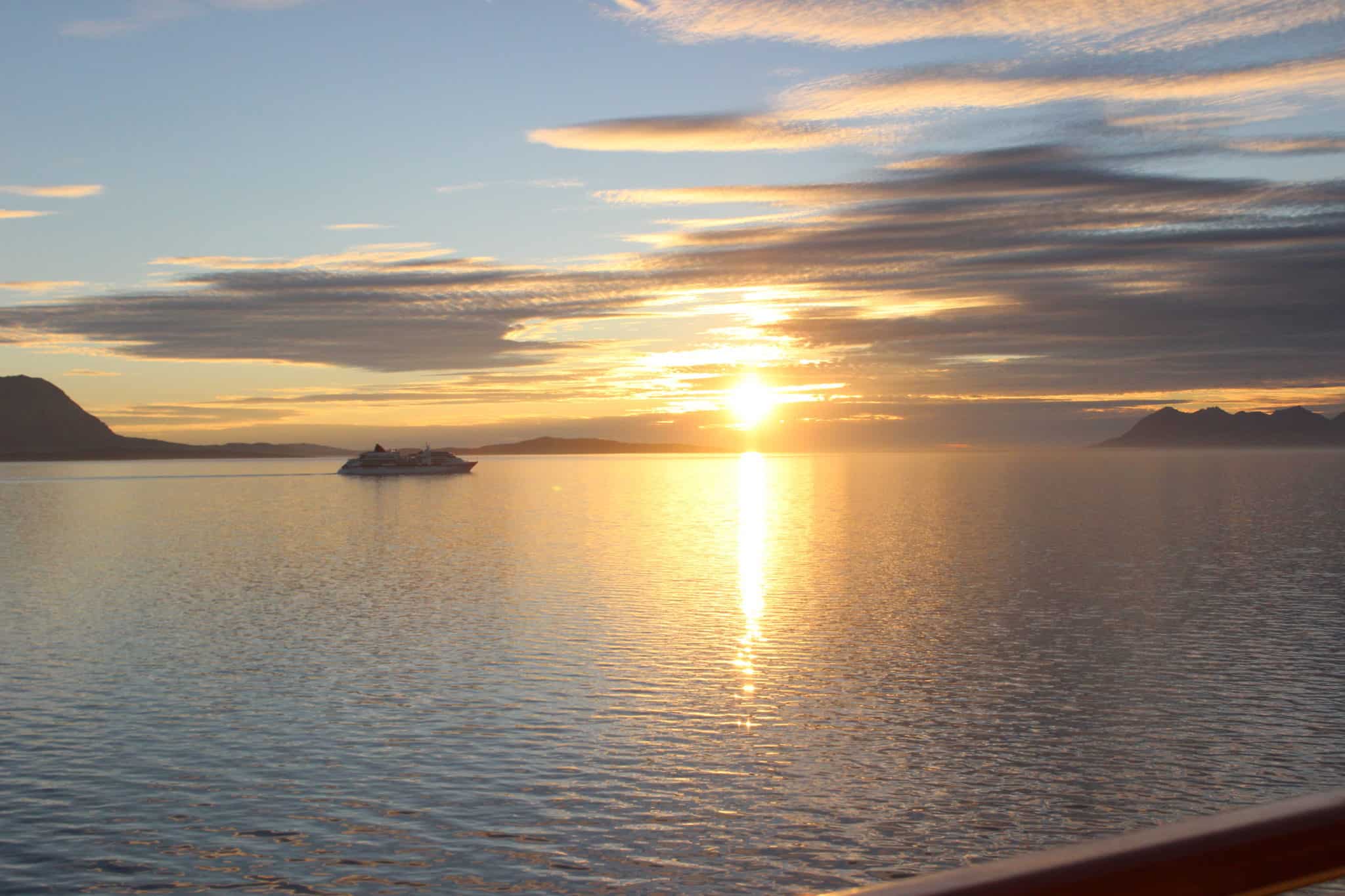 Tonight was the beautiful midnight sun, where the sun got really close to the horizon but didn't actually sink below it before it started to rise again. It was absolutely gorgeous, the entire atmosphere was. The sky, the fjords we were sailing through, it was like a piece of heaven on earth. Because of that, lots of people were outside well past midnight. We spent some time in the explorer's lounge, then out on a lounger by the window on the pool deck, and outside taking photos. I'll include some of those photos here. It was a stunning evening.
Goodnight.
Disclosure: Viking invited me on this cruise. As always, my thoughts and opinions are my own.