Today was Shetland Islands day, which meant I was going to meet real Shetland ponies.
You can read yesterday's trip report here.
I woke up early this morning because my excursion started at 9:15, and I needed time to get ready and eat breakfast. I decided to eat something quick in the World Café, which is the ship's buffet. A chocolate muffin, hash brown, bacon, and some mixed fruit made it onto my plate. It was the perfect amount for me. I did a four hour tour called Castles, Valleys, and Shetland Ponies.
Shetland Adventures
We drove all around the island, through beautiful valleys with lochs and farms filled with horses and sheep. There are hardly any trees on these northern Scottish islands, which makes for a very different feeling from what I'm used to. I live in a somewhat rural area with a lot of farms out on the back roads, but being here was completely different. You really see the curves of the hills and just how small the houses and cars are compared to the landscape. We stopped at a farm that has Shetland Ponies, and we got to pet them while the owner told us a variety of facts about that particular breed and their history.
It was literally in the middle of nowhere – a stop off the side of the road just large enough for a couple of tour buses to be parked there at once, where everyone walks out to this farm with horses at the front, and sheep in fenced-in pastures further back towards the house. The ponies were adorable and very calm, like they've seen visitors hundreds of times (which most of them have!). They told us that the beautiful cream colored pony had just arrived to their farm yesterday, so he was new but he seemed just as calm and used to people as the rest of them.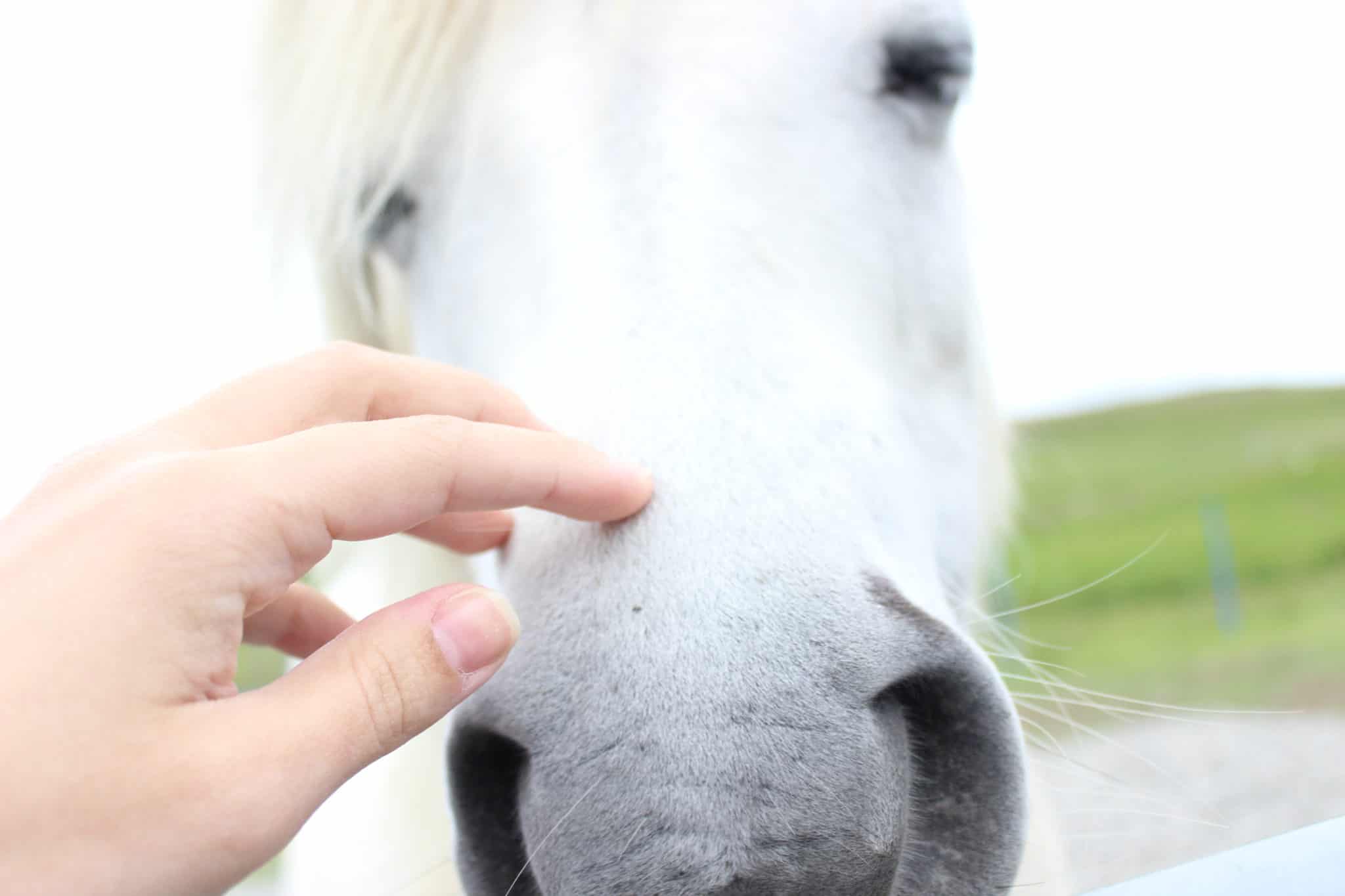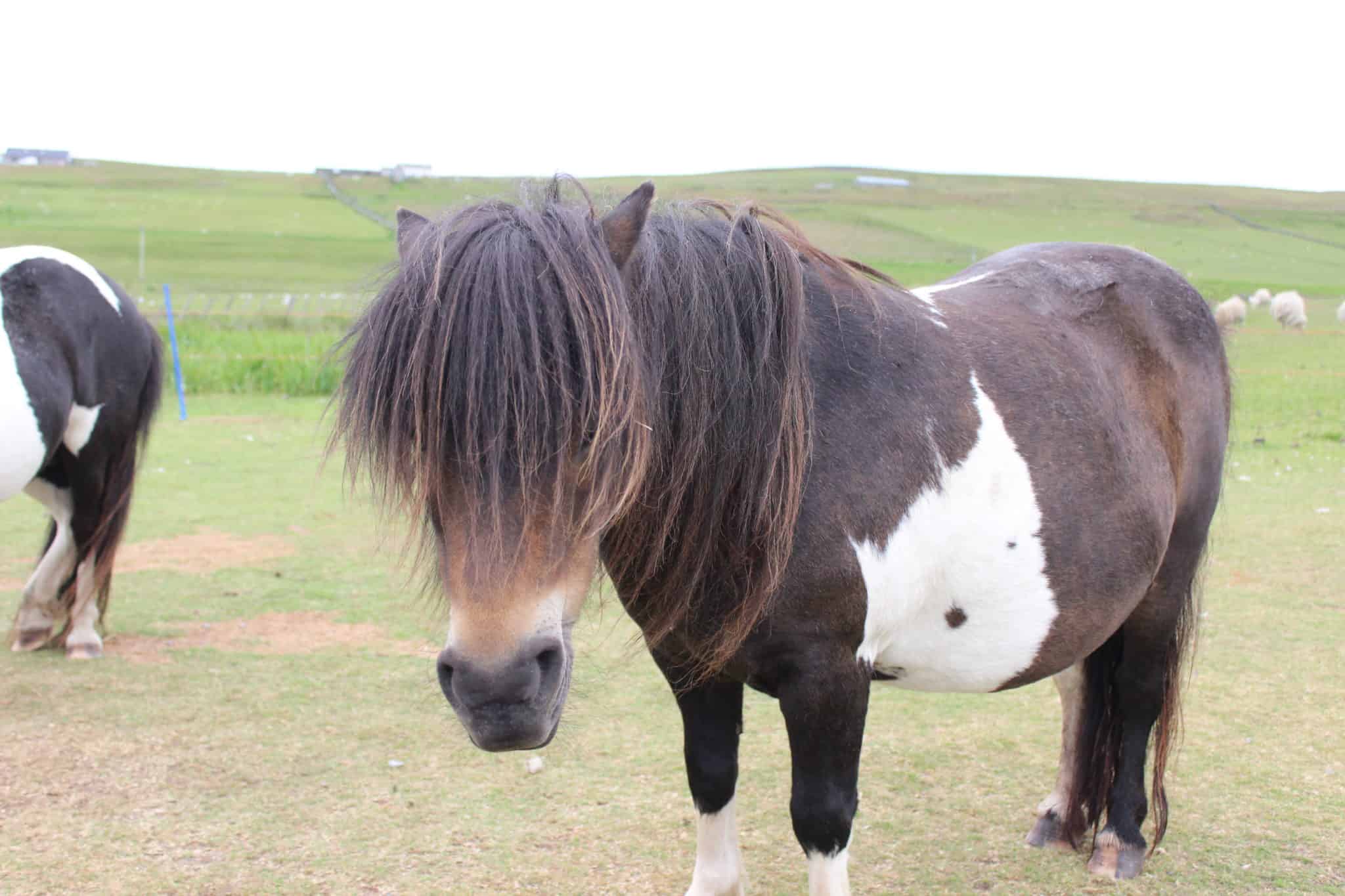 The excursion also included a number of points along the way where we stopped and could get out to take pictures, whether it was a view of a little town by the water from a vantage point high above, or a picturesque view of the hills and lochs. Another stop was in the coastal town of Scalloway, where we visited Scalloway Castle that Patrick, Earl of Orkney and Lord of Shetland built in 1600. We also were able to stop into the Scalloway Museum and look at the small number of exhibits and enjoy browsing the gift shop. Scalloway looked to be a simple, industry-focused coastal town and though we wouldn't usually think to visit such a random place, I'm glad I was able to.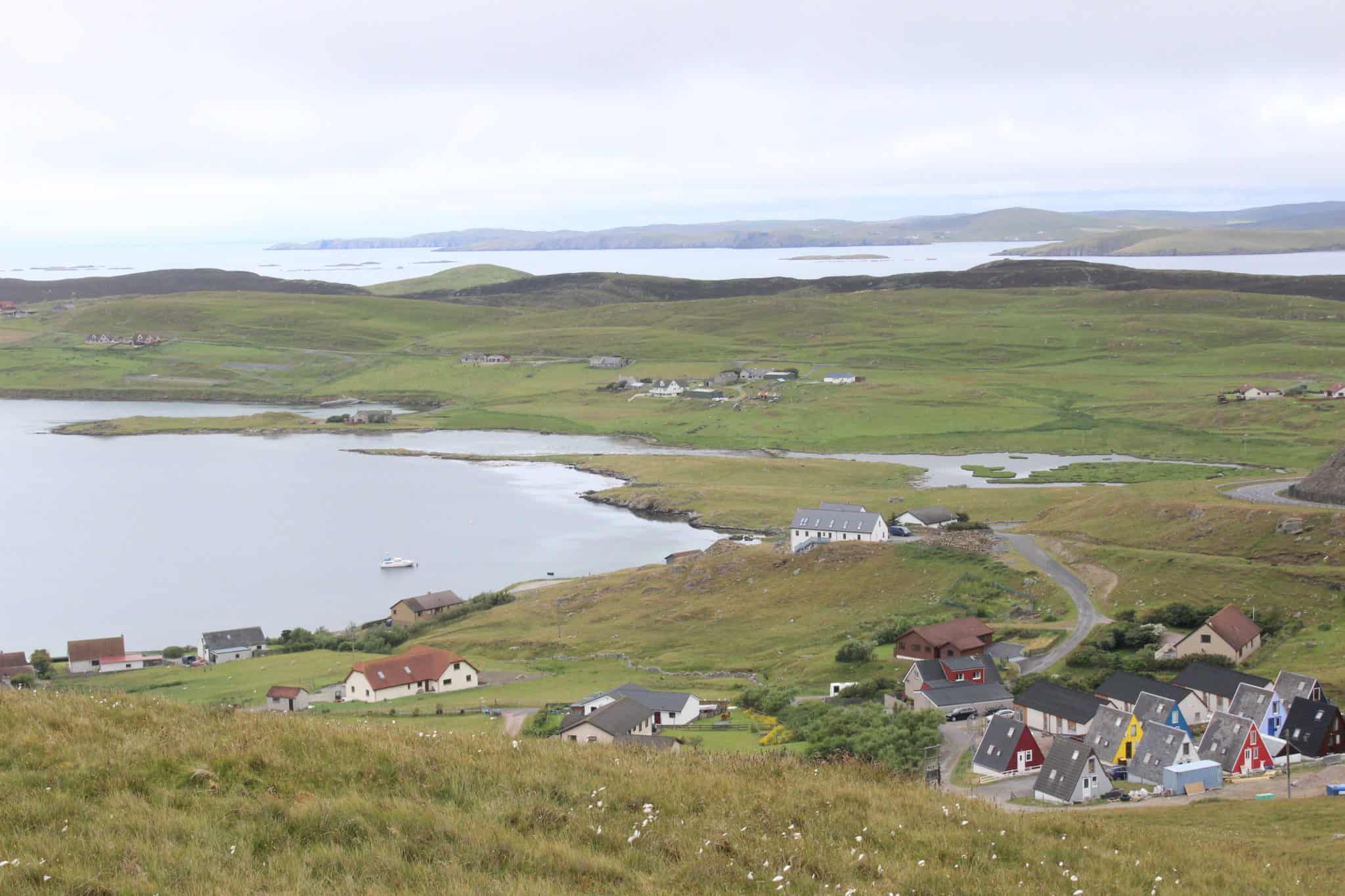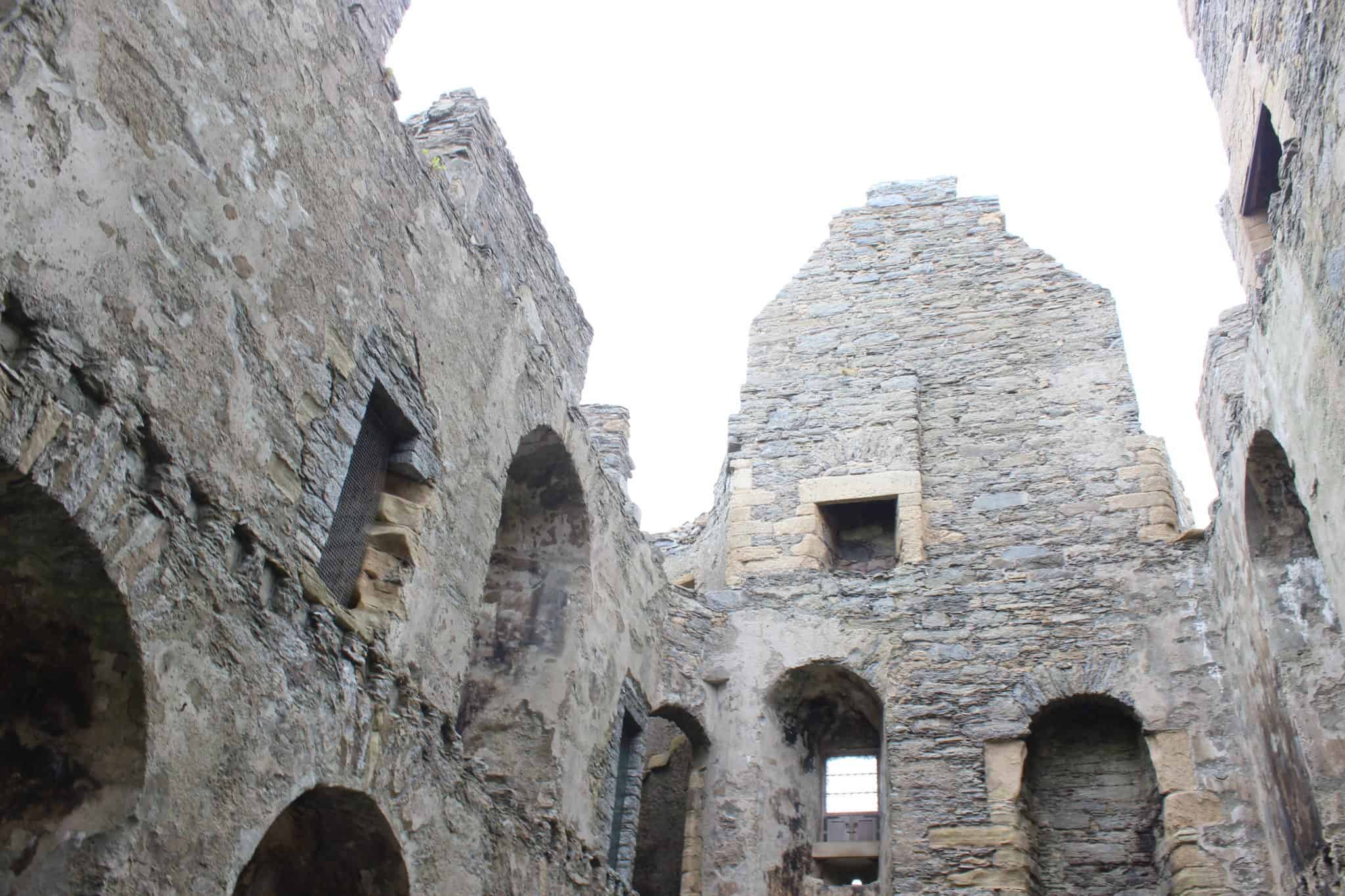 Lunch
I was back on the ship after my excursion around 12:30, so I actually made it in time for lunch today. I hit up the buffet and got some spaghetti and meatballs along with a salad and chocolate tart. I brought it out to the lido deck and sat in one of the little tables that are in a row. They were actually having some kind of special pop-up buffet out on the lido deck at the same time; I'm not 100 percent sure but I think it was seafood, which I'm not huge on so I didn't investigate further.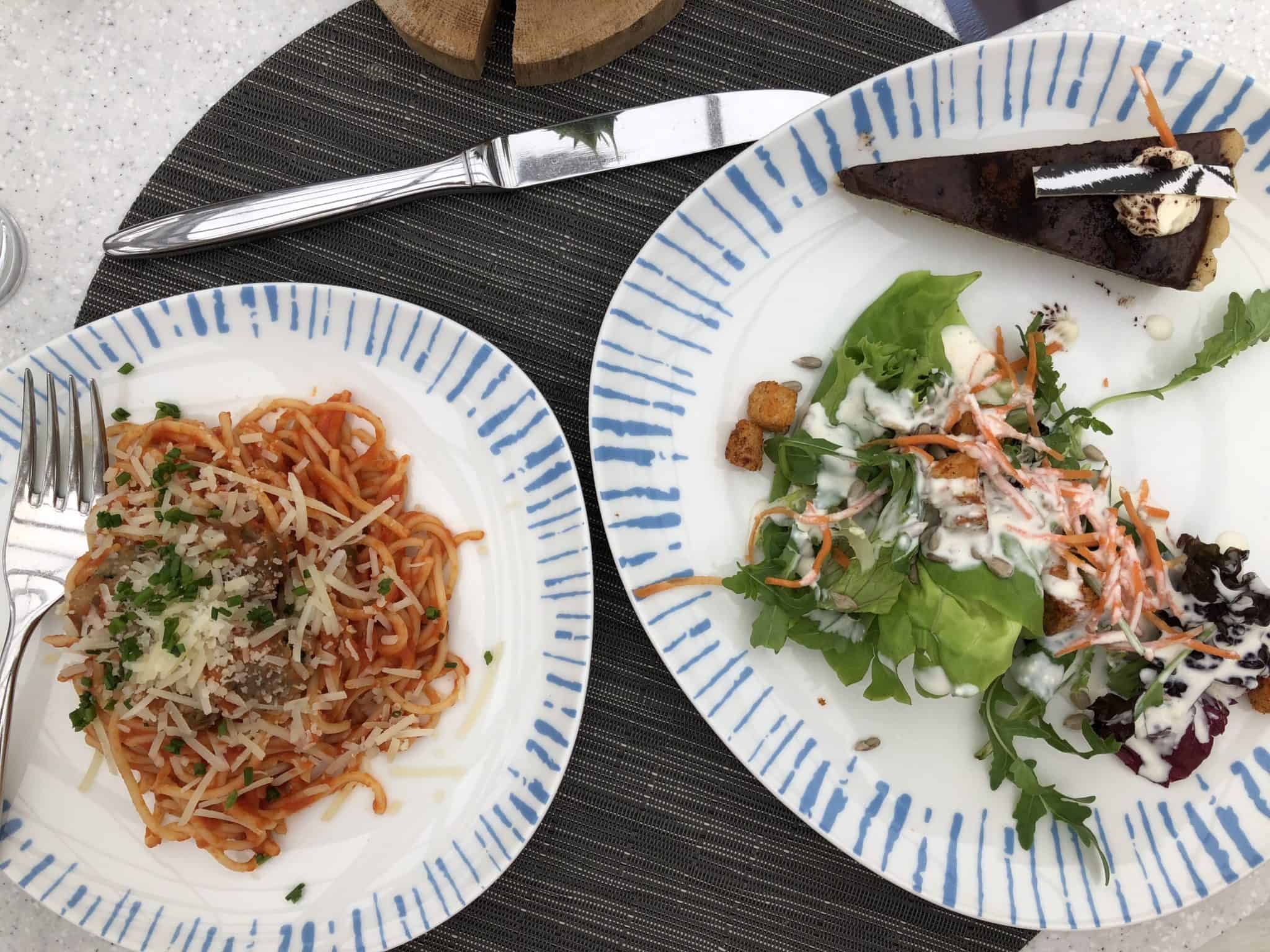 Heading Into Town
By the time I was done and stopped back in the cabin, my mom had just gotten back from her excursion (we did separate ones today), and we decided to take the few hours before the ship left to go into Lerwick. Neither of our excursions spent some time there, but it looked intriguing and that's the town we were docked in, so we decided to go back and explore. There was a shuttle that ran from our pier into the heart of Lerwick, and it took less than five minutes to get there. I think the only reason the cruise pier isn't in the heart of town to begin with is because this is primarily an industrial port and not a tourist harbor. There is, however, a large ferry that runs every night from there for locals to get to Aberdeen. The journey takes 12 hours and sails overnight so that passengers can just sleep the trip away and be there by morning.
In town we walked the main stone street which was filled with cute shops. We stopped into a chocolatier, a crafts store, several shops that sold scarves, handbags, hats, and yarn, and other stores with handmade goods and knick-knacks. I found a Christmas ornament which I was happy about – a wooden sheep. We also were able to exchange the majority of what British pounds we had left back into US dollars at the post office, which was on that same street.
Spa & Dinner
We made it back onto the ship about 45 minutes before it was scheduled to depart, and I headed to the spa while my mom headed to the pool grill – her excursion and our trip back into town got in the way of lunchtime for her. But it was okay because she's found a new favorite in the pool grill's Philly cheesesteaks. At the spa, I did a little bit of the Nordic hot and cold ritual. I started in the dry sauna, then headed for the snow room, which was very pleasant and not as miserably frigid as I was afraid it would be. Then I hit up the large, warm whirlpool in the center of the spa and the hot tub before trying out the bucket of cold water that you dump on your head by pulling a rope. After that it was back to the whirlpool before I eventually made myself get out and go back upstairs to start thinking about dinner.
As usual, we had dinner in the main dining room and it was especially delicious for me tonight. I had a pineapple mojito for my starter, which was basically like a fruit cocktail of pineapple in a juice made with rum, lime, and mint syrup. It was very good but the rum was strong for what it was, which seems to be the trend here. I'm not mad about it at all, it's just unusual for me!
I ordered fettuccine fresche alla carbonara for my main course, which was kind of like fettuccine alfredo with pancetta but fancier. I ate the entire thing in record time. Dessert was absolutely perfect for me too; two mini cannoli with hazelnuts and a scoop of ice cream. If you know me, you know cannoli are one of my favorite sweet treats ever!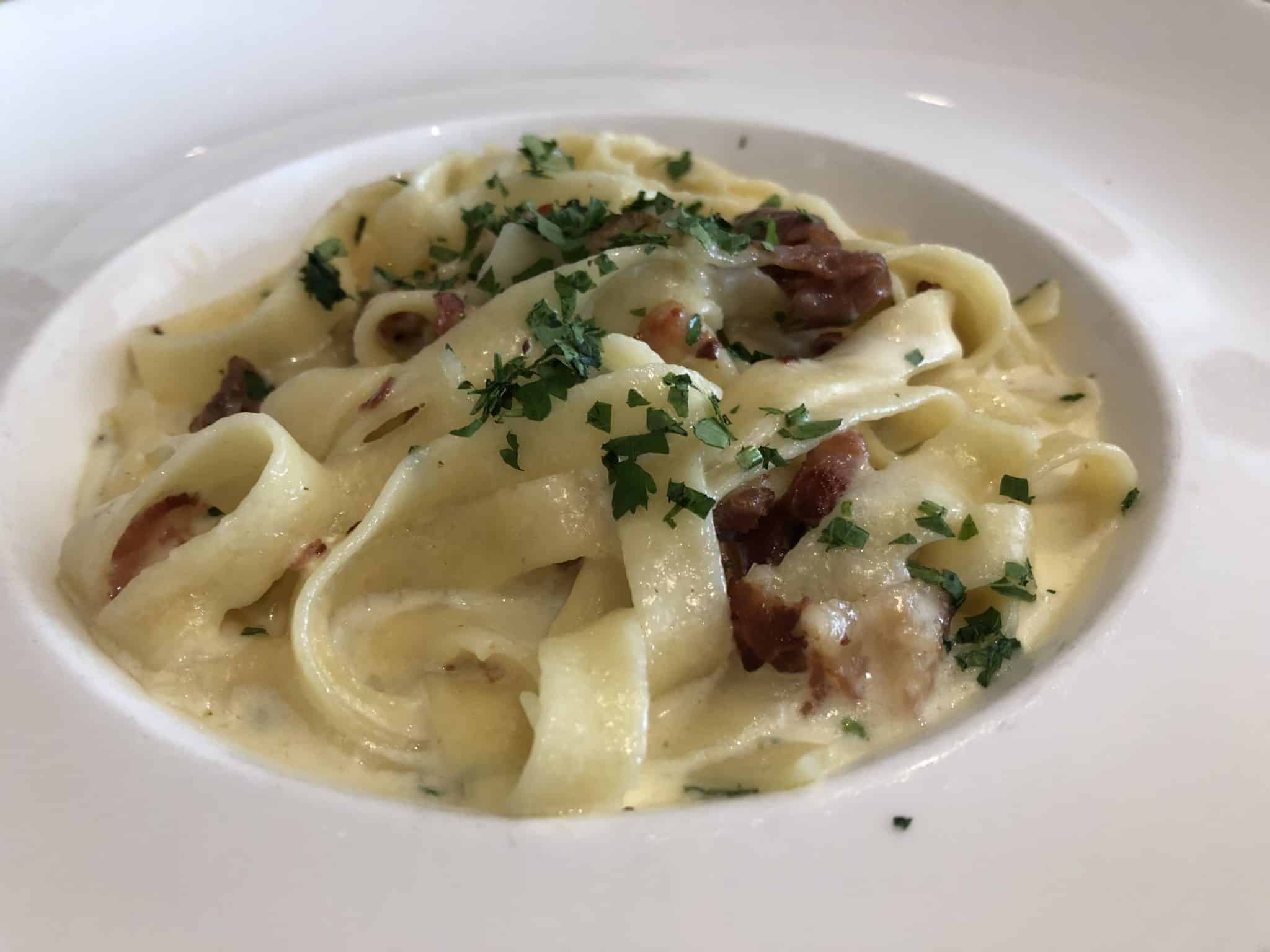 Showtime
Our assistant cruise director is a very talented vocalist, so he put on a show in the Star Theater tonight. He sang a wide variety of songs – everything from You Raise Me Up to Home by Michael Bublé to You Make Me Wanna Shout with funny stories from his ten years of cruising in between. It was a lot of fun and I think the audience really enjoyed it. This is actually his last cruise on his current four-month contract before he goes home along with everyone else from Bergen for a two-month vacation before returning to the ship afterward.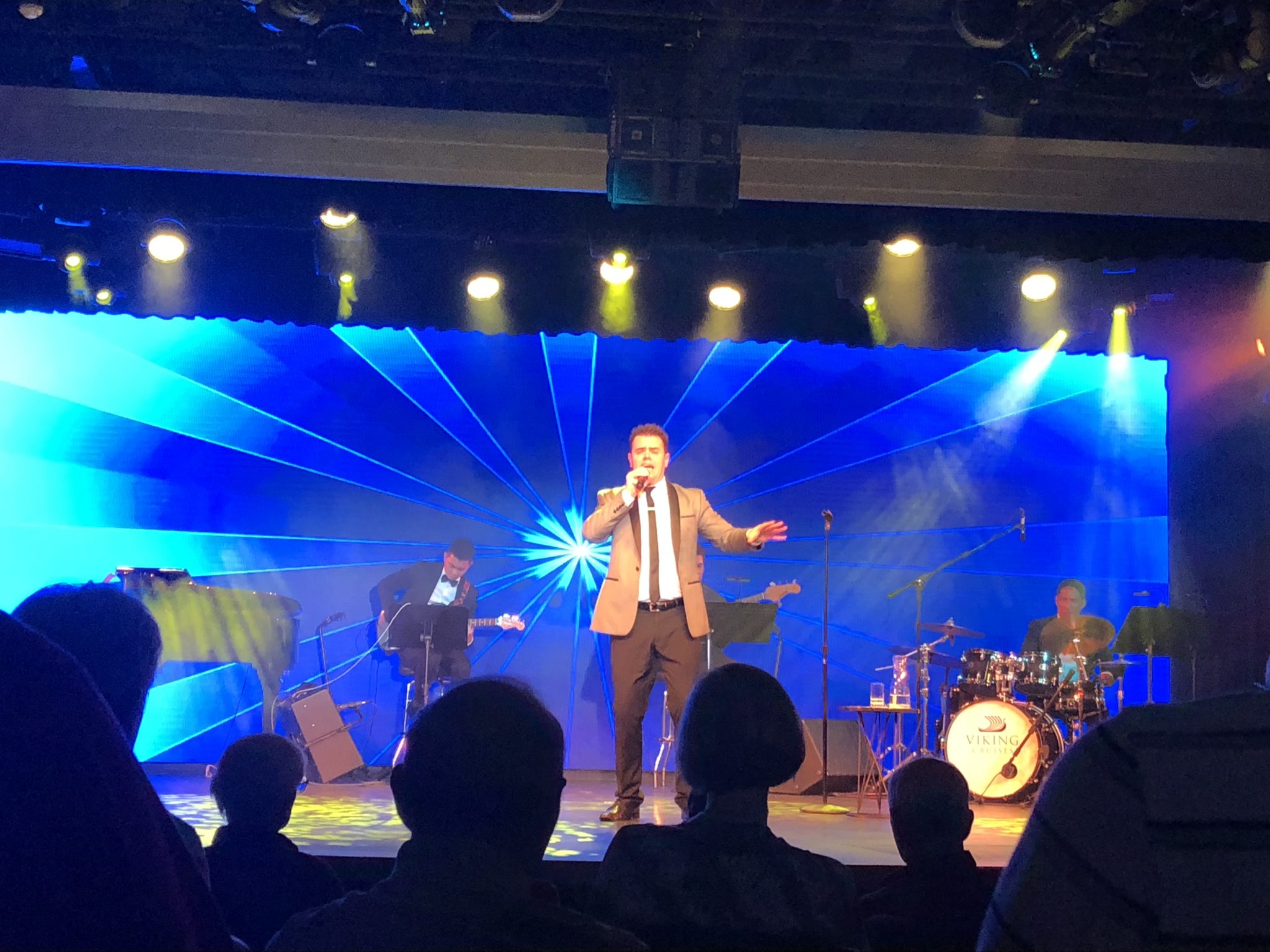 After the show, we headed straight for our cabin. I've been tired most of the day and we've been noticing lots of people around the ship yawning, so I think it was just that kind of day. Also, we have to set our clocks forward by one hour tonight as we sail towards Norway, so we are going to lose that hour of sleep.
It's technically just after 11 pm now, but in terms of sleep time, it's just after midnight and time for me to go to sleep so I don't waste the sea day tomorrow! Oh and something that's really neat is that we are so far north, it's staying light outside later and later. I just checked and there's still a tiny bit of daylight outside. Soon we will have several days in a row when the sun doesn't set at all, and I can hardly wait.
Disclosure: Viking invited me on this cruise. As always, my thoughts and opinions are my own.