Today we arrived in Norway, and I was teeming with excitement. This country is the top reason I was so looking forward to this cruise, and our first port did not disappoint – Lofoten, Norway.
You can read yesterday's trip report here.
Panoramic Lofoten
This morning I played the soundtrack to the movie Frozen in preparation for visiting the country in which the movie is set. I'm such a nerd, but I am obsessed with Disney and what time is more fitting to have that score be the anthem to my morning? After breakfast at the World Café buffet on deck 7, we walked off the ship for our excursion which began at 10:50 am. We had a wonderful tour guide who had a great sense of humor and lots of knowledge about the local area as well as Norway in general.
Our first stop was at a fishing harbor, where we got out to take pictures and hear about the fishing industry in Norway as well as a number of other facts about the country and its maritime history. After that we did a lot of driving around the countryside, which was absolutely beautiful. There are very tall, steep mountains/hills not too far from the shoreline, and Norway has lots of trees which is very different from the Scottish islands we visited over the past several days.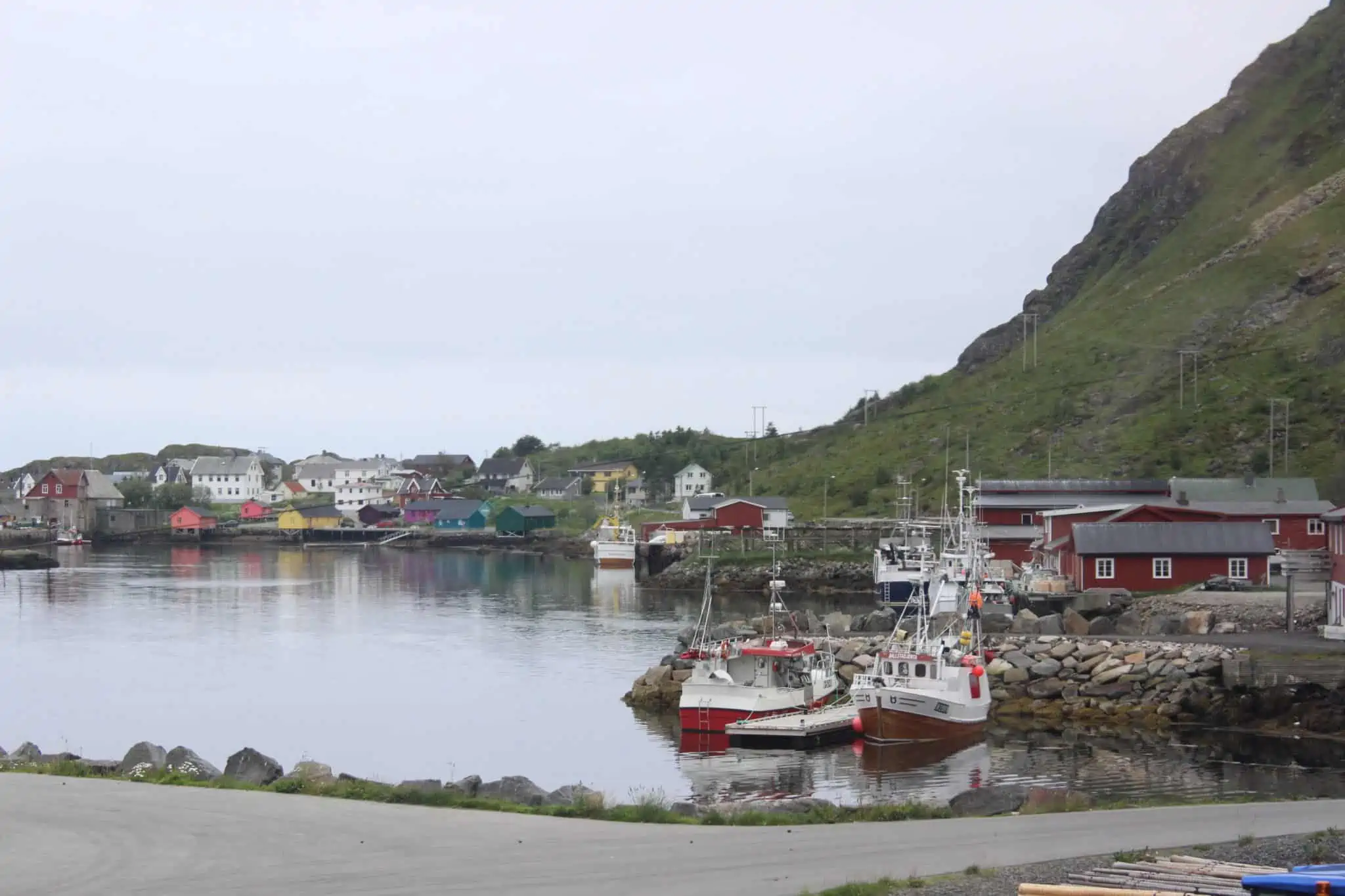 After driving through the valleys by lakes, farms, and rural neighborhoods, we drove through a tunnel that cut through one of the mountains to a tiny village on the other side – literally, only about 30 people live there. But the attraction for locals and visitors from countries like Denmark and Germany over there is camping. The village is next to a beautiful beach framed by mountains, and there is a simple campground there where people had their campers and tents set up for a fun summer holiday. Keep in mind it was still chilly, maybe in the mid-50s-60s but people in this region are so used to it that it doesn't sway them from camping in these temperatures. There were also sheep everywhere! Walking around near the beach and perched precariously on the sides of the rocky hills – they sure do love to climb!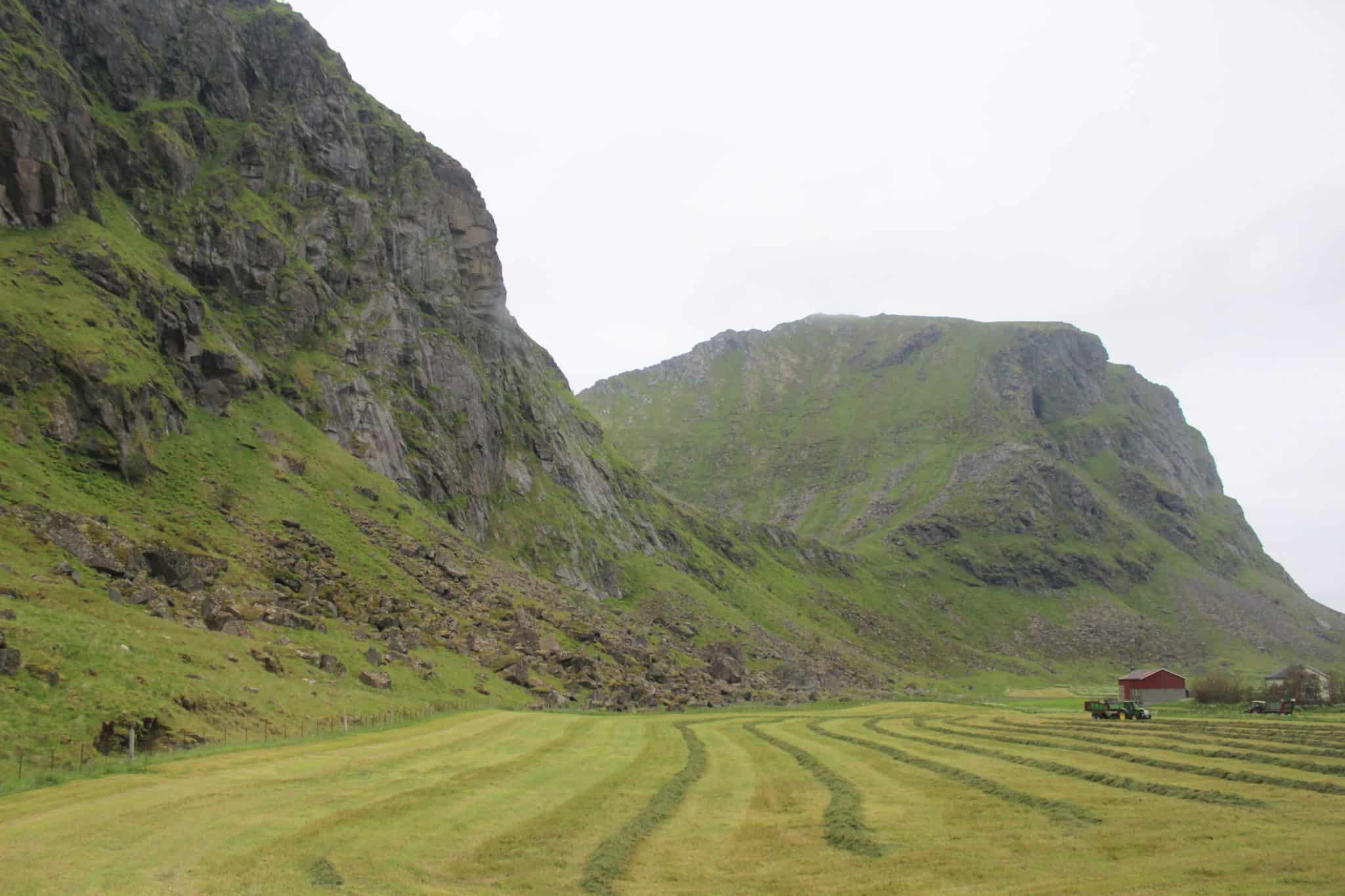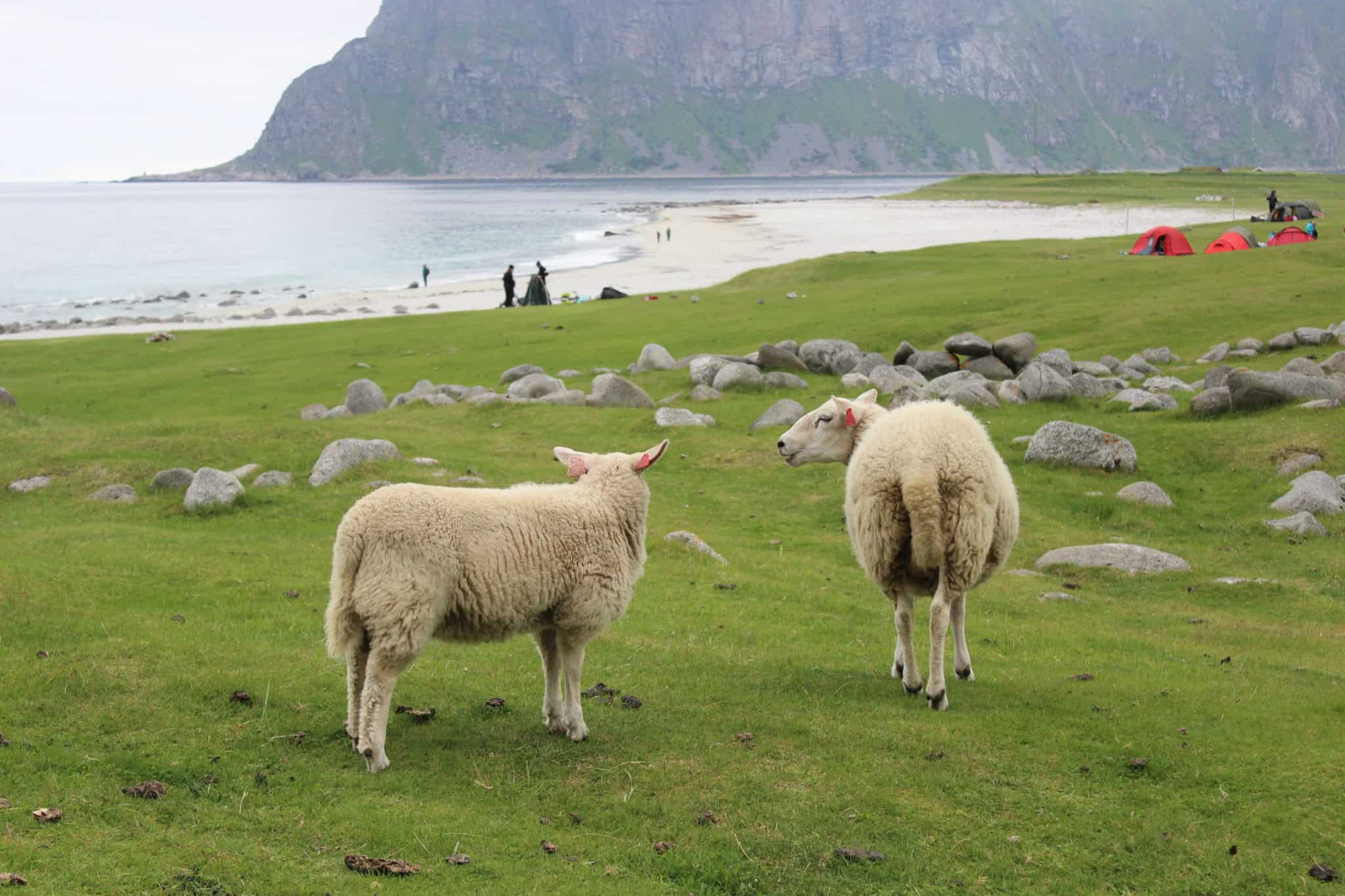 After that stop, we drove back through the tunnel to another campground and beach on the side of the mountain that we originally came from. This might sound boring or simple to you, but let me tell you this was no ordinary beach and Norway is no ordinary place. As we were walking back to our coach after this stop, I said to my mom that the Caribbean's got nothing on Norway. The country is absolutely beautiful, and we've only stopped in one place so far!
Lunch & Spa
We made it back on the ship just in time to grab lunch before the buffet closed for the afternoon, so we headed up immediately to find something to eat. I ended up making a cold cuts sandwich and got some fries, a double chocolate cookie, and a little fruit tart. Simple, but it hit the spot. Also, I don't know why I didn't think to do this before, but I combined cranberry juice with lemonade for my beverage and it was perfect. Ocean Spray literally sells cram-lemonade, so I'm basically mixing up my own version at the drink machine in the buffet.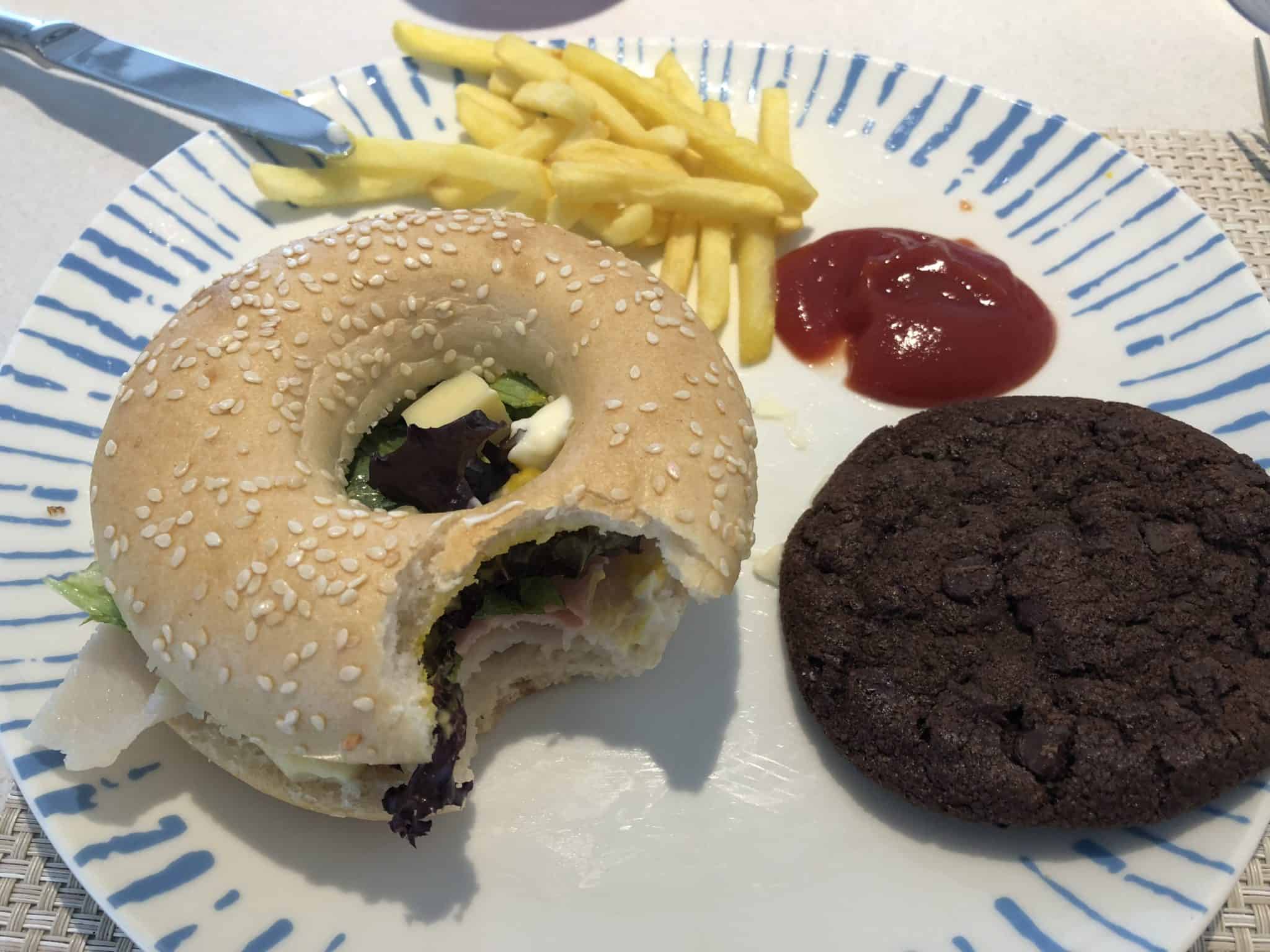 After eating, I headed back to the cabin to load the photos I took from the morning in Lofoten onto my laptop, and then headed down to the spa. My main goal was to just relax in the big warm whirlpool, but I also did the snow room, hot tub, and cold water bucket too. Once I was done with the water I settled into a lounge chair and ended up falling asleep! I thought the spa would be packed since by the time I went down we were sailing away and everyone was back on the ship, but there were only a couple of other people there at a time while I was down there. It was incredibly relaxing.
After my nap, I apparently thought I needed more time in the water because I headed up to the pool deck for a dip in the hot tub. There was no one else in it and only one person in the pool, along with just a few people scattered in the loungers surrounding it. Again, very calm and relaxing. That's a trend with this ship – the crowdedness, lack of loungers, and the stressful atmosphere is just nonexistent on Viking. There is more than enough space for everyone.
Explorer's Lounge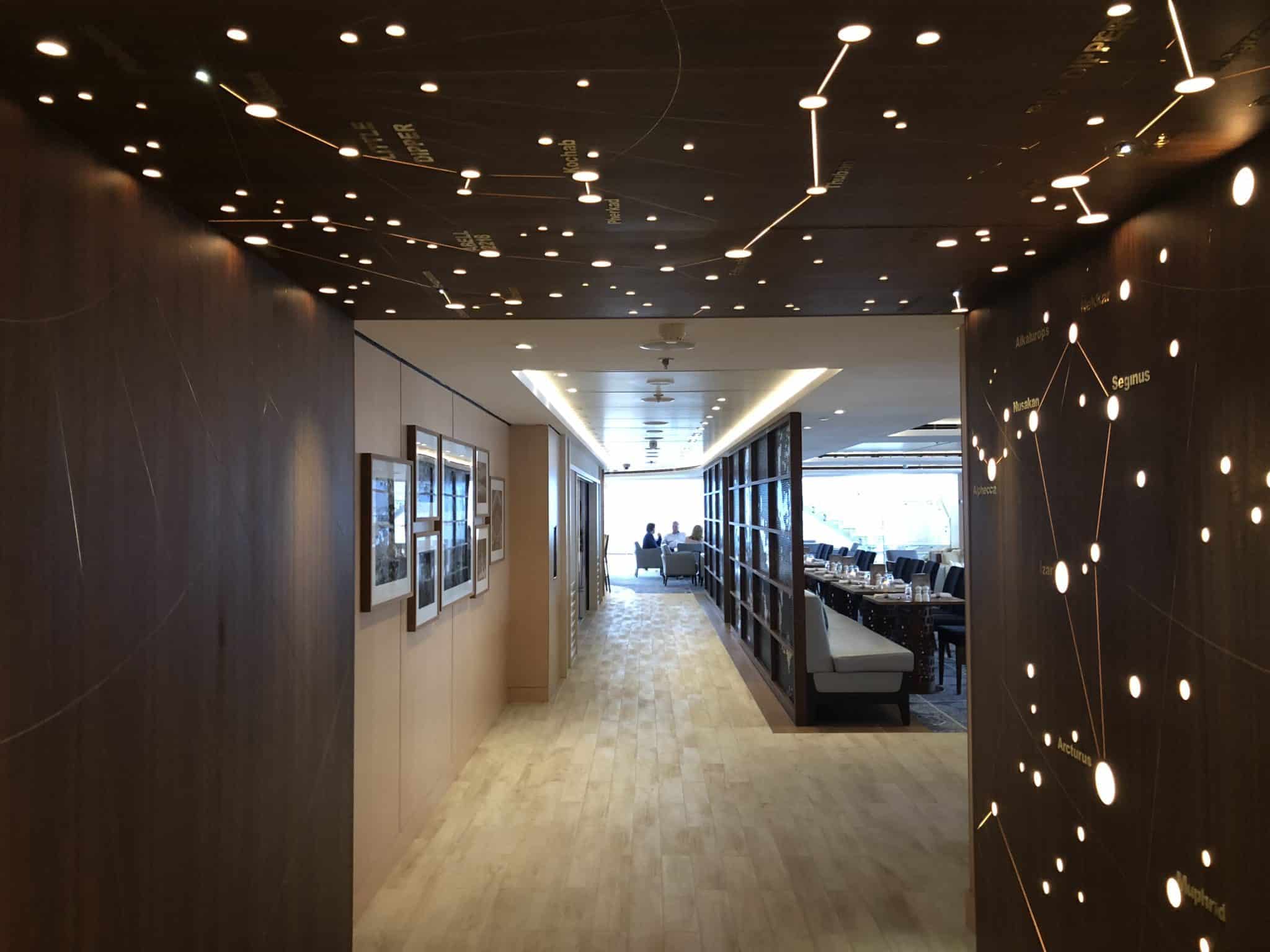 There's a beautiful magazine from Condé Nast in the UK called House & Garden, and every stateroom has a recent copy. I don't know if this issue was created specifically for the Viking ships, or if it just so happens that a photo from the Explorer's Lounge on the Viking ocean ships was on the front cover of this particular issue. Without even thinking about the fact that the Explorer's Lounge was the space featured on the front, I thought the magazine looked beautiful and decided to take it up to said lounge for an hour or so of reading it and looking at the photos. I found an unoccupied corner by the windows, so I settled onto a couch there.
A server came over and I asked if I could try a tiny sampling of aquavit, which is a Norwegian liquor and the namesake for the Aquavit Terrace at the aft of the ship. I didn't have any idea what it tasted like, and wanted to know if it would be worth me ordering Viking's signature cocktail that includes it, Viking Royal, sometime during this cruise. After asking his boss, he came back over with a few sips for me to try, no charge. It tasted great, but it's a very strong alcohol. It tingles not only on the way down but also on your lips as soon as you bring the glass to your mouth. It's definitely best as an ingredient in a cocktail, in my opinion. I may end up ordering the Viking Royal at some point within the next week, we'll see. From my prime spot in front of the windows, I could see the Norwegian coast rolling by. We sailed through what I think may have been a fjord, or just a somewhat narrow passage between Norwegian islands this evening, and I had a beautiful view.
Manfredi's Round Two
Tonight we had dinner in Manfredi's – a reservation I booked weeks ago before I knew we'd be dining with the captain there the night before! We were given a table by the window, which was perfect because I didn't want to miss seeing the landscape roll by. I had a delicious bucatini freschi alla carbonara dish with fresh pasta made right on the ship, and a scoop of rocky road gelato for dessert. I also took the opportunity to finally try limoncello for the first time. I went to Italy last year and I didn't even try it then – I don't know why! This liquor is also strong, but slightly less so than the aquavit was. I really liked it, it reminded me of a lemon warheads candy but not so sour. My mom had duck for dinner, and raspberry sorbet for dessert, which she really enjoyed as well.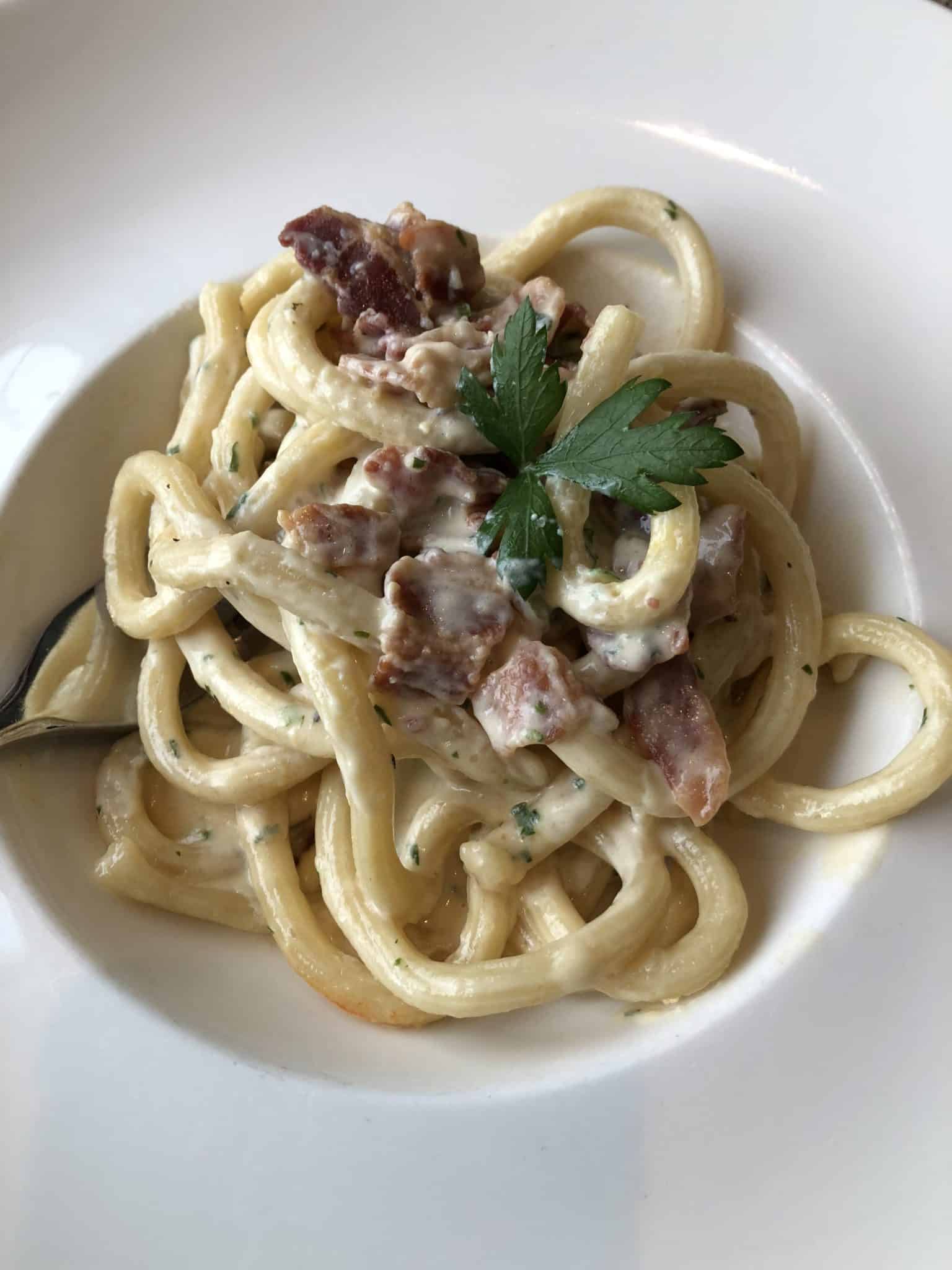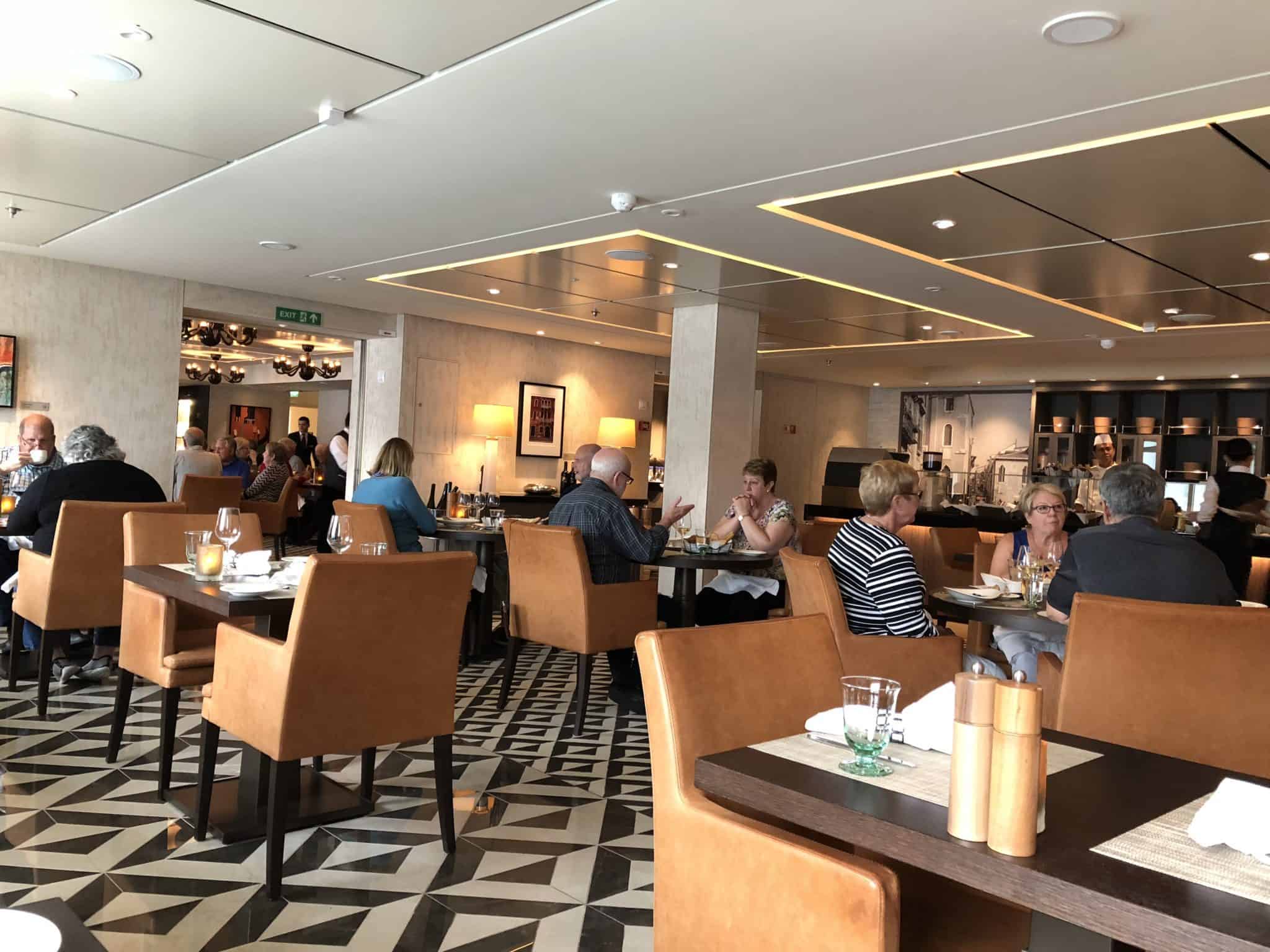 Turning In for the Night
We started dinner around 8 pm, and it was around 9:45 by the time we left Manfredi's. I was really full and had some work to do (including writing this blog!), so I came right back to the cabin. Time really escapes you when the sun doesn't go down (or goes down really late) – it's almost always later than it feels up here the past few days. So I did some work, watched part of a movie on the cabin TV, and now I'm finishing up this sea blog post. It's past midnight already, but the only indication of that would be how tired I am! Goodnight.
Disclosure: Viking invited me on this cruise. As always, my thoughts and opinions are my own.