A free gift being given out by Carnival Cruise Line has some people fuming and others calling them out for being ungrateful.
What has the unhappy passengers so upset? The lanyard being given to Platinum members of the VIFP loyalty program.
What They're Complaining About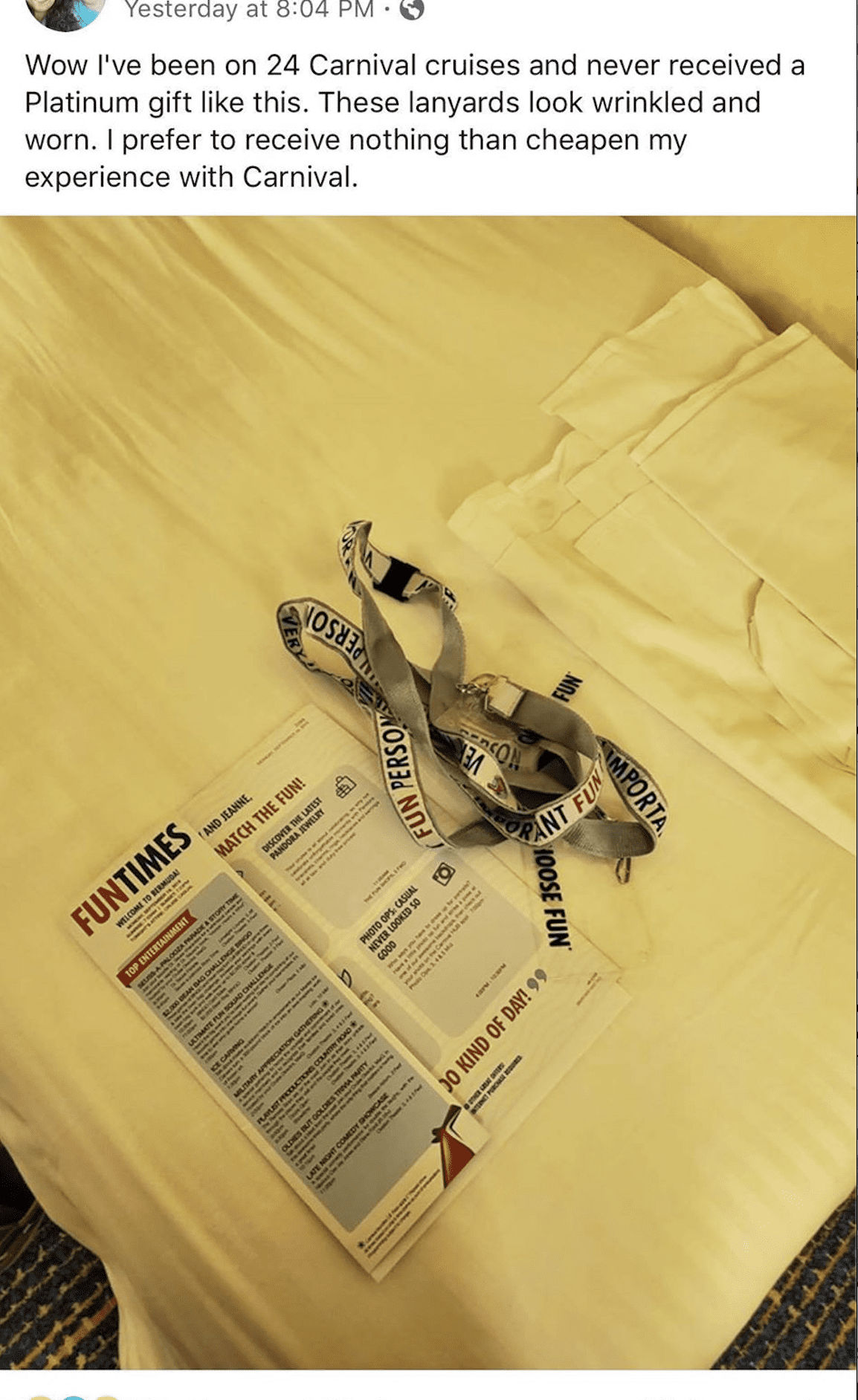 In recent weeks, the Facebook page of Carnival Cruise Line's Brand Ambassador has been ground zero for the controversy. "I've been on 24 Carnival cruises," wrote one unhappy poster, "and never received a Platinum gift like this. These lanyards look wrinkled and worn. I prefer to receive nothing than cheapen my experience with Carnival."
And this is not the first time the complaint has been raised. In early September, another post on Heald's page read, "I would rather have received nothing than this slap around my face."
"This Is Not Our Most Popular Gift"
While the people who posted responses were pretty unanimous in calling the gripers ungrateful (and worse), others have anonymously shown solidarity with the complainers.
In a poll asking whether guests would rather have the lanyard or nothing, 78 percent voted for the lanyards, while 22 percent admitted they'd prefer to get nothing.
"Yup," admitted Heald, "the lanyard is not our most popular gift, but it is a ummm gift, and we will be changing this and I will let you know when and to what soon."
READ MORE: Has Loyalty Program Entitlement Gone Too Far? 
However, the folks who'd rather have nothing may actually get their way, because in another post, Heald suggested — not for the first time — doing away with the gifts entirely. At the same time, he drove home the point that there are perhaps far more important things we could all be focused on at the moment.
In responding to a poster who'd suggested that anyone else associated with this particular gift "should be fired immediately," Heald did not hold back. Instead, he said this particular complaint would "have to wait while I help people with hurricane questions and while I consider again if we should just stop the gift all together."
Our Take: Say "Thank You" and Move On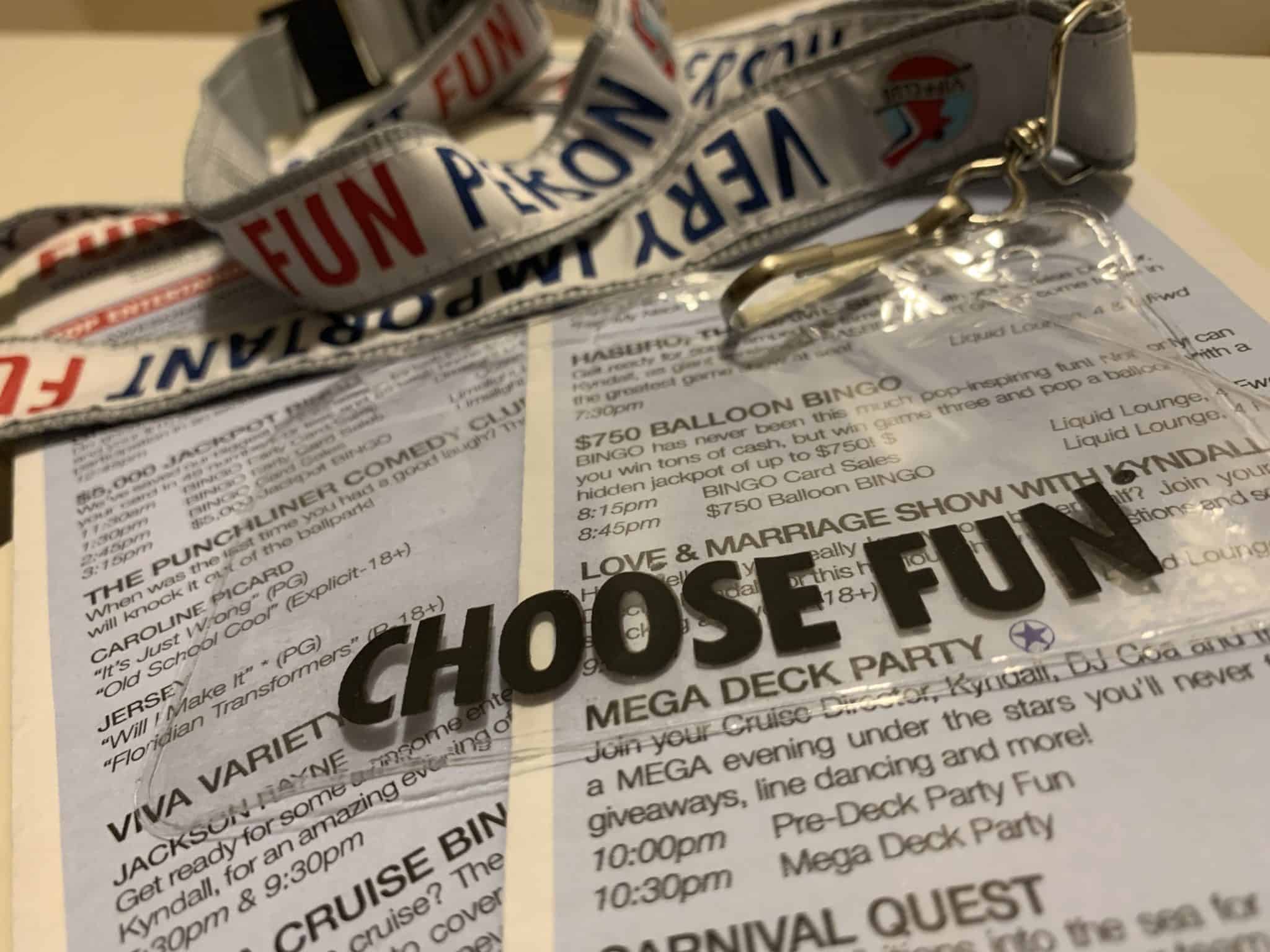 We get that loyalty is important. Each cruise line is in a heated competition for customers, and each of those passengers has a choice of which line to sail on. Some are loyal specifically to one line while others go where the best deals are to be had.
Loyalty should have its privileges, and it does. But anyone summing up the value of their loyalty in a gift is missing the bigger picture. Among the perks which come with having reached the Platinum level of Carnival's VIFP program are priority check-in and boarding, free laundry service, arcade credits, a private party, a separate line at Guest Services and more.
Yes, one of those perks is a "Carnival logo gift on every sailing." And yes, a lanyard is kind of a crappy gift. It's also worth remembering, however, that those gifts, free though they are to guests, come at a price, and that price is paid by every Carnival guest, including those receiving them.
More important, however, is the air of entitlement that one has to have to look the proverbial gift horse in the mouth. It's hard to imagine any other circumstance in which this type of behavior would be acceptable. Imagine if you took a housewarming gift to someone and they, right to your face, called it tacky?
Or if you went to a friend's birthday party and, upon unwrapping your gift, they threw it back and said, "I'd rather have nothing!"
Maybe nothing is exactly what you should get. But the rest of us? We'll happily accept what we're offered. Heck, worst-case scenario, there's always eBay.