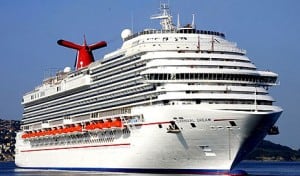 By: Sarah Phillips: On Friday afternoon, Carnival Cruise Lines announced updates about two ships: Carnival Legend and Carnival Dream.
Carnival Legend
Carnival Legend is currently on the way back to her home port of Tampa and will arrive as scheduled on Sunday morning. During this seven-day voyage, the vessel experienced a technical issue with one of the ship's Azipod units which affected its sailing speed. The ship's safety systems and hotel services are all functioning normally.
The liner's next voyage will depart Tampa on Sunday afternoon with a slight itinerary change: Costa Maya will replace the scheduled call in Grand Cayman. The rest of the voyage remains as scheduled with stops in Cozumel, Belize and Mahogany Bay, Roatan.
Guests booked on Sunday's voyage have the option of canceling and receiving a full refund or rescheduling for a future departure date of their choice.
Carnival Dream
On Wednesday during a scheduled port of call visit to St. Maarten, the Carnival Dream, on the last leg of a seven-day cruise, had a technical issue with the ship's backup emergency diesel generator while docked in St. Maarten. During regularly scheduled testing of the ship's emergency diesel generator, a malfunction occurred.
The ship never lost power and the propulsion systems and primary power source weren't impacted.  On Wednesday evening, there were periodic interruptions to elevators and restroom services for a few hours, but since 12:30 AM ET Thursday, all facilities have been fully operational.
Carnival arranged for a combination of approximately 50 commercial and private chartered flights departing St. Maarten for the 4,363 guests onboard. Guests had the option to return to Orlando or their originating city. The chartered flights began leaving Friday and will continue through the weekend. The line is also working to accommodate guests who asked to remain on board through the weekend.
Carnival arranged motor coach transfers from the ship to the airport in St. Maarten and from the Orlando airport back to the port or local hotels.
Life on board the last few days has been continuing as normal. All guests are safe, comfortable and receiving full 'Sea Day' itineraries, including children's programs and full dining options.
In addition to the normal entertainment and music options, the line arranged for three-time Grammy winner Jon Secada to perform two shows in the ship's main lounge on Thursday night.
Guests were also given the option of spending time in the port of St. Maarten until their scheduled flights home. Carnival arranged complimentary water taxi service for guests who wish to explore other areas of the island.
The ship's next voyage, scheduled to depart on Saturday, March 16 has been canceled.