Ask anyone who's visited Carnival Cruise Line's tropical destination Half Moon Cay, and you're likely to hear a rave review.
Now, Carnival is launching a new campaign designed to remind people how much they love the private destination… and with good reason.
"Smile With Your Toes in the Sand"
With the winter firmly upon us, it's safe to say that cruise lovers are dreaming of warmer locales, especially in light of the shutdown which has kept them off ships for nearly a year. Looking to capitalize on that pent-up frustration, Carnival is rolling out a new digital marketing campaign focused on what many would definitely call their "happy place" — Half Moon Cay.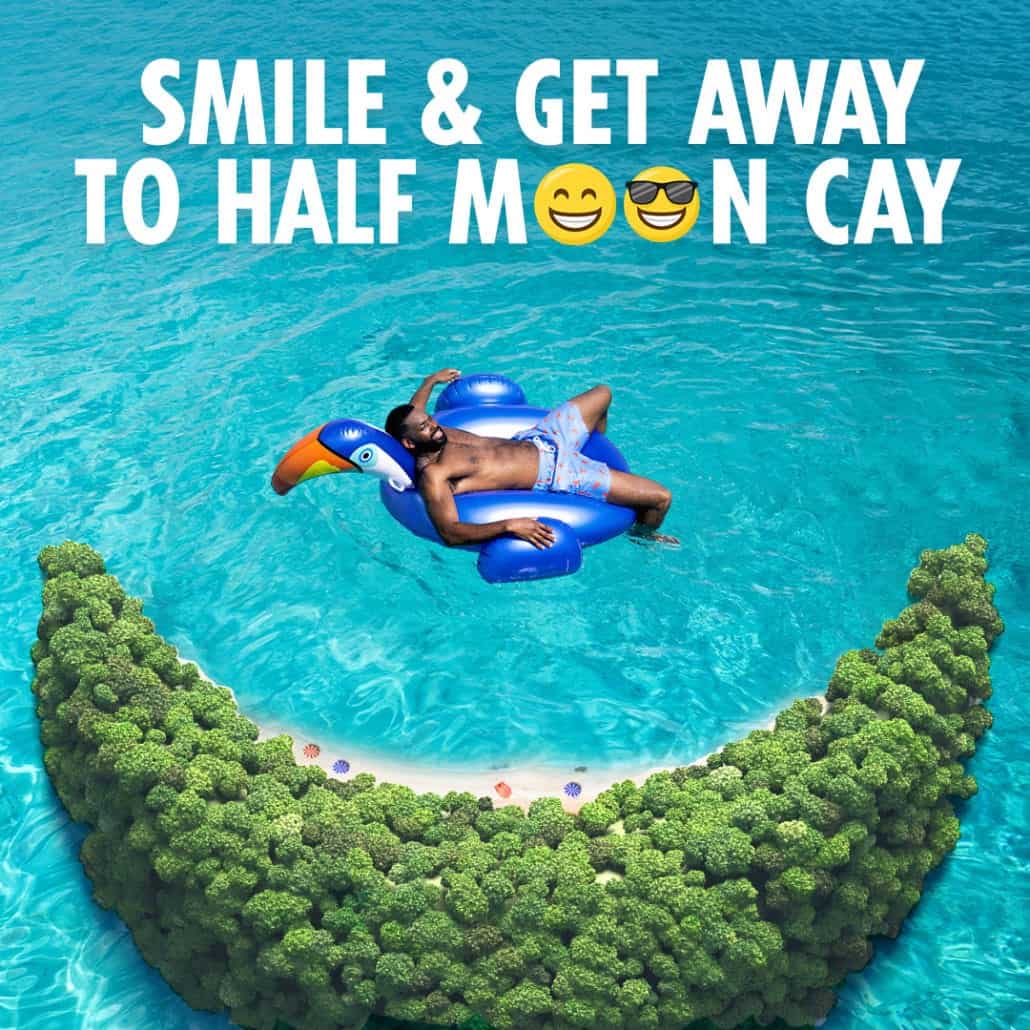 There are a lot of reasons people cite Half Moon Cay as one of their all-time favorite ports, including the gorgeous beach and the watering spot whose name sums up every vacationer's feelings: "I Wish I Could Stay Here Forever." In recent years, Half Moon Cay has seen several additions, including a Lobster Shack, although some plans for further expansion were put on hold following the shutdown.
Why Half Moon Cay is So Important Now
In part, because cold weather naturally leads many to think of tropical getaways, this is typically a very busy time of year for the cruise industry. Known as "wave season," it is when all of the lines see a surge in bookings.
Of course, the problem this year is that there are very big questions looming as to not only when ships will sail again but, once they do, where they will be permitted to go.
READ: Major Changes Coming to Half Moon Cay
Enter private islands such as Half Moon Cay, which will become more important than ever in the coming months. Unlike other ports which might wind up being wary of cruise ships until the current health crisis is fully resolved, islands owned by the lines will not only provide guests with a popular destination, but also create an environment which can be controlled with ease.
Unlike in a port such as Nassau, people that disembarking passengers interact with is far more controlled at a private destination.
READ MORE: 15 Tips for Half Moon Cay
In addition, the Centers for Disease Control recommendations point out that during the initial days of cruising's return, it may be advisable for ships to do limited sailings.
It's no coincidence that in their newly-released itineraries for 2021-2022, Holland America Line — a subsidiary of Carnival Corporation — includes a series of three, four, and five-night sailings to Half Moon Cay and Nassau marketed as a "Bahamas Sampler."
One thing is certain: Carnival cruisers will welcome a return to both the Fun Ships and Half Moon Cay, meaning this marketing campaign should easily hit home with its targeted audience.
Tour Half Moon Cay [VIDEO]