In 1996, Carnival Corporation purchased Little San Salvador Island for $6 million in the Bahamas, or as we know it now, Half Moon Cay. This 2,400-acre paradise is located 100 miles southeast of Nassau, Bahamas and is used as port stops by Carnival Cruise Line and Holland America Line. Rarely are the two cruise lines there together.
We've gathered 15 Half Moon Cay tips for your next Carnival or Holland America cruise.
1. Get off the ship early.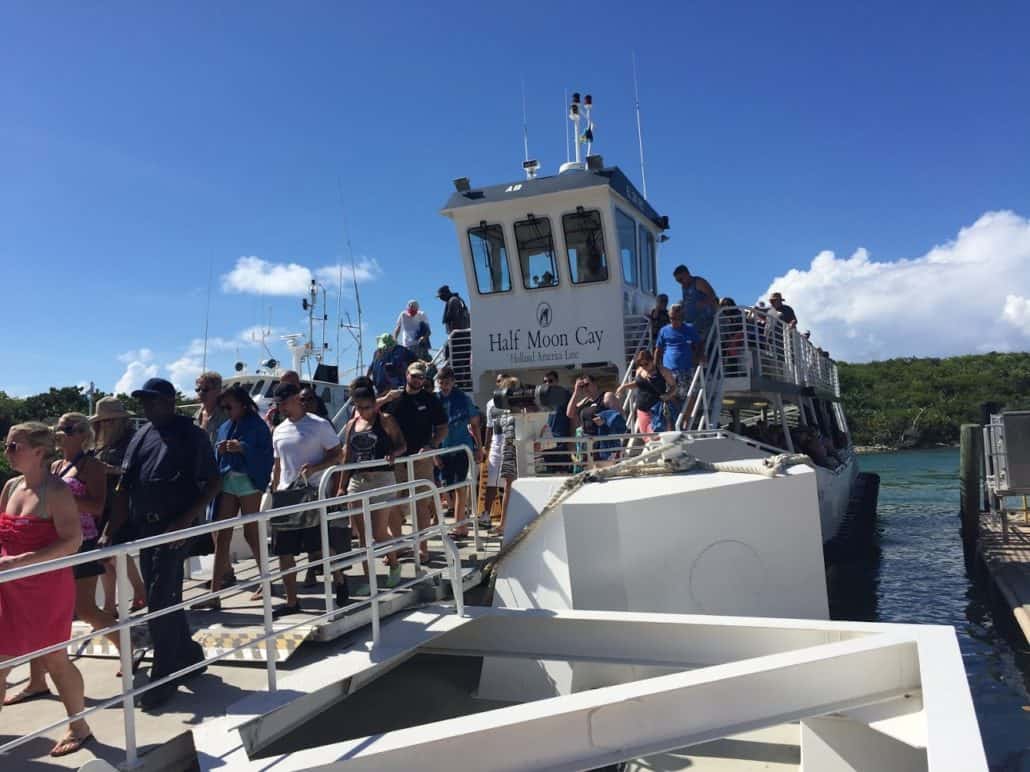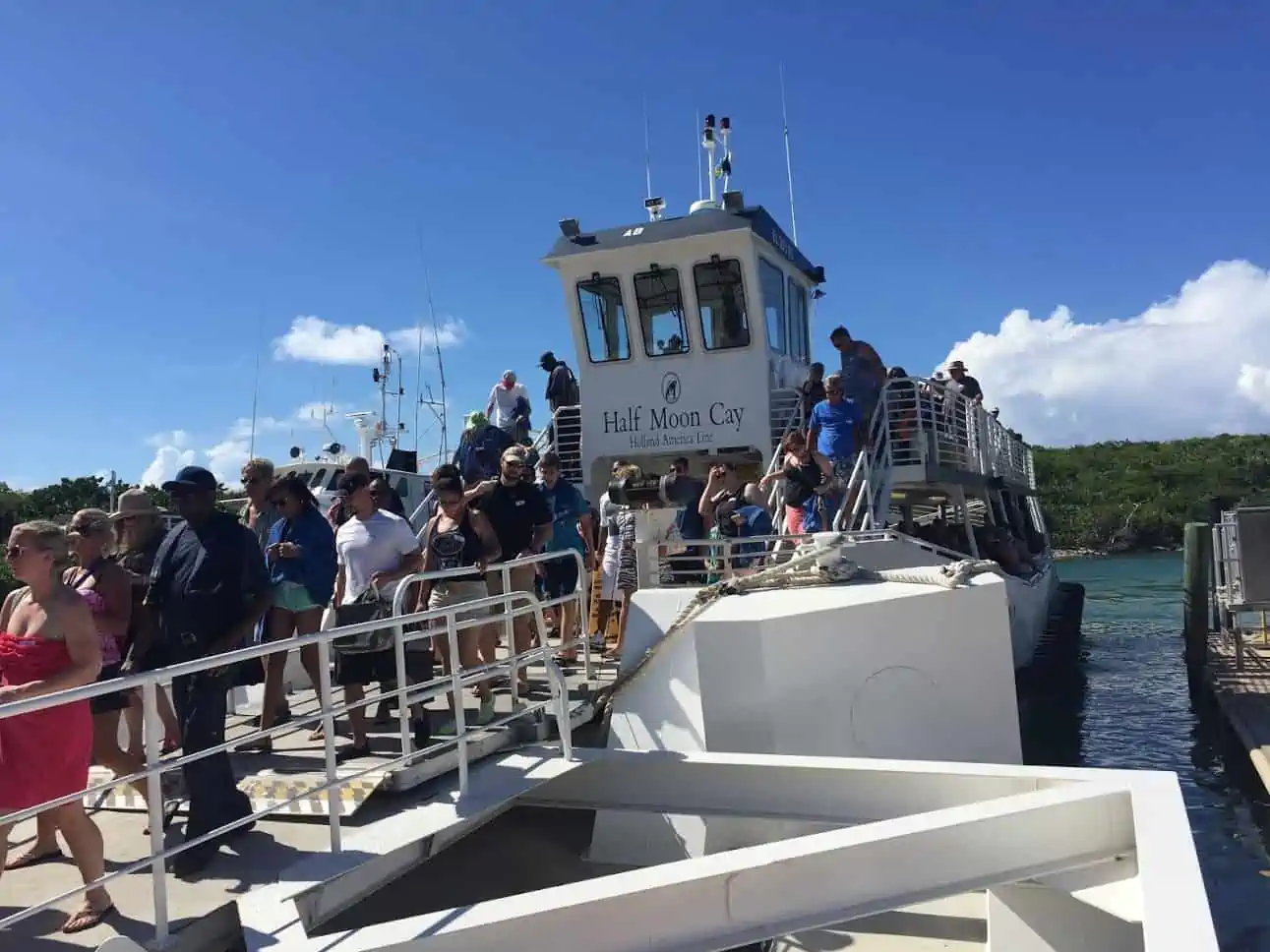 Getting off the ship early is critical, especially if two are there. With 4,000 people, those beach chairs go quickly. Keep in mind that most people sleep in during a cruise. If you are on that first tender, you'll avoid long lines and the wait.
2. Get to the BBQ lunch when it opens.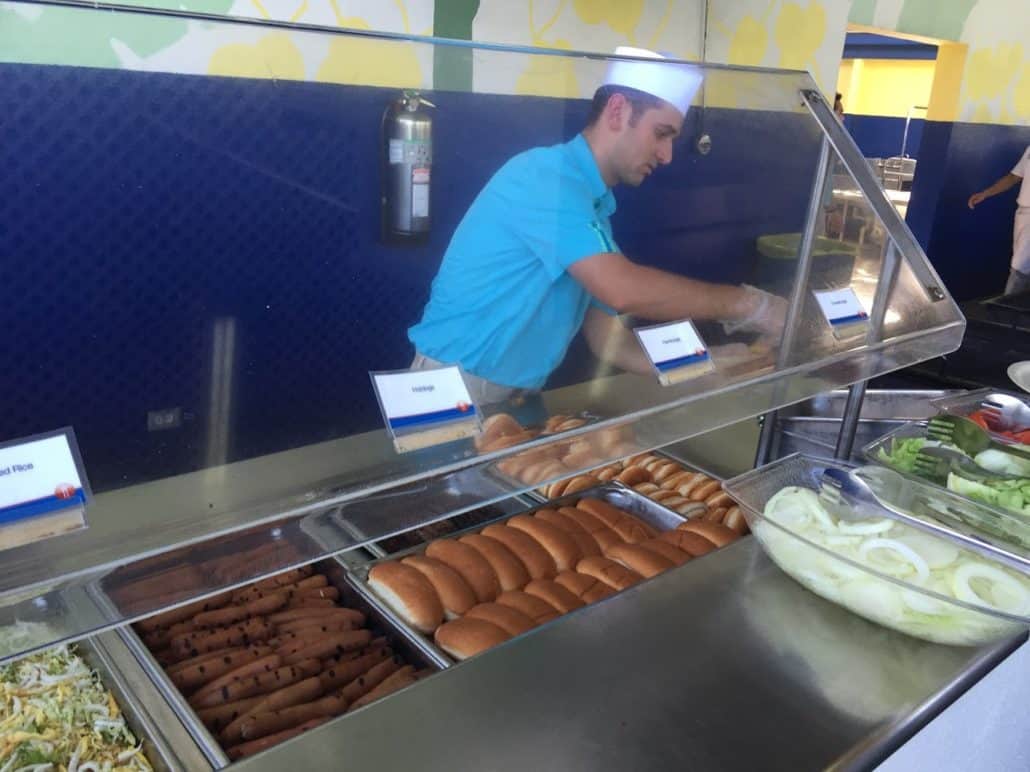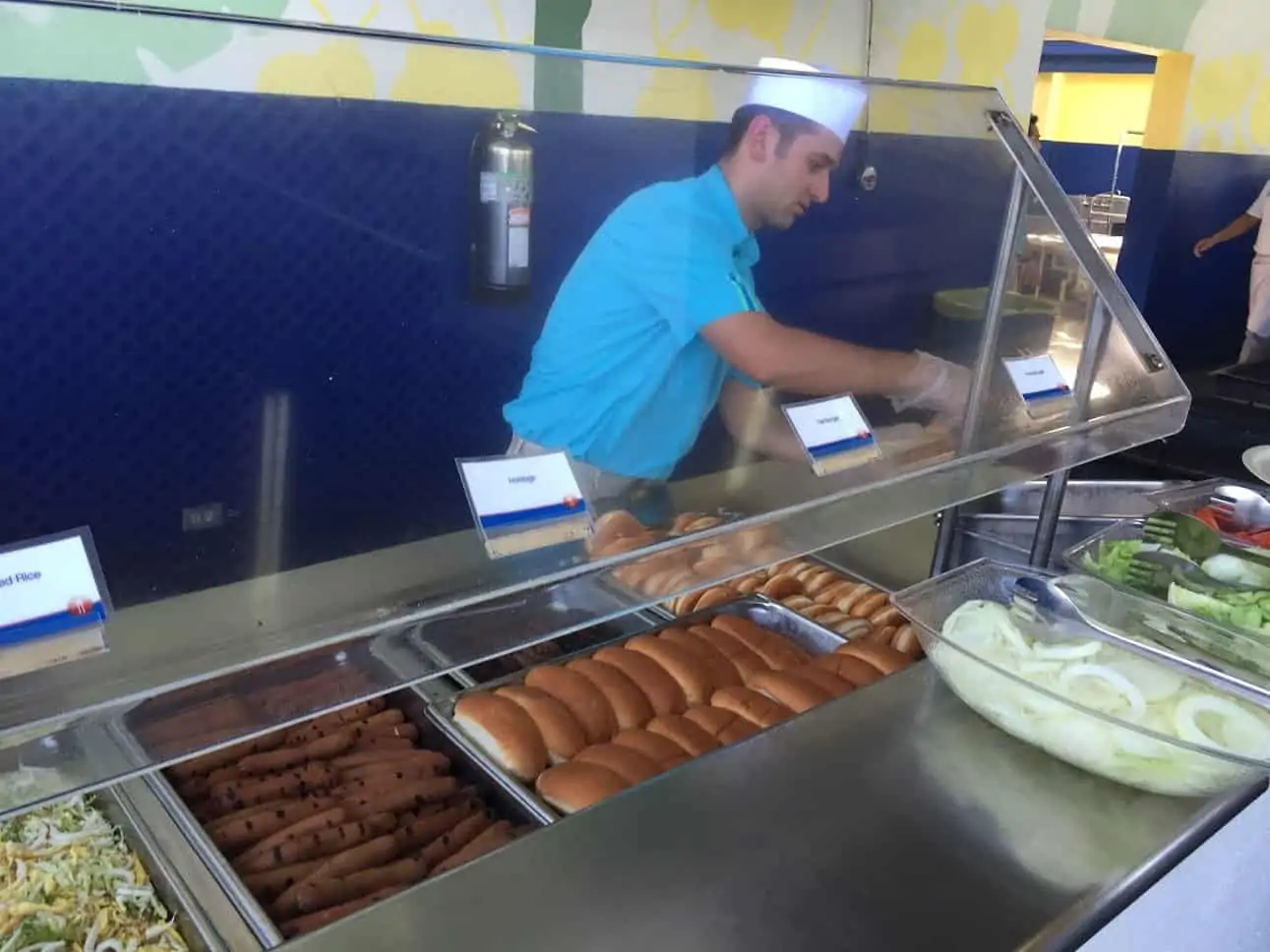 It's critical to get to the complimentary barbecue at about 11:30. It seems that everyone heads over there around noon, and then you will encounter a long line at each of the serving stations. You can see the BBQ menu here.
If you don't want barbecue, there's a newly opened for-fee venue on the island called Lobster Shack for $20 per person.
3. Book a Cabana
Booking an island cabana is a great idea if you want to stay out of the sun and enjoy a luxury experience on Half Moon Cay. Those ceiling fans are great in the hot Bahamas sun.
4. Walk down the beach for fewer people.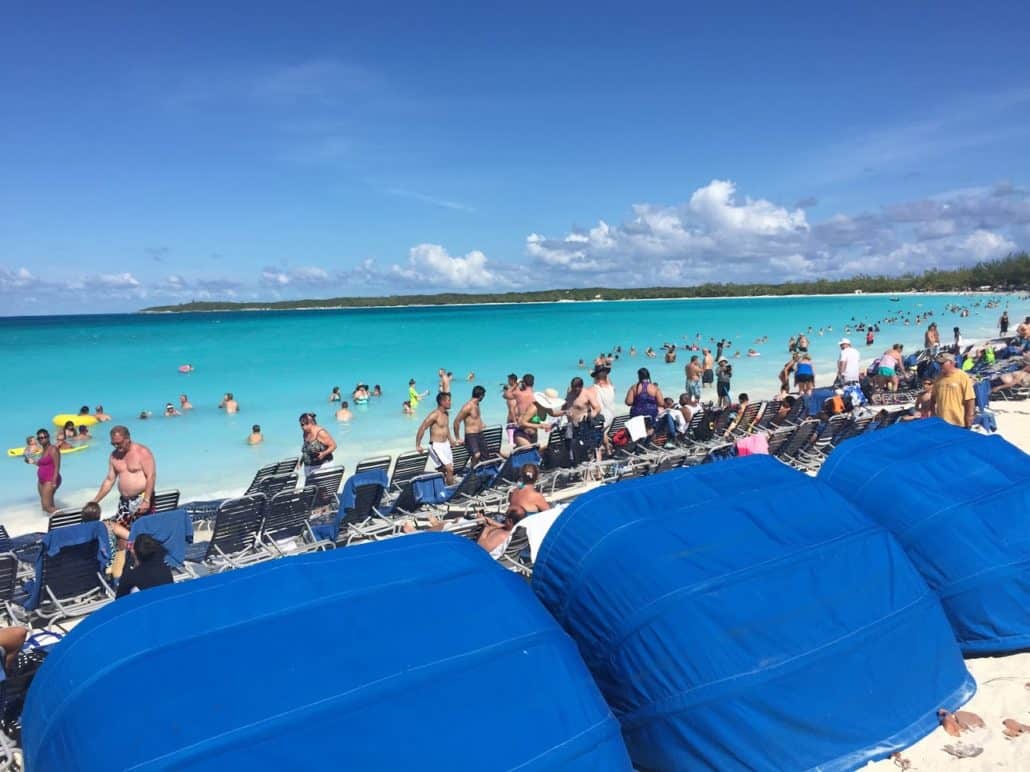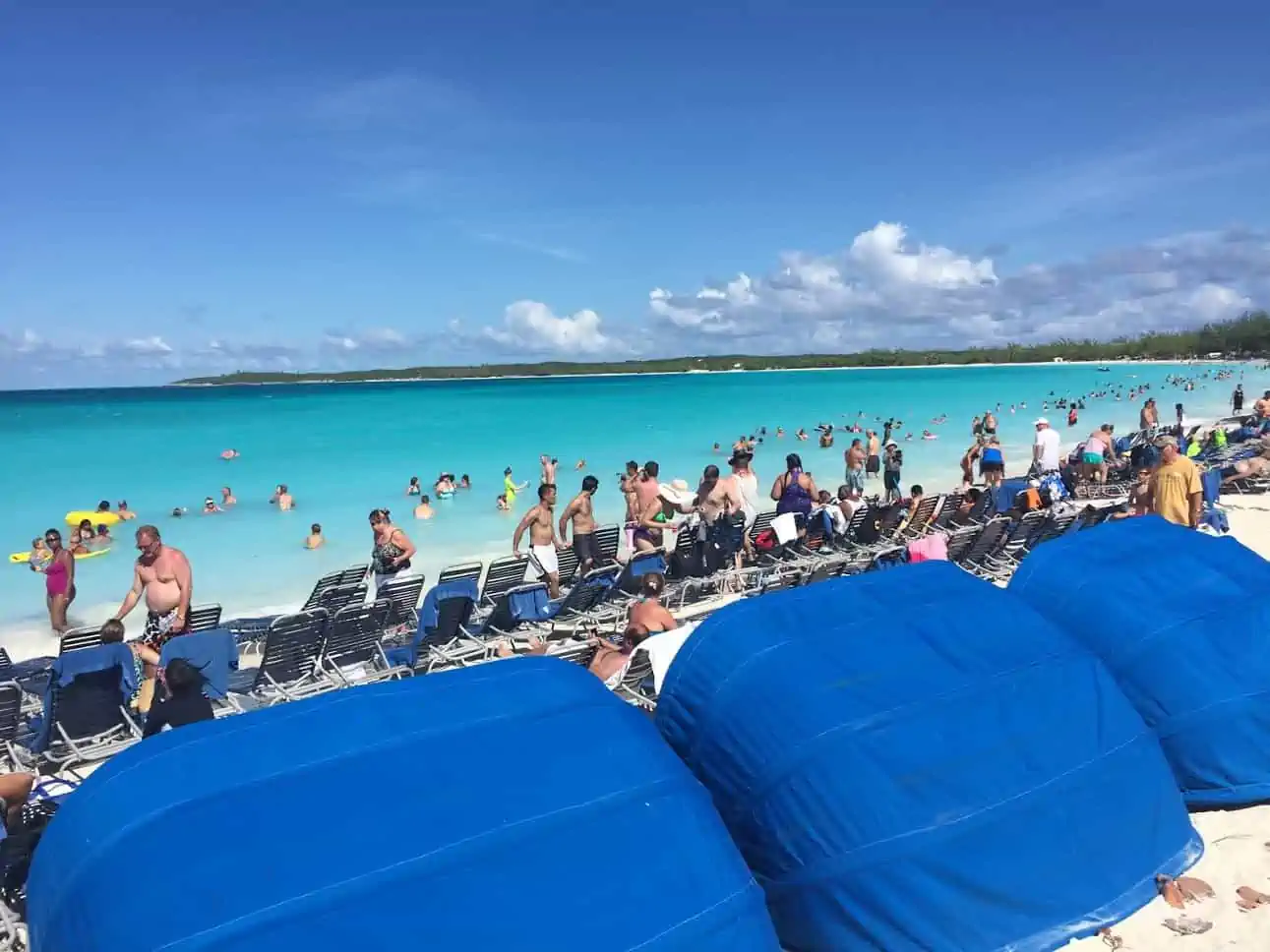 It gets very crowded if you grab the first beach chairs after getting off the tenders. The beach is the shape of a horseshoe so you can walk as far as you'd like while keeping everyone in sight.
5. Try out Captain Morgan's ship bar.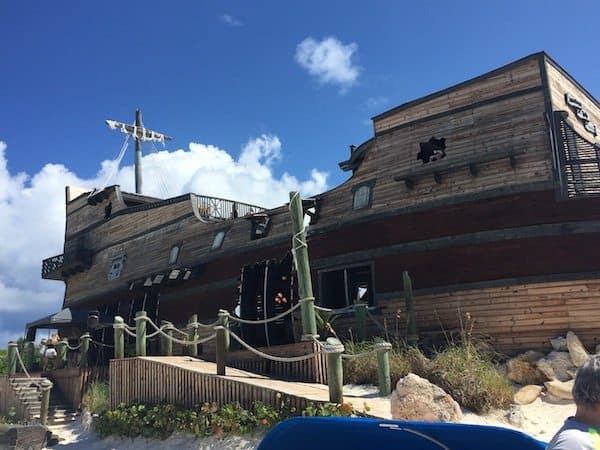 Many people don't realize that Captain Morgan's pirate ship has a bar. When you visit Half Moon Cay on a Holland America ship, you might even catch the HALcats band playing there.
Secret Tip: Find the stairs and enjoy a bird's eye view from the third floor.
6. Book your shore excursion early.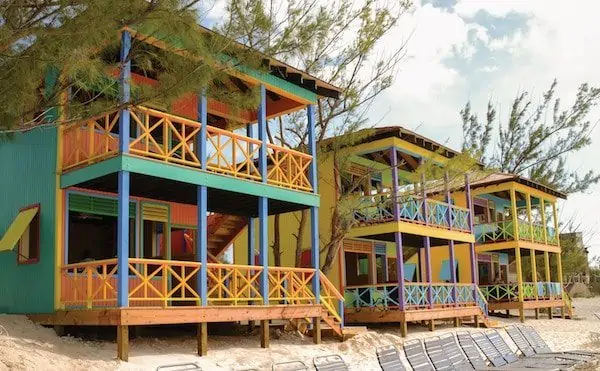 They do sell out! If you have your eye on a clam shell, book that early too.
7. Snorkeling is a great Half Moon Cay experience.
Secret tip: bring boxes of cereal off the ship with you, put the cereal in plastic bags, then head out into the water with the bags in hand. You're guaranteed to a great response from the colorful underwater residents!
8. Take the nature trail.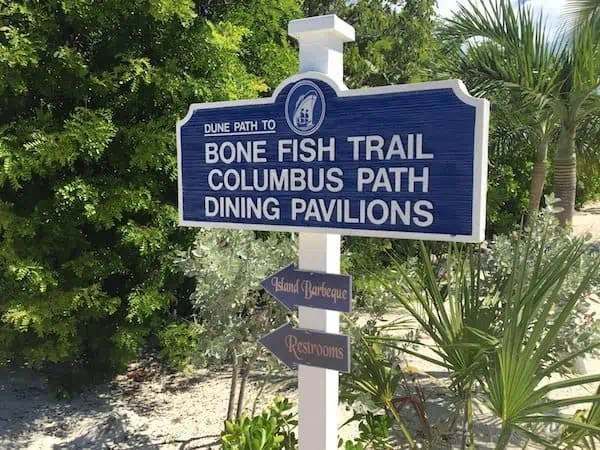 Walking the nature trails is educational, as you will see signs along the way describing the flora and fauna. Be sure to wear your FitBit or smartwatch to record those steps!
9. Ride the tram.
Many visitors to Half Moon Cay don't realize there is a free tram that takes you from the visitor's center down to the barbecue lunch. If you have a difficult time walking, the tram is a lifesaver!
10. Check out the horses.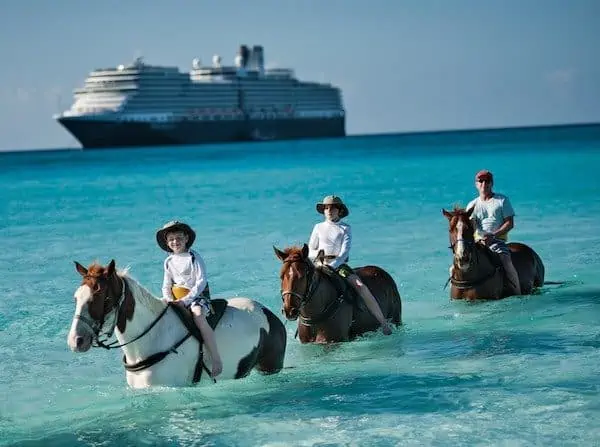 Speaking of the tram, even if you didn't book the horseback riding excursion, grab the tram and head over to the horse riding area. You can watch the horses go into the ocean close-up!
11. Drink packages don't work on land.
If you have a beverage package on the ship, it doesn't apply on Half Moon Cay. You will have to pay per drink.
However, if you're sailing with Holland America Line, they will offer a drink package for $24.95 (plus gratuities per drink) for up to 15 drinks while you're on the island. It's a great bargain if you only use it for the water itself.
12. Lather up!
Wear plenty of sunscreen. Half Moon Cay can also give you a memory you'll want to forget…sunburn. Bring your sunscreen!
13. Take the kids to the play area.
Many people don't know that there is a mini water park on Half Moon Cay, and playground with swings. Again, get there early!
14. Take lots of pictures.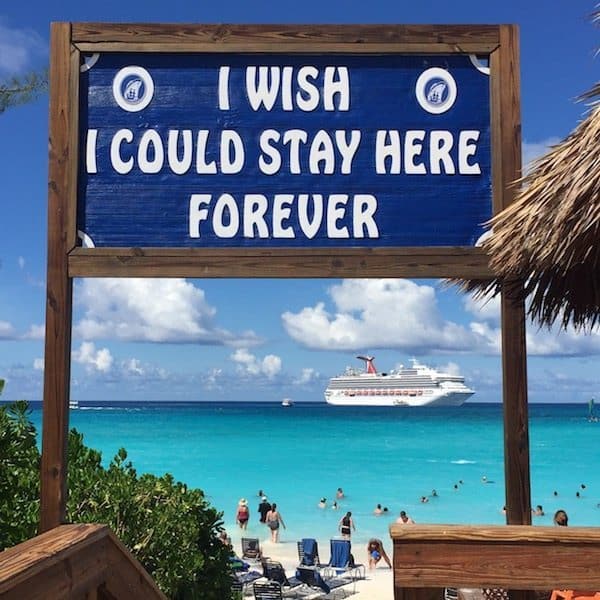 Even though there isn't much cell service on the island, you'll want to take pictures of this place. Half Moon Cay's main beach could be one of the most photographed beaches in the Bahamas.
15. Return to the ship one hour prior to last call.
While you might want to stay on Half Moon Cay as long as possible, consider leaving one hour prior to last call on the tenders. The island is mostly uninhabited when ships aren't anchored offshore.
Do you have any tips for Half Moon Cay?
Watch this Half Moon Cay Tour (2019)
Photo: Holland America Line