If ever there were a popular cruise port, it would have to be Cozumel, Mexico. The island beat out Nassau, Bahamas as the most visited cruise port with over 3.6 million passengers in 2018.  Cozumel is the quintessential Caribbean destination: warm, sunny, and filled with things to do for families visiting on a cruise.
There are a lot of shore excursions to choose from while visiting the port, like going to the Mayan Ruins, renting jet skis, or just spending the day at one of the beaches in Cozumel.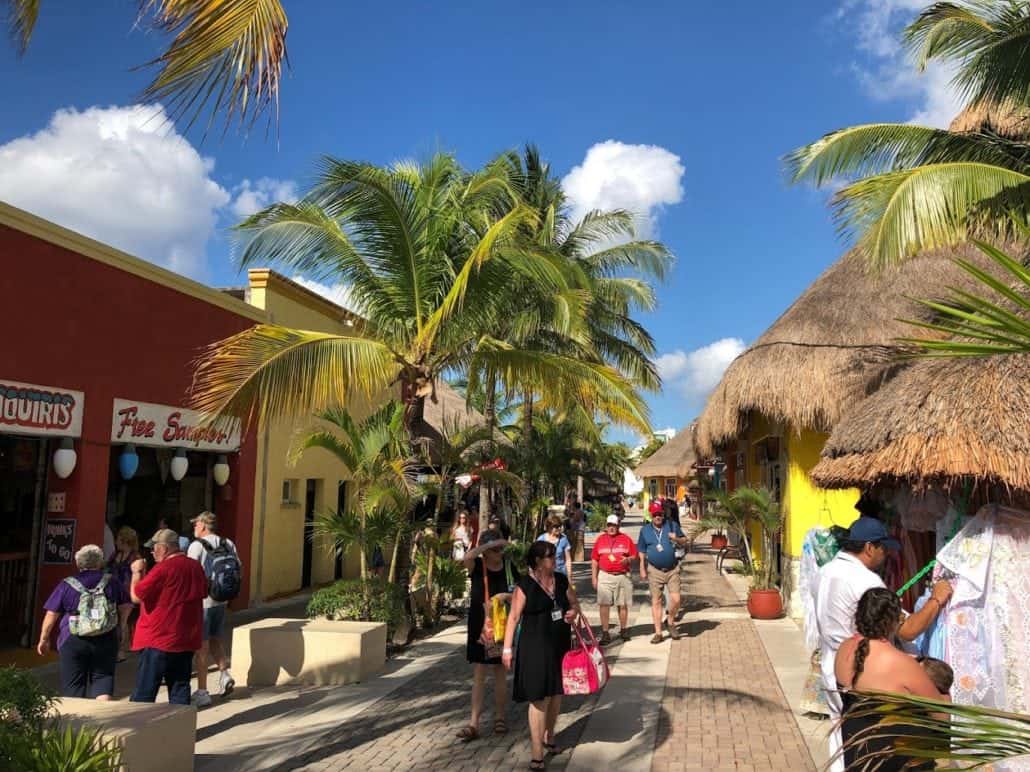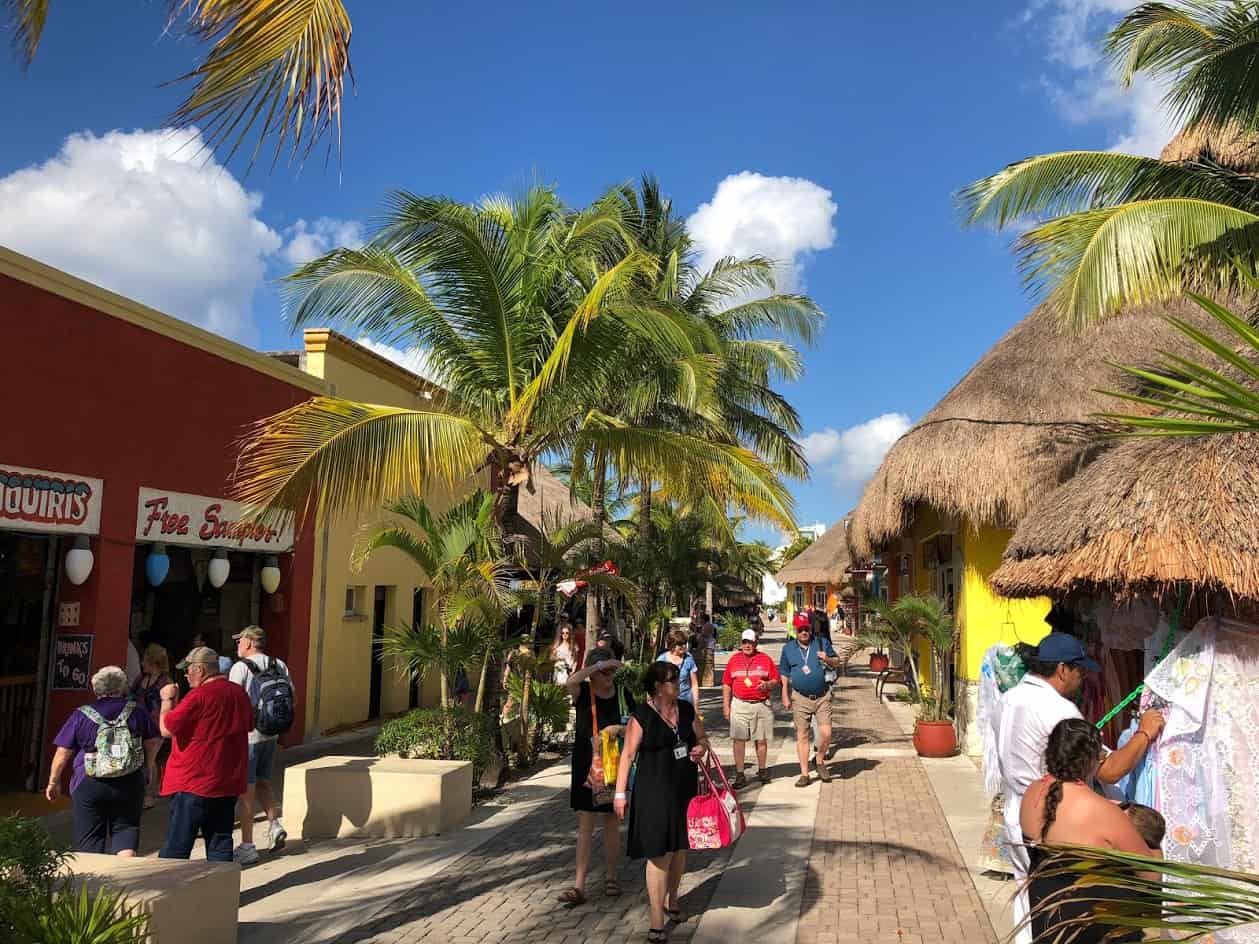 Out of all the stops your cruise will make in the Caribbean, Cozumel is probably the best setup for beach clubs with resort amenities. Generally, these are similar to an all-inclusive hotel, but with no bedrooms. Pools, gorgeous white sand, clear water, free-flowing drinks, and buffets are the name of the game.
Cozumel does have several all-inclusive hotel resorts that offer day passes, but these are, broadly speaking, a poor value when compared to the beach clubs.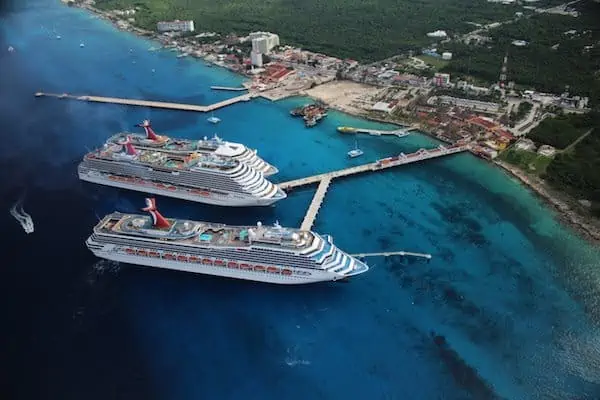 The main cruise docks in Cozume are Puerta Maya, International Pier, Punta Langosta, and San Miguel.
Where your cruise ship docks depend on what cruise line you're sailing; however, all the cruise ships still dock on the same side of the island.
The primary beach clubs for families to consider are Chankanaab Beach Adventure Park, Mr. Sancho's, Nachi Cocom, and Playa Mia. All four can be reserved ahead of time online, which is recommended in all cases (and required for Nachi Cocom).
Let's break these beaches down one by one and find out the closest beach to the cruise port. 
1. Chankanaab Beach Adventure Park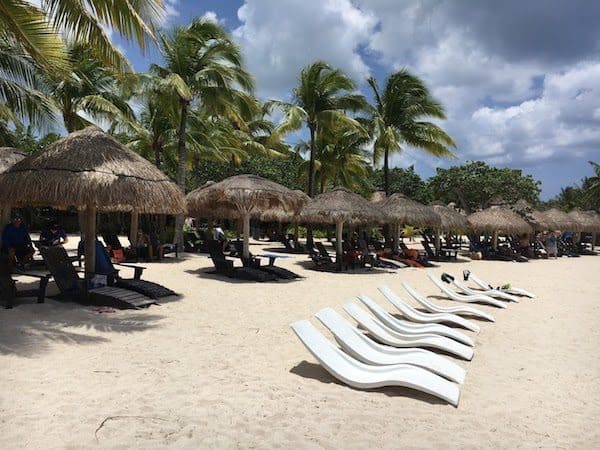 Out of all the beach clubs in Cozumel, Chankanaab easily has the most to do — and is also the most crowded. Most of the ships sell tours that visit Chankanab, which include the park by name and not a generic "beach day" or something like that. It is popular for the beautiful beach, but also offers the opportunity to interact with dolphins, sea lions, or manatees.
Basically, there are two parts to Chankanaab. The first is the beach, water with snorkeling opportunities, and food and drinks. This part of the park is nice but can become very crowded, especially if multiple ships are in port. The water is clear and calm, but the reef is not very good for seeing fish or coral as the sheer number of people drives them away and has killed most of the coral. However, admission is lower than some of the other beach clubs:
$23 for adults and $16 for kids This price is solely admission and all food and drinks are additional, as is snorkel equipment.

$28 and $21 includes the above, and also snorkel and mask.

$33 and $26 includes snorkeling, admission, and the lunch buffet.

$38 for adults and $31 for kids includes the above and also a lunch buffet and non-alcoholic drinks
The second area of the park consists of the animal encounters, called Dolphin Discovery. Prices range from $53 for a photo op and interactions with sea lions to over $200 for swimming, interaction, and photo package with the dolphins.  
READ MORE: Chankanaab Cozumel Review
There are a lot of opinions relating to animals in the park. Some visitors feel it is not right to keep the dolphins in their pens, others have a different impression and believe they are well cared for and happy in their environment. I would simply say to do your research ahead of time and make the appropriate choice for your family.
Chankanaab is relatively close to the cruise pier and is only about $10-$15 for a taxi ride each way for a group of four.  
Hours are 8 a.m.-4 p.m. every day but Sunday, when it is closed.
2. Mr. Sancho's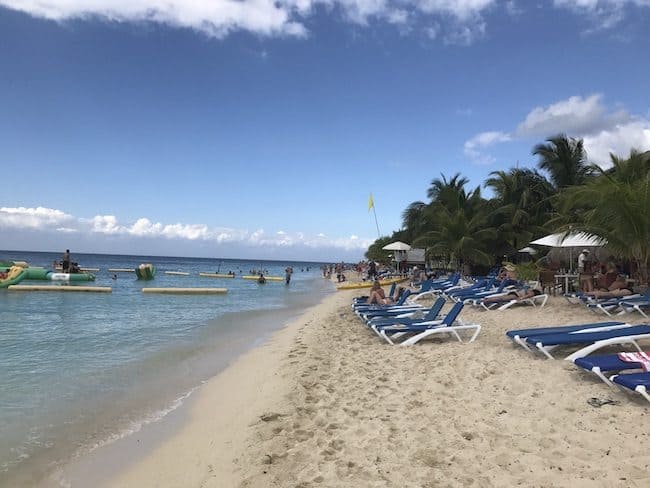 Ah, Mr. Sancho's. If ever one of the beach clubs in Cozumel were geared to a family-fun day, this place is it. A true "all- inclusive" experience, Mr. Sancho's admission price includes food, drinks (including alcohol for anybody over 18), water activities, and the lunch buffet. The additional charges are optional tours such as ATV rides, banana boat, parasailing, and other premium experiences.
Also, the water adventure park is an additional charge, which appeals to older children, but isn't really for anybody under five (or kids who can't swim well); life jackets are required but it is still a far swim out to the play area and the water. The sea is warm and clear; however, there really is no snorkeling at this part of the beach.
The buffet at Mr. Sanchos is sometimes rated lower than the other beach clubs on the island. While there are no issues with freshness, it is more "Americanized" consisting of hamburgers, hot dogs, chicken fingers, etc., rather than Mexican favorites.
READ MORE: Mr. Sanchos Cozumel Review
The drinks, on the other hand, are free-flowing and brought quickly. Take note, even though signs repeatedly warm customers that tipping is not allowed, staff will request gratuity at the end of your day, so be prepared with some dollars.
There is a large free form pool for all guests, and a really great water splash area with slides, a pirate ship, and shooting water perfect for younger kids. The splash section is watched by staff pretty well to enforce a maximum height restriction which keeps older kids from trampling the small ones. There are also two "racing water slides" that almost anybody age can use as long as they satisfy the height minimum, of course.
Out in the sea is the water adventure course which costs $12 per person. This consists of several large inflatable towers, platforms, and climbing courses. Everybody is required to use a lifejacket, but it is still recommended to be a comfortable swimmer as it is a fair distance from shore and the water is deep. Older kids and adults really enjoy the area.
A taxi to Mr. Sancho's is around $20 each way, with cars waiting at the cruise terminal and also at the beach club. All in all, Mr. Sancho's is a solid choice for families who are looking for an action-packed beach day for a set price.
Please also note that Mr. Sancho's is closed on Sundays.
3. Nachi Cocom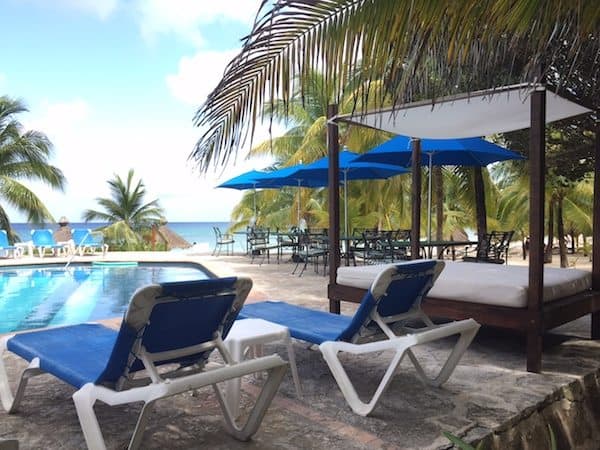 If your family's idea of a great beach day is sun, sand, and tranquility, then Nachi Cocom is the choice you will want to make. Reservations here are required ahead of time… but are easily handled online.
Unique to the clubs on the island, Nachi Cocom has a limit of 130 guests per day, which keeps the place relatively quiet and serene.
Admission for the day includes delicious food, drinks, and loungers on the beach. Adults are classified as anybody over 16 and are $55, 12-15 year old are $39, 4-11 come in at $19 and the under three crowd is free.
Food at Nachi is served restaurant style rather than buffet, though you may order whatever you like and as much as you want. Interestingly, there are prices on the menu — but ignore those, as the day rate is inclusive of the food. There are lots of Mexican favorites available, along with more American foods too. Drinks are served at the bar or by staff who comes around to the loungers and pool area.
READ MORE: Nachi Cocom Cozumel Review
For activities, Nachi is primarily a beach and pool club. There are no water slides, splash pads, or salsa lessons. Instead, it is all about relaxation. Generally, young children are not too common, though they are not discouraged in any way. The lack of extra things to do is both a draw for some visitors and a detractor for others. However, it is possible to have hair braiding, go on a couple-hour snorkel trip to the fabulous Palancar Reef, or have a beach massage; each of these is an additional cost (and include snorkeling gear).
A taxi to Nachi Cocom is about $20 each way. The club is open 8 p.m.-5 p.m every day and extends hours to 6:30 p.m. when a ship arrives at noon. Nachi Cocom is closed on Sundays.  
4. Playa Mia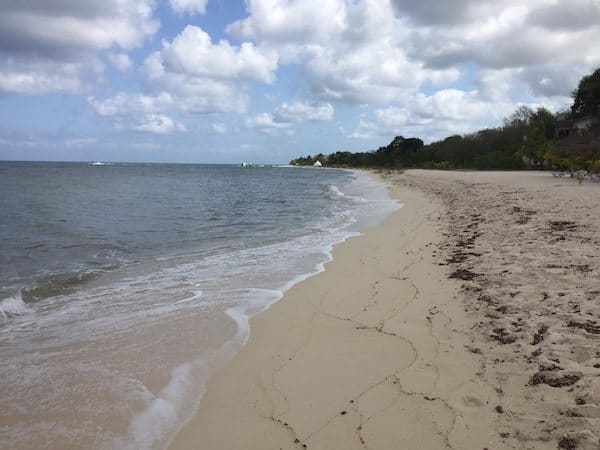 Finally, among the beach clubs in Cozumel, Playa Mia probably has the largest amount of options on what to do or combine with a day at the beach. Located close to Mr. Sancho's, Playa Mia is similar to it in some respects but offers some additional activities which can be purchased before you arrive or onsite. 
Ticket Type Adult (12+) Child
Beach Day Pass

$30

$25

Beach Day Pass + Buffet

$45

$35

Beach Day Pass, Buffet, and Open Bar

$60

$50

Everything Above + Transportation

$73

$63
All of the options above include the beach, ocean, loungers, Twister water slide, Buccaneer Bay splash area for kids, pool and jet tubs, floating ocean park with slides and towers in the sea, plus non-motorized water equipment such as kayaks, small sailboats, paddle boards, floating mats, and on land sports like volleyball, ping pong, and beach soccer.
Playa Mia also offers several tours such as ATV, snorkeling, and the Jade Cave tour.
Their website, www.playamia.com gives lots of info on those additional tours. Most of these leave from the cruise port, though not all do so it is best to consult the website.
If you choose the options with transportation, they meet at the shopping center right outside the cruise docks at 9 a.m. and depart every hour on the hour. If not, then a taxi may be hired for about $20 each way per car.
Playa Mia is open from 9 a.m. -6 p.m., except for Sunday when it is closed.
5. Paradise Beach Club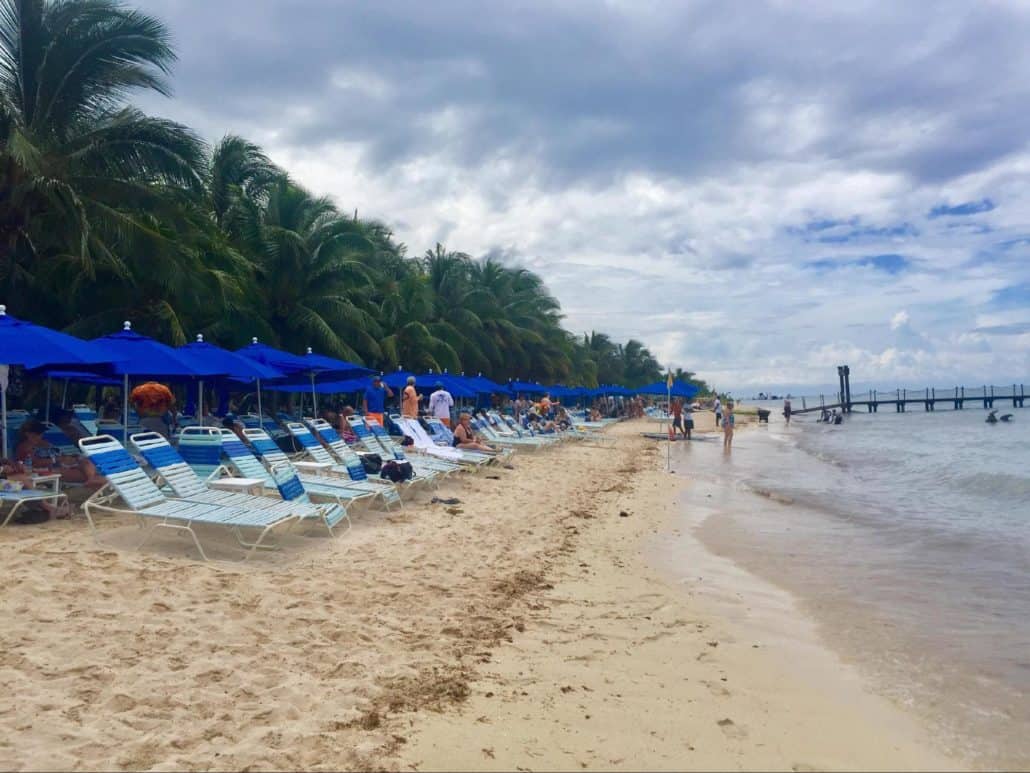 Paradise Beach Club is located on the same strip that the prior four beaches are located. This is more of a family beach and offers an all-inclusive experience along with a la carte options. You should expect 15-20 minutes to get there from a taxi.
You can read a comprehensive review of the Paradise Beach Club below.
READ MORE: Paradise Beach Club Review 
Conclusion
If your family is considering a beach club while they are on their cruise to Cozumel, then you can hardly make a bad choice.
For relaxation, Nachi Cocom probably wins out simply because of the laid back atmosphere and max amount of guests.
However, if you are looking for a bevy of activities, then Playa Mia seems to be the best value. 
On the other hand, the more a la carte approach at Mr. Sanchos works well for families who want to do some activities, but maybe not pre-pay for all of them.
That said, each club has its own pros and cons, so choose wisely for your family and you are guaranteed to have a great time. All these beaches are fairly close to each other and are on the same side of Cozumel. 
By guest author Michael York.