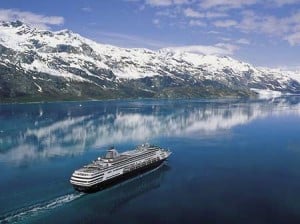 The 2011 numbers are out for Alaska's tourism and they had another record breaking year of 1,556,800 visitors. The numbers reflect cruise, air, and drive/ferry traffic. For cruise visitors Alaska saw 883,000, meaning 57% of tourism came from cruise traffic, up one percent from 2011.
"The increase Alaska is seeing is in no small part the result of their new Governor Sean Parnell who has a very pro-cruise, pro-tourism outlook for the state," said cruise travel expert Chris Owen from ChrisCruises.net.  "I talked with him last month at Cruise Shipping Miami where he was on hand, promoting Alaska tourism.  It was impressive to see the state's top official in Miami, courting cruise lines to bring more ships and more passengers to the state he is so very proud of.  He really wants the world to see Alaska and is taking steps, literally, to make that happen."
The majority of the cruise traffic comes from the major cruise carriers but small cruise ships like Seattle-based InnerSea Discoveries and Alaskan Dream Cruises carry a small slice of the numbers. Both cruise lines bought out some of Cruise West ships when they ceased operations in 2010 and expect to build passenger traffic in the coming years.  Cruise West once accounted for the vast majority of small ships in Alaska and largest user of hotel rooms.
In 2009 Alaska saw over one-million cruise passengers, since then it dropped but expecting rebound. The drop off in 2010 was due to an imposed head-tax and economic climate.
Source: Cruise Line Agencies of Alaska
Subscribe to our Cruise News Updates.