If you're reading this, you're likely planning an Alaskan cruise that stops at Skagway, a town with a past as colorful as the buildings on Main Street. While the actual downtown area is quite small, there's so much to do in the vicinity that this is a trendy port of call for cruise ships.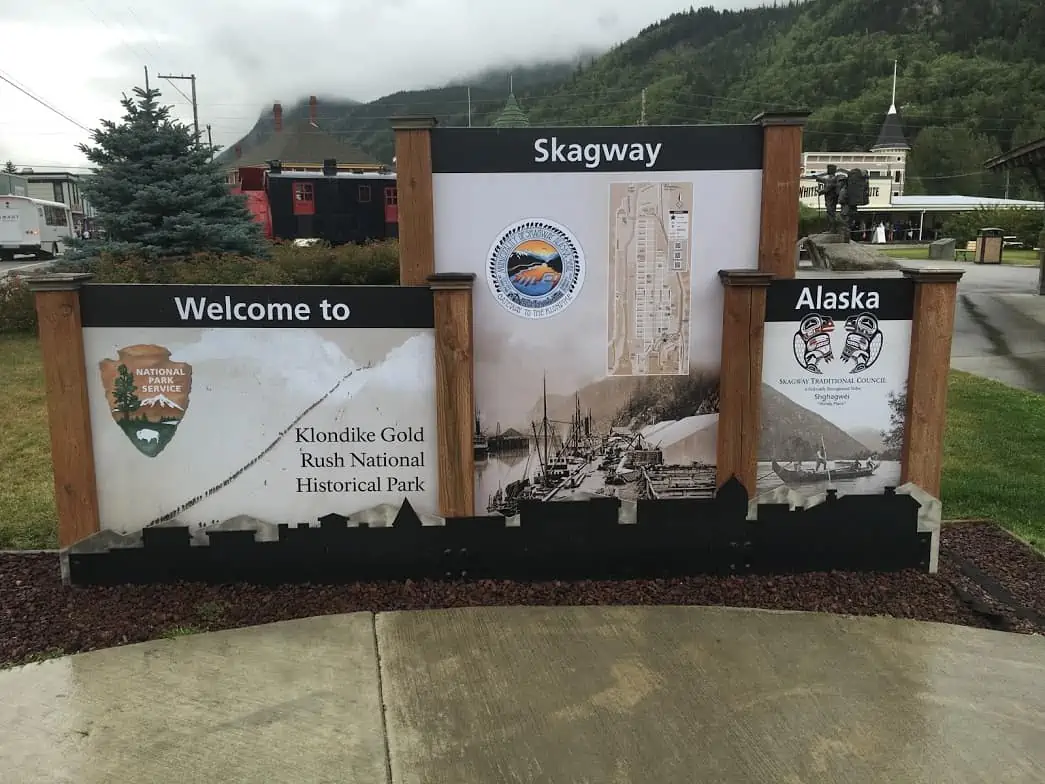 In fact, some days see so many tourists arriving that it's crucial to have a plan in mind when you step off the ship.
Fortunately, you've come to the right spot, because we're going to give you everything you need to know to enjoy a fantastic day in Skagway.
Background/History of Skagway, Alaska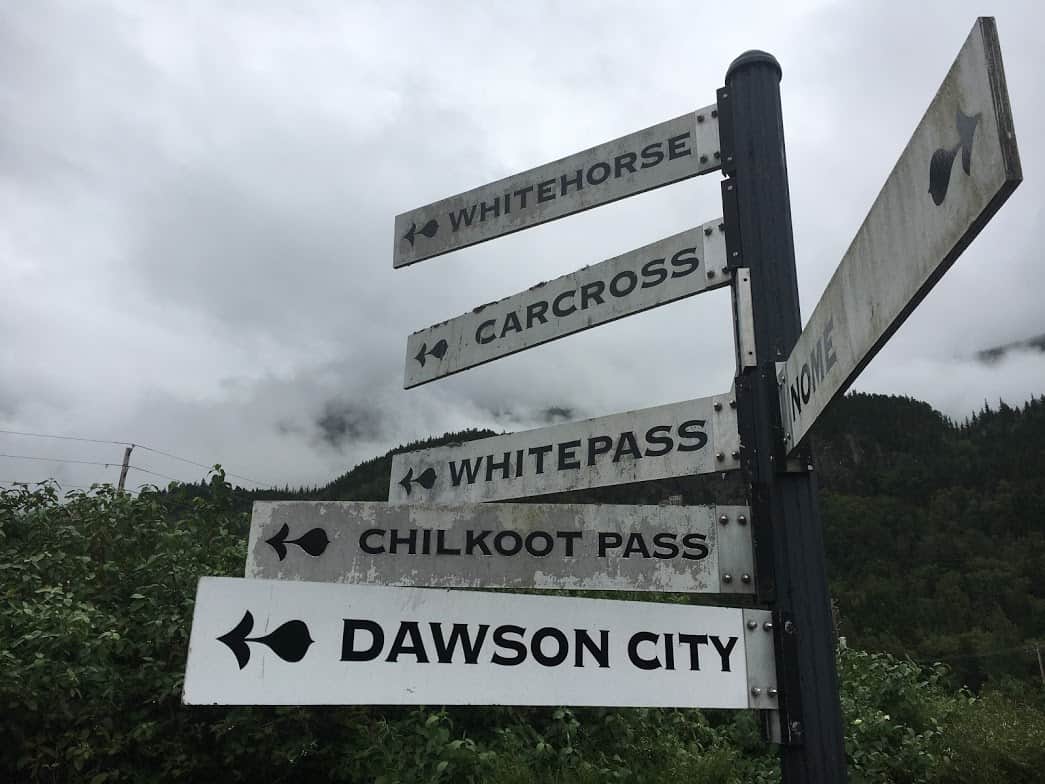 Skagway owes its founding to the late-1890s Klondike Gold Rush. Gold was discovered in the Klondike region of northwestern Canada in 1896 and triggered a stampede of prospectors hoping to strike it rich. Most prospectors arrived in Skagway by boat, which at the start of the gold rush was just a small settlement with a single log cabin. These conditions made for a harrowing trek to the Yukon goldfields through strenuous snow-covered terrain and over mountain ranges on foot. 
MORE: When Is The Best Time To Cruise To Alaska?
Within just a few weeks of the first prospector's arrival, saloons, stores, gambling houses, and dance halls sprouted up along the sodden streets of this now bustling boomtown. With a population that swelled to over 30,000 during the height of the gold rush, Skagway was well-known as a wild and lawless outpost.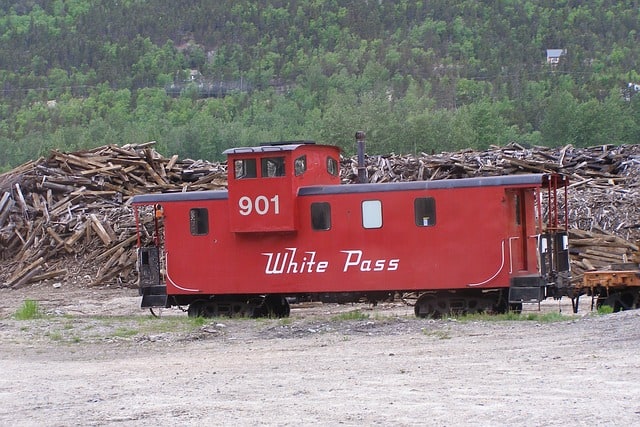 By the end of 1899, the gold rush was essentially over, and Skagway's economy began to collapse. Had it not been for the railroad built that shuttled supplies into the Yukon, Skagway might have become a ghost town. 
Today, Skagway's year-round population hovers around 1,000 and tourism is the town's primary industry. Skagway ranks among Alaska's most popular ports and its incredibly well-preserved Gold Rush-era buildings draw visitors interested in reliving the Klondike heyday.   
Skagway Pier Location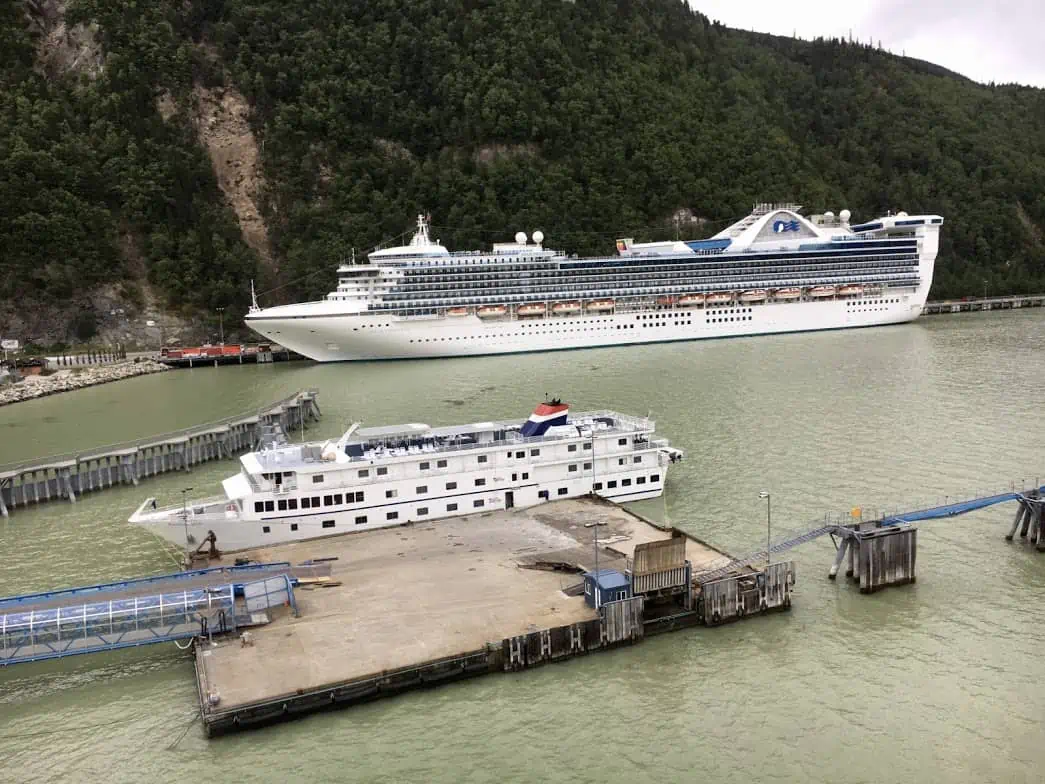 Situated in a narrow glaciated valley at the head of the Taiya Inlet, Skagway is the northernmost point on Alaska's Inside Passage and only 15 miles (24 kilometers) by road from the Canadian border. 
A popular stopping point on Inside Passage cruises, ships dock at one of Skagway's four piers, all of which are within a short walking distance from the town's historic area.
The wheelchair-accessible Skagway SMART bus also shuttles passengers from the cruise docks to area attractions, and shore excursions often include round-trip transportation from the dock. 
Local flavors of Skagway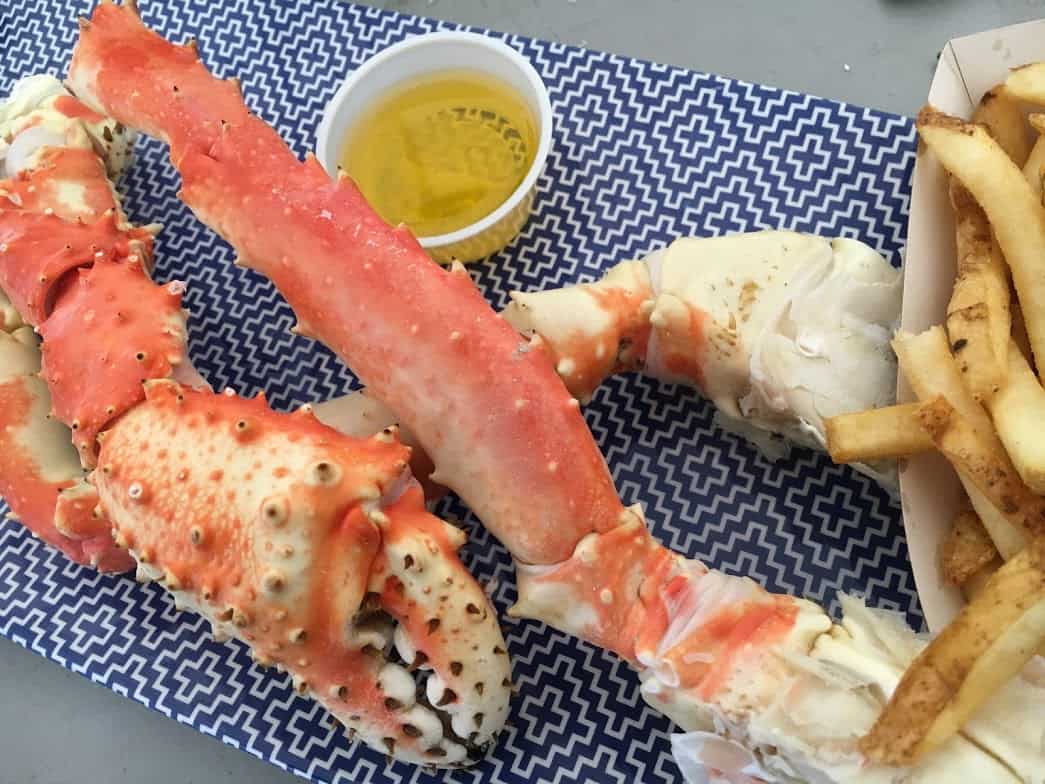 The Skagway Fish Company boasts the best fish and chips in town, and the Liarsville Camp offers an all-you-can-eat feast of Alaskan favorites along with live-entertainment and gold panning fun.
For drinks, visit the Red Onion Saloon, a historic gold rush era bar, where you can also take a tour of the upstairs brothel museum.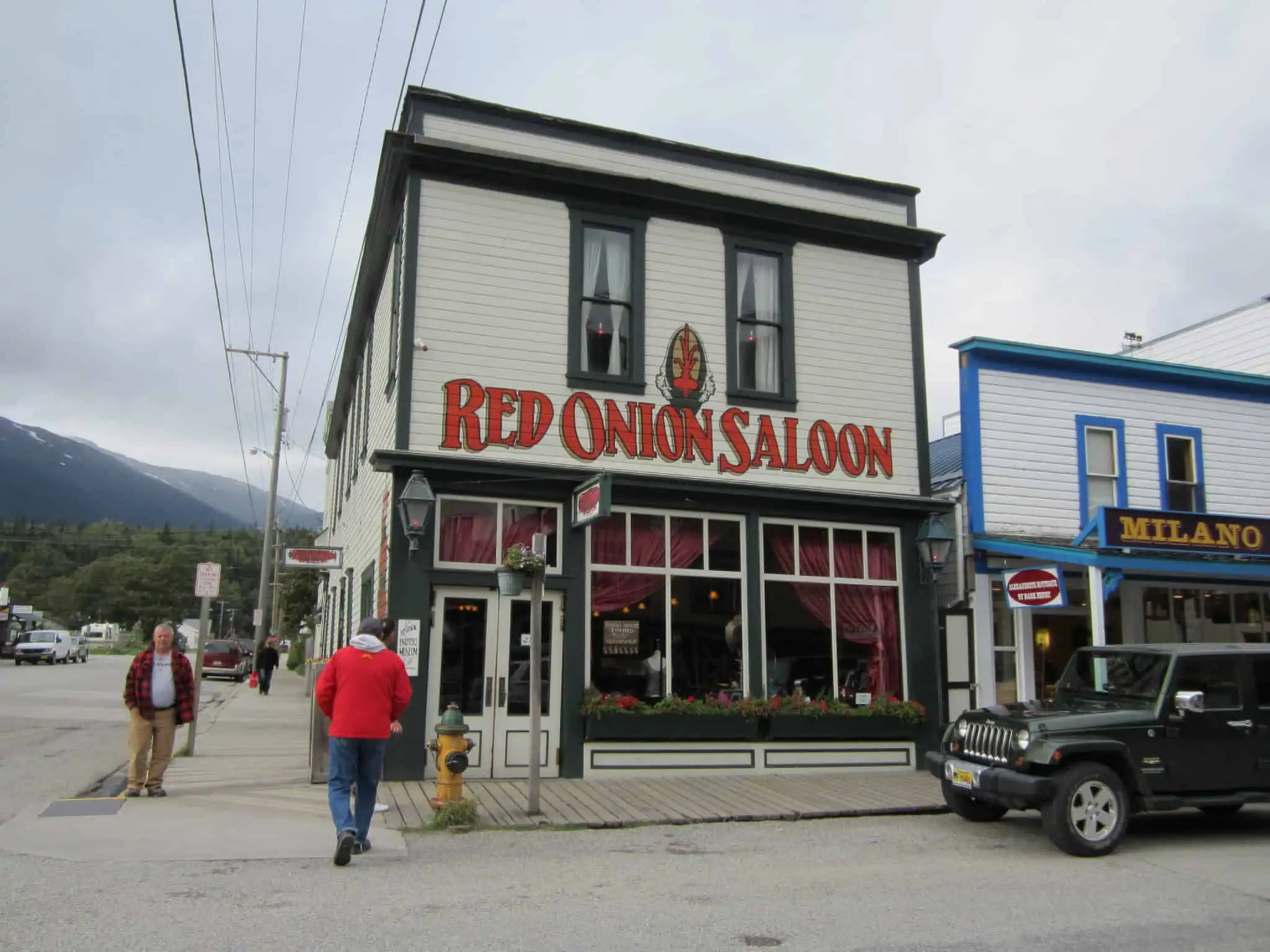 Beer lovers won't want to miss a visit to the Skagway Brewing Company. Here you can sample their signature Spruce Tip Blonde Ale crafted from hand-picked local Sitka spruce tips.
Skagway Spirits is the town's only distillery, and a bottle of their handcrafted vodka or gin makes a nice souvenir to take home. Samples are available in their tasting room.
Stop by Dejon Delights, a locally-owned and family-operated specialty food shop, to sample their smoked delights. Smoked salmon and halibut are their specialties, but they also offer other regional favorites such as reindeer jerky, smoked salmon dip mix, and spruce-tip syrup. Plus, they will ship their smoked fish directly home to you wherever you live. 
Shopping in Skagway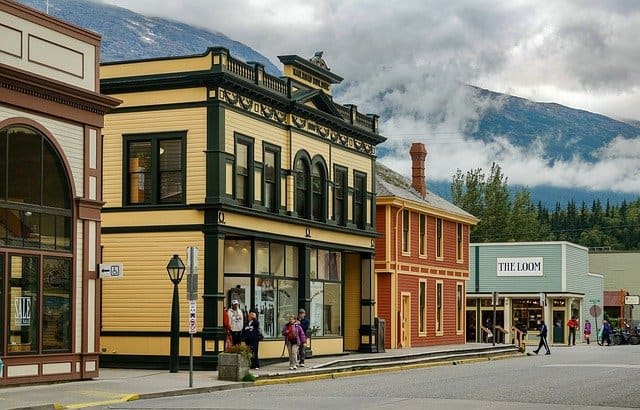 For such a small town, you'll find a wide variety of shops along the historic district boardwalks, including kitschy souvenir shops, local crafts, art galleries, jewelers, bookstores and mountain outfitters.
Skagway has a long tradition of art dating back to the original Tlingit settlers, and many shops feature pottery, jewelry, sculptures and more created by local artisans.
READ MORE: Alaska Inside Passage Cruise, What You Need To Know
Look for items with the "Made in Skagway" tag if you want to be sure what you're buying was crafted locally.
Highlights include the hand-painted porcelain jewelry at A Fine Line, stained glass sun-catchers at Translucent Treasures, and Glacial Naturals soaps and tinctures, which can be found in shops throughout town.
Cultural Attractions in Skagway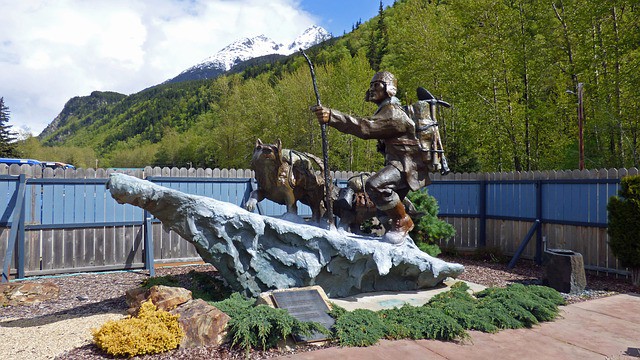 For a quick introduction to Skagway's gold rush history, head to the Klondike Gold Rush National Historical Park Visitor Center to watch the 25-minute film "Gold Fever: Race to the Klondike."
The park also offers free ranger-led tours of downtown Skagway's historic gold rush era buildings, including such sights as the Mascot Saloon Museum — a monument to Skagway's more debaucherous days — and the Moore Homestead, which is the town's oldest cabin. 
To delve deeper into the area's past, visit the Skagway Museum to see the town's largest collection of mining artifacts, photographs, and memorabilia from the gold rush era. The museum also features native Alaskan beadwork, carvings and other crafts, including a Tlingit canoe.  
Located just outside of downtown Skagway, Jewell Gardens is another popular attraction,  featuring a relaxing flower garden, an impressive vegetable patch, and Alaska's only public glassblowing studio. Afterward, tour the grounds and taking in a glass-blowing demonstration, visitors can enjoy lunch at the garden's cafe, with dishes made from seasonal produce grown onsite.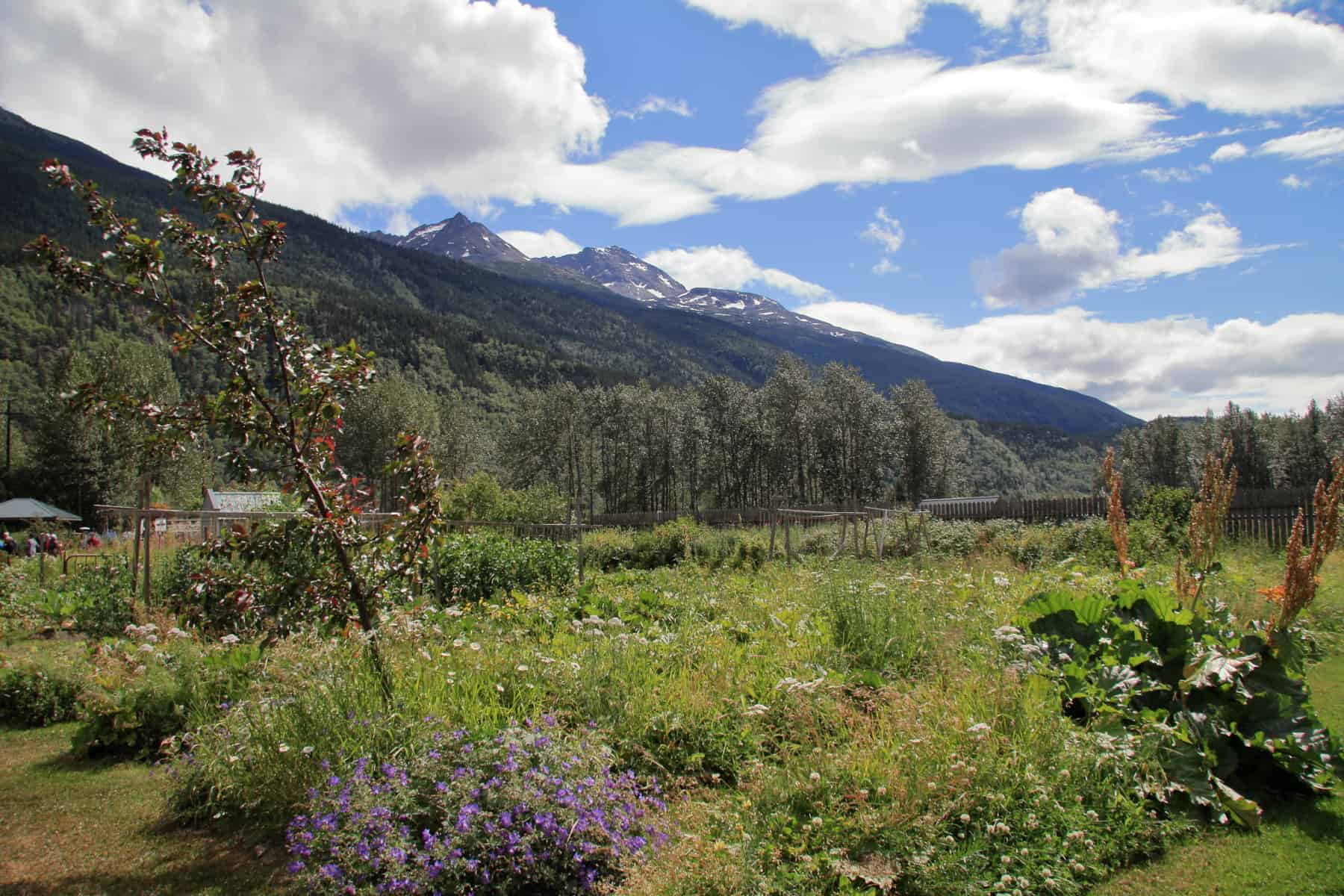 Top Skagway Cruise Excursions
A huge variety of shore excursions, from traditional sightseeing tours to kayaking, mountaineering, and wildlife-viewing adventures, are offered from the Skagway port. Many excursions combine a tour of Skagway's historic sites with an outdoor adventure or two.
Here are some of Skagway's most popular excursions:  
White Pass Railway Tours
By far the most popular day trip in Skagway, the White Pass & Yukon Route Railroad follows the old narrow-gauge line from Skagway into the heart of the Yukon's gold rush territory. A variety of tours are available from half-day White Pass Summit excursions to full-day adventures to Lake Bennett. All tours include sightseeing stops along the way.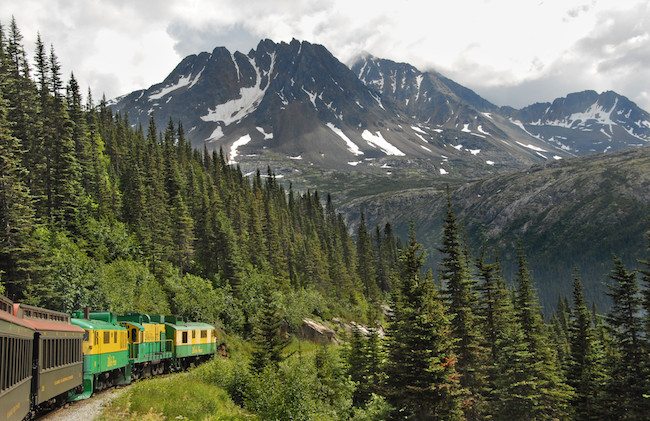 Chilkoot Trail Hiking
The Chilkoot Trail was the major route from the coast into the interior goldfields of the Yukon Territory. This rugged, 33-mile (53-kilometer) route is popular with backpackers, but day excursions are offered that explore the first section of the trail, often including visits to the ghost town of Dyea and the old gold rush cemetery. 
Dog Sledding Adventures
A dog sledding adventure is a great family-friendly option. Not only will you get to embark on an exciting dog sled ride (summer tours are on dirt unless you opt for a glacier tour), but you'll also have the chance to play with adorable new puppies to help socialize them for future racing success.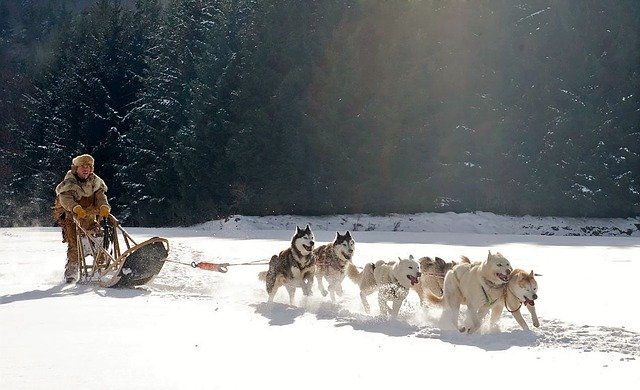 Chilkat Bald Eagle Preserve Rafting Tours
The Chilkat Bald Eagle Preserve is home to the world's largest concentration of bald eagles. Scenic float trips are offered through the preserve and provide an excellent opportunity for viewing eagles, bears, wolves, and more.
Yukon Tours
Travel along the Klondike Highway and into Canada's smallest and wildest territory, the Yukon. Tours stop at a variety of scenic landscapes along the way and you'll find excellent photo opportunities at the "Welcome to Alaska" and the "Yukon – Larger Than Life" sign. Just don't forget your passport since you'll be leaving the United States.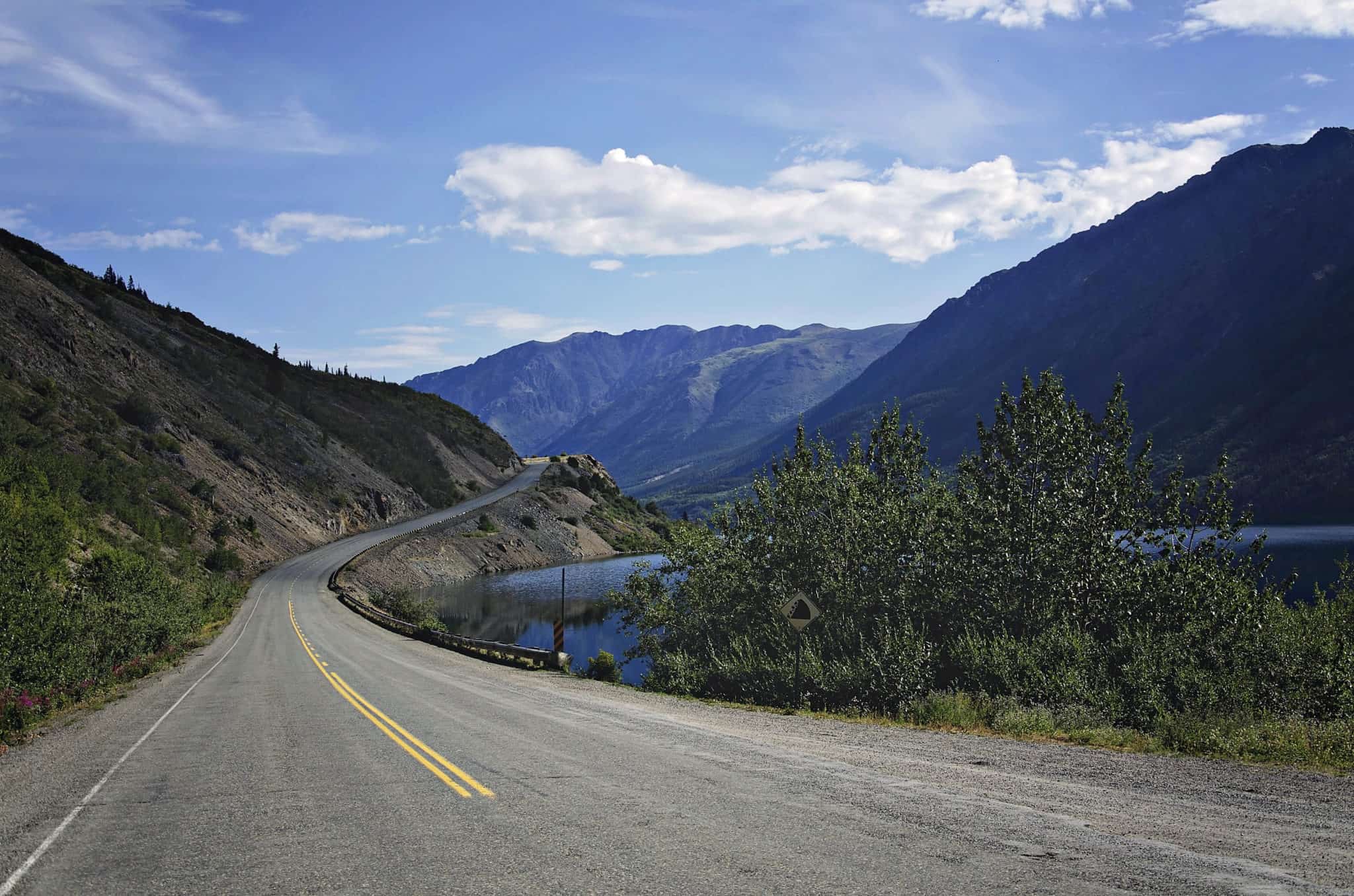 An Insider's Perspective
If you're looking for a reprieve from the cruise ship crowds, take the short trail to Yakutania Point from the harbor. From the point, you'll enjoy views of the Skagway Harbor and the surrounding Chilkat Mountain, plus there's a good chance you'll spy seals and sometimes even whales from the trail. You'll find a small shelter and tables at the point so grab some lunch in town and head out to Yakutania Point for a picnic.
Pin it!