Like just about everything else, the annual Royal Caribbean International President's Cruise took a two-year pause during the pandemic.
But as the cruise industry completes a triumphant comeback, the 2022 President's Cruise is a go, with 4,000 passengers aboard Ovation of the Seas on a roundtrip-Seattle Alaska sailing.
Many of the passengers are the world's largest cruise line's most loyal customers, with some having traveled in Royal style more than 150 times.
As the name suggests, RCI President & CEO Michael Bayley is on board for the duration, hosting several events including an 'ask me anything' forum with guests, a presentation of Royal Caribbean memorabilia brought aboard by the company's most fervent followers, a block party in Skagway, and a pair of onboard concerts by American rock icons Foreigner.
Cruise Radio is on the ship, and I have the pleasure of traveling with my brother-in-law, a first-time cruiser. He gives us fresh eyes and will provide a new-to-cruise perspective over a series of daily posts — internet willing.
Day One Events
We sailed out of Seattle on a clear, hot day, cruising for a day and a half before our first port call in Juneau.
That gave us plenty of time to explore the ship, sample some fine food and take in diverse entertainment, including a show by the excellent Vegas-based rock band Phoenix.
We also attended the 'Common Ground' presentation by Bayley and other RCI executives, along with close to a thousand guests — a clear demonstration of how invested these cruisers are in the Royal Caribbean experience.
The vast majority of those on board are members of the Crown & Anchor Society, Royal Caribbean's popular loyalty program. Bayley expressed gratitude to the guests who stuck with the company during two years of repetitive disappointment.
"You were the loyal customers who were first to come back and book…and we canceled your bookings. Then you booked again and we canceled those."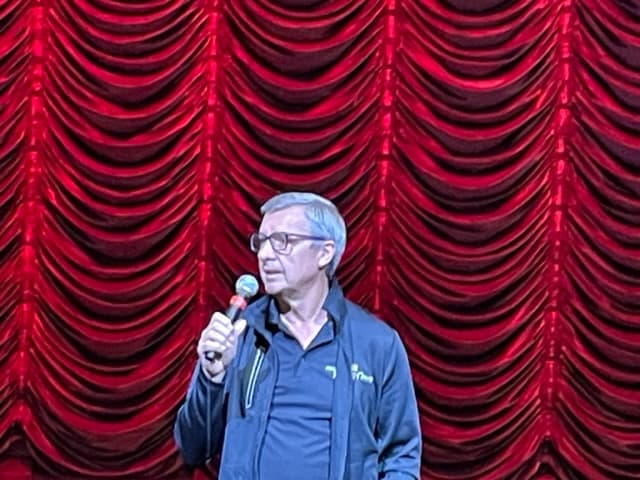 He explained that the company's robust reservations system worked well in taking bookings, but had little facility to handle mass cancelations, refunds, and future cruise credits.
An incredible seven million bookings had to be canceled.
"We realized we forgot to design that system. So it was pretty much a manual process. It really was painful. We tried our best to make everything painless, but it didn't work."
Bayley also talked about the how badly the industry was treated by governments, which left ships stranded for months, and a consumer media eager to portray cruise vessels as 'petri dishes' of infection.
"We felt like we couldn't get a break. Media coverage was relentlessly negative," Bayley said. "It was like we caused the pandemic."
Through it all, Royal Caribbean and the rest of the cruise industry worked tirelessly to convince medical officials, governments, and consumers that cruising could offer a safe vacation environment. It was a long and winding road, but science and reason eventually won the day.
But enough about the two years of trauma. For the 4,000 guests and 1,500 crew members aboard Ovation, it's time to get back to the joys of traveling the world on a floating resort where lifetime memories are born.
First Port of Call: Juneau
The heat wave followed us as we traveled north to Alaska. On our Juneau day, the temperature climbed into the 80s, a highly unusual but increasingly frequent occurrence. So the sweatshirts and long pants were abandoned for shorts, sandals, and t-shirts, as Ovation guests explored the sights and shops of Alaska's capital city.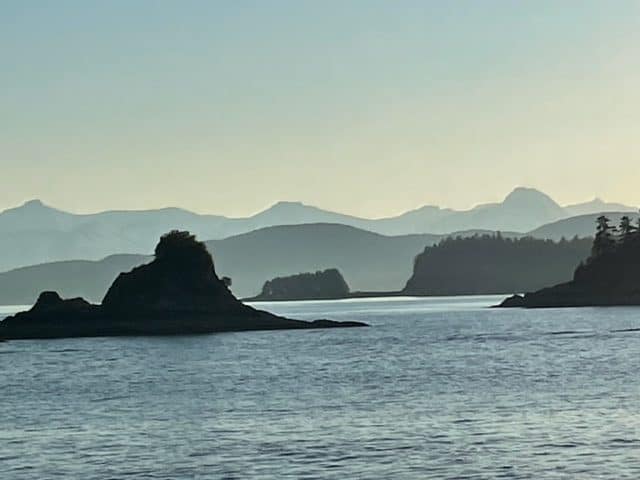 The port was hopping, with long lines at popular spots like Tracy's King Crab Shack and the Red Dog Saloon. An evening whale-watching expedition delivered stunning scenery and spectacular cetacean sightings, with every splash of a giant tail causing squeals of joy.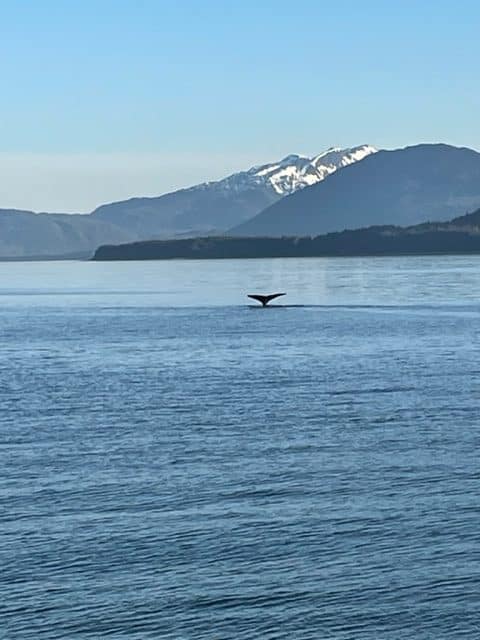 All in all, it was a remarkable beginning to a journey made that much more special by its two-year absence.
Read my next President's Cruise trip reports: