Barbecued meats slathered with BBQ sauce and hearty southern-inspired sides are an incredibly popular cuisine, especially among Americans. It only makes sense, then, that United States-based cruise lines would catch on and begin adding barbecue restaurants to their ships.
Here's a rundown on five of these venues across four different cruise brands.
1. Guy's Pig & Anchor Bar-B-Que – Carnival Cruise Line
Ships: Carnival Breeze, Dream, Horizon, Magic, Panorama, Radiance, Sunrise, Celebration, Jubilee, and Mardi Gras
On the heels of the huge popularity of Guy's Burger Joint, created with Guy Fieri, Carnival decided to add another venue bearing Fieri's name to its ships: Guy's Pig & Anchor Bar-B-Que.
This complimentary open-air, counter-service barbecue venue is only open for lunch on sea days, so be sure to take advantage of eating here when you can.
Guy's Pig & Anchor is cafeteria-style, so the staff members will load your plate with whatever you want. Choices include chicken, smoked andouille sausage, smoked beef, pork butt, mac 'n cheese, potato salad, coleslaw, baked beans, and collard greens. Once your plate is filled, head over to the sauce station to slather your meats with one of many barbecue sauce options.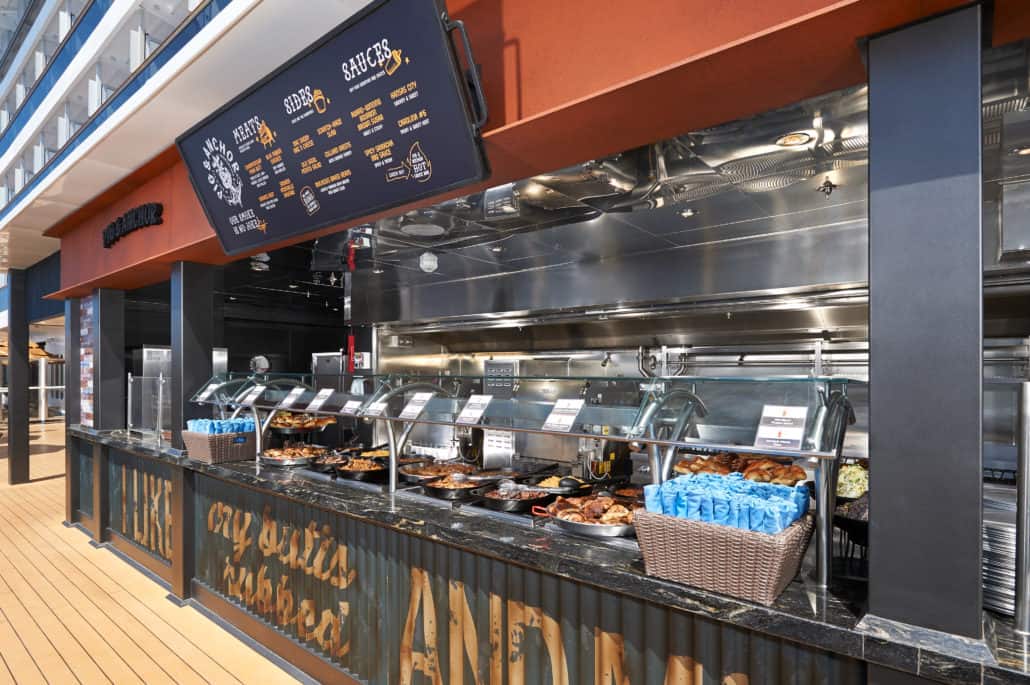 2. Guy's Pig & Anchor Smokehouse | Brewhouse – Carnival Cruise Line
Ships: Carnival Horizon, Panorama, Celebration, Jubilee, and Mardi Gras
Once Carnival saw the success of Guy's Pig & Anchor Bar-B-Que, it quickly introduced a sit-down version on Carnival Horizon, complete with a bar, an in-house brewery, and a stage for live music.
The interior design is a mix of country western and industrial, with wooden tables and flooring along with silver and red metal chairs. Entrées include dry-rubbed chicken, pulled pork, beef brisket, The Pig & Anchor Melt sandwich, and prime ribs.
Appetizers and sides include trash can nachos, mac & cheese, sweet potatoes, french fries, and chicken wings. For dessert, apple cobbler and banana cream pie are on the docket. Menu items are a la carte.
The venue's brewery also offers signature Parched Pig craft beers, including the Parched Pig Smoked Porter, the Parched Pig Farmhouse Ale, and the Parched Pig West Coast IPA. Additional beers, as well as cocktails and whiskeys, are also available.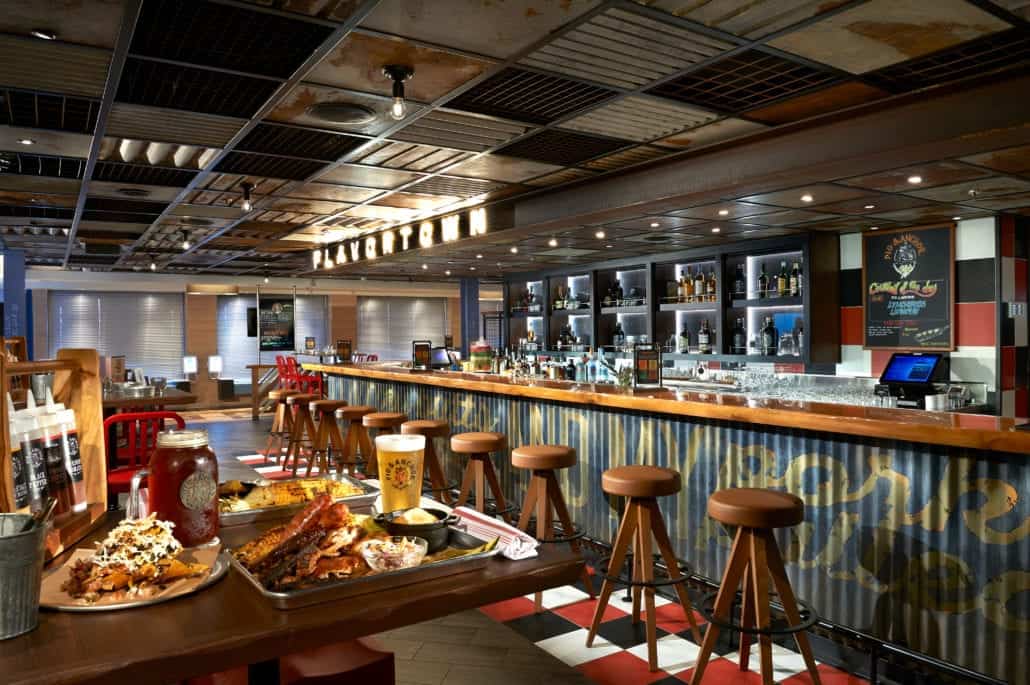 3. Q Texas Smokehouse – Norwegian Cruise Line
Ships: Norwegian Bliss, Encore, and Joy (Norwegian Prima also has a version of this restaurant but it's counter-service style, located in Indulge Food Hall)
Q Texas Smokehouse is Norwegian Cruise Line's western, ranch-inspired barbecue restaurant that first debuted on Norwegian Bliss. The large dining space has a dark, upscale feeling with lots of wood tones and leather accents.
Meats include brisket, pulled pork, beef short ribs, turkey breast, smoked sausage, chicken, and pork spare ribs. Q also offers citrus honey salmon and cajun shrimp skewers for seafood fans.
Appetizers and sides include things like fried green tomatoes, chopped salad, baked beans, baked potatoes, coleslaw, chili, crab cakes, mac n cheese, grits, corn on the cob, and potato salad. For dessert, a warm skillet brownie, bread pudding, pecan pie, peach cobbler, and banana pudding are on offer. This restaurant is a la carte.
The cocktail menu includes Q's specialty — the smoked peach margarita — and other options like a basil julep, Moscow mule, and sidecar. An extensive menu of scotches, whiskeys, and bourbons is also available — perfect for enjoying while listening to the band play country tunes on the venue's live music stage.
MORE: 18 Most Unique Cruise Ship Bars in 2022
4. Portside BBQ – Royal Caribbean
Ships: Oasis of the Seas
Portside BBQ is a bit of a cross between a counter-service venue and a casual sit-down restaurant. It has a counter for ordering and a large dining area with tall tables, picnic tables, tables with booth seating against the wall, and counters along the windows. This venue is open for dinner daily and features an a la carte menu.
The seating and tables are strikingly similar to Guy's Pig & Anchor Smokehouse, with wooden tabletops and red and silver metal chairs. During select hours, the venue features live music.
Meats include spare ribs, brisket, pulled pork, smoked turkey, and BBQ chicken — some of these are also available as sandwiches, such as the beef brisket and pulled pork.
Sides include things like baked beans, corn on the cob, and cornbread. For dessert, try the chocolate brookie or banana dream. The kid's menu includes either chicken fingers or 1/4 a BBQ chicken plus one side for $4.
The drink menu is more simple than most specialty cruise ship restaurants, featuring things like sweet tea, Arnold Palmers, fountain soda, and beer.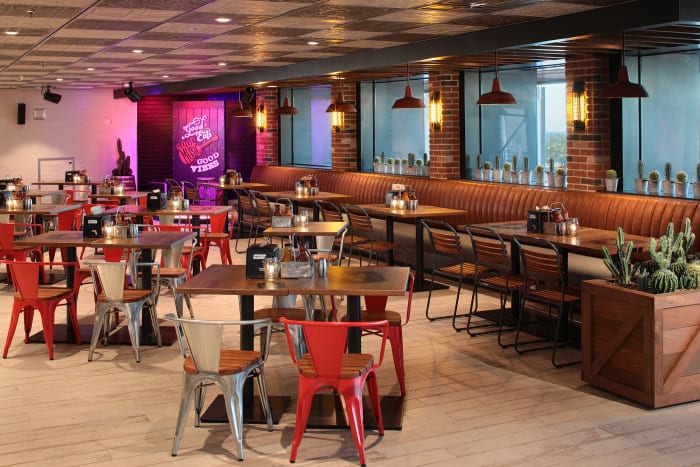 5. Planks BBQ – Princess Cruises
Ships: Caribbean and Emerald Princess
Planks BBQ isn't a standalone barbecue restaurant. Instead, it's a pop-up specialty dining experience in the World Fresh Marketplace buffet area. Planks is available every other night of the cruise, alternating with a specialty seafood concept called Steamers Seafood. Both have a cover charge of $12 per person.
Reservations are required, but cannot be made ahead of the cruise. If you want to guarantee a spot for either one of these dining experiences, book as soon as you can on boarding day.
The menu for Planks BBQ is simple but covers most barbecue favorites. Guests can craft their own plank with a choice of four meats: pulled pork, chili-spiced roasted tri-tip, smoked sausage, chicken drumsticks, BBQ pork ribs, or chipotle barbecue meatballs. The meal comes with wedge-cut fries, 3-bean chili, confetti slaw, charred toast, and dill pickles on the side. Sauce choices include tangy apple butter & cider sauce and steakhouse smoky bourbon & ale sauce.
Appetizers are a loaded wedge salad and baked potato chowder, and desserts are banana pudding and chocolate cake complete with caramel drizzle and candied pecans. A handcrafted cocktail list, wines, and beers are also available at Planks for an additional charge.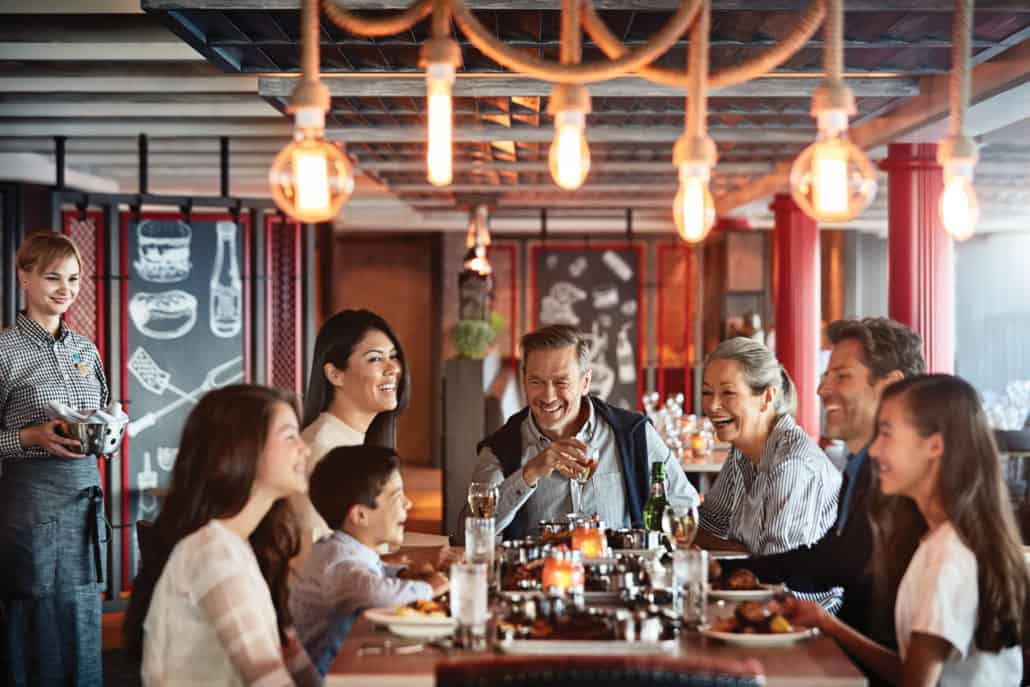 READ NEXT: 8 Popular Cruise Ship Seafood Restaurants
Pin it!