A technical glitch has put a crimp in the plans of folks who thought they'd be setting sail tomorrow on a Carnival cruise. Guests booked on the Carnival Triumph — which was set to sail Thursday out of New Orleans — got an E-mail this afternoon informing them that the ship wouldn't be able to depart as planned due to an issue which impacts the speed at which the Carnival Triumph would be able to travel.
Details On The Carnival Cruise Cancellation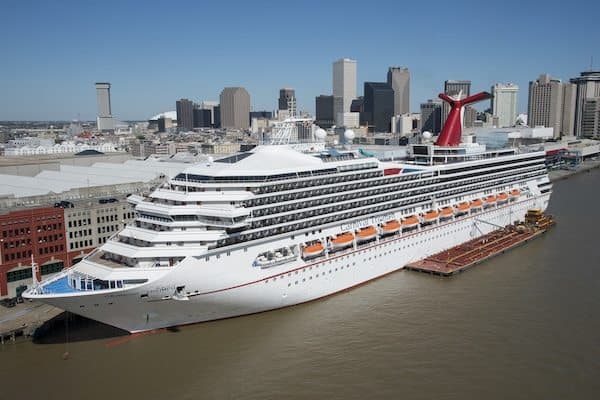 "The ship is currently experiencing a technical issue, which is affecting the maximum cruising speed, "the line told passengers in a statement released by Denese Walters, the Sr. Director of Guest Services Contact Centers. "Our team is in the process of completing the necessary work, however, it will not be completed in time to operate your cruise. Regrettably, it will be necessary to cancel tomorrow's sailing."
"We recognize the impact to your vacation, and hope you will accept our sincere apologies for this disruption to your plans," the statement continued, adding that Carnival would "automatically process a full-refund, including Fly2Fun reservations, pre-purchased Carnival shore excursions, Fun Shop and beverage packages." Bumped passengers will also receive a 25 percent credit toward a future Carnival cruise. Those who booked flights through the cruise line are getting help figuring out new arrangements, while those who independently booked will be reimbursed change fees up to $200.
Podcast: Carnival Cruise Triumph Western Caribbean Review
When contacted for confirmation, a Carnival spokesperson said that the ship is, in fact, experiencing technical difficulties. Originally slated to arrive in New Orleans Thursday morning, the Carnival Triumph is now expected to instead arrive around 8 p.m. Guests currently on board will be given the option of disembarking upon arrival or remaining on board until Friday morning. At that point, the ship will head to Mobile, Alabama, where the necessary repairs — which involve underwater work — can more easily be made. will be made.
Carnival Triumph is based in New Orleans year-round, offering four- and five-night Western Caribbean cruises.
Photo via flickr/Carl Carpenter