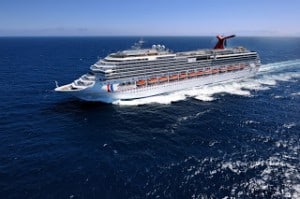 Carnival Cruise Lines is in fact voluntarily making payments to the Department of Treasury for aid rendered for the recent Carnival Triumph, and Carnival Splendor from November 2010.
In a statement on their website, the cruise line said, "Carnival Corporation is in the process of voluntarily submitting payment to the U.S. Treasury Department to reimburse the federal government for costs related to the Carnival Triumph and Carnival Splendor incidents. It should be clearly noted that in no point in time has Carnival stated that it would refuse to reimburse federal agencies if they sought remuneration. Although no agencies have sought remuneration, the company has made the decision to voluntarily provide reimbursement to the federal government."
The Carnival Triumph engine room incident in February was an estimated $780,000 and Carnival Splendor fire in 2010 was approximately $3.4-million, which also involved the US Navy delivering supplies.
The cruise line first came under fire from US Senator Jay Rockefeller regarding the safety record of the cruise industry.
Subscribe to our Cruise Updates.
Related articles