Carnival Cruise Line has announced its initial 2016 Carnival LIVE lineup.  It will feature Trace Adkins, KC & The Sunshine Band, and more.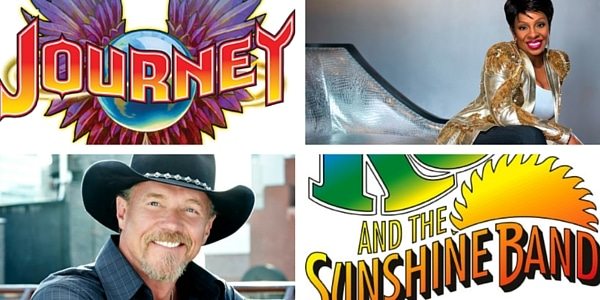 What is Carnival LIVE?
Carnival LIVE is a one-of-a-kind entertainment option that provides guests an opportunity to experience captivating concerts by major musical artists at a tremendous value.  Concerts are held in the ships' main theaters – ranging in guest capacity from 900 to 1,300 – meaning there's never a bad seat in the house.  The shows are held on ships in cruise ports, and next year will be on 11 ships.
2016 Music Acts
Gladys Knight, Feb. 1-3
KC & The Sunshine Band, March 22-24
Journey, May 5 & 6
Trace Adkins, July 6-8
What Ports?
St. Thomas
Cozumel
Nassau
Tickets
$40 to $75 for general admission
$150 to $250 for VIP tickets which offer seating in the first four rows, a photo opportunity with the artist, and a commemorative concert pass.
Final Thoughts
Carnival LIVE concerts are an awesome experience.  They give a different sort of personal experience with the artists that you usually don't get to be apart of.  They usually play 20,000 seat arenas and there's no connection between the artist and the audience.  With Carnival LIVE, it's a much smaller crowd in a much more intimate space.
For a full listing of the 2016 Carnival LIVE concert series, visit carnival.com/carnivallive.