When Carnival Cruise Line introduced Mardi Gras, it rolled out several new stateroom categories, including the Excel Suites.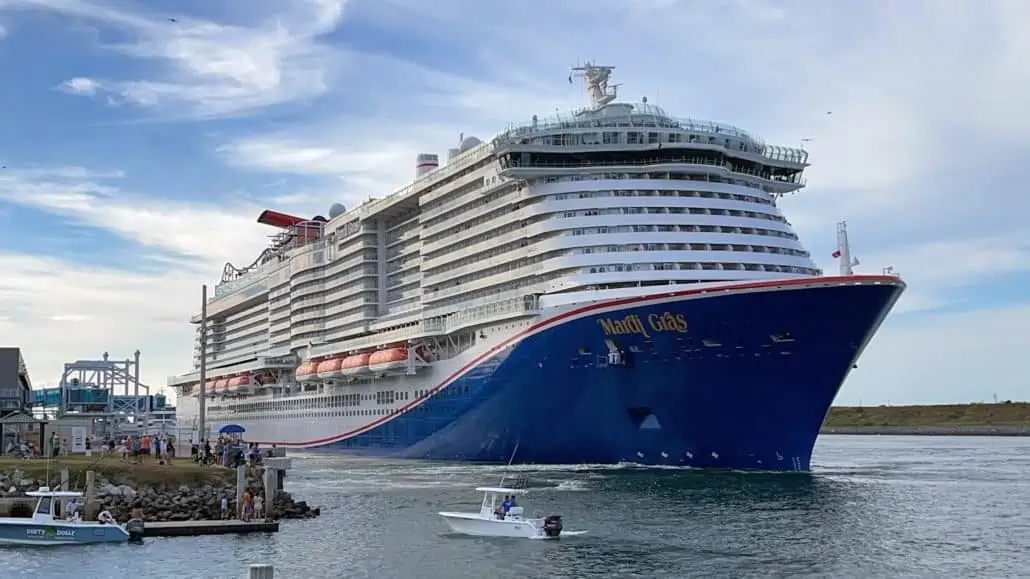 Among the most jaw-droppingly gorgeous of them are the aft corner suites with wraparound balconies. They ain't cheap… but the real question is whether they're worth the high price tag.
Having just spent a week in one, we're here to tell you what we loved, what we didn't, and whether we'd book one again.
It's All About the Balcony
Let's get this out of the way right up front: While the suite itself is nice enough — more on that in a moment — what you're really paying top dollar for here is the balcony. "Huge" doesn't begin to describe the space, which wraps around the side of the ship and features a hot tub, numerous seating areas, a circular daybed, and a table that seats four.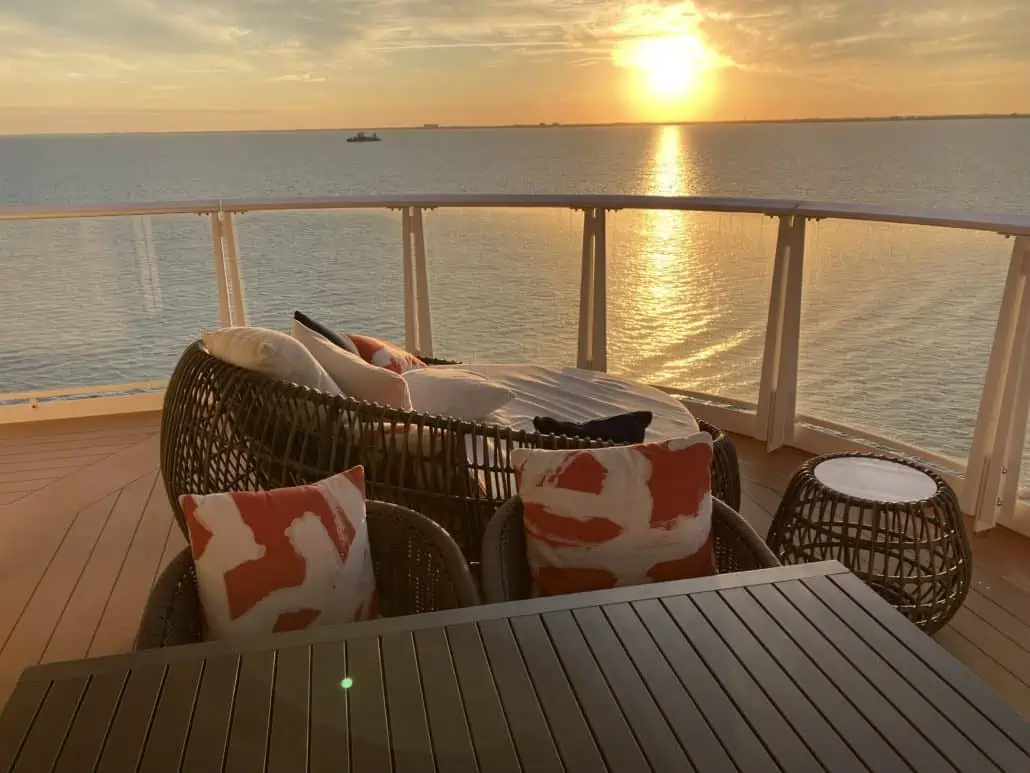 There are no words to describe the "wow factor" that this balcony offers. So big is the outdoor space that is has two separate access points — one in the suite's living room, and a second in the bedroom. There is a borderline ridiculous amount of seating, with several small couches placed on the portion of the balcony which wraps around the side of the ship.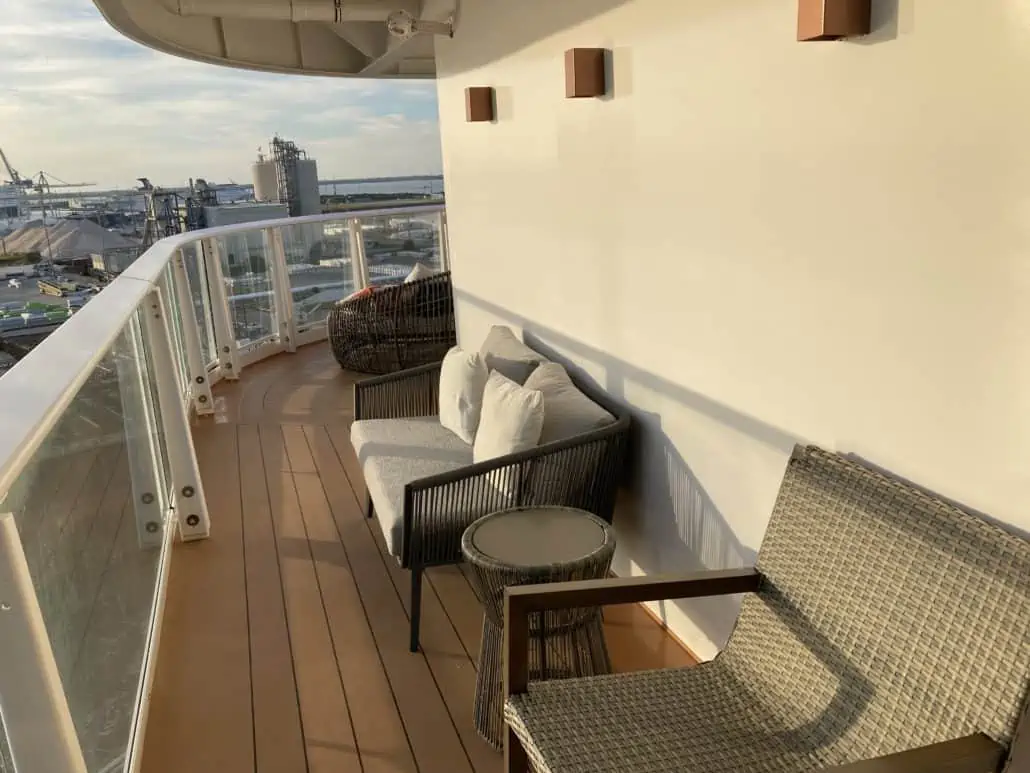 Just past this sitting area is a hot tub. I'll admit that this offshoot, if you will, from the main balcony didn't get much use during my stay in the suite. I'm not really a hot tub guy, and having one on the balcony just felt kind of odd to me. Many others I've spoken to, however, absolutely loved slipping into the warm water and having a glass of champagne while they watched the world float by.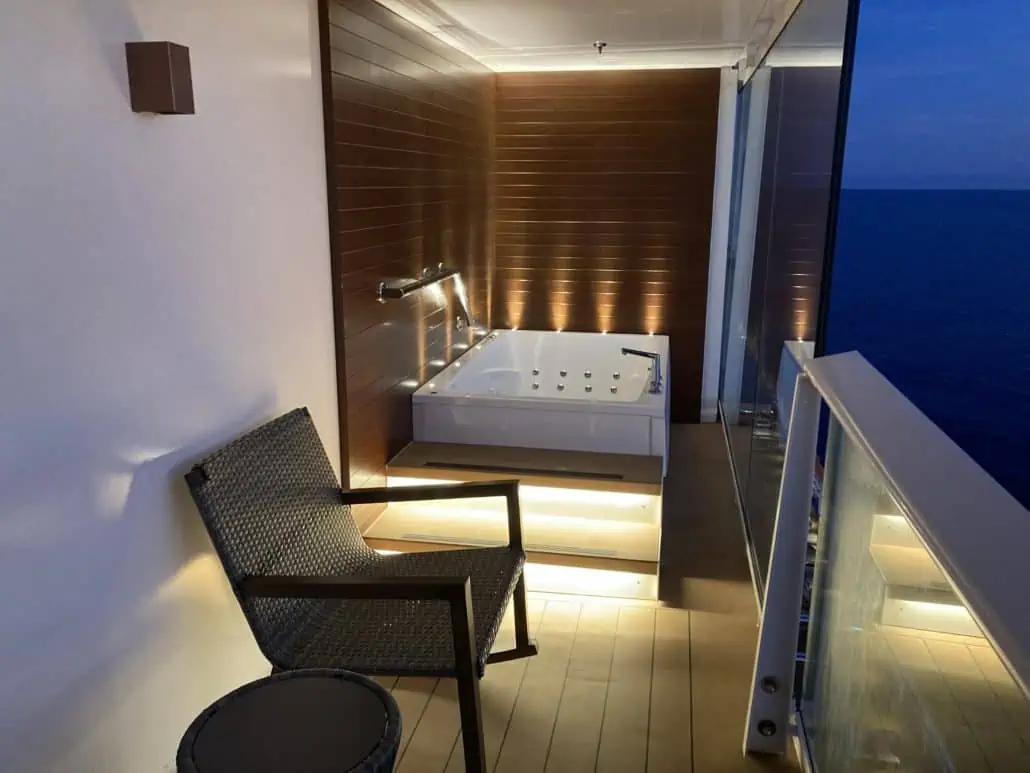 The balcony was truly incredible and, as I said, the thing which might well justify the exorbitant cost of the aft-facing excel suite. But what about the inside space? How does it measure up? 
Inside the Aft-Facing Excel Suite
It's probably a good thing that you see the interior of the suite before you walk out onto the balcony, because obviously, that outdoor space would be a hard act to follow. The interior space is quite lovely and very well appointed, but not necessarily what you'd call something to write home about. 
Upon entering, you're greeted with a short hallway into the living room area, which features an L-shaped couch (which can be converted into a bed), a seating area, a flat-screen TV (one of two in the suite) and one of the doors to the balcony.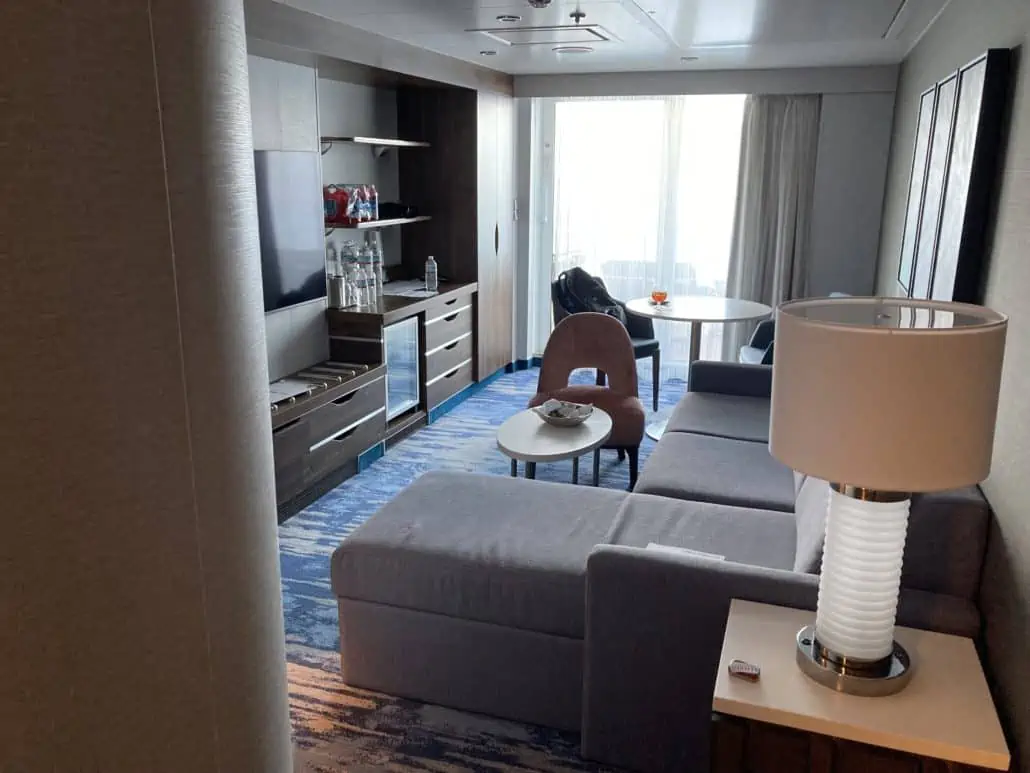 A few things to note off the bat, the first of which is storage space. If you're someone who tends to overpack, never fear, because this room will swallow whole all of your belongings. There are drawers and closets and shelves everywhere… and we're only talking about the living room. 
Also — and this is going to sound kinda weird I'm sure — but the living room lamp is perfectly located. Whenever I left the suite for dinner, I'd leave that lamp on and found that the glow it gave was warm and welcoming in a way I really can't describe and didn't expect. (It's worth noting that the base of the lamp also has UBS ports built in, a nice feature.)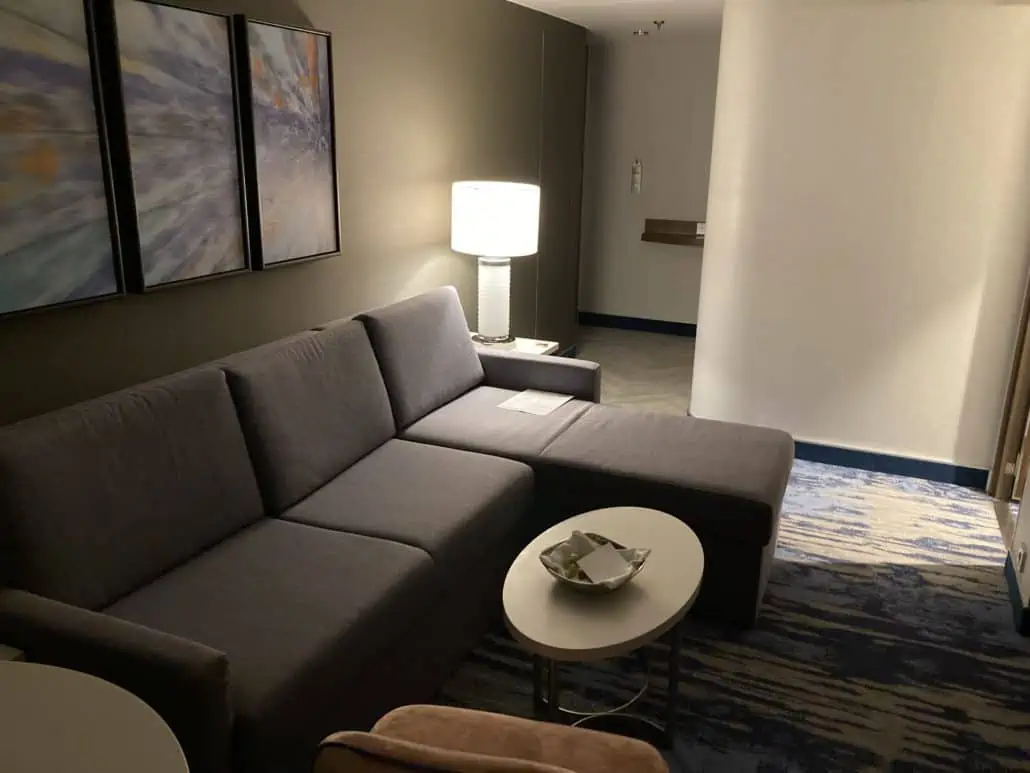 Another kind of cool feature? On one of the shelves you'll find a pair of binoculars. I can't say I got a ton of use out of them, but there were at least a few times when I broke them out in order to look at ships in the distance or study the landscape as we pulled into one of our ports of call.
MORE: Review: Shaq's Big Chicken on Carnival's Mardi Gras
Party of One
I can't attest to how comfortable the living room couch is when used as a bed (or even what it looks like unfolded). Although I'd planned to share the suite with a friend who was going to use the living room while I took the master bedroom, they wound up canceling at the last moment.
"It's… just you?" asked my room steward, clearly taken aback. And I'll admit that I had a nanosecond of guilt before reminding myself that I'd booked the suite as a "back to cruising" gift to myself after two long years away from my happy place. 
In any case, just off the living room is the master bedroom, which I'm happy to report is separated from the living space by an honest-to-God door. Obviously, traveling by myself that wasn't a big deal, but if you're traveling with others — even family members — it's nice to be able to have the privacy that a door affords.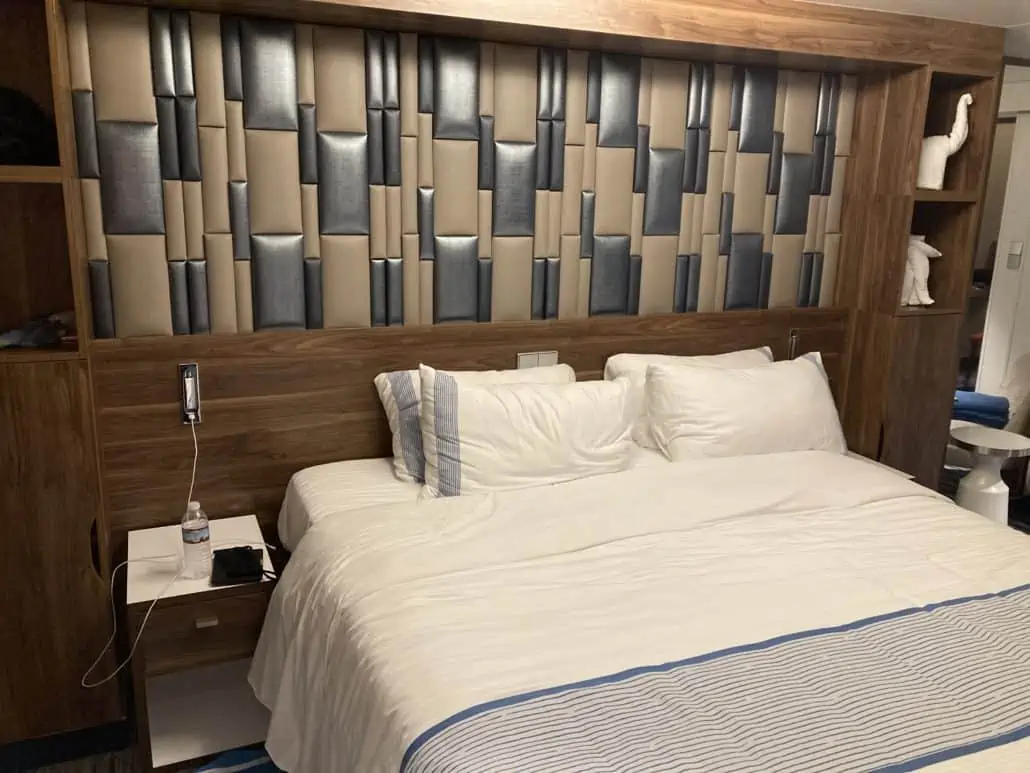 The color scheme of the bedroom is calm and soothing with whites and blues and greys. As is becoming more and more common on ships in general and Carnival ships in particular, the nightstand featured reading lights as well as standard outlets and USB ports, perfect for charging your phone or Kindle while keeping them close at hand.
Let's talk about lighting for a second, shall we? I don't know exactly when this happened, but somewhere along the line I became borderline obsessed with the types of lighting used in cruise line staterooms.
I can't speak for the rest of Mardi Gras, but the lighting choices in this suite were amazing. Built into the top of the bedboard was a a light which glowed softly, and the bedroom's desk area featured a very cool round glowing light which… well, heck, why tell you when I can show you?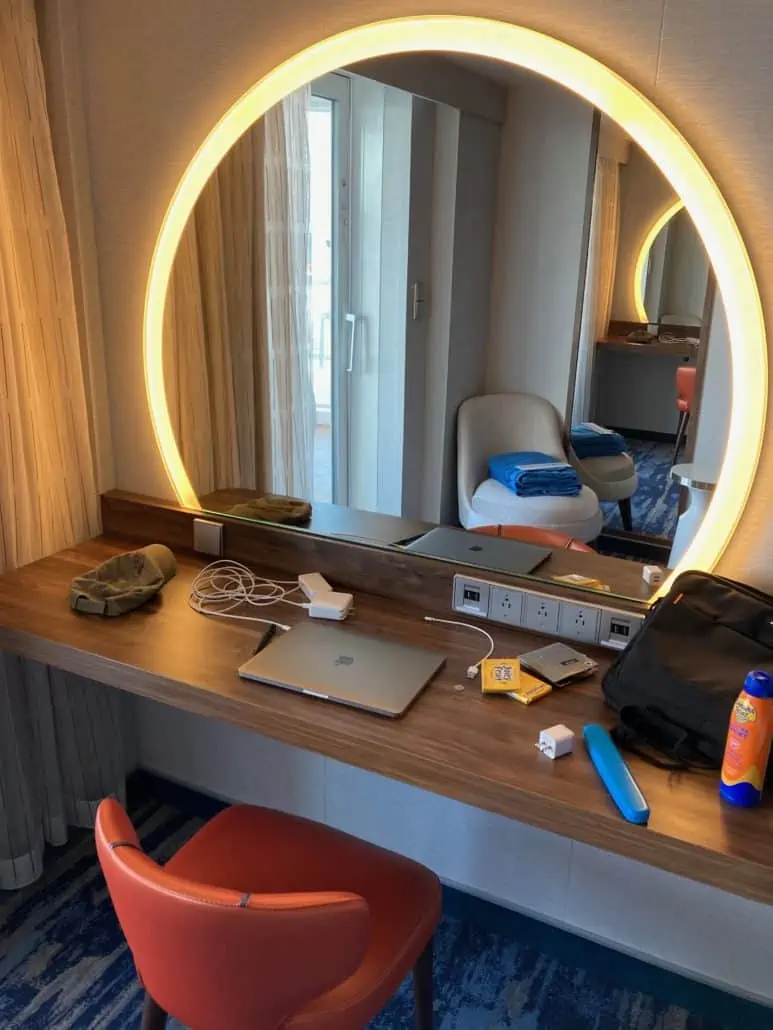 Not only is the lighting on this workspace perfect, but take a look at all those outlets along the bottom of the mirror.
This was a fantastic place to work (although more often than not, I grabbed my computer and went out onto the balcony to sprawl on the daybed and pretend that I was going to do some serious writing when, in fact, I knew I'd be napping within minutes). 
Storage-wise, the bedroom, like the living room, has plenty of shelves and drawers, although the real showstopper here is the massive walk-in closet.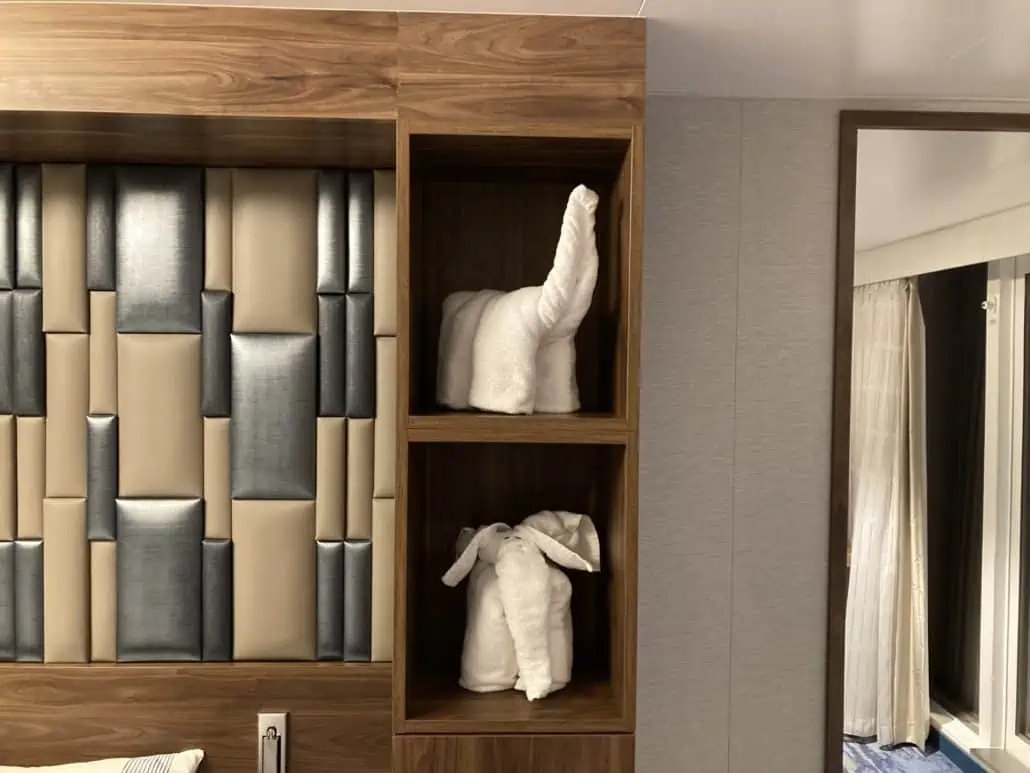 Shower Heaven
The bathroom is massive by cruise ship standards. One thing that's particularly nice is that the bathroom facilities can be accessed from both the living room and the bedroom.
This means that if you have people using the living room as their sleeping space, they don't have to enter the bedroom in order to use the bathroom — a major plus.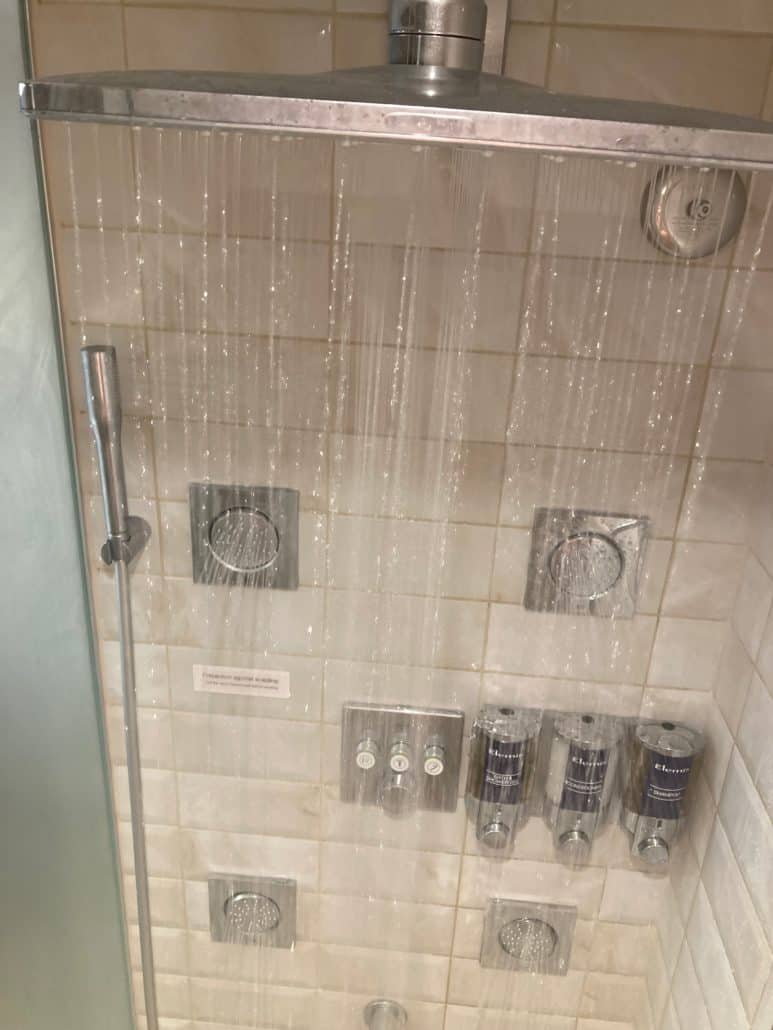 A real high point of the suite was, oddly enough, the shower. A large, glass-enclosed space, it features a rainfall showerhead as well as four adjustable jets and a "wand."
Although I'd never before experienced a shower like this, I've heard it described as a "carwash" shower and that's a pretty apt description. I suspect the water sprays clean crevices of my body that I didn't even know existed.
MORE: Mardi Gras Dining Guide: Which Restaurants Are Complimentary?
Let's Talk Perks (Or Lack Thereof)
If there's one way in which this massive suite fell short, it would be the perks and amenities. My room steward was pleasant enough, but his attention to detail was severely lacking.
Twice wet towels were left on the floor as opposed to being replaced. My one request — that the ice bucket be filled each day — was largely ignored, as was the trash can in the bathroom which was not emptied once during the week. 
None of these are huge complaints, but they all reflect a level of service below what one expects when paying for one of the most expensive staterooms on a ship.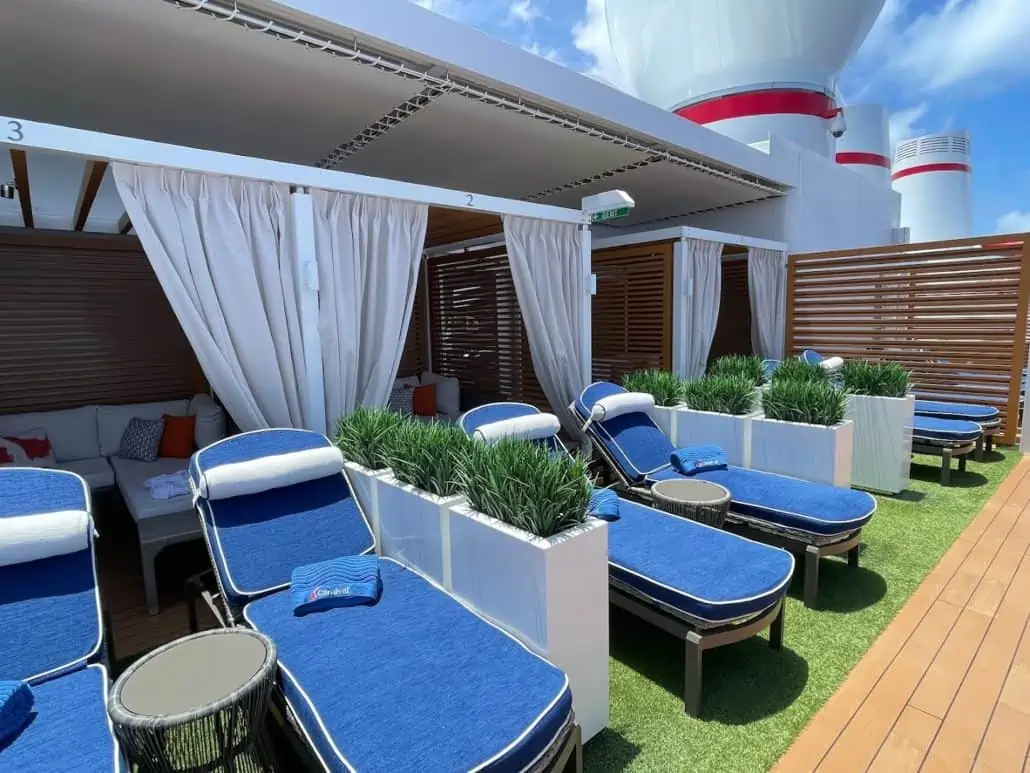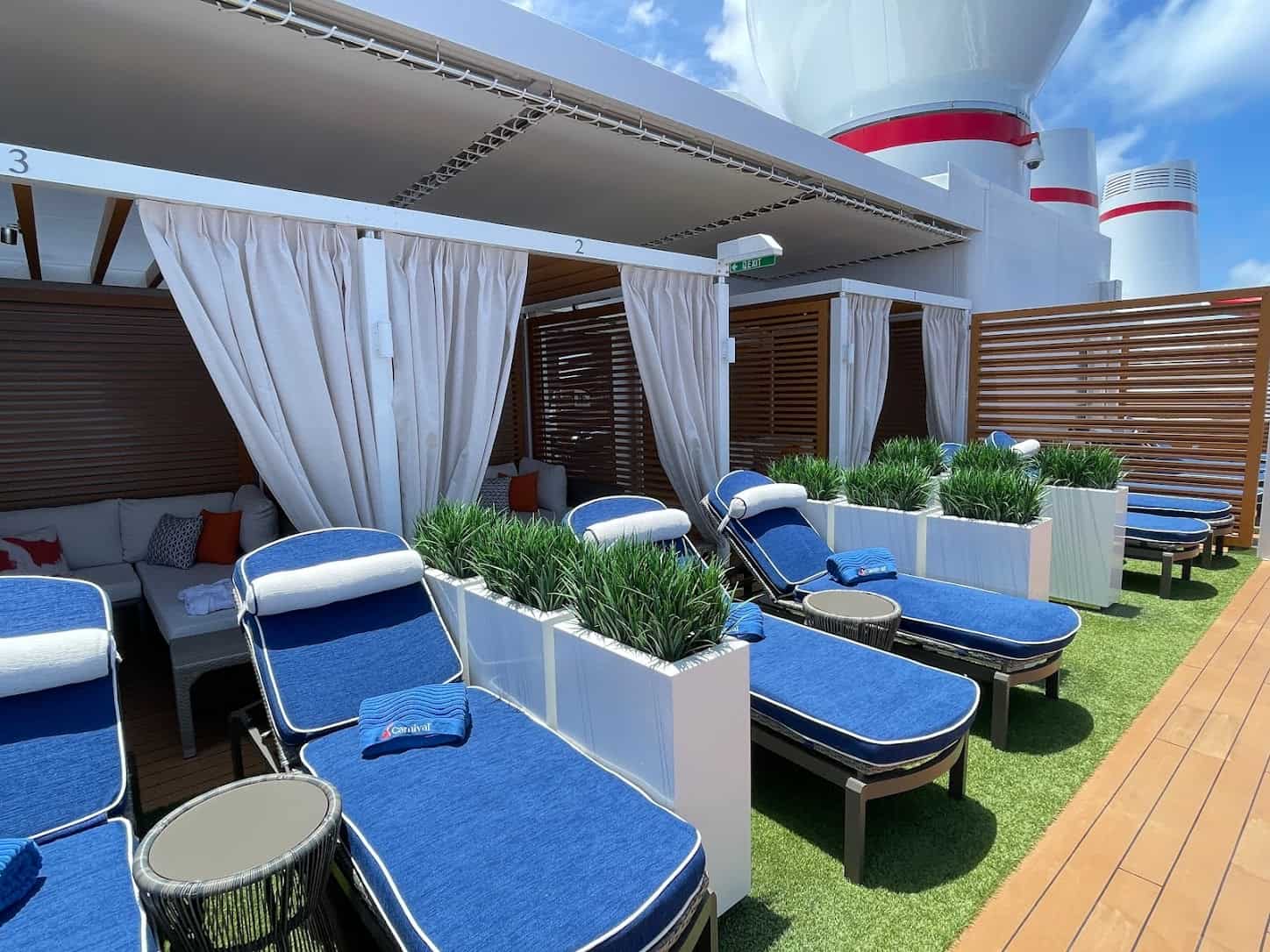 Another perk granted to Excel Suite guests is complimentary access to Loft 19, a private top-deck space that offers comfy loungers, an infinity whirlpool, and cabanas that can be rented at an additional cost.
The space is large and well-appointed, but the Serenity Retreat adults-only area — one deck below — offers far better amenities. Loft 19 does not have a bar or a pool, and while there are supposedly attendants (as you'd find by the main pool) who will get drinks, I never had one swing by my lounger a single time. When I wanted drinks, I went down to Serenity (which also offers a sea day salad bar). 
Again, one would think that the area set aside specifically for guests paying top dollar would offer at least the same level of services as the space available to all guests. 
For Comparison's Sake
Obviously, this is Carnival Cruise Line's first foray into the high-end suite game. And while the suite itself is pretty sweet, there's not a lot of "there" there, as they say, for the price. For example, during the same week as my sailing, several Norwegian Cruise Line ships had suites available in their high-end retreat, The Haven. Those staterooms come with access to a private bar, restaurant, and pool, not to mention butler and concierge services.
Interestingly, guests in the far-less expensive Havana staterooms on board Mardi Gras have exclusive access to the Havana retreat, which does feature a private bar as well as a smallish pool.
If Carnival truly wants to compete in the high-end game — and that certainly seems to be what they're aiming for — they'll have to step it up when it comes to what's offered to suite guests.
Even the concierge service — which was essentially a phone number as opposed to a dedicated desk, as you'll find in The Haven — proved disappointing, as they were unable to secure either of two dinner reservations I requested and weren't even able to switch my dining time from late to anytime. 
I can't emphasize enough that none of these things had a negative impact on my sailing in any substantial way. I'm offering these comments and criticisms only as a way of making sure people who lay down the big bucks for one of these suites know exactly what they are — and what they aren't — getting. 
Mardi Gras is an amazing ship and I can't wait to sail her again. But when I do, it will likely be in my usual balcony stateroom. Sure, I won't have access to Loft 19, but I'll be pretty darn happy down in the Serenity Retreat.
READ NEXT: Review: Does Carnival's Mardi Gras Live Up to the Hype?
Pin it!