Today was the worst day of the cruise – disembarkation day! There is nothing worse than setting your alarm for 5:45 am, making sure you didn't forget anything, and leaving your stateroom for the last time.
Sailing into NYC
I got up super early to make sure I didn't miss sailing up the Hudson River to Pier 90. When I say I got up super early, I actually got up an hour ahead of time because my phone was still on Atlantic Time. I made my way to my hiding spot because no one ever goes there – and that stood true this morning too.
Coming into New York harbor was breathtaking. Seeing the Freedom Tower, the Empire State Building, and the Statue of Liberty summed up the main reason I took this cruise in the first place.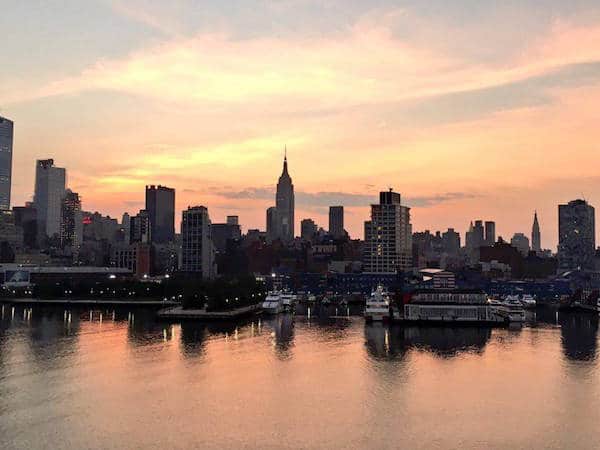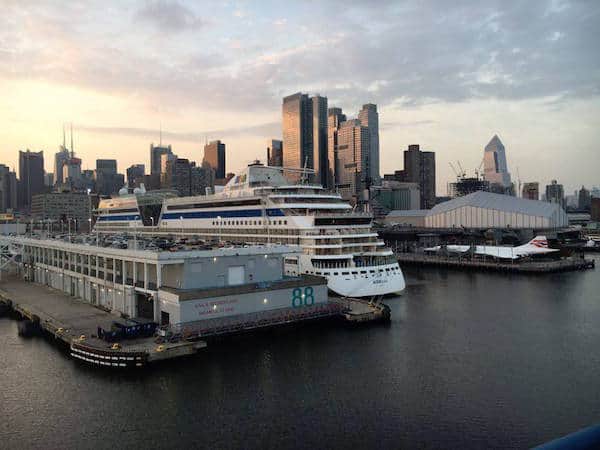 There was a chill in the air because it was the morning before September 11. It's strange how everyone remembers where they were when they heard the announcement. I was leaving my community college here in Jacksonville and driving to work.
Meeting to Debark
I was kind of nervous about disembarking the ship because if it was anything like embarkation, it was going to be a hot mess – very scattered. I made my way down to the Sunset dining room and waited there for them to call self-assist guests off. People were being quite obnoxious there. No one wanted to go to the back of the dining room because they wanted to be first out, so I plowed through their bags and went to the back of the dining room. My flight wasn't until 4 pm.
They called self-assist at 7:20 am; since I didn't have to pick up any bags I was able to go right customs, handed them my passport, and exited the terminal. Disembarkation was the fastest I've experienced in almost 20 years of cruising. From ship to curb was eight minutes. The disembarkation team was firing on all cylinders this morning.
Hanging Around New York City
I walked to my friend's house and was there by 8 am. We went to a local diner, grabbed some bagels, and I walked around the city for a couple hours. Of course I walked back to the cruise pier to take some pictures of the ships in the daylight, and then grabbed some pizza before heading to the airport. Uber was super slammed because it was NYC Fashion Week, so I took a cab to the airport. The flat rate to JFK was around $50. Uber's estimated fare was $119. No thank you. I could've easily taken the subway and AirTrain to the airport, but it would've taken an hour and meant carrying my bags underground and through turnstiles.
Heading Home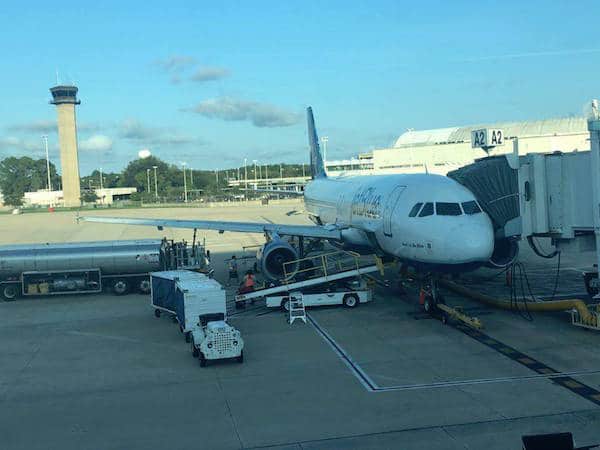 JFK was a ghost town; I barely waited five minutes to go through the security checkpoint and to the gate. The flight was delayed a bit, but I still made it home at a decent hour.
Nothing feels better than being in your own bed after traveling. I'll have a full recap of Carnival Sunshine and my final thoughts of the ship really soon.
Goodnight.
See my other posts during this Carnival Sunshine cruise!