Editor's Note: Recently, our correspondent journeyed from the United States to Athens, Greece in preparation for Celebrity Apex's inaugural voyage. Here's her trip report for day 6 of the sailing, where she visited Rhodes, Greece. She detailed her shore excursion in port, as well as another evening theater production.
A good indicator of how enjoyable a cruise is, is how quickly the time passes by. In my ideal cruising world, all cruises would be at least 10 days long. Just one more day full day left on the ship and my list of things to do and see requires more than just a single day.
Looking at my ticket for my last shore excursion, Historic Rhodes Walking Tour, I see the word strenuous on my ticket! Didn't I just say how I peruse the descriptions and then choose a shore excursion that suits my activity level?
My first reaction was to ask others on the ship if they had ever been to Rhodes. Several proclaimed that it was their favorite port. My reluctance upon seeing the rating was due to my earlier pre-cruise walking tour in Athens. The tour was excellent; however, it purported to be adaptable to the needs of the participants.
We all must have looked like ultra-marathoners or something because at the end of that day, I had accumulated almost 19,000 steps! And keep in mind that Athens was not built on flat terrain. I kept in mind the positive comments about Rhodes and decided that, if necessary, I could leave the tour early.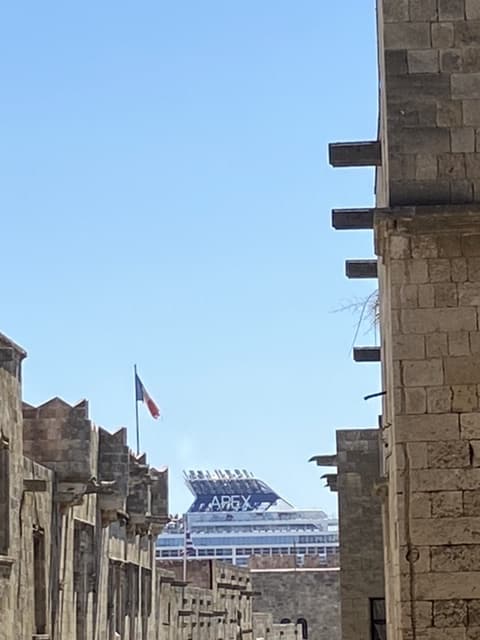 A Colossus of a City
Of the Seven Wonders of the Ancient World, the giant statue of Helios, the sun god, remains in my memory bank. Actually visiting a place where one of these wonders existed reminded me how fortunate I have been to travel and see some of the world that I had only read about in history or geography books. Of course, that strenuous tour description continued to cause me some anxiety.
As we exited Celebrity Apex, we were greeted by our tour guide and we headed into the ancient walled city of Rhodes. As luck would have it, our tour guide introduced herself as a former archaeologist turned tour guide. I asked if we would see any evidence of the Colossus. She pulled out an image of the giant statue and said we had likely seen it portrayed at the entrance of a harbor, straddling two pillars. She suggested that perhaps that wasn't an accurate placement of this statue.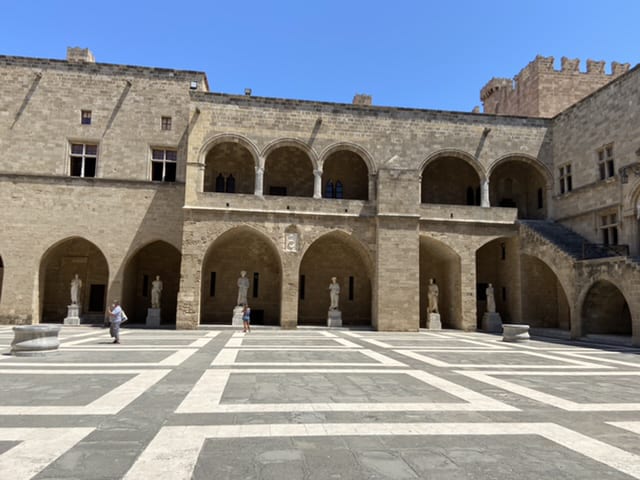 There are many theories about the statue, including that Helios didn't like the image of himself and he caused an earthquake that destroyed the statue. What most intrigued me was the fact that it started a trend for travelers to visit a place just for the purpose of seeing a local attraction.
Conquering Cobblestones
It's not surprising that cobblestones and irregular surfaces dominate the roads in these ancient towns. Be sure to wear stiff-soled shoes for comfort. Rhodes did have some slight inclines up to the Palace of the Grand Masters. Fabulous mosaics, coats of arms, and the nicely preserved Old Town transport visitors into the past. The many arched wall openings with views to the sea lend to nicely framed photo shots.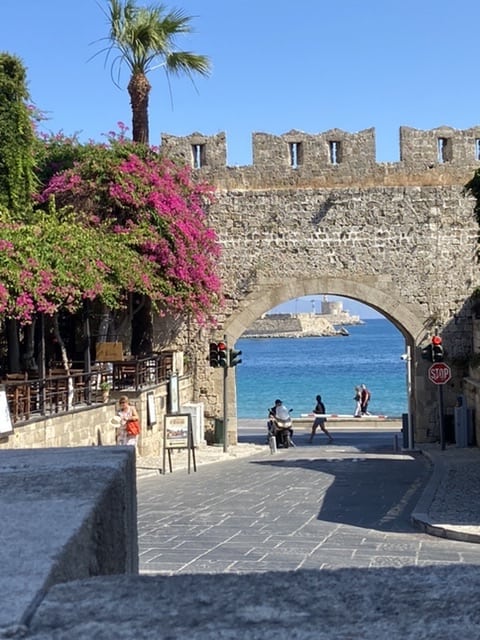 READ MORE: 10 Best Things to Do in Mykonos, Greece
A Big Day
It was a special day in Rhodes and the palpable energy of the town wafted through the crowds. Shop owners invited walkers to inspect their wares. Restaurant proprietors used menus to entice visitors to take a seat and enjoy a coffee or meal. This day, Greece ended its mandatory mask-wearing outdoors. Outdoor restaurants could now allow up to 10 guests to share a table. The number of COVID-19 cases had dropped. Celebrity Cruises rules remained in effect.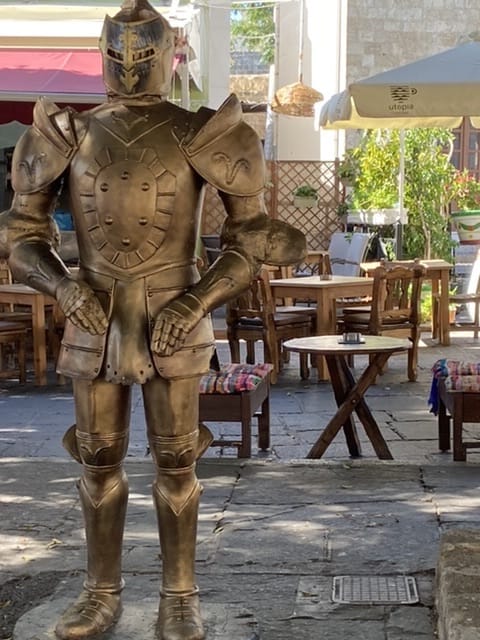 Our guide discreetly asked some of my fellow tour members to put on their masks during the inside tours of buildings. Those who didn't comply were held responsible by the museum guards, who asked our guide to convince the maskless people to mask up.
Our tour group consisted of only seven people, so we moved swiftly through our course. Before we returned and reached the port, most of the group had dispersed. The temperatures surged and even a gradual downhill walk in the heat of the day became unpleasant. As for the strenuous part of the tour, I survived just by taking it easy. Yes, we did do considerable standing and walking, and the heat was intense, but none of it compared to the death march that I had done on my first day in Athens.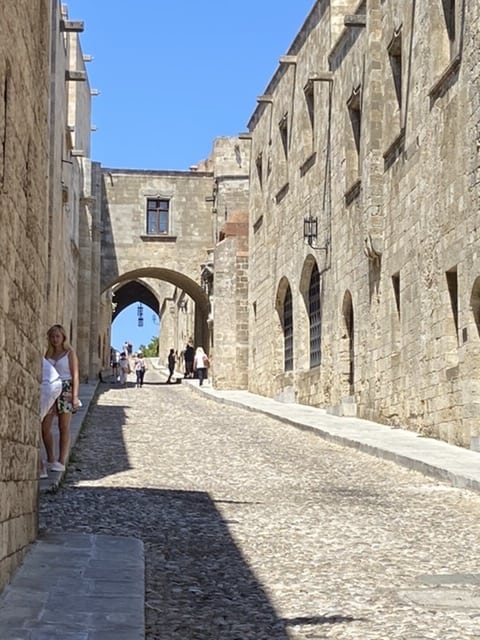 Countdown
Rockumentary was the final production show of the cruise and one that I didn't want to miss. I had an early dinner so that I could attend the 9:30 show. That plan worked out well as word got out that the earlier show had some technical difficulties. But we all know that the show must go on, and it went on flawlessly.
Similar to the Tree of Life show, emotion filled the theater. The cast had worked continuously on this production never knowing when COVID-19 would allow them to actually perform for a grateful audience. It was definitely worth the wait; I highly recommend this show.
With the reduced number of passengers on Celebrity Apex, even with certain theater seats blocked off, there was adequate space for anybody to attend. The theater does have two levels, so there were no problems finding socially-distanced seats.
Martini Magic
After the shows, the bartenders at the Martini Bar on Deck 3 put on their own show, often shaking and making multiple martinis at one time. The record for this is 42 martinis! Besides a spot for watching the talented bartenders, the Martini Bar is a pleasant venue for pre- or post-dinner drinks, the latter was my choice tonight.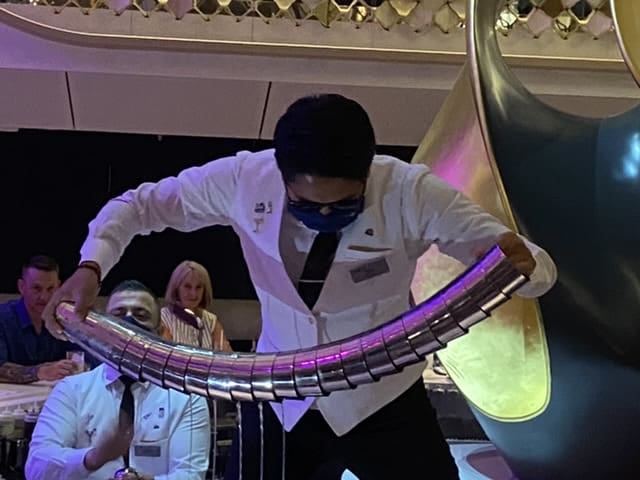 My dinner this evening at the Rooftop Garden Grill almost swept me away. Although improvements have been made since the Edge, the wind remains the master and does present a bit of a challenge. A simple fix was for us to move to another more protected table. This space at the top of the ship is extremely pleasant, and is also in the area where movies are shown on a large outdoor screen.
Read the previous Celebrity Apex trip reports: