Editor's Note: Recently, our correspondent journeyed from the United States to Athens, Greece in preparation for Celebrity Apex's inaugural voyage. Here's her trip report for day 4 of the sailing — a sea day. She details the smoking policy, the number of activities onboard, and how the fitness center is currently set up.
Imagine cruising on a perfect itinerary. Although I enjoy port-intensive itineraries, I often appreciate a break. This particular Greece sailing includes two days at sea, which are spaced perfectly allowing some time to explore and enjoy the ship. Cyprus is the next port of call and looking at a map, it's easy to see why we need a sea day.
Sometimes sea days seem crowded, but with the lower number of guests sailing that is not the case on Celebrity Apex. There are plenty of empty chairs around the pool; no lines to get into shows or other events. I am absolutely spoiled with this sense of being on my own chartered ship. It's as if events went from one extreme to the other.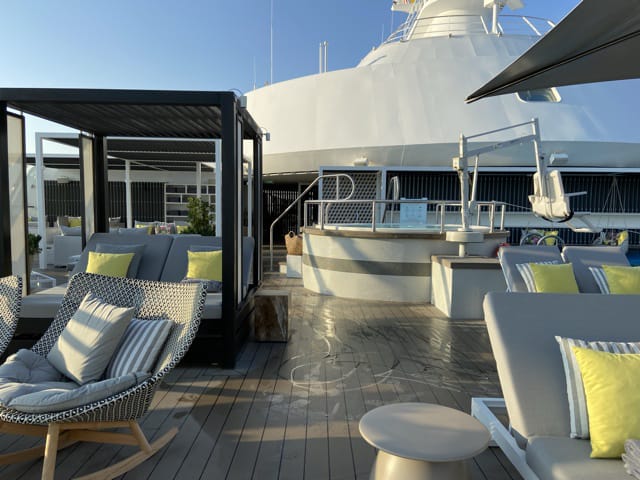 Although the ability to sail disappeared quickly, the slow re-opening to guests has actually taken the guest experience to a new level. The crew on Celebrity Apex anticipate my needs, remember my name, and are always present around the ship.
Ship Safety Protocols
Being on the ship all day, I could better observe the safety protocols that have been put into place. Of course we had to get our antigen tests prior to boarding in Athens. A negative test was the green light to board the ship. Moreover, great attention has also been taken to maintain a COVID-free environment.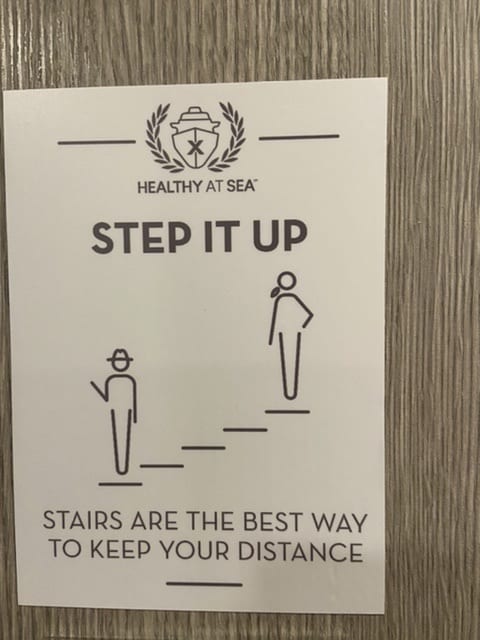 My anecdotal and unscientific evidence suggests that most passengers readily comply with the health protocols. On this sailing, masks are required at all times except for when eating or drinking. I guess it's also probably not a good idea to mask up while smoking.
The only reason I noticed that there are smoking areas on the ship is the interesting sculpture that draws the eye to the very nicely furnished smoking area near Eden on Deck 5, port side. Since I mentioned smoking, the other areas for smoking are Sunset Bar on deck 15, port side, and also on deck 15, the Pool Bar on the starboard side.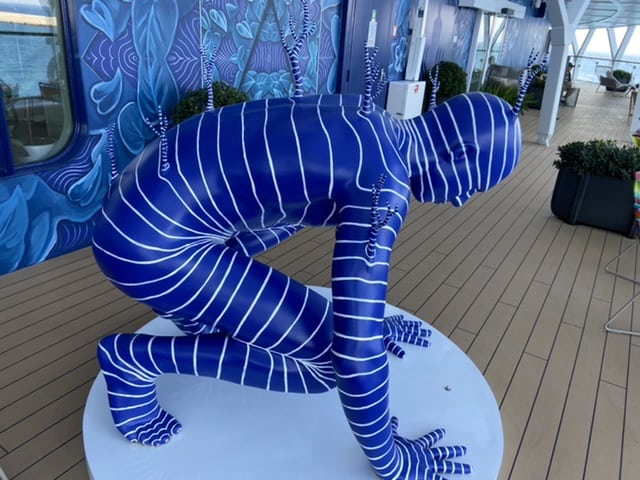 Smoking, including electronic cigarettes, is prohibited elsewhere on the ship, including on balconies. Violators will be fined.
Violating mask protocol on shore excursions may seem tempting since Greece is starting to relax their COVID-19 mandates. But at this point, anybody on a Celebrity shore excursion must continue to follow Celebrity's safety procedures. As with many COVID-19 related rules and restrictions, everything is fluid and can change on a moment's notice. All guests must remain flexible.
In large, densely populated seating areas, many signs remind guests not to sit in certain seats and to maintain proper social distancing. Having been fairly strict since the start of the pandemic, I have found the rules very easy to comply with.
READ MORE: Celebrity Edge's Return Sailing Emotional For All — But The Really Big Day Is Still Coming
Medical Care
Celebrity is adamant about reporting any COVID-19-like symptoms to the medical center. This reporting should be done by phone. Assessments and care provided to those exhibiting these systems will be covered at no cost.
Even though it is a few days until the end of the cruise, it's time to schedule another COVID-19 test to facilitate disembarkation. The ship makes it easy to plan, as they have printed a QR code in the Today daily planner. As an alternative to using the QR code, it's also possible to go to a website for scheduling. If none of those options work, heading to a designated help desk is another option. It's impressive how Celebrity has thought about all passengers, including those who may not be tech-savvy.
Don't forget to do this or you may not be allowed to fly back into the USA.
Sea Day, Free Day
Sleeping late and spending the day at the pool or discovering the rest of the ship sounds like a perfect onboard excursion for a sea day, although such a thing is non-existent. The Today planner organizes activities under such labels as Play, Discover, Savor, and more.
Choosing what to do on a sea day is no simple task. Whether you are seeking to learn a new skill, to challenge others to a friendly game competition or to learn about the next port, you will surely find something that piques your interest. A quick look at the back page of Today lists over 70 activities, each with a checkbox to facilitate advanced planning.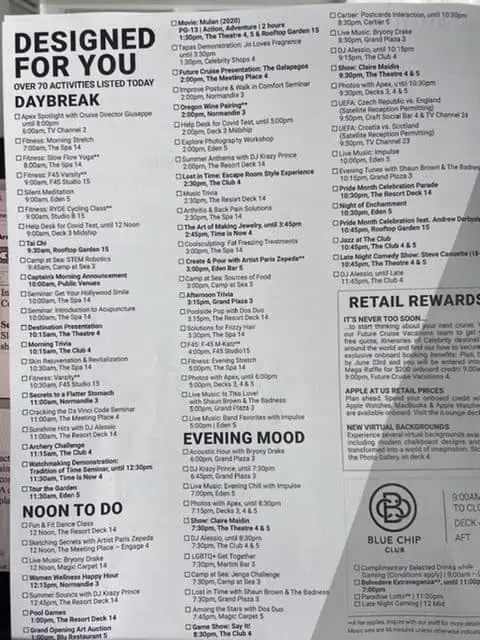 The Fitness Center
Prior to leaving home, I checked the Celebrity website and looked at the offerings at the fitness center and chose a few that I might like to try.
I admit that I never made it to the fitness center until the last day, where I found it basically empty. I heard some guests say that it was necessary to make an appointment to use the gym. I don't typically adhere to a regular schedule and having to make an appointment to work out doesn't quite suit me. Well, maybe I was also just a little too lazy to get up there and do something.
There are plenty of machines, as well as some very interesting classes on offer. Many seemed appropriate for super trained guests, while others indicated that they were appropriate for all levels of fitness. They looked very interesting, if not somewhat brutal, and I hope to eventually try them out on a different cruise. So for the time being, I think that I will stick to walking around the track.
As with other public spaces, social distancing is required and some machines were off limits to maintain separation. With the lower passenger count on this sailing, it may have been practical to do a walk-in session.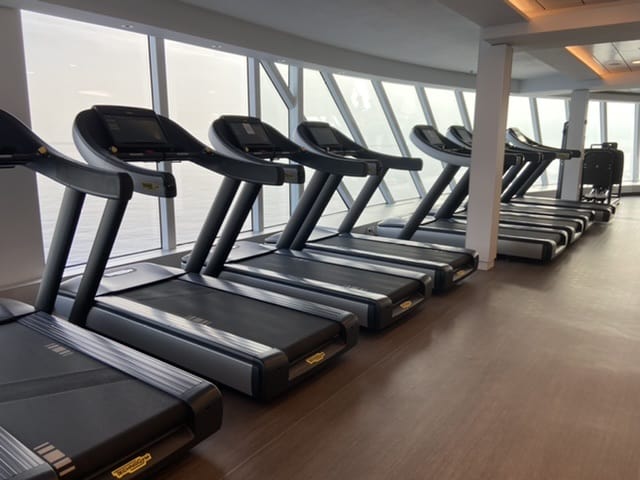 Other Options
Why not take advantage of your beverage package and do a bar crawl? What about doing a progressive lunch or dinner? Maybe sitting at the pool or catching up on reading is more up your alley.
If you're at a loss for what to do on a sea day, it's just a matter of opening your copy of Today and checking some of the boxes.
Read the previous Celebrity Apex trip reports: