Editor's Note: Recently, our correspondent journeyed from the United States to Athens, Greece in preparation for Celebrity Apex's inaugural voyage. Here are her final thoughts of the sailing, where she recapped her suite and the dining onboard. She also detailed her experience in the onboard spa and salon.
Full days of activities and exploration defined my week onboard Celebrity Apex.
My goal for the second sea day seemed achievable, but I knew that the last chance for relaxation would be a real project. Having set up some spa treatments in advance kept me on track to have at least a few hours of pampering, which came in the form of a facial and indulgences.
The other major item on my schedule included my departure COVID-19 test, definitely not the typical cruise ship activity, but considering the impact the virus has had on the cruise industry, probably one of the most important events of this cruise.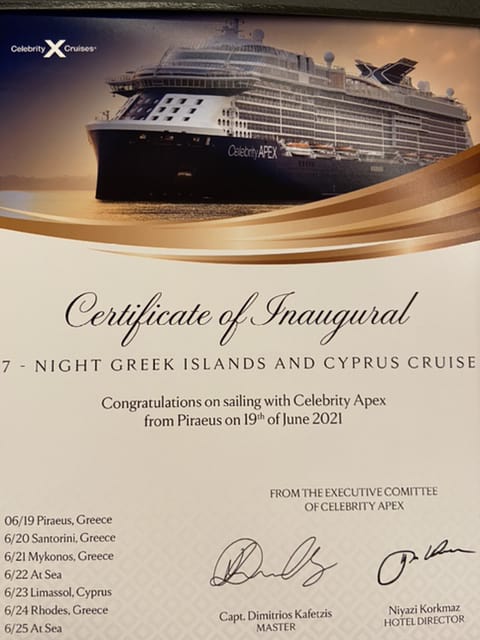 The Thermal Suite
Dealing with the increased temperature in Greece, it might seem counterintuitive to book the thermal suite experience on Celebrity Apex. (Don't forget that AquaClass staterooms come with unlimited use of the Thermal Suite included, but daily passes are also available for purchase.)
Designed by Kelly Hoppen, the entire Thermal Suite, which includes eight different elements, instills a sense of relaxation. The heated thermal chairs emit a comfortable amount of warmth, just enough to sooth and relax. And of course, the view is fabulous. My experience started with Crystalarium Energy Healing, followed by Inhale Salt Therapy.
With limited time to enjoy the Thermal Suite because of my upcoming spa appointment, I didn't want to stress too much about relaxation and self-indulgence so I chose my experiences wisely. (My lack of suitable footwear restricted my options; no footwear is provided, so be sure to pack some flip-flops or other shoes suitable for the wet areas.)
Attracted by the hanging egg-shaped chairs in the Float Zen Zone, I sat down and started twirling, which brought back childhood memories of doing this in a swing. The feeling of lightness, the sea view, and the release of tension I experienced teased me into wanting to stay and swing all day. My spa therapist had other plans as she came and brought me out of my reverie and into a treatment room.
The Spa
Whisked into the spa treatment room for a facial after my Thermal Suite experience, I put my face into the hands of a young, enthusiastic, and knowledgeable therapist who recommended that I do a sensitive skin facial by Elemis, the brand used at the spa onboard Celebrity Apex.
Wishing to hear her thoughts about being back on the ship – she was thrilled – I asked her about her past ship experience. She mentioned that she was one of the crew stuck at sea when COVID-19 first appeared. To make a long story short, she spoke very highly of how well Celebrity took care of her as she awaited months for her country to repatriate her. With all the negative press and disinformation about cruising during the pandemic times, it's always encouraging to get the unreported story from somebody with actual experience.
After my relaxing facial, I went to the salon for a haircut. The pandemic forced me into a hermitic lifestyle. Staying healthy became my number one priority; I rarely ventured out of my home except to do curbside grocery pick-up. I didn't relish the thought of going into a salon back home, but had no worries here. The crew on Celebrity Apex have been vaccinated and tested, so the health risk is very small. I left the spa area a renewed person.
READ MORE: Celebrity Reveals New Details on Third Edge-Class Cruise Ship
Random Observations
I experienced as much on Celebrity Apex as possible, but still couldn't do it all. Have I mentioned that a 10-day cruise would have allowed more time to get to the gym and experience the special fitness classes that are offered — and also included — for AquaClass guests? Instead of going into great detail, I will do a reprise of this amazing seven-day Greek Isles cruise.
Dining
I tried almost all the specialty restaurants except for Raw on 5, as I don't appreciate sushi or seafood. Expect to pay around $55 (subject to change) at the specialty restaurants, except for The Rooftop Garden Grill, which is currently $45.
My top pick is Eden because the menu is short and I don't spend hours trying to choose from a long list of great selections, the dishes offer creative combinations of flavors, and the portions are reasonable. For lunch, the cafe around the back is a favorite for its deli-style offerings and several tables on the outside deck to enjoy the food and the sea.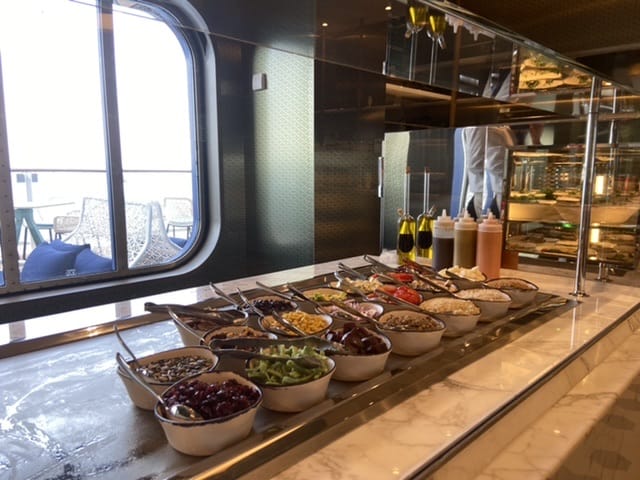 Celebrity Suite
After inhabiting this suite for a week, I found that I increasingly enjoyed the space and appreciated the thought that went into the design. What I liked best was the separate bedroom with the absolutely most comfortable pillows that I have ever had on a ship.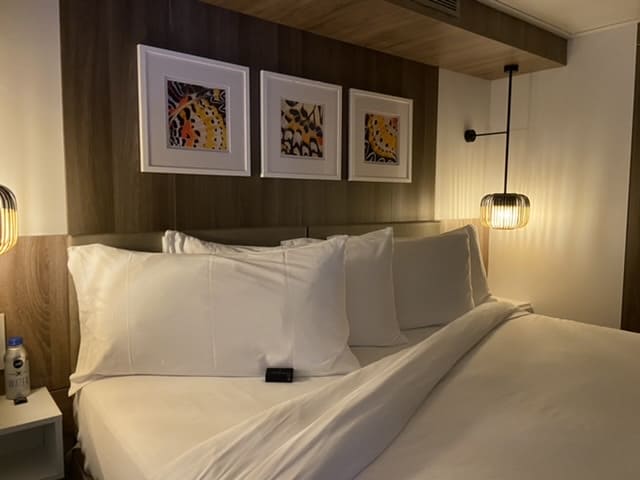 The massive amount of storage meant that there was room for everything. The desk area was ideal for working — or as a vanity area with its large mirror hidden in the counter. The soothing décor offered me a restful welcome on a daily basis. The separate WC compartment of the bathroom is a great option for visiting guests, who need not traipse through the bedroom.
Speaking as an experienced home remodeler who looks at details, there are a few changes that I would make. I have implemented ideas that seem perfect and aesthetically pleasing, but in the end don't work as well as expected. And is it only me who takes ideas from designs on the ship whether it be table settings, small-space layout efficiency, or even ideas from Kelly Hoppen?
So, here are a few minor changes that I humbly suggest:
The bathtub is far too narrow and could benefit from another grab bar to exit. I experienced much psychological friction in the tub and heard about other guests who had the same concerns about the tub. I would have much preferred a shower in that tub space.
In the WC, the toilet paper holder is an obstacle, and it took me a lot of time to find the teeny, tiny towel hook for the hand towel. And the strangest thing of all in the compartment is the corded phone right next to the toilet. Maybe the cord keeps it from falling into the toilet. Sometimes, closing the door to the main living area must have created an airlock and I would hear something tumbling in that space only to see the phone dangling.
Speaking of phones, the only other phone is in the bedroom; it would be nice to have a phone on the desk instead of in the bathroom.
The idea of a rocking chair in the living room appealed to me at first, but after kicking my ankle into the runner several times, I became less enthusiastic about it and had it removed from my room. The rocker also impeded the desk chair.
I like the control panel for selecting the different lighting options and controlling the drapes. I did spend far too much time looking for the non-existent switch to light just the wall fixtures behind the sofa.
The veranda had enough space for a reclining lounge chair; I would like to see at least one of those for relaxing on the balcony.
Note that not one of these observations detracted from my overall cruise experience.
Celebrity Cruises, is this where I mention that I am available for suggestions and review of design on future builds?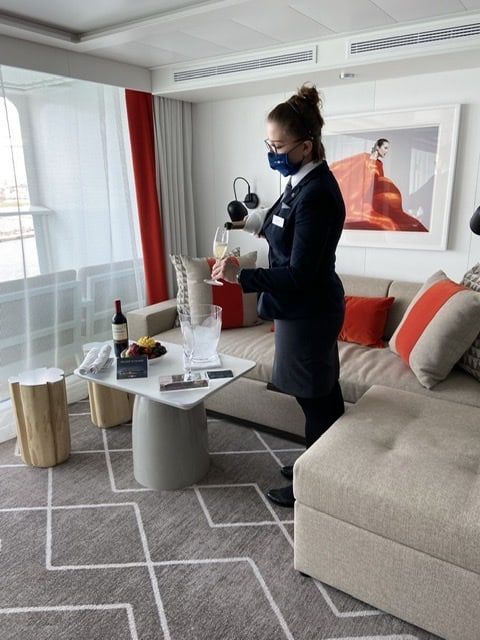 The Best News Ever
We all took our exit COVID-19 tests on Friday, both to comply with Celebrity testing requirements and to get back into the U.S. My rapid tests results came in a short time and I was thrilled, but definitely not surprised that this third test since my arrival in Greece showed a negative result.
Later that evening, Captain Dimitrios Kafetzis came on the PA and with much pride and enthusiasm announced that all crew and guests had tested negative! How exciting this was, not only for those sailing Celebrity Apex, but for the cruise industry in general. It's real proof that great planning, thorough testing, and strict compliance with health protocols will produce positive outcomes along with peace of mind.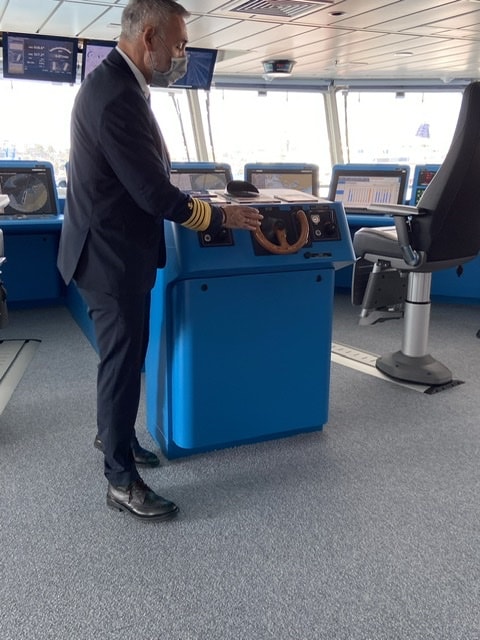 If you are looking for a relaxing cruise with few people, more personal space, an interesting itinerary, and a great cruise experience, Celebrity Apex is awaiting for you to board.
Read the previous Celebrity Apex trip reports: