Editor's Note: Recently, our correspondent journeyed from the United States to Athens, Greece in preparation for Celebrity Apex's inaugural voyage. Here's her trip report for day 2 of the voyage, where she visited Santorini, Greece and detailed some perks of staying in a suite on the ship.
Arriving in Santorini, the ship anchored offshore, typical for visiting Santorini where there are no piers for cruise ships. Having been to Santorini before, I expected to see the cable car and the donkeys leading the way up to the town of Fira, which overlooks the cliffs and is the gateway to the iconic town of Oia, (pronounced EEEE-AYE) which is often crowded with swarms of tourists, especially when multiple cruise ships arrive the same day.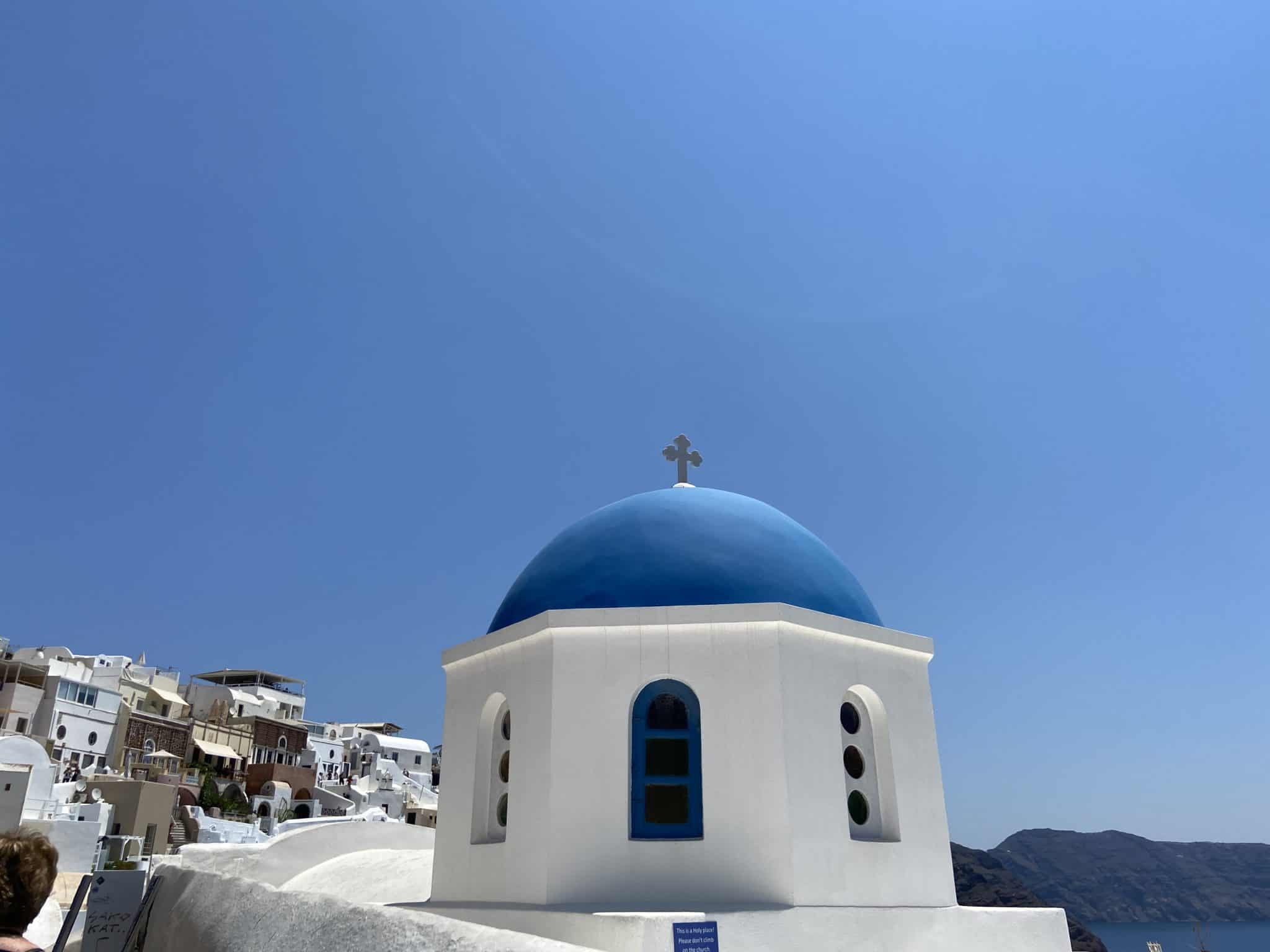 Our guide said that upwards of 11,000 tourists descend on the island on busy days. Fortunately, Celebrity Apex remained the only ship calling that day. As for the donkeys and cable car, I saw them nowhere, only realizing later that shore excursion tours left from another spot at the bottom of the cliffs.
When I explored on my own the last time, I recalled that for independent exploration, the donkeys and cable car transport guests from the old port to the capital of Santorini, Fira. From there, it's possible to take a bus or taxi to Oia.
Love Me Tender
Celebrity Apex usually utilizes its own wonderful launches for tendering; however, we were required to use local boats in Santorini rather than Celebrity boats. The launching spot on our ship is a quite pleasant space. No waiting in the bowels of the ship to descend metal stairways leading to the tenders. Accessing tenders from the comfortable Destination Gateway on Deck 2 really improves upon the traditional tendering experience.
I booked a ship shore excursion, so my tender traveled to Athinios Port, also known as the new port or Thira port. From there, I boarded my bus for an exciting ride up to the top of the cliff. The bus zigzagged up the hairpin road, hugging the steep cliffs. Nervous types might opt to for aisle seats rather than window seats to avoid looking at the sheer drop offs.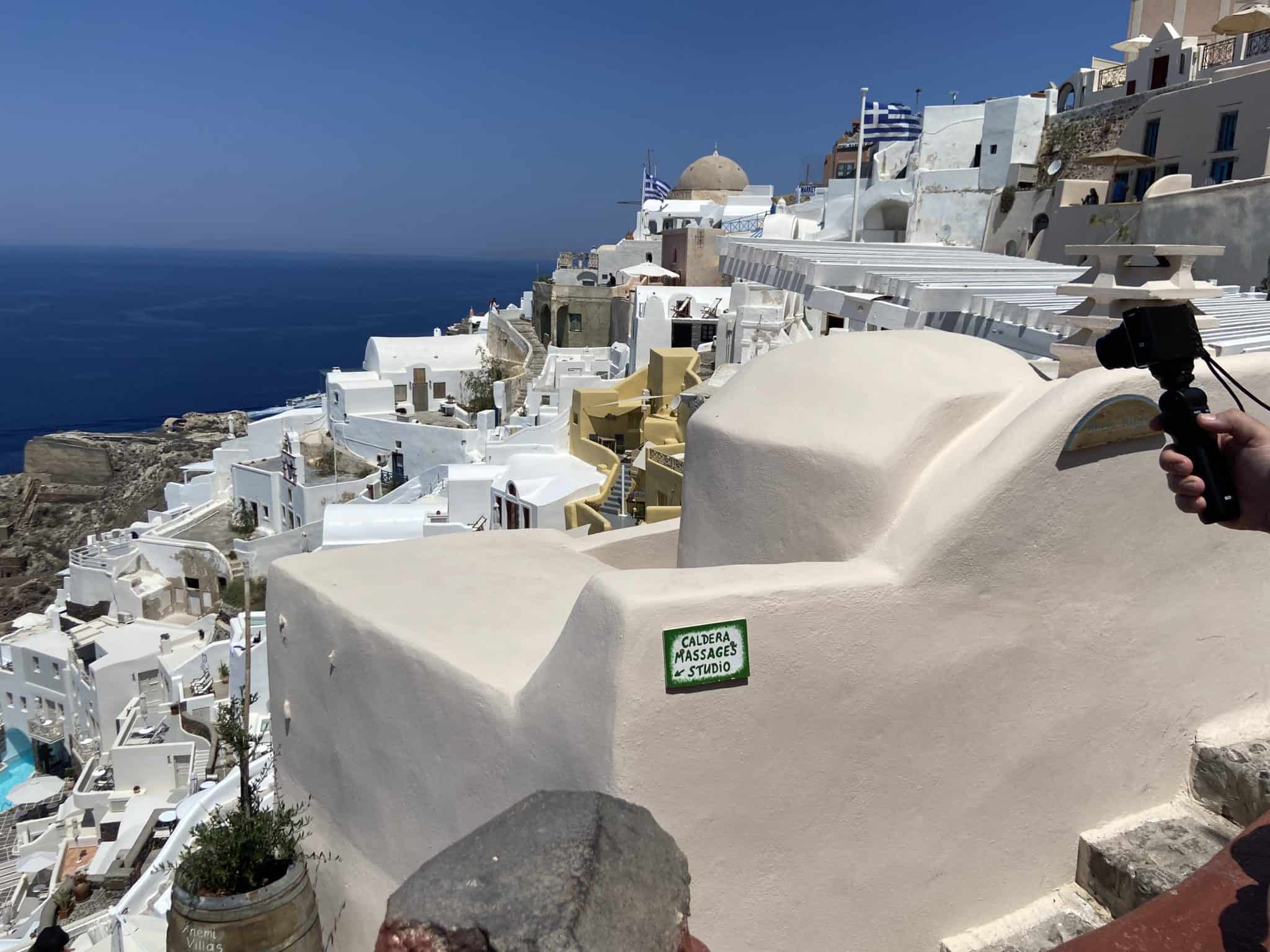 This particular shore excursion included both a visit to the Akrotiri Ruins and Oia Village. Buried by volcanic ash, just like Pompeii, Akrotiri has artwork, frescoes, and remains of homes, and even a toilet that — judging by the excitement of our guide — was definitely the most remarkable finding in the excavation.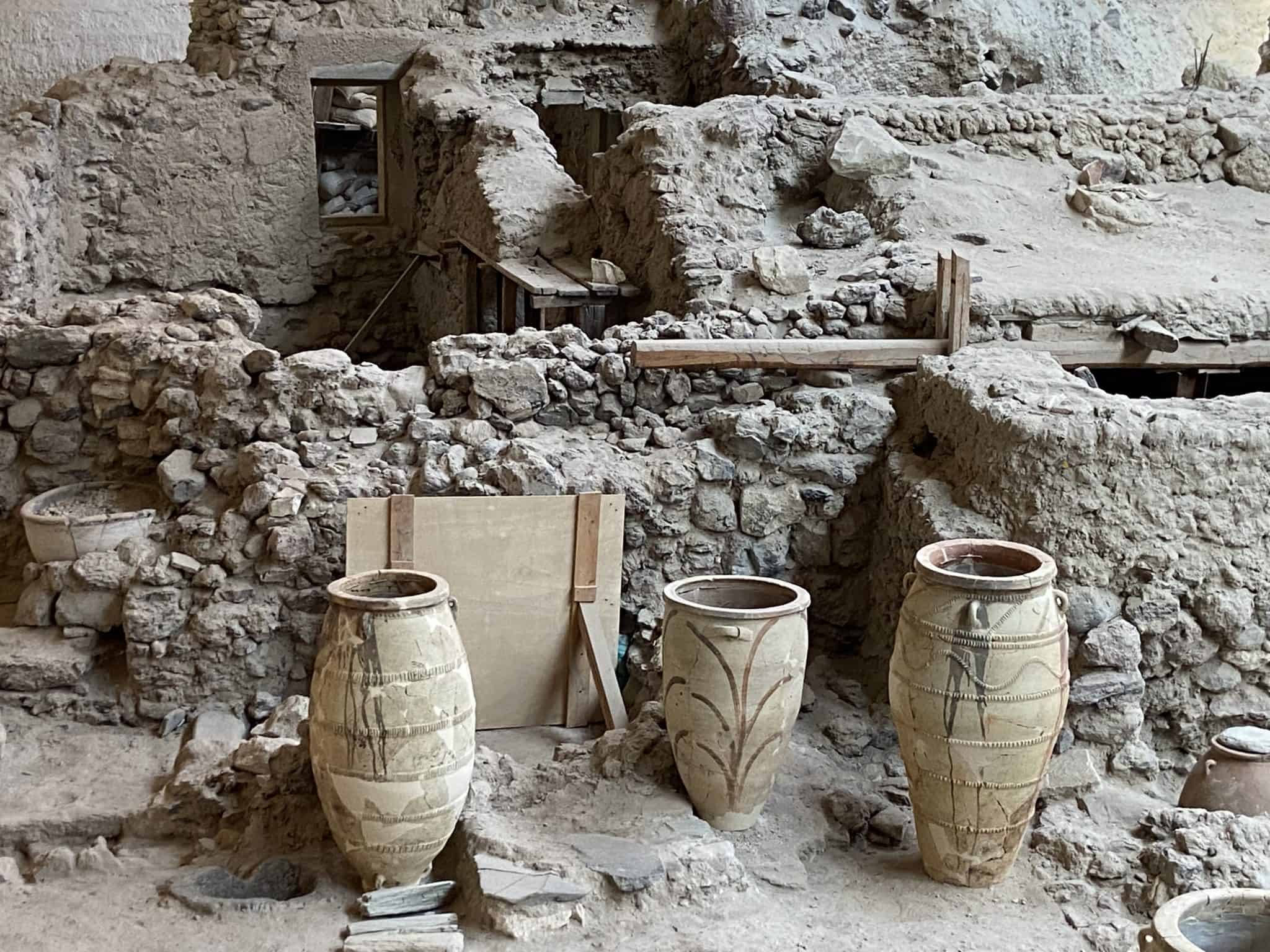 Some believe that Akrotiri could be the lost city of Atlantis. The ruins tour was a bit difficult with a larger group due to social distancing. We were not always able to see what the guide was referring to as she was describing something.
We left the ruins and spent some free time in Oia, which — despite just Celebrity Apex being in port — had streets overflowing with tourists as the fierce sun beat down. Without much shade on the narrow streets, it was quite the relief to return to the cool surroundings of Celebrity Apex. Keep in mind that Greece sailings usually occur outside of the summer months, but these are special sailings.
READ MORE: Two More Ships Joining The Carnival Cruise Line Fleet
The Retreat
One of the compelling reasons to experience a suite is the service. My suite is attended to by a Personal Retreat Host (PRH) who takes care of my every need and sometimes almost makes it seem that I have needs that I am unaware of. She often brings me a glass of wine and treats in the afternoon, which have tended toward the sweet rather than savory side.
Her attention to service illustrates her passion for ensuring that her charges have the ultimate cruise experience. For example, when I left my room without my mask and had to return to retrieve it, I passed her in the hallway. After explaining my reason for my quick return, she reminded me that she was there to help me and that I should have called her. I did not have her phone number with me nor had I memorized her phone extension. I was, in fact, embarrassed by my forgetfulness and certainly do not expect my PRH to be my servant or at my beck and call.
And speaking of Personal Retreat Hosts, I suggest that Celebrity comes up with another name. Even thinking of the initialism of this newly designated job title requires too much thought.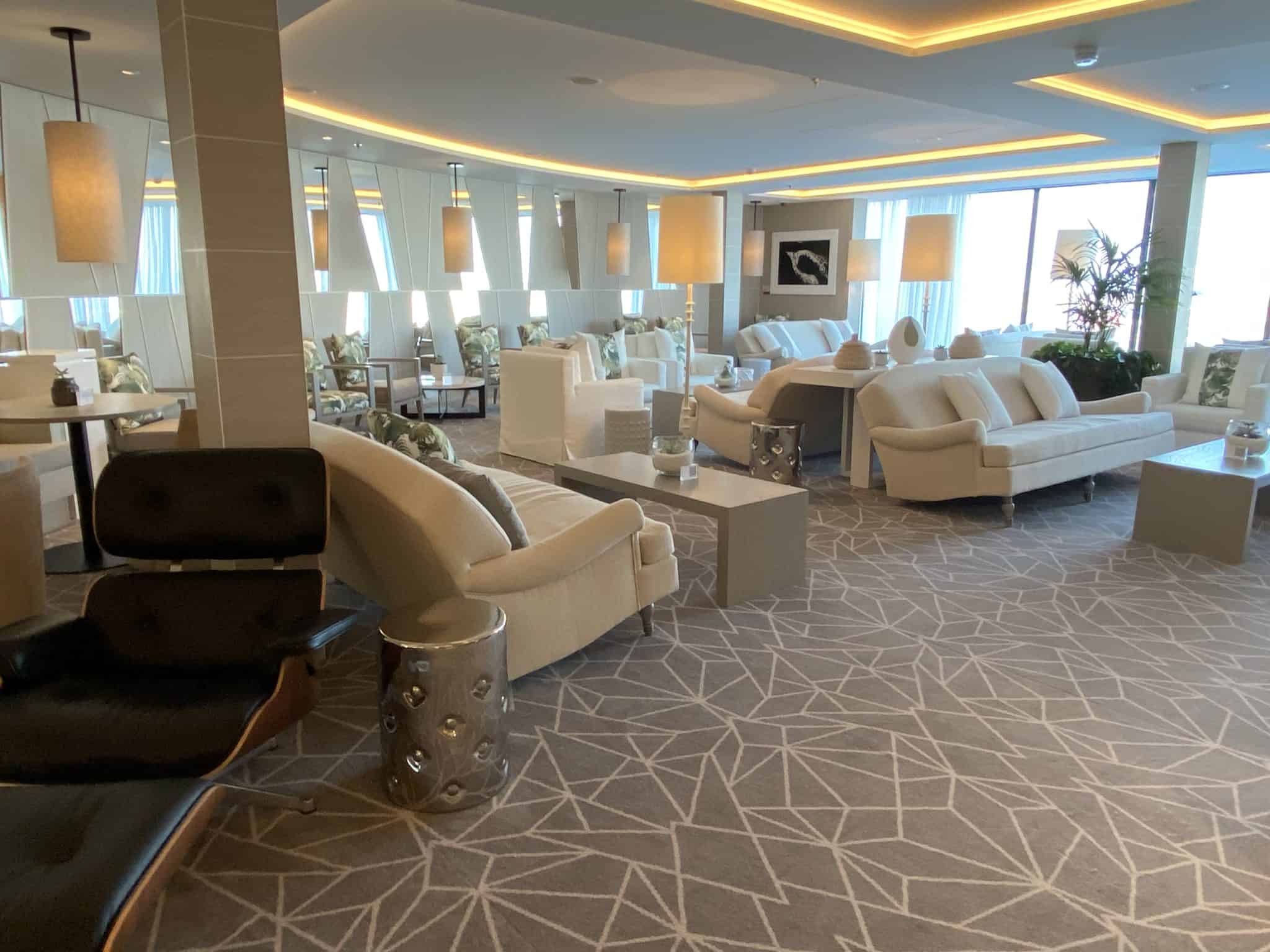 Suite guests have exclusive access to the Retreat Lounge, Luminae restaurant, and The Retreat Sundeck. The Retreat Lounge is open daily from 7AM until midnight. Equipped with a full bar, the lounge is a comfortable and relaxing spot to enjoy quiet time and snacks, cocktails, and beverages throughout the day. Morning Bites, a limited lunch (served on the Sundeck), Tea Time, and Evening Bites are served daily. There is an outdoor area accessible from the Lounge.
Top Deck
The exclusive Retreat Sundeck covers a large area on deck 16. A pool, hot tub, and plenty of loungers — some even with shade — contribute to the resort feel of this expansive space. Lunch is served there, and a bar provides refreshment for guests during the day.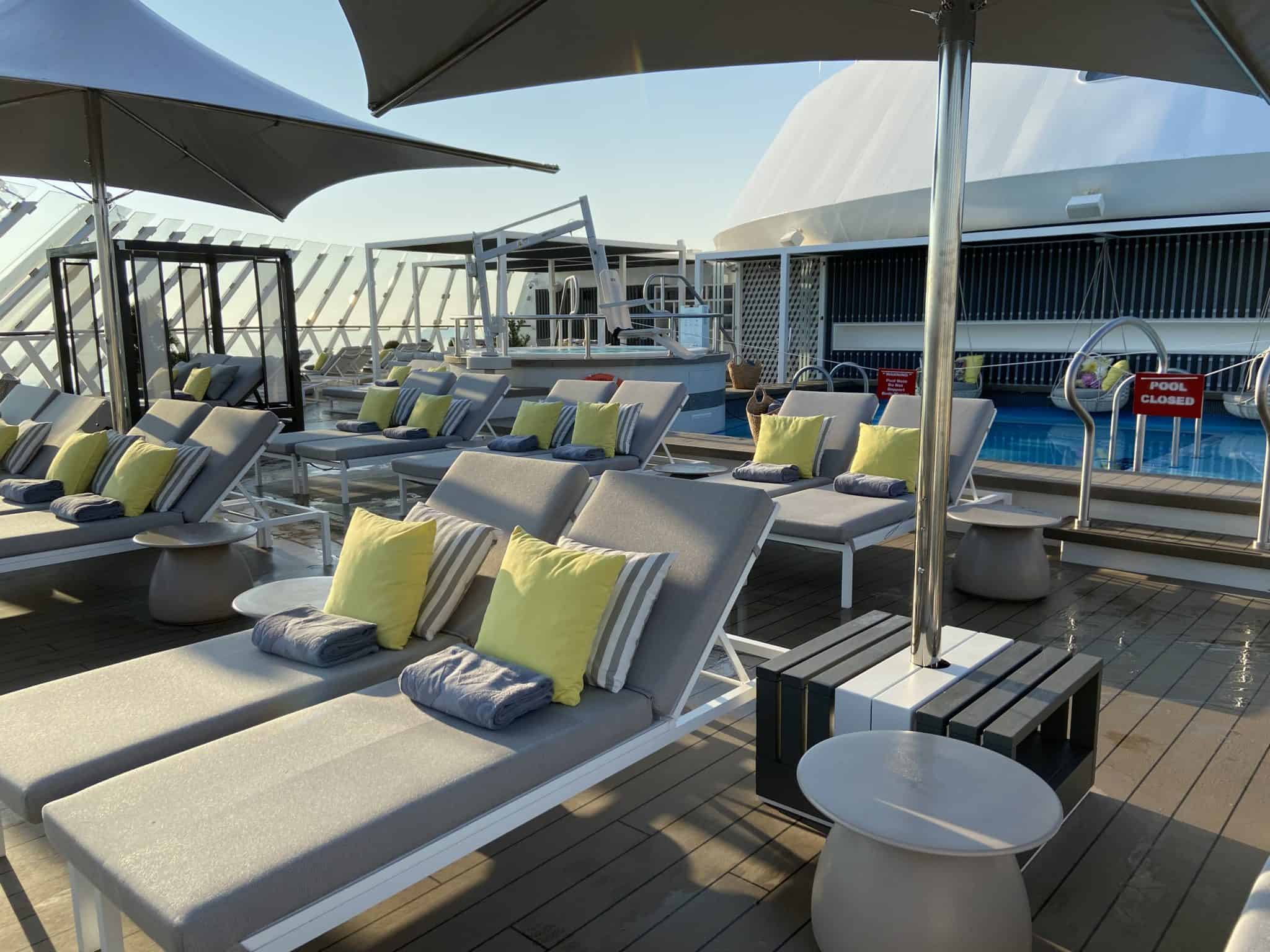 For guests who really want to have the convenience of the sundeck amenities, there are 2-story Edge Villas on that deck opening right to the Sundeck.
Luminae
This elegant restaurant with ocean views features eclectic menus that include Daniel Boulud signature dishes. Luminae serves breakfast, lunch, and dinner. Suite guests may also enjoy the restaurant, Blu. Not surprisingly, there is a blue component to the very pleasing decor. Even though Celebrity describes Blu as spa-inspired cuisine, that doesn't mean that the servings are small or that the dishes contain strange ingredients.
The Suite Life
Here are a few of the perks for suite guests:
Premium beverage package (drinks valued up to $15)
Afternoon tea hosted in The Retreat Lounge
Daily delivery of afternoon savories
Complimentary 24/7 room service
Complimentary use of umbrella and binoculars
Streaming Wi-Fi
Priority check-in, departure, and port tendering/boarding
Onboard credit to spend almost any way you like
eXhale bedding and Cashmere Mattress
Reserved theater seating on Evening Chic nights
Of course, guests who choose the suite life still benefit from the Celebrity Always Included fare, which includes gratuities. Being a suite guest upgrades the beverage package from Classic to Premium and also upgrades Wi-Fi from surfing to streaming.
As a suite guest, I have been pampered over the past few days. Yes, it's true that the ship is sailing at a reduced capacity, so there are almost 1.5 crew to each guest. This definitely makes Celebrity's premium product with elevated service feel like a luxury cruise.
Don't miss Theresa's other trip reports from Celebrity Apex: