Editor's Note: Recently, our correspondent journeyed from the United States to Athens, Greece in preparation for Celebrity Apex's inaugural voyage. Here's her trip report for day 3 of the sailing, where she visited Mykonos, Greece and talks about Celebrity's flight package deals.
My day dawned with much anticipation as my shore excursion for today would immerse me into the world of Greek cooking. Just a few moments before the designated meeting time, my Personal Retreat Host escorted me to the theater, the usual gathering place for shore excursion groups.
My tickets for all of my shore excursions during this Celebrity Apex cruise arrived on the first day of the cruise.
The process is simple. Arriving at the theater, I went to a table where I received a group tour number sticker, which I placed on my shirt for identification purposes. After I received that group number, I went and found a designated seating area corresponding to that number and waiting for that number to be called.
It seems like a very efficient system, although on the first day, I waited over 45 minutes for my group number to be called, but that seemed like a fluke.
Once called, an escort from the ship sends the group to the next meeting point, whether that be to a bus with the same group number or a tour guide waiting outside the ship. In the case of Santorini, we boarded a tender.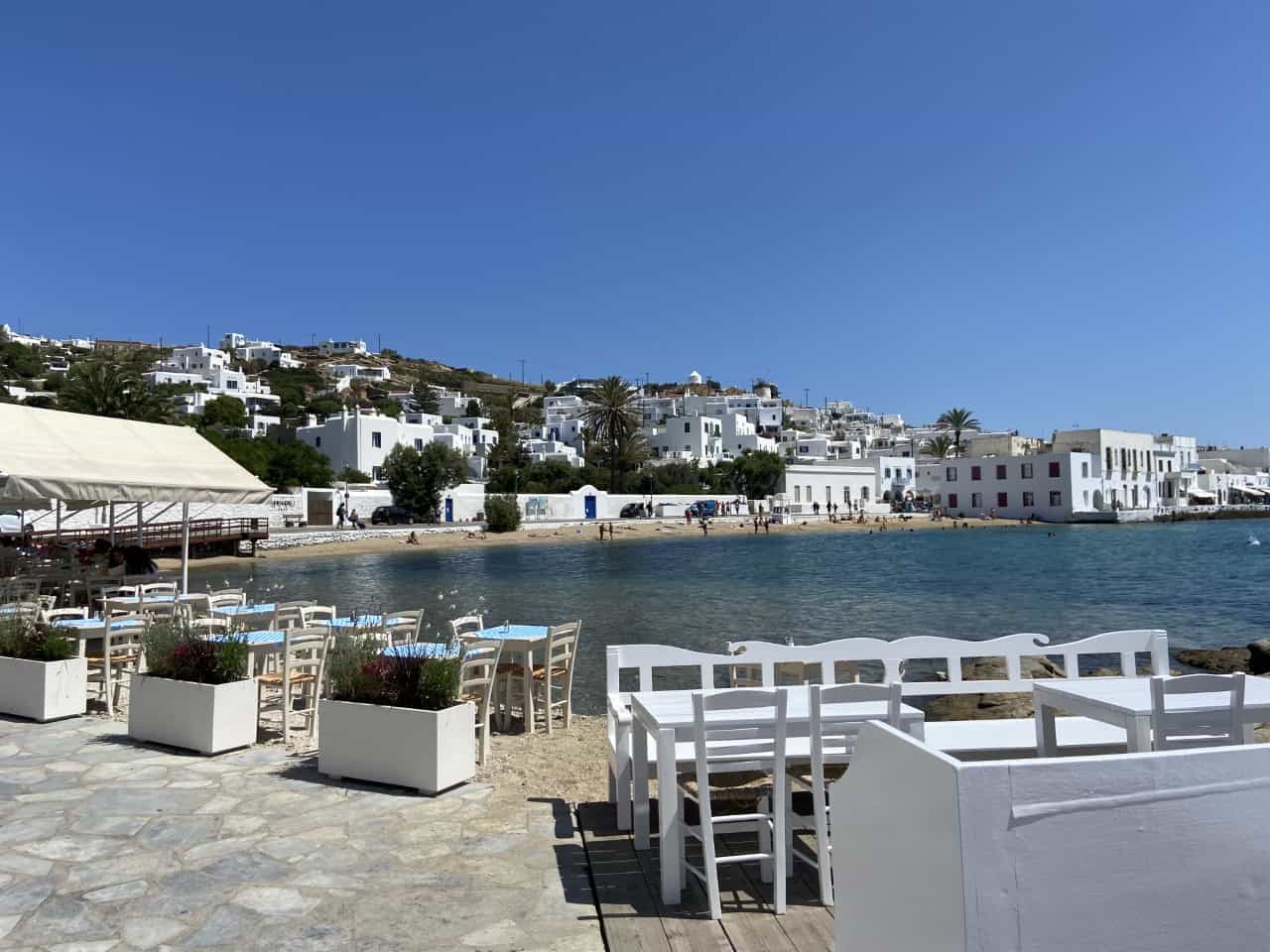 Before starting off on the tour, the local guide takes the ticket and rips off a stub. For easy communication and to help with maintaining proper social distancing, headsets are distributed to all tour members.
At the end of the excursion, we sometimes received QR codes to submit a review. These reviews are especially useful, so don't forget to submit them.
Cooking with Teta
Leaving the Mykonos port by shuttle, our small group arrived at Mykonian Spiti (the name for house in Greek) and Teta, our cooking instructor, warmly welcomed us into her lovely home. She took us directly to a peaceful courtyard where she gave us a brief overview of Mykonos.
After serving us a cherry liqueur reminiscent of a cough syrup, a rose water infused drink, and a shot of raki, we retreated to the cooking area inside the house. The cooking demo area was actually the dining room of Teta's spiti and exuded the warmth of our wonderful host.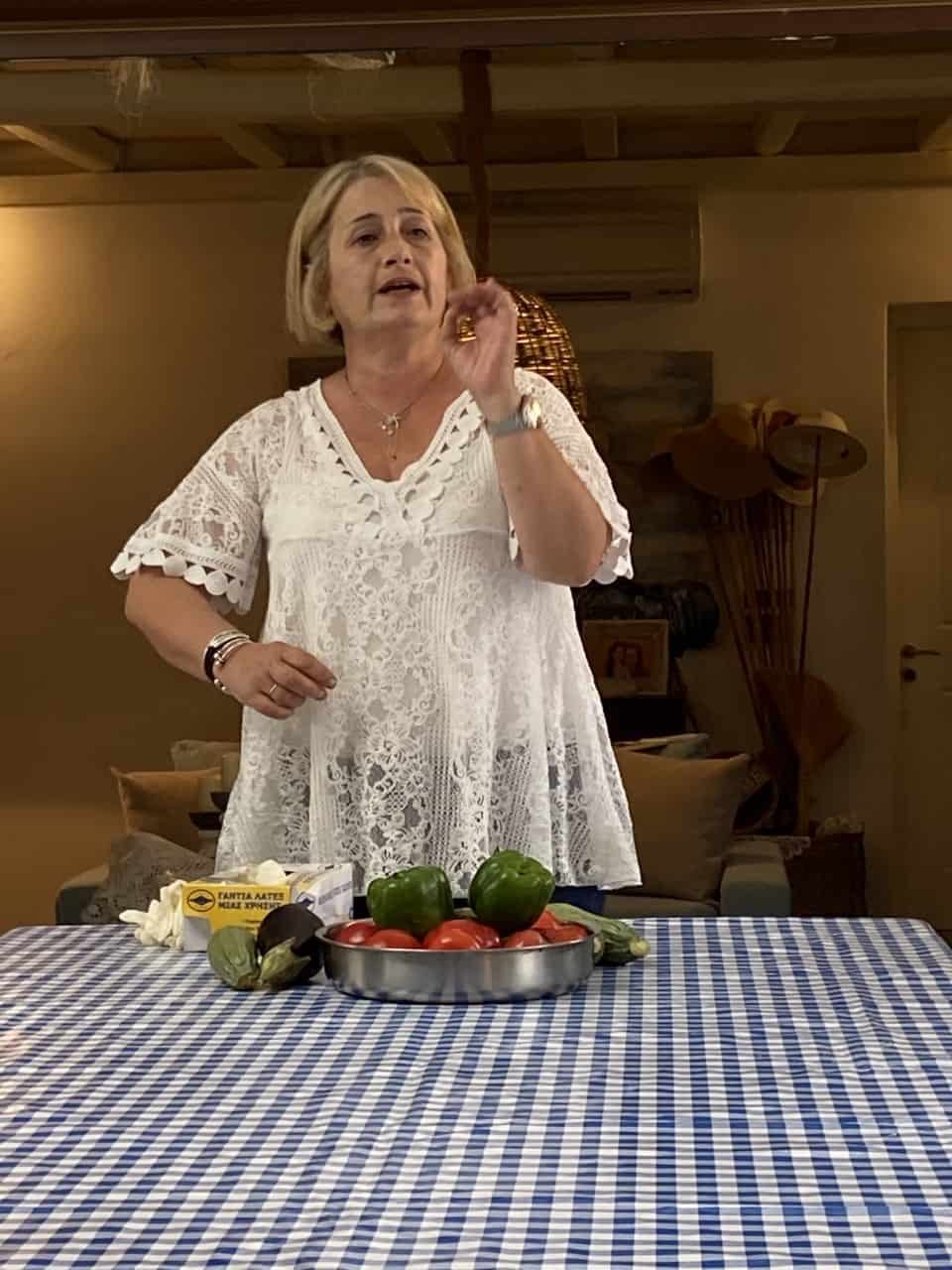 What made this shore excursion memorable was Teta herself. Her sense of humor really added to the experience.
She encouraged every single person to participate in prepping the dishes that we tried. Her knowledge of the ingredients and cooking techniques kept us a captive audience. Did you know that there are male and female peppers and which of them is better for cooking? And what about the difference between an American pinch and a Greek pinch?
We made several dishes including stuffed tomatoes and peppers, spinach pie, and of course, tzatziki. In fact, there was a tzatziki competition at the end of the demo. Several members of our group took on the tzatziki challenge and made this traditional cucumber sauce from the same recipe.
Teta herself did a blind tasting to choose the winner. She told that there were ways to improve the losing entries and turn them into winning sauces. The secret to that was simply letting the flavors mingle for a bit longer.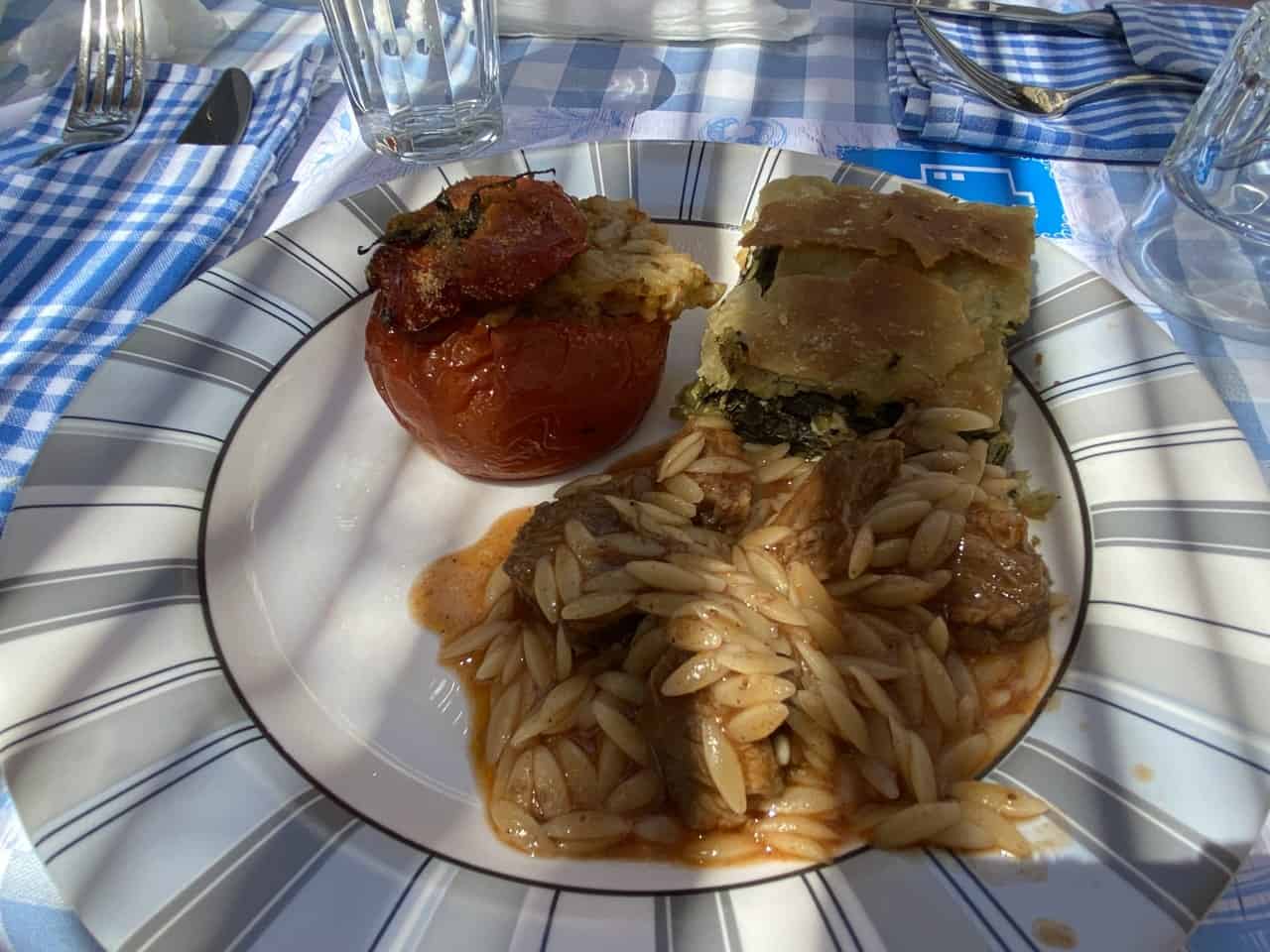 After the cooking demo, Teta served a delicious pre-prepared meal of some of the dishes that we tried. When I saw the size of the portions, I asked my table mate if Greece were a place where leaving food on your plate is considered rude. Yes it is! I did not receive an award for the clean plate club nor for cultural culinary sensitivity.
The time spent with Teta passed quickly by and we left with some departure gifts including raki and recipes for everything that we had eaten that day. I highly recommend this shore excursion. Book it before arriving to the ship.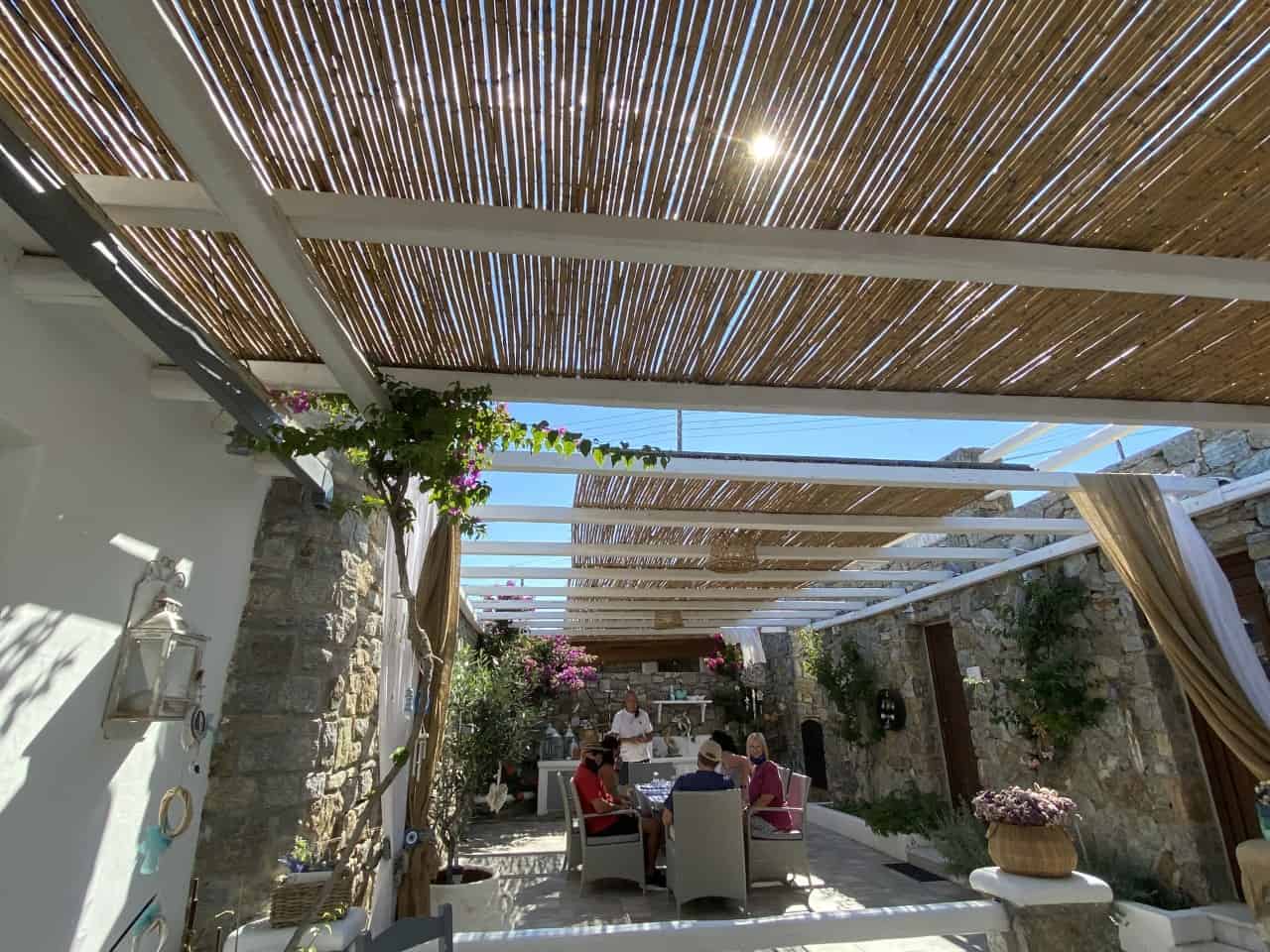 Enjoying Mykonos
After returning to Celebrity Apex, I freshened up (the temperatures have been very high) and headed back down to Destination Gateway on Deck 2. The complimentary shuttle bus to the downtown area awaited. Celebrity has provided complimentary shuttles for independent exploration in the ports.
The iconic images of windmills that I had seen so many times dominated my thoughts of Mykonos as did a movie set in Mykonos — Shirley Valentine. I joined a fellow cook from the morning cooking class and we found a cafe overlooking the sea and enjoyed the view, and the wine. (I must interject that my fellow cruisers on Celebrity Apex have been especially friendly and it's very easy to make acquaintances with them.)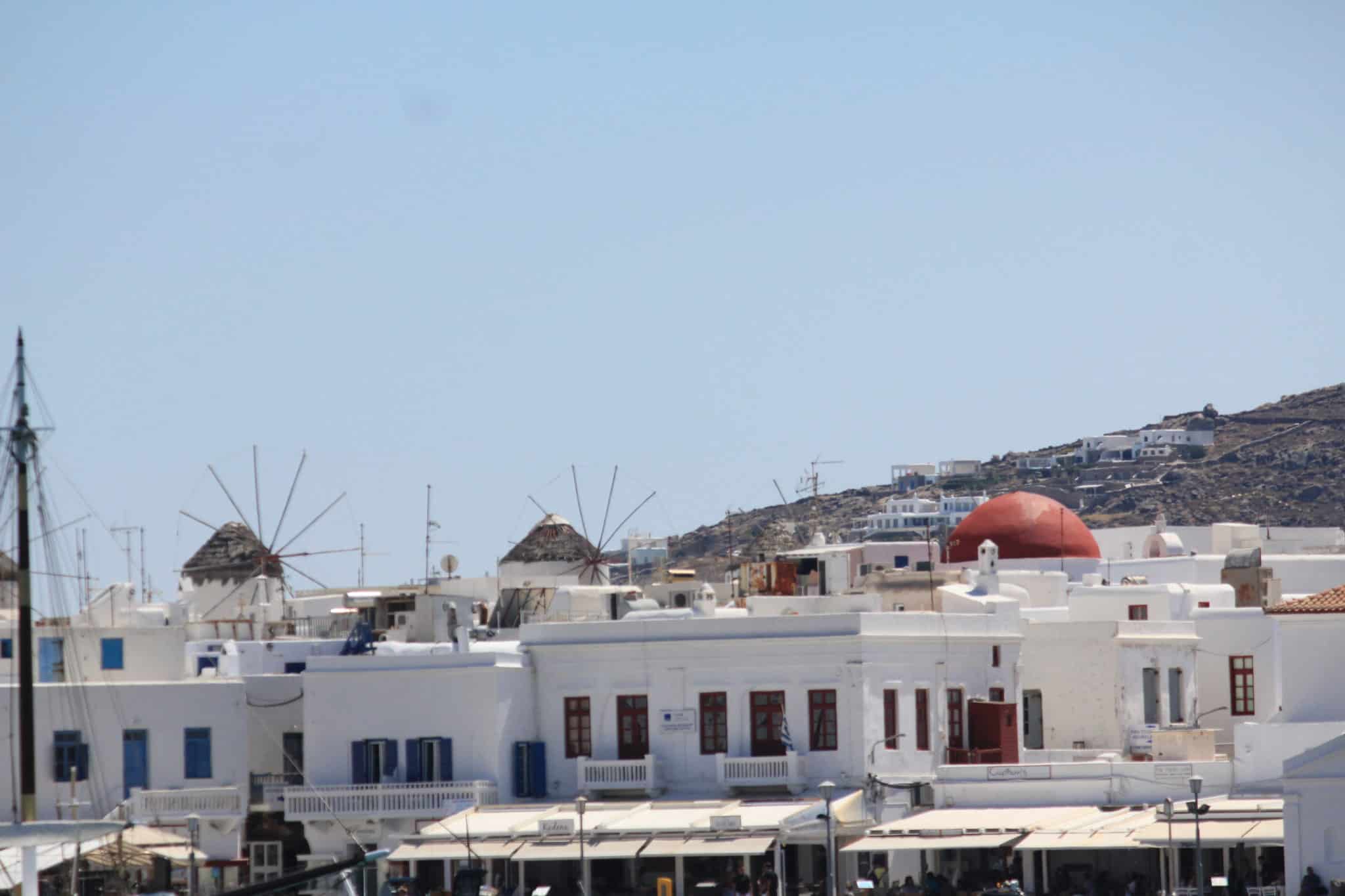 After a short time enjoying the seaside, I had satisfied my need to relive a movie scene and to enjoy the view; I returned to Celebrity Apex via the shuttle bus, although I had considered taking the water taxi just for the experience. However, the water taxi was just pulling away as I approached, so I hopped on the shuttle bus instead.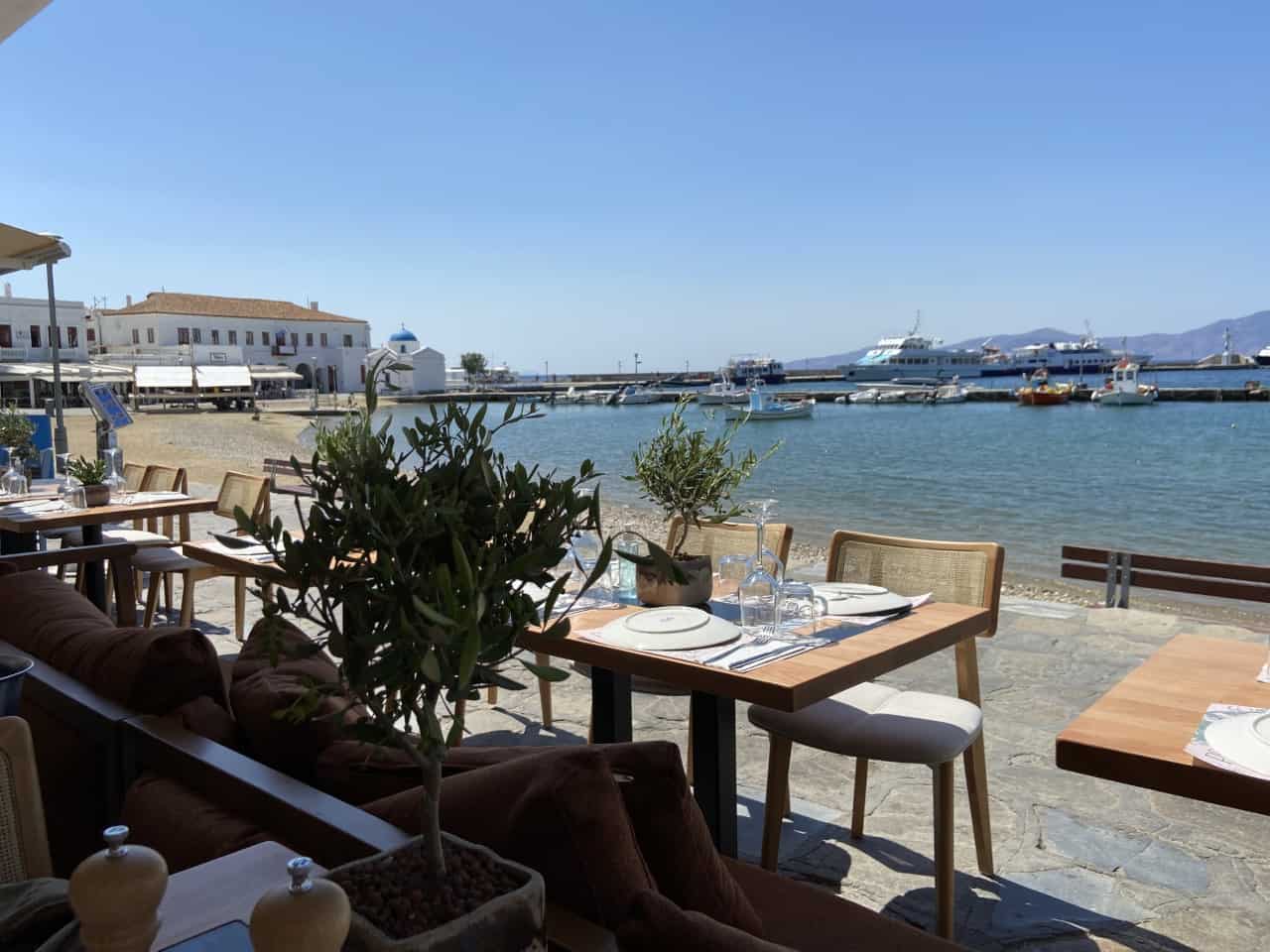 It's All Greek to Me
These Athens round-trip Apex sailings commenced in June due to COVID-19, and will sail through the summer and early fall, so be prepared for higher temperatures throughout the cruise.
But, also expect fewer visitors in the ports of call and unsurpassed service from the crew. The crew that I have spoken with are just as happy as guests are to be back on the high seas. This is such a great opportunity to sail with fewer people on the ship and in the ports. I have heard that several passengers on this first sailing have extended their stay for another week.
Through the end of September, Celebrity is offering an air special on flights to Athens. Celebrity's promotion offers fares starting at $699 specifically for these Greek island sailings and only for the Athens cruises on Apex. At present, those air specials only last through the end of September.
I know how shocked I was to see that the cost of air to Europe was far more expensive than in the past. Just out of curiosity, I checked some future sailing dates with the Celebrity air promo just to see if I could benefit from this air package deal. As I don't live near a gateway city, I considered the additional cost of getting to one of the gateway cities included in this promotion (ATL, BOS, CLT, DCA, DFW, EWR, FLL, IAD, IAH, JFK, LAX, MIA, ORD, and PHL)
From my home airport, I found fares to IAD (Washington Dulles) for less than $250 roundtrip. Combining that with the $699 deal that Celebrity is offering on these Athens cruises proved to be a great savings over independently booking flights directly from my home airport.
Keep in mind, I did not choose any flights without a "safe" amount of time for a layover. With COVID-19, there may be longer lines at check-in and security. Don't forget that at some airports, leaving on a flight from an international terminal might involve going through security a second time. I felt safer leaving an adequate amount of time to make my connections.
If you book with Celebrity, you can be confident that they will get you to the Apex. Just knowing that Celebrity is taking care of the flights offers peace of mind. Be sure to check out this Apex Athens flight promotion.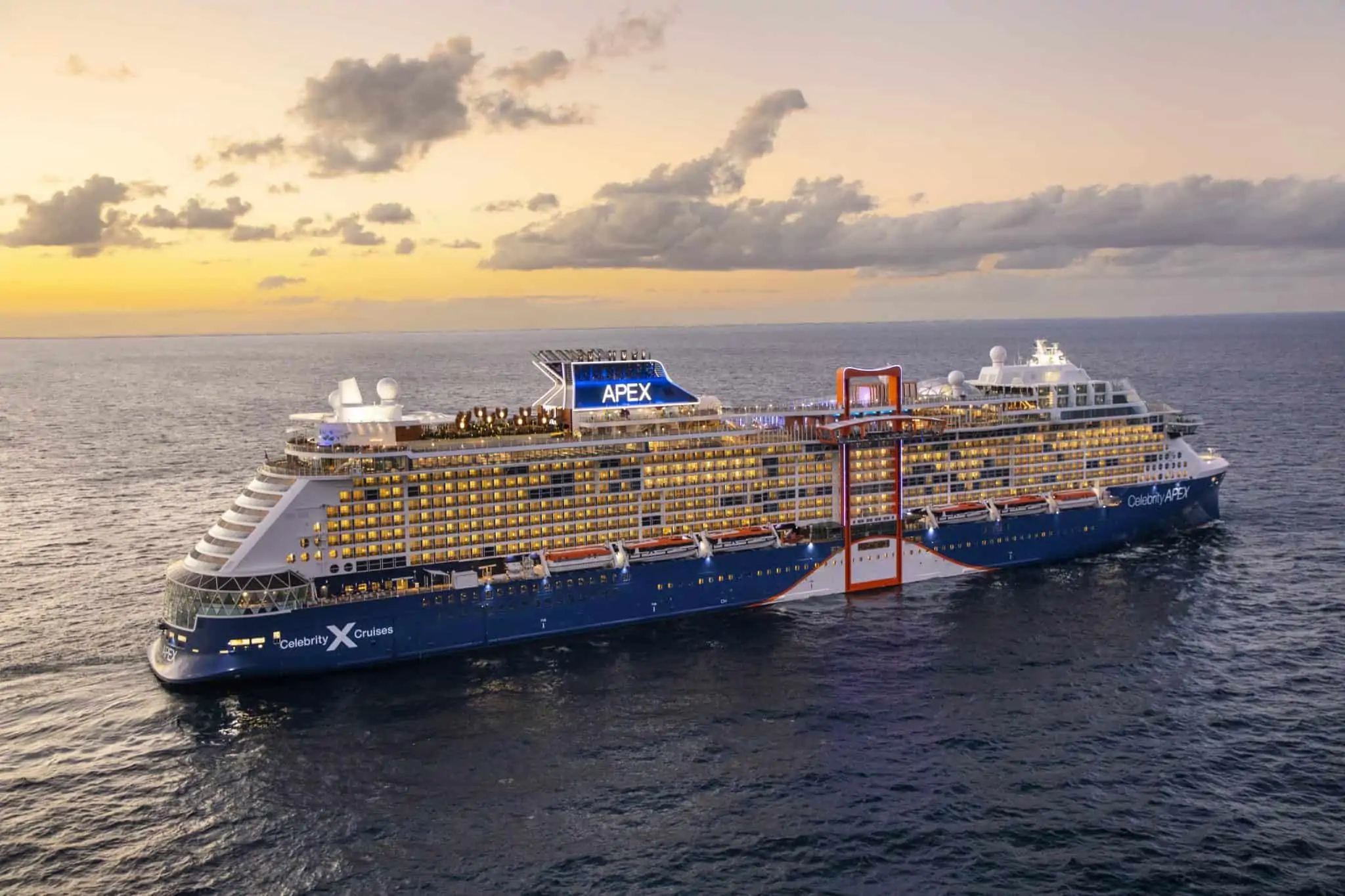 Always Included
Many of us haven't sailed for a long time, and may not have kept up with some of the new Celebrity Cruises policies.
One that I find especially compelling is that any bookings made after November 2020 are eligible for the new Celebrity Always Included program. All bookings receive the Classic Beverage Package, Complimentary Surfing Wi-Fi, and gratuities. It's a great way to maximize the value of your cruise vacation! It's even possible to upgrade for even more inclusions.
Check out this page that explains the benefits.
Read the previous Celebrity Apex trip reports: