This week contributing writer Bruce Parkinson is sailing a four-night cruise on Costa Cruises in the Mediterranean. Bruce will be filing day daily trip reports to share his experience as he sails from Barcelona to Rome. 
Now that's Italian!
As a member of the first North American media group to experience Costa Cruises' Costa Smeralda, one of my key tasks is to discover what sets the experience apart from that on a similar-sized ship catering mostly to Americans.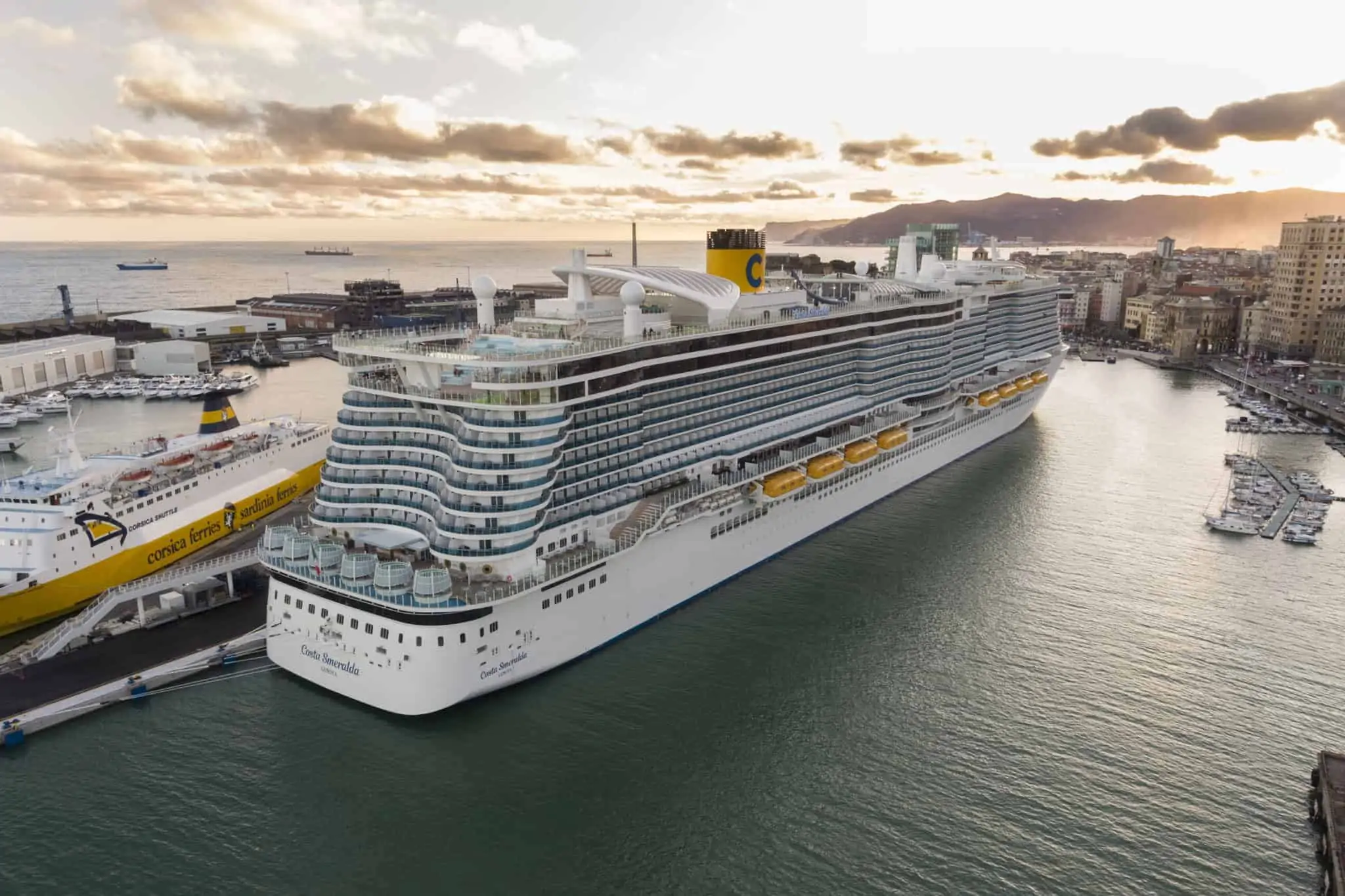 The Smeralda attracts an international audience, including Italian, French, German, Spanish, and UK cruisers. To date, North Americans don't make up a significant percentage of guests, but due to the pandemic, she has only been sailing sporadically since her 2019 debut.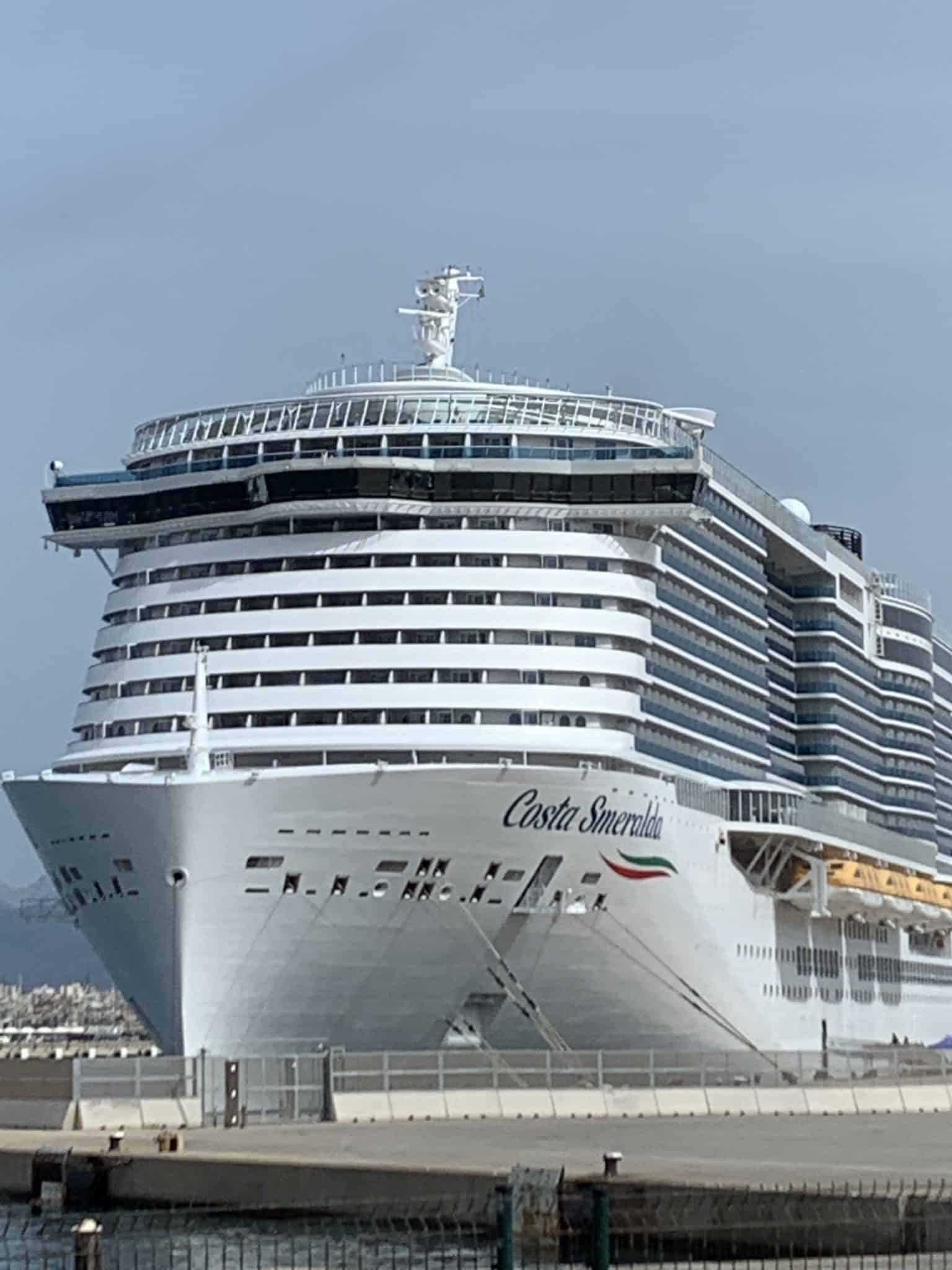 Costa Cruises is a subsidiary of Carnival Corporation, based in Genoa, Italy. The line's largest ship ever shares a shell design — and a state-of-the-art liquefied natural gas power plant — with Carnival Cruise Lines' new flagship Mardi Gras, which my colleague Doug Parker wrote extensively about following a recent sailing.
My four-night cruise left from Barcelona, with stops at Spain's Palma de Mallorca, Messina in Sicily, and Rome. After arriving on the ship Monday, we're currently at the first port.
The boarding process began with a COVID-19 swab test at the terminal – with only a 15-minute wait for results. With the Costa Smeralda currently operating a series of seven-night loops from Marseille, guests can board and debark at a choice of cities, so not everyone is getting on and off at once, easing the process. Due to the pandemic, current occupancy is held to about 60 percent, so there's plenty of space for everyone.
READ MORE: Costa Cruises Resumes Mediterranean Sailings Aboard Flagship
Smeralda Is The Fifth-Largest Cruise Ship In The World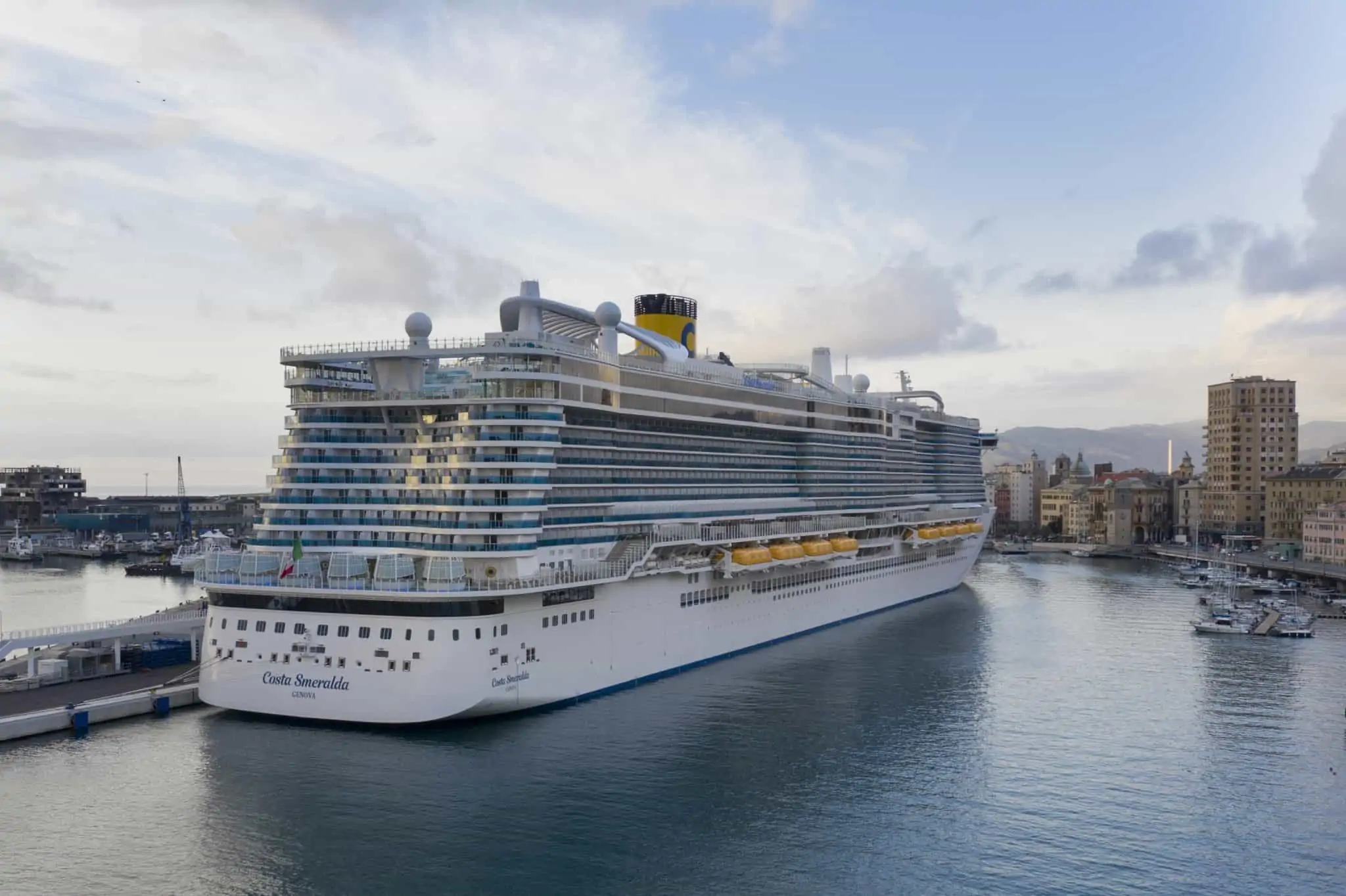 A ship tour to familiarize our group with the massive 6,500-passenger, 20-deck, 185,000 gross ton ship — currently the fifth largest in the world — was the first priority. Ours was led by Scott Knutson, Vice President Sales and Marketing for Costa's U.S. division based in Miami.
Knutson was proud to report that despite the surge of the Delta variant, no COVID cases have been uncovered onboard over the past four weeks that Smeralda has been sailing this route. 
"That's amazing with over 3,000 people on board, plus crew. It's working," Knutson said.
Costa's health protocols impact every aspect of the journey, from mandatory online check-in and health survey to in-terminal complimentary COVID testing, required daily automated temperature checks and mask requirements both inside and out when guests are not eating or drinking. Hand sanitizer stations are everywhere, and restaurant entrances feature high-tech automated hand-washing stations. You simply insert your hands and the machine does the work.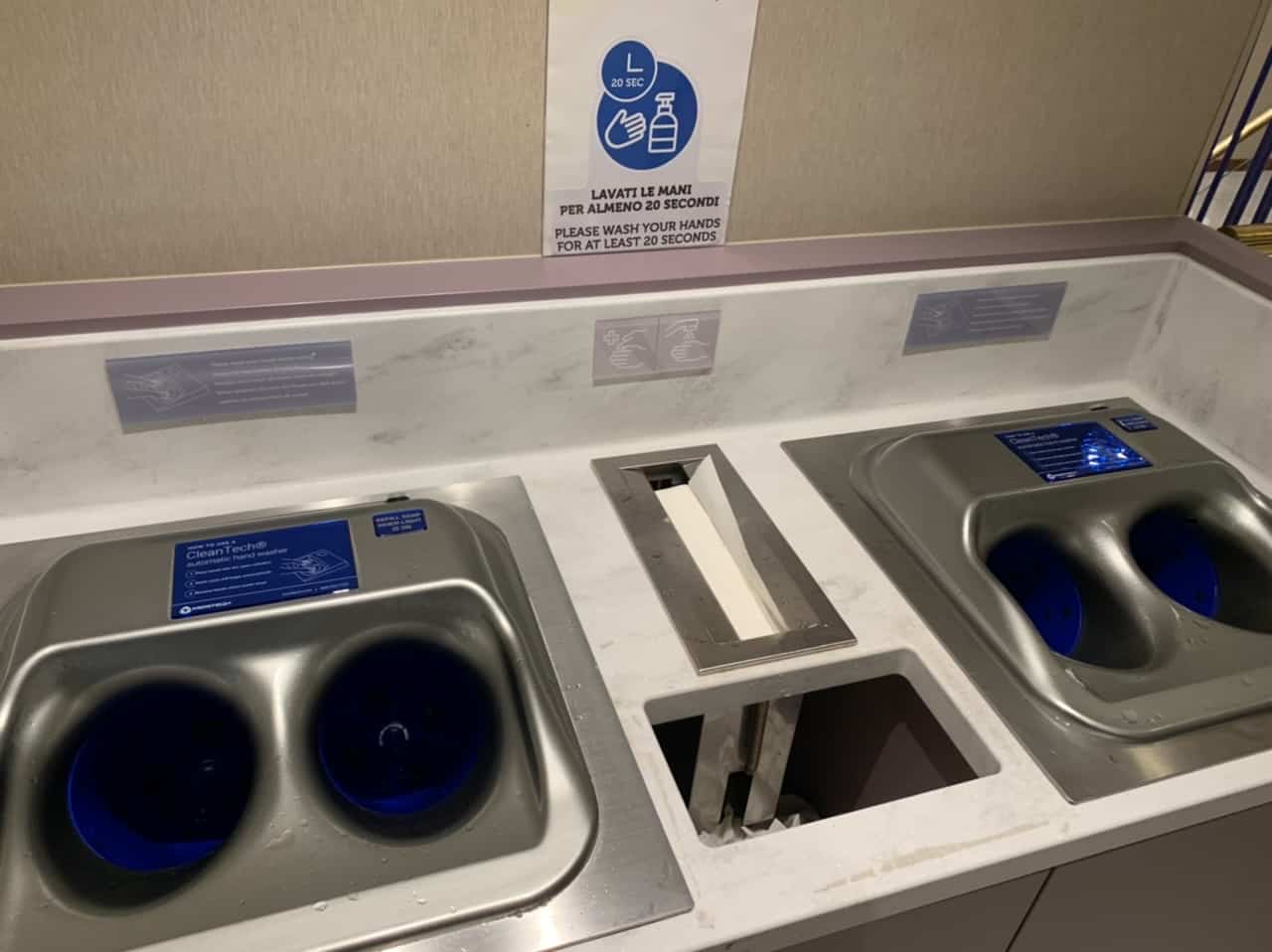 Shore Excursions Are 'Bubble-Style'
Shore excursions are bubble-style — guests must purchase them through Costa — and Smeralda guests can't just get off and wander around in ports. That's a disappointment for many guests, for sure, but in speaking with a range of my fellow cruisers, they express that they're simply thrilled to be traveling again.
The mood onboard is happy, with guests enjoying the ship's many amenities and excursions, despite the restrictions. These aren't normal times, and guests are overwhelmingly following the rules, with only an occasional grumble.
Proof of vaccination is not required, though Knutson says the vast majority of guests are fully inoculated. Instead, the line is relying on pre-cruise testing — as well as a second test on day four of their cruise — along with the precautions described above.
Now, onto happier topics. The ship tour revealed a series of beautiful spaces, many created by renowned New York-based hospitality designer Adam Tihany. It's less amusement park-style than Mardi Gras with its 'all fun, all the time' approach, with a little more European elegance and sophistication. But there's some pretty wild waterslides too.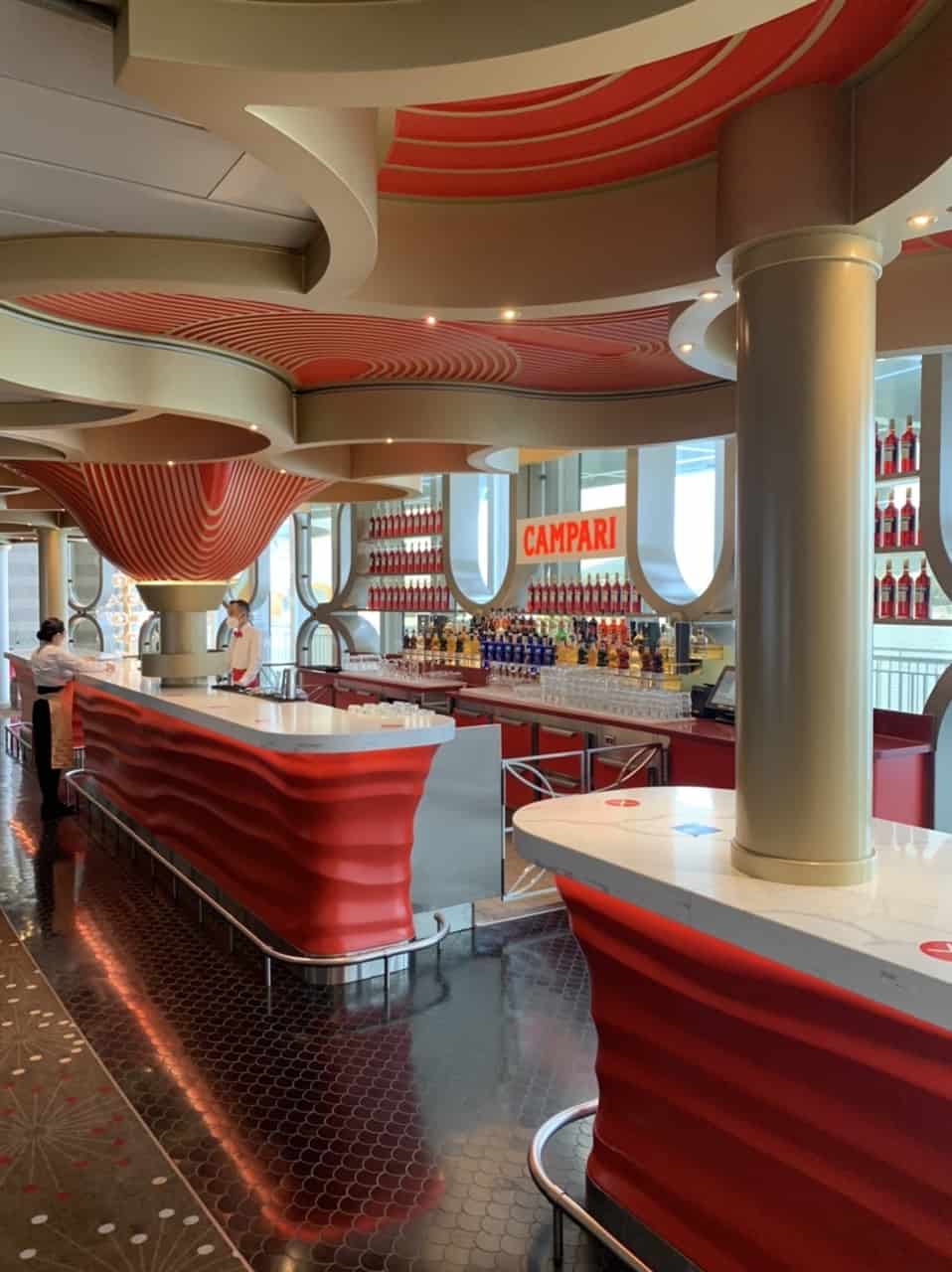 Decor Inspired By The Best Of Italian Design
Decor throughout is inspired by the best of Italian design, even featuring the Costa Design Collection Museum (CoDe), which celebrates Italian creativity from the 1930s to the present. It's no throwaway — it's a big space that features nearly 500 exhibits showcasing classics of Italian design, from furniture to fashion.
There are some stunning spaces on Smeralda, including an indoor pool area with soothing stone and wood accents and a melange of large and small pools, hot tubs, and lounging areas. There are some beautiful bars, proudly showcasing classic Italian style.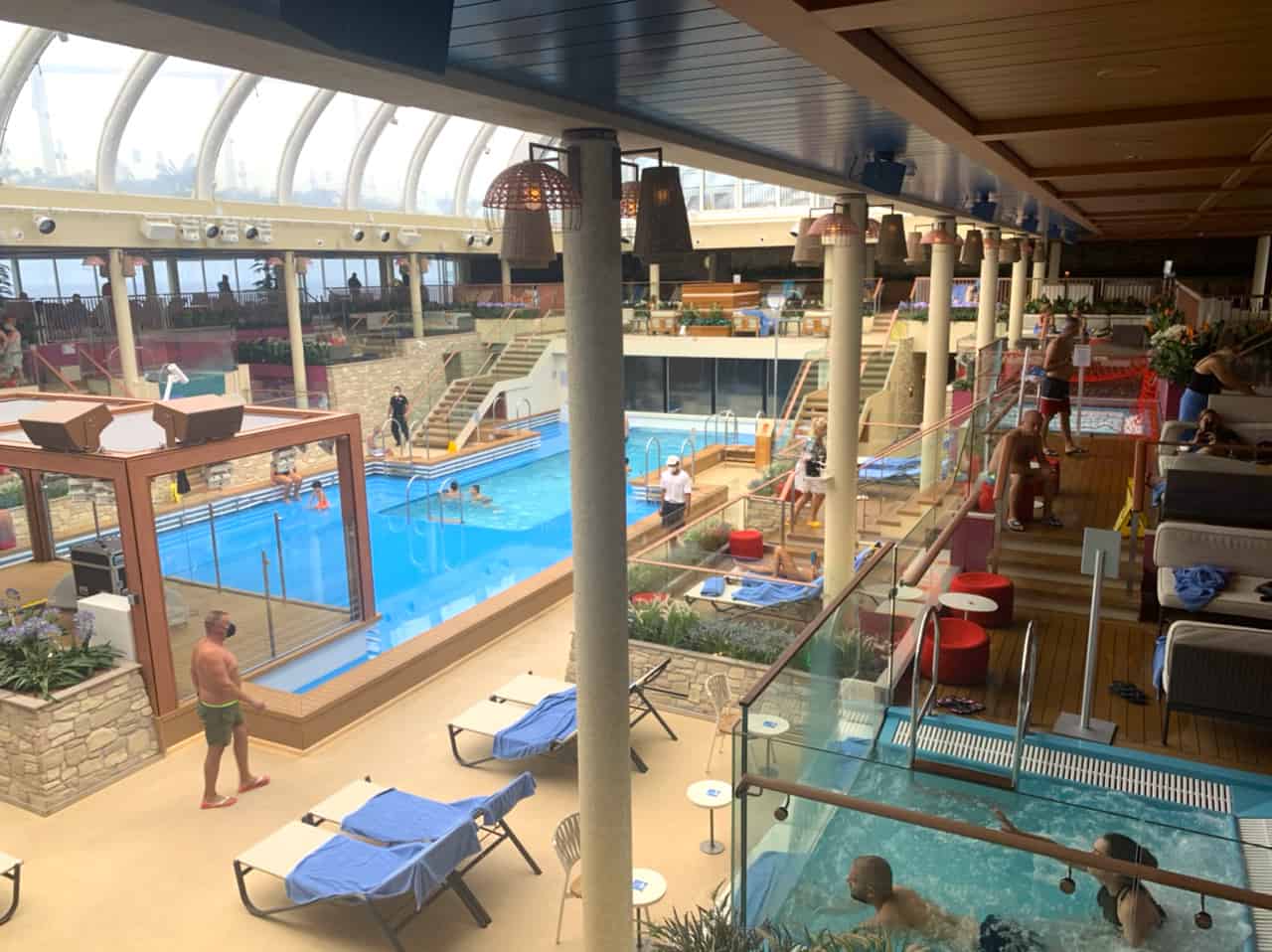 There will be lots more to talk about over the next few reports, but my overall first impression after 24 hours aboard is that the Smeralda offers something pretty special. The food has been nothing short of fantastic so far, and the friendly crew are doing their best to offer great service despite the lack of normalcy. In the main dining room, I went with the mixed fried fish and fries.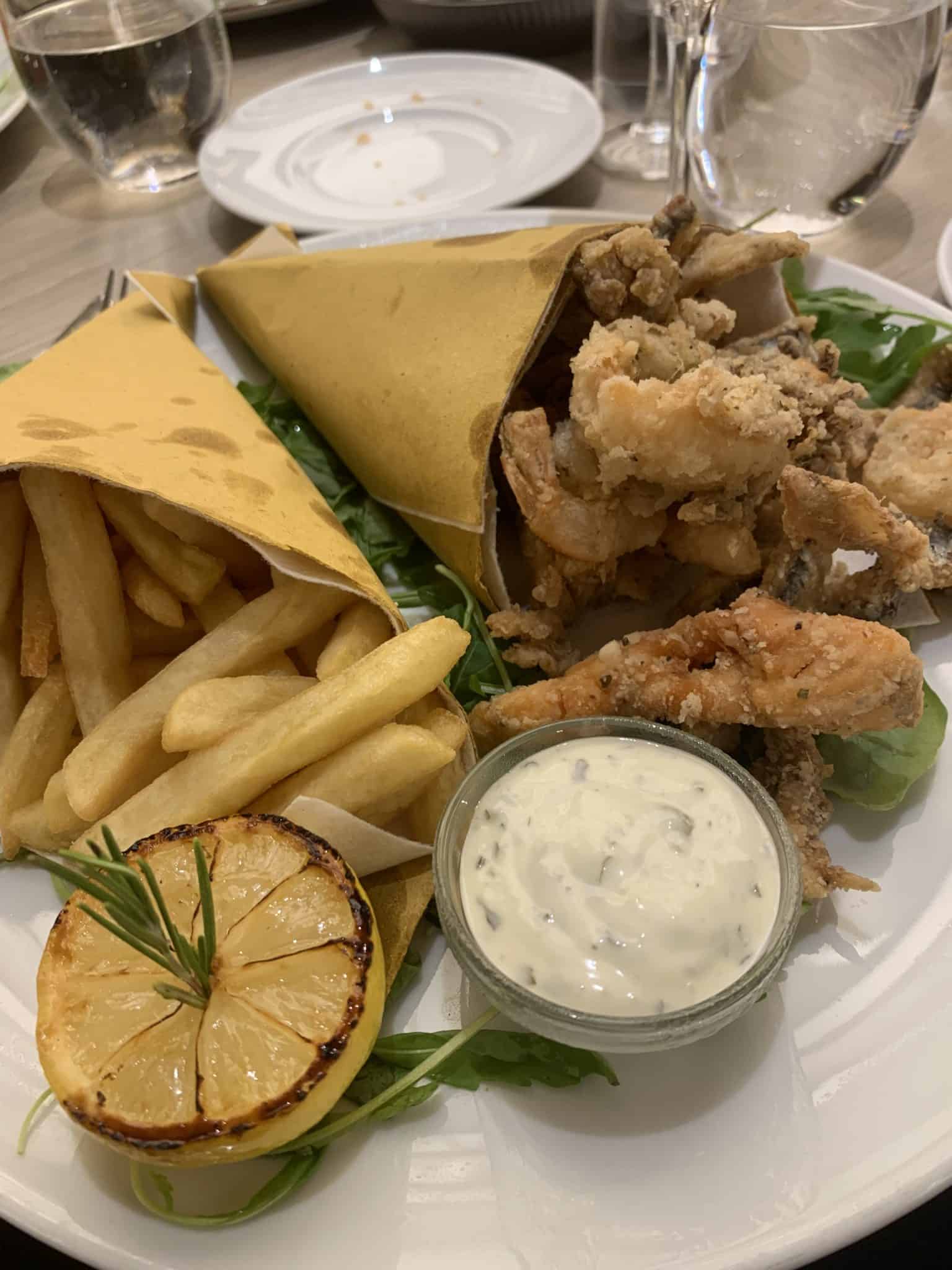 North American cruisers who take pleasure in traveling with other nationalities and enjoy European cuisine and entertainment will want to follow along.
Editor's Note: Bruce is sailing as an invited guest of Costa Cruises, all thoughts and opinions expressed are his own.
Read my other Costa Smeralda trip reports:
READ NEXT: 18 New Cruise Ships Debuting in 2022
Pin it!