You may have noticed that lately, I'm probably spending more time at sea than I am on land. That's because over the past few weeks, several ships that were originally expected to launch during the shutdown are finally entering service. So many, in fact, that I haven't been able to squeeze each of them in! But today, I'm boarding Holland America Line's Rotterdam.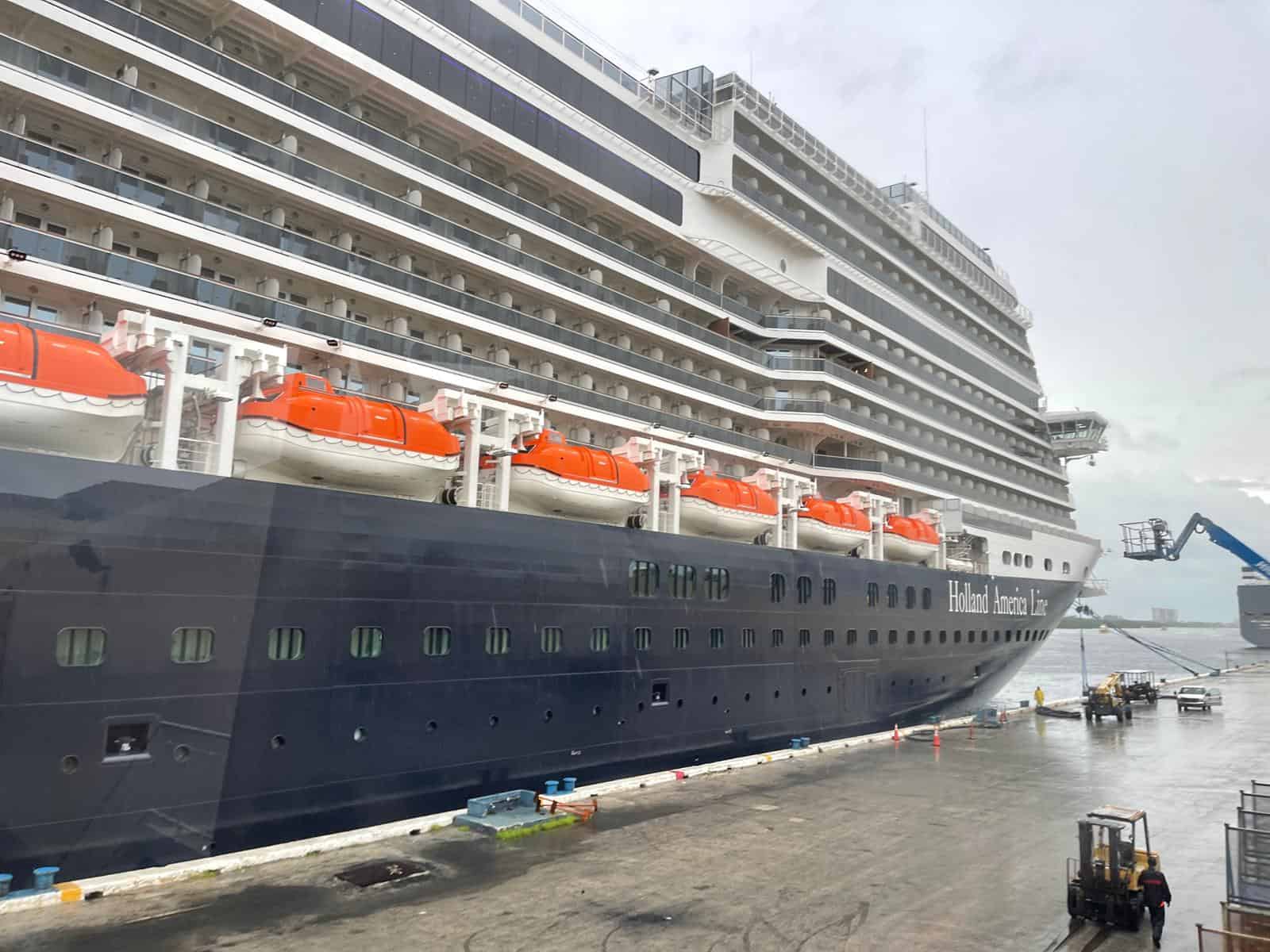 If you're thinking to yourself, "Wait, Rotterdam isn't a new ship… it's been around for ages!" You're both right and wrong. This is actually the seventh ship with that name to sail under the Holland America banner. (Fun fact: Rotterdam V is currently docked in Rotterdam, Netherlands, and is a floating hotel, akin to Queen Mary in Long Beach, although in much better shape!)
This sailing is scheduled to call in Bimini, Bahamas and spend two days at Carnival Corporation's private island, Half Moon Cay. I was invited to fly down to Fort Lauderdale to sail Rotterdam's inaugural cruise and see exactly what it's like sailing Holland America Line in 2021. The last time I stepped foot on one of its ships was in 2019, when I did their last new build Nieuw Statendam.
After landing in Fort Lauderdale, I checked into the Renaissance Cruise Port hotel which is a stone's throw away from the port. In fact, if you have the right room, there are stunning views of the harbor.
Embarkation
The embarkation process fell in line with the other seven ships I've sailed over the past few months, with technology — in this case, HAL's Navigator app — playing a crucial role. Holland America requires that guests be fully vaccinated within 14 days of sailing, take a pre-cruise PCR or antigen test within two days prior to sailing, and schedule your arrival time.
It's very important to have your Navigator app pulled up and logged in when you arrive at the pier, or at least have the print-out with the barcode. They gave me a little bit of pushback because I had my cruise confirmation printed out but not the check-in paper with the barcode. With everything being touchless, that makes sense.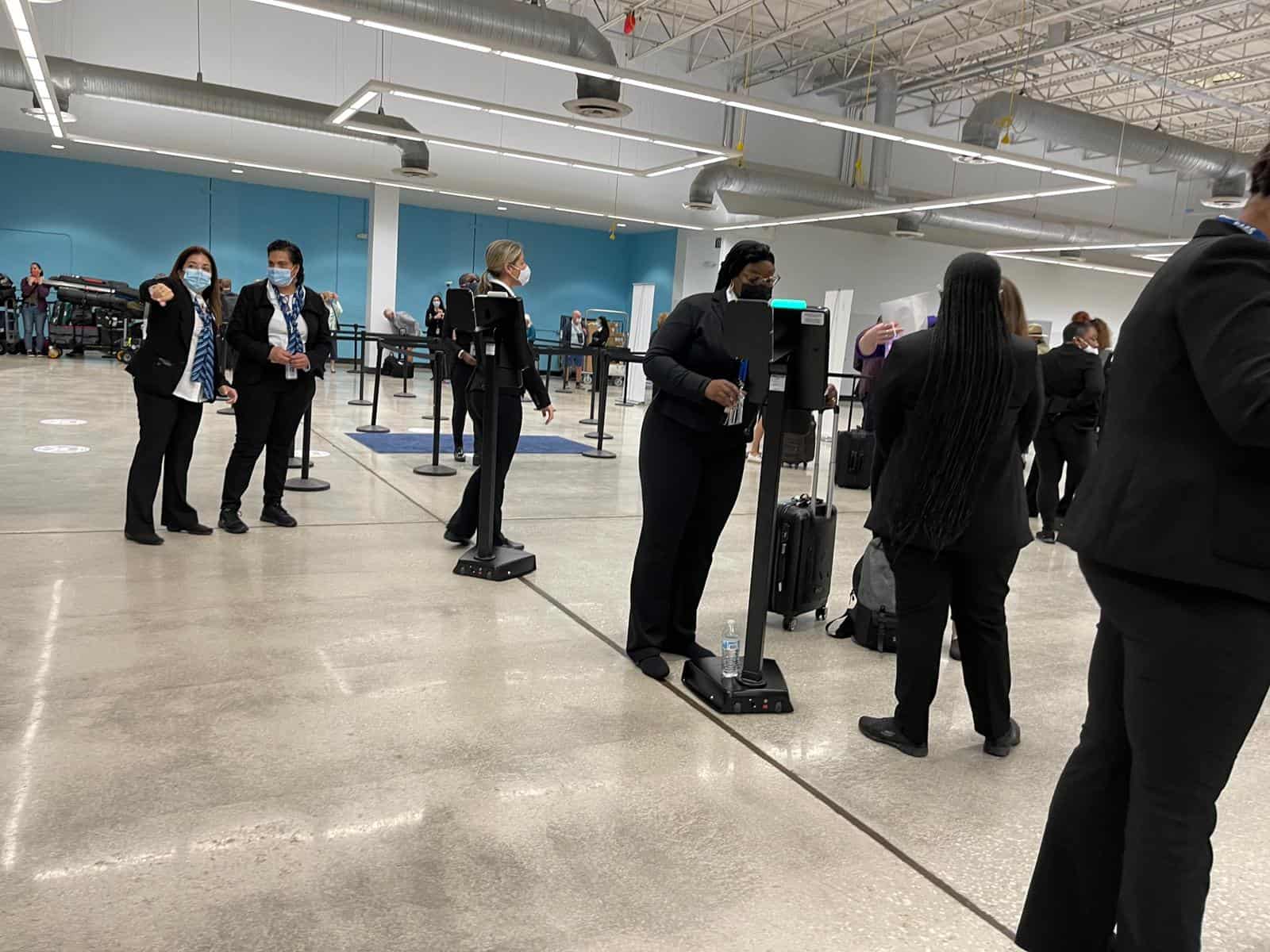 Welcome Aboard
As we boarded, the crew was there to greet us, many waving their individual national flags. Because the passengers who were on the transatlantic had disembarked a day earlier, the staterooms were ready as soon as we boarded, which was right around 11 a.m.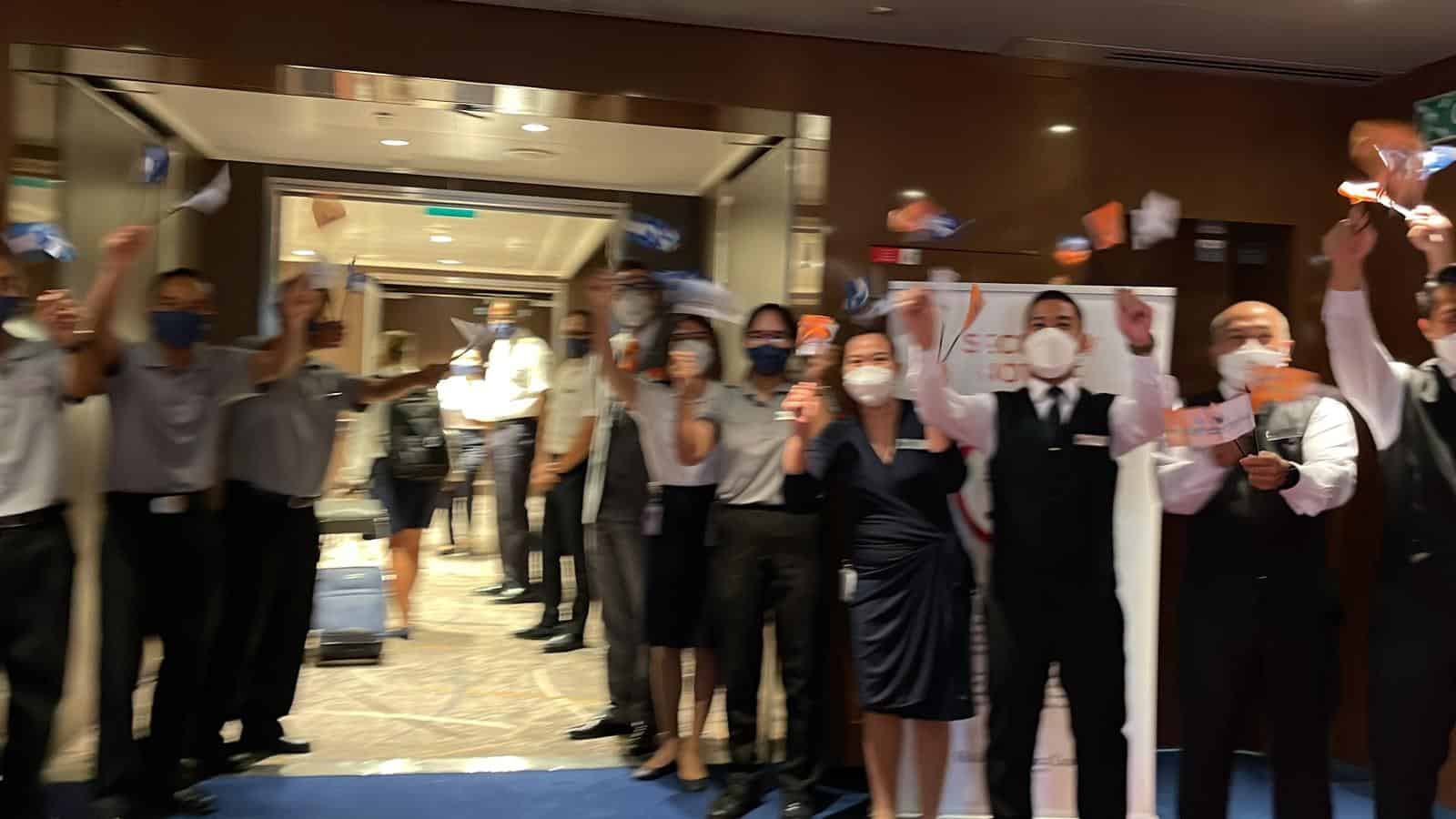 My cabin is on deck six, port side, and is known as a Verandah stateroom… aka a balcony. More and more, we're seeing cruise lines take into account what the modern cruiser needs from a connectivity standpoint, and this ship is no different. There's a USB port and standard outlet on each side of the bed, and one of each on the vanity, too.
The bathroom is spacious and has a nice walk-in shower with a door. That's another thing I'm glad to see cruise lines moving away from… plastic shower curtains. I've noticed doors are becoming the norm in hotels, too. It's not a lie to say that I'll book a hotel room based on free wifi and the lack of a shower curtain.
As for the balcony, it's your typical size with the two standard chairs. I spent some time out there before grabbing some food.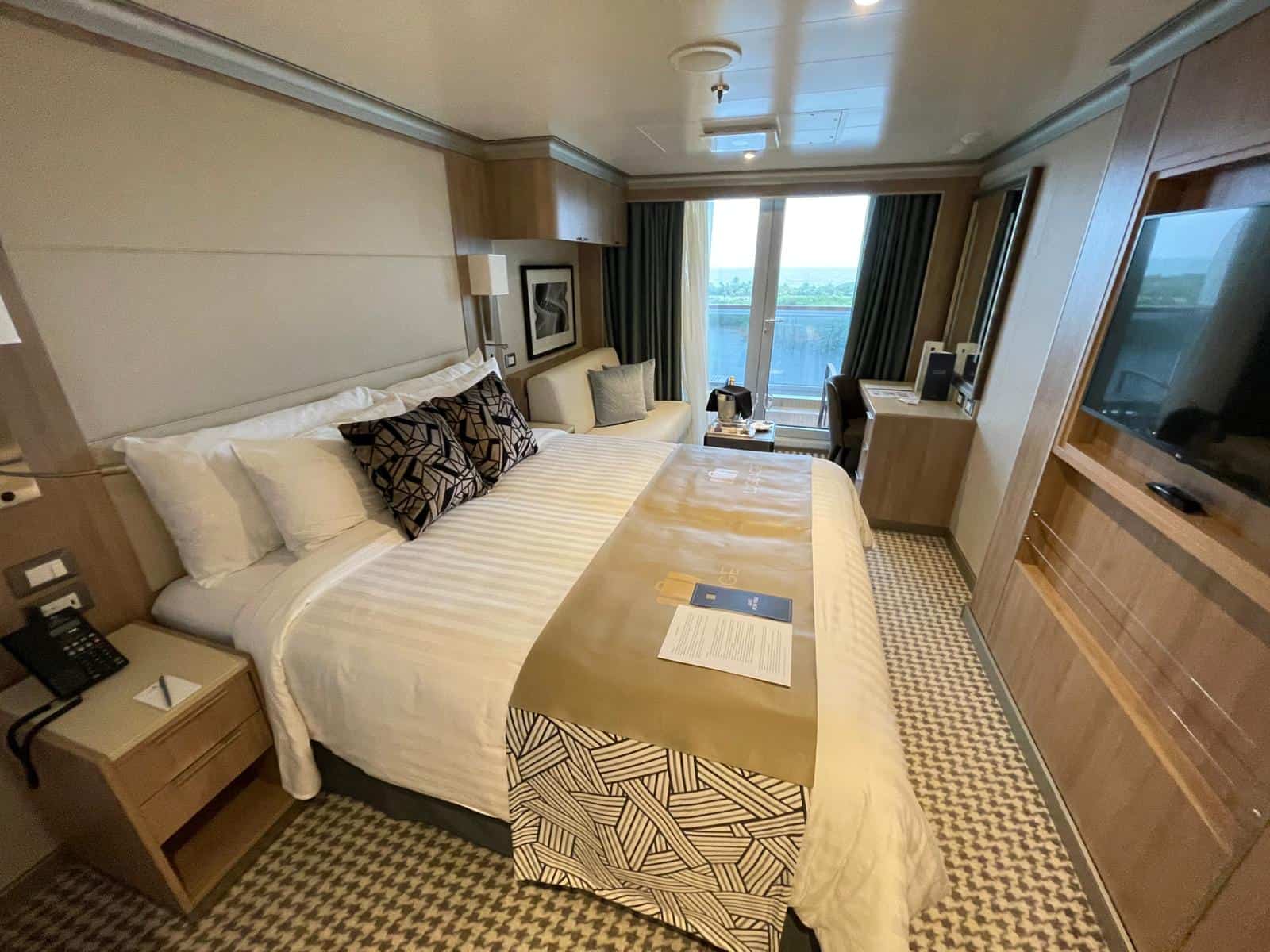 MORE: Is a Short Cruise Right For You? 5 Reasons to Consider Booking One
Lunch Time
Holland America takes a great deal of pride in its reputation as a line for food lovers, and that even extends to the buffet. Sure, it's still a buffet, but it's a buffet done right. There are about a half-dozen stations that mirror each other on either side, and it's a mix of grab-and-go selections and dishes that are served to you by a crew member.
I wound up going with a turkey and fresh greens salad. While eating, I remembered that by the pool they have a New York Pizza outlet that features — as the name implies — made-to-order pizzas and salads. I wound up placing an order for a pepperoni and pineapple (no judgment!) pizza and ate sitting by the pool.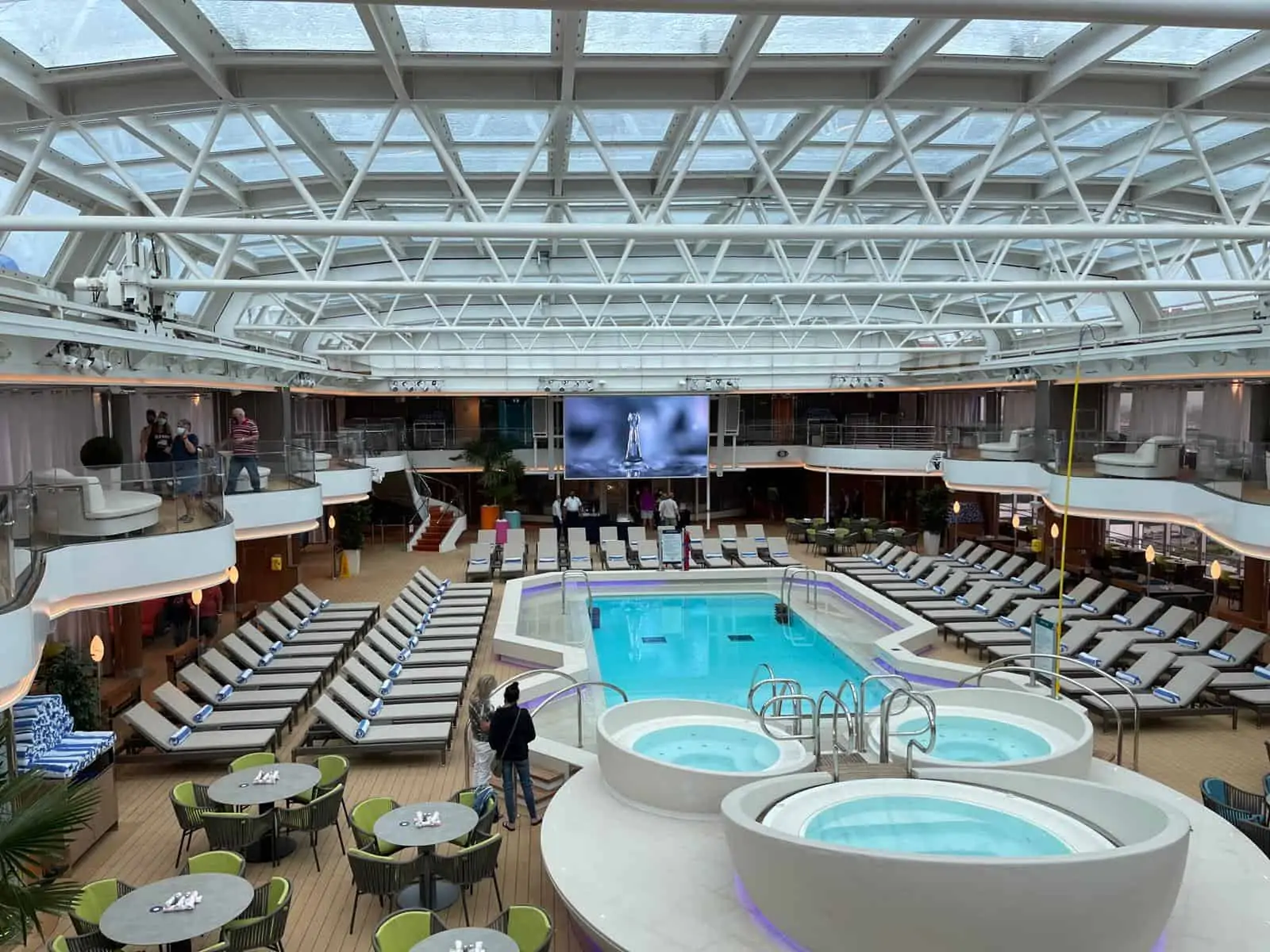 After that, it was time to walk some of those calories off, and what better way to do that than by exploring the ship to take photos and shoot some video?
Remember I mentioned earlier that Holland America takes its food seriously? Well, they take it so seriously that they have a culinary council made up of some of the most famous chefs in the world.
One of them is Rudi Sodamin, who has a restaurant onboard called Rudi's Sel de Mer. It's a seafood restaurant with a focus on French/Mediterranean preparations. With a few of the first guests booked in the venue by his side, the chef officiated the grand opening of his latest joint venture with Carnival Corporation.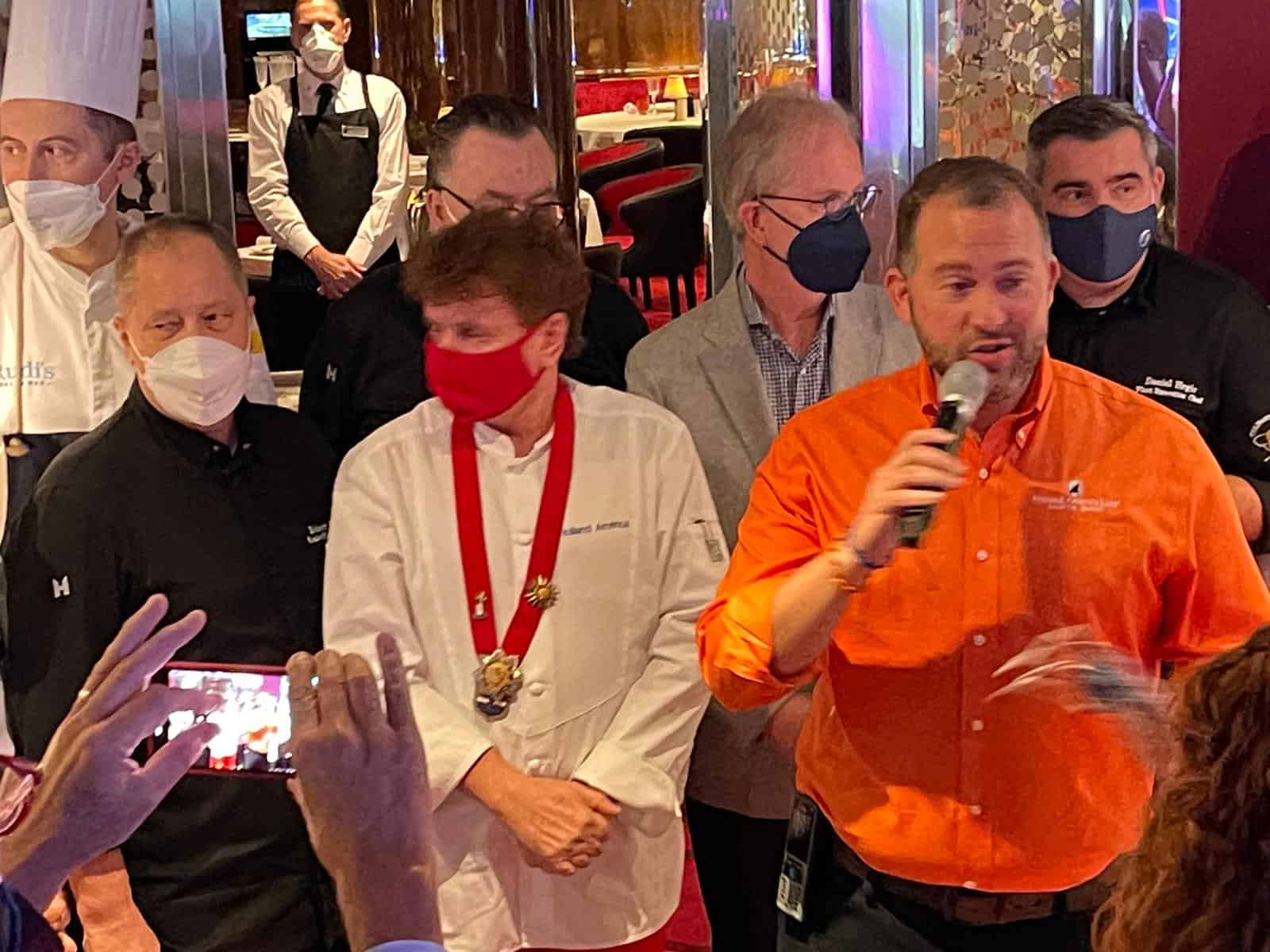 Sodamin already has Sel de Mer restaurants on both Koningsdam and Nieuw Statendam, as well as Rudi's Seagrill on Carnival's Mardi Gras. Having recently dined in that venue, I'm really excited to experience this slightly more upscale take on his famous dishes. As far as I'm concerned, Chef Rudi, as he's called, is one of the chefs who has helped raise the bar for not only Holland America but Carnival Cruise Line, as well.
Sail Away
Our sailaway was delayed because we were waiting for a provisioning truck, but we finally set sail around 7 p.m. We were the only revenue-generating cruise sailing from the port on this day, although Princess Cruises' new Enchanted Princess was across the harbor as it played host to travel agents and other invited guests.
I've always loved seeing other ships sailing with people on board — and watching people on each vessel wave at those on the other — but it takes on a whole new significance now. After 18 months of no ships sailing, being on one ship and seeing people on another is a welcome sign that things are slowly but surely returning to normal.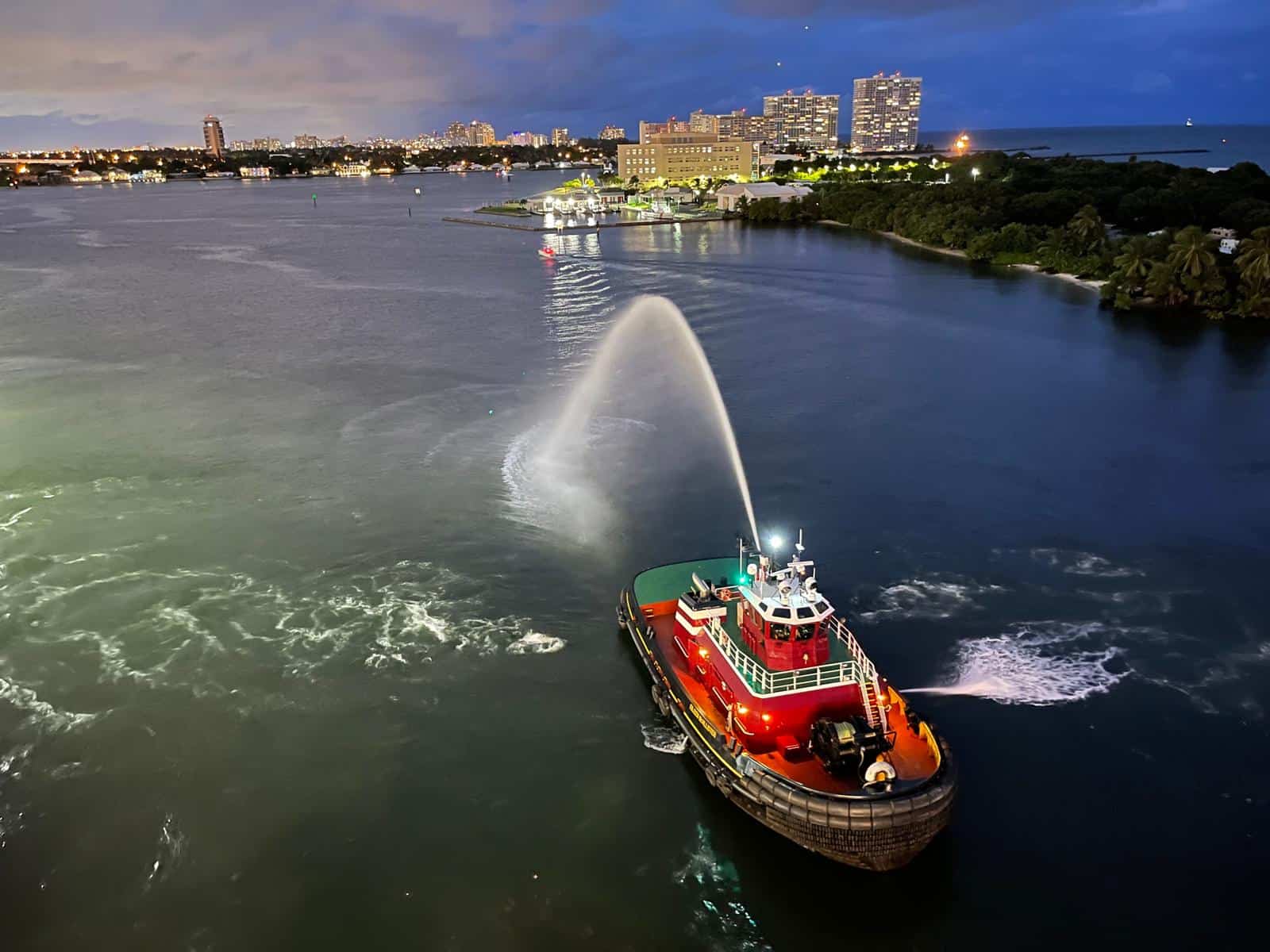 Dinner
Dinner tonight was in the main dining room, and it is stunning! We had open seating, so we headed to the space around 8 p.m. and walked into the two-deck, oval-shaped dining room which is anchored at one end by a huge wine rack.
The menu features a nice variety of offerings and service was pretty quick. I went with the seafood ceviche, French onion soup, and salmon. The food was solid… I sure had no complaints. I'm not a huge dessert person, so I didn't really mind skipping out before that course so I could catch a presentation being held at 9 p.m.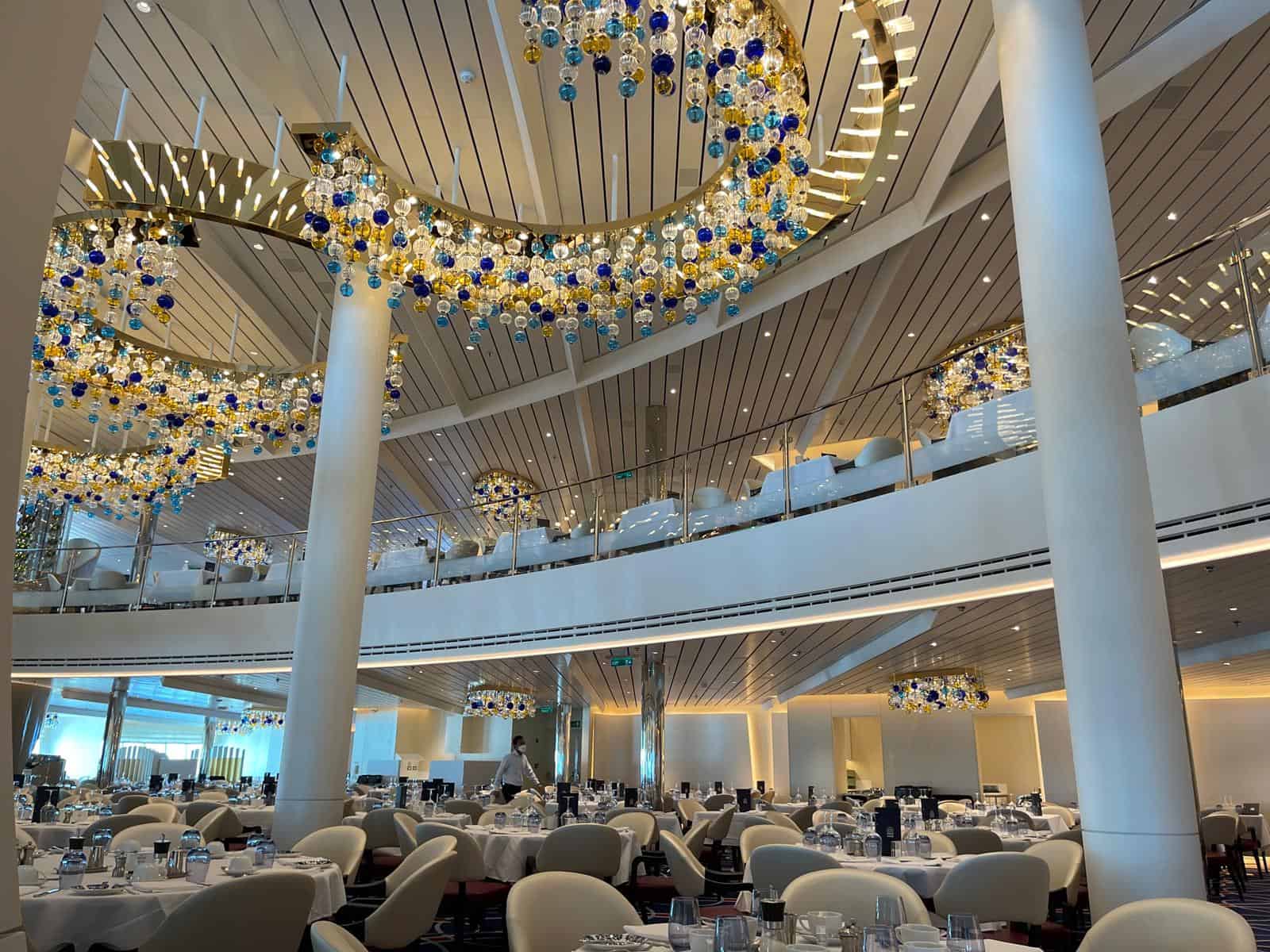 History Presentation
What presentation tore me away from food? One covering the nearly 150 year history of Holland America Line, held in the World Stage. I'm not one for lectures, but this was different. Not only were we taught the company's history, but technology was incorporated into everything with soundbytes to videos playing on the 270 degree LED screen. 
It was, in a word, captivating, and I'm not too proud to admit that when they began talking about the shutdown and how it impacted the industry, I lost it as they showed aerial shots of dozens of Carnival Corporation ships anchored off Manila. They also went into great detail about the challenges presented by the world's largest-ever repatriation effort as they attempted to get thousands of crew members back to their home countries without the use of airplanes.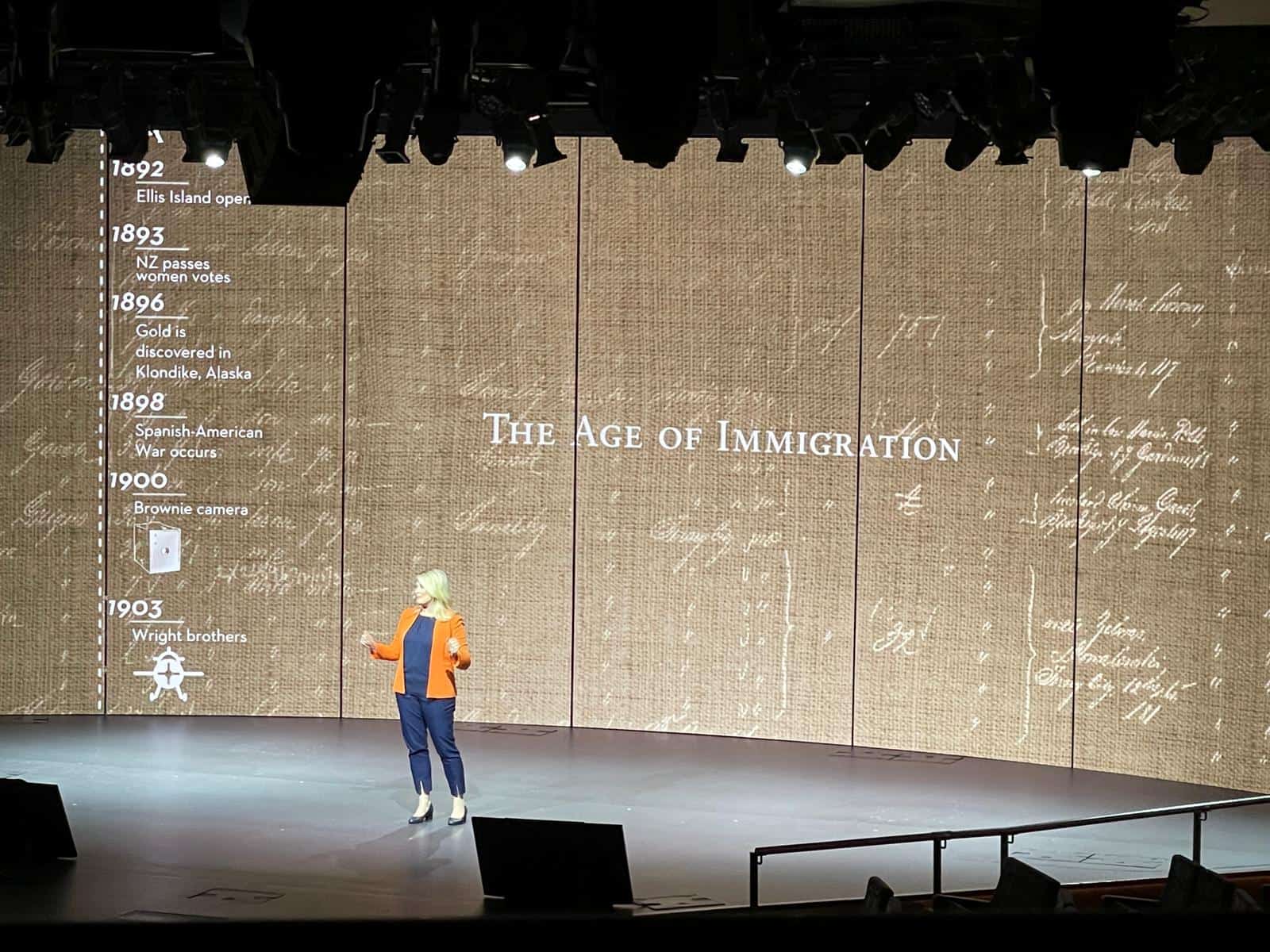 Over the course of four months, they repatriated over 15,000 crew members by having ships meet at designated locations so the men and women on board could be transferred from one vessel to another and eventually be taken to their home countries. They're currently offering this 50-minute presentation at least once on each sailing and I can't recommend it highly enough. 
Tomorrow, we'll be arriving in Bimini, Bahamas early in the morning. Having recently been to the Resorts World property during my sailing on the Carnival Horizon, I plan to check out the other end of the island to see what else it has to offer.
Check out my other Rotterdam trip reports:
READ NEXT: Holland America Launches 'Kids Cruise Free' Offer