In this article you'll find Emeril's Bistro menu and price list. Through a partnership with Carnival Cruise Line, celebrity chef Emeril Lagasse created a New Orleans-inspired bistro on Carnival's Excel-class ships, starting with Emeril's Bistro 1396 aboard Mardi Gras.
The venue is back on Carnival Celebration, this time called Emeril's Bistro 1397. Wondering what the numbers mean and why they're different? 1396 was the hull number for Mardi Gras at the shipyard, and 1397 was Celebration's hull number.
Located in the Gateway Zone, Emeril's Bistro is one of a few venues found in the travel-themed area onboard.
Emeril's Bistro menu on Carnival Celebration.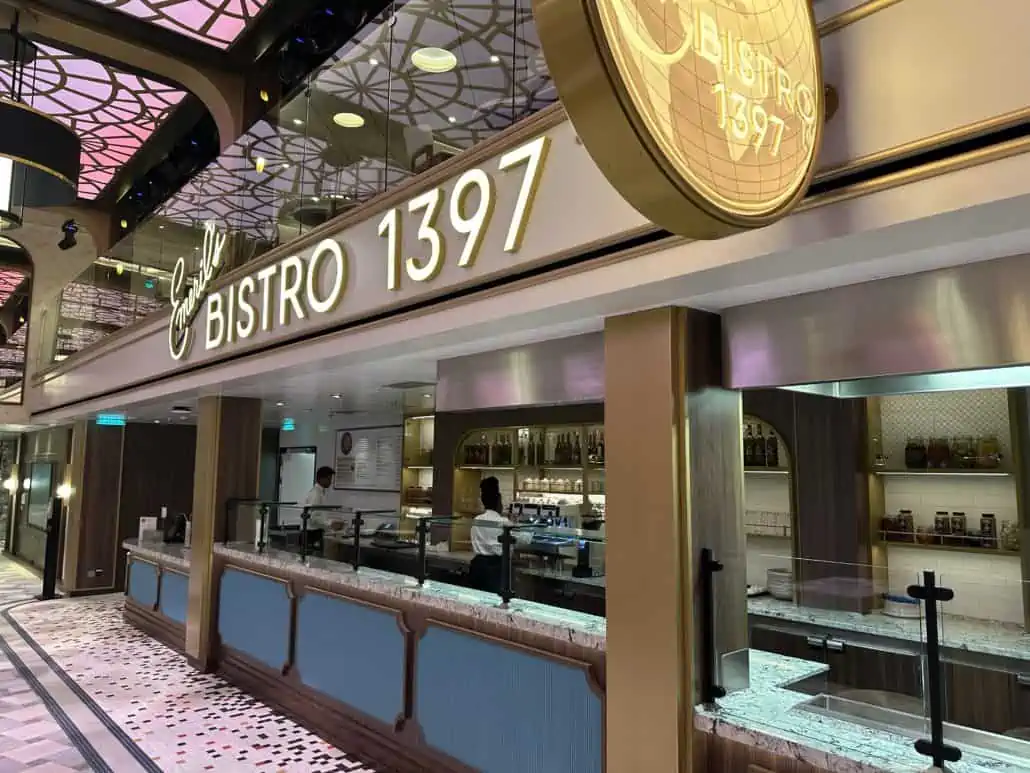 Emeril's Bistro Menu
Breakfast
All breakfast items are $6 each.
Breakfast Po-Boy: egg, cheese, bacon, and andouille pork sausage
Bananas Foster Crepes
Shrimp and Grits: andouille pork sausage
Shrimp Creole Omelette
Sweet Potato Waffles: pecans, cinnamon sugar, whipped cream
Croissant Breakfast Sandwich: shaved ham, Creole omelette, boursin cheese
Poached Egg and Fixins: slow cooked beef, buttermilk biscuit, mushrooms, peppers, Creole mustard hollandaise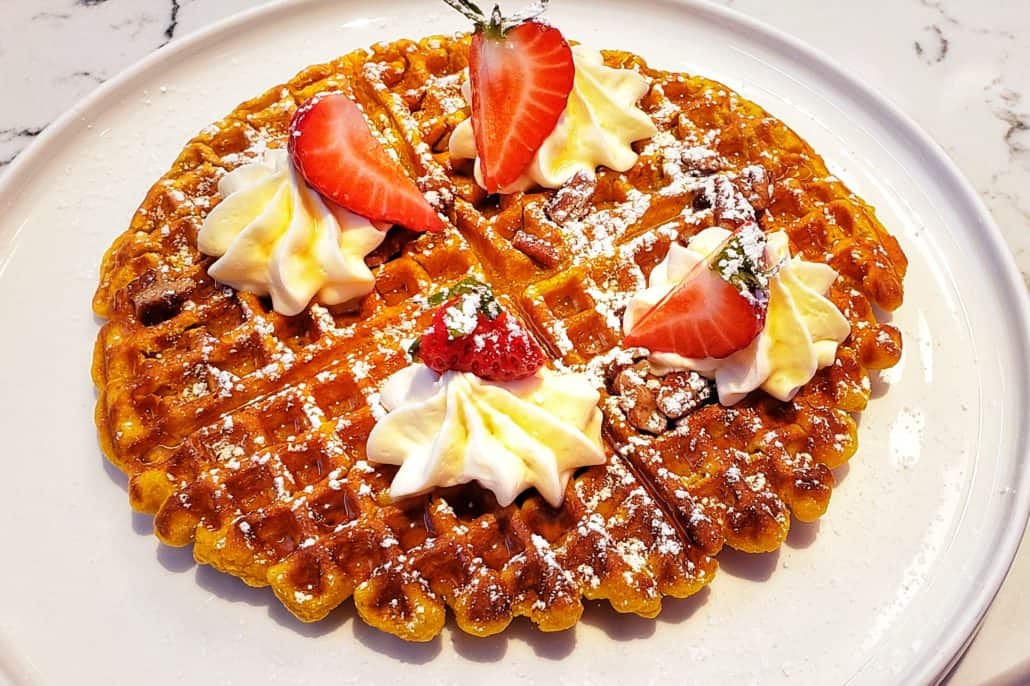 MORE: MENU: Guy's Pig & Anchor Smokehouse on Carnival's Mardi Gras
Lunch & Dinner
Seafood Bar
Creole Boiled Shrimp: traditional remoulade sauce (by the pound, market price)
Shucked Fresh Oysters (by each, market price)
Charbroiled Eastern Oysters: butter, garlic, lemon, parmesan (by the half, a dozen, market price)
Steamed Lobster (by the pound, market price)
Marinated Blue Crab Claws (by the pound, market price)
Boiled Louisiana Crawfish (seasonal, by the pound, market price)
Small Plates
Small plates are $6 each.
Fresh Seafood Ceviche: citrus, avocado, heart of palm
Crispy Boudin Sausage Balls: creole mustard, pickled vegetables
Fried Oysters: crisp Vietnamese vegetable salad
Sizzling, Cast Iron Shrimp Scampi
Natchitoches Meat Pies: official Louisiana state dish, succulent beef and pork filling
A Little More
Sandwiches and po-boys are served with a choice of creole potato salad, slaw, or homemade potato chips.
Emeril's New Orleans Style Barbecue Shrimp ($10)
Roasted Duck & Andouille Sausage Gumbo: creole potato salad, scallion ($7)
Fried Shrimp & Oyster Po-Boy: creole mustard dressing ($8)
Oyster Po-Boy: pickles, crystal hot sauce dressing ($10)
Shrimp Po-Boy: lettuce, creole mustard dressing ($7)
Muffulletta: Italian salami, mortadella, provolone, olive salad ($7)
Emeril's Signature Jumbalaya: shrimp, chicken, pork sausage ($10)
Red Beans & Rice: braised pork, kielbasa sausage, Louisiana "jazz-men" rice ($3)
Beignets: powdered sugar, strawberry sauce, chocolate sauce ($5)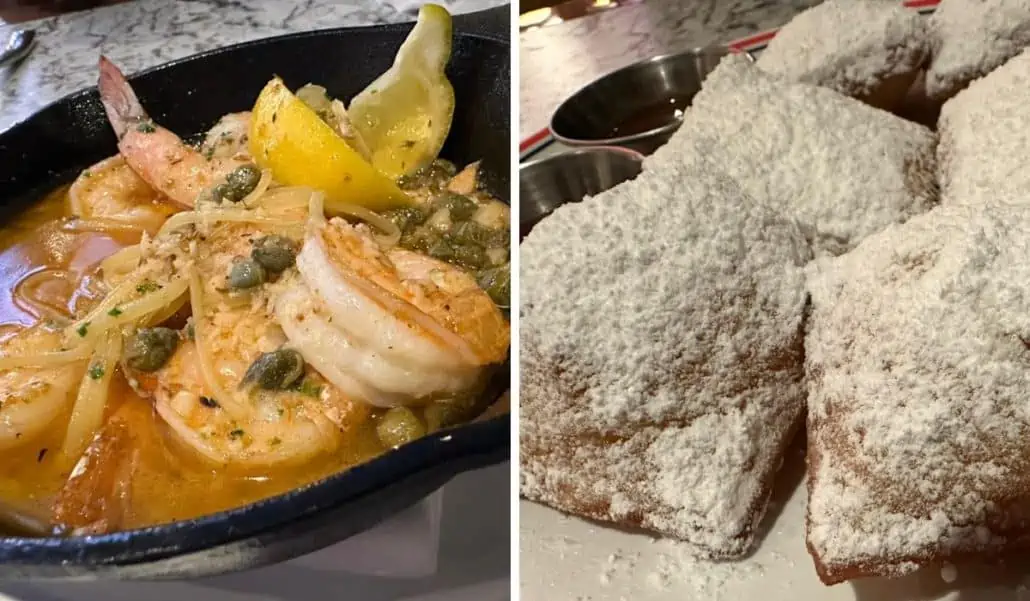 A Little Sweet
Desserts are $4 each.
Strawberries Romanoff: honey biscuit, Chantilly cream
Lemon Ice Box Pie
Bananas Foster: creole cream cheese ice cream
Drinks
Specialty coffee and international wine and beer are available for purchase.
What do you think of Carnival Celebration's Emeril's Bistro menu?
READ NEXT: 8 Tips, Hacks, and Ways to Save Money on a Carnival Cruise
Pin it!