Sister ships are a lot like real-life siblings who are close in age: They tend to look similar, and they receive an awful lot of hand-me-downs… but when they get something shiny and new, it's a big deal. That was definitely the case when Carnival Cruise Line rolled out their 26th ship, Carnival Horizon, this spring.
We knew that she'd be very similar to her older sister, Carnival Vista, but that she'd also get a few upgrades that would help Horizon to distinguish herself.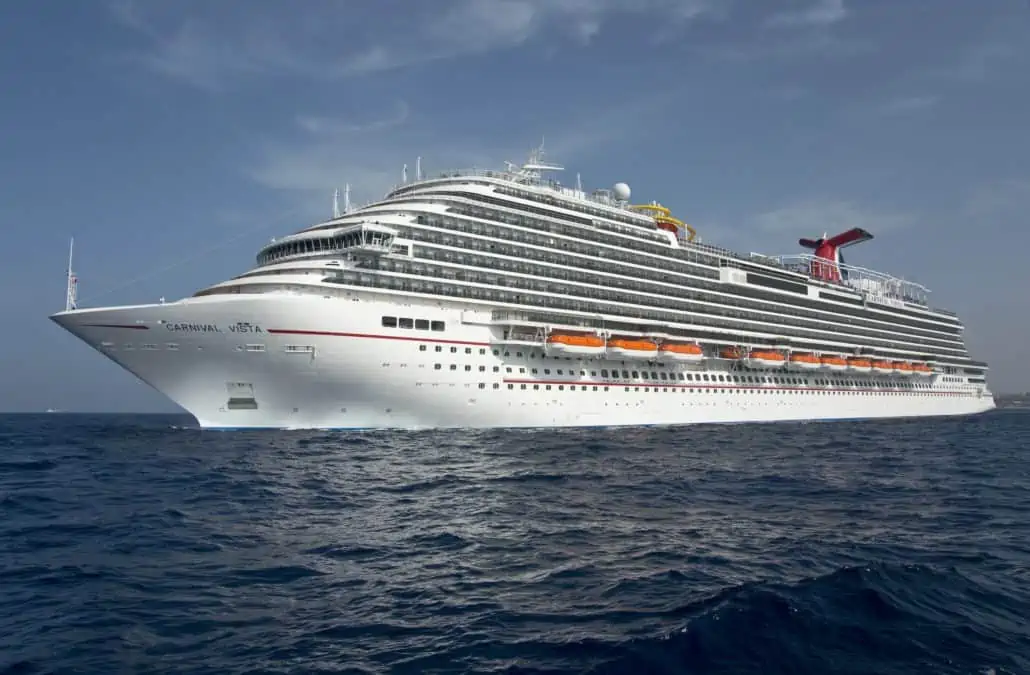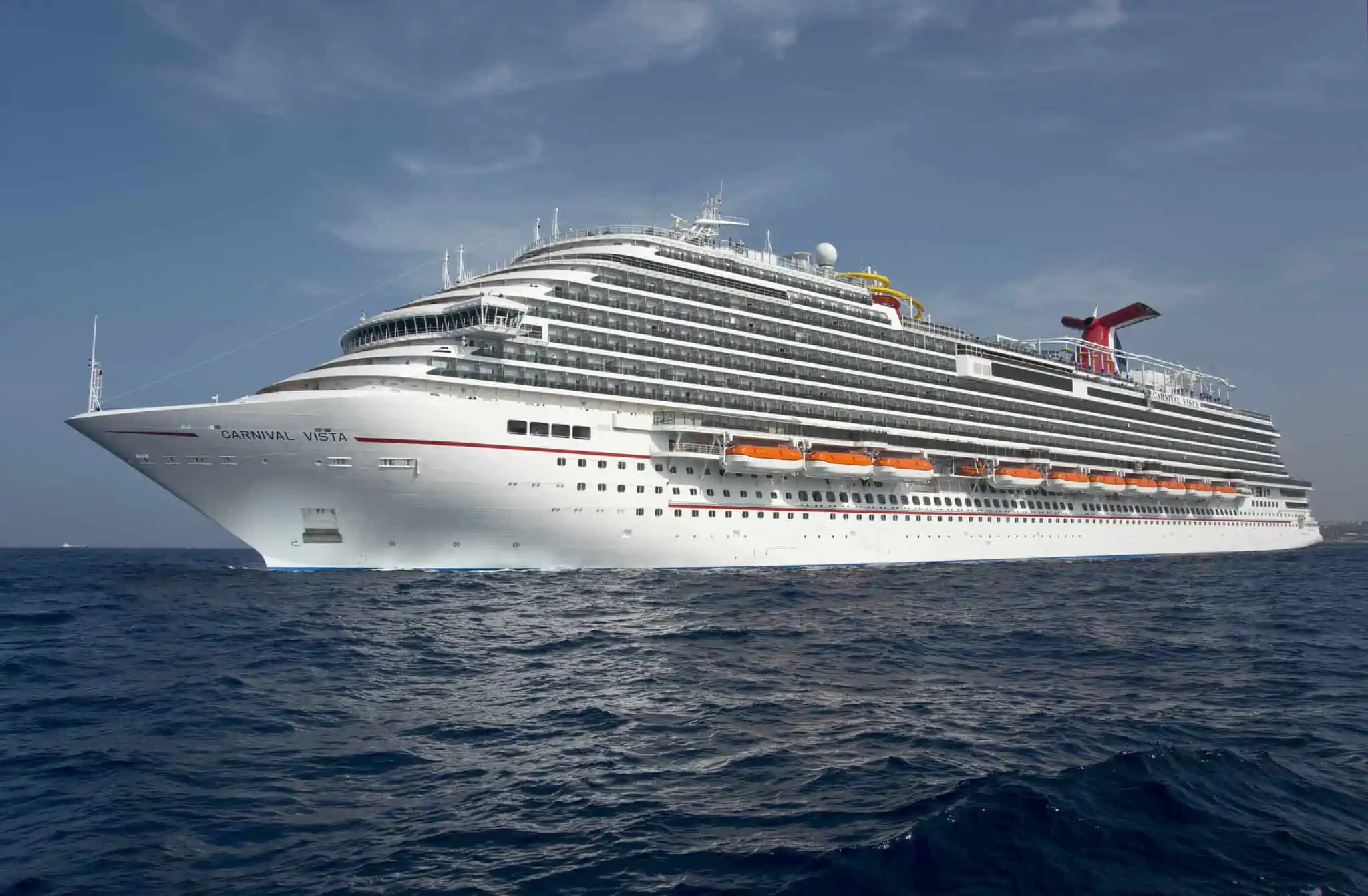 Having spent time on Vista, I was looking forward to exploring Horizon to see how similar the two really were… and more important, what changes had been made.
Research
Not surprisingly, given what I do for a living, I tend to do a lot of research before I set foot on a ship for the first time. That was definitely true of Carnival Horizon.
While the ship was being constructed, I was studying the deck plans, looking over the menus for the restaurants, and almost obsessively checking for updates. Despite the ship being a virtual carbon copy of Vista, there were things I couldn't wait to check out.
Topping that list? Guy Fieri's Pig & Anchor Smokehouse|Brewhouse. Regular readers will know I'm a big fan of both barbecue and Fieri's other Carnival restaurants, Guy's Burger Joint and Guy's Pig & Anchor Bar-B-Que.
Combine those elements with a brewhouse, and this seemed like it would have my name all over it.
Embarkation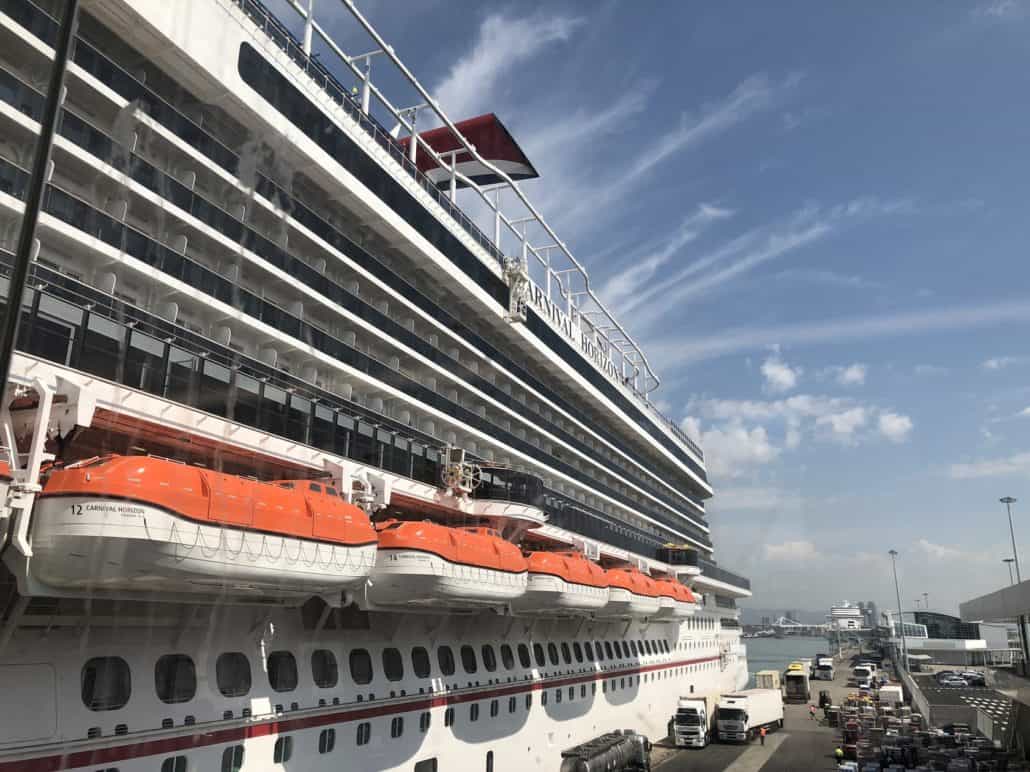 Because I took advantage of the cruise line transfer service, I handed my bag off to the embarkation team at the airport and they scanned me in with iPads. Their new embarkation system is much easier and less stressful on the cruise guests.
I'd been concerned that when printing out my e-docs, there wasn't a health questionnaire to fill out in advance. Assuming I could pick one up at the port, I didn't worry too much… and that was smart, because as it turns out, the new, expedited check-in process has the agent simply ask you the questions in person.
The entire boarding process was pretty simple. Check in at the desk, show your passport, get a quick picture taken and go through security. We arrived at the pier around 10:30 a.m., and embarkation started at 11:15.
First Impressions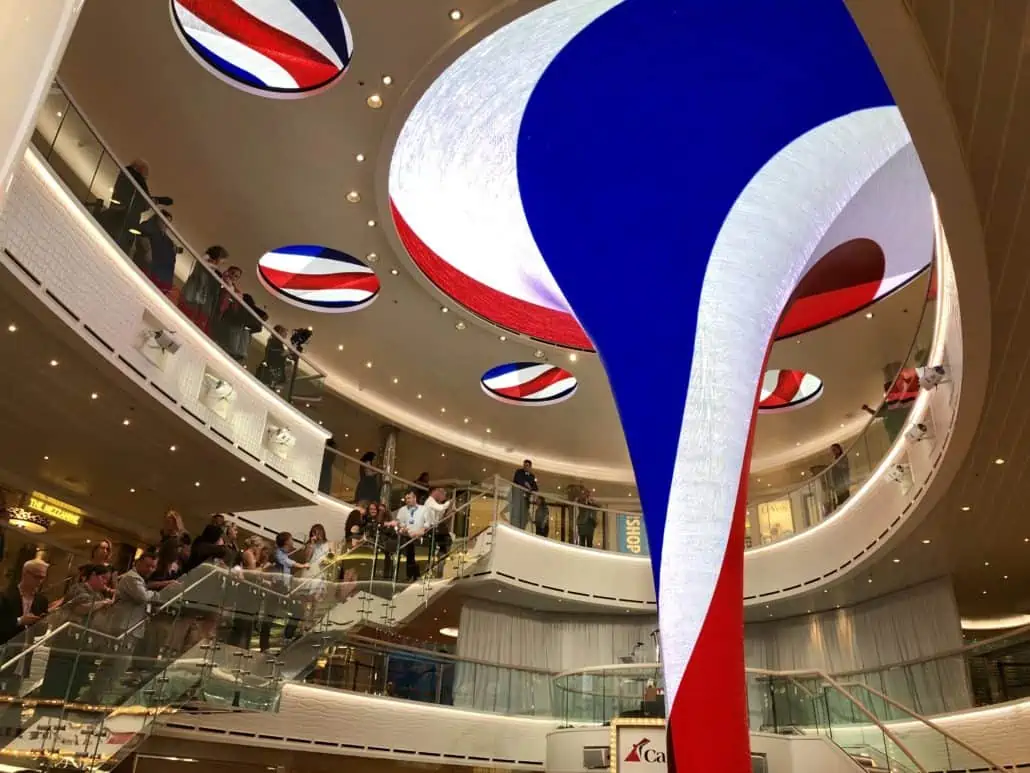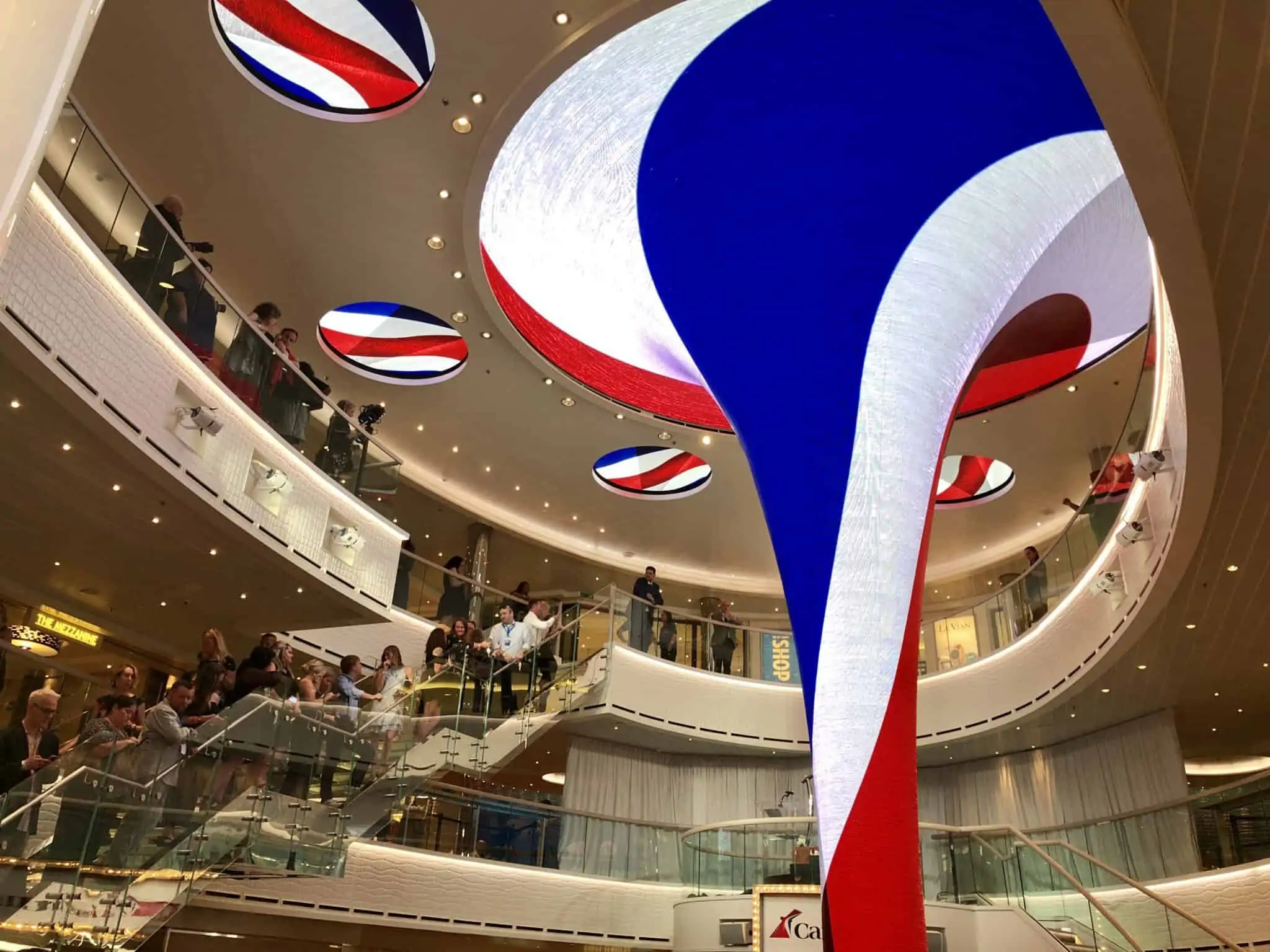 Like with Vista, Carnival Horizon gives passengers that amazing "wow" moment when, upon boarding on deck 3, the very first thing they see is the beautiful atrium, anchored as it is by the three-story Dreamscape.
You have to be pretty jaded not to be impressed by that thing, and the area surrounding it really sets the tone for what's to come. The atrium is alive with guests buzzing and music playing and it immediately feels as if you've just walked into a great party. What better way to start your vacation?
The first thing I noticed upon boarding was that the atrium was awash in red. Not a gaudy, blindingly neon red (which, let's be honest, is what you might expect to find on some of the older Carnival ships), but a more muted variation of the color.
In fact, as you wander around the ship, pay close attention to the color schemes. Sometimes, the transitions will be subtle with pops of color brightening up a darker-hued hallway, and in other locations (such as the hallway leading to the Havana bar), the use of brighter blues and yellows do an amazing job of helping set the mood for the space itself.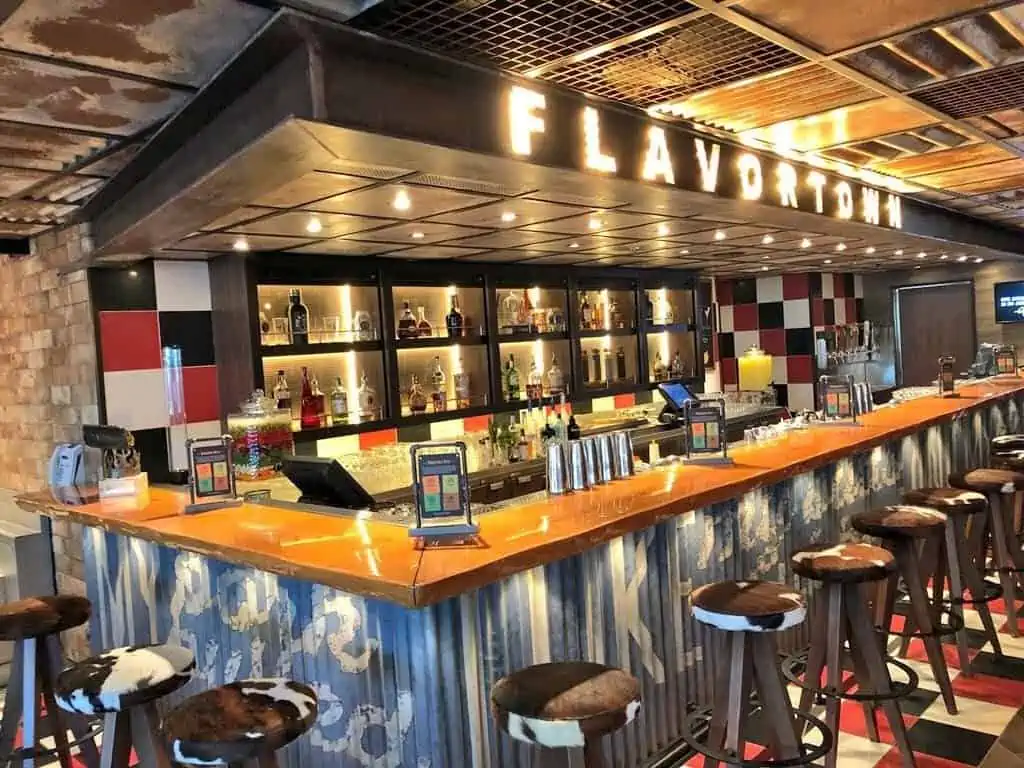 Almost immediately upon boarding, I headed straight for Guy's Pig & Anchor Smokehouse| Brewhouse. I wanted to see how the space compared to the renderings I'd seen as the ship was in development.
While I got there a little too early to grab anything to eat or drink — the place didn't open until noon — I was able to poke around and really explore the venue, which replaces the RedFrog Pub on this ship.
It's a great space, with a decent-sized bar (complete with cowhide-covered barstools), plenty of booths, a stage for performers and (as with a lot of venues on the ship) quite a bit of outdoor seating.
My Stateroom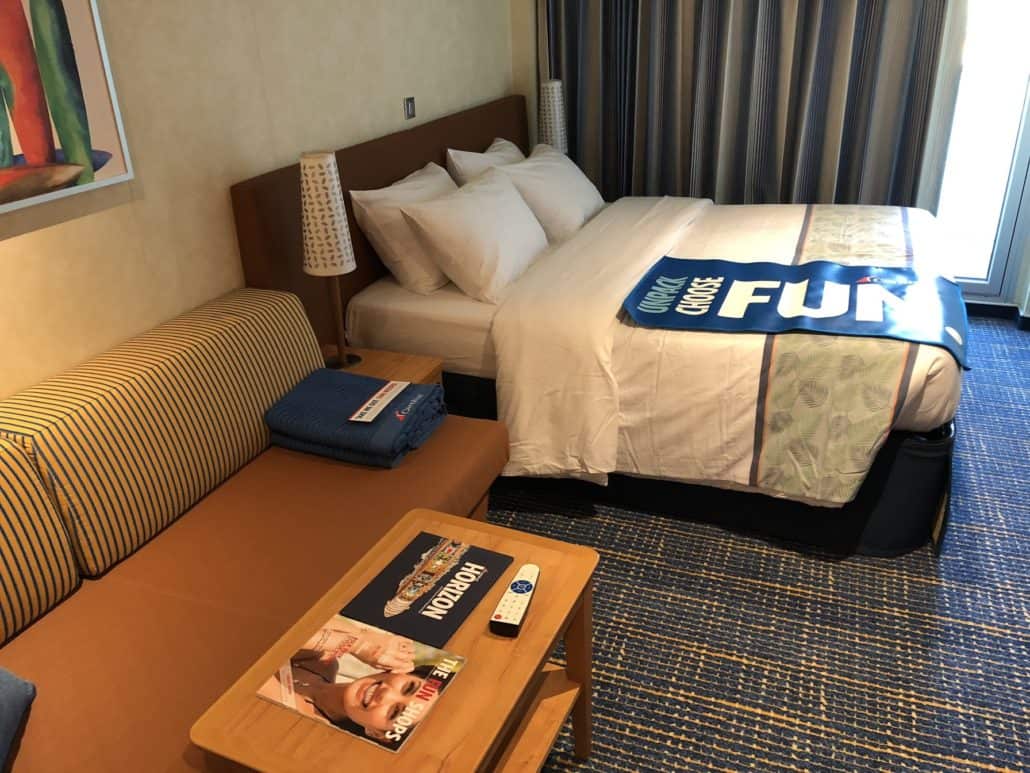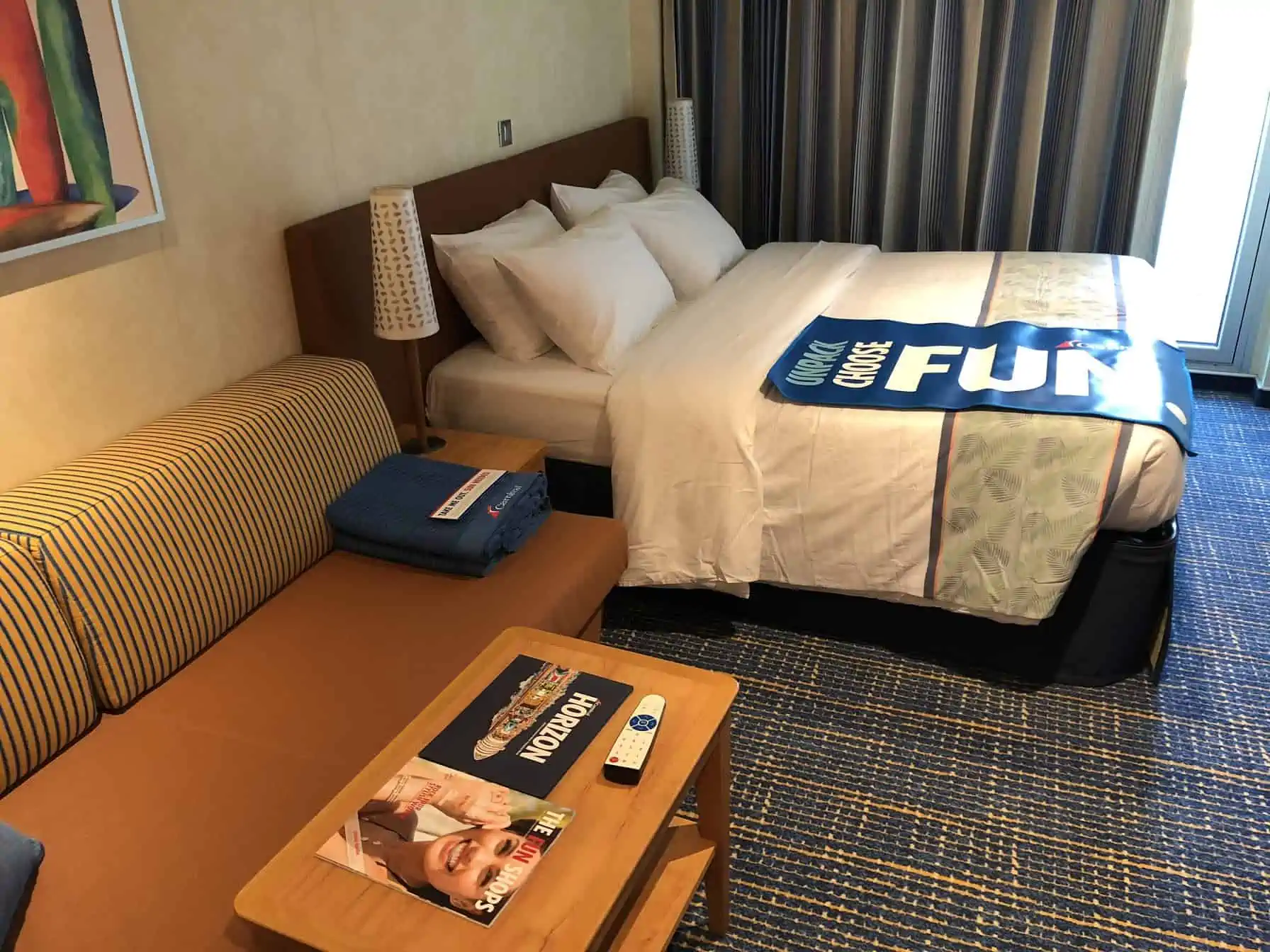 I was booked in cabin 7279, a balcony stateroom on deck seven forward on the starboard side. If you're used to sailing with Carnival, you know basically what to expect. Three stand-up closets, a couch, a vanity area, small refrigerator, safe, and a standard bed that can be split into two twins.
There was plenty of storage space through the room (including plenty of room under the bed, perfect for stowing your suitcase).
For those who need to know what they'll be able to plug in where, there were two standard plugs on the vanity, along with two USB plugs and a single European outlet.
The bathroom is a decent size, although it has one big flaw: The shower is enclosed by a curtain instead of glass. This is sort of surprising in that most modern ships are, for a variety of reasons, moving away from those clingy sheets of plastic in favor of enclosed showers.
Regular readers know that when it comes to the balcony, my test is to put my chair against the back wall and see if my knees hit the glass. If they don't, it's a winner in my book, space wise… and Carnival Horizon's balcony easily passed the test.
Food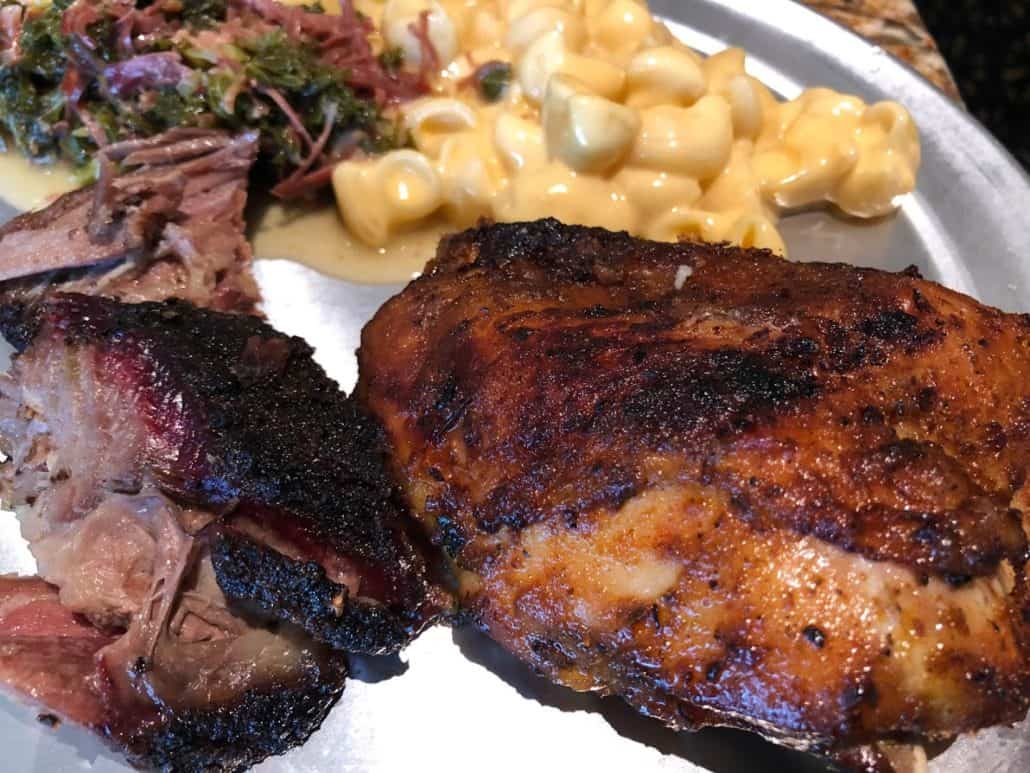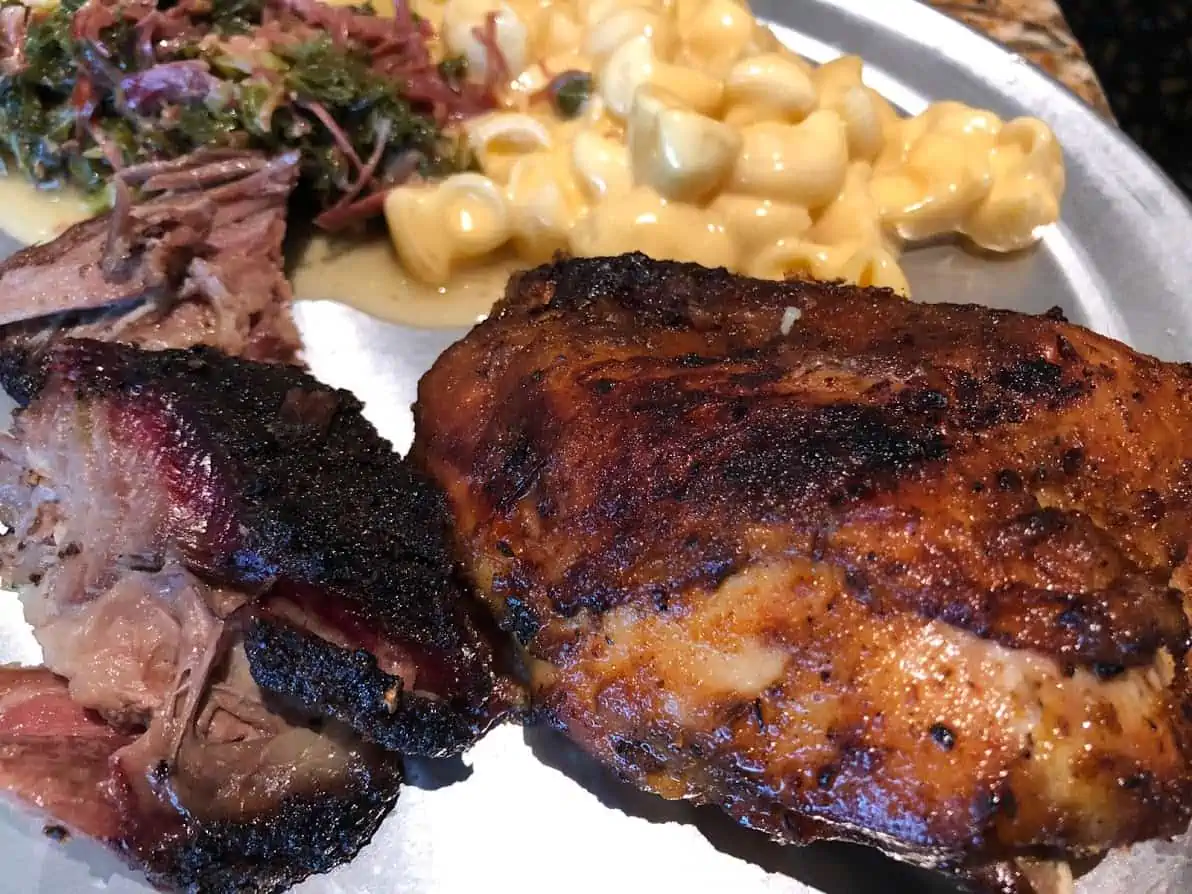 Even if you only ate the free food available on board, you could easily avoid eating the same meal twice.
There are 16 different eateries on board, including the specialty restaurants, and — because I was determined to give you the fullest review possible — I sacrificed my diet in order to hit as many as possible. So let's walk through some of the highlights.
Guy's Pig & Anchor Smokehouse was the hands-down winner for me food-wise, as evidenced by the fact I kept finding myself drawn back for both lunch (which is free) and dinner (a la carte). As a big fan of barbecue, I had high hopes (and expectations) for this place, and it definitely met them.
Read a review of the smokehouse here. 
As on other Carnival ships, the Italian venue here is Cucina del Capitano. For $15 per person, you'll walk away from this restaurant full to bursting, and I am not kidding.
They definitely recommend dinner reservations (although it's worth noting they have a pretty decent pasta bar during lunch, which is complimentary.) Read our review of Cucina here.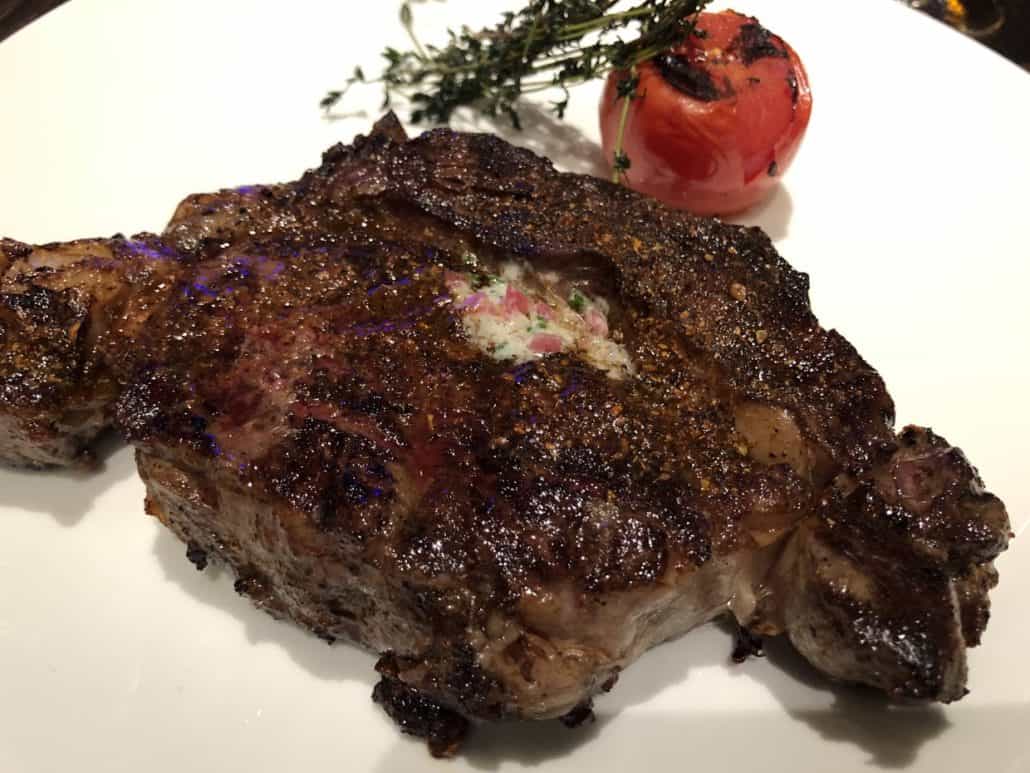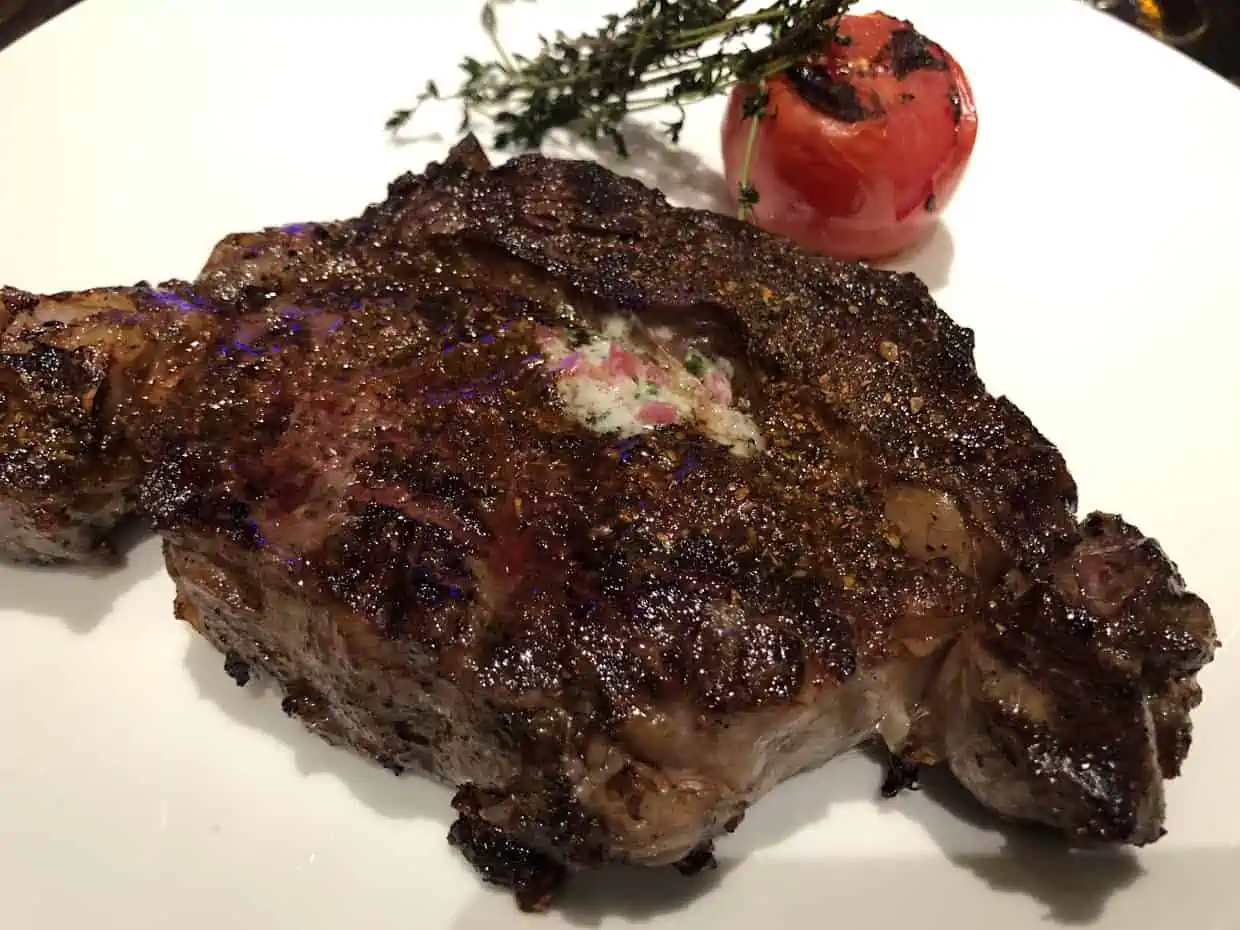 Fahrenheit 555 is Carnival's signature steakhouse and a perennial favorite. For $35 you get to pick a starter, a salad, an entrée, and dessert. I went with the oyster starter, the 18-ounce cowboy cut steak, and the recently-added Table Art dessert.
This is not the place to go if you're in a hurry, as it's the kind of meal which unfolds at a leisurely pace and is all the better for it. (Dine here the first night and you receive a complimentary bottle of wine). Carnival also is experimenting with instrumental piano music being played during the dinner hour.
We'll have to see how that works out, as we've heard some mixed reviews, mostly involving the volume of the music played. Given that they went to the trouble of creating a wall-like door between the steakhouse and the piano bar in order to make this possible, I can't help hoping they make this work.
To read more about Carnival's Steakhouse, click here.
In addition to the popular Bonsai Sushi – which serves up made-to-order sushi rolls and other tasty treats – Horizon has the new-to-Carnival Bonsai Teppanyaki, a seven-course meal prepared by extremely entertaining chefs.
Be warned: This one has limited seating and should definitely be reserved in advance. Check out my review of Bonsai Teppanyaki here.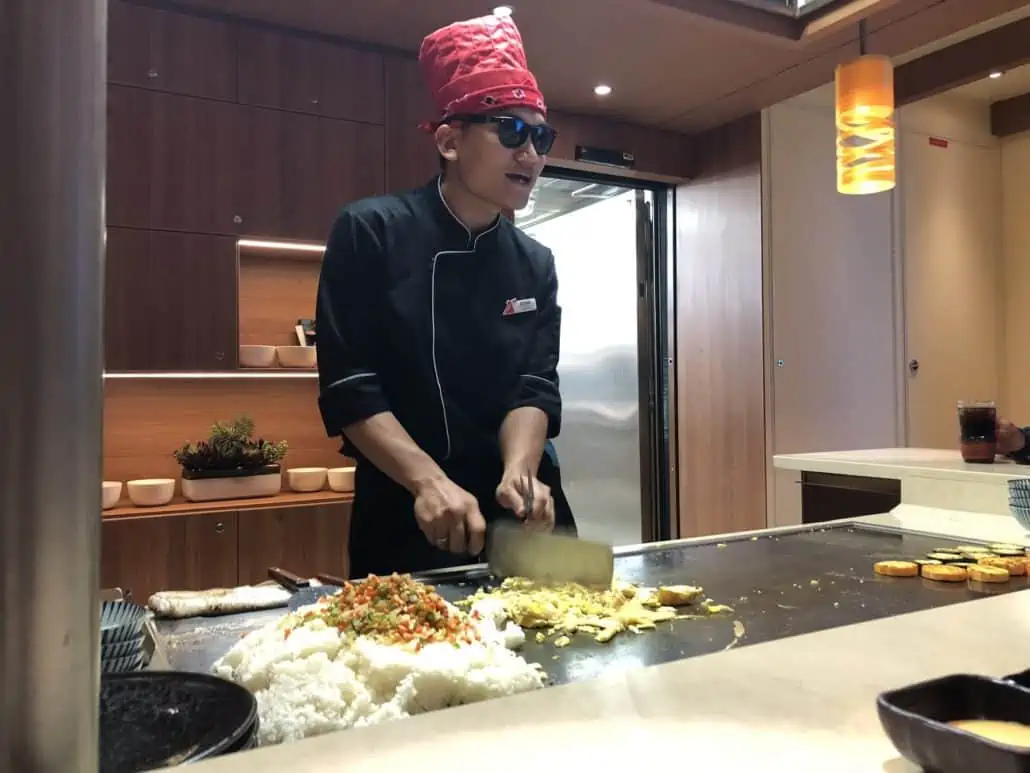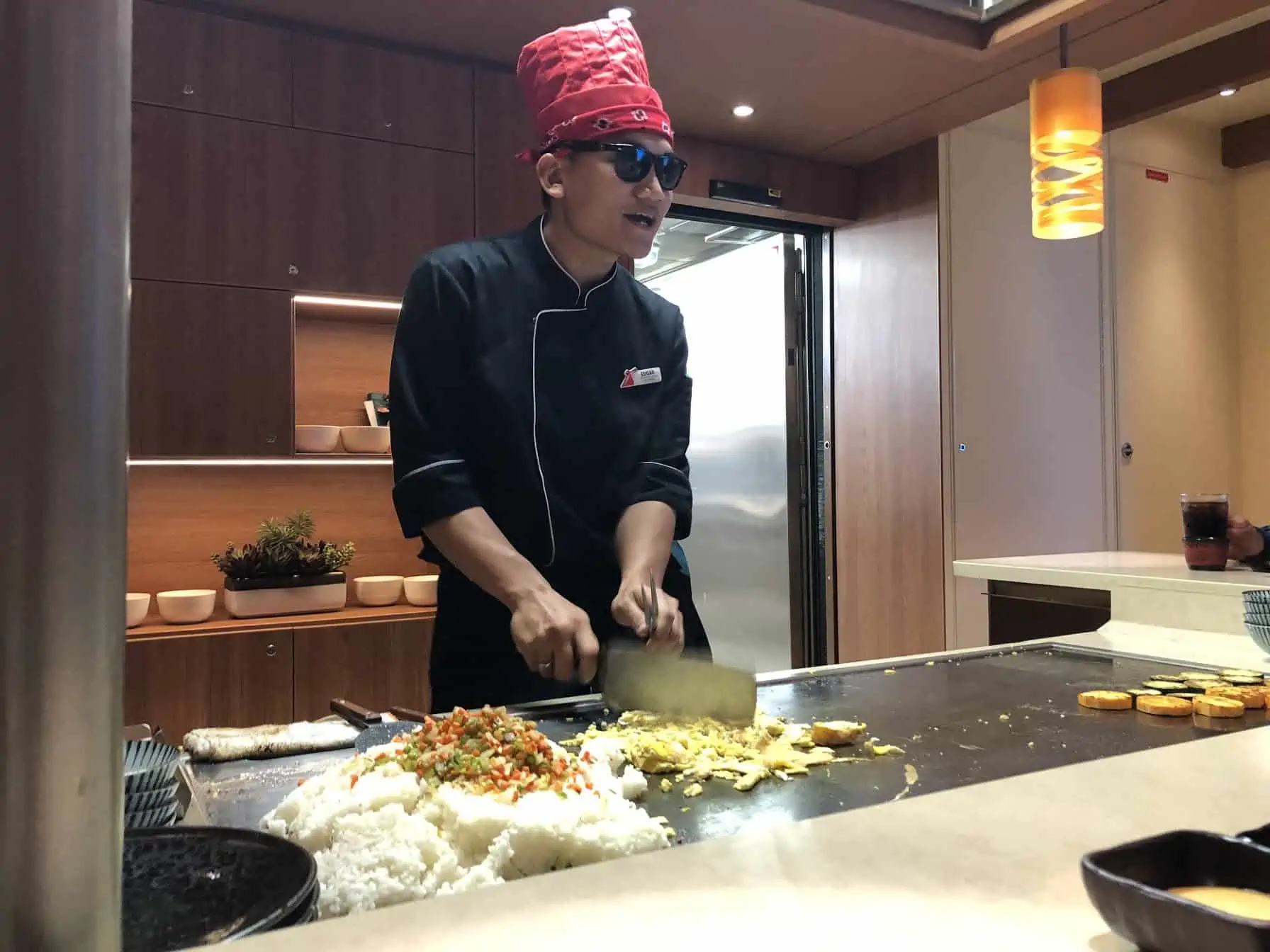 Another place I hit more than once (and I'm not ashamed to admit it) was Guy's Burger Joint. To make my visits at least a little more diet-friendly, I ordered my burgers sans buns… which at least partially helped make up for the fries I ate.
I don't know what they put on those things, but they're one of the best things to eat on the ship. And, like everything else at Guy's Burger Joint, they're complimentary. To see my review and the menu, click here.
On Vista, I scarfed down more lobster rolls from the Seafood Shack than would probably be considered healthy. Maybe because I spent so much time at the Pig & Anchor, I only wound up visiting the Seafood Shack once on this trip. Read my review of the Seafood Shack here.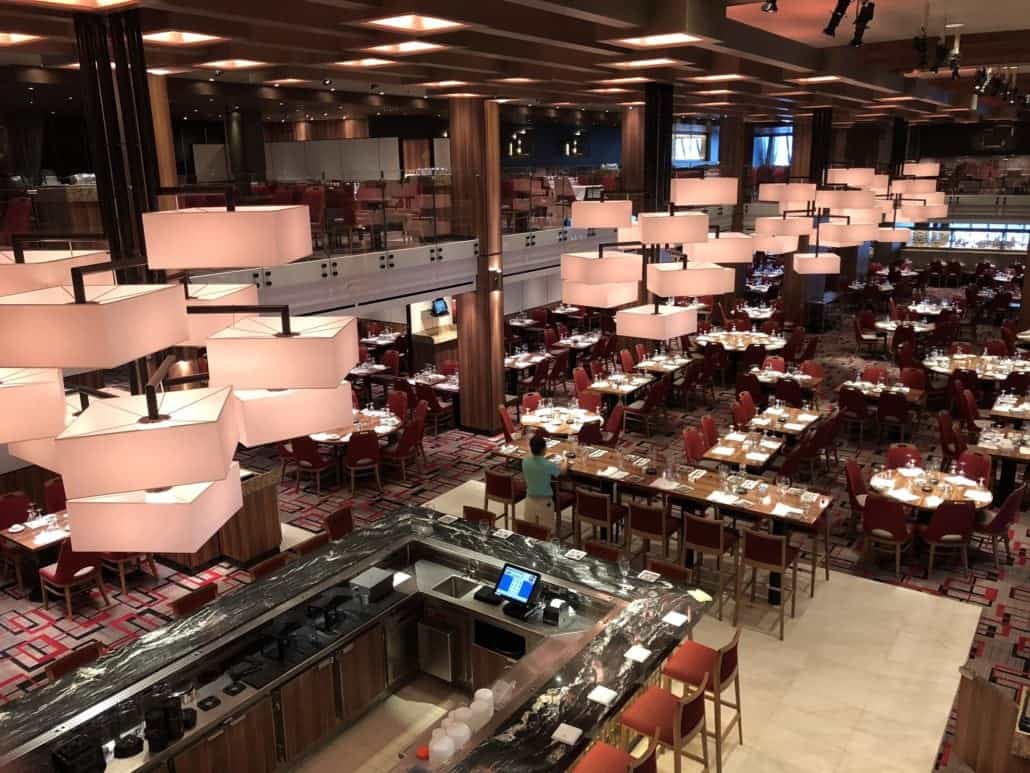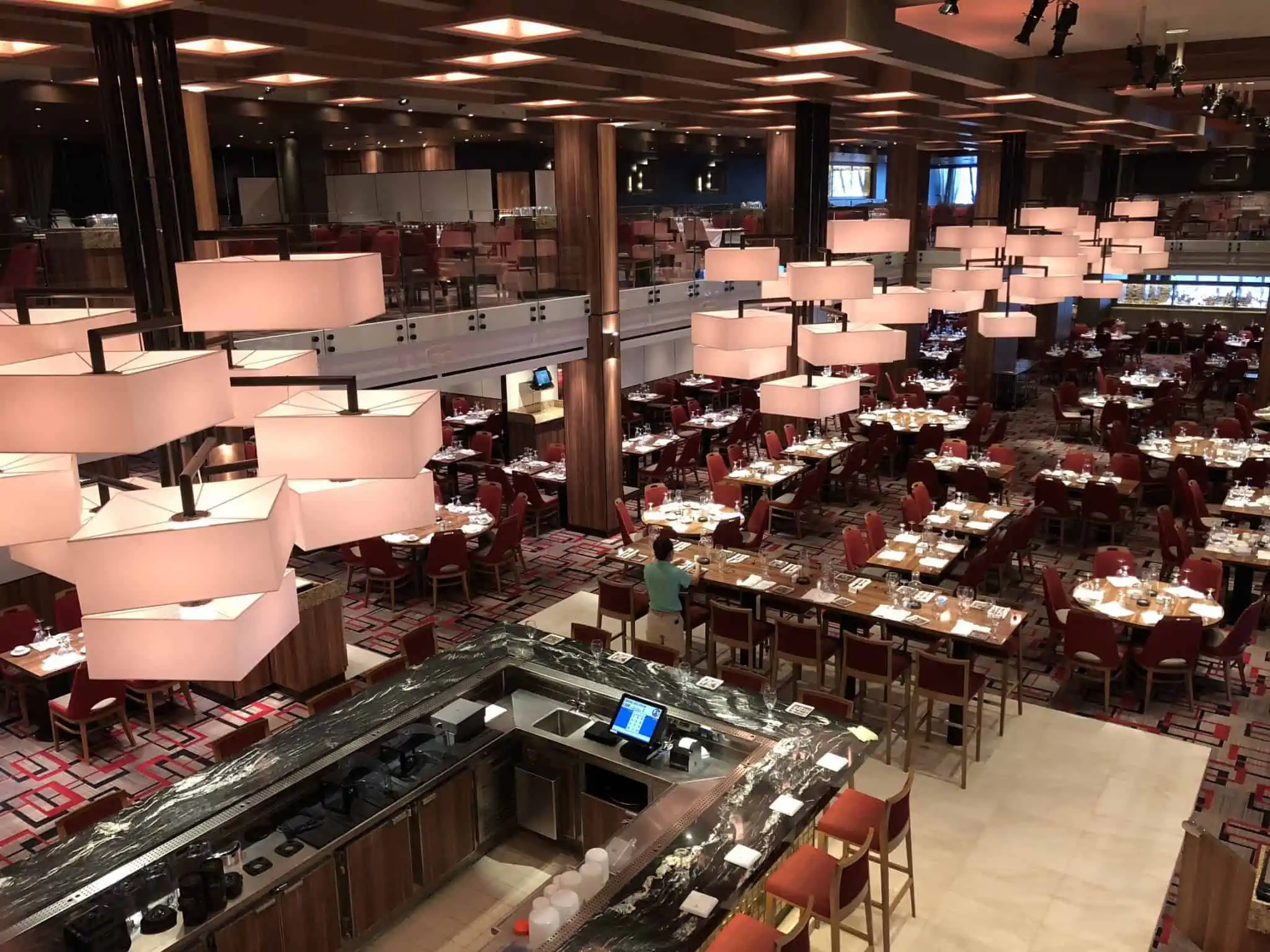 There are two main dining rooms on Carnival Horizon. The aft dining room, Meridian, is designated for Your Time Dining and because the whole "eat on your own schedule" thing has become wildly popular over the past few years, it's the bigger of the two.
In the middle of the ship you'll find the second main dining room, Reflections, which is for set dining times. Reflections is also where they serve one of my favorite meals, the Sea Day Brunch.
The food in the dining rooms was pretty consistently good overall, although the service on a few nights was a little spotty. 
Obviously, there are tons of other food options, ranging from the buffet to the BlueIguana Cantina (where the breakfast burritos are one of the best grab-and-go options on the entire ship).
As I've said before, you won't go hungry on a cruise ship, and this one is certainly no exception to that rule. Check out my review of BlueIguana Cantina here.
Entertainment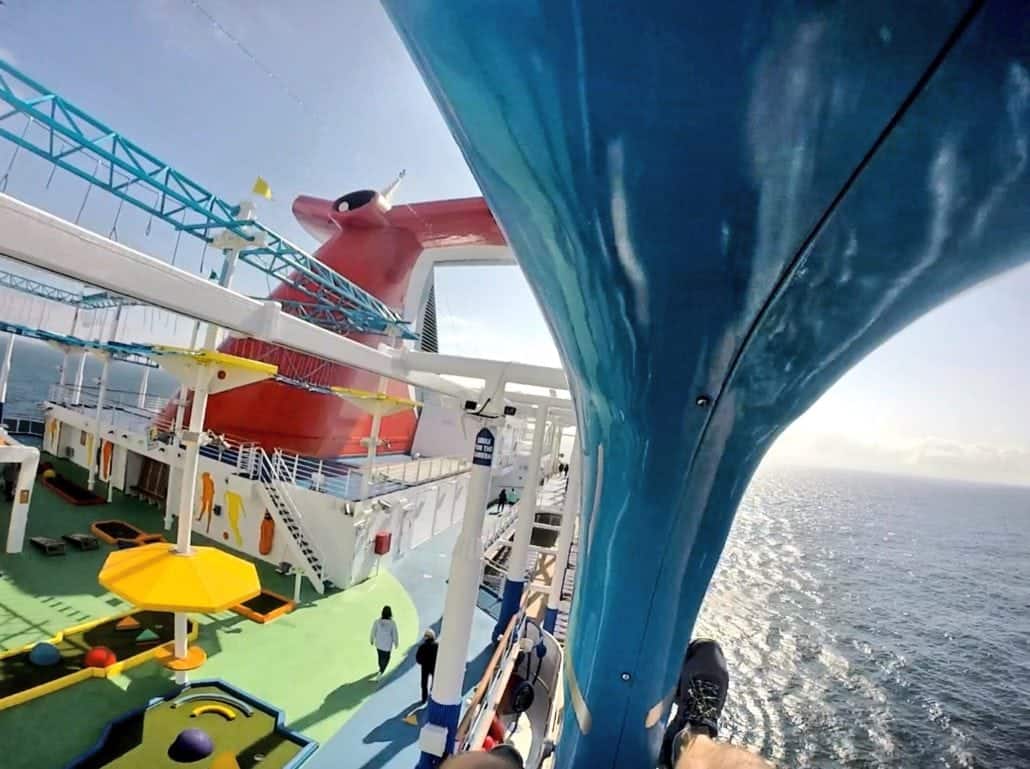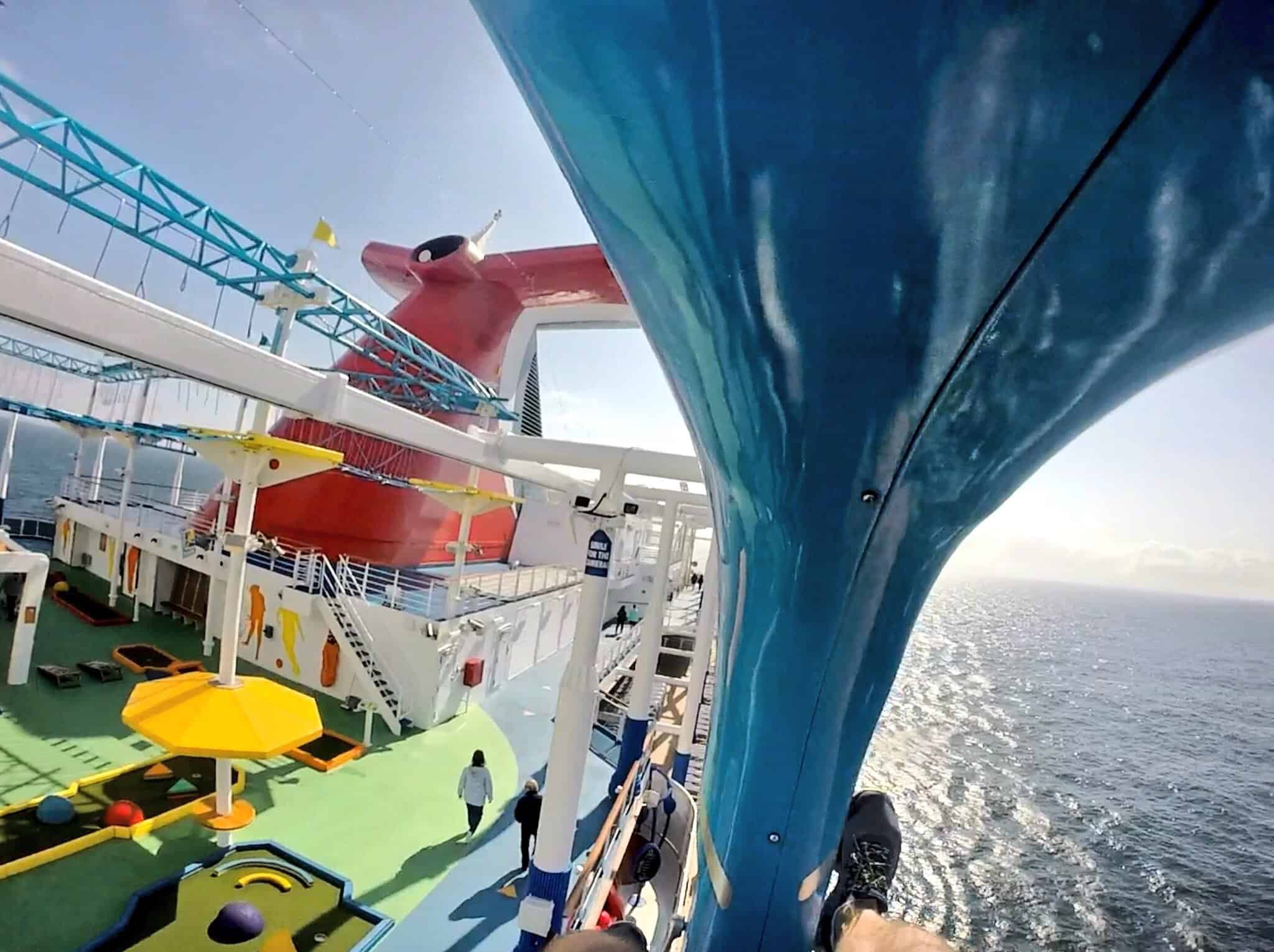 The indoor and outdoor entertainment options on Carnival Horizon are both solid. As on Vista, the sportsquare complex raises the bar – literally – thanks to the pedal-through-the-sky SkyRide.
Even if you want to keep your feet more firmly planted on the ground, there's tons to do here thanks to everything from ping-pong and foosball to Twister and a set of elliptical-style workout equipment that allow you to exercise while looking out over the ocean. (There is, of course, also a more standard gym inside.) 
Pool wise, the main pool on the Lido deck is, as you'd expect, where all the action is. This is where you'll find your hairy chest competition, Lip Sync Battle auditions and, of course, chair hogs.
This is also where you'll find a whole lot of families and children. Want something a little quieter? Head to the aft-facing Tides pool, where you'll find a nice selection of loungers, a bar, the Seafood Shack, and more. Finally, there's the Havana area pool… but we'll address that spot in a bit.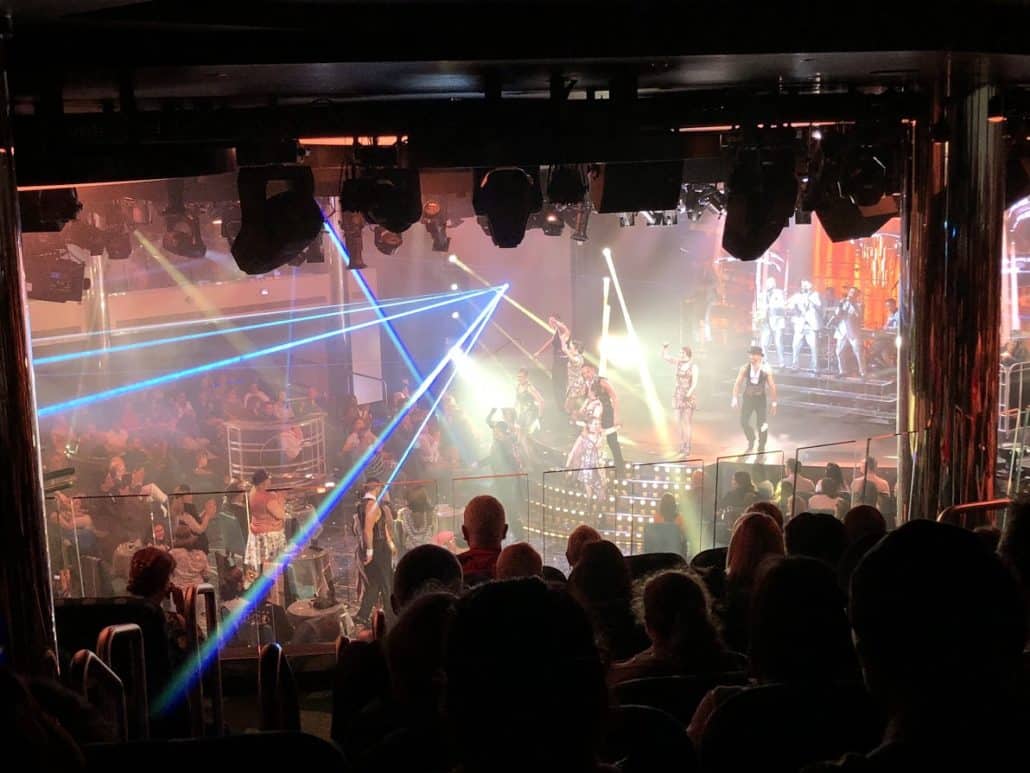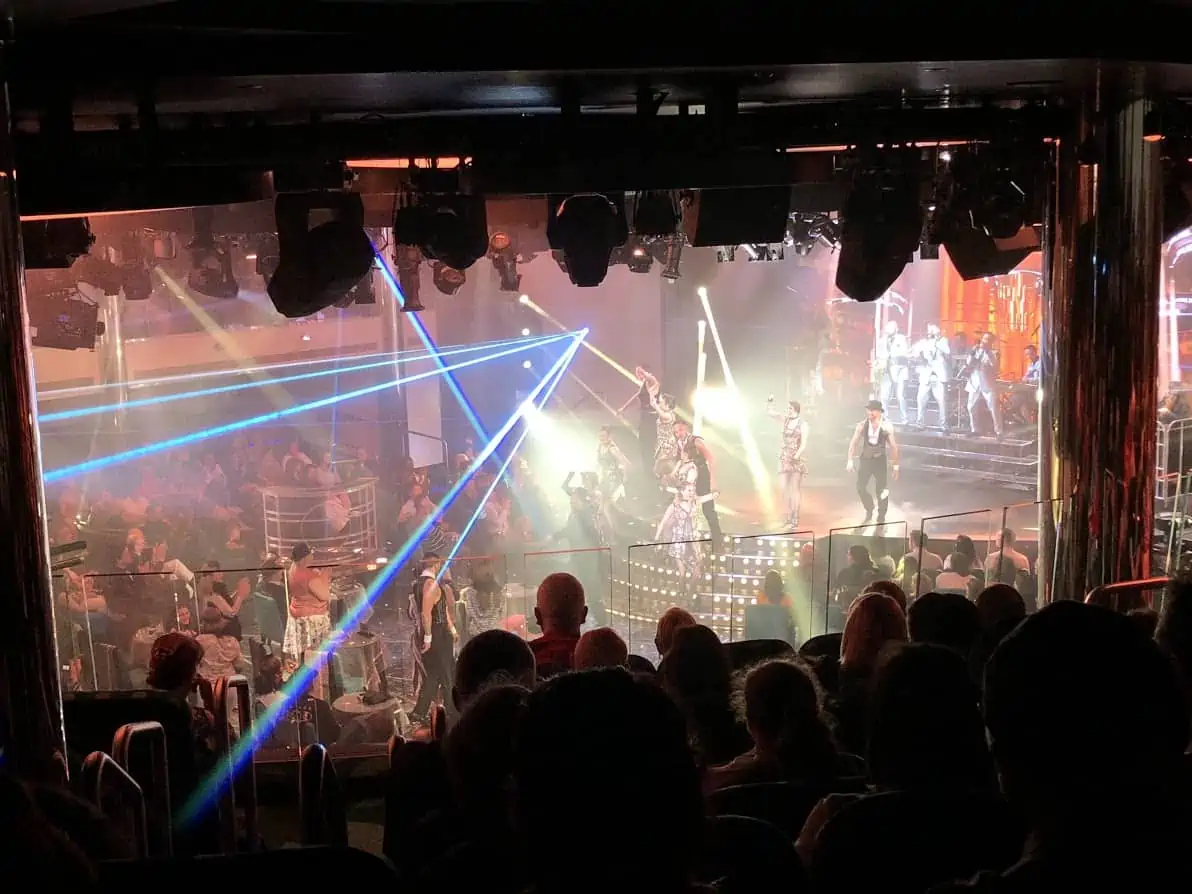 There are four Playlist Production shows featured aboard Carnival Horizon, three of which were rolled out specifically for this ship while a fourth, Cuban-inspired show was first introduced on the Vista. I won't lie: I'm not really all that big on shows, so I didn't see most of these.
However, a friend who has found Playlist Productions to be a little hit-and-miss absolutely raved about Celestial Strings, although he warned that this multi-media presentation is not for those who are expecting something soft and orchestral. "It's loud, and it's in your face," he said, presenting both as good things. "It's completely different than anything I've seen on any other cruise ship." 
Live music is literally everywhere on Horizon, especially after dark. Don't like what's being played at the Pig & Anchor? Wander over to Ocean Plaza.
That band taking a break? Hit the Havana Bar. (Be warned, however: The Havana Bar is not for those who want a quiet, relaxing evening… this is definitely a party spot, with people packing the dance floor, especially when there's a live band playing Latin music that gets the blood pumping.) 
Adults Only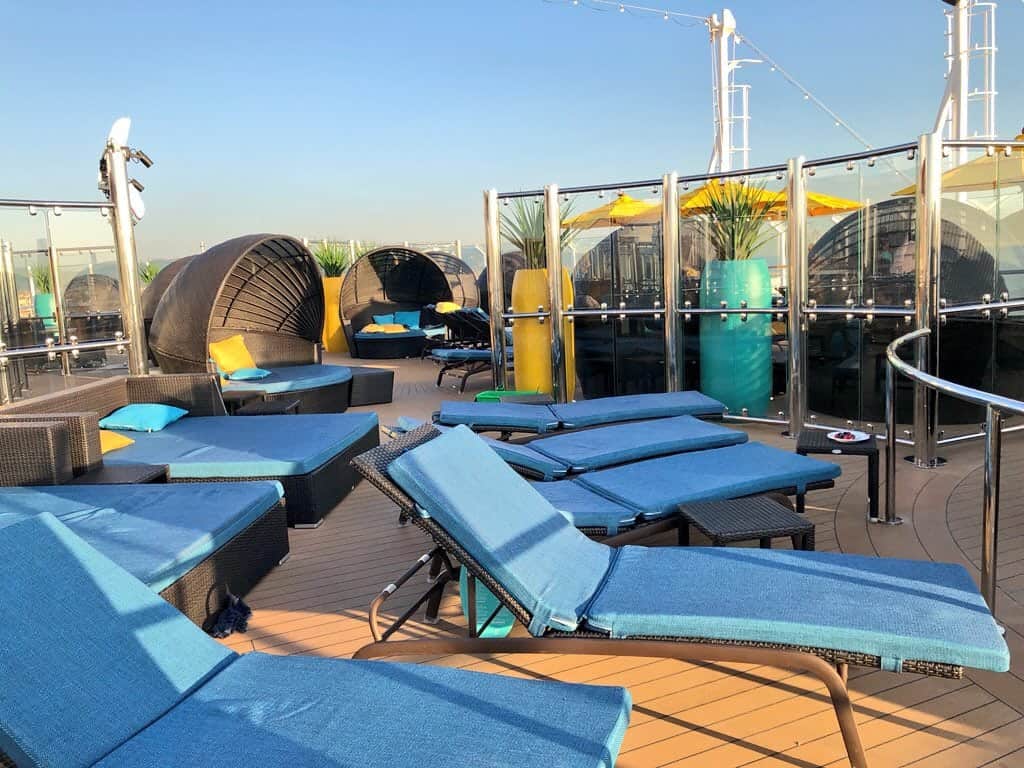 One of my favorite spots on Carnival ships is the Serenity Deck, which here is located on deck 14. Carnival loudly and proudly boasts that they cater to more families than any other cruise line, and that can become apparent sometimes around the pool area.
For those traveling without children – or looking to get away from their own for a bit – the Serenity Deck, which only allows access to passengers 21 and above, is a welcome oasis.
Because of its location at the front of the ship, it can get a bit windy sometimes, but a quick hop in the hot tub (there are two here) will take the chill out of you.
I never had a chance to sample the Fresh Creations salad bar (available complimentary here on sea days), but it looked pretty good and I heard several people rave (if only because they didn't have to leave the Serenity deck in order to get something to eat).
Havana Area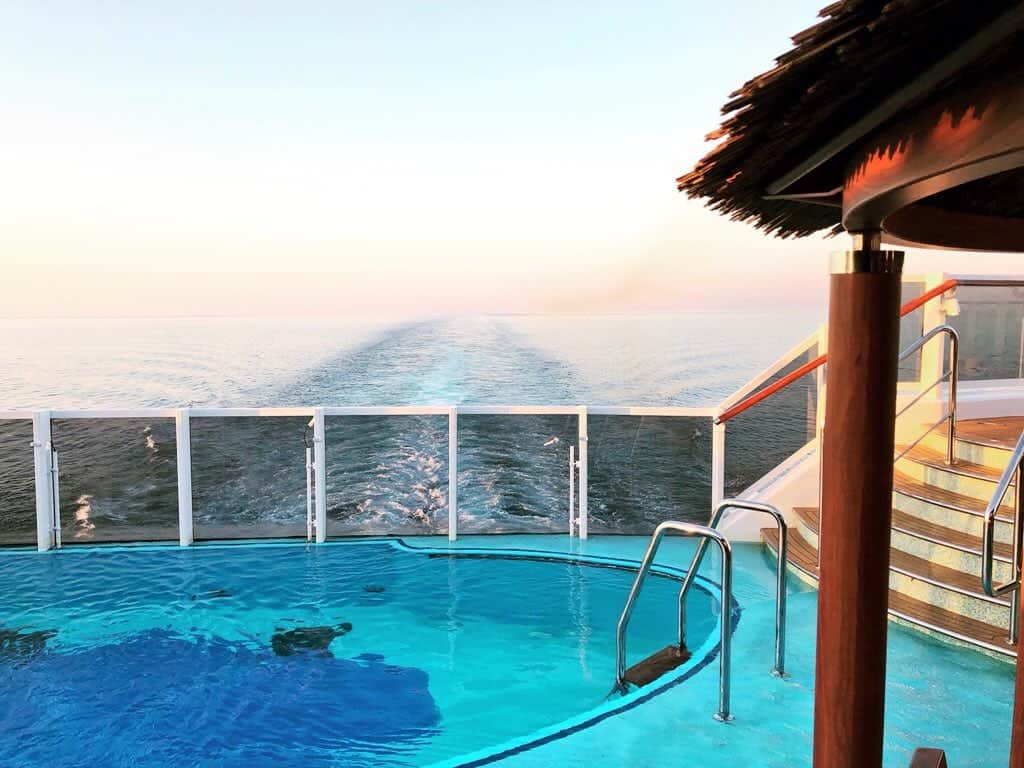 The Havana Retreat is the place to be… but unless you're staying in a Havana cabin you can't actually access it until after 7 p.m. They definite enforce the rules here, preventing anyone who shouldn't have access from getting in.
If your friends are staying in a Havana cabin, you can visit their stateroom, but you won't be allowed to go to the Havana Retreat until it opens up to everyone.
For those who do have access, this is a lot like the Serenity Deck, but with fewer people. At night, this area is absolutely beautiful… especially if you grab a cocktail and jump in one of the aft-facing hot tubs.
Because this area is connected to the Havana bar, where, as I mentioned before, they usually have music and dancing, it's not always the most peaceful space. But the beats of the music drifting out as you soak your feet in the pool or enjoy a cocktail somehow seem to make the area even more magical.
And if you really want to escape, simply walk to either side of the Havana area, where you'll find comfy daybeds which are pretty well-removed from the hustle and bustle.
Kids Area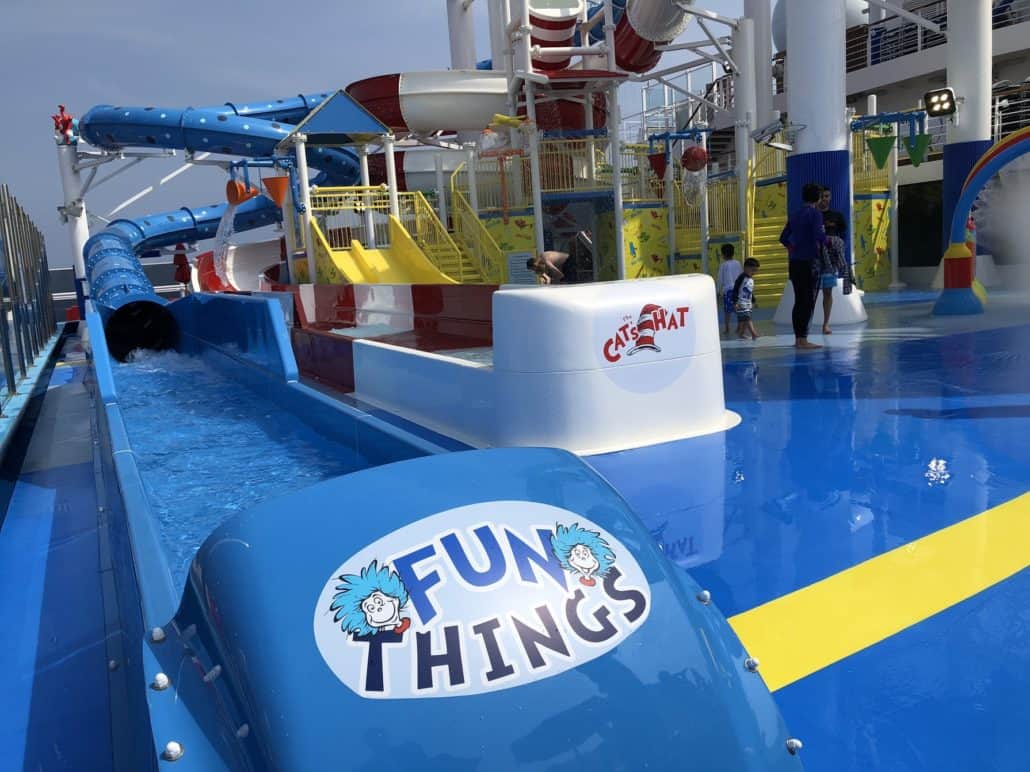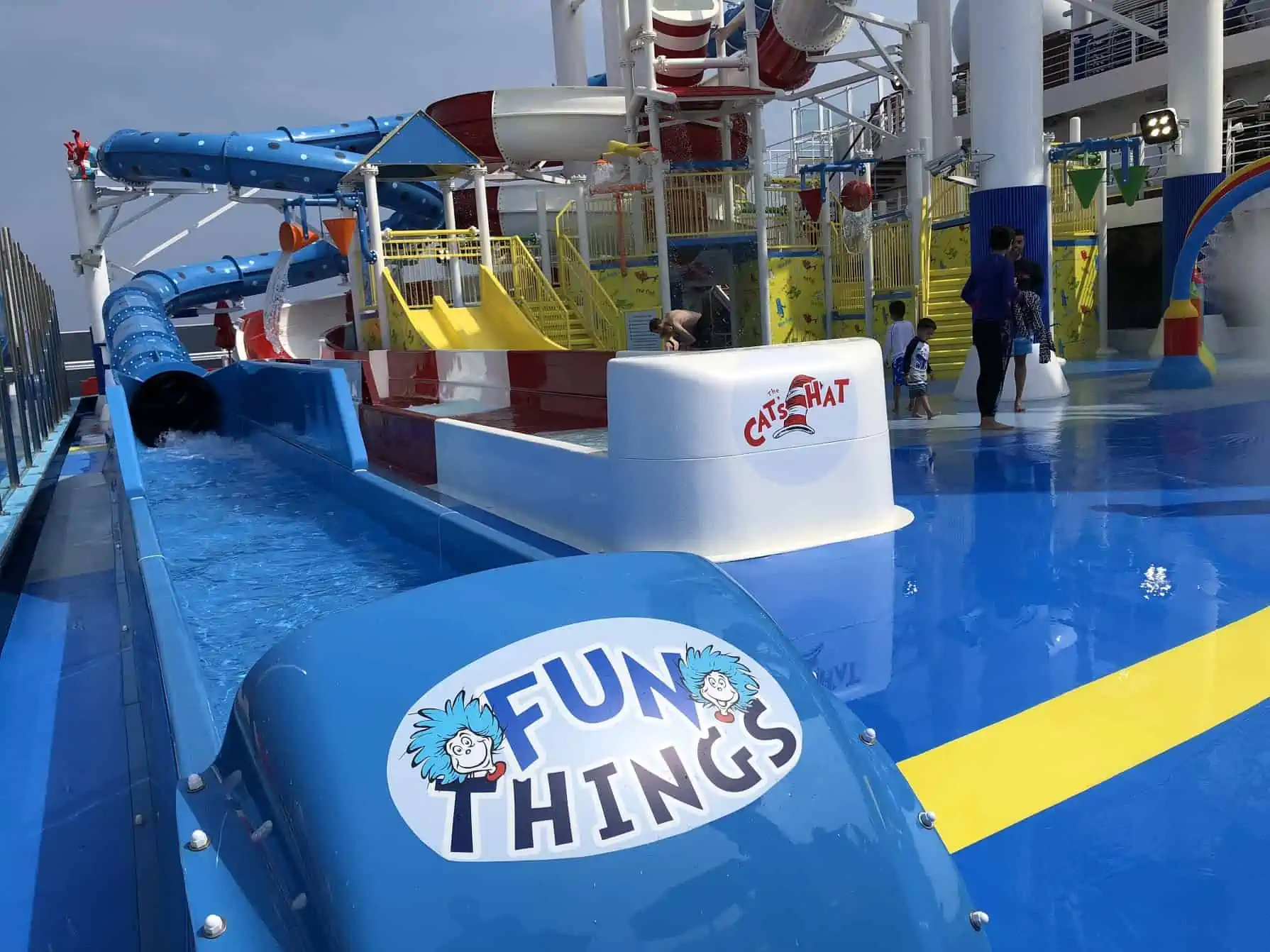 Carnival Horizon has the popular kids programs you'll find on all of Carnival's ships (Camp Ocean for kids ages 2 to 11, Circle C for ages 12 to 14, and Club O2 for teens aged 15 to 17). I can't really comment much on what these programs have to offer, given that I don't happen to have kids.
But as I mentioned before, Carnival does carry more families than any other cruise line, so they must be doing something right.
I will say that the Dr. Seuss Waterworks is fun for kids of all ages… meaning I saw a lot of actual children enjoying it, and so did I. While I'm not really sure I get the appeal of standing under a ginormous Cat In
The Hat bucket, waiting for it to fill with water and overturn, the water slides were a heck of a lot of fun. But if you want to avoid lines, hit these when first they open or during the late afternoon.
Better still, if you happen to be staying on board while the ship is in a popular port, you can pretty much have the area to yourself.
Connectivity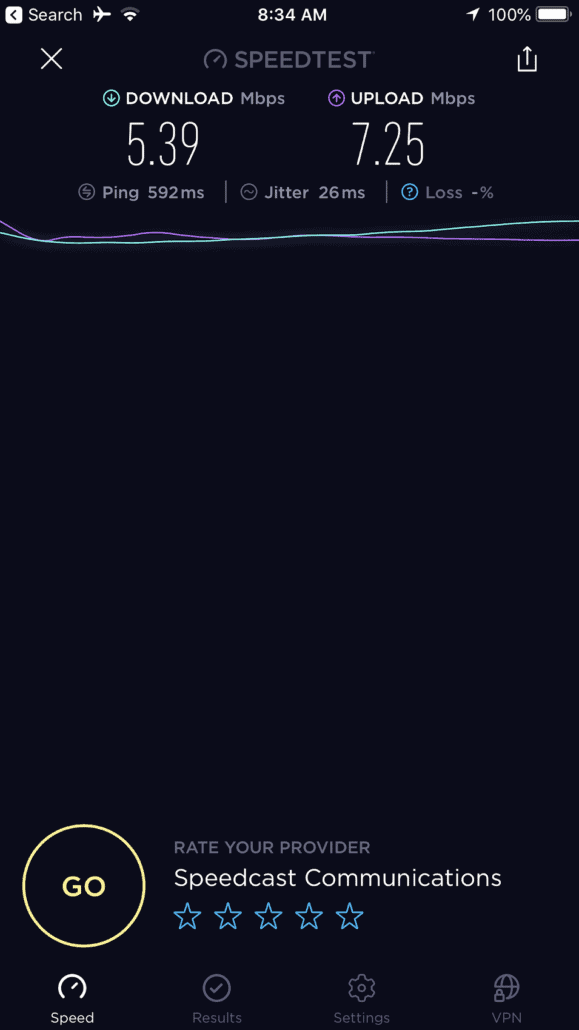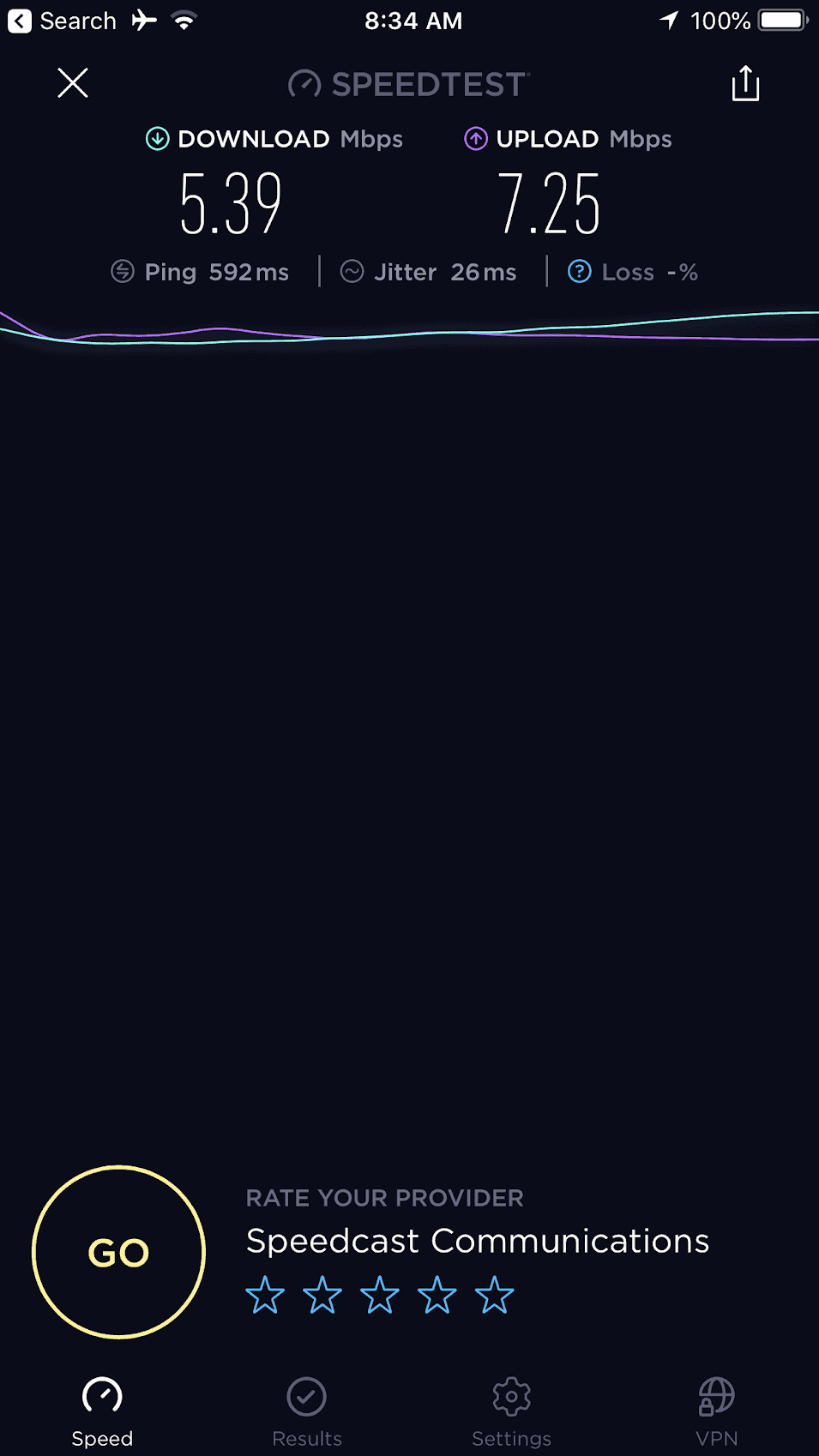 As much as people say they want to "get away from it all" during their cruise, cruise lines know perfectly well that what we really mean is that we want to "get away from it all while remaining connected to the internet at all times."
Carnival also wisely realized a while back that people who are connected to the internet do a whole lot of posting about their cruise on social media, which is basically free publicity. As a result, they offer a variety of internet packages, including one which runs only $4 a day and is specifically designed for social media users.
The midrange plan runs $10.25 per day, while the Premium plan weighs in at $14.88. Price wise, these plans are significantly cheaper than you'll find on some of Carnival's rivals. Speed wise, I found it to be pretty decent… although during peak usage times the system can be a little slow.
Read More: 11 Reasons to Download the Carnival Hub App
For a one-time charge of $5 for the entire cruise, you can also connect with the rest of your travel party via the Carnival Hub app.
The app also lets you view a digital version of the daily planner, check your account balance, make dining reservations, view your photos, reserve shore excursions, and send alerts to yourself when certain events are happening (these functions of the app are free, you only have to pay $5 for the chat feature).
Listen to our review of Carnival Horizon:
Video Tour of Carnival Horizon

Want more details about Carnival Horizon? Check out our 10-part series.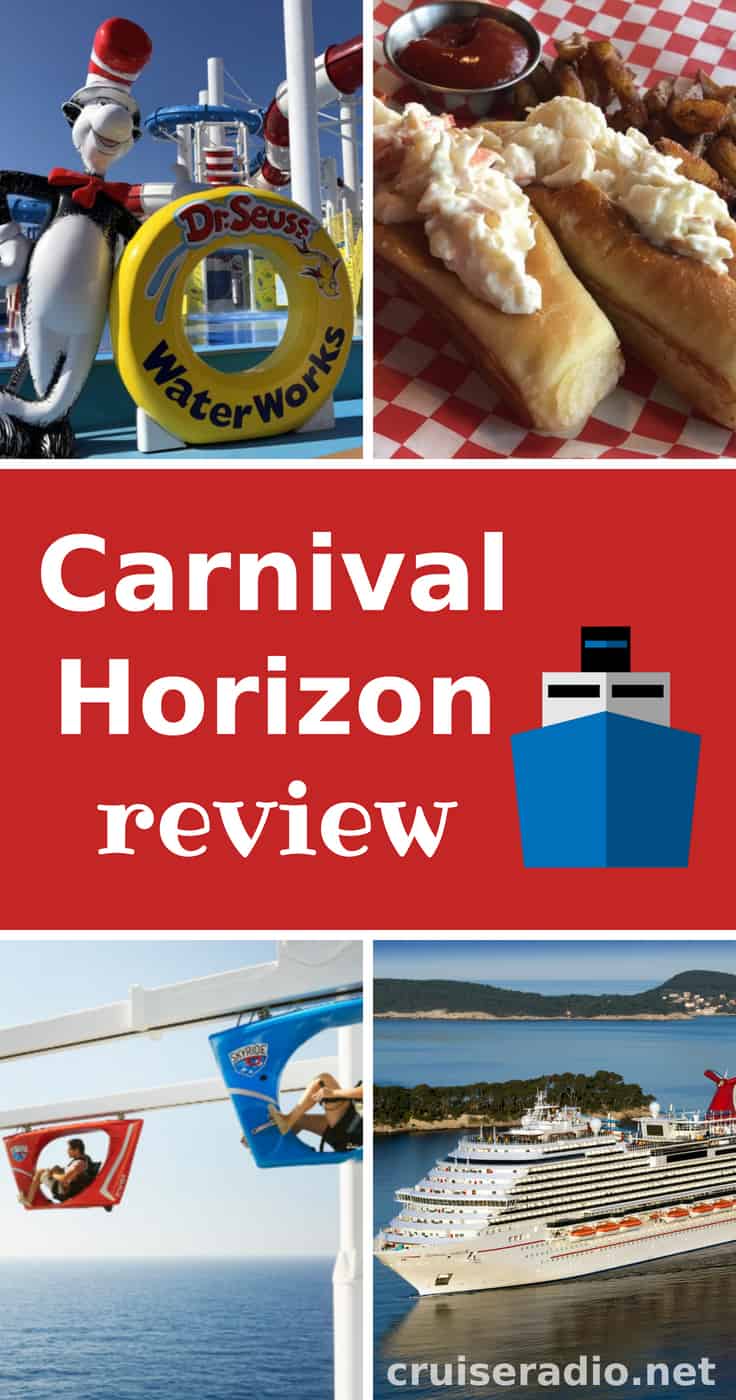 Featured photo by Andy Newman/Carnival Cruise Line
SaveSave
SaveSave
SaveSave