If you've found your way here, odds are that you've either booked a cruise on board the Carnival Vista (in which case, congratulations!) or are considering doing so. We're big believers that two important elements to enjoying a cruise vacation are making sure you're on the right ship for you, and — once you've found that ship — knowing as much about it as possible before boarding. The last thing you want to do is find out after you've already disembarked about a restaurant you wish you'd tried or a quiet spot that would have been the perfect place to curl up with a book. (Then again, finding out after the fact just gives you a great reason to take the ship for another spin.)
So whether you've already booked a cruise on the Carnival Vista or are simply considering doing so, we're going to offer you up basic facts, fun tidbits and even a few secrets that will help make you an expert on this amazing ship!
Just The Facts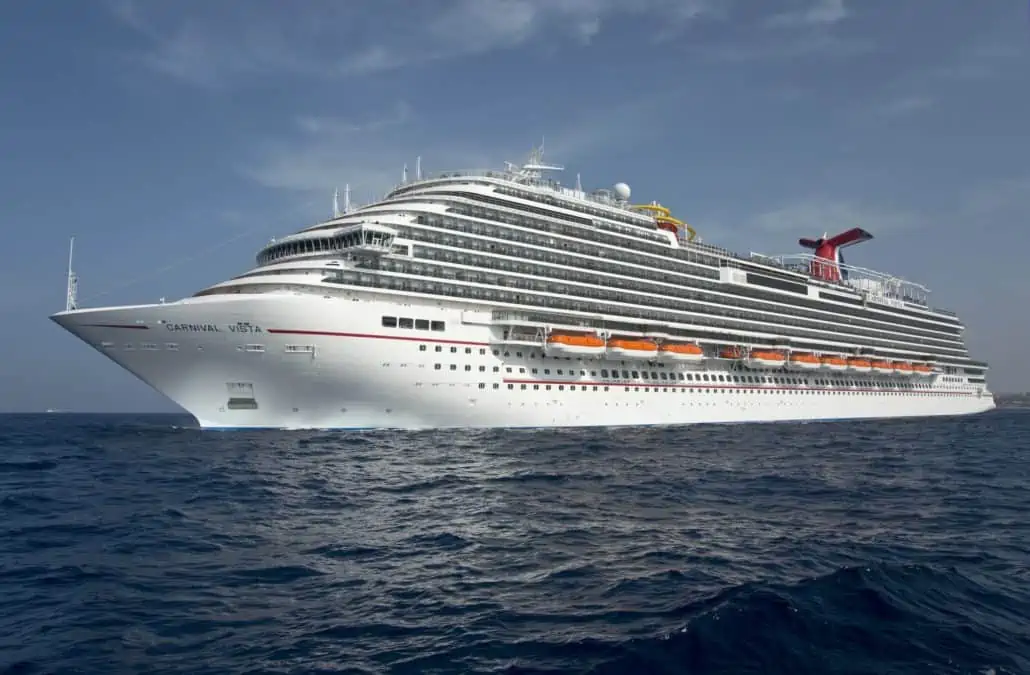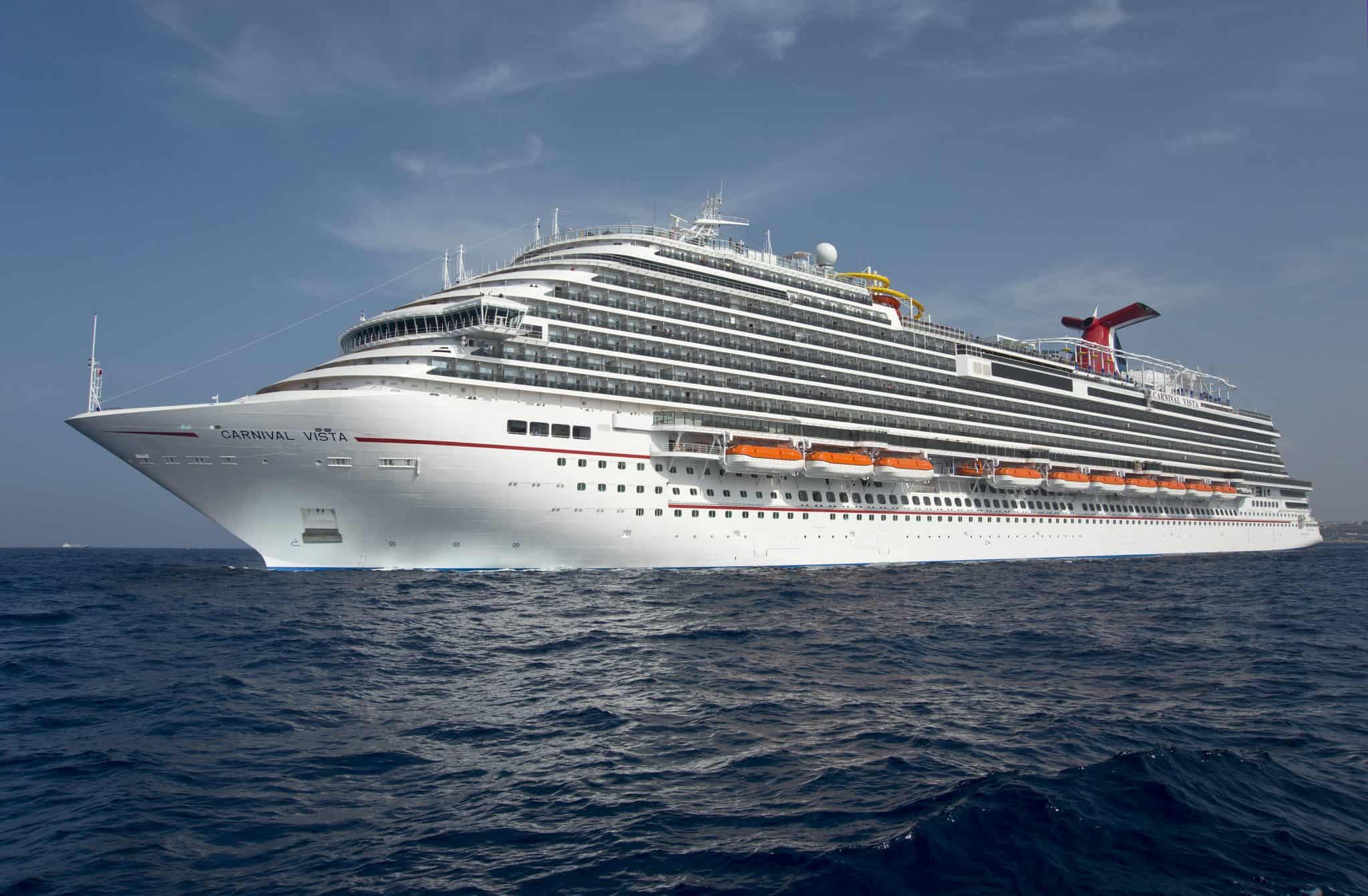 Her First Voyage: The Vista's maiden voyage was on May 1, 2016.
Number Of Passengers: Vista can carry just under 5,000 guests.
Her Stats: While it's never polite to ask a lady such things, Vista weighs in at 133,500 Gross Tons. She's 1,055 feet long and 15 decks high.
Vista's Godmother: Deshauna Barger, the first woman to serve in the U.S. military and be crowned Miss USA.
What Makes This Ship Special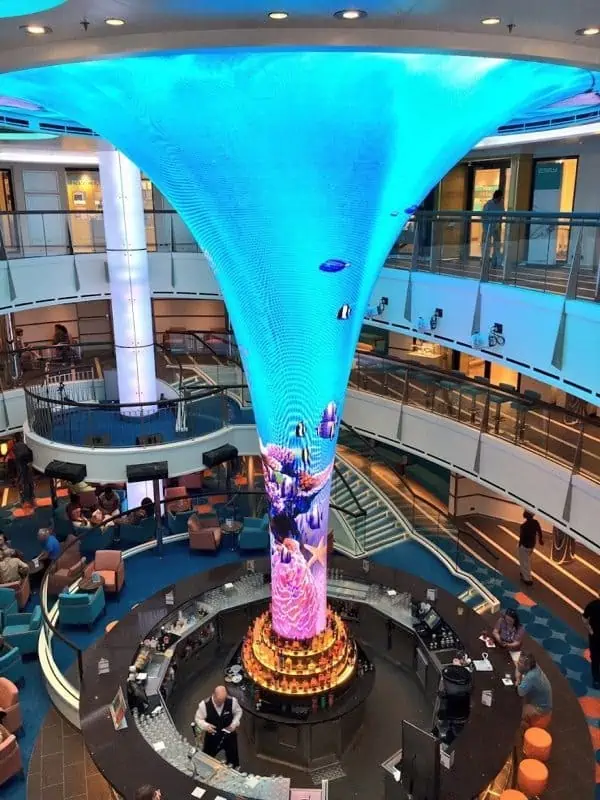 We know that there are people out there who think all cruise ships are the same. Those people are called idiots (at least in polite society), as even sister ships have their own quirks, features and identities in much the same way that even identical twins aren't really exactly the same. So what sets the Carnival Vista apart?
The SkyRide. As you approach the ship, you can't help but notice those high-in-the-air tracks. This was the first ship to offer passengers a chance to pedal their way through the air on dueling suspended bikes.
Havana Cabana Suites. This unique category of staterooms features a large patio on which guests can not only soak up the sun on comfy loungers, but also enjoy their own private swing!
The Havana Pool. During the day, this plush area is exclusively available to guests staying in the designated Havana cabins. At night, all are welcome as it morphs into one of the best party spots on a ship with more than a few of them.
The Dreamscape Funnels. These massive LED screens resemble nothing so much as a tornado, and the constantly changing images displayed upon them prove a mesmerizing distraction. While the one which anchors the atrium area is the most photographed, there's a second in the casino which is almost more impressive as the darker atmosphere allows it to "pop" all the more.
Let's Talk Food
If you're like us, one of the things that immediately comes to mind when you think about cruising is food. What restaurants are on board and, just as important to some, which are free? Carnival Vista offers a wide variety of food options ranging from the typical buffet fare to specialty restaurants which generally charge a flat per-person fee. For additional information on any of the restaurants listed below, simply click on the provided links.
Complimentary Dining Options 
Pizza
Lido Deck Marketplace (Buffet)
JiJi Asian Kitchen (Lunch)
Specialty Restaurants 
Cucina del Capitano (Dinner)
Bonsai Sushi
SkyBox Sports Bar snacks
Nightlife On The Carnival Vista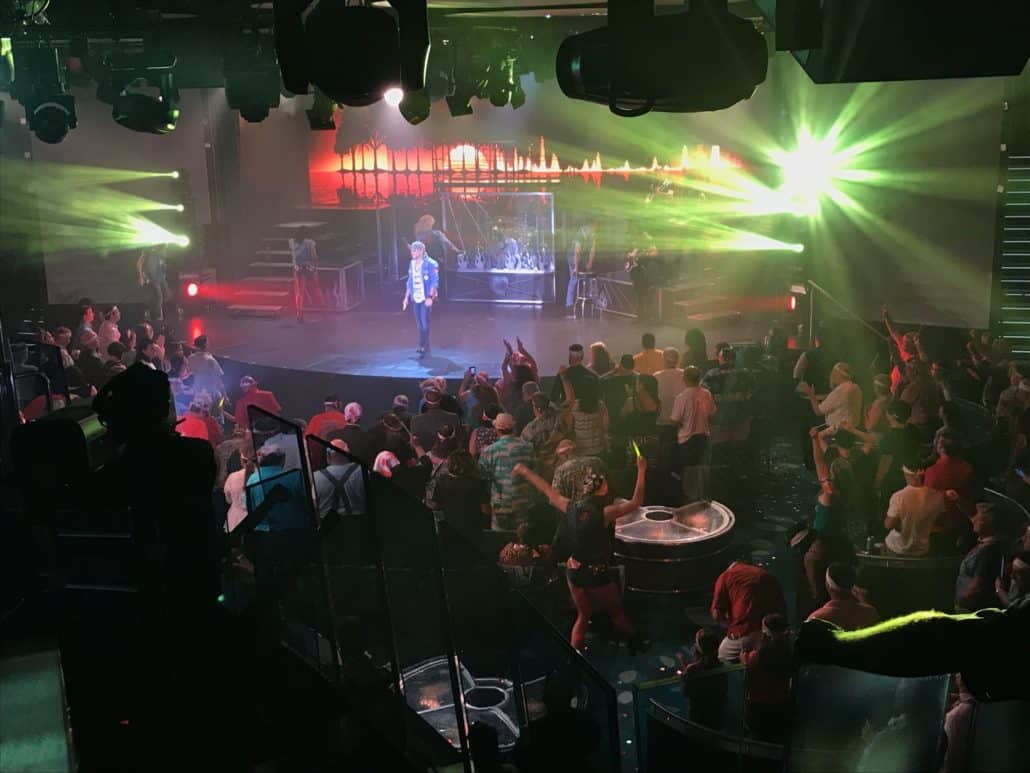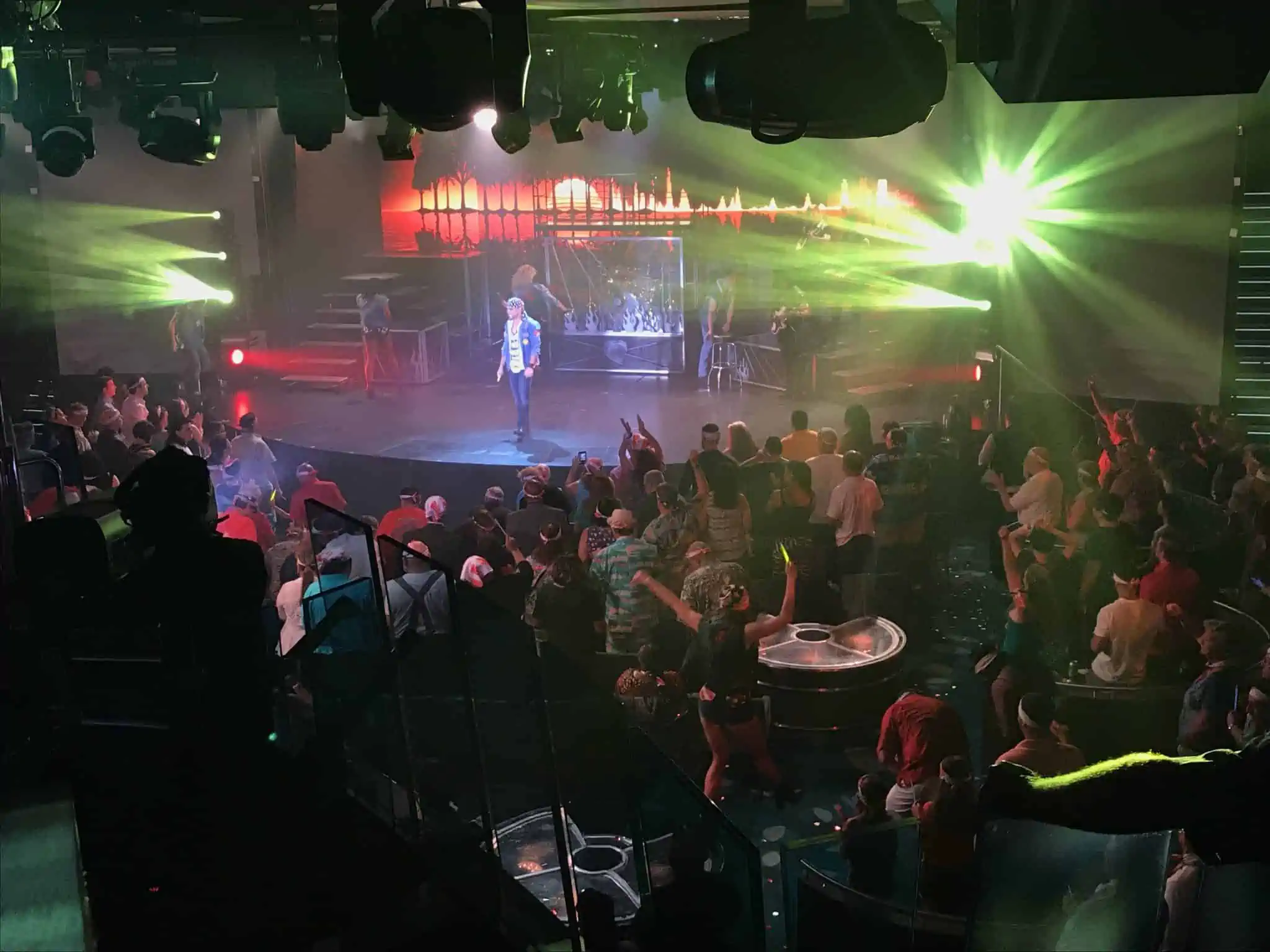 Carnival Vista offers a wide variety of after-dark options, ranging from full-fledged production shows to live performances in numerous bars and, of course, dancing the night away. You'd expect nothing less from a line which proudly proclaims its fleet to be Fun Ships, and the nightlife definitely does not disappoint on Carnival Vista.
The big productions shows, put on by Playlist Productions, are held in the main theater, also known as the Liquid Lounge. While there's plenty of seating in the theater, you'll want to arrive early, because the design of the space isn't ideal, and there are many seats with obstructed views. Ever since Vista first launched, this has been one of the most-voiced complaints among passengers, and it's not exactly the kind of thing that can easily be remedied… so consider yourself warned.
Another popular venue is the Limelight Lounge on deck four, which is home to the Punchliner Comedy Club. As on most ships, the comedy here tends to come in two flavors: Family-friendly and, later in the evening, adult's only. While not all of the late-night comedians work blue, be warned that some take the adult's only thing pretty seriously. Those who are easily offended should definitely stick to the earlier shows. We also offer up the same warning/advice with this venue that we did the Liquid Lounge: Arrive early to get good seats and avoid craning your neck to see around a pole.
After the final shows of the night, the Limelight Lounge transforms into the ship's nightclub… although it's far from the only spot you'll find people partying! As DJ's spin hits in this lounge, live music can be found at various venues, including Ocean Plaza, the RedFrog Pub and the Havana Bar, all of which are located on deck five. You can also head to the atrium, where you'll often find performers putting on a show from a staging area just above the central bar.
Popular Places To Grab A drink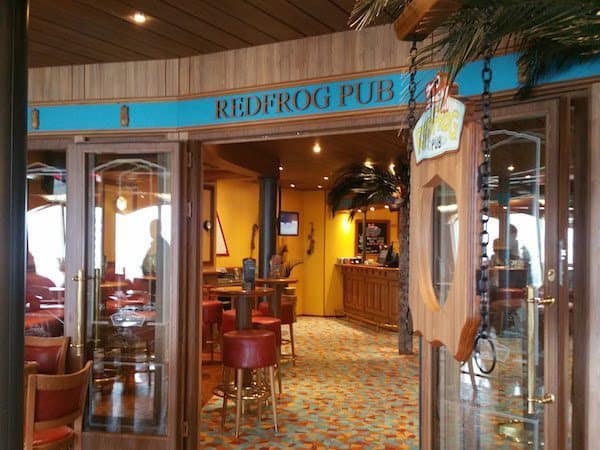 While we focused above on the hottest nighttime spots, there are plenty of places around the Carnival Vista to grab a drink, day or night. Keep an eye on the daily Fun Times newsletter, because it'll keep you informed as to what's going on where… and that includes when live musicians will be playing in one of the bars or by the pool. So let's wander around and take in some of our favorite places to chillax, shall we?
The Atrium Bar is located on deck three, and it's the first bar you'll see when you board the ship. (As a result, it'll also be ridiculously crowded when you board, as a lot of folks tend to gravitate toward the first source of alcohol they see in order to get their vacation off on the right foot!) There's limited seating at the actual bar itself, but plenty couches and chairs on which to lounge in the immediate area. Get comfy, because you'll probably find yourself hypnotized by the three-story LED Dreamscape.
The Casino Bar is located on deck four in the casino and features a miniature version of the LED Dreamscape. This is definitely not the place to go if you're a non-smoker, as it's one of the spaces on board the ship where those who puff are permitted to do so.
The wildly popular RedFrog Pub and Brewery is located on deck five midship and has both inside and outside seating available. You'll find pub-style food here for $3.33 per order, along with Caribbean Rums and beers brewed onboard.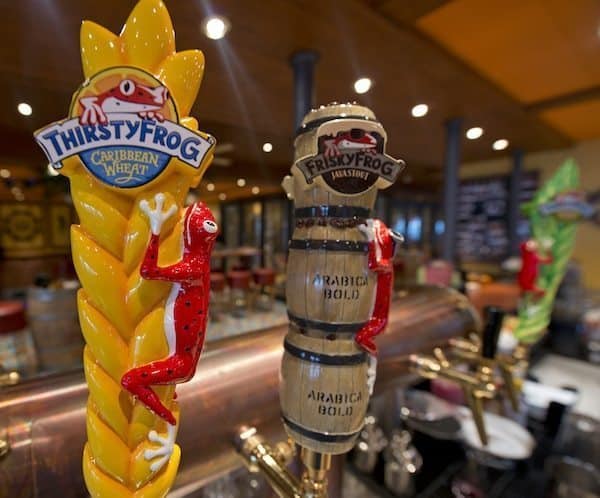 Hanging by the pool and feeling the need for a refreshing cocktail? The RedFrog Rum Bar and BlueIguana Tequila Bar are both conveniently nearby. While there is seating at both, there's not a lot and they are popular spots. Best to grab a drink and wander… or take it back to your lounger by the pool.
Serenity Bar is located inside the adults-only Serenity area on the upper deck in front of the ship. The bar also sets out a cooler of water so you don't dehydrate while sitting in the sun all day.
Our favorite spot to grab a pre-dinner drink? Without doubt, that would be the Alchemy Bar. Here, lab-coat-wearing mixologists whip up the cure for what ails you. Not sure what you're in the mood for? Tell them what you like, and they'll create a cocktail specifically tailored to your preferences! Careful, though: These tasty tonics pack a punch!
Outdoor Fun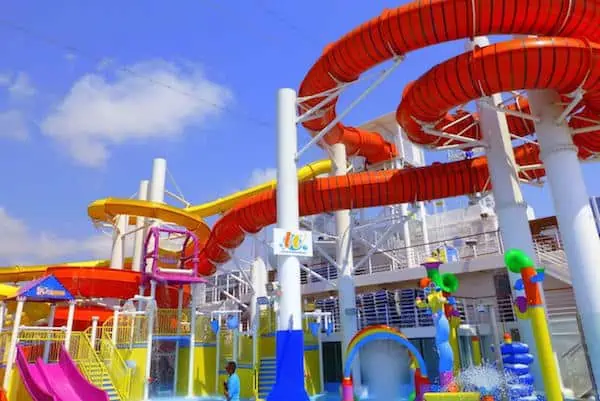 If you're a guest booked in the Havana Suites, you'll have exclusive daytime access to the Havana Retreat, which features two hot tubs, a pool and tons of comfy lounging options, both in and out of the sun. If you're not staying in a Havana cabin, it opens to the general public at 7 p.m.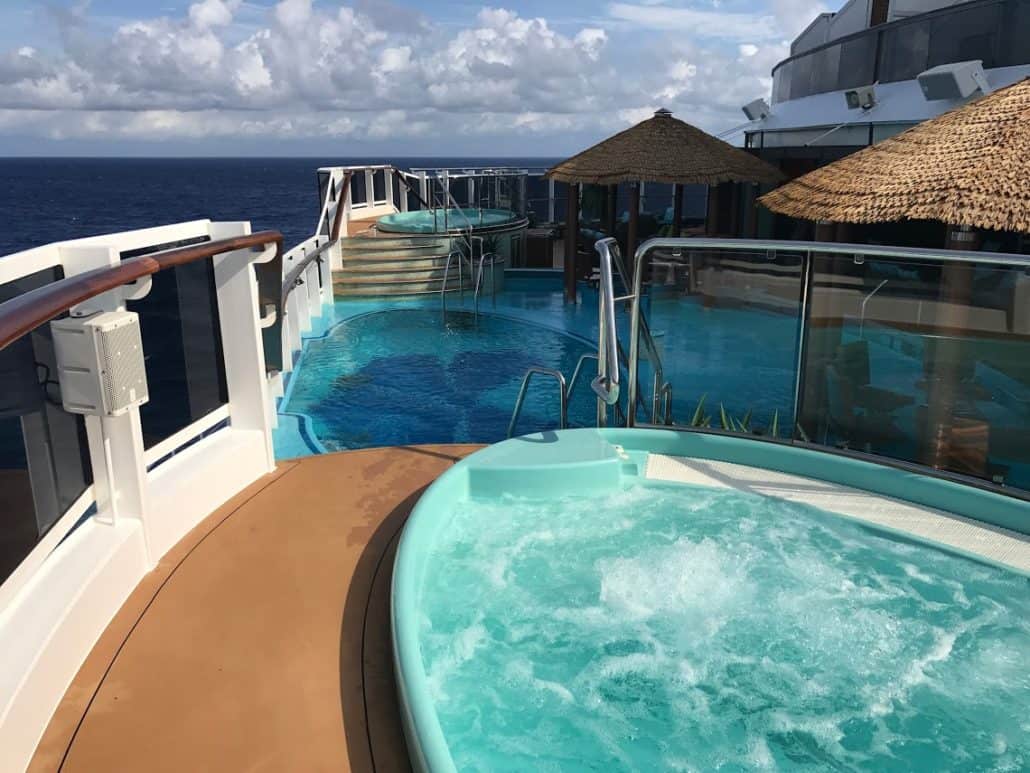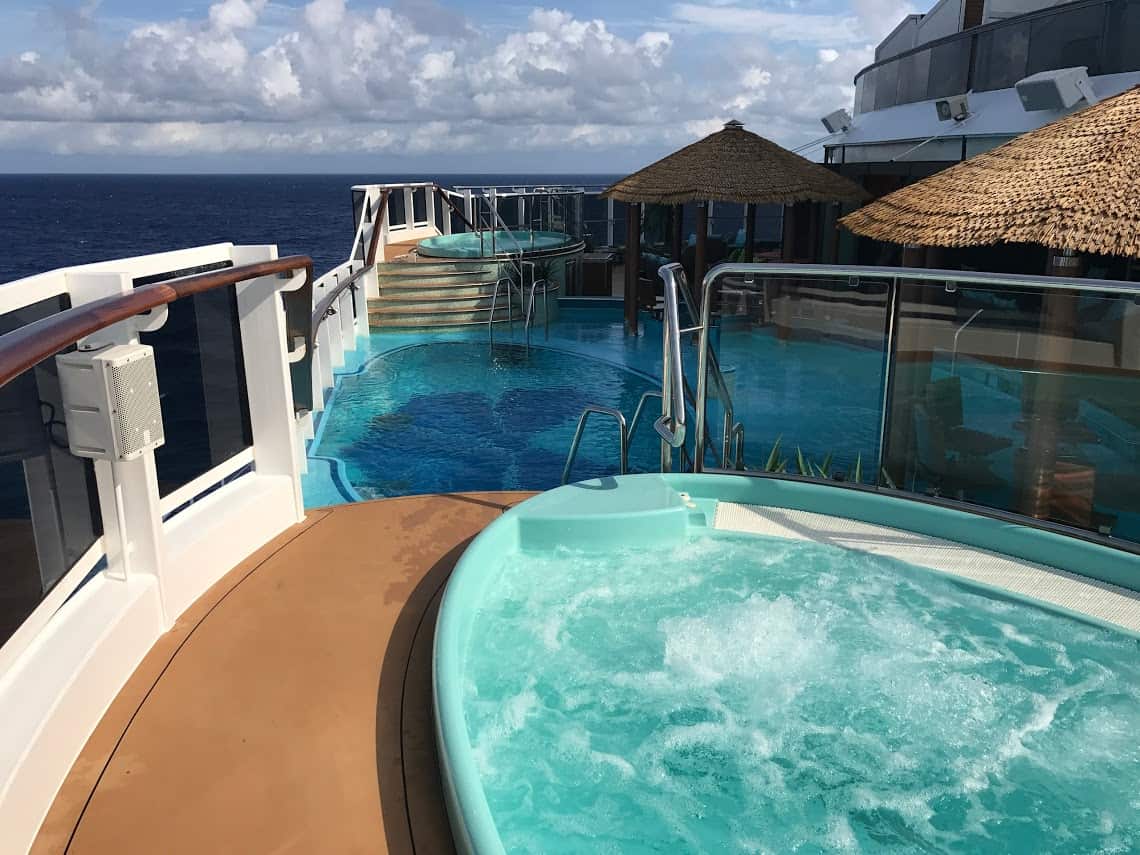 The SkyRide mixes a cycling workout with a thrill ride as you pedal your way around the cruise ship high above the water.
The SkyCourse is Carnival Vista's ropes course, which forms a rectangle around the sports deck area. There are both easy and difficult options, and they are side-by-side which makes it great for pairs in which one person is a tad more daring than the other! You each get to stick with your comfort level while being able to do the course together. Below, the sports deck offers miniature golf, shuffleboard, a unique set of work-out equipment known as the SkyFitness center and tables of the ping-pong, foosball and pool varieties.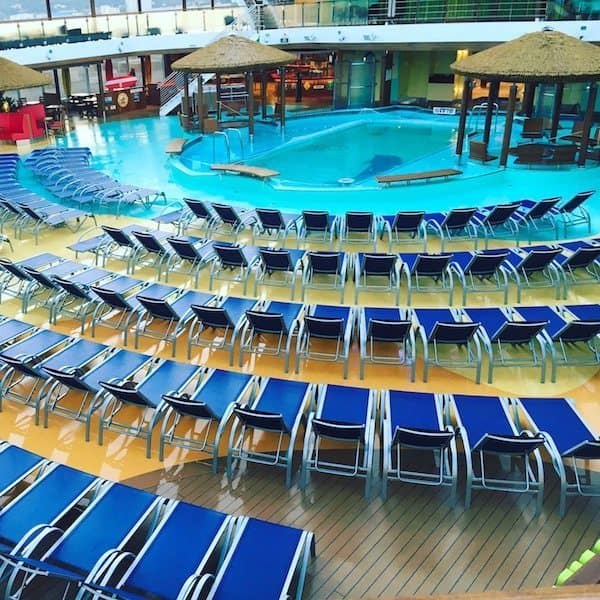 Pool wise, there are two located on the lido deck. One is located midship, and the other is on the back of the ship. While the midship pool does not have hot tubs, there are two located near the rear pool, with one on either side. The adult's only Serenity area also has two hot tubs. You can get towels from one of two huts, but make sure to return them, because not doing so will cost you $25. On the other hand, if you wanted to buy a new towel, well, there ya go.
Kids Programs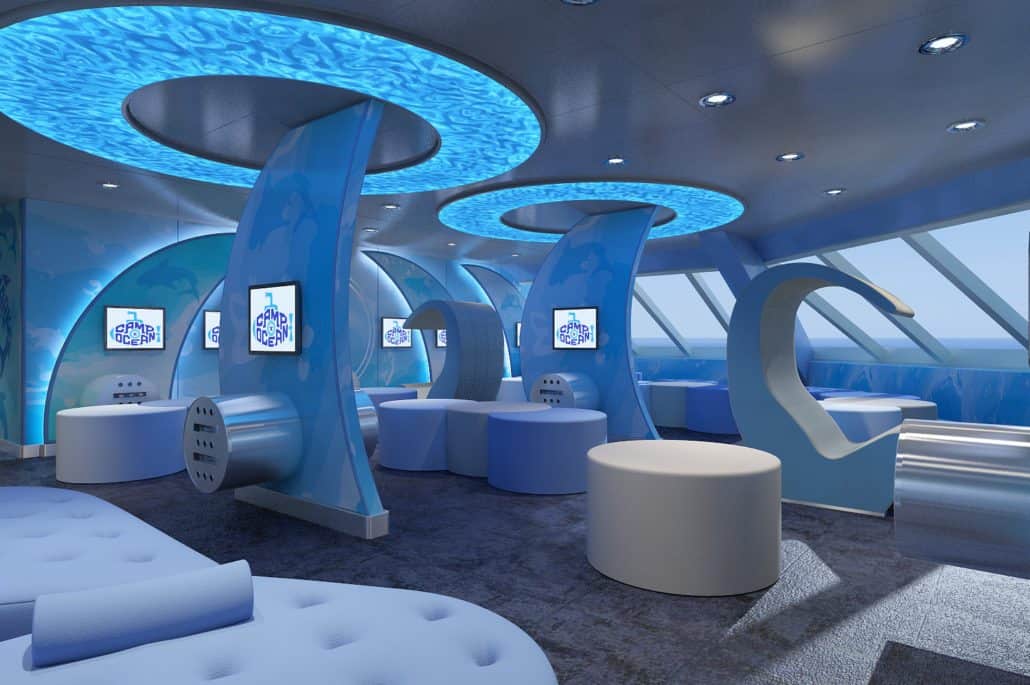 Carnival Vista's Camp Ocean program is for kids ages 2-11 and has a wide variety of fun, marine-themed activities to keep the little ones busy. Teens ages 12-14 will enjoy hanging out with their peers at Circle C, while Club O2 is a space specifically reserved for the 15-17 year old crowds. Each of these groups not only gives kids a chance to learn new things, but they serve as great opportunities for them to increase socialization skills. While it's not for every child, many parents swear that their kids beg to spend as much time in the kid's clubs as possible!
Parent who want to have a romantic evening without their beloved offspring are able to take advantage of the Night Owls babysitting program offered by Carnival. Available from 10 p.m. to 1 a.m., the service does come at a fee (as of this writing, $6.75 per hour, per child), which is charged to your sail-and-sign card.
Quiet Areas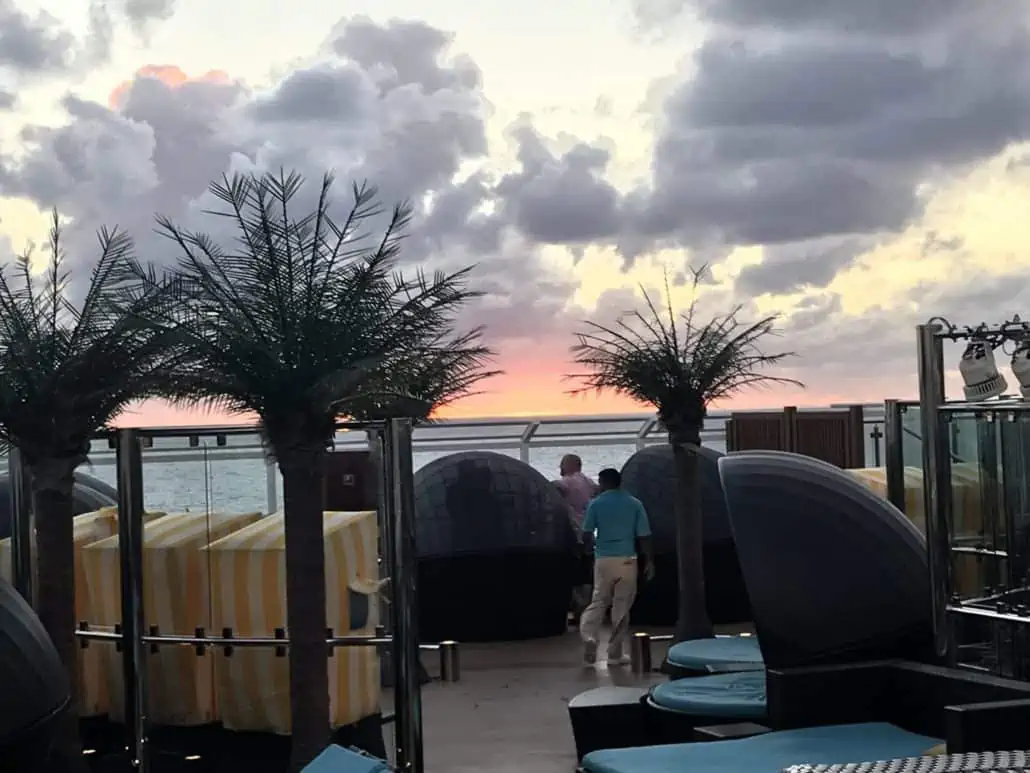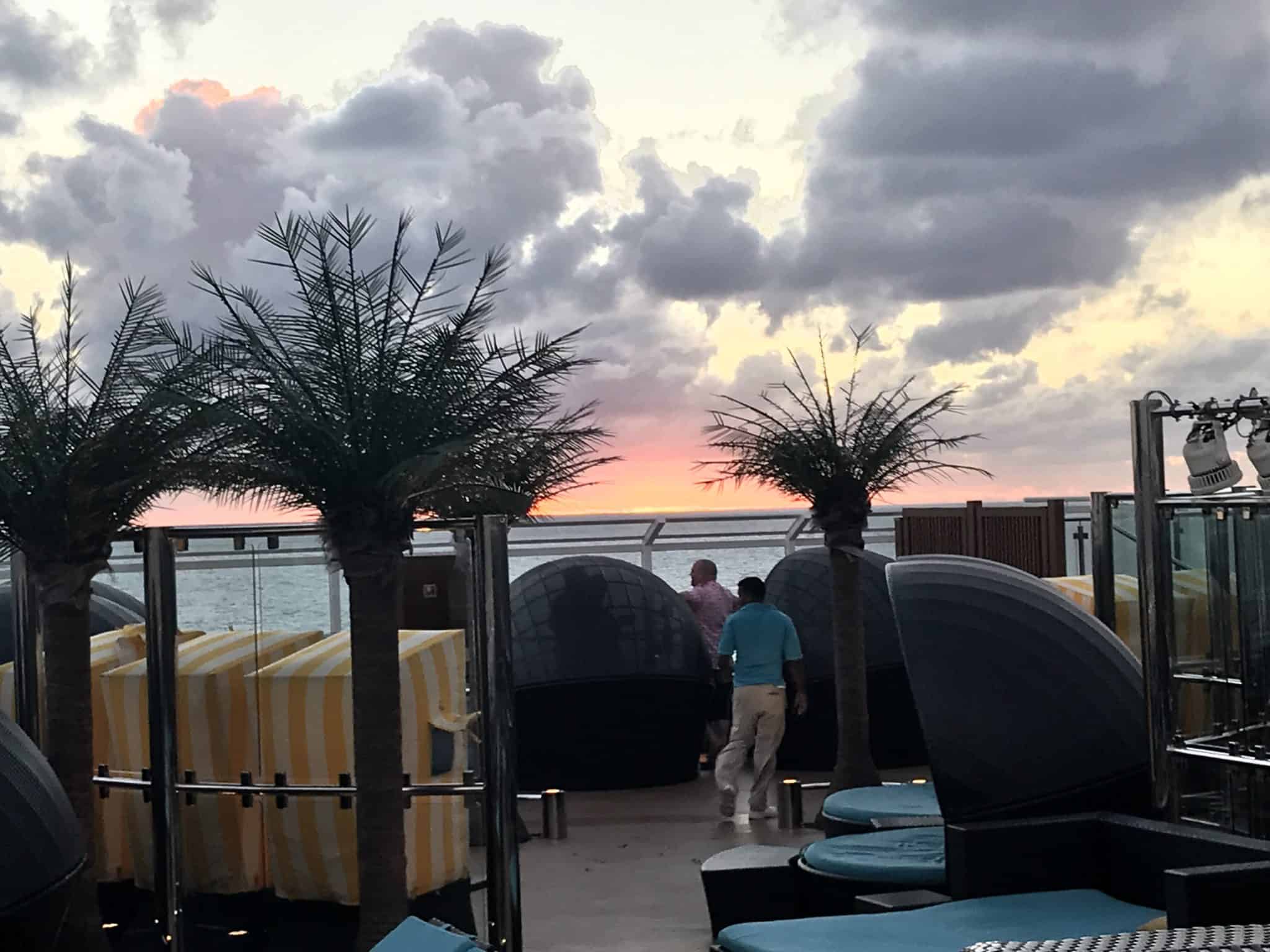 As previously mentioned, the hot spot for adults looking to get away from it all is the Serenity area on deck 15. Not only will you find a variety of loungers and hammocks and a full-service bar, but there's even a fantastic, complimentary venue called Fresh Creations, a make-it-yourself salad bar available on sea days.
Some of the best quiet areas can be found simply by wandering the ship. Many of the venues which come to life at night prove to be almost abandoned during the daytime, making them the perfect place to curl up with a book… even if your real intention is to nap!
Deck five wraps around the entire ship and seemed, at least in our experience, quiet for the most part. Areas to avoid are the starboard side between 12-3, because Guy's Pig and Anchor BBQ is open so it gets a little cramped. Opposite of Guy's on the port side is the RedFrog Pub; depending on when you go out there, it can get pretty loud… especially if there's a rousing game of corn hole going on.