Last Tuesday, American Cruise Lines proudly announced that American Eagle completed sea trials. As its first Coastal Cat vessel, it has a smaller capacity of only 100 passengers and was designed to cater to US destinations exclusively.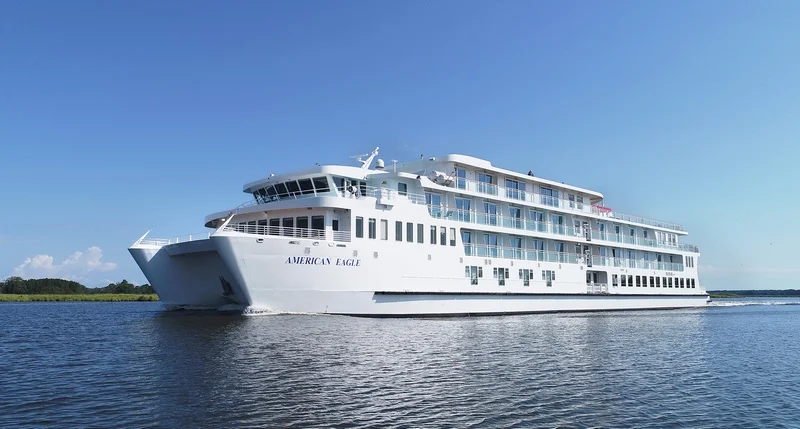 Constructed by Chesapeake shipbuilding in Salisbury, Maryland, the ship is now going to Massachusetts to welcome its first guests. After it leaves for its maiden voyage on August 14, American Eagle will sail towards East Coast destinations for an eight-day Cape Codder itinerary.
Named after the company's inaugural vessel in 1972, American Eagle is the first of 12 Coastal Cats commissioned by the Connecticut-based cruise operator. According to American Cruise Line, it offers a blend of luxurious river cruising and expedition-style adventure.
Charles B. Robertson, President and CEO of American Cruise Lines, expressed his enthusiasm for the new addition. He stated, "American Eagle embodies our continued commitment to building new small ships to explore America's rivers and coasts. It is the flagship in American Cruise Lines' new series of small Coastal Cats, unlike anything else available in the U.S. market. American Eagle and her sister ships will change the landscape of possibilities for small ship adventures around the USA."
The American Eagle, with its four decks and catamaran-style bow, features private balcony accommodations, single and double-occupancy staterooms, and suites. Passengers can enjoy amenities like comfortable lounges, a top deck with expansive views, a main dining restaurant, a fitness center, and a café. The same shipbuilder is already making the following four vessels. American Glory will be ready by November this year, while American Liberty is scheduled to be completed by spring of next year, followed by American Legend. The fourth ship has not been named, and the delivery date hasn't been disclosed.