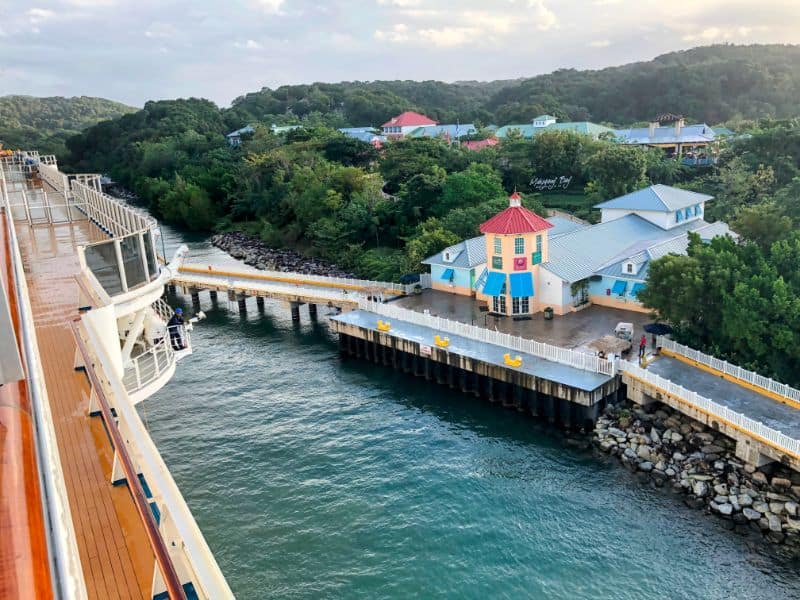 Located on Isla Roatan off the coast of Honduras, Mahogany Bay is the country's largest and most popular cruise ship port, accommodating up to two ships at a time and hosting upwards of a million annual guests who relax on its beautiful beaches and snorkel in crystal-clear waters.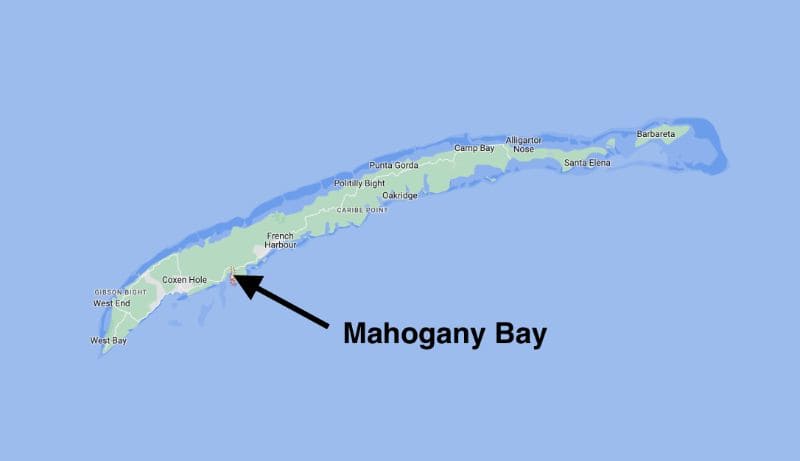 Isla Roatan is part of the cruise industry's recent initiative to own and operate its own Caribbean and Bahamian cruise facilities to provide guests with a high-quality experience ashore while having more control of the destination.
Isla Roatan is managed by Carnival Corporation, which invested $80 million to build the 20-acre Mahogany Bay Cruise Center, which opened in 2011.
One of the main attractions at the Mahogany Bay Cruise Port is an 800-foot-long private white-sand beach offering all that today's guests are looking for in a tropical cruise vacation.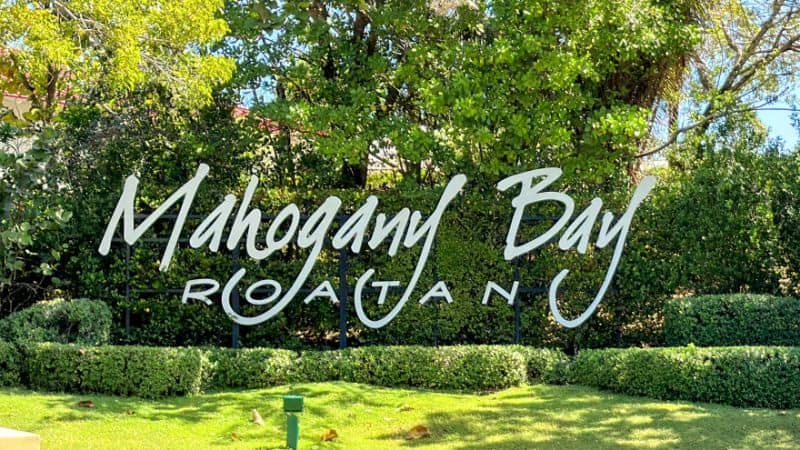 Fun Fact: Christopher Columbus discovered this island's region in the early 1500s during his fourth voyage.
This port guide will tell you what you should know when visiting Mahogany Bay.
Mahogany Bay Cruise Port Overview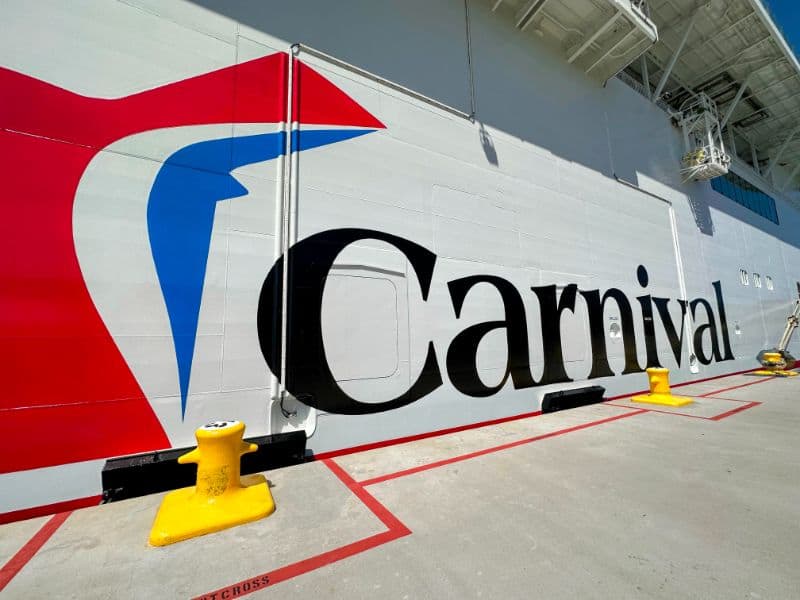 Cruise Lines That Visit
Not all Western Caribbean cruises stop at Mahogany Bay as brands within the Carnival Corporation umbrella – Carnival, Holland America, and Princess – have preferential docking rights with occasional stops by Windstar and Marella Cruises. Other brands like Royal Caribbean, MSC, and Norwegian will call at Coxen Hole (also known as Roatan Village), located on another section of Isla Roatan.
Ships sailing from Miami, Tampa, Port Canaveral, Galveston, and New Orleans typically have itineraries that can reach Mahogany Bay on a seven-night or longer cruise.
Facilities and Amenities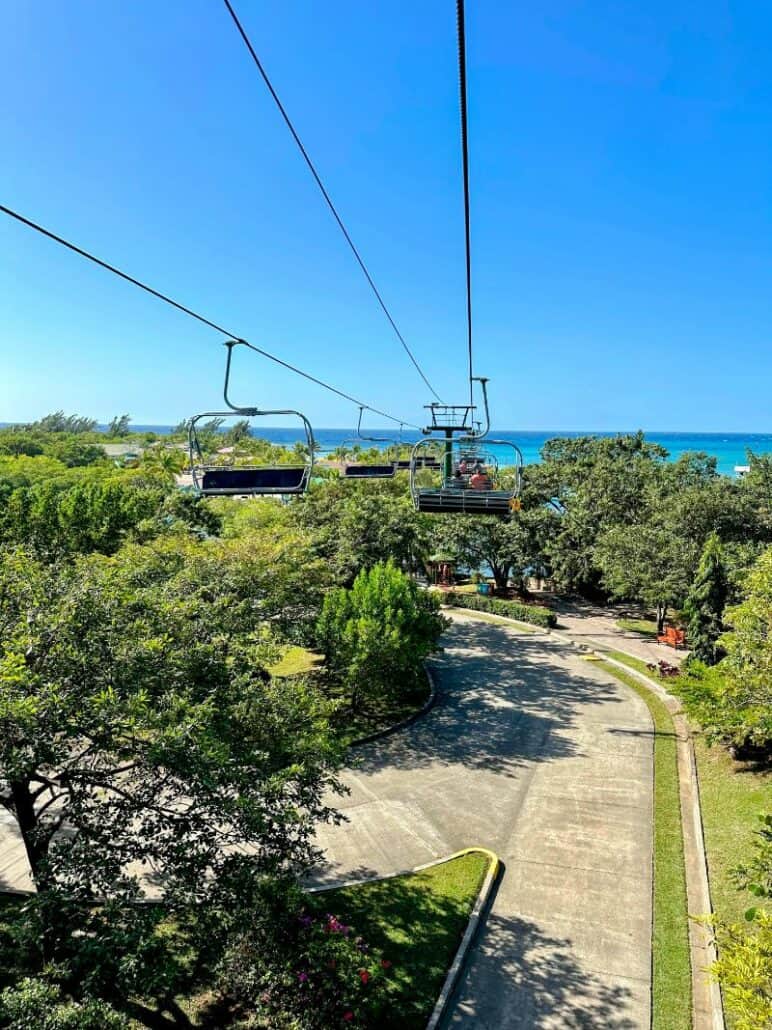 Considering Isla Roatan was a stand-alone facility built by a multi-billion-dollar company, the port has modern facilities with public restrooms, an ATM, a shopping center with many retail choices, restaurants, bars, and a beach club that is a short walk away.
WiFi and internet facilities are available for visitors who need to stay connected.
Bear in mind that getting around Isla Roatan involves quite a bit of walking, and there is an uphill grade when leaving the ship toward the port area. The incline could pose an issue for mobility-challenged cruisers coming to and from the ship.
Shopping and Dining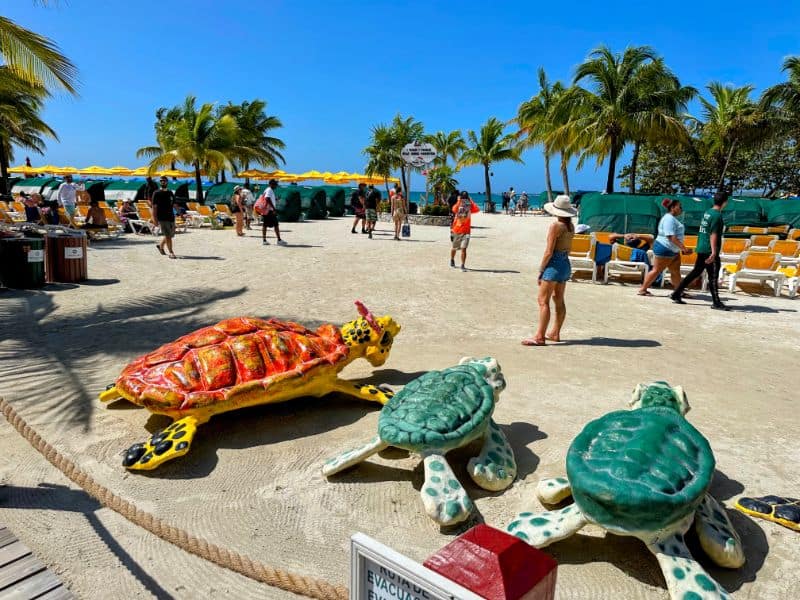 Shopping and dining are among the top highlights at Mahogany Bay. Numerous retail outlets are located near the pier with various stores, including duty-free shops, high-end jewelry stores, souvenir shops, and kiosks offering local handicrafts.
There is no shortage of port stores you've come to know and love, like Effy, Diamonds International, Del Sol, Cariloha, and others.
Shops and restaurants accept cash or credit cards. If you're looking for a lively afternoon of fun, Fat Tuesdays on Monkey Hill always seems to have a crowd; for those needing a caffeine fix, there's Espresso Americano Coffee Shop, popular with cruise passengers and crew (and quite good).
Transportation at Mahogany Bay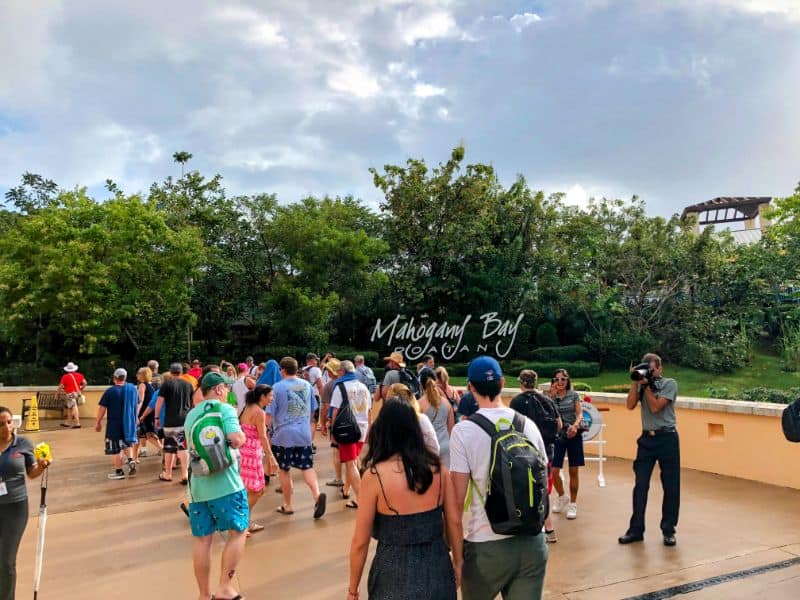 Although the port is somewhat walkable, several transportation options for cruise passengers are available at Mahogany Bay, from private taxis and shuttles to pre-arranged transportation provided by the ship's shore excursion operators.
Taxis and Shuttle Services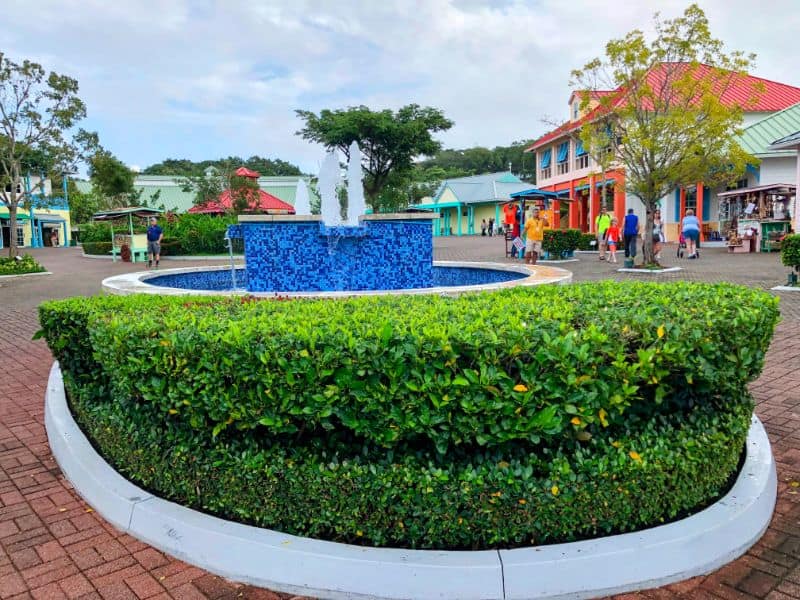 Taxis are available at the port for those who prefer to venture away from the port area. They are the most convenient and affordable way to get around the island, and drivers know the area. In my experience, the drivers know the area, so they're a great resource for recommending things to see and do.
Pro tip: Make sure the driver accepts your preferred payment method and negotiates the fare before jumping in the cab.
Magical Flying Beach Chairs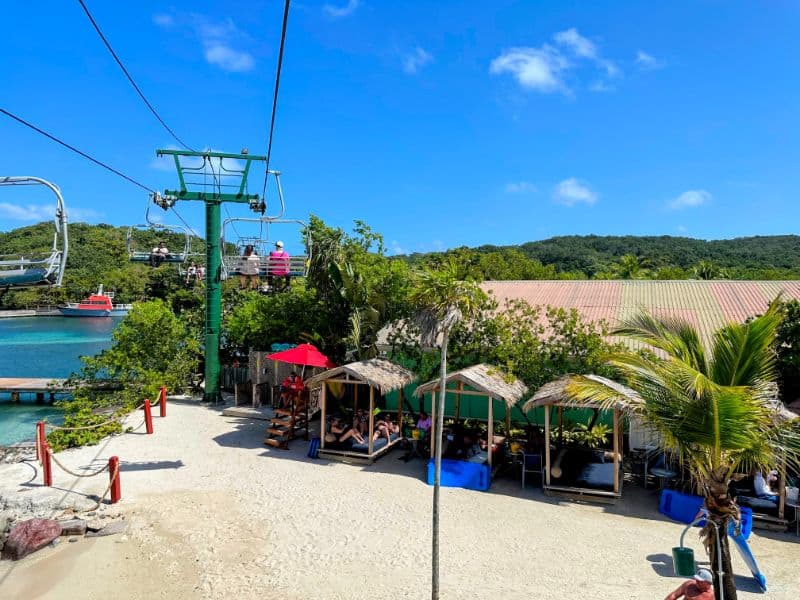 If you want to remain in the port area, check out the cruise port's legendary Magical Flying Beach Chairs, a tropical ski lift that takes passengers from the port area to Mahogany Beach.
The chair lift offers stunning views of the surrounding area and is a fun and unique way to get around.
The Magical Flying Beach Chairs are a lot of fun and perfect if you're looking for a quick and convenient way to travel from the cruise ship directly to the beach in just five minutes.
An all-day pass for adults costs $14, while passes for children aged 4 to 12 are $8. Children under three years ride for free.
(Note: The minimum height requirement is 32 inches, and a maximum weight limit of 600 lbs per chairlift. The cruise line sells tickets to the chairlift, or you can buy them at the ride entrance.)
Things to Do at Mahogany Bay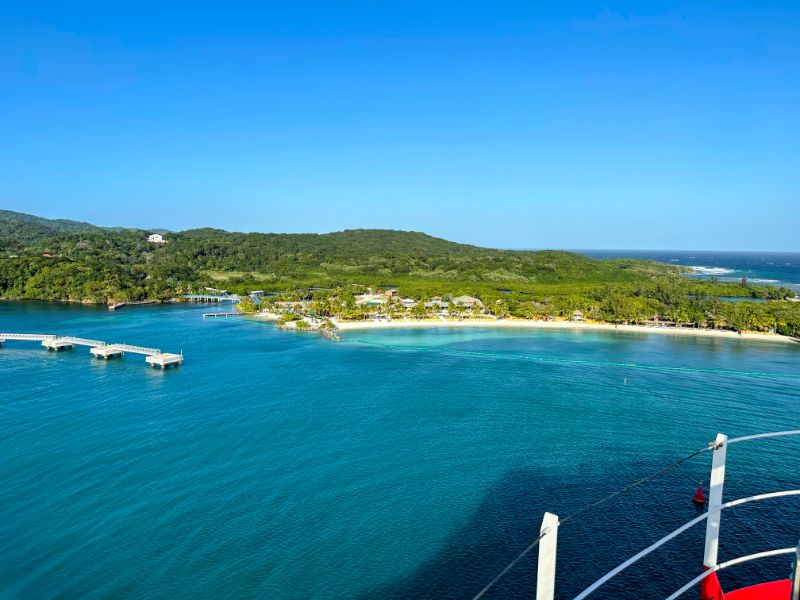 There are plenty of things to do on the island. Most guests head straight to Mahogany Beach, located on the port property and featuring beautiful white sand beaches and azure waters for sunning and relaxing. In contrast, others venture off on a cruise line-sponsored shore excursion or do their own thing.
The cruise line lists shore excursion options like dolphin swims, snorkeling, kayaking, eco-tours, ATV adventures, and horseback riding.
Mahogany Beach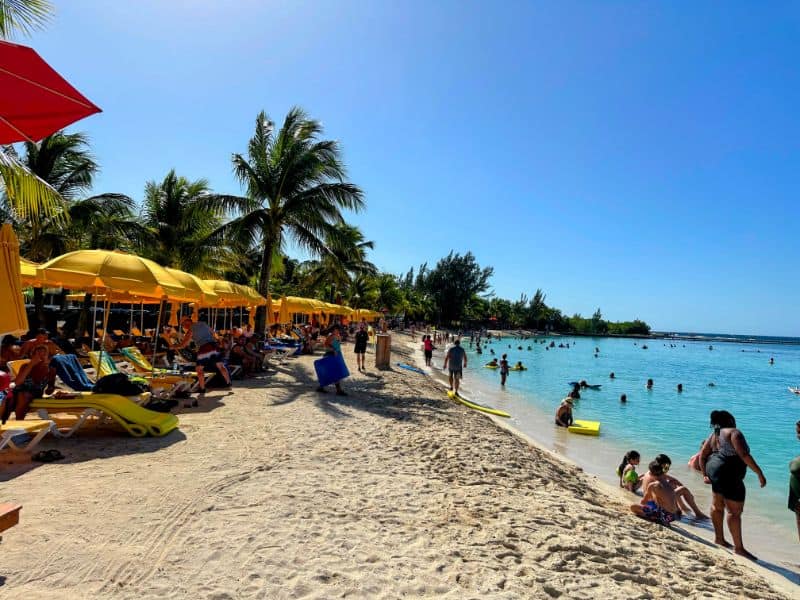 Mahogany Beach is just a short walk or ride from the port and was exclusively built for cruise passengers, meaning no one else is at the destination when you are
The man-made beach is similar to the Grand Turk Cruise Center, meaning it's owned by the cruise line but run by locals.
There are two ways to get to Mahogany Beach: get your steps along the lush nature trail or enjoy a birds-eye view via the Magical Flying Beach Chairs, as mentioned (additional fee).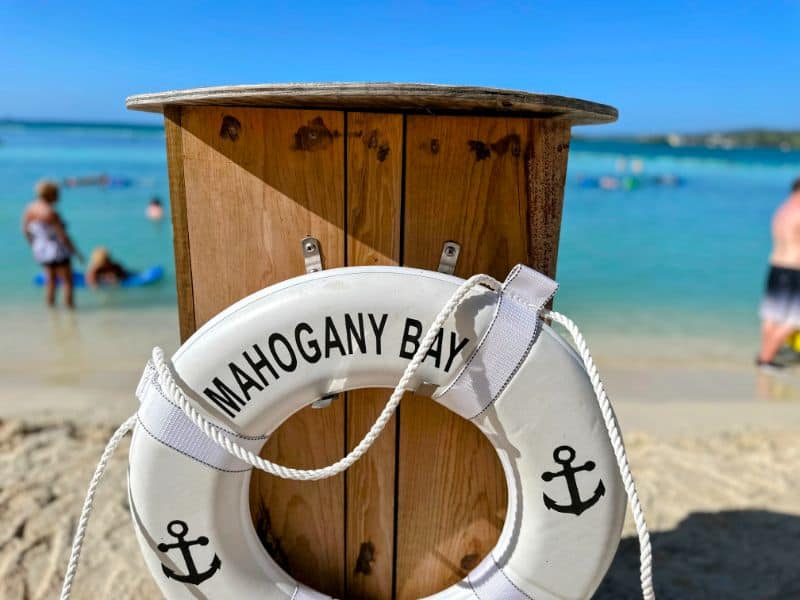 Snorkeling gear is available for rent at the on-site dive shack, and exploring the colorful coral reefs and vibrant marine life surrounding the beach is a favorite activity. Scuba diving excursion is also available for those who want to channel their inner Jacques Cousteau, explore deeper waters, and see even more vibrant marine life.
There is a bar, shopping, a casual restaurant, public bathrooms, and changing facilities.
The beach has lounge chairs, umbrellas, and other amenities, making it a great place to relax and enjoy the sun and the sea.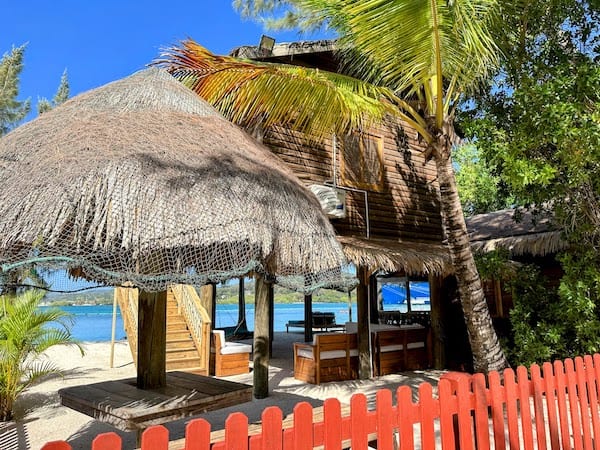 Cruise lines are a for-profit business – now more than ever – so the shoreline is dotted with cabanas available for rent, starting at $ 499 up to $1,299.
Other options include ziplines for thrill seekers or independent trips to the remote island of Little French Key, located about 15 minutes from the port.
Best Mahogany Bay Excursions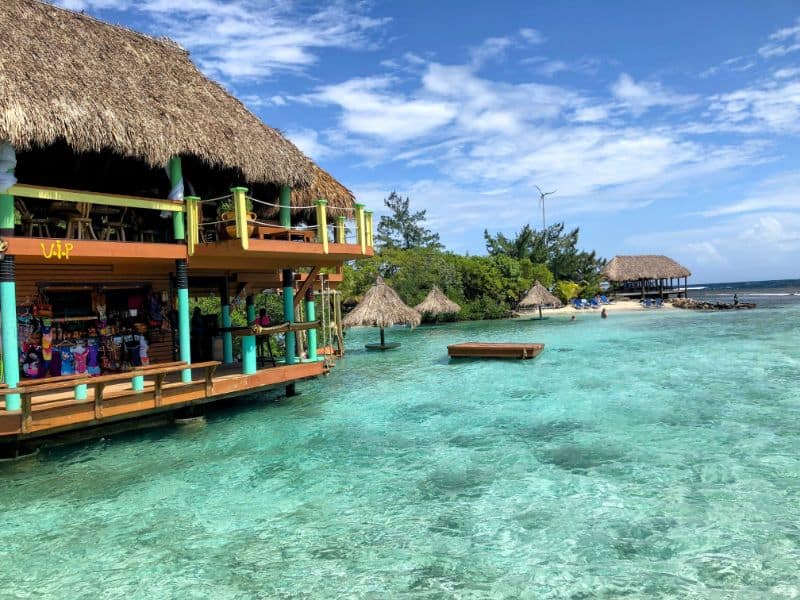 Here are some of our favorite excursions while visiting the island.
Zipline: Soar through the lush rainforest canopy on a zip line adventure.
West End: Explore the lively village of West End with a host of restaurants, bars, shops, and a beautiful beach with an assortment of local food.
Little French Key: Visit the secluded island of Little French Key for a day of relaxation on the beach or in the water. I've been here three times and loved it. (Note: this is a private tour not offered by the cruise line, so be mindful of your time so you don't miss the ship!)
Gumbalimba Park: Here, passengers can learn about Roatan's flora and fauna, visit the sloth sanctuary, and play with the monkeys. Watch out for the monkeys who love to dig in your pockets and take sunglasses!
Snorkeling and diving: Discover the amazing underwater world of Roatan with its coral reefs, tropical fish, and sea turtles. The 'Catamaran sail and snorkel' are just one of many options to get an up close and personal look at some amazing sea life.
Dolphin encounter: Anthony's Key is the spot for interactive dolphin encounters and the requisite photo to prove you were there. Not surprisingly, these tours tend to sell out quickly, so make your reservations when you arrive on the island.
Aqua Cycle, Wave Runners, and More: Like a bicycle at sea, Aqua Cycle is a fun and unique way to explore the water, while wave runners offer a more thrilling experience. For those interested in more leisure pursuits, paddle boats, and sea hammocks provide the perfect spot for a siesta or enjoying the beautiful views of the beach and the surrounding area.
Note: Other beach and dive clubs are accessible to cruise passengers, some of which will be available at the cruise line shore excursion desk.
Albeit safer for first-time cruisers, you can book outside the cruise line
When booking your excursion, especially on small Caribbean islands, do your due diligence on everything from safety to refund policies.
Weather and Best Time to Visit Mahogany Bay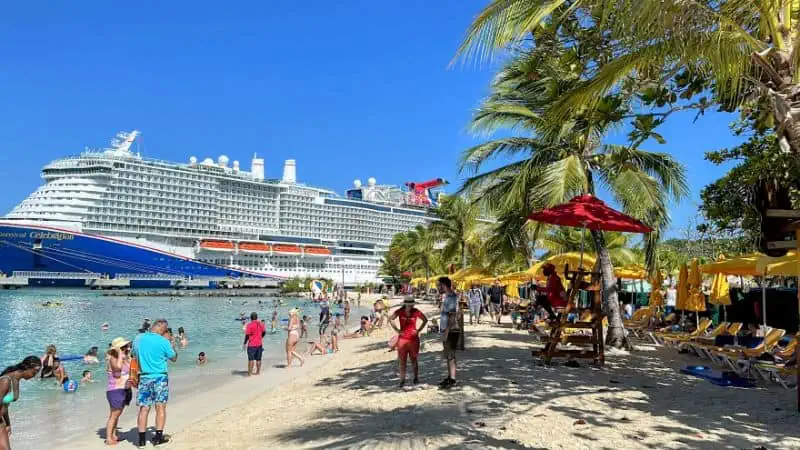 Mahogany Bay Cruise Port is located in the Western Caribbean, where the weather is generally warm and sunny year-round.
Typical of a tropical destination, temperatures range from the mid-70s to mid-80s Fahrenheit for most of the year.
The best time to visit Mahogany Bay Cruise Port is during the dry season, which runs from December to April.
Peak cruise season in the Western Caribbean runs from December to March, and visitors can expect higher prices and larger crowds during this time. Summer is great, but cruises tend to attract many more families, so just keep that in mind.
If you want a quieter and more affordable vacation, consider visiting during the shoulder season, usually early spring or fall.
Final Thoughts of Mahogany Bay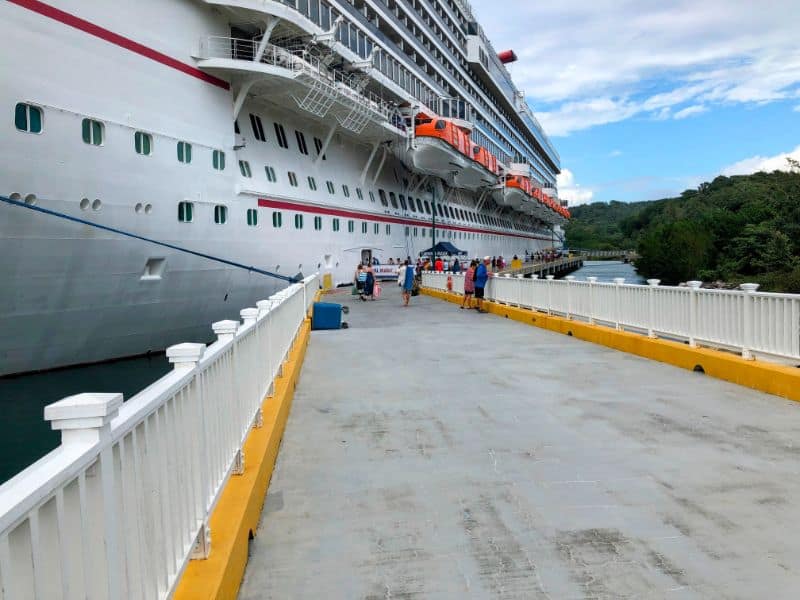 The Mahogany Bay Cruise Port is a nice escape from the hustle and bustle of other Western Caribbean ports like Cozumel or Grand Cayman. If you're looking for things to do, book early. As mentioned, some excursions like the dolphin encounter.
Otherwise, enjoy your day at one of the best cruise line-developed Western Caribbean ports.
Frequently Asked Questions
What are some popular excursions from the Mahogany Bay cruise port?
There are plenty of popular excursions that you can take while visiting Mahogany Bay cruise port, including snorkeling tours, zip-lining adventures, island tours, and beach trips.
What are some recommended shopping options near the Mahogany Bay cruise port?
Mahogany Bay Cruise Center is a shopper's paradise with plenty of souvenir shops, jewelry stores, and local markets that you can visit. Recommended options include the Roatan Rum Company, the Rusty Fish, and the Mahogany Bay Market.
Is Mahogany Bay a safe port of call for cruise ships?
Yes, Mahogany Bay is considered a safe port of call for cruise ships. The port has a strong security presence, and the local authorities work hard to ensure the safety of tourists and visitors.
What is the difference between Roatan and Mahogany Bay?
Roatan is an island off the coast of Honduras, while Mahogany Bay is a cruise port on the island and managed by industry behemoth Carnival Corporation. Roatan is known for its dive spots, diverse marine life, and beaches, while the Mahogany Bay Cruise Center is where ships dock and serve as a gateway to the island's offerings.