Today is our final port of the cruise, and it's especially exciting because it's a brand-new country for me: Honduras!
The ship docked at Mahogany Bay, Roatán shortly after 7 am. We were headed to a little island off the coast of Roatán called Little French Key, and since it wasn't an official excursion with a set start time, we took a bit longer to get off the ship.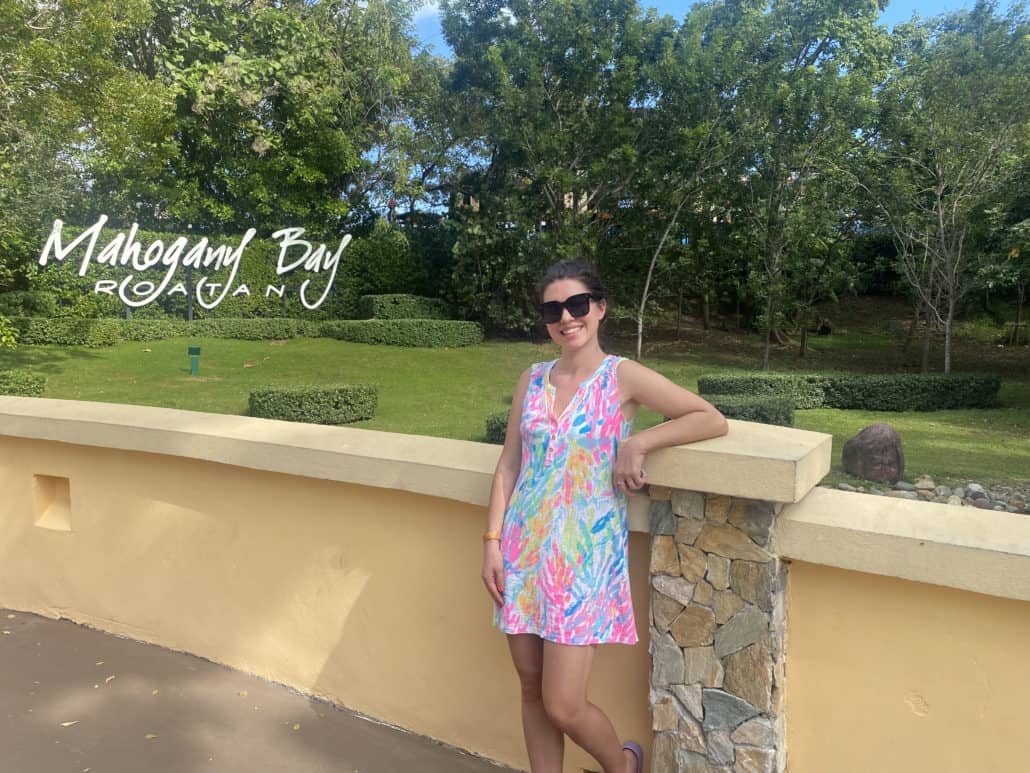 Once we did debark a bit before 9 am, we walked outside the port area and down the sidewalk a bit to a parking lot area where a lot of independent excursions had their drivers and guides waiting for guests.
We found the people from Little French Key and shortly were off for a 15-minute drive over to the spot where you purchase your package for the island and board a little boat for the quick ride over. Transportation between the port and the island is included in admission to Little French Key.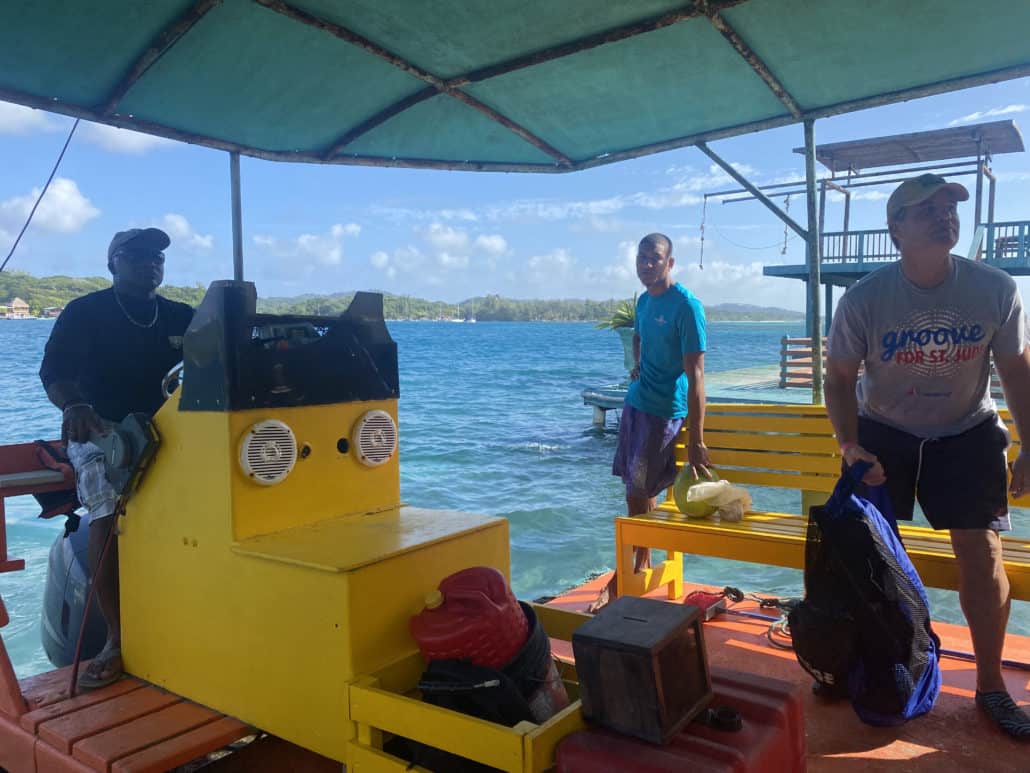 For full transparency, Cruise Radio was invited to Little French Key for the day by the owners, as it's been years since we have been (February 2018), and we wanted to see all of the changes that have been made there recently.
The island has multiple packages you can choose from, each offering different inclusions such as interactions with the resident pigs, horseback riding, water sports, and different amounts of included food and drinks. For our complimentary time there, we just received basic general admission to the island with no included extras.
Upon arrival on the island, we were guided over to the most popular beach area, which included a big dock-type structure with loungers and tables, as well as lots of loungers along the beach just in front of a bar. There are also tables with thatched roofs in the water so you can set your drinks down somewhere without even getting out of the water.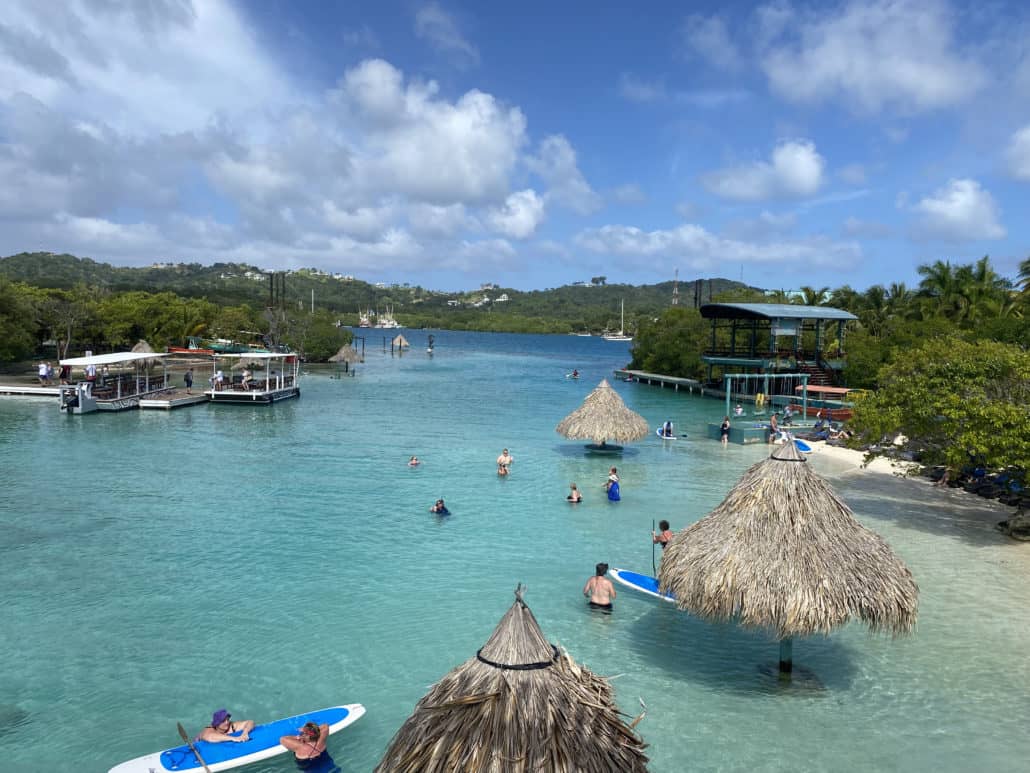 Little French Key really is little, and it's very beautiful. The owners — a mother and a son — own the entire island, and most of it is open to visitors. They don't have any type of overnight accommodations for guests on the island; it's purely a daytime resort.
In addition to its beautiful beaches, one of the things Little French Key has historically been known for its exotic animals that guests can view and interact with.
While they still do have some exotic animals, the current ownership handles them differently than those familiar with LFK may remember from the past.
As we were given a tour of the island by the owner, Leo, he told us that now, any wild animal on the island that is not a danger to other animals or visitors roams free. We experienced this when we saw animals, including pigs, monkeys, and chickens wandering around, plus a bunch of beautiful peacocks!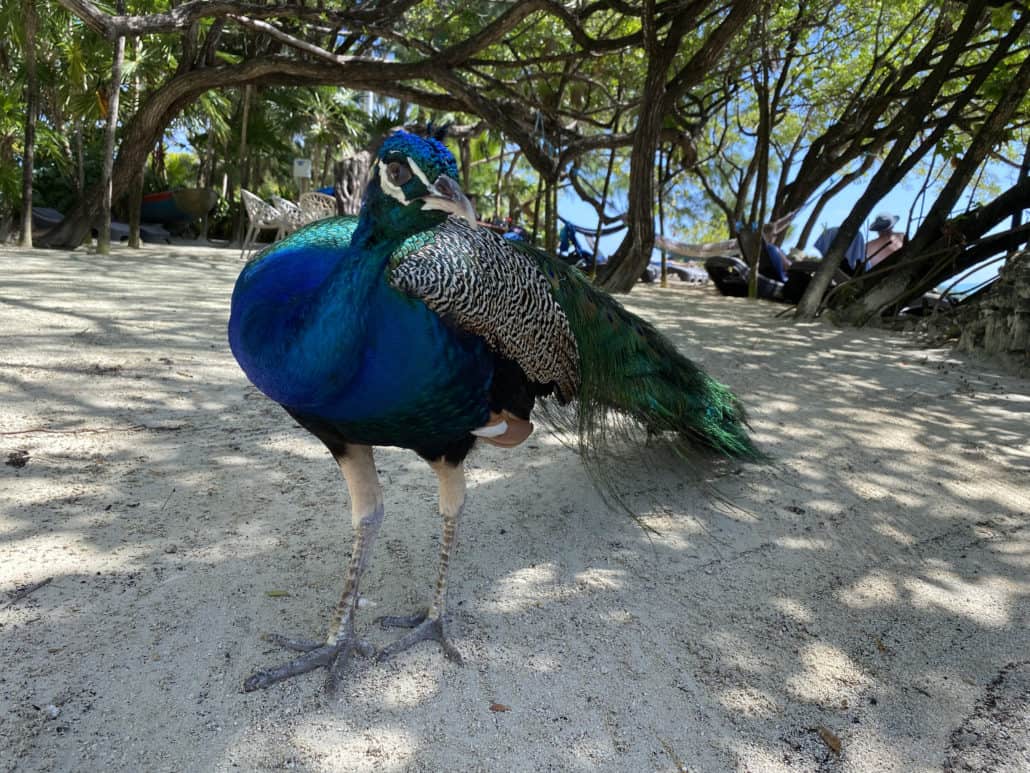 In enclosures, he also showed us some leopards and even a lioness, explaining that currently they have a smaller number of exotic animals and still have some that they're trying to re-home to wildlife sanctuaries or other reputable places so that the number on LFK is even fewer.
The enclosures for the larger exotic animals they do keep will be renovated and combined with previously separate enclosures to make them much bigger.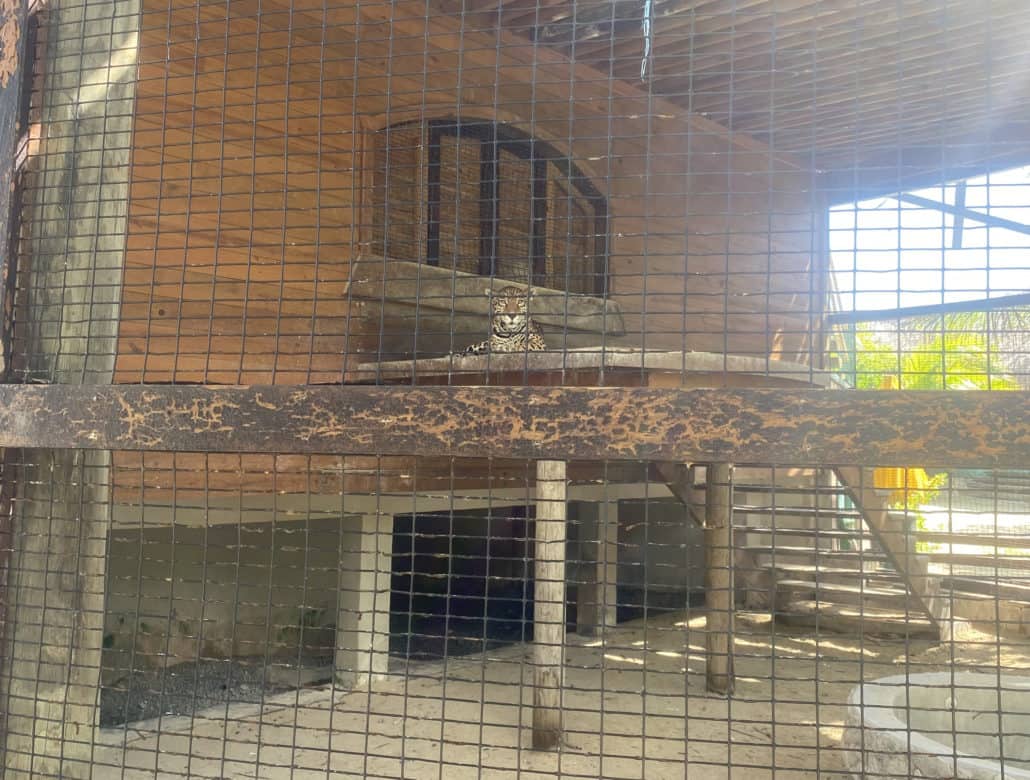 If you are already familiar with Little French Key, you may remember that they used to have an animal encounter where you could hold a jaguar in the water. They don't do this anymore.
As mentioned earlier, animal encounters that they still have include horseback riding through the water and swimming with pigs. The island also has a partnership with a local sloth and monkey sanctuary, so guests who want to interact with those animals can be dropped off at the sanctuary by the Little French Key drivers prior to heading over to the island.
Okay, onto other parts of the Little French Key experience!
In addition to just hanging out in the water and swimming, the popular beach that I mentioned also serves as a pushing-off point for guests to do water sports such as paddle-boarding and kayaking. You will not get bored on Little French Key.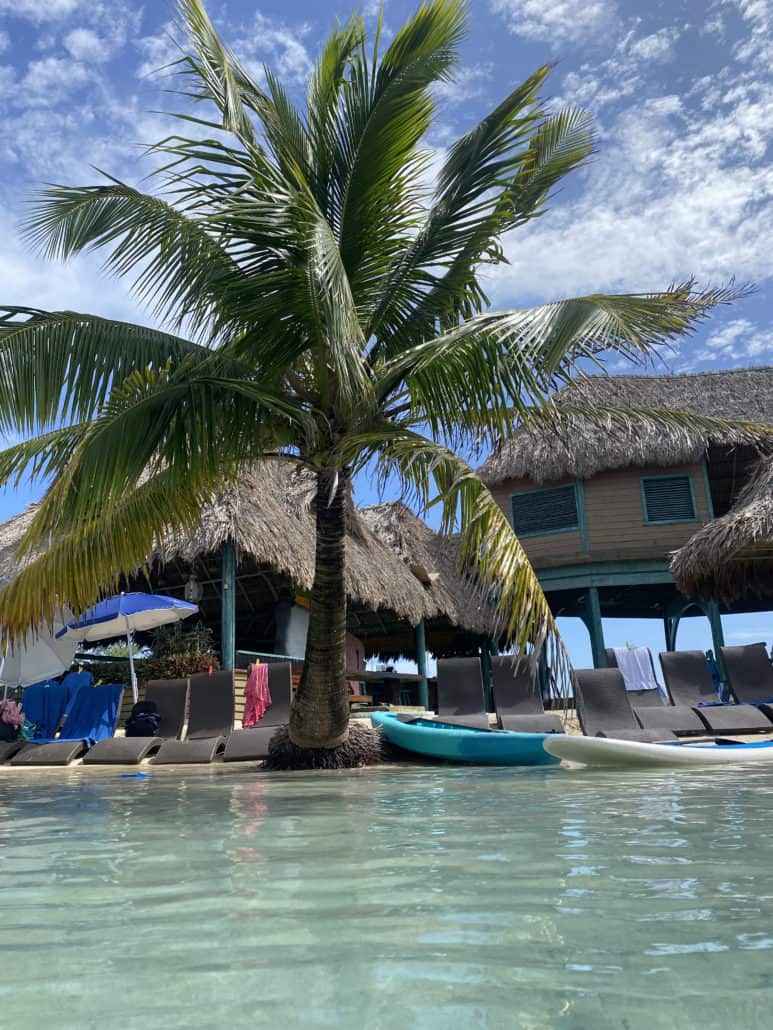 On especially busy cruise ship days, a second, more centrally-located bar on the island is also open. It's much larger than the other one and includes porch swings and various seating options. Near that bar is a sandy palm tree grove area, hammocks and picnic tables, and another quieter, more laid-back beach. This was my dad's beach of choice; he likes calmer spaces without a ton of activity. I liked both.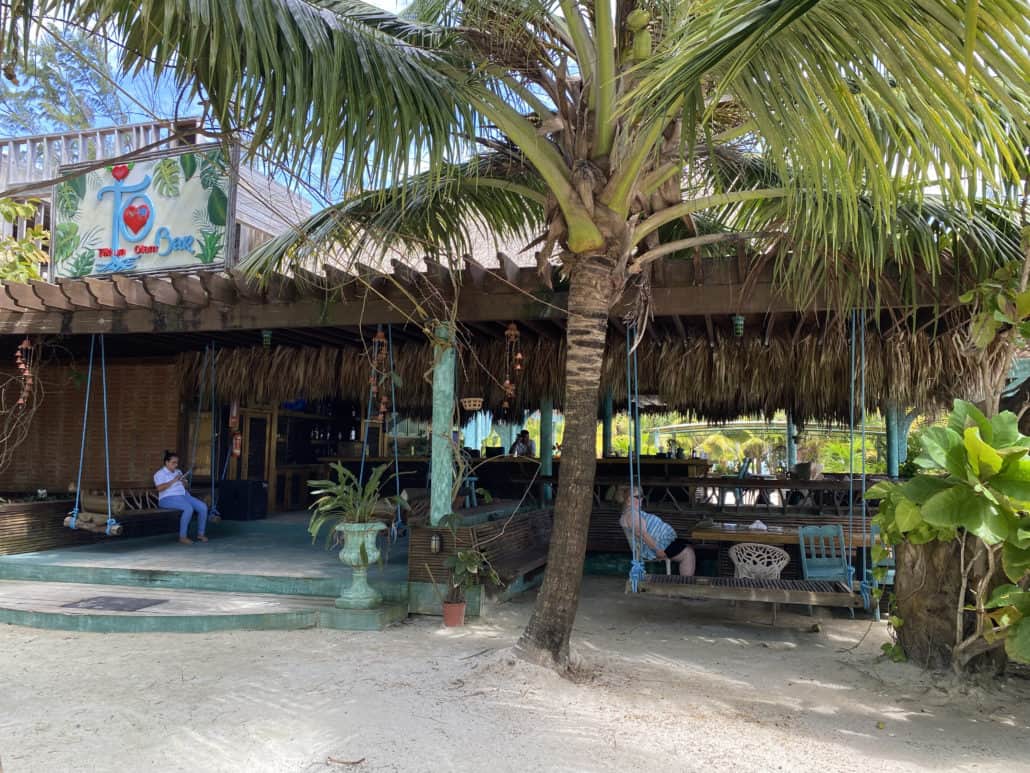 As far as I could tell, the dining and drink menu is the same pretty much throughout the island and included simple, no-fuss fare. Most food items are $15 each, which makes it easy.
LFK is also known for its big meal platter that includes lots of different items to try. We didn't get that, but we did get chicken fingers and fries to share and it was a nice large portion — definitely enough to share.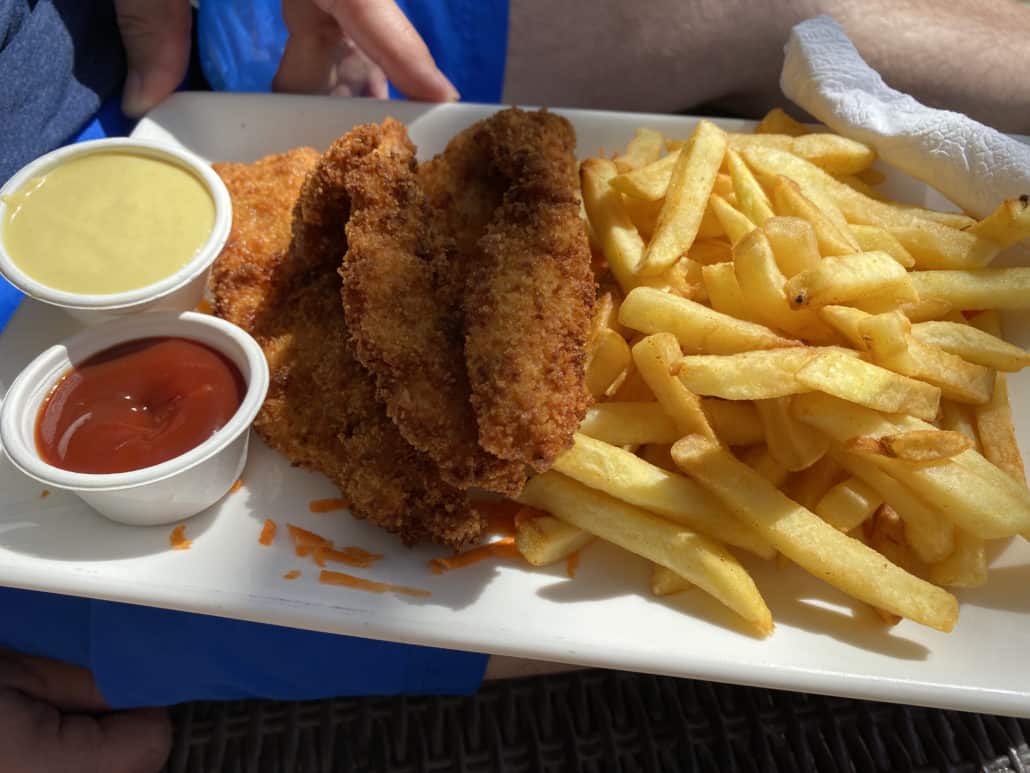 If you're wondering how LFK helps to ensure that its visitors get back to their ships on time, they have a board that lists what time everyone should leave to be back to the port with plenty of time for their specific ship. Honduras is on central time, but many of the ships that visit are still on eastern time. The board lists the times in local time so you won't be confused about when to leave.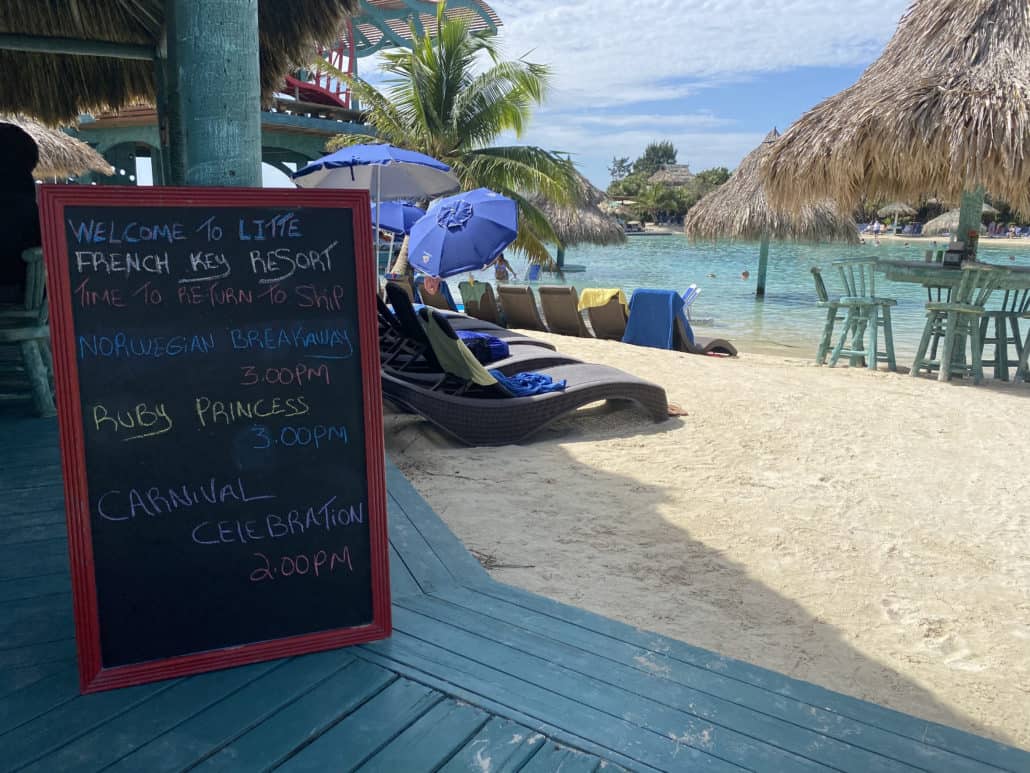 Their boat running from the island to Roatán constantly runs throughout the day, and the boat ride is only about five minutes from shore to shore so there's no worry about needing to wait around for it. After that, the Little French Key employees take you on a quick drive back to port.
Back on the ship, I took a shower to wash all the day's sweat and sand away and then did some work on my laptop.
We headed to the sit-down restaurant Guy's Pig & Anchor Smokehouse | Brewhouse for dinner tonight. I've sailed other ships with the quick-service Guy's Pig & Anchor Bar-B-Que, which is available on sea days, but this was my first experience with the sit-down version.
I was so excited to try the sandwich there called the Pig & Anchor Melt. It was SO good and did not disappoint! We also got mac and cheese, green beans, Mississippi Mud Pie, and Banana Cream Pie.
We really enjoyed the whole meal. It's also important to note that on Carnival Celebration and Mardi Gras, this venue is complimentary. There are a few menu items that incur an upcharge, but the majority are included in the cruise fare.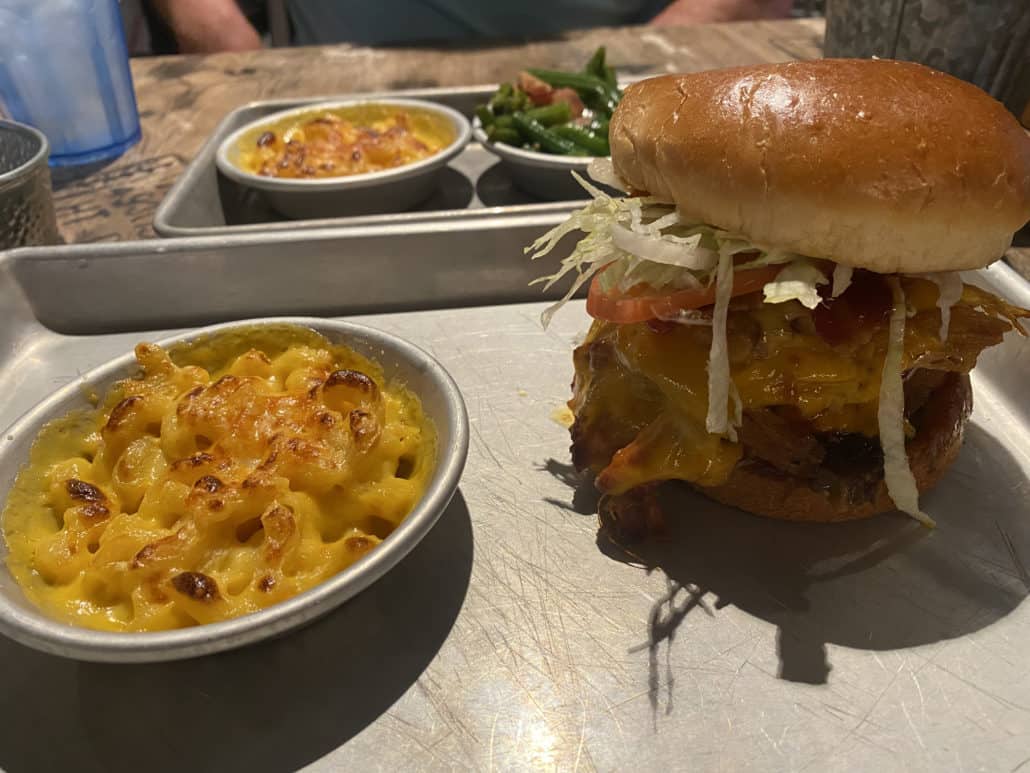 After that, it was time for my first comedy club experience on this cruise! We went to one of the family-friendly shows by comedian John DiCrosta.
He did a great show, and I think his jokes landed on the crowd really well. I also noticed how quick on his feet he was — at one point, he misspoke and said another word than he intended and he pushed the mistake to the limit to make more jokes on the spot.
I've not spent as much time on the outdoor decks at night as I usually like to during cruises, so tonight I made a point to head outside and spend some time in the warm breeze.
I brought my laptop up to the adults-only Serenity Retreat, which was practically deserted except for a few crew members. I snagged a spot in one of the circular sun beds next to the pool and did some more work before closing the computer and just enjoying the (no pun intended) serenity of the Serenity deck.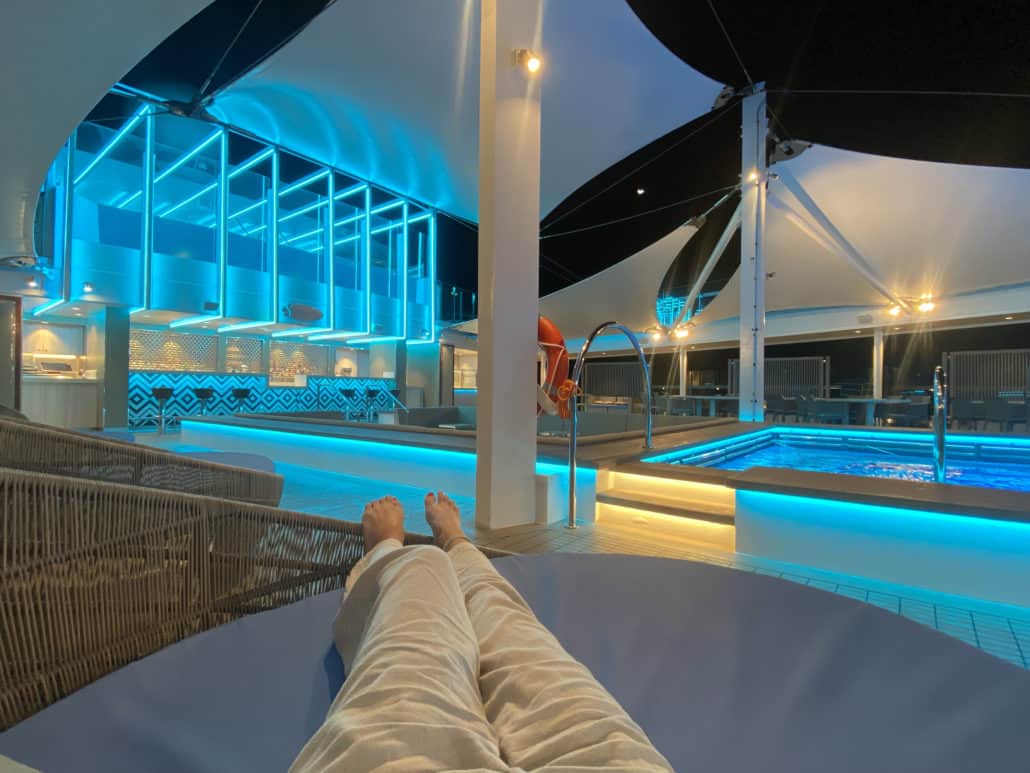 If you're on a cruise and have an evening where you aren't busy doing lots of indoor activities or attending shows, I'd really encourage you to find a quiet spot outside and just listen to the world go by.
Read my other Carnival Celebration trip reports: