Last week, Margaritaville at Sea announced that its ship Margaritaville at Sea Paradise will be going into dry dock for a 10-day renovation this month.
Now, the cruise line has revealed details on the ship's multimillion dollar upgrades and changes that guests will be able to enjoy when voyages resume on June 2nd.
"We've been listening to our friends and fans and have invested in the kinds of new offerings passengers said will best enhance their sailing experience," said Kevin Sheehan, Jr., President and CEO of Margaritaville at Sea. "The venues we've added and enhancements we've made are going to take our experience to the next level and will surprise and delight new guests and returning cruisers alike."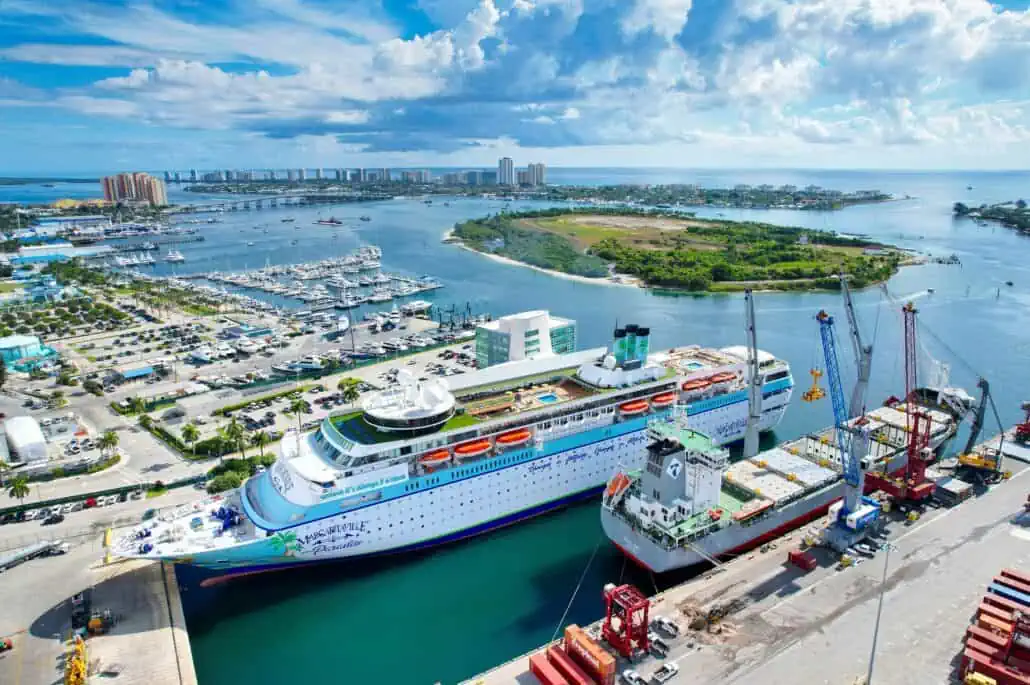 Here's a look at what's new on the Margaritaville cruise ship:
Paradise Pickleball at Sea
The vessel's forward deck is being reimagined to include a regulation pickleball court and an outdoor lounge space. Pickleball is a fast-growing trend, and we're seeing a lot of cruise lines either add dedicated courts, or add equipment to play the game on other sports courts on board.
Keys on the Water Dueling Piano Bar
This new high-energy venue will feature two talented piano players, lively entertainment every night, and unique craft cocktails.
Stars on the Water Production Shows
Margaritaville at Sea Paradise will feature two new theater shows once it emerges from dry dock.
The first, Caribbean Heat, will be a sizzling serving of energetic music, dance, and acrobatics, with seven costume changes and a musical trip around the islands of the Caribbean.
Named for one of Sirius XM's most popular stations, Radio Margaritaville, LIVE! at Sea will tune into the rhythm of the islands, with live bands, amazing artists, collaborations, and musical storytelling.
Cheeseburger in Paradise Burger Bar
With this new, no-extra-charge addition at the 5 o'Clock Somewhere Bar & Grill, guests will be able to build their own fresh, all-beef burger creations with tasty toppings while enjoying signature cocktails.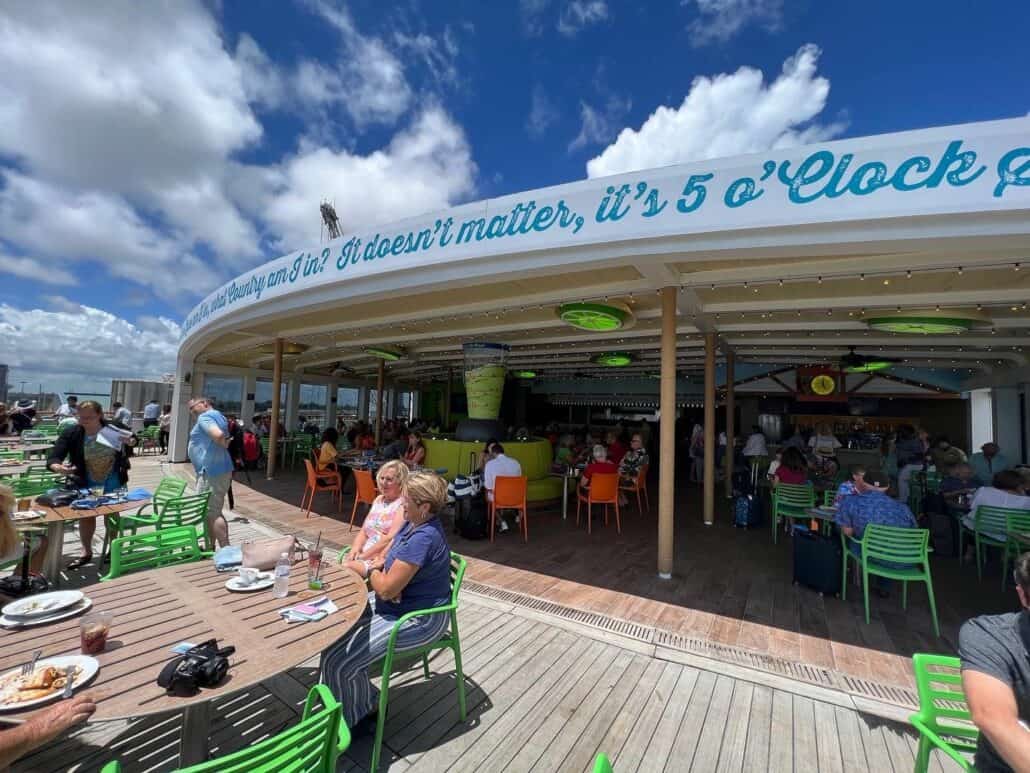 Main Dining Updates
The ship's main dining room, Fins, will see a refreshed space, as well as an expanded menu with island-inspired entrees and homemade desserts including the line's exclusive Key Lime Sponge Cake.
Other Margaritaville Cruise Upgrades and Changes
The Hemisphere Nightclub will be receiving a new cocktail menu, and the Fins Up! Fitness Center is being updated with new equipment including Touch Smart Fitness Mirrors, yoga, and interactive bikes.
The Fin City Arcade will feature new games, and the Jolly Mon Kid's Club and Parakeets Kid's Club will be getting refreshed spaces.
Staterooms will also be receiving upgrades, while general refreshing like new painting and flooring occurs around the ship as well.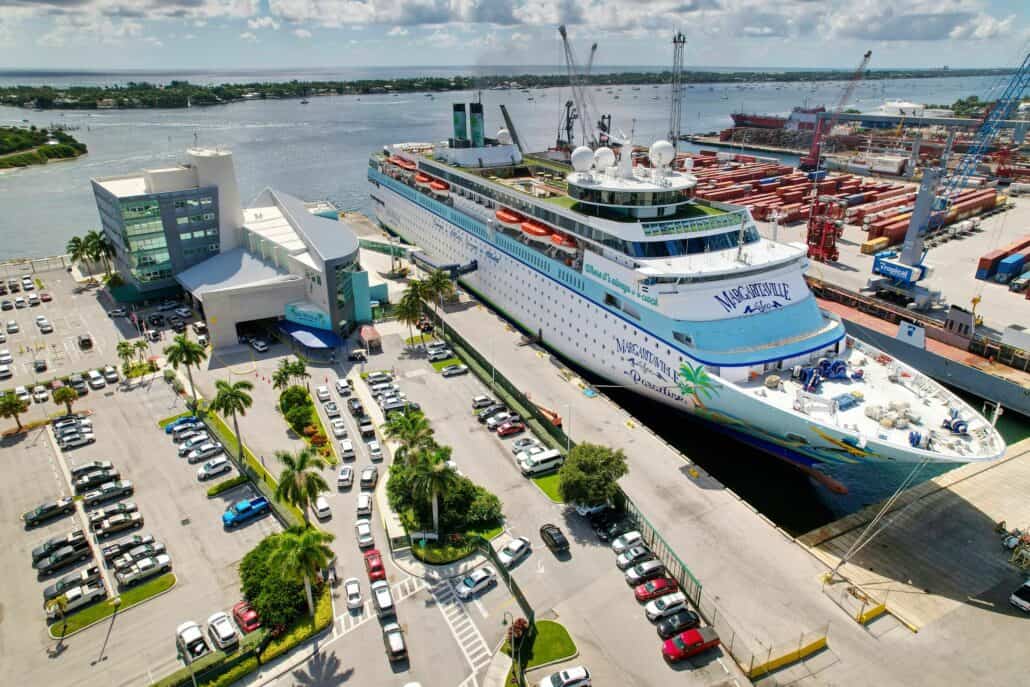 When Margaritaville at Sea Paradise resumes service in June, there will also be two new shore tours available: the Ultimate Party Boat and Snorkeling Experience and the Grand Bahama Cycling Adventure.
The cruise line has also added a third resort to their Cruise & Stay program: the Pelican Bay Resort on Grand Bahama Island. This is in addition to the Grand Lucayan Bahamas and Wyndham Fortuna Beach resorts.
Through the Cruise & Stay program, guests can take a cruise to Grand Bahama, and instead of just having a port day and sailing right back to Florida, they can stay a few days at one of the aforementioned resorts. They can then catch the ship back on one of its next voyages.
READ NEXT: Live Your Best Life on a Cruise Ship For $33,000 Per Year