MSC Cruises has announced the name of its second World class ship, which is its largest class of cruising vessels to date — MSC World America.
The line, along with Chantiers de l'Atlantique shipyard, marked the official start of construction of the ship today by cutting the vessel's first piece of steel.
As her name implies, MSC World America will be dedicated to the U.S. market when she enters service in 2025. She will be the first of MSC's liquefied natural gas-powered ships to be deployed in North America.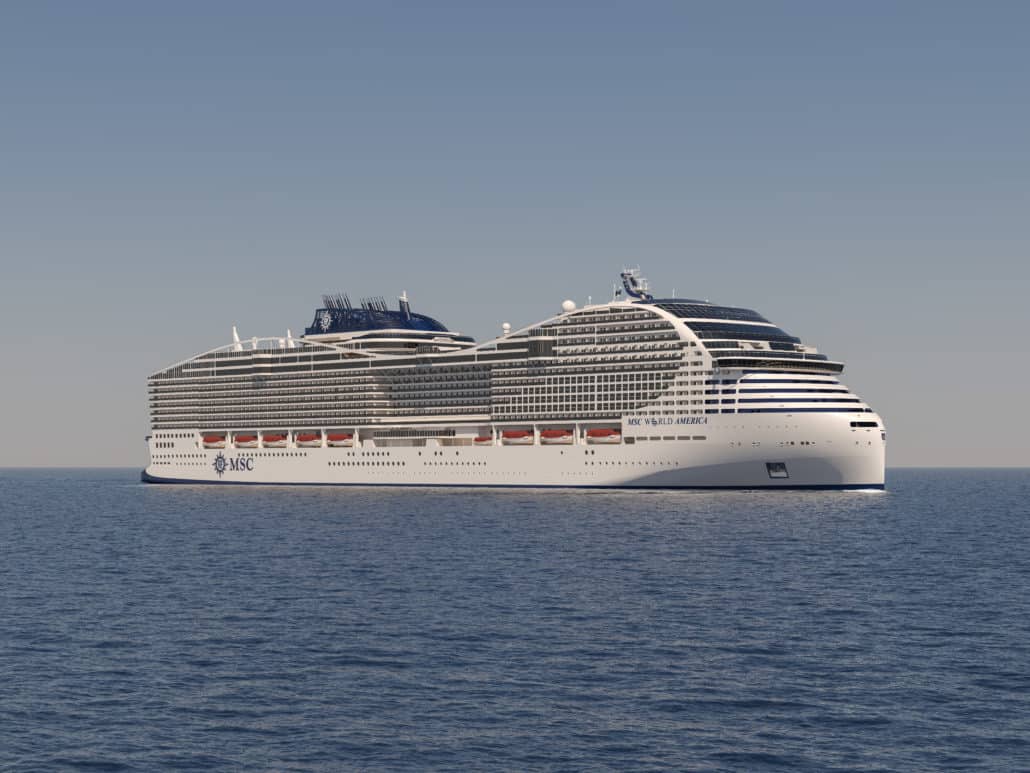 "MSC World America is testament to our ambitious growth plans in the U.S. and the Caribbean and further solidifies MSC Cruises as a major player in the North American market with another of our largest, most glamorous ships coming to the region," said Rubén A. Rodríguez, President of MSC Cruises USA. "In addition to delivering a state-of-the-art cruise experience, MSC World America exemplifies our commitment to sustainability with its advanced environmental technology."
MSC World America will be the latest in a growing line of U.S. flagships dating back to the 2017 launch of MSC Seaside, whose design included increased outdoor space and new opportunities to be close to the sea.
MORE: Carnival Cruise Line Announces 2022 Christmas Decoration Schedule
The cruise brand then went on to deploy MSC Seashore from PortMiami in 2021, with MSC Seascape set to become the new U.S. flagship when she enters service later this year.
For the winter 2023-2024 season, MSC plans to have five ships in the United States:
MSC Meraviglia – Sailing her inaugural winter season from Brooklyn, New York to Bermuda—or Florida and The Bahamas—following an inaugural summer season that will have included sailings through Canada and New England.
MSC Seascape – Offering 7-night itineraries from PortMiami to the eastern and western Caribbean with calls at Ocean Cay MSC Marine Reserve in The Bahamas.
MSC Divina – Sailing from PortMiami with a variety of itineraries ranging from quick Ocean Cay MSC Marine Reserve getaways to extended sailings through Central and South America.
MSC Magnifica – Sailing short cruises from PortMiami to Key West and Ocean Cay MSC Marine Reserve.
MSC Seashore – Sailing from Port Canaveral and offering short cruises to The Bahamas along with longer western Caribbean itineraries, all of which offer calls at Ocean Cay MSC Marine Reserve.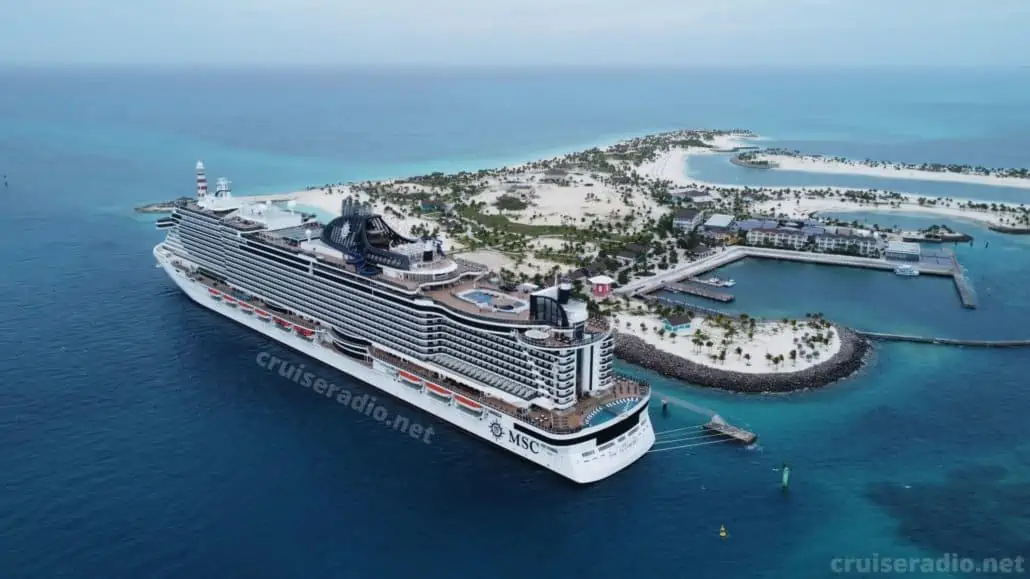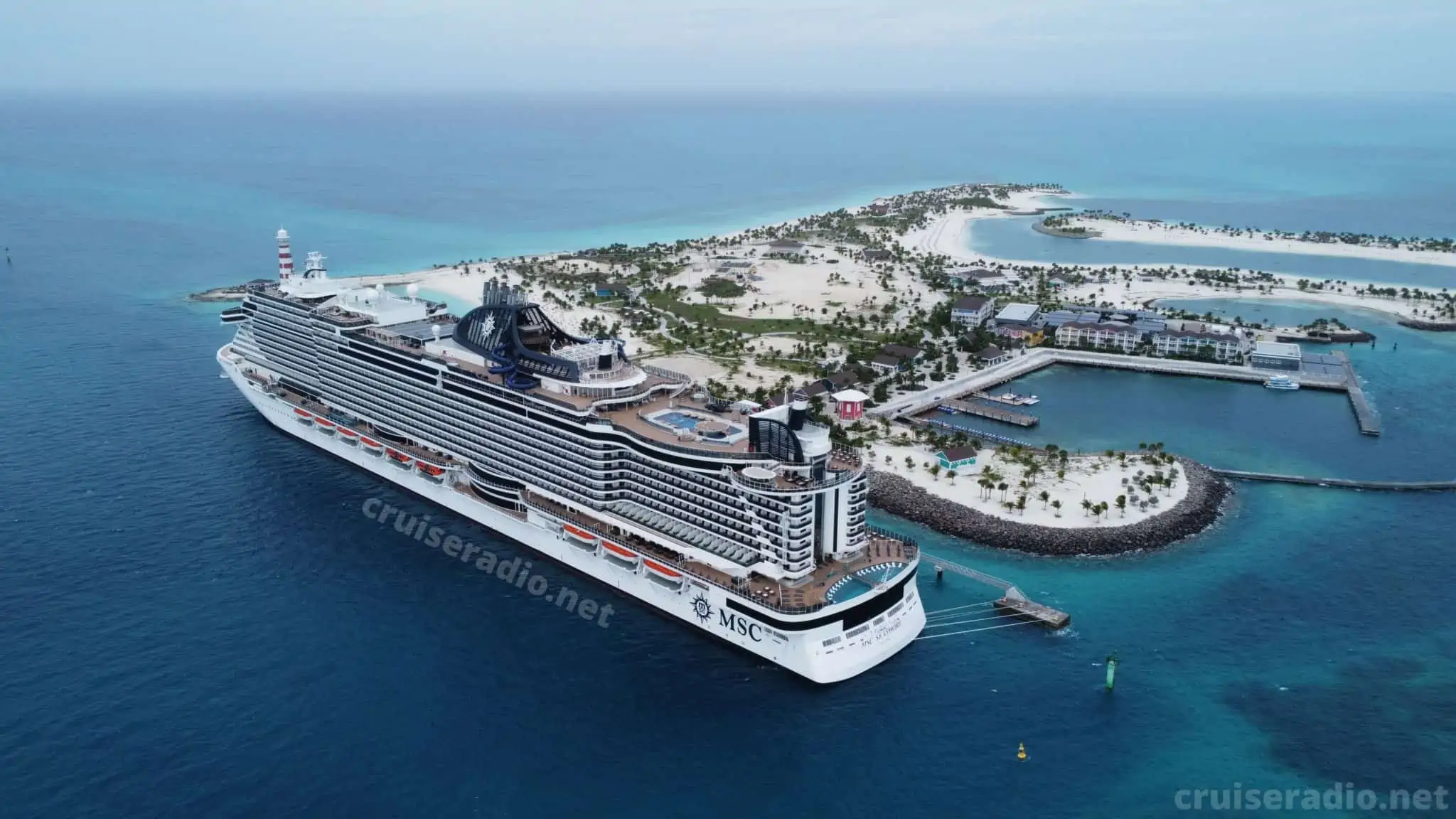 Most elements on MSC World America will be similar to the first vessel in the class, MSC World Europa. Some aspects of her design and guest experience, though, will be tailored to appeal to guests from North America.
MSC World America will be MSC Cruises' largest ship in the U.S., measuring 22 decks tall and over 150 feet wide. She will include 2,600 guest cabins and feature 420,000 square feet of public space.
For information about the first World-class ship, MSC World Europa, visit these articles: