Norwegian Epic sailed into the cruise world in 2010, bringing several innovative features onboard.
Staterooms for solo travelers, three bowling lanes, a 24-hour grill, large outdoor waterslides, and the elimination of oceanview staterooms created excitement for this new vessel, the third-largest cruise ship when it was launched.
The Haven, Norwegian's popular ship-within-a-ship concept, originated on the Epic.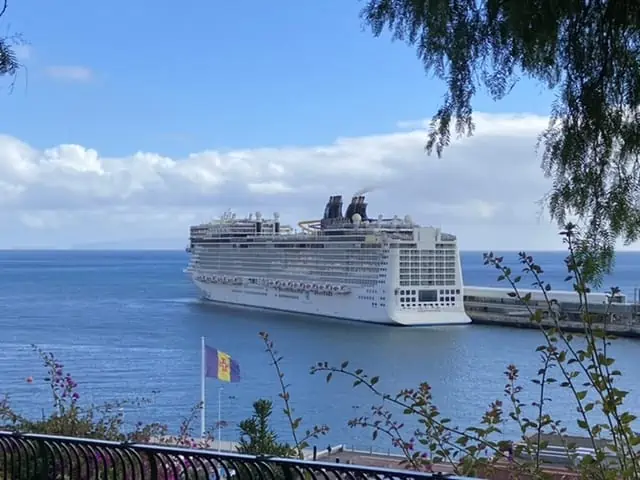 Just The Facts
Built: 2010
Refurbished: 2020
Size: 155,873 gross registered tons
Measurements: 1,081 feet long by 133 feet wide
Staterooms: 2,114
Capacity: 4,100 (double occupancy); 128 (single occupancy)
Crew: 1,750
Overview
Norwegian Epic underwent its most recent renovation in 2020. One of the major rehabs took place in The Haven.
Taken down to the steel, The Haven transformed into a light, contemporary space that exudes luxury throughout. Elsewhere throughout the ship, many carpets were replaced, including in the stateroom hallways. Take a look at the new fish design leading the way to the front of the ship.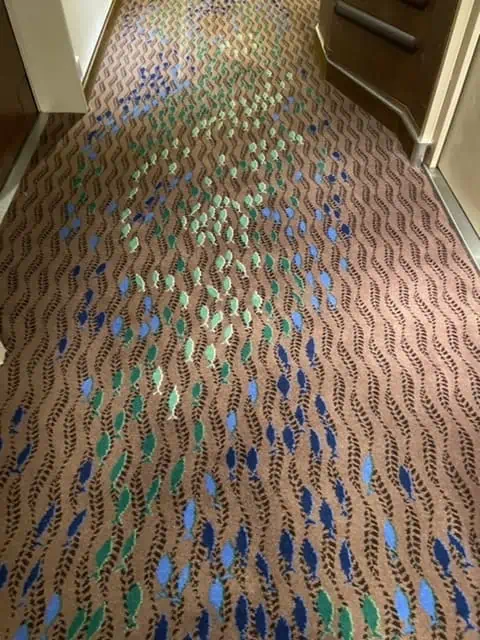 Layout
Navigating Norwegian Epic requires no special skills, but a few tips make it easier to get around.
Norwegian's famous fish carpet helps guests navigate the stateroom hallways. Fish swim forward, so getting your bearings is simple enough. At the elevators, the bluish carpet indicates the starboard side of the ship and the orangish color indicates the port side.
There are elevators fore and aft, but no middle elevators. From Deck 15 there are two cylindrical elevators. The port side lift goes to The Haven and requires a keycard. The starboard elevator takes guests to the Deck 18 quiet area sundeck.
La Cucina is accessed most easily via a staircase on Deck 15 at the back of the Garden Café.
Most inside activities take place on Decks 5 to 7.
MORE: Bimini Cruise Port: Everything You Need To Know
Norwegian Epic Staterooms
Always an innovator of new ship concepts, Norwegian Cruise Line introduced The Haven and Studios on Epic.
Oceanview cabins are nonexistent on this ship, which offers many balconies and a renamed category of balcony, originally known as the Deluxe Balcony. These became the mini-suites, although they were just a larger balcony stateroom and not a suite at all. The new iteration of these is the Club Balcony Suite, which — while still not a suite — comes with a few extra perks, such as pre-booking of onboard entertainment and dining as early as 125 days prior to sail date, complimentary treats delivered to your stateroom, a complimentary bottle of sparkling wine, and a choice of one valet laundry or pressing service.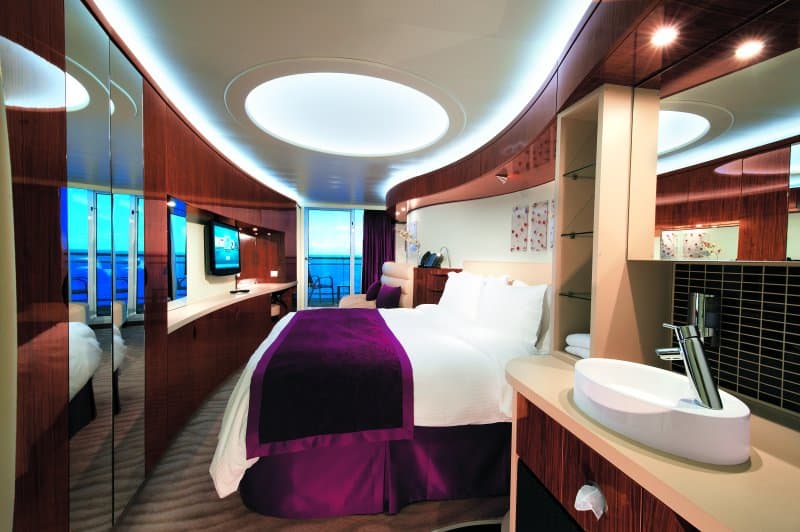 Curvaceous staterooms are the norm for the inside and balcony categories. The bathrooms have been controversial in these particular staterooms because they are an integral part of the cabin, with the shower on one side of the entry into the cabin and the toilet area across the aisle from the shower. Blackout curtains cover the balcony windows. There are no USB ports, but those are on the schedule to be added. Balconies and above have coffee makers.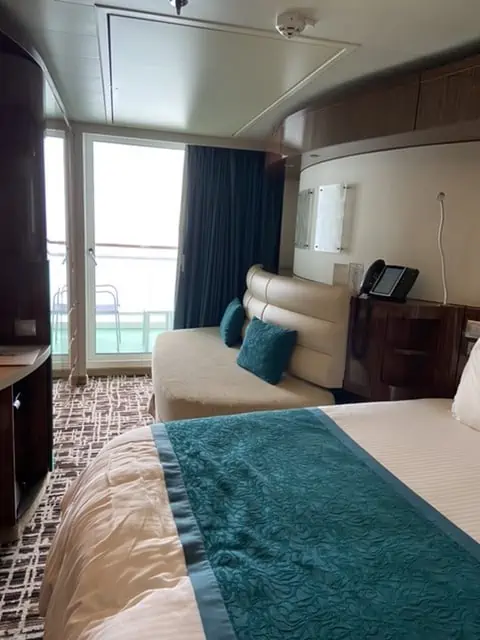 Some staterooms are of particular note:
The Haven
The Haven includes a variety of staterooms within the actual keycard-access-only area, along with some staterooms outside of this enclosed compound. Recently updated, The Haven's contemporary look is fresh and soothing. All furniture and fabrics have been replaced to create a space that is both welcoming and luxurious. Even table settings and linens have been replaced and the staterooms have also been updated.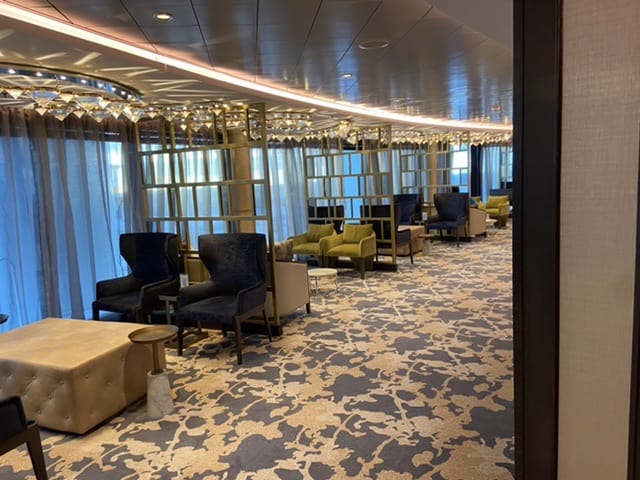 Guests in this area enjoy their own private dining area, pool area, and sundeck. Three bars are scattered throughout the different areas of The Haven. Butler and concierge service enhance The Haven experience. Toiletries in the staterooms are from L'Occitane.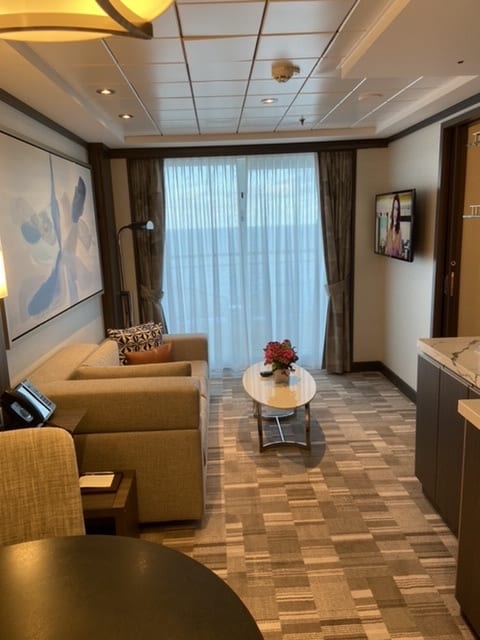 The Studios
The Studios are located in the middle of the ship and take up two floors. All are inside with "windows" facing into the hallways.
At just 100 square feet in size, these efficiently laid out Studios are often at full capacity. Within the area, there is a central spot for meeting other solo guests who are booked in this enclave.
During non-COVID times, a host plans activities and events. A whiteboard serves as a message board for self-initiated activities or for requests for joining in meals, shore excursions, shows, or other onboard activities.
A bar is open during limited hours. Access to this area is by keycard only and exclusively for Studio guests.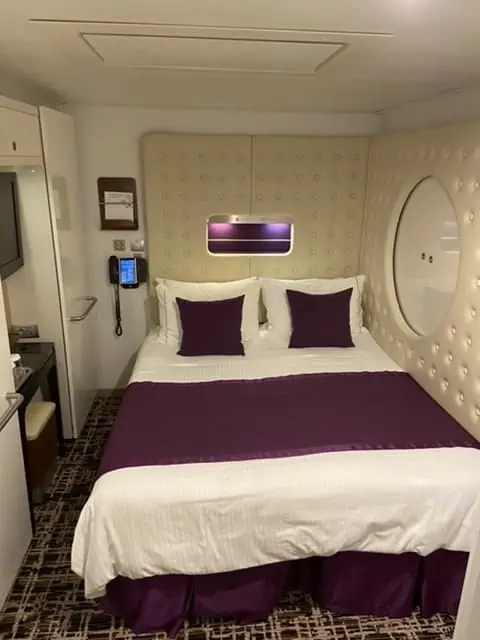 Dining
Norwegian Epic provides plenty of dining options onboard ranging from quick snacks to multi-course meals. Garden Cafe on Deck 15 is the bright buffet that extends outside to The Great Outdoors during limited hours for late breakfast and a lunch grill.

During COVID, Garden Cafe is a full-service buffet where guests choose from the offerings and staff plate the selected items. Guests do not touch any serving items or food. Beverages are also served by the crew.
In addition to Garden Cafe, there are several additional complimentary dining venues, all of which offer sit-down service. These include the main restaurant, Manhattan, which is open for dinner only. Taste serves breakfast, lunch, and dinner. For 24-hour service, O'Sheehan's offers breakfast, lunch, and dinner. It does close for 30 minutes between breakfast and lunch.
Most specialty restaurants on Norwegian Epic incur additional fees, but one dinner venue, Shanghai, which as the name suggests, serves Asian dishes, and is complimentary.
Other specialty restaurants include Cagney's, La Cucina, Le Bistro, Moderno Churrascaria, Teppanyaki, Yakitori and Sushi. Except for Moderno and Teppanyaki, which currently charge $39, the specialty restaurants are à la carte. Reservations are recommended.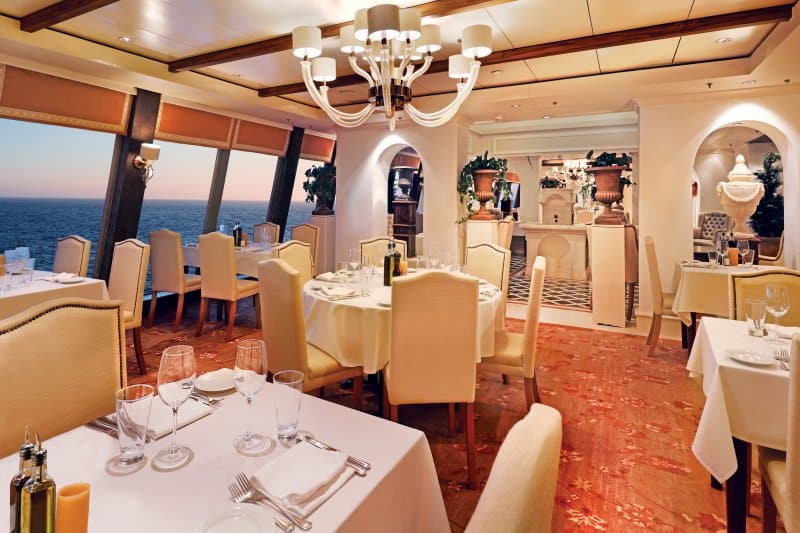 Room service comes with a $9.95 delivery charge. SWIFT Delivery on Demand is a new concept and is available 24/7 and brings cocktails, wine, beer, soda, and snacks to your room. Cocktails are DIY and in limited varieties.
Wine is by the mini- or full-size bottle. A limited selection of snacks is also available. These beverages and snacks are not included in the beverage package. A menu and price list are in each stateroom. There is no delivery charge, but a 20 percent service charge will be added to your order.
MORE: 25 First Time Cruise Tips
Norwegian Epic Entertainment
Many of the venues onboard Norwegian Epic function differently throughout the day. The Cavern Club, Headliners, and Bliss Lounge host seminars, trivia, art auctions, socials, and other activities during the day.
Once evening comes, the Cavern Club becomes a music venue and, as its name suggests, features many Beatles-themed sessions.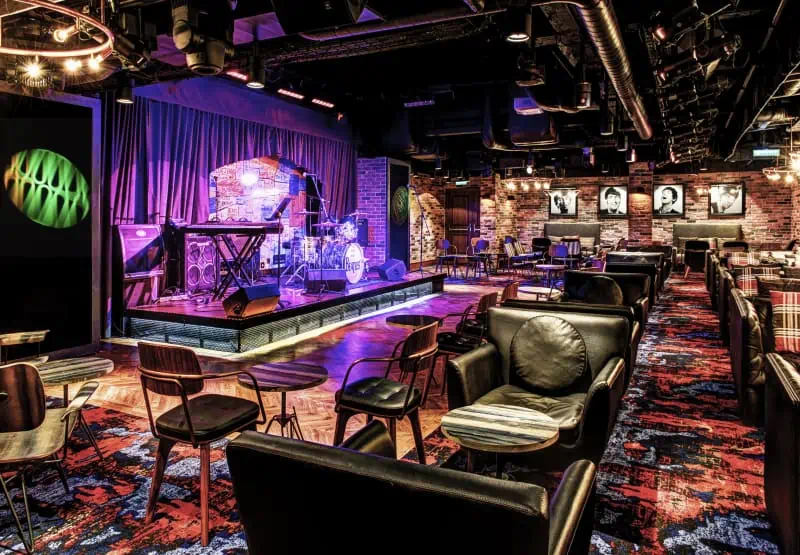 The throbbing beats of piano music emanate from Headliners as Howl at the Moon dueling pianos take over that space several times during the cruise. On other evenings, a variety of comedy shows take place. Bliss Lounge draws the game show fans early in the evening, followed by the karaoke crowd.
The main Epic Theater provides more seating for larger production and music shows. Burn The Floor, Priscilla Queen of the Desert, comedy, and musical acts take place nightly in this venue. Spiegel Tent started life as the area for Cirque Dreams® and Dinner Show.
On Epic, the new show is Zambooka!, a show and dinner with a set meal. Zambooka! features performers culled from "Got Talent" who thrill the audience with their feats of strength and skill.
Public Areas and Watering Holes
The majority of public areas on Norwegian Epic include a bar, which attract a variety of guests not just to enjoy a beverage and socialize, but to also partake of liquor tastings, talks, and games.
Maltings and Shakers Martini Bar buzz throughout the evening and along with beverages, also come with entertainers who keep the crowds glued to their seats. In fact, these two bars are so popular that finding a seat during performance times may be impossible.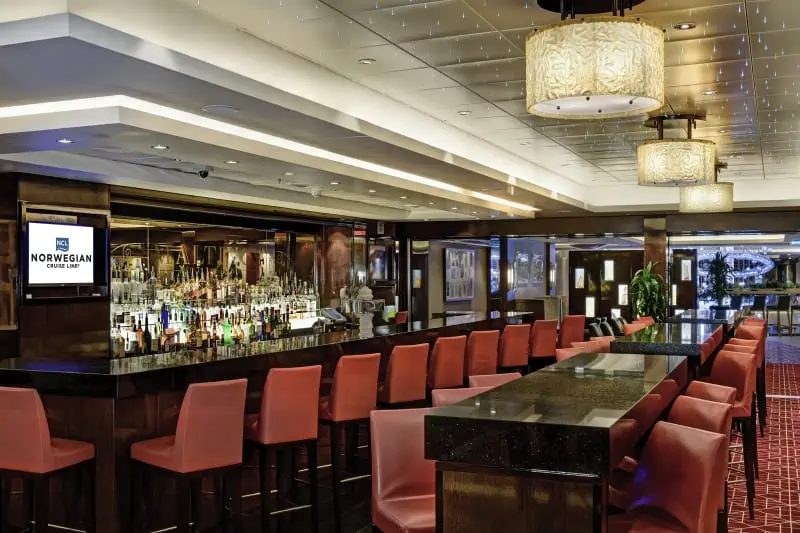 Sports fans will want to venture to the popular O'Sheehan's Pub to grab a beverage and watch one of the multiple televisions tuned to sports channels.
In the Atrium, a big screen promotes Norwegian cruises throughout the day, but also shows movies at select times. The library and adjacent card room have limited hours due to COVID, but are also very popular.
Spice H2O is a modern-day version of a Roman Theater. Outdoors at the aft of the ship, this is an adults-only beach club with hot tubs, a bar, and a grill.
Late in the evening, the venue holds themed parties and dancing. It is the only bar open to all guests that serves the Sail and Sustain cocktail, a special concoction created to use some of the usually discarded parts of food on the ship.
For example, pulverized coffee grounds may be incorporated into a drink. This program is a small part of Norwegian Cruise Line's commitment to the environment.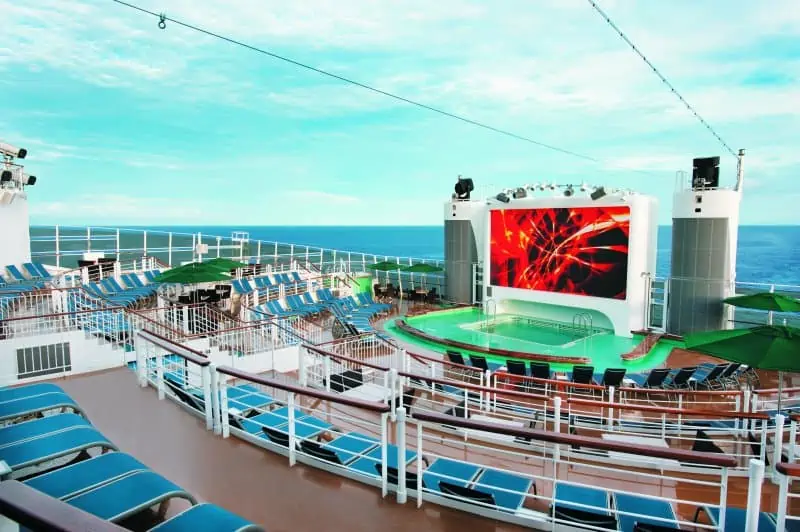 There are several decks for sunbathing, swimming, and enjoying the hot tubs. On the 18th deck, there is a quiet area for relaxing and enjoying the fresh sea air. Deck 15 is the place to be to enjoy pools, slides, and the rock climbing wall.
Originating on Norwegian Epic, the Ice Bar requires a bit of prep before entering. Guests choose from colorful insulated hooded capes (no evidence of the original silver capes) and spend as long as they can tolerate in an icy bar. Two drinks are included with the experience.
Fitness Center and Spa
Pulse Fitness Center impresses with its large area and variety of machines. In addition to weights and machines, there is a boxing area.
Personal training and classes are offered. As the largest fitness center in the fleet, the size of Pulse along with plenty of equipment lessens the chances of having to wait for a certain machine or weight.
The entrance to Pulse is via Mandara Spa, which comprises multiple treatment rooms to accommodate the full menu of treatments. Many guests, including those who have access because they booked spa balconies, head to the Thermal Suite.
Heated loungers, a variety of different plunge pools, and a limited number of guests make this an ideal area for relaxation and renewal. Passes can also be purchased for a daily visit or for the entire cruise.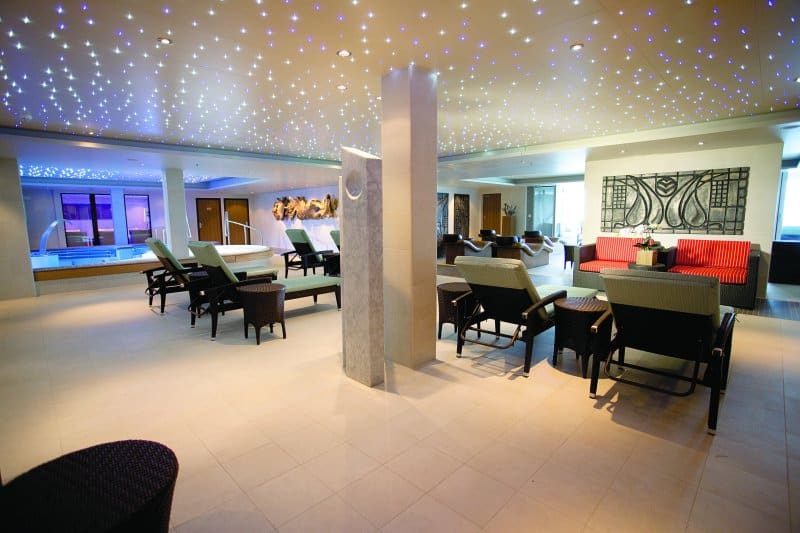 Closing Thoughts on Norwegian Epic
Norwegian Epic innovations started when it was first launched and many have been added to the newer ships in the Norwegian fleet. The ship looks almost like new; the most extensive renovations took place in The Haven — or underwater. Having dined at most of the restaurants onboard, I can say that the quality of the food and the menu choices exceeded my expectations. The tastefully prepared dishes took the food on Norwegian Epic to a new level.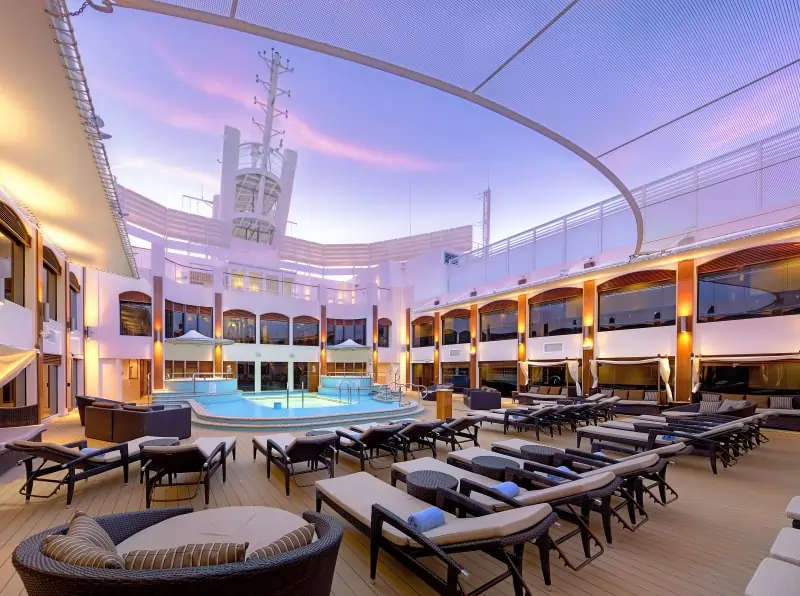 On my first sailing aboard Epic many years ago, the headliner entertainment was Blue Man Group, so it should come as no surprise that the quality and variety of entertainment continues to impress. A duo that played a variety of mostly international folk tunes on multiple instruments and a UK group that performed songs from the pop genre to opera were crowd-pleasers, consistently receiving standing ovations.
If I had to mention one aspect of the cruise that I know is on the list to be updated, it's the lighting in the non-Haven staterooms. I definitely appreciate the low lights for a sleeping area, and the reading lights on both sides of the bed were useful. But, it was difficult to see into an unlit closet, apply make-up, or read a book while seated on the sofa. I definitely recommend packing a clip-on light for reading or a stick-on light for the second closet.
It should be noted that due to COVID, several activities and areas are not functioning as usual. Those include the Splash Academy kids' club, bowling, basketball games, and other high-touch, close-contact activities, so please keep current with what is offered on board.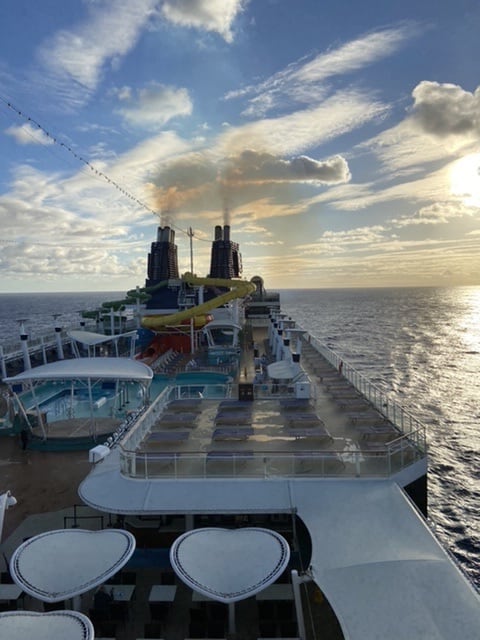 The two weeks on Norwegian Epic passed quickly by, perhaps because of how enjoyable the cruise was. Attentive service by a friendly and dedicated crew, a clean and fresh ship, and an amazing itinerary added to the enjoyment of the cruise.
By Theresa Russell
READ NEXT: 12 Things to Know Before Sailing Norwegian Cruise Line
Pin it!