It's been over a month since I disembarked Carnival's Mardi Gras, and I realized we never published the trip report covering my final full day on board, during which we visited Nassau, Bahamas. You know what they say… better late than never, so let's dive right in.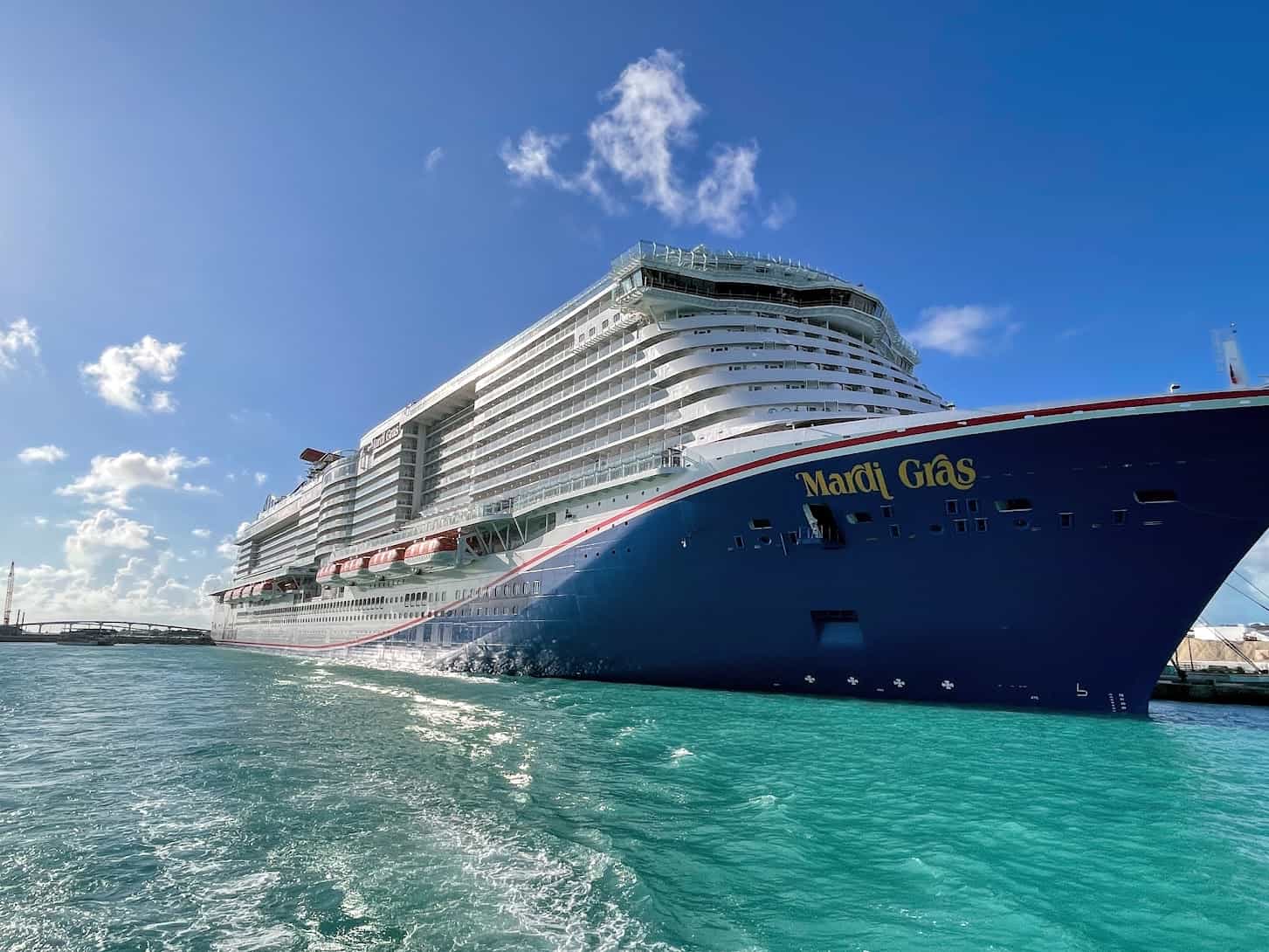 My memories of Nassau date back to when I was a kid, back before the waterpark at Atlantis — now considered one of the area's biggest attractions — was built.
When my family took our first cruise from Port Canaveral is was on the now-scrapped Carnival Fantasy, this was where we went, so Nassau will always hold a special place in my heart.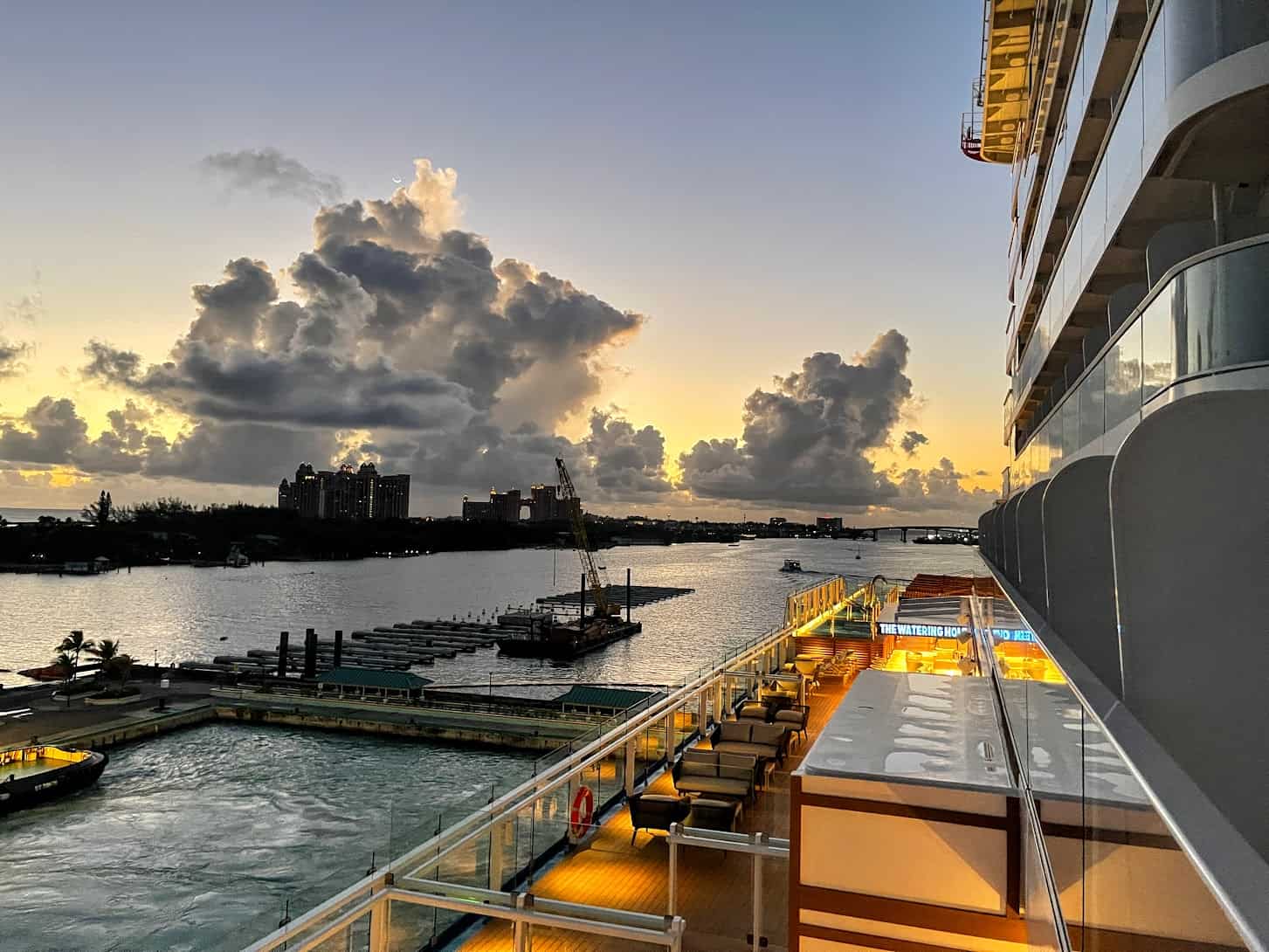 This morning was no exception. I woke up to watch the ship back into Nassau at sunrise. It doesn't matter what port you're in or where you are in this world, a sunrise at sea beats a sunrise on land. It's reason enough to get up early, even if you go right back to sleep.
We booked the Adults Only VIP Beach Serenity at Blue Lagoon for $109 per person and had a meeting time at 8:30 on the pier.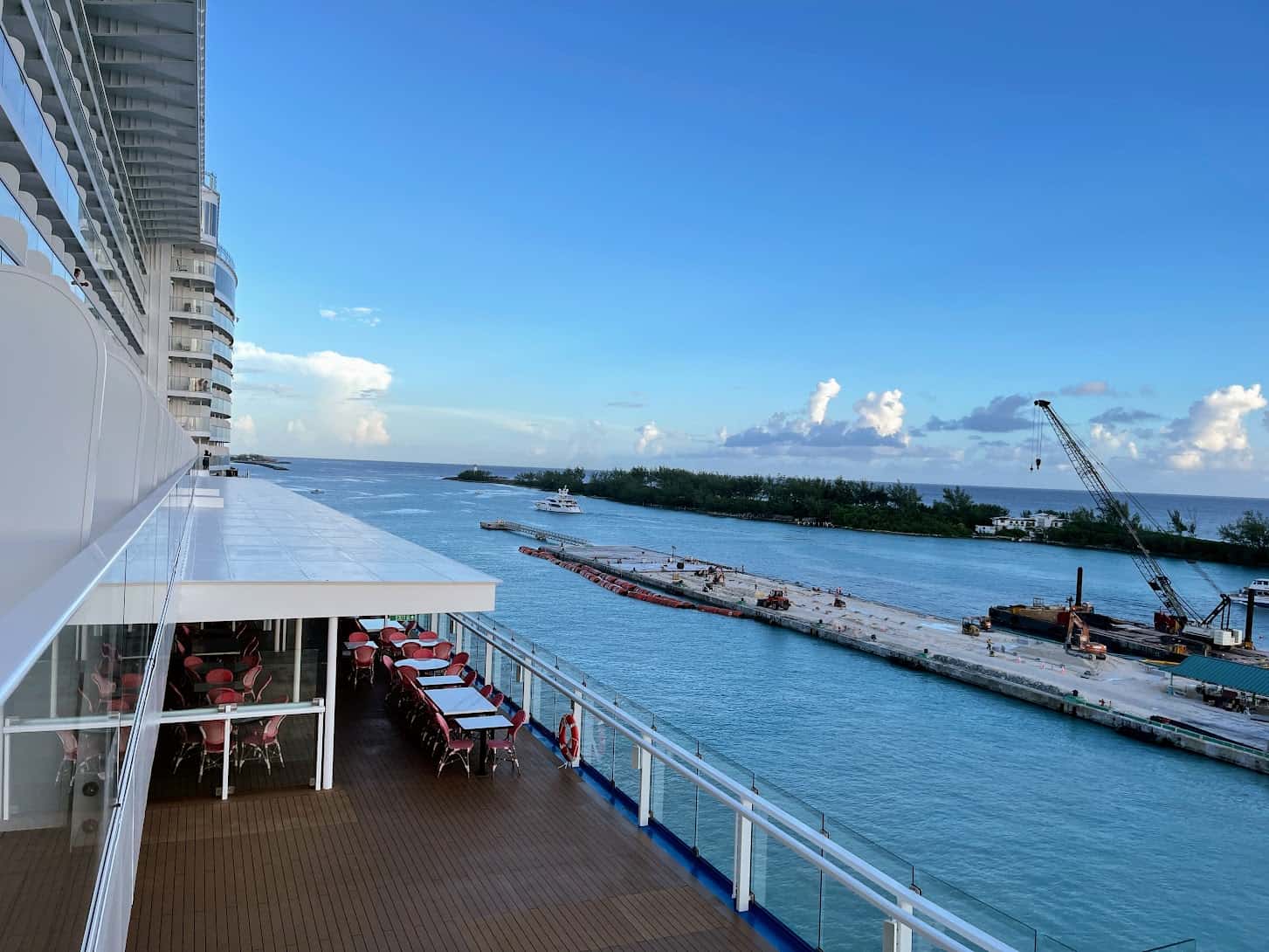 Let me be clear about one thing: I'm not a big fan of cruise ship excursions. I know they make planning easier and that they're popular with a lot of people, especially those who've never visited a particular port before and maybe worried about getting lost or the ship leaving without them.
But I've always preferred to sort of do my own thing. Even when I want to visit a popular spot, I tend to find my own way of getting there, in part because I like the freedom that comes with not being on someone else's schedule, but also because I have personal-space issues.
This time, however, I booked the excursion through Carnival in order to see what it would be like — and how it might be different — as a result of the new protocols put in place during the restart.
After grabbing a quick breakfast up on Lido, we headed to deck three to disembark and meet our group on the pier.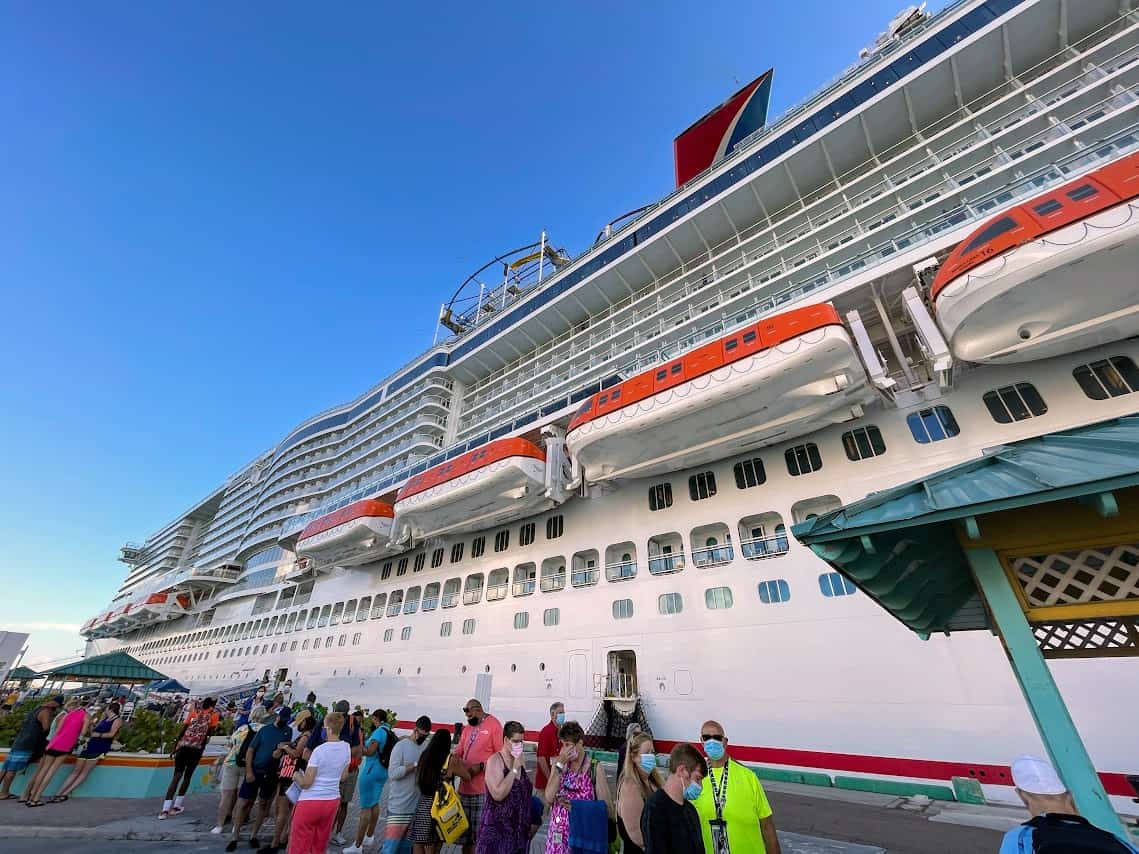 My travel agent was also on this tour so it was nice to join a group of people that I already knew. Like the other ports we visited on this particular sailing, masks were required to be worn off the ship.
After checking in with our tour guide, we were advised (by which I mean told repeatedly) that we had to wear a mask the entire time, except while on the beach.
We then boarded the high-speed boat to Blue Lagoon and after 30 minutes arrived on the island.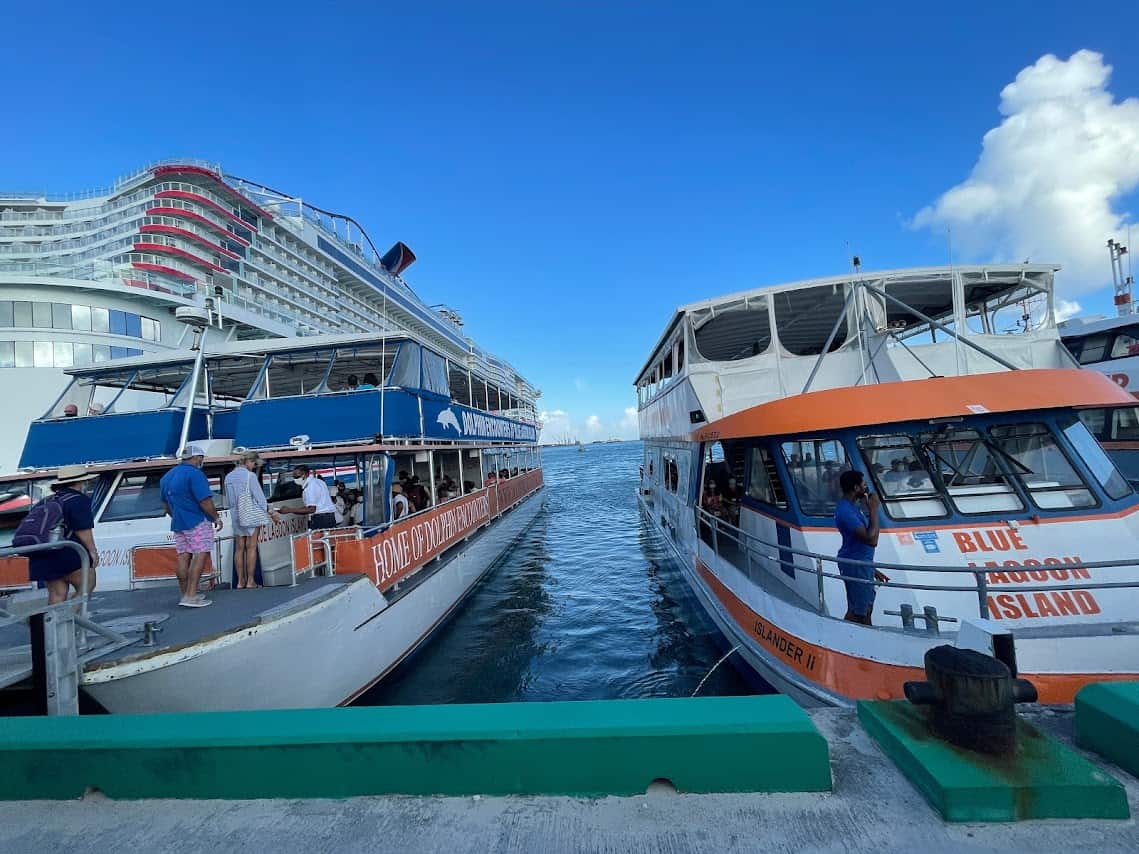 The island makes a great first impression. It's exactly what comes to mind when you think of a tropical island: blue water, sandy beaches, plenty of drinks, and people having a good time. It's worth noting this particular excursion was not just offered to cruisers, hotel guests were also on the island enjoying themselves. But the cruisers were segregated away from the general population on what was almost the very end of the island.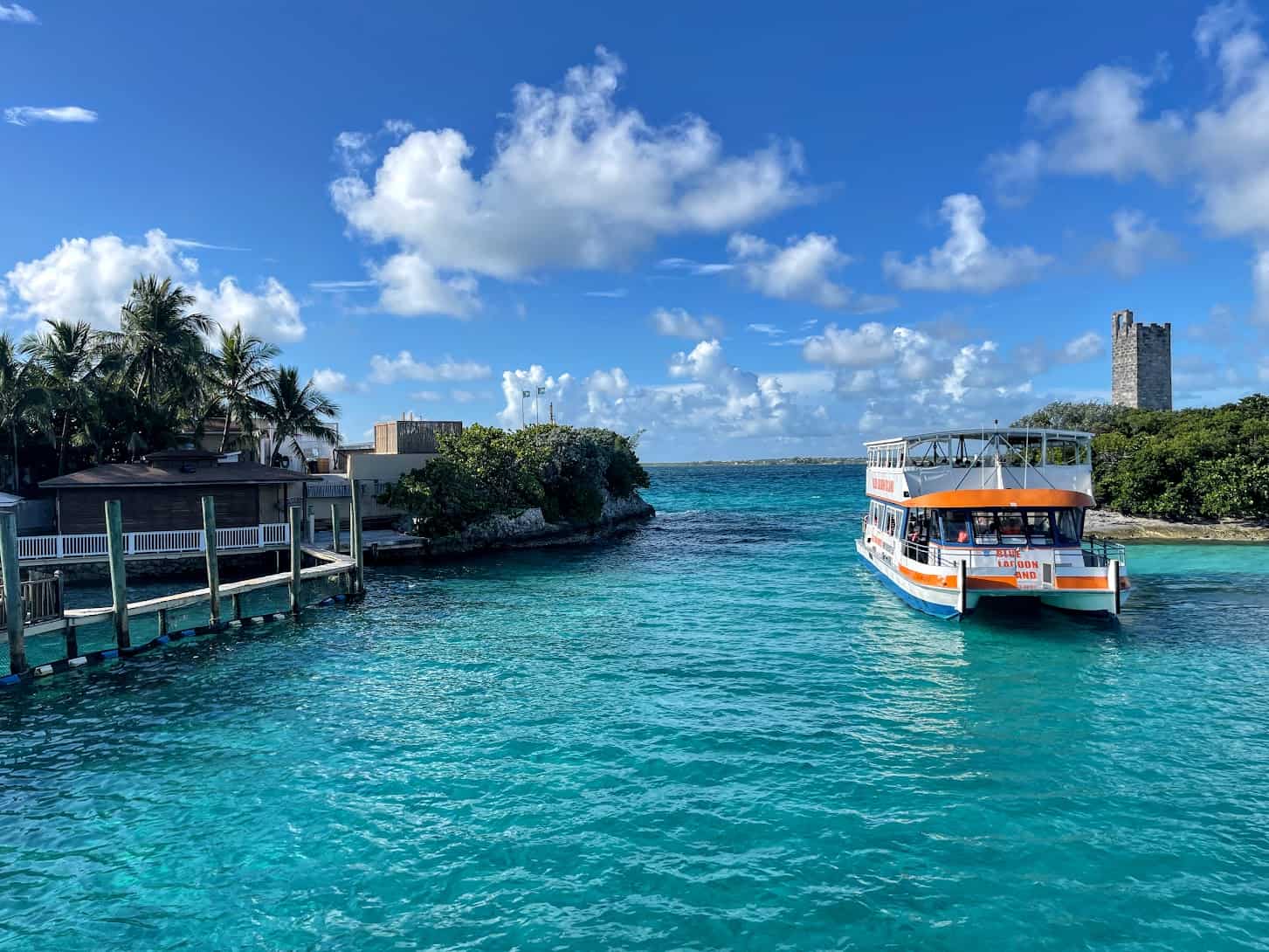 Our "VIP beach experience" was definitely lacking. The "lagoon" was more like a rock-strewn pond far from the gorgeous white sands and blue waters, and the food and drink were OK at best. I tweeted about it, and left it at that. (Note: Wear water shoes if you book this tour.)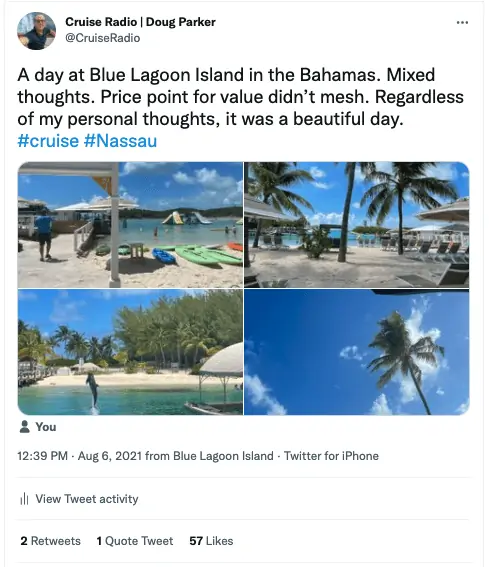 As it turned out, I wasn't the only one disappointed by the excursion, as I later found out that because several guests had complained, everyone who'd booked on the "VIP" excursion got half of what they paid back.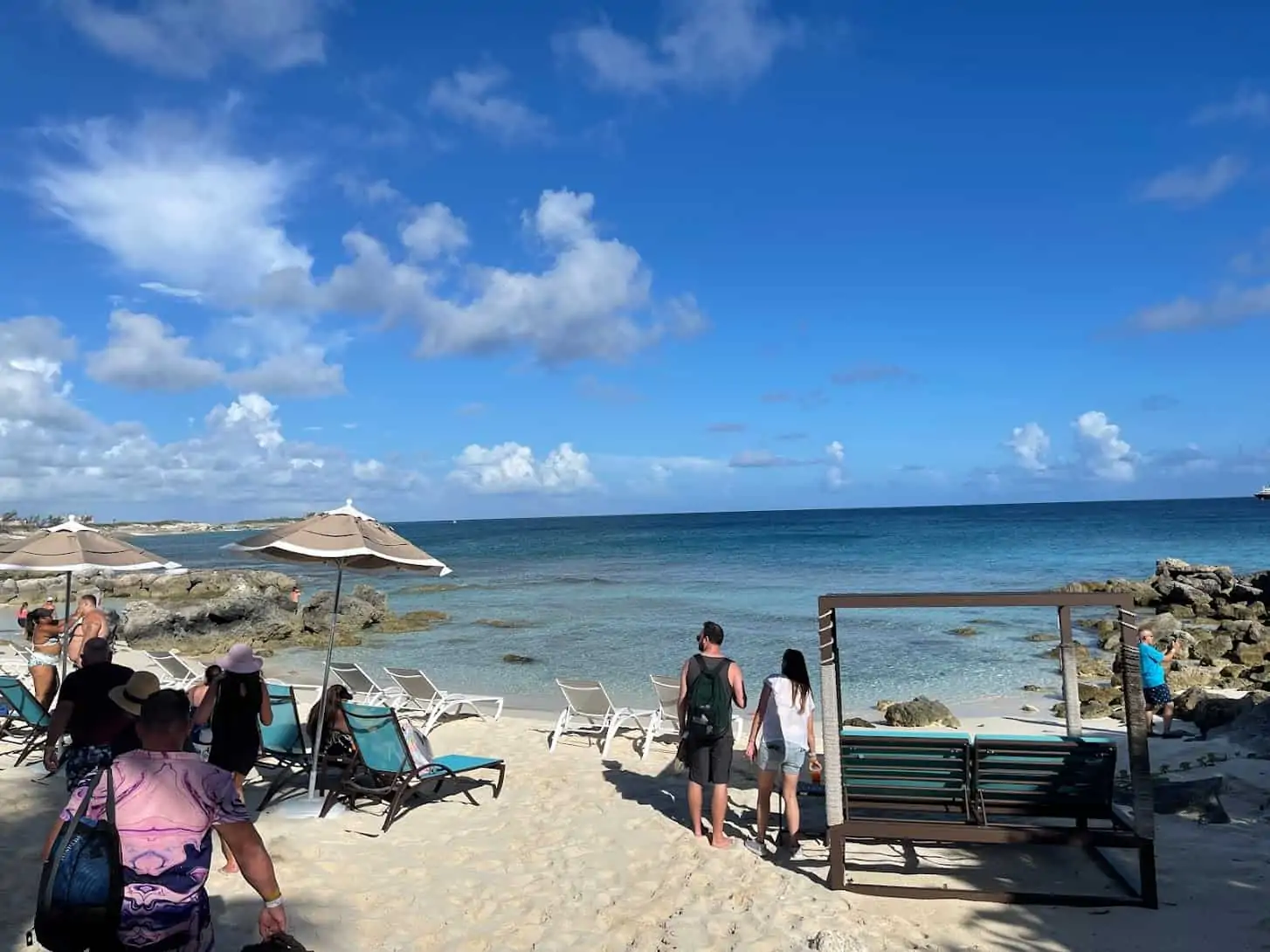 Seeing a handful of dolphins lined up and forced to put on a dog-and-pony show for paying guests was also not my idea of a good time. But that is a story for a different day.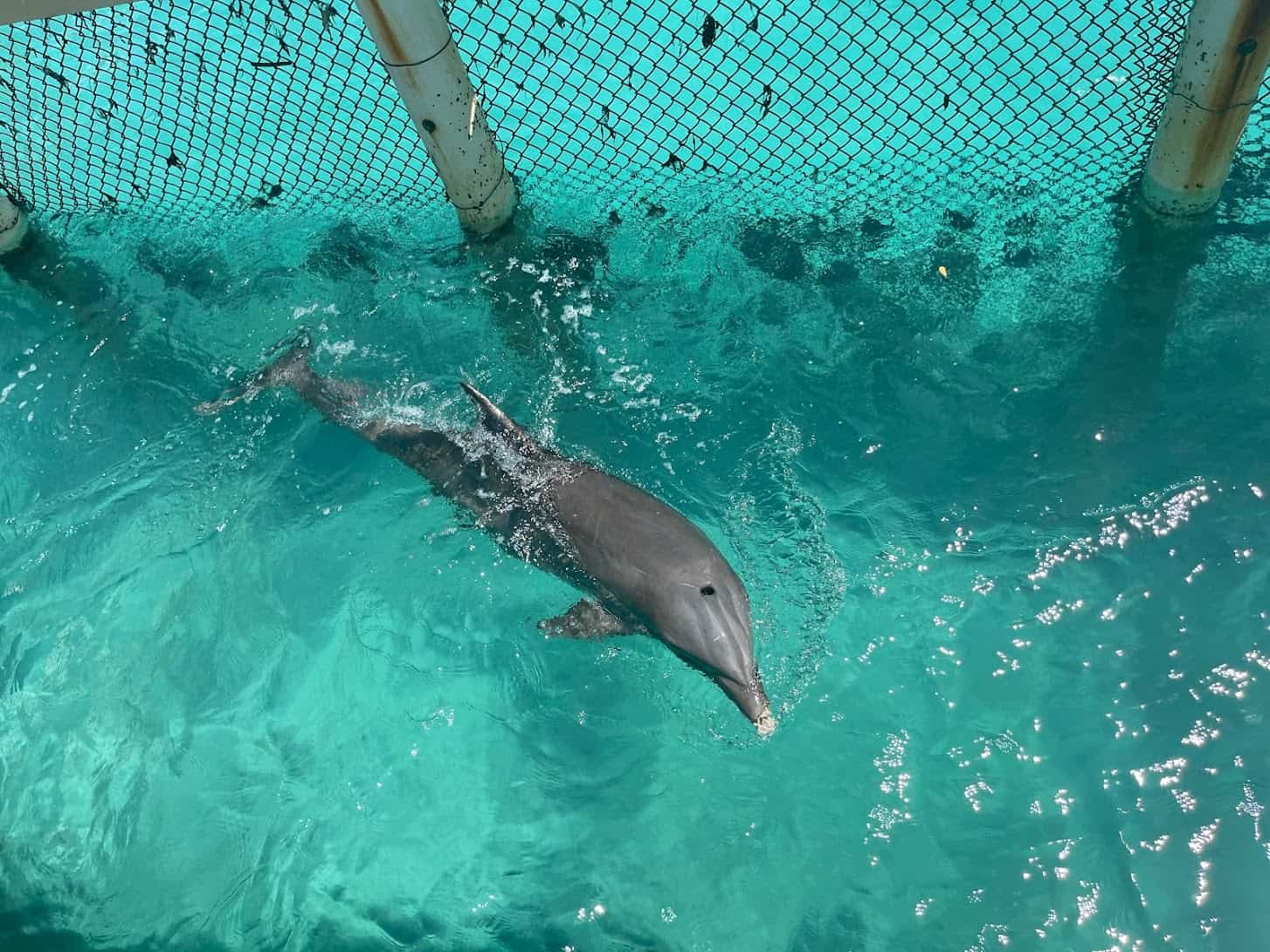 We jumped back on the same boat which had brought us over to return to the port and got back aboard Mardi Gras just in time for sail away.
One real benefit of booking an excursion — good or bad — through the cruise line? They know where you are and won't leave without you. If you're wandering around on your own, the same can't be said. When it's time to leave, they're gonna do it, whether you're back or not.
It was cool to see how much progress is being made on the Nassau port development project. If this is done right, it has the potential to be a real game-changer for Nassau, which hasn't had the best reputation among cruisers in the past few years.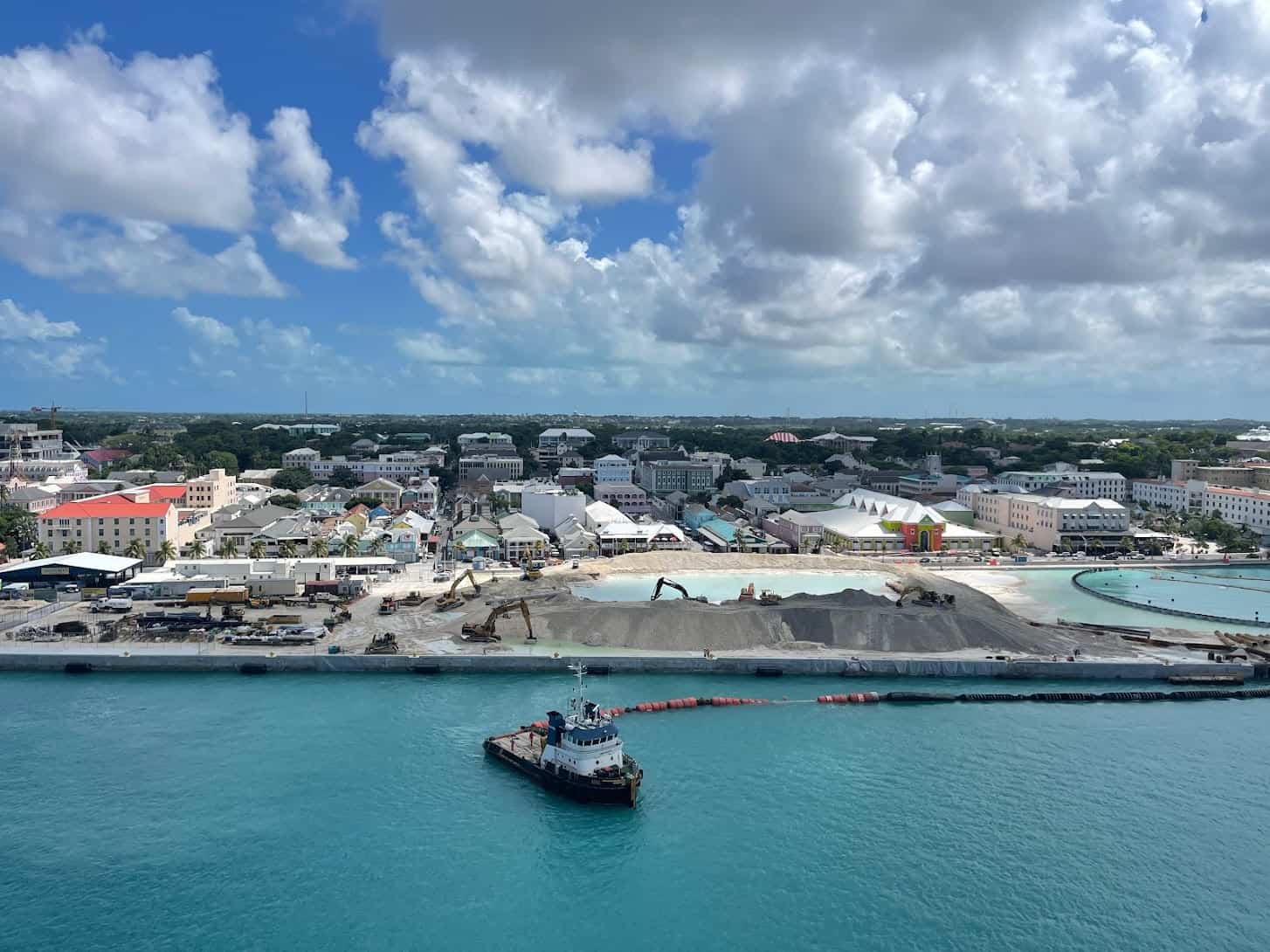 My siblings and I bought this cruise for Father's Day so I met him upstairs and had a second lunch with my dad at Guy's Burger Joint.
At this point, I was so burgered out between breakfast and my first lunch that I opted to do this one minus the bun. I really enjoyed getting my dad's take on the new ship and his thoughts on how the trip was going so far.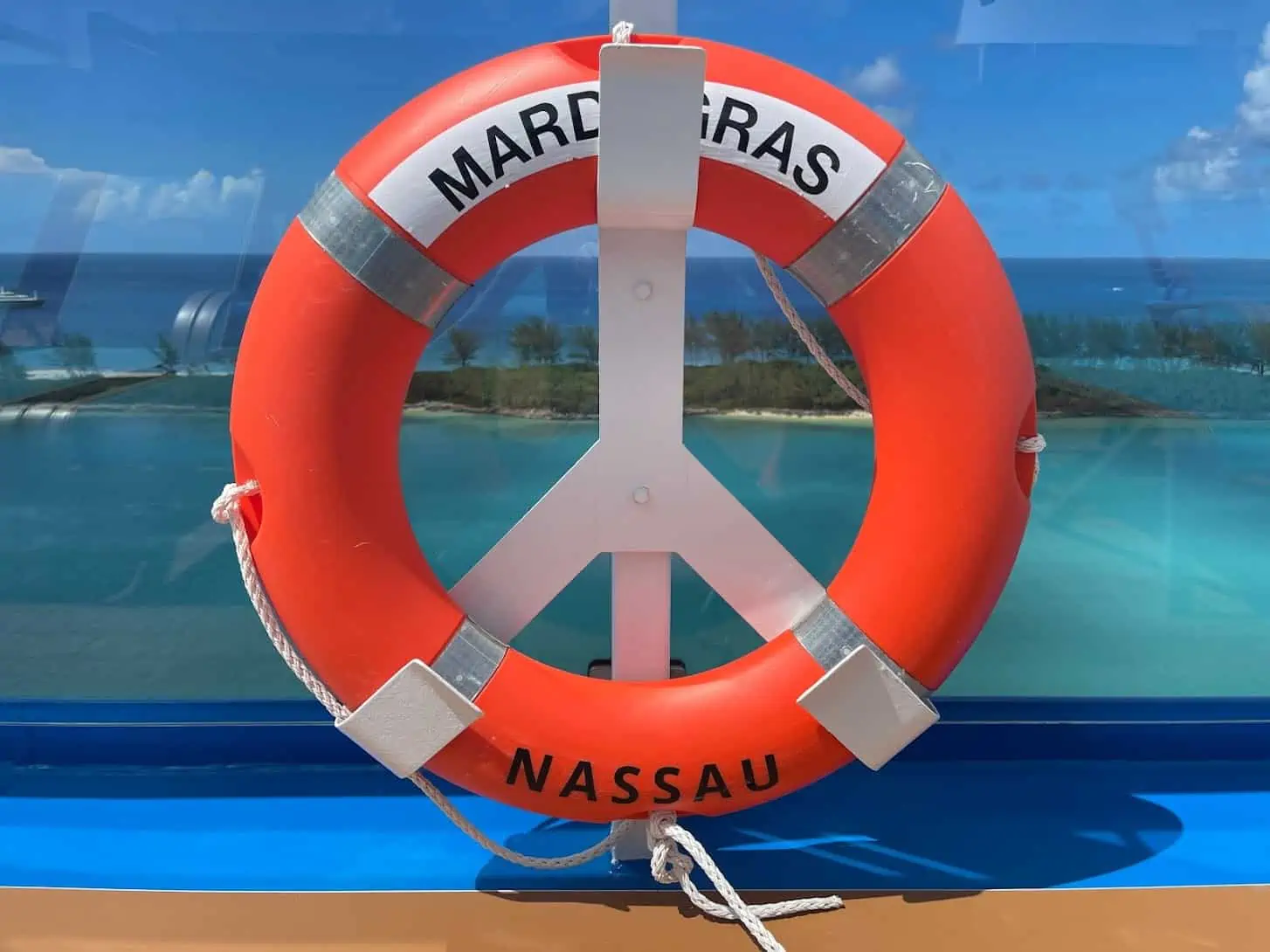 Before this, the largest Carnival ship he'd been on was Carnival Dream. Most people I talked to during this sailing were blown away by Mardi Gras. The biggest complaint, and it's something I've mentioned in previous entries, was that they didn't seem to have a handle on the dining situation those first few days.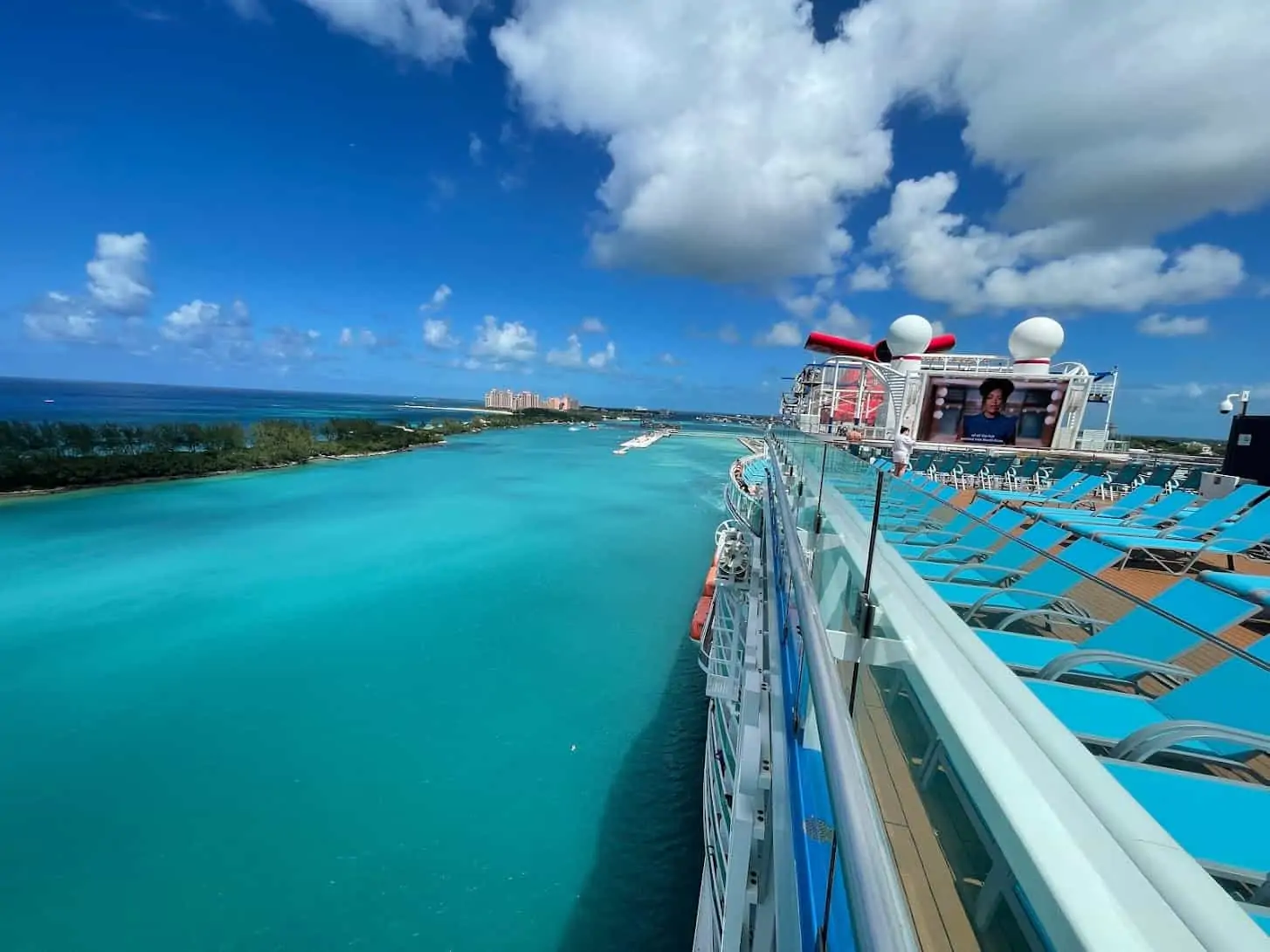 We went up to Serenity to watch sailaway out of Nassau. The weather was perfect, so we were able to get that iconic shot of the lighthouse as we were leaving port. After a few minutes, the pilot boat approached Mardi Gras, took the pilot, and just like that our last port of the cruise fell into the horizon. Our next stop would be Port Canaveral.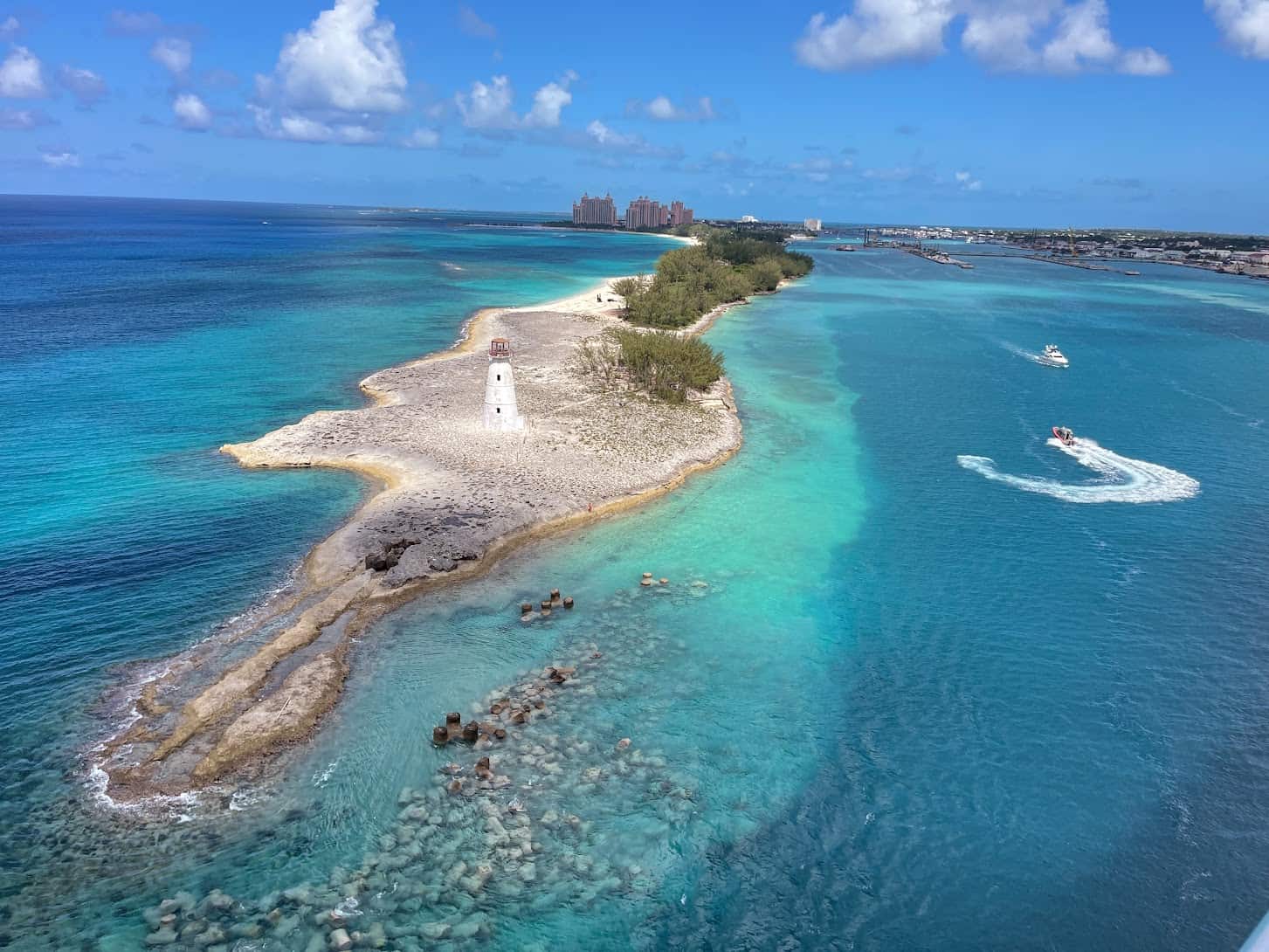 We were going to end the cruise on a high note dining-wise, having booked Fahrenheit 555 Steakhouse for dinner. With some time to kill before our reservation — and I know I've said it before, but you'll definitely want one if you intend to eat in the steakhouse — we wandered the ship for a while.
MENU: Fahrenheit 555 Steakhouse
In the Grand Central Atrium, they were doing a dress rehearsal for that night's show. Called The World Works Here, it features performances by crew members from a wide variety of nationalities. Since we were going to be in the steakhouse during the actual performance, I'm glad we got to catch part of the dress rehearsal.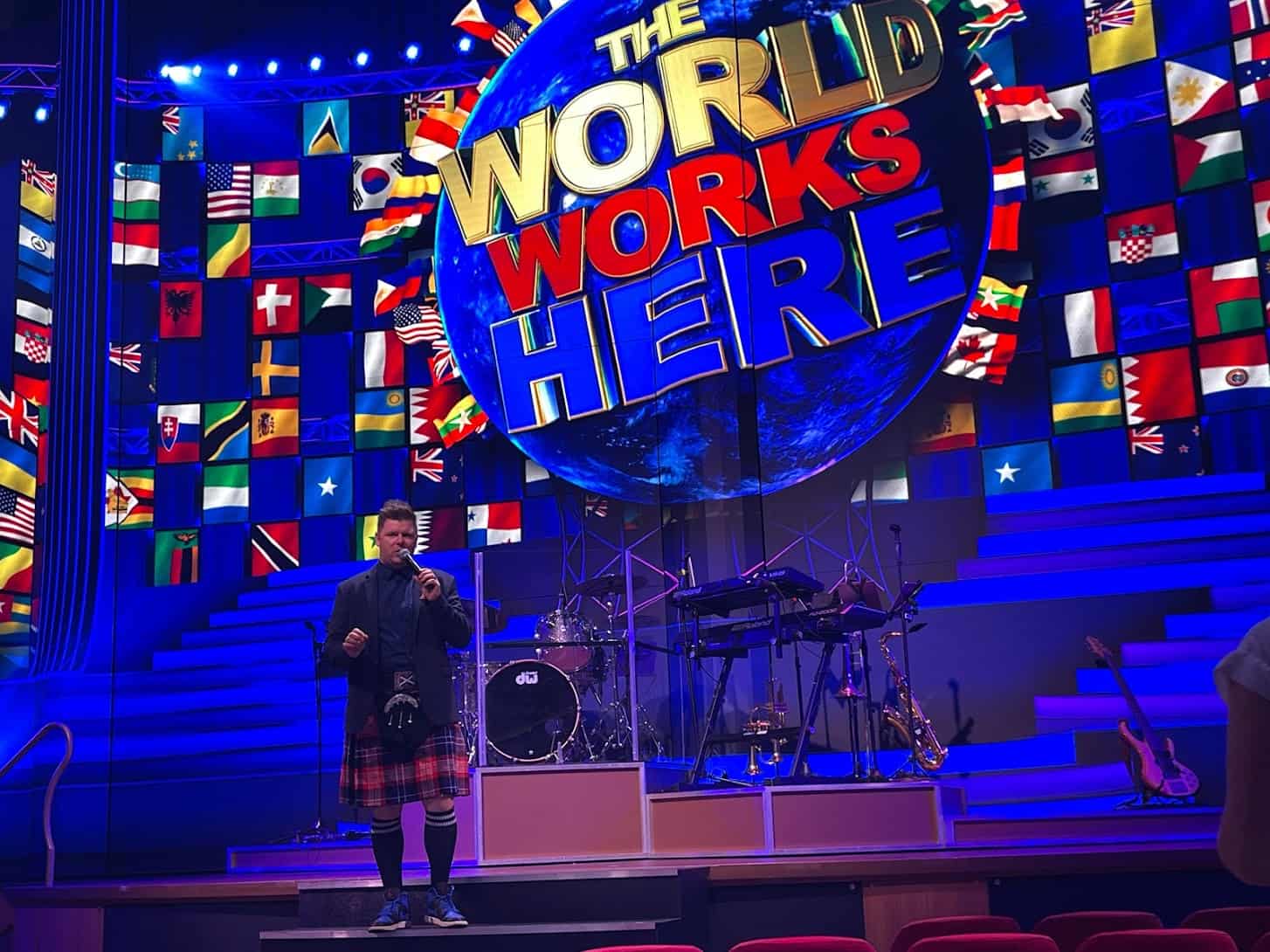 Speaking of the atrium, I have to say that I've been really impressed by this space throughout the week. We've returned time and again for everything from question and answer sessions to performances by live bands and the Deal or No Deal game.
At night, it's an entertainment hub, and during the day — especially sea days — it's a great space to enjoy looking at the ocean while relaxing, especially for people who maybe don't want to be out in the heat.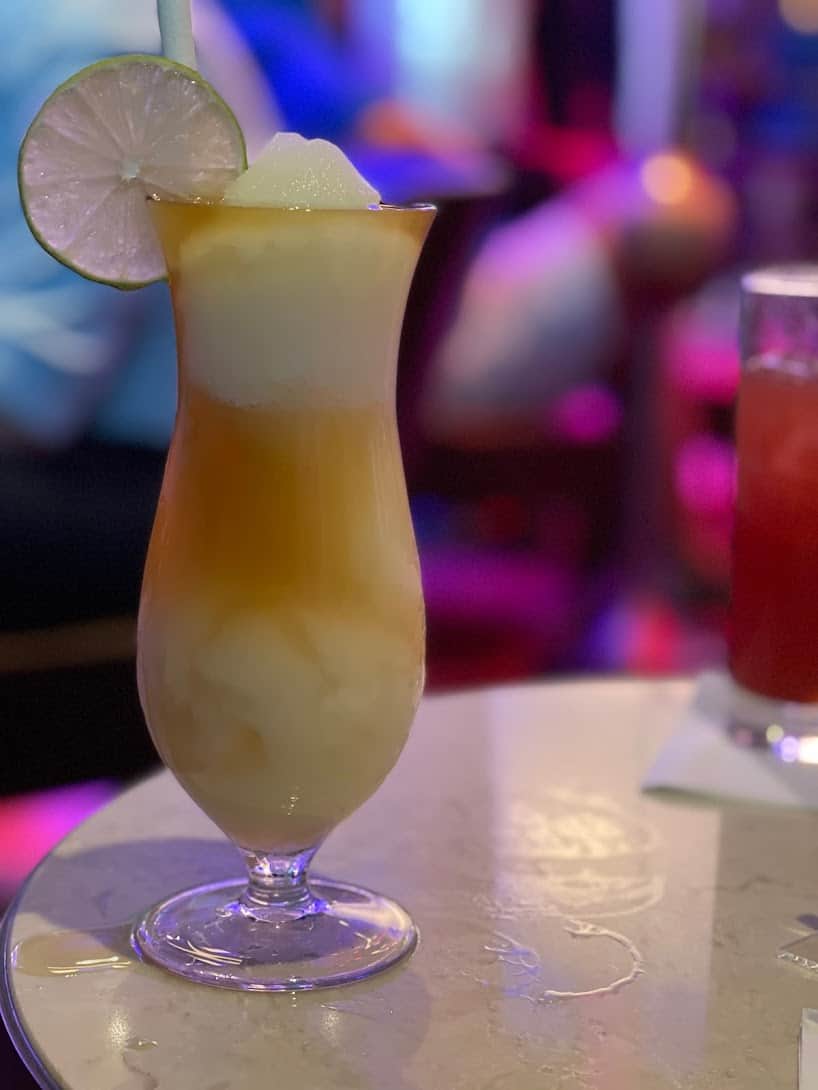 Before dinner, we stopped for one last cocktail from The Fortune Teller Bar. I really don't remember the drink's name, but it was a little strong for my liking and really acidic (perfect for inducing heartburn). That's not to say it was a bad drink or poorly made, just that it wasn't really to my personal taste.
I still love this bar, which is another new-to-Carnival venue that's a total win. It's a unique setting and offers drinks you won't find anywhere else.
Instead of sitting at the bar as we have in the past, we took our drinks to a cozy little nook right across the way. It was a nice spot because you're back in a little quiet spot that is set back off the main walkway and can still enjoy an acoustic guitar or the string trio, depending on the day.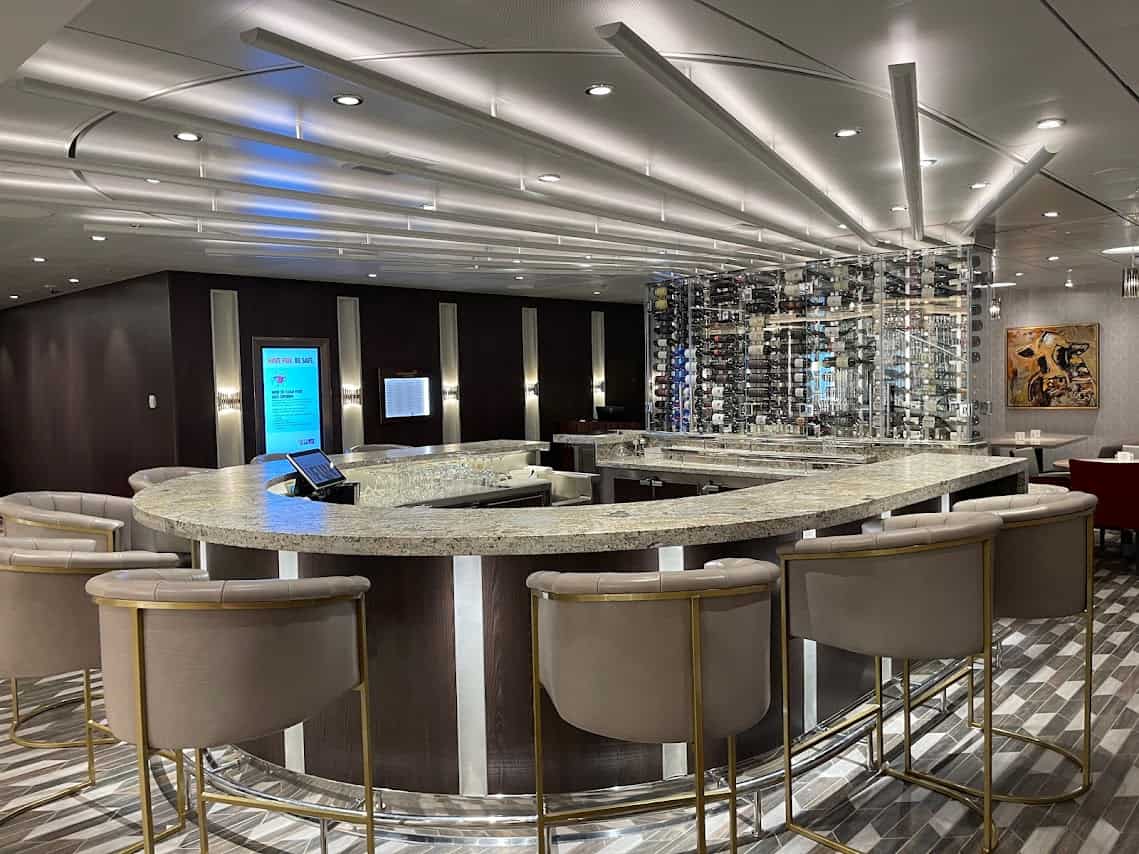 After a while, it was time to head to the steakhouse for dinner. This is another space where Carnival shook things up. Not so drastically that the steakhouse is unrecognizable, but they expanded the bar in a way that makes it far more inviting.
On other ships, the steakhouse bar held maybe four or five people, this one — with a horseshoe shape and comfy seats — has much more seating. While I suspect most of the people who grab a drink here are doing so before dining at the steakhouse, it's a spot I'd totally go to for a pre-dinner drink no matter where I was actually going to be eating.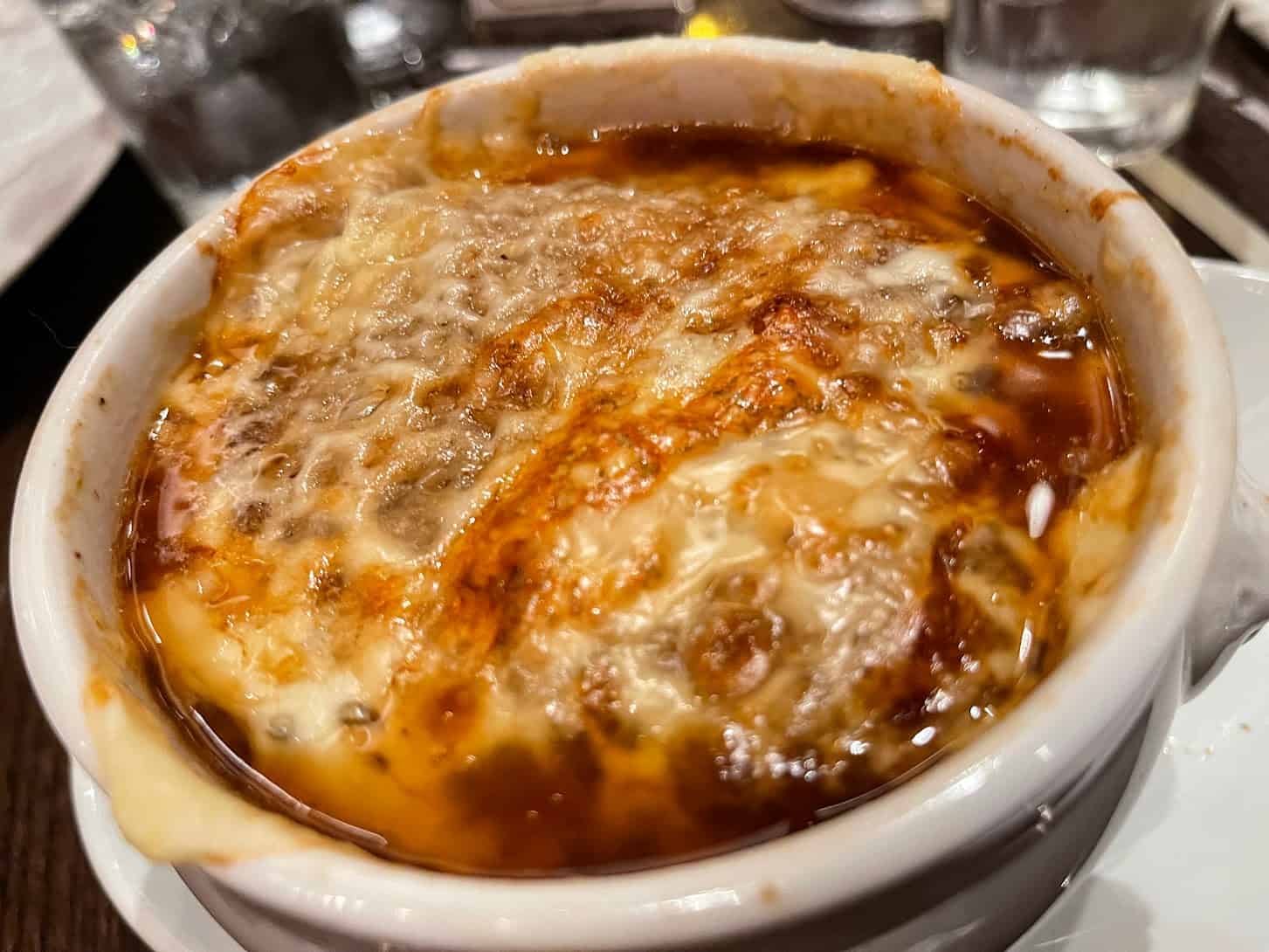 Dinner in the steakhouse was solid, as usual. I had my usual: fresh salad, Baked Onion Soup, 18-ounce Prime Cowboy Steak and, for dessert, the "Art at the Table." This is the kind of dessert you really only do if someone in your group has never experienced it, at least as far as I'm concerned.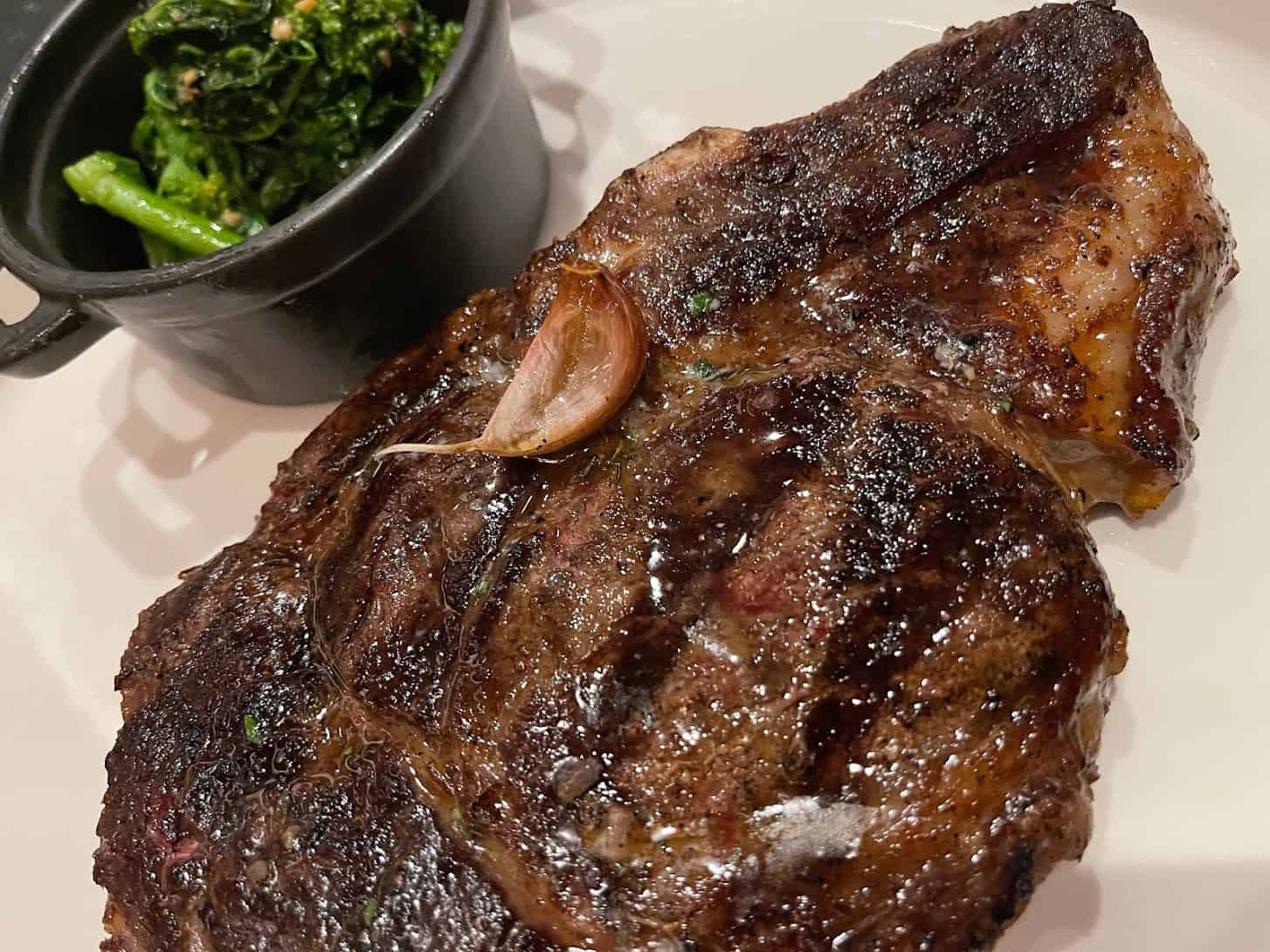 I find the whole thing a little awkward, with the chef standing by the table and you staring at him while he creates the art on a cutting board. Maybe it's the kind of thing you either love or hate, like having them make table-side guacamole in a Mexican restaurant. The steakhouse menu was the same as before the shutdown.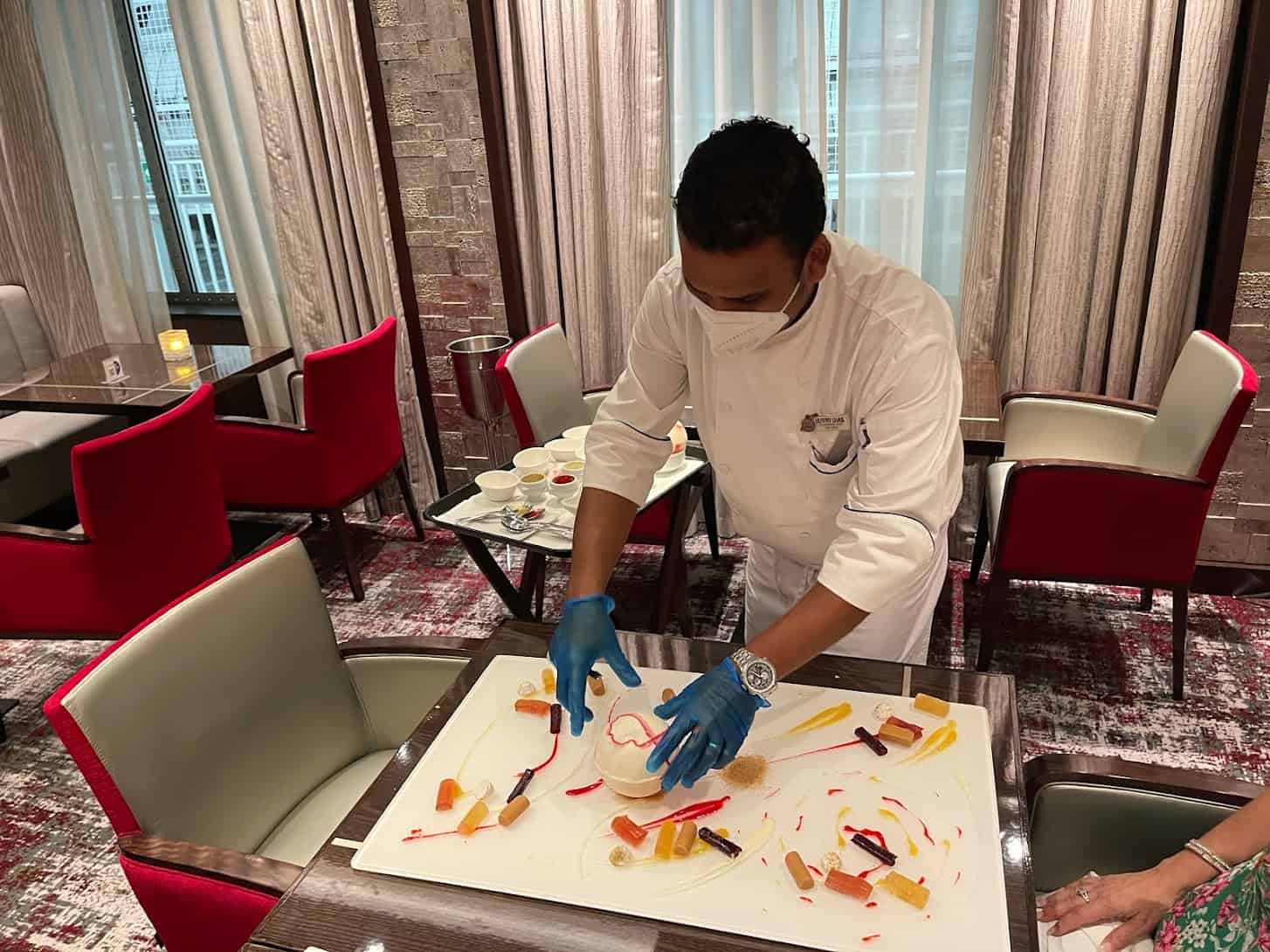 Since it was the last night, I had to go pack because for once, I was leaving my bag outside the door — I usually just carry my stuff off — and it had to be there by 11 pm in order get sorted and stacked to be brought out the next morning.
By the time I made it back downstairs, the band at Guy's Smokehouse was done playing for the night so we went to the Lido deck for ice cream… and wound up finding several ducks that people had hidden.
MORE: Exploring Mardi Gras Summer Landing Zone
So we took pictures with the ducks, posted them on the Cruise Ducks Facebook page, and rehid them for others to find.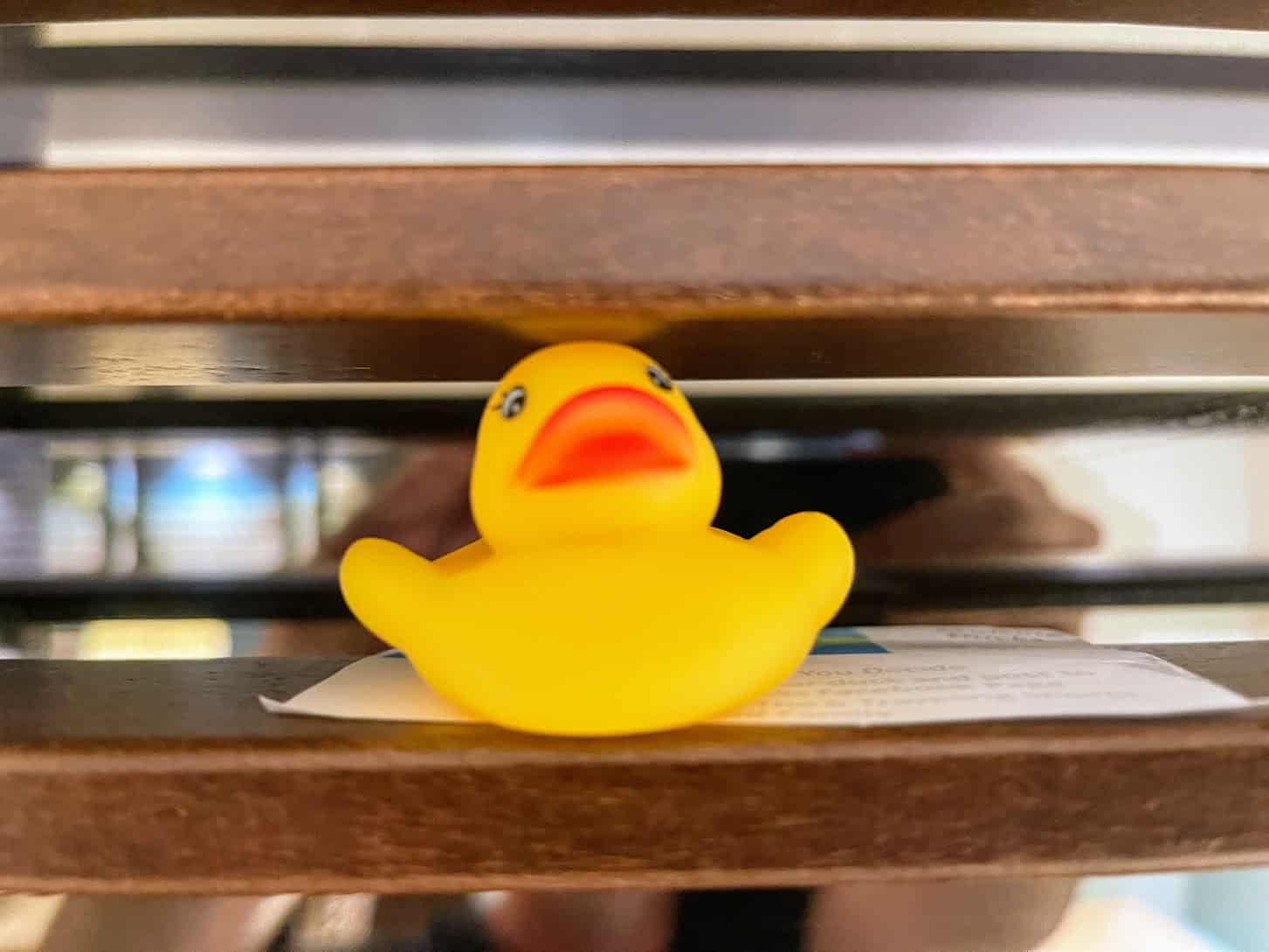 Wandering across the Lido deck we walked out by the pool, where the Dive In movie just wrapped up. It was so cool seeing the pool and the two-story RedFrog Tiki Bar lit up at night.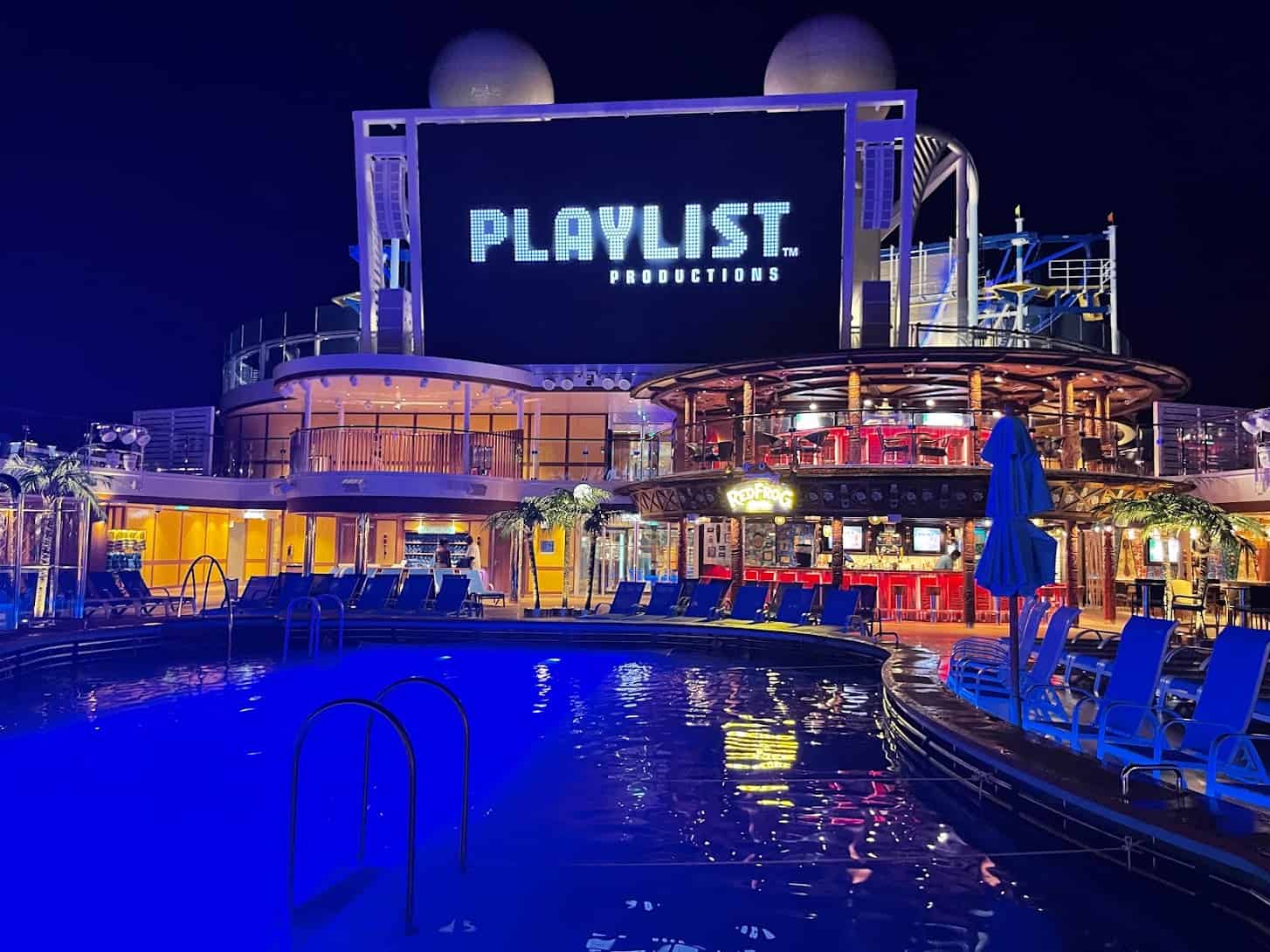 At first, I didn't know whether the Tiki Bar idea would work on Mardi Gras. Royal Caribbean has something similar with their Lime and Coconut concept, and I assumed this would be similar. Turns out, the RedFrog Tiki Bar was much different. It really managed to combine the best elements of the RedFrog Rum Bar, Blue Iguana Tequila Bar and come up with something new and exciting.
If there's one thing that could be tweaked, it's the seltzers they make here: the concentrate they used seemed to always sink to the bottom as opposed to being well dispersed in the drinks. I went with the mango flavor but were told the others were much better.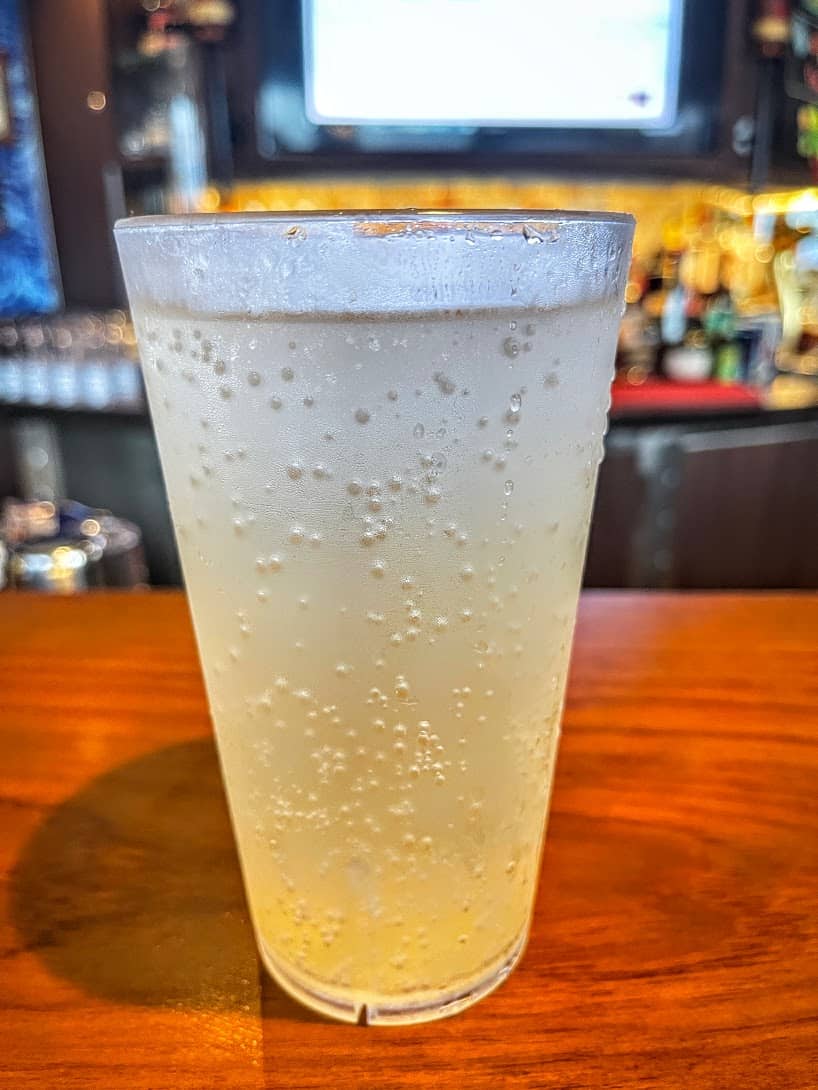 What is a Carnival cruise without a late-night pizza visit? Sure, we'd had a big dinner at the steakhouse, but that wasn't going to stand between us and a stop at Pizzeria del Capitano for not just a slice, but an entire pizza, and yes, we ate the entire pie.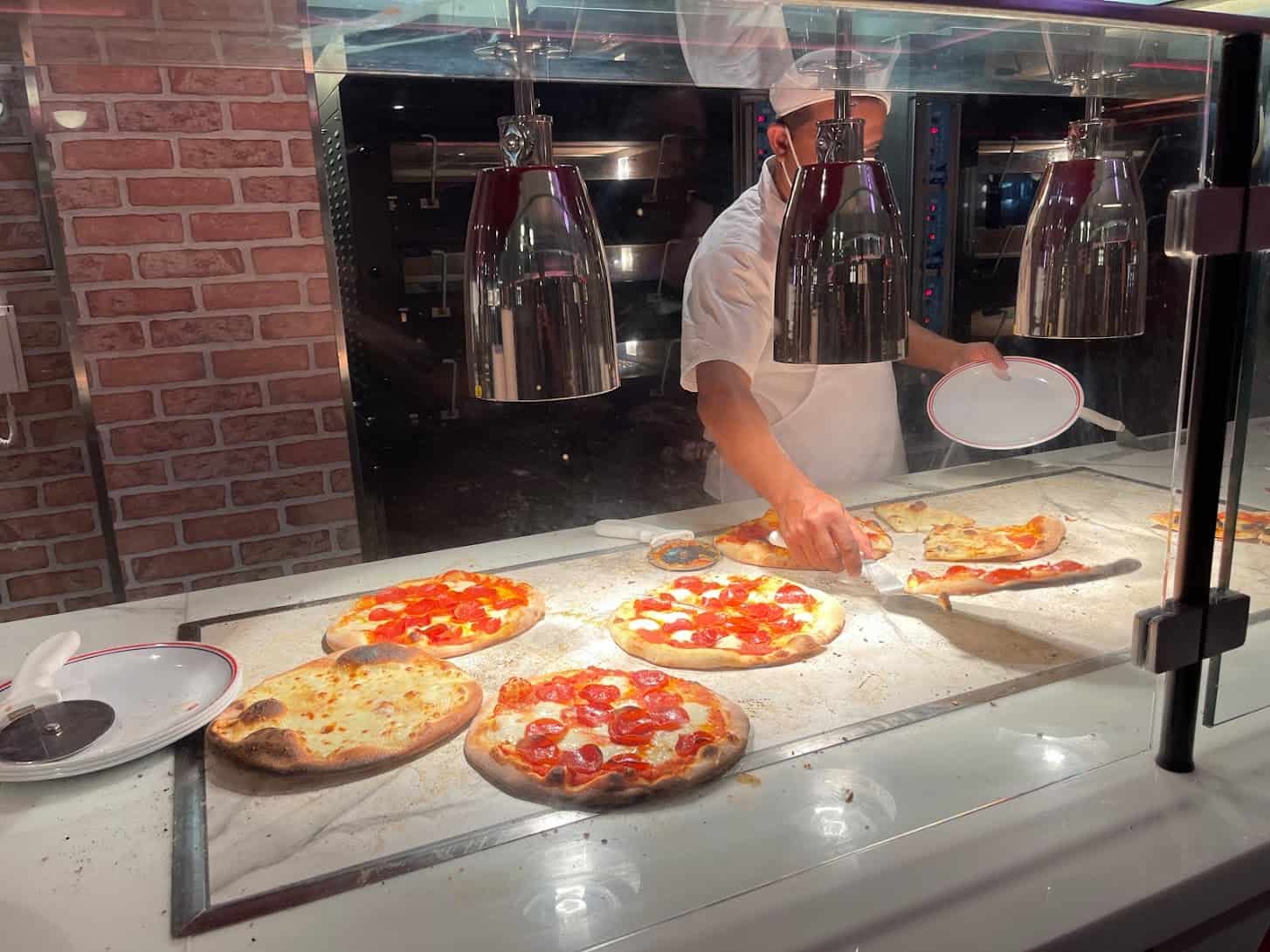 By this time, it was damn near 1 a.m., and it was time to crash out because our disembarkation time was going to be around 7 the next morning.
I'll share some final thoughts on this voyage in another post, but overall, this was a great cruise… especially when you take into account the health-and-safety protocols in place and the fact that this was the very first sailing of a brand new ship. (If you've ever done an inaugural, you know that there are always hiccups. But they were few and far between this time around.)
It was almost tough to go to bed, because waking up would mean leaving the ship. But I took a little bit of comfort in knowing that cruising was back, and before long, I'd have a chance to do it again.
Check out my other Mardi Gras trip reports: