Last Cruise Ship Leaves PortMiami at 3:00 a.m.
(Updated 7:45 a.m.) — The last cruise ship left PortMiami early this morning at 3:00 a.m. All vessels from Sunday are now out to sea with the new group of passengers.
Norwegian Escape arrived its private island of Great Stirrup Cay at 6:45 a..m. Carnival Celebration is bound for Amber Cove where she will arrive on Tuesday morning. MSC Seascape, which was the last to leave PortMiami this morning, will arrive Nassau, Bahamas at approximately 10:30 a.m.
Both channels in PortMiami, North Harbor (cruise ship lane) and the South Channel (cargo lane) are now open to maritime traffic and are moving as scheduled.
Carnival Sunrise, Carnival Conquest, and Royal Caribbean's Freedom of the Seas are in port this morning and will leave on schedule this afternoon between 3:30 and 4:30 p.m.
This will be the last entry. You can find the latest article on the Miami boat accident here.
Cruise Departures Delayed Until Late Sunday
(Updated 6:20 p.m. ET) — The three cruise ships arriving late today because of the Miami boat accident early Sunday morning will depart South Florida late this evening.
MSC Seascape is calling for pilots at 10:00 p.m.
Carnival Celebration is calling for pilots at 11:00 p.m.
Norwegian Escape is calling for pilots at 11:59 p.m.
The schedule can change based on quickly the crew can turn the ships and provision the vessels.
Cruise ships due Monday are Carnival Conquest, Carnival Sunrise, and Royal Caribbean's Freedom of the Seas.
Cruise Ships Now Entering PortMiami
(Updated 3:20 p.m. ET) — Cruise ships are entering the harbor and will soon be positioned to dock.
Departure times will vary depending on operations. If you are sailing, information will be provided by your respective cruise line.
Any significant updates will be posted on this story until the last ship leaves this evening.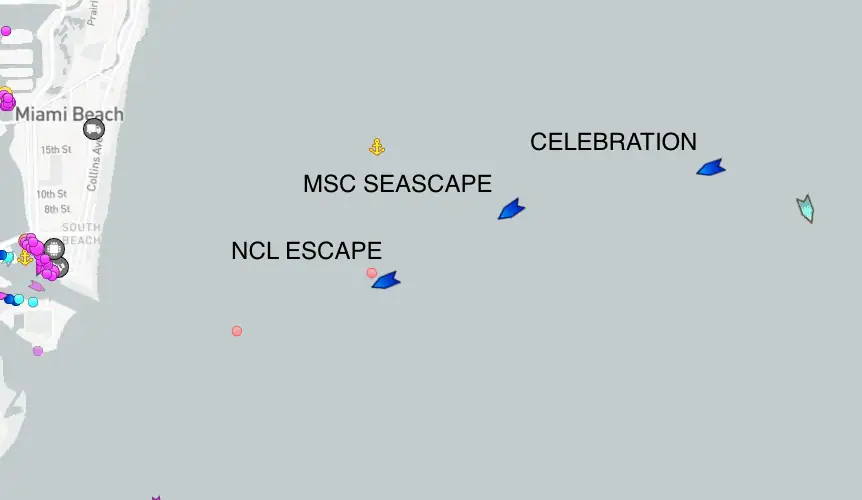 Pilots Waiting to Board Cruise Ships
(Updated 3:00 p.m. ET) — The Biscayne Bay Pilots are ready to bring the three cruise ships into port.
Norwegian Escape, MSC Seascape, and Carnival Celebration are underway and heading towards the sea buoy, where the harbor pilot will board the vessels and bring them up the North Channel.
The ships are currently stacked up in a single file line for entry with Norwegian Escape, MSC Seascape, and Carnival Celebration.
What happens next?
After the ships are docked and cleared by local authorities, all three ships will each have to offload between five and six thousand guests, before embarking on the next cruise.
Along with offloading guests, the ships must also be provided with food and supplies, and do crew sign on and sign-offs.
MSC Cruises sent a note to booked guests telling them not to expect embarkation to begin any time before 5:00 p.m. In turn, delaying the departure of MSC Seascape for approximately four hours.
NCL advises guests that they may not start boarding until this evening, while Carnival Cruise Line's latest update says they will provide another update at 4:40 p.m.
Miami expects thunderstorms throughout the afternoon, which could add an extra challenge to turning the vessels.
Vessel Recovered, Cruise Port is Reopening
(Updated 2:41 p.m. ET) — The tug, barge and divers are out of the channel and it is now reopening.
The Southeast USCG Southeast sector tweeted, Crews have successfully recovered the sunken vessel & removed the obstruction in the North channel. The U.S. Coast Guard Captain of the Port has authorized a reopening of PortMiami to all vessel traffic.
Cruise Ships Wait While Divers Recover Sunken Boat
(Updated 2:25 p.m. ET) — A large barge and rescue divers continue to occupy the North Channel of PortMiami as teams try to recover a sunken vessel from the bottom of the channel.
As a deep water port and home to both mega cruise and cargo ships. As of 2020, the main channel's water depth is anywhere between 36 and 52 foot deep.
In a statement from the Coast Guard, "Crews and partner agencies continue work to complete the investigation, salvage, and pollution mitigation efforts with dive teams to safely clear the North channel of the sunken vessel obstruction following the fatal boat collision this morning in PortMiami."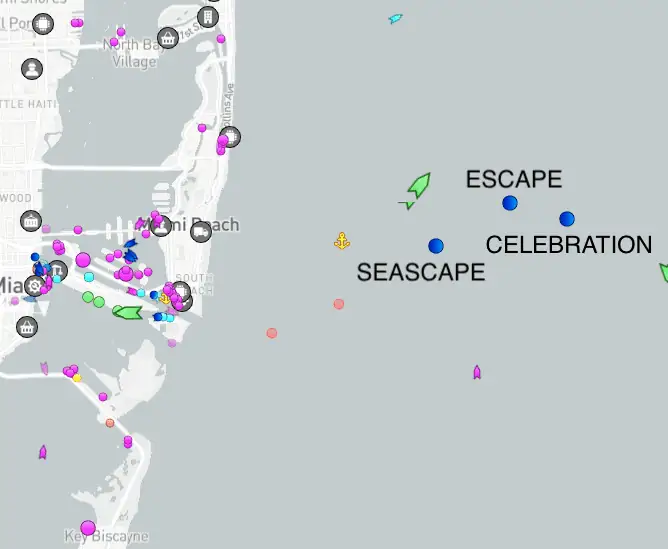 Coast Guard: All Vessels Must Stay 900 Feet Away
(Updated 1:55 p.m. ET) — The U.S. Coast Guard released a statement on Twitter regarding the area of the sunken vessel, which is in the North Channel of PortMiami.
The incident happened in the main channel, just east of Dodge Island, which is where cruise ships dock.
"This safety zone temporarily closes the North shipping channel to navigation. Entry of vessels or persons into this zone is prohibited unless specifically authorized by the Captain of the Port (COTP) Miami.
Coast Guard and local law enforcement marine units may enforce the safety zone from 11 A.M. on June 25th until the vessel is removed and investigation has concluded. The safety zone will cover navigable waters within 300 yards of the submersed vessel.
No vessel or person will be permitted to enter the safety zone without permission from the COTP or a designated representative.
Thank you for your understanding & support of our commitment to ensuring the safety & security of the ports & waterways of South Florida."
U.S. Coast Guard Gives Update on Cruise Port Closure
(Updated 1:20 p.m. ET) — The U.S. Coast Guard has announced the South Channel is open to maritime traffic but the cruise ship channel (North Channel) remains closed due to a "sunken obstruction."
15,000 cruisers remain off the coast in South Florida as a Miami boat accident has shutdown the waterway to all maritime traffic into PortMiami.
The U.S. Coast Guard is calling the area an "active security zone" while the investigation continues to be underway. The Fisher Island ferry and a pleasure craft that collided at 3:45 a.m. The accident left one dead and one injured.
All three cruise ships are in the Miami Beach anchorage area which is right off the coast of South Beach in approximately 100 feet of water.
Carnival Text Update for Carnival Celebration
(Updated 1:30 p.m. ET) — "We remain in touch with port officials. Salvage crews are working to remove the accident vessel from the channel.
We do not know when the process will be completed, but the ship is in position to head into the port once we are cleared to do so.
We will continue to monitor the situation and provide another update by 3:00 PM (ET). Please do not proceed to the cruise terminal until you receive our final update.
This is not the way we expected to start your cruise, and we appreciate your patience and understanding."
Norwegian Gives Update to Embarking Guests
(Updated 12:40 p.m. ET) — A guest embarking Norwegian Escape told Cruise Radio via Twitter that the cruise line advised them that Escape wouldn't be docking until 4:00 this afternoon.
The cruise line has set up stations providing guests with water and chips, and providing free shuttle service to Bayside Marketplace.
All three cruise ships remain at anchorage until the U.S. Coast Guard and local authorities give clearance.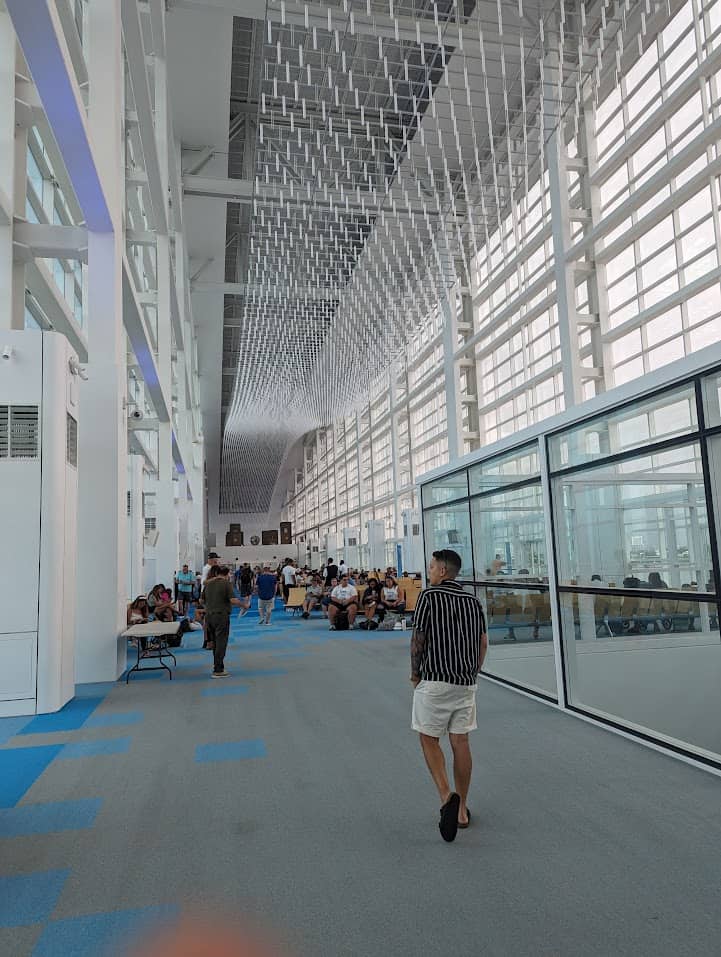 Carnival PortMiami Update
(Updated 11:30 a.m. ET) — PortMiami remains closed and the ship is still awaiting clearance to sail in. Due to limited seating capacity, please do not proceed to the cruise terminal until you receive our final update.
While you wait, you may visit one of the local areas, such as Bayside Marketplace, South Beach, Wynwood, Downtown Miami, and Brickell neighborhoods.
We will post a US$20, per person, onboard credit so you can enjoy lunch on us today.
The next update to be issued by Carnival Crusie Line will be by 1:00 PM ET.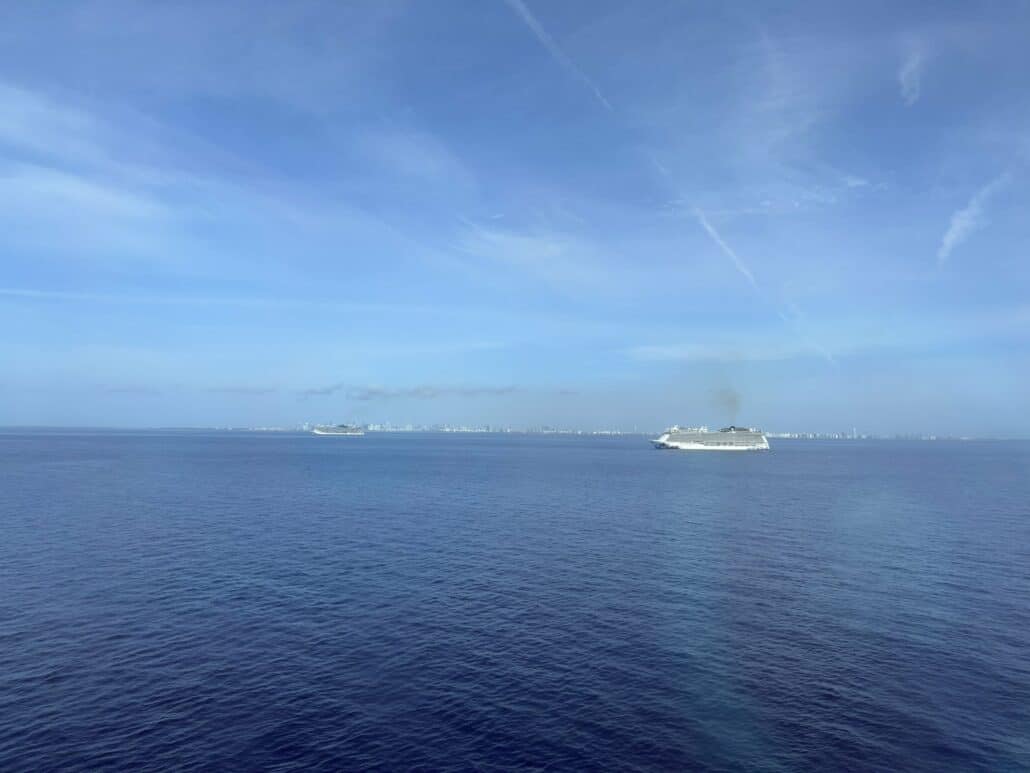 Carnival Cruise Line issues Update
(Updated 10:00 a.m. ET) — PortMiami is still closed to all marine traffic. We will continue to monitor the situation and provide another update by 12:00 PM (ET). Please do not proceed to the cruise terminal until you receive our final update. We apologize for the delay. Thanks for your cooperation and understanding.
Port Miami Closed to Cruise Ships
(Updated 9:15 a.m. ET) — A Port Miami boat accident in the early hours of Sunday morning has delayed the arrival of all PortMiami cruise ships and cargo vessels.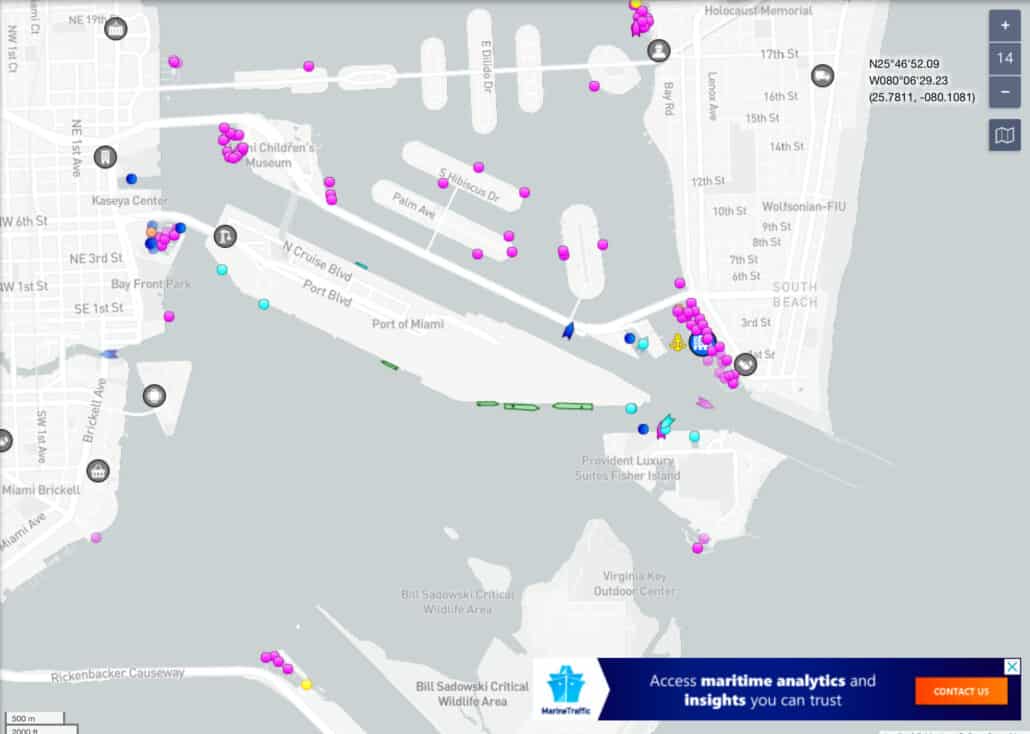 According to a social media report by local news affiliate WPLG, the incident involved a car Ferry. "One man dead, a second pulled from the water, after 30-foot boat collided with a Fisher Island car ferry in the Government Cut channel around 3:40 this morning," tweeted reporter (and self-proclaimed cruise lover) Trent Kelly. "Surviving victim was taken to Ryder Trauma in serious condition."
He added that the Florida Fish and Wildlife Conservation Committee are in charge of the currently-unfolding investigation.
Currently, approximately 15,000 cruise passengers are waiting out the closure in the anchorage area of PortMiami, along with numerous cargo vessels. The closure will also impact all cruise guests embarking on Sunday afternoon.
Miami Boat Accident Delays Cruisers
Carnival Cruise Line's Brand Ambassador John Heald posted the following on his Facebook page: "I know many of you reading this are excited to be joining our flagship today, so I felt it important that I share this with you."
It went on to say, "As a result of a boating incident, PortMiami is currently closed to all marine traffic and Carnival Celebration will be delayed docking this morning."
In a text to booked guests, Carnival asked that they not arrive at the cruise port until advised that they should do so. The hope is that the terminal will not become overrun with embarking and disembarking guests by delaying the arrival of embarking passengers. Heald promised a further update by noon.
Carnival Celebration, Norwegian Escape, and MSC Seascape are awaiting entrance.
This story will be updated as further details are released.
Go Deeper: Local Pizza Joint Takes Carnival Cruise to Court