Our arrival at Bimini Island in the Bahamas was a little rocky this morning, thanks to strong winds. The docking process can be tough enough under normal circumstances, so it's understandable that when you throw in high winds, things are going to take a little longer. 
But an hour later, we were fully docked and, better still, the captain announced that to make up for our delay in going ashore, we'd be extending our time in port. So instead of leaving at five, we'd now be leaving at six.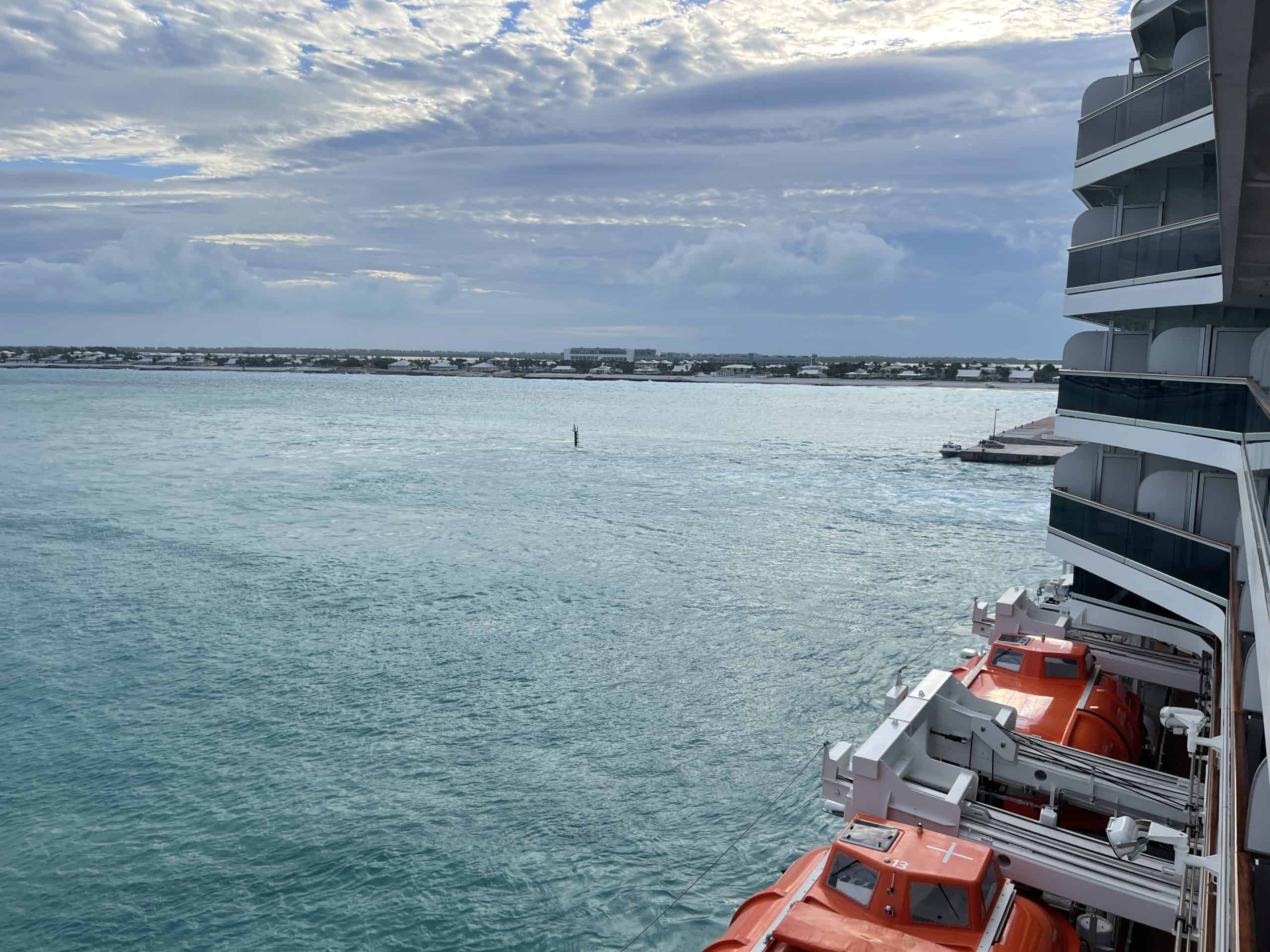 Resorts World basically owns Bimini Island, so unless you're planning to go deep sea fishing or renting a golf cart to explore, you're going to visit one of the resorts or have a beach day. And those golf carts? You'll find them everywhere! 
Before leaving home, I'd signed up to run a virtual 5K. Because this is something you can run where it's convenient, I could have done it on the ship, but figured it would be way cooler to do something like that on the island. 
So I decided to skip breakfast and, before leaving Rotterdam, swing by the Grand Dutch Cafe for a cappuccino. 
Let's talk about this venue for a moment, because it's so good and something that's unique to Holland America. First introduced on Koningsdam back in 2016, this is a Dutch coffee shop and bar located on deck three (on this ship), just across from guest services. It has amazing drip coffee and the best Dutch Pea Soup you're ever going to find on a cruise ship.
You can also grab a hot ham and cheese sandwich or a variety of European desserts. The food here is included in your cruise fare, although there's a charge for the drinks.
MORE: Holland America Launches 'Kids Cruise Free' Offer
Bimini is a port that was only recently added to several itineraries being sailed by Carnival ships. You may recall that back in July, my Carnival Horizon sailing stopped here and we spent the day at the Resorts World Beach Club.
Bimini has something of a metaphorical split personality, with part of the island having been developed by Resorts World while other sections are far more authentic to what the real Bahamas is like if you're able to go beyond the giant hotels, developed beaches, and tourist hot spots. There are some great places to explore, including some local seafood spots which focus on things like conch. I should have stopped at one, but wound up not doing it on this visit.
Bimini has some interesting history associated with it, including that Ernest Hemingway lived here for a brief time. If you want to get away from the more resort-centered aspect, I'd recommend jumping on one of the history tram tours.
Or, if you're feeling brave and are comfortable driving on the "wrong" side of the road, you can rent one of the golf carts I mentioned earlier for around $100. That's not a bad price at all, especially if you're splitting it with a few friends.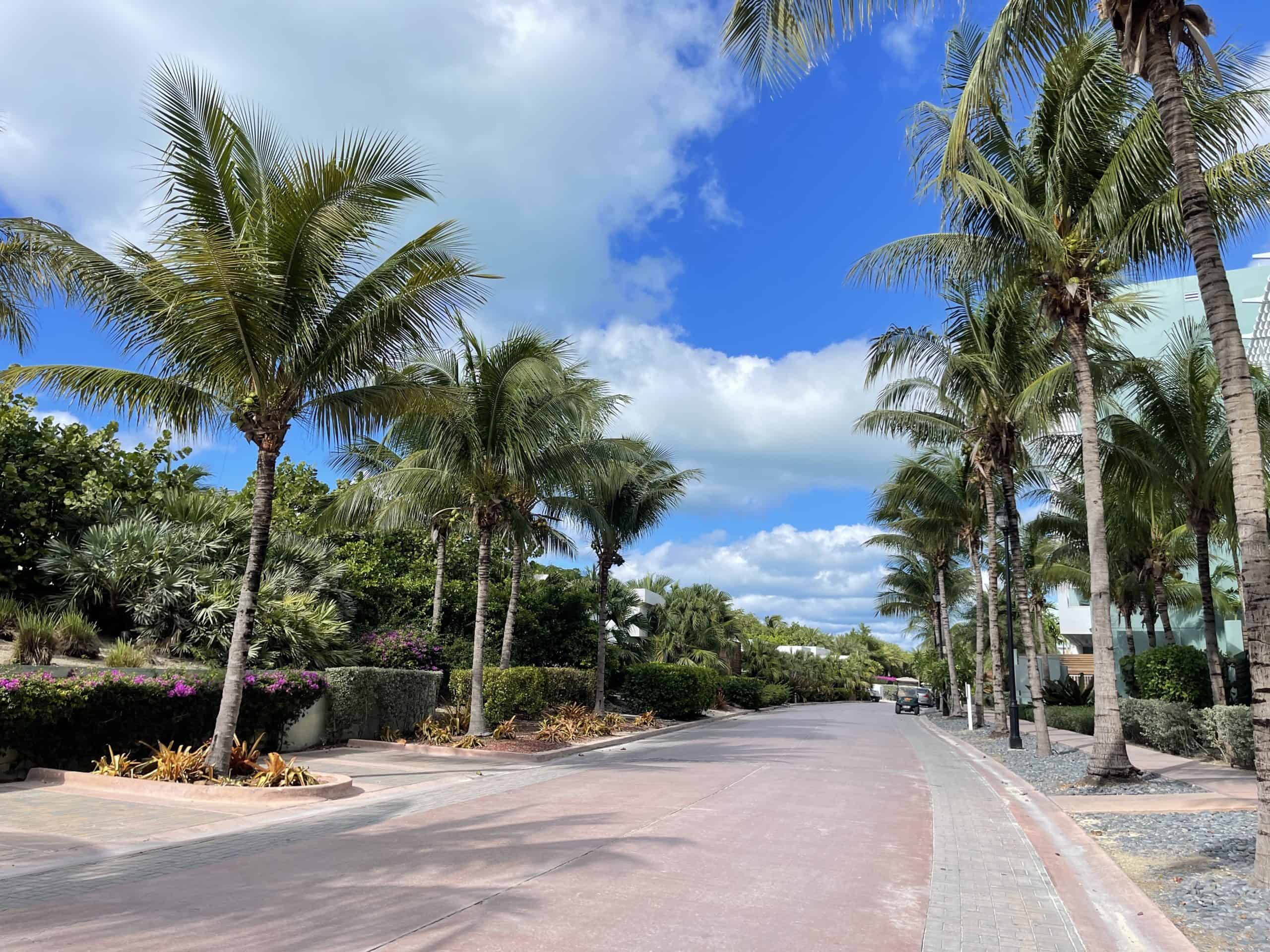 After running the 5k — and "achieving" my worst time ever (35:07), I took my sore body up to the lido buffet for a salad.
Of the nearly dozen cruises I've done since the industry restart, Holland America Line has hands down the freshest and hottest buffet. As I mentioned yesterday, while many other cruise lines struggled with how to make the buffet safer in keeping with the new health protocols, this wasn't really an issue for HAL, given that probably 85 percent of the foods found here was already being served by crew members.
The rest was items like cookies and desserts you'd scoop out yourself, like bread pudding. Those are now crew served, although there are some pre-plated grab-and-go options available. The tables are already pre-set in the lido area with silverware and crew members serve you beverages.
I stumbled across an area that you really don't see much anymore on modern day cruise ships — a library. When you do find them now, they tend to be really basic little rooms with a few books tossed on the shelves and maybe a few games. Here, however, was a nice, dedicated space about the size of a conference room, located on deck two between the Music Walk and the World Stage Theater, which is a pretty sweet piece of prime real estate.
It's loaded with books, and not just ones that someone left in their stateroom after they finished reading them, but nice, new ones. They even had a few by my favorite author, John Grisham, as well as sections devoted to sci-fi, romance, and young adult novels.
Instead of having a librarian, the library operates on the honor system. There's also a place to swap books. I'm currently reading one called Bar Maid by Daniel Roberts and, if I finish it before the end of the sailing (unlikely, but you never know!), I'll leave it for someone else to enjoy.
MORE: Cruising and Mixed Vaccines: What Does Each Cruise Line Accept?
Sail away was promptly at six, and I watched it from the aft end of the lido deck. It's always cool watching sail away, but it's also something that's a lot more complex that we probably realize as we stand on the deck, drink in hand, watching the port we just visited fall into the distance.
There are a lot of logistics involved, from getting the proper approvals and making sure the river pilot is on board (or the Bahamas Marine Pilots, as they are known here) to taking weather into consideration and all the other things those on the bridge have to think about. 
Dinner tonight was served in the Pinnacle Grill steakhouse. This venue is a Holland America Line staple and all I can say is that you'd better come hungry, because you definitely get your money's worth.  A few years ago when I was sailing on Eurodam, I had the opportunity to try out the President's Cut, a massive 36-ounce steak which was a meat lover's dream.
That wasn't on the menu here, but had been replaced by the 36 ounce Tomahawk bone-in ribeye.
My tablemates laughingly insisted I wouldn't be able to eat the whole thing, and I should have made them put their money where my mouth was, 'cause I demolished not only the steak but also a lobster tail, candied bacon, and a jumbo shrimp cocktail. They say a photo is worth a thousand words, so I'm guessing this one says it all.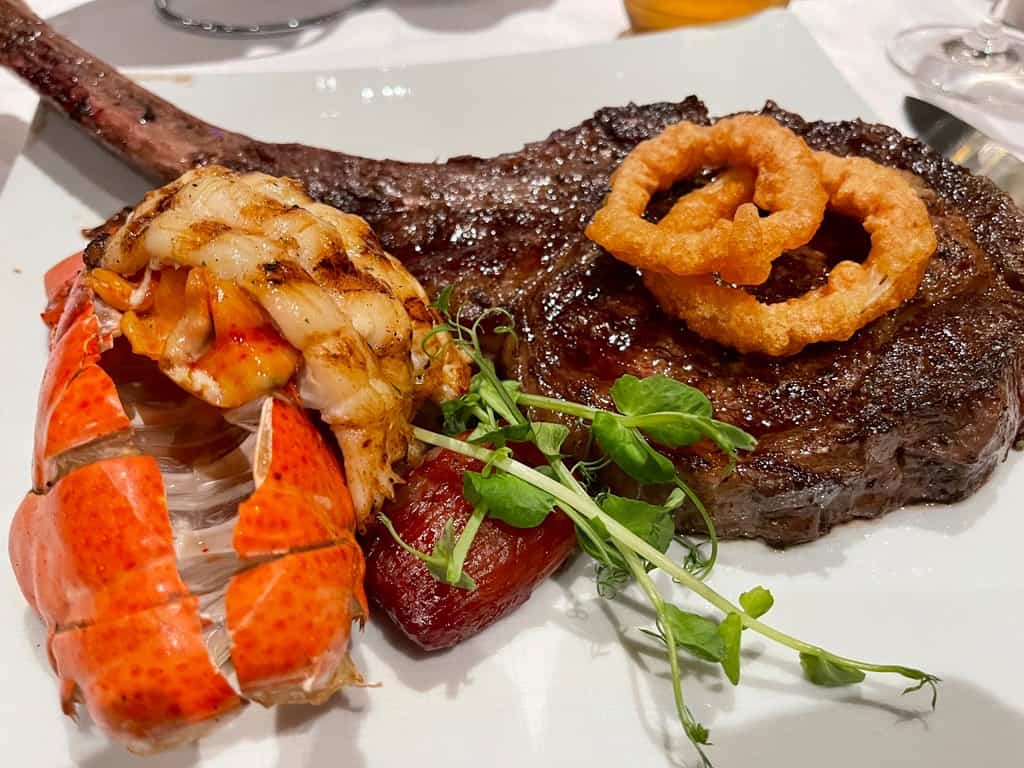 After eating two pounds of steak, I needed to work off the calories by walking around the ship for a while. Sure, in order to burn off all those calories I'd probably have to spend the next three days walking around the ship, non-stop, but it was worth a try. 
Because our dinner reservation was at eight and the show started at nine, I wound up missing the performance. But if we're being honest, cool as the LED screens are, if you strip away the technology, it's still just a song-and-dance routine, and by now you guys know that's not my favorite thing in the world.
Since we have a day at sea tomorrow, I'm hoping to check out the Crow's Nest, which sits atop the ship on the forward section of deck 12.
Back in 2017, Holland America made some major changes to this area, majorly emphasizing technology in a way that didn't necessarily go over so well with some cruisers. I guess they felt as if the space had become a little too much like one of those educational pavilions at Epcot that everybody rushes through to get to the good stuff. But they've done some tweaking to the area since that time, so I want to check it out for myself. 
Time to get some sleep, so until tomorrow…
Check out my trip report from day 1 on Rotterdam: