It's funny how things change. I've been cruising since I was a kid, and there was nothing I disliked more than sea days growing up. They were incredibly dull to me. In fact, in college and for a few years after, I'd book cruises based on how many port days the ship had.
Fast forward to now, when I book a cruise not based on how many days we'll be on land, but rather on how many days I can stare at the horizon while at sea.
Last night we got an extra hour of sleep thanks to the time change, so that meant one more hour to gaze out the window and listen to the sound of the ship plying through the water. 
I started the day with breakfast in the main dining room. The two-deck dining room is on the aft end of the ship and has a nice breakfast spread featuring your typical offerings like eggs, bacon, pancakes, waffles, smoked fish, crepes and fruits.
They also had items for an upcharge like lobster benedict or steak and eggs. What caught my eye was the Swedish pancakes and a cruise breakfast staple: smoked salmon on a bagel.
After breakfast, I went up to the Crow's Nest to do some work. I forgot just how peaceful this area was with these views from the front of the ship. There are also very cool displays showing how fast the ship is moving, its current location on the map, the heading, and how fast the azipods are running. Thanks to links from the navigational bridge a few decks below, the monitors here actually offer a lot of the same information that the captain is seeing. In other words, this is cruise nerd heaven.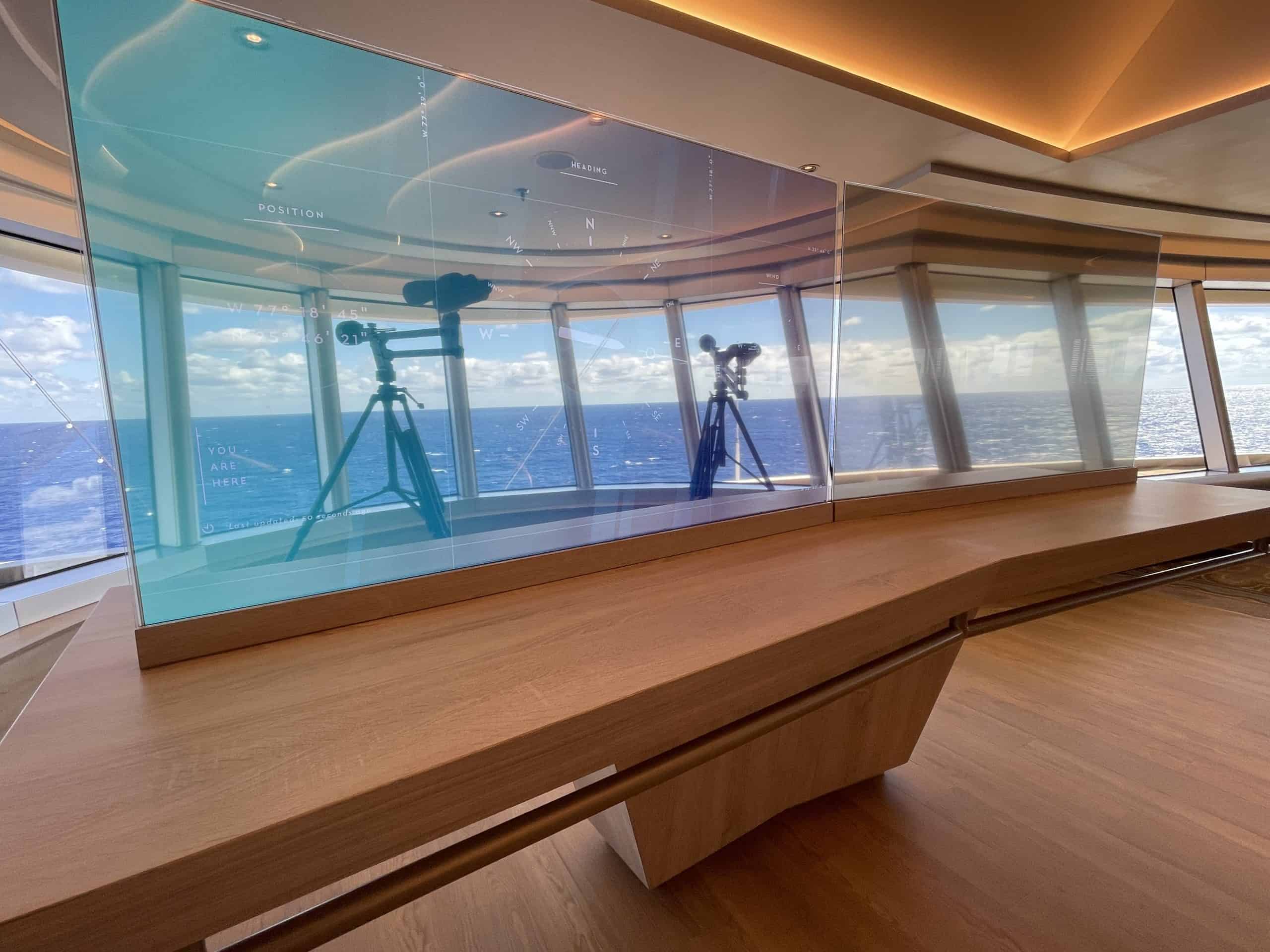 Before I knew it, five hours had flown by and it was time for lunch. Down by the pool, they have this burger joint called Dive In Burgers where I ordered the cannonball in a lettuce wrap, and a massive salad inside. Here they give you a pager and it vibrates when your order is ready.
MORE: 8 Tips For Preparing to Cruise in 2021
The salad station on this ship is by far the freshest at sea. And just because it is being served to you doesn't mean you can't get as much as you'd like. I did the ahi tuna salad and, after they'd put a scoop on, asked for two more. No problem!
The Dive In cannonball burger was really good, too. Since everything here is made to order,  it takes a little bit of time to prepare. On the plus side, you know you're getting a freshly-made burger. But if you're in a rush, it might be better to opt for a hot dog.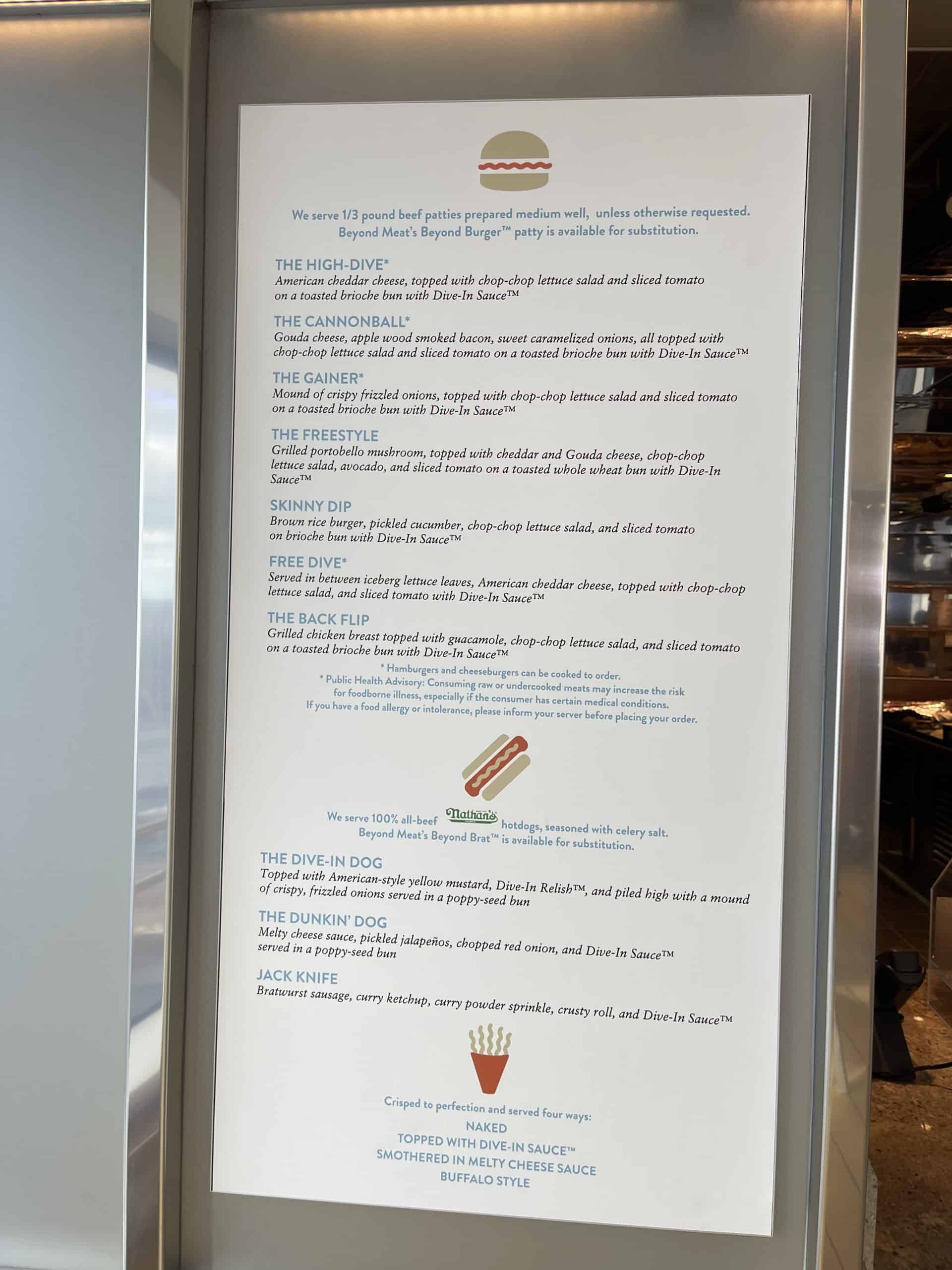 Since it was a picture-perfect sea day, I went and explored what premium upgrades guests could get and came across the retreat sundeck. Located one deck above the jogging track, this is where you can rent a cabana with butler service on your own private little deck. And people were taking advantage of it for sure. Even sailing at reduced capacity, every cabana was occupied at some point during the day.
I could see someone wanting to be in this area if they were seeking peace and quiet. It was pretty serene the moments I was there. Because we didn't book a cabana, our time there was only to pass through.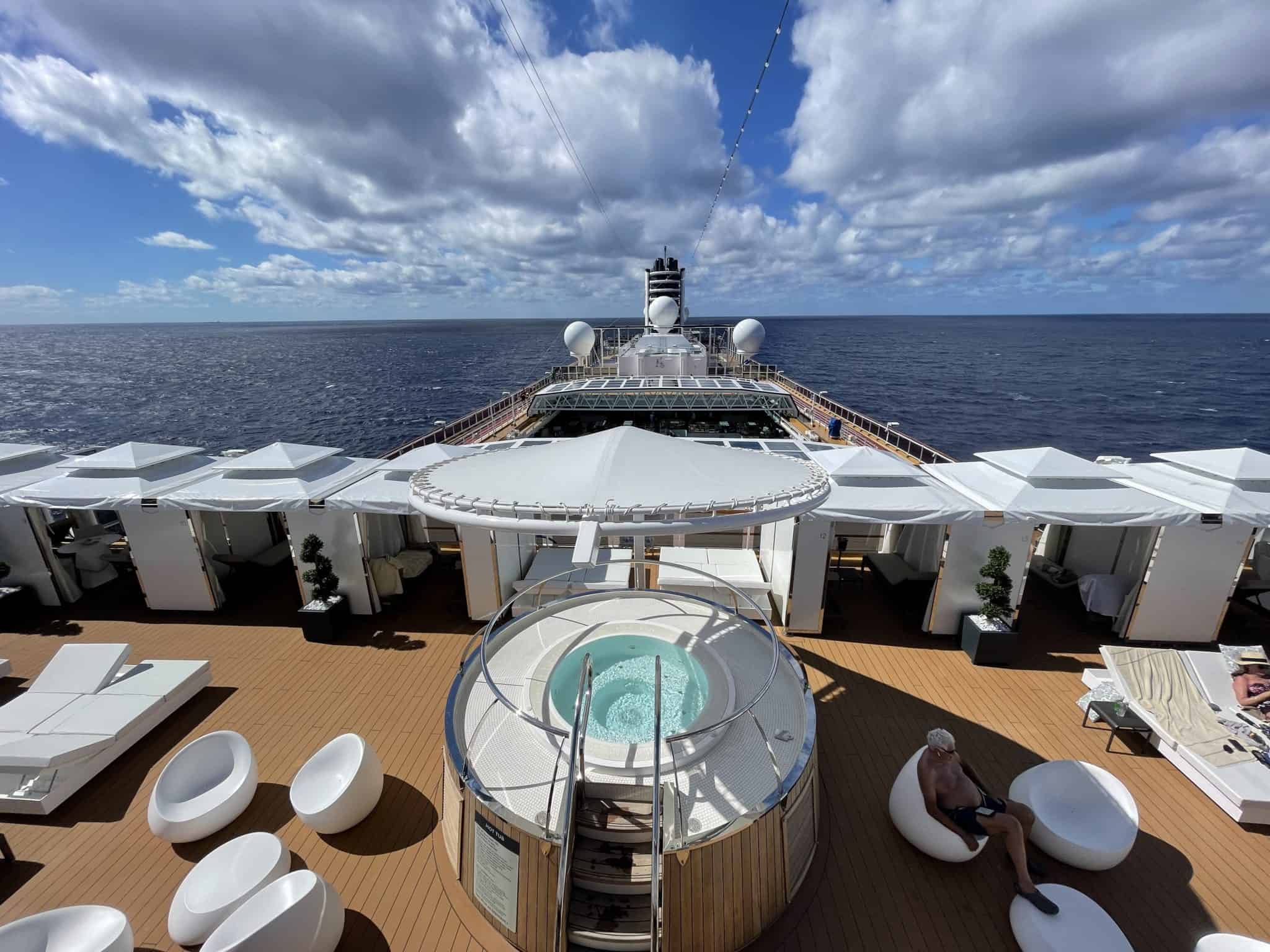 I'm torn about the pool deck with the retractable roof. On one hand, it's great because they can roll the roof shut on rainy days or when sailing in Alaska. On the other hand, if you wanted to lay by the pool and catch some sun, there are only certain spaces where you can do that. You can always go to the back of the ship and lay out on the open deck, but there's a certain degree of camaraderie that happens around the main lido deck pool.
MORE: Holland America Line Cruise Guide
One of the changes on Rotterdam is the replacement of the wine blending venue with a place called the Half Moon Bar. This isn't just another cruise ship bar, however, as it features cocktails that are unique to Rotterdam, most of which have interesting stories which you can read on the app. The specialty drinks are creative both in their ingredients and how they're served, although you can also order more run-of-the-mill things like beer, wine, or a mixed drink.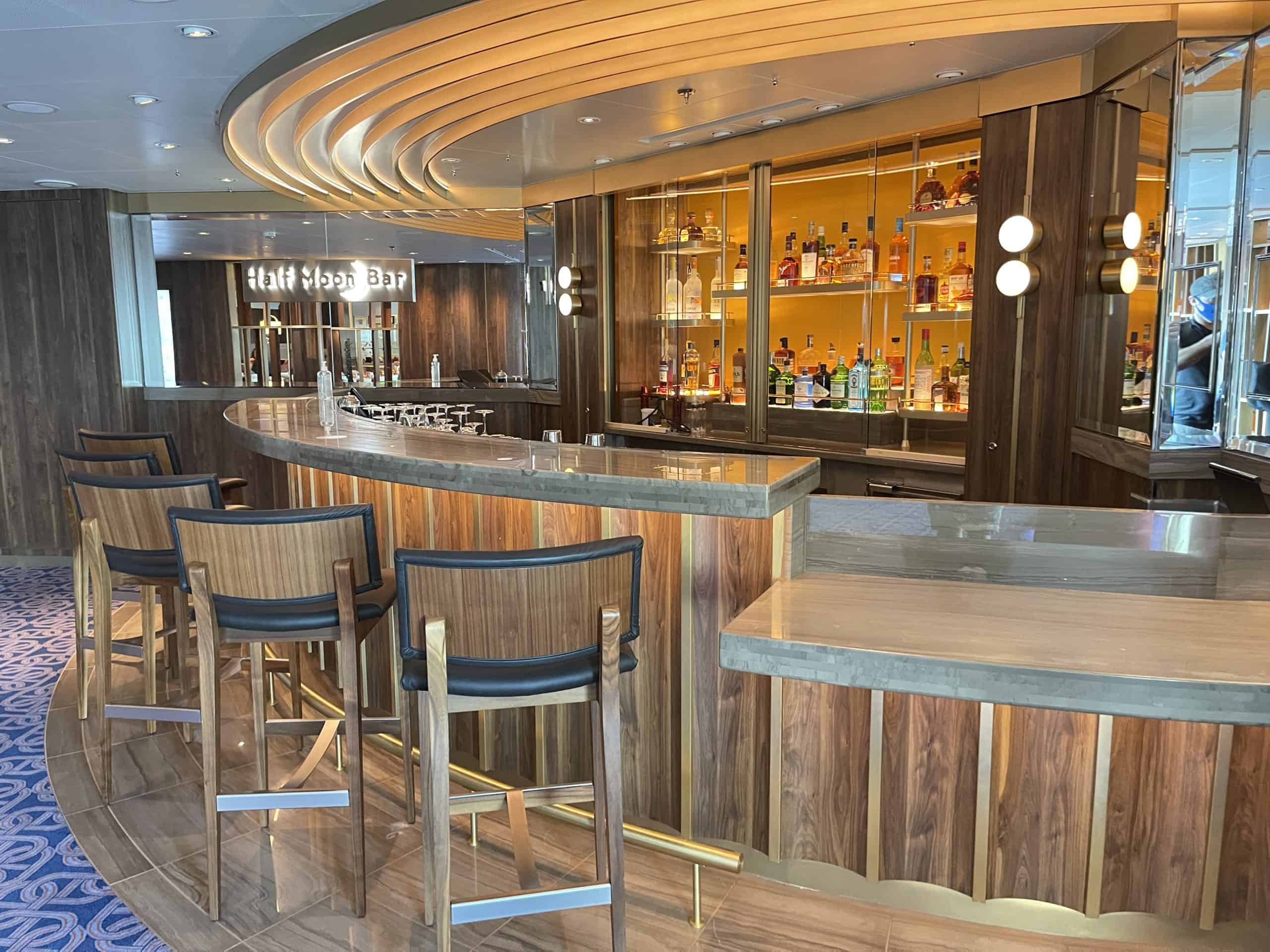 Dinner tonight was in Rudi's Sel de Mer, the high-end seafood venue created by Chef Rudi Sodamin. Having known Chef Rudi for nearly a decade, one thing I can say about him is that he's got one of the most creative minds in the business, especially when it comes to the artistic approach he takes to food creation. It's one of the reasons his collaboration with Carnival Corporation — which includes the new Rudi's Seagrill on Mardi Gras — has been so successful.
Our reservation was for 8 p.m., and this was a meal I was definitely looking forward to as I'm a huge fan of both Chef Rudi and seafood. I went with the escargot (of course!), king crab bisque, king crab legs, and, for dessert, a crepe with a scoop of ice cream.
You can pretty much be assured that if crab legs are an option on any menu, I'm going to be ordering them. During the shutdown, I spent a lot of time skiing with friends in Salt Lake City. We would order a case of crab legs from Tracy's Crab Shack in Alaska and have them shipped to my friend's house. Every night after coming home from the slopes, we'd throw in a couple of pounds.
Overall the food at Sel de Mer was solid, although the whole thing took longer than I generally like to spend in a restaurant. To be fair, as with most French-themed restaurants serving fresh, made-to-order dishes, things take a while. That's just the nature of the beast. So despite asking if it would be possible to expedite our meal, it still wound up taking about an hour and a half.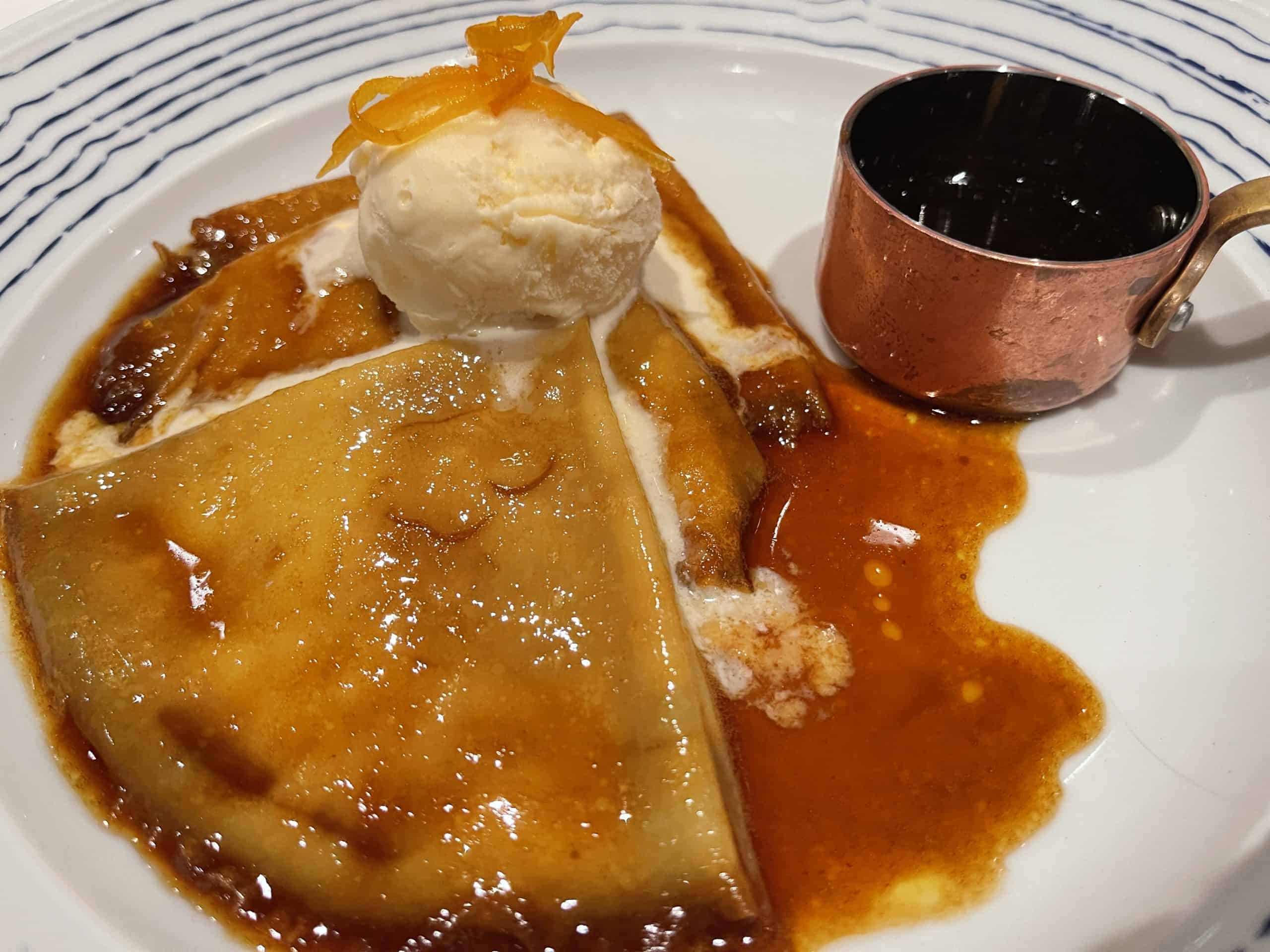 After dinner, I swung by Music Walk to see what was going on. This is the place to go when you're looking for entertainment, with several different music venues, some of which serve multiple purposes. For example, the Lincoln Center Stage doubles as B.B. King's Blues Club. There's also the Billboard Onboard piano bar and the Rolling Stone Rock Room.
I remembered that last time I was on a ship offering Music Walk, we enjoyed some great tunes in the Rolling Stone Rock Room, where a band was playing Tom Petty, the Stones, and even AC/DC. We decided to give the place another try and it was just as much fun on this ship as it had been on that one.
I know some people think of Holland America as catering to an older crowd, and perhaps being more sedate, but let me tell you something: There were still people rockin' out in the club when I called it a night.
I've actually been impressed with how late people have been partying on this trip. I guess after so much time spent cooped up at home, everyone wants to squeeze as much life out of their vacation as they possibly can. What better way than by having a few drinks and getting your groove on?
Returning to the room, I was greeted by a turned-down bed and a towel animal so cute I kinda didn't want to make him move from the bed as I crashed out. Tomorrow is the first of two days at Half Moon Cay, so I need a good night's sleep!
Catch up on my other Rotterdam trip reports!