Christmas came early for cruise fans, and Carnival Cruise Line's Brand Ambassador, John Heald, played Santa when he posted pics to his Facebook page of the upcoming Carnival Horizon. Want a sneak peek of one of 2018's most highly anticipated ships? Take a look at these photos taken by Hotel Director Pierre Camilleri.
Guy's Pig & Anchor Smokehouse and Brewhouse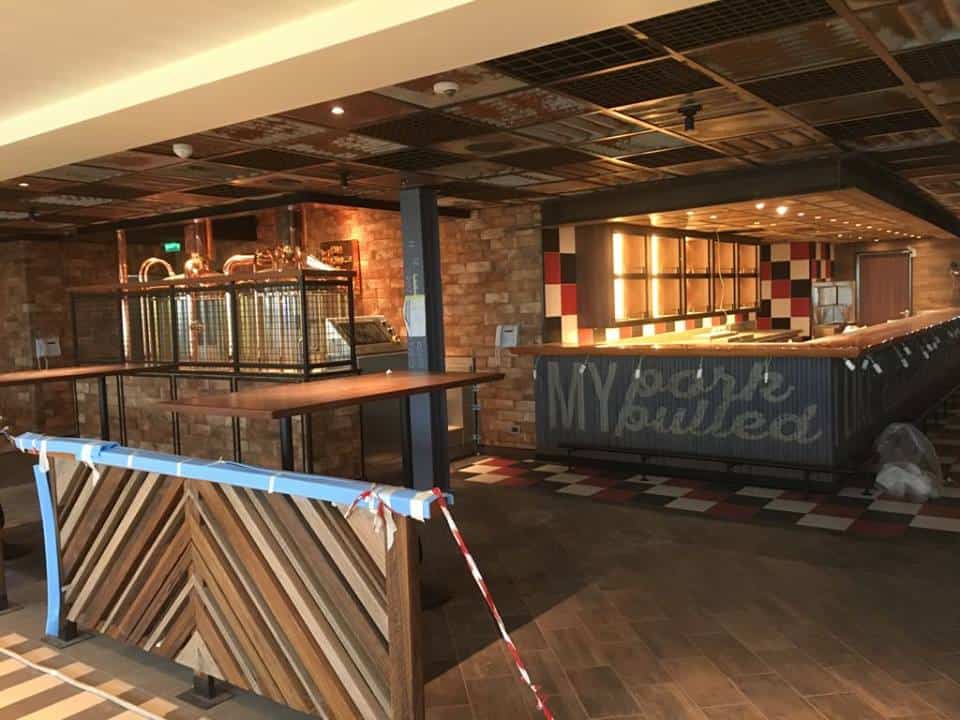 If you're familiar with Carnival Vista, Magic, or Breeze, the Pig and Anchor Smokehouse, you know exactly why this restaurant is so popular. The latest extension of Carnival's partnership with celebrity chef Guy Fieri will, on Carnival Horizon, be located on deck 5. And while on other ships it has been an outdoor venue, here it has been moved inside… although there will be plenty of outdoor seating only steps away.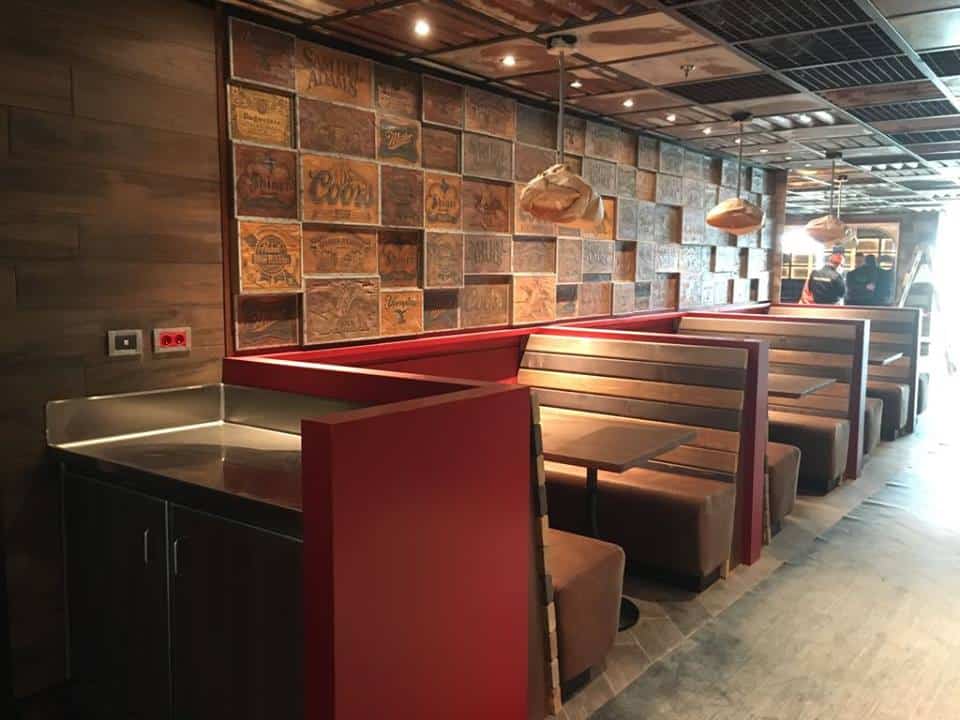 Pig & Anchor — which also has a brewhouse and will essentially replace the RedFrog Pub on this ship — will serve a limited free lunch menu, and then a for-fee dinner menu. (Never fear, there will still be a Guy's Burger Joint, located up on deck 10!)
Lido Deck Marketplace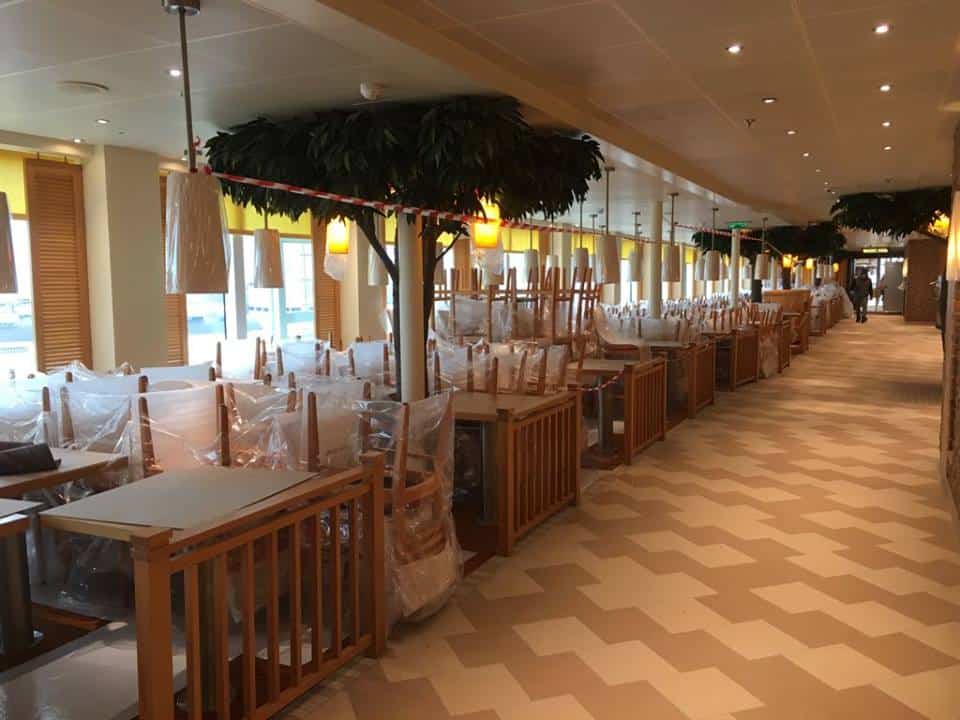 Let's face it, at some point, you're going to be visiting the buffet. They could put a thousand different restaurants on the ship, and at some point we'd wind up wandering into the buffet "just to see what they have." So why not take a look at where we'll be doing our grazing? The area is shaping up nicely, with brand new chairs, tables, and railings.
Bonsai Sushi and Teppanyaki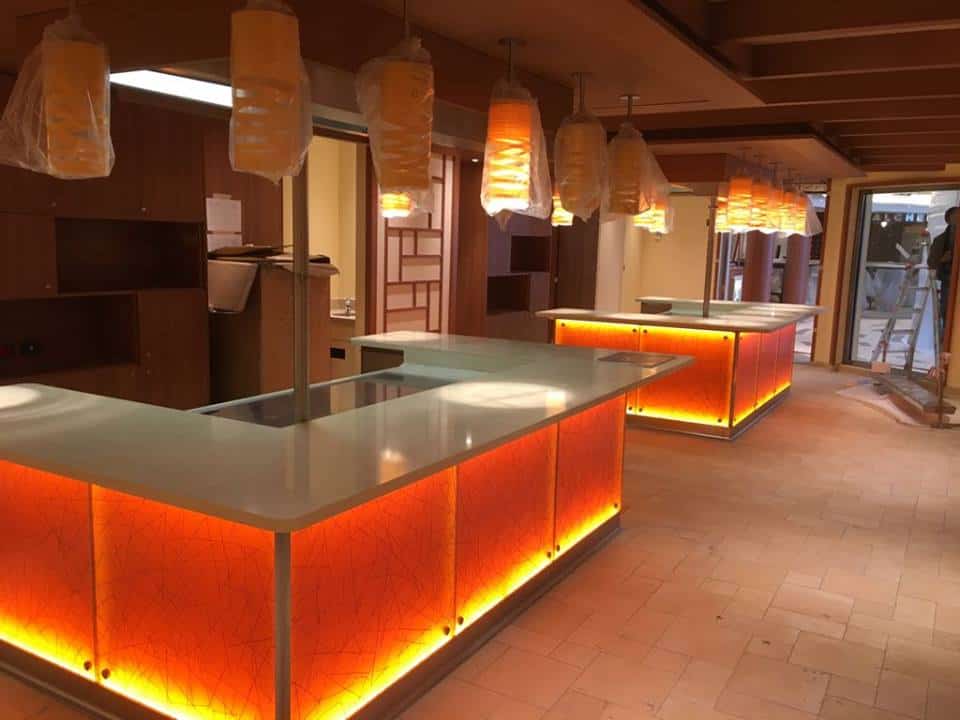 Carnival has had great success with the Bonsai Sushi restaurant, so it makes sense that with Horizon, they'll take things to the next level by adding Teppanyaki, with chefs putting on a show while preparing some delicious food. Looking for a fun night for your family or friends? Gathering around the flat-top grill to watch these chefs do their thing is a guaranteed good time.
Dr. Seuss WaterWorks Aqua Park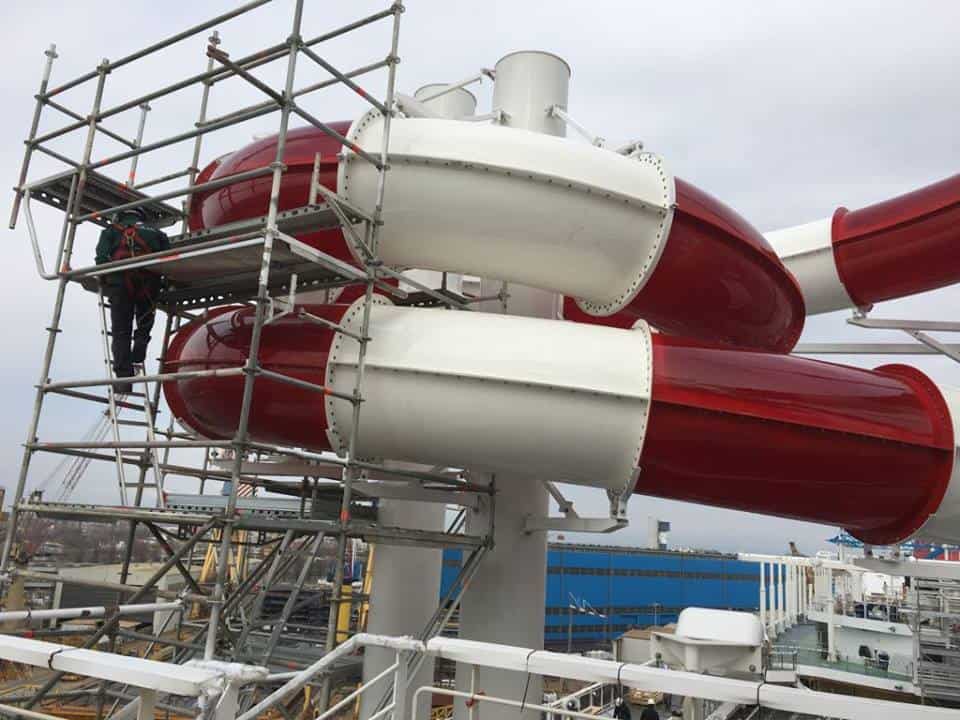 The waterpark on Carnival Horizon is also coming together nicely. The Cat in the Hat slide will be enclosed and run more than 450 feet. And get those cameras ready, because the entrance to the slide will actually be a giant replica of the iconic red-and-white hat worn by everyone's favorite trouble-making feline. (The slide itself will also be red and white, so it should be pretty easy to spot!)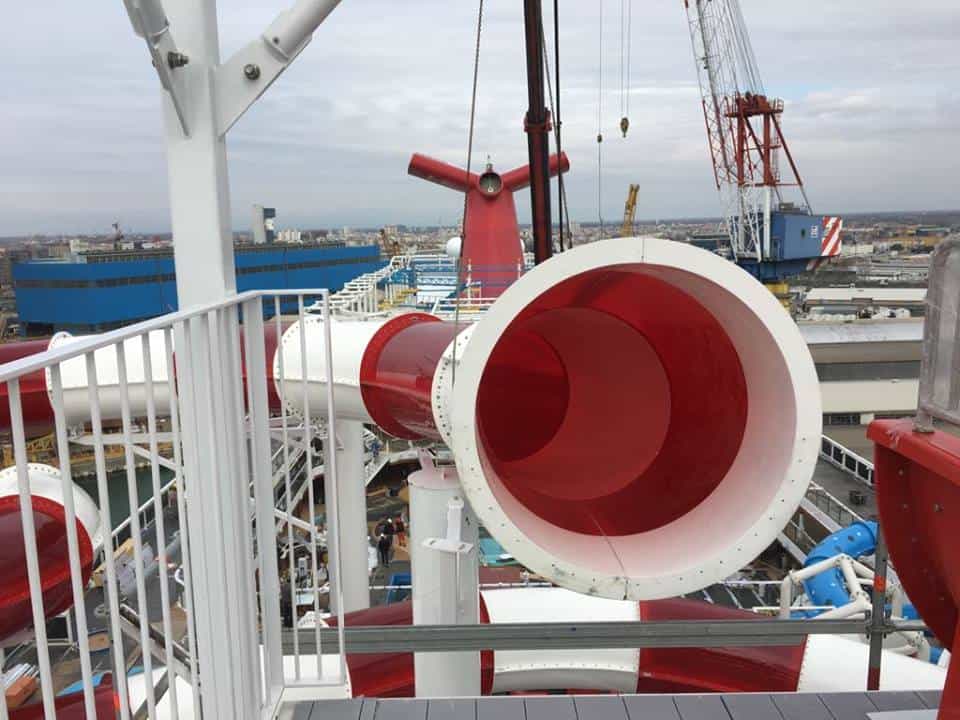 The Fun Things slide is after named after those infamous troublemakers, Thing 1 and Thing 2! An enclosed body slide, this one will distinguish itself with a polka dot-motif and offer 213 feet of slippery fun.
Aft Main Dining Room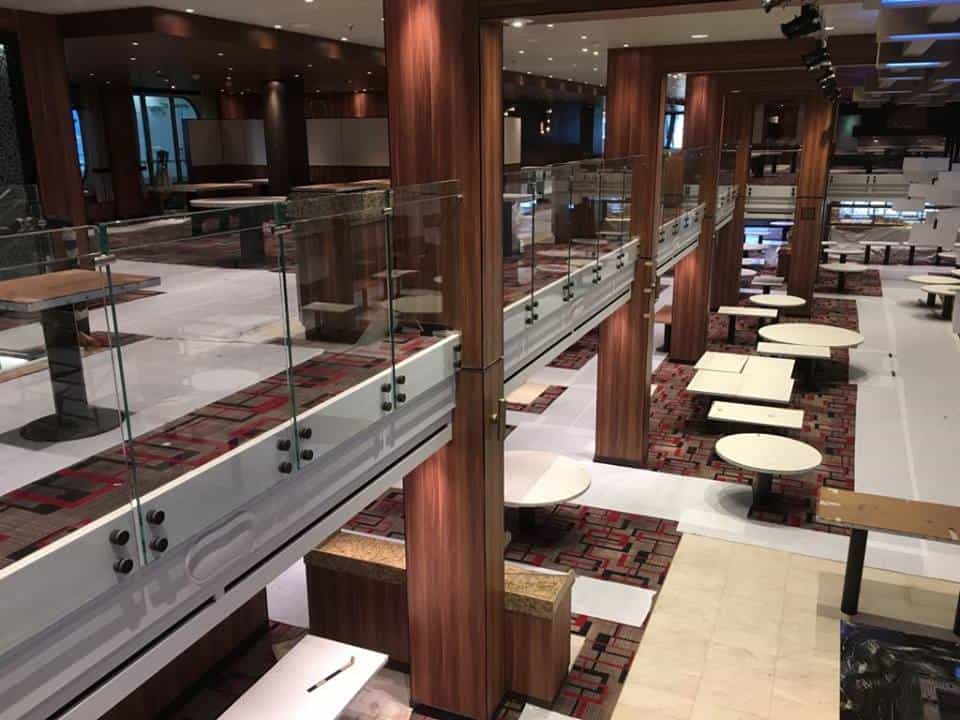 The two-floor main dining room, located on the back of the ship and stretching across decks 3 and 4, is starting to come together. There will also be a second, single-story dining room at the front of the ship on deck 3. Carnival will use one of the dining rooms for traditional dining, and the other for Your Time dining.
JavaBlue Cafe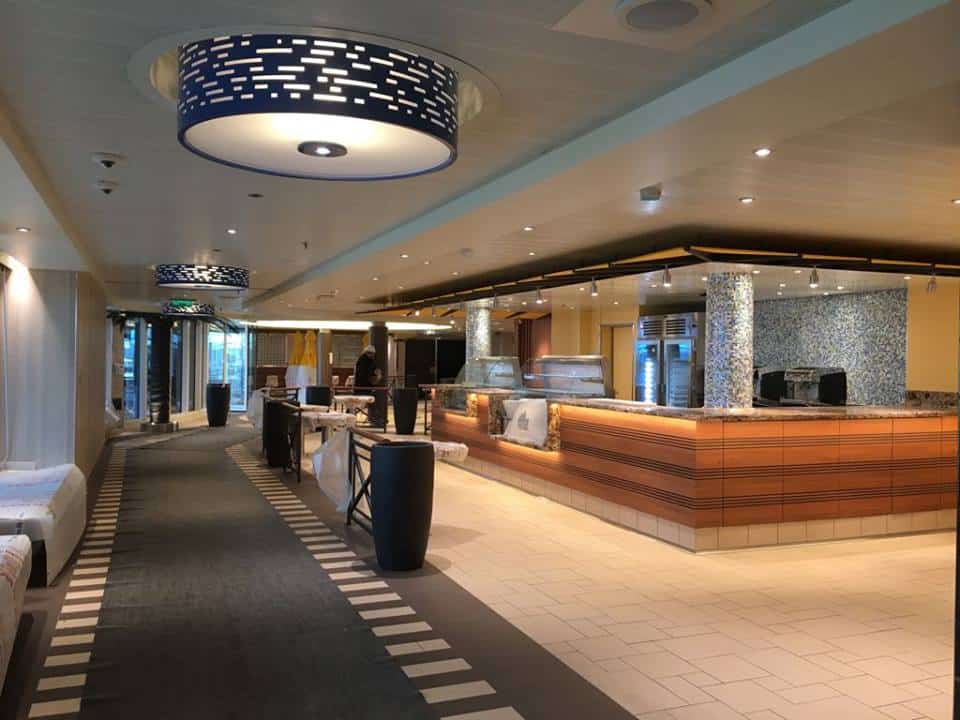 The coffee shop located just outside of Ocean Plaza on deck five is starting to come to life with coffee machines, coolers and a seating area. This is where you can get your specialty coffees (with a splash of your favorite liquor, if you so choose), milkshakes and huge slices of cake. (One of the nice things about Carnival's Cheers! package is that coffees and milkshakes are included!)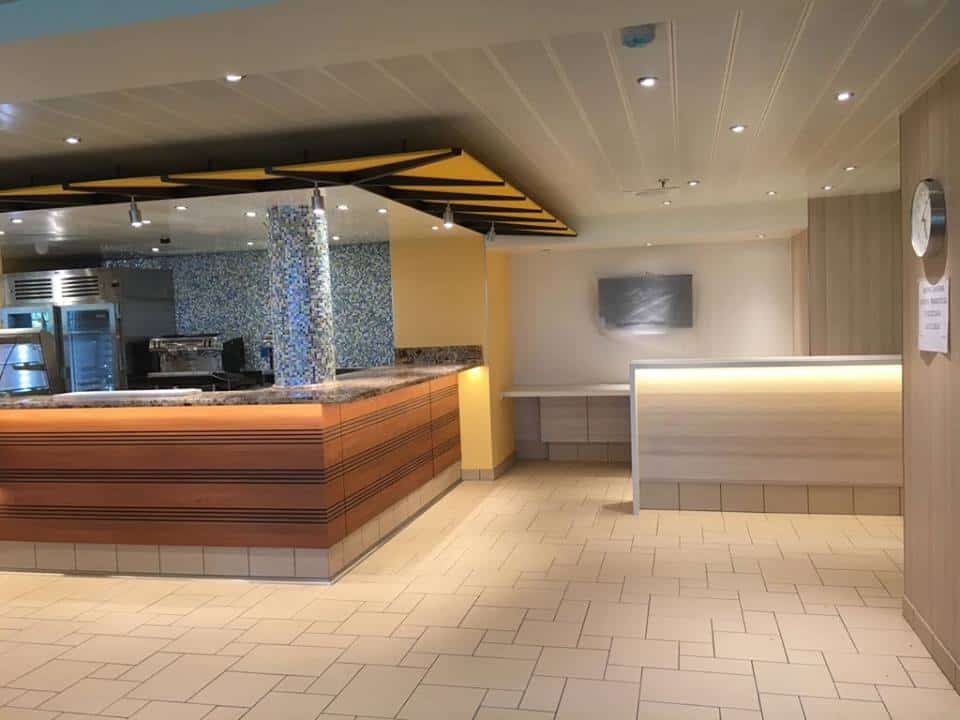 On Carnival Vista, the check-in station for Your Time Dining is just to the right of the coffee bar, so there's no reason to think it would be different here.
Pixels Photo Gallery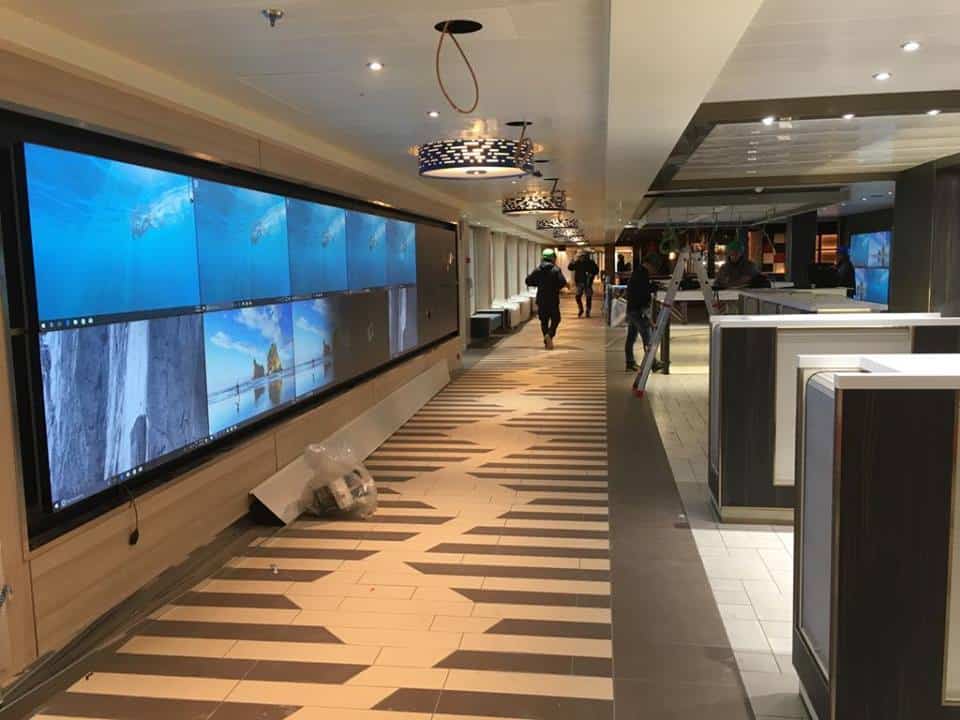 Just like on sister ship Vista, Horizon will have the Pixels digital photo gallery on deck five. It will feature the facial recognition technology which automatically puts photographs into the portfolio of a passenger, thereby cutting down on the massive waste created by printing out hundreds if not thousands of photos, most of which will not be purchased.
Casino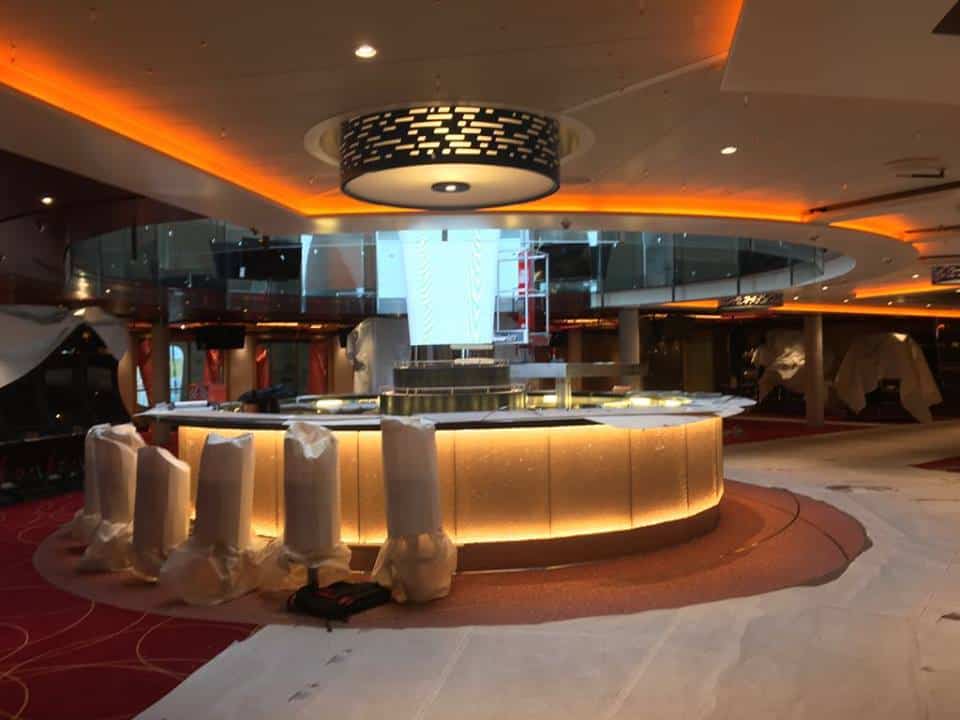 If you feel your money burning a hole in your pocket, it's probably because of these pictures from the under-construction casino… complete with a few slot machines already in place! Like on Vista, this one will feature a smaller version of the lobby's Dreamscape LED. (Many people have commented that the one in the casino is actually more vibrant because of the darker atmosphere, so it's definitely worth swinging by to check it out!)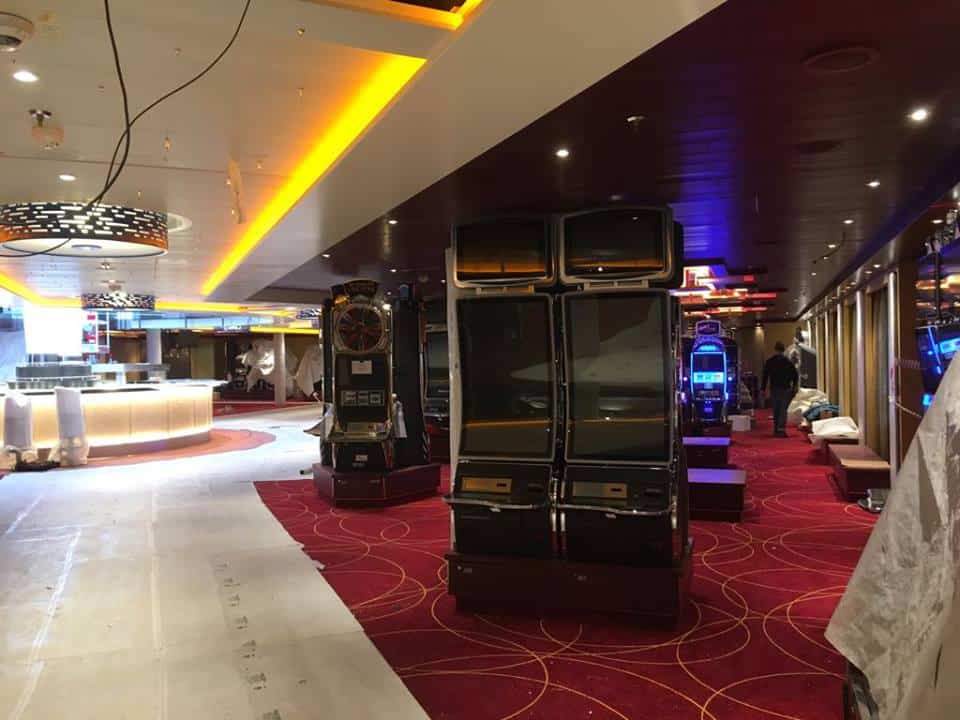 One thing to note is that similar to Vista, Horizon will have an aquarium-like view up to (or down from, depending on your perspective) deck 5. The glass partition keeps the smoke from going directly up to deck five, which is a good thing, given that there are several dining venues (including the steakhouse and Bonsai Sushi/Teppanyaki) are located there.
What do you think of these first images from the Carnival Horizon? Are you excited to sail on the line's newest ship?