Have you ever woken up on a cruise ship, stepped out on the balcony, watched the sun rise over crystal blue waters, and wished that every day could start this way? 
By 2023, that could be the reality for up to 1,000 residents of the MV Narrative, a new-build ship that promises to give "everyday people the ability to travel the world in luxury without having to leave their home."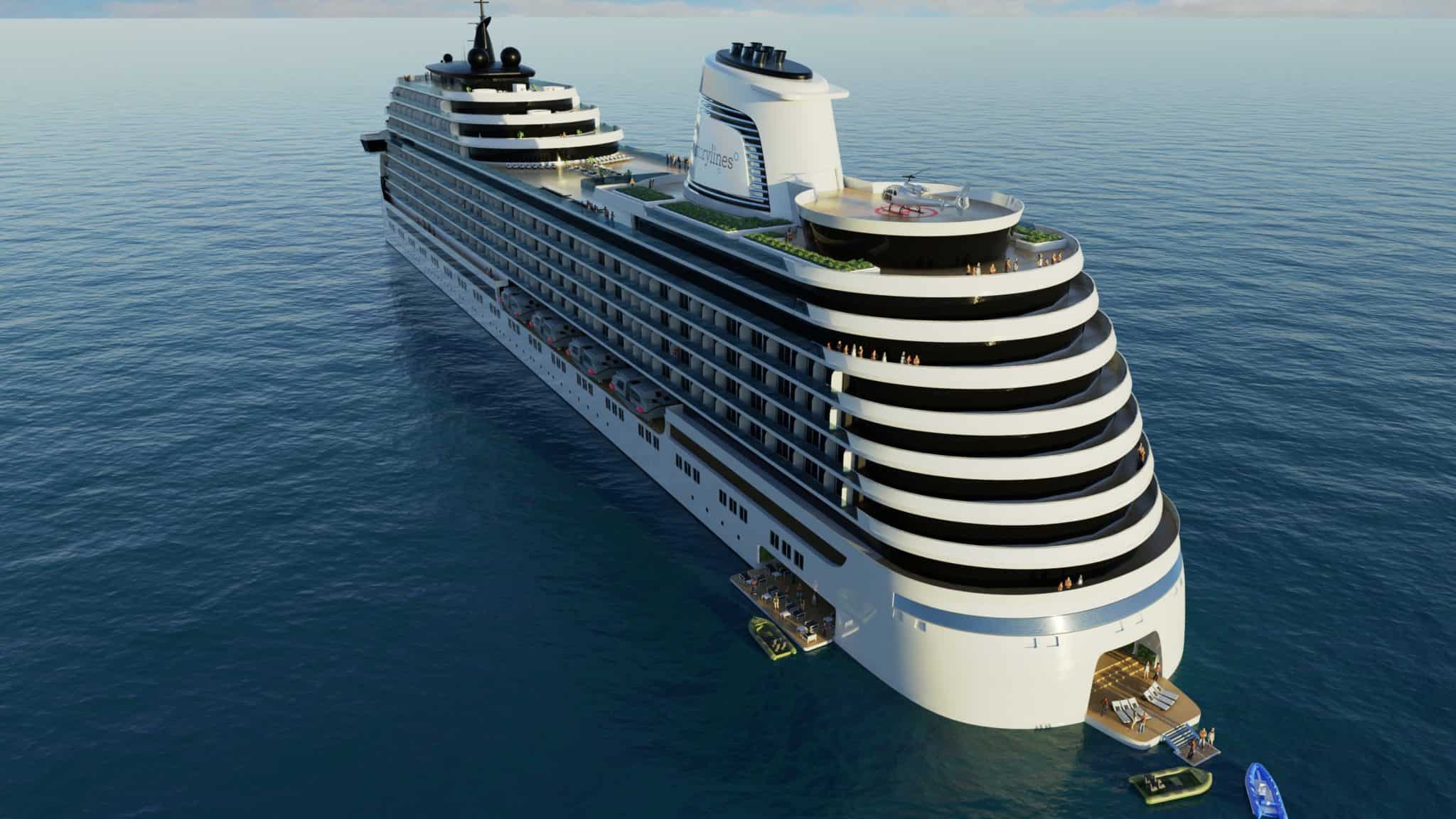 The US-based startup behind the project is called Storylines Inc., headed by Australian CEO and co-founder Alister Punton and UK-based co-founder Shannon Lee. Punton describes the concept as "a residential ship for like-minded travelers to join in a community and travel the globe in luxury."
READ MORE: Royal Caribbean Debuts More Private Island Itineraries For 2022
"Everyday people" might be a slight stretch in terms of affordability, but the Storylines model does bring the at-sea lifestyle within reach of a broader group than its competitors. That's a short list, with the best-known being residential ship The World, which requires purchasers to prove a net worth of at least $5 million.
Realizing the Vision of a Community at Sea
Storylines started up in 2016 and traveled a winding course to its current status on the verge of construction. Initial plans were to refit an older vessel to its residential model, but after a few unsatisfactory fishing expeditions, the decision was made to commission a new-build. Not only does that give ship architects and designers free rein to realize the founders' vision of a community at sea, but they can also take advantage of major technological developments.
The Storylines business model sees passenger-owners paying upfront to lease accommodations for 12-60 years. There are 627 residential units for sale, and according to the company's website, many are already under deposit. 
Current pricing starts at just over $300,000 for a 237 sq. ft. interior stateroom and ranges up to around $2.5 million for a sprawling 2,200 sq. ft., two-bedroom suite. Most of the accommodations have balconies, with those 334 sq. ft. units starting at around $500,000. The 'condo-cabins' can be resold during the lease period if the resident wishes, or they can be rented out to provide income to offset their costs while living aboard.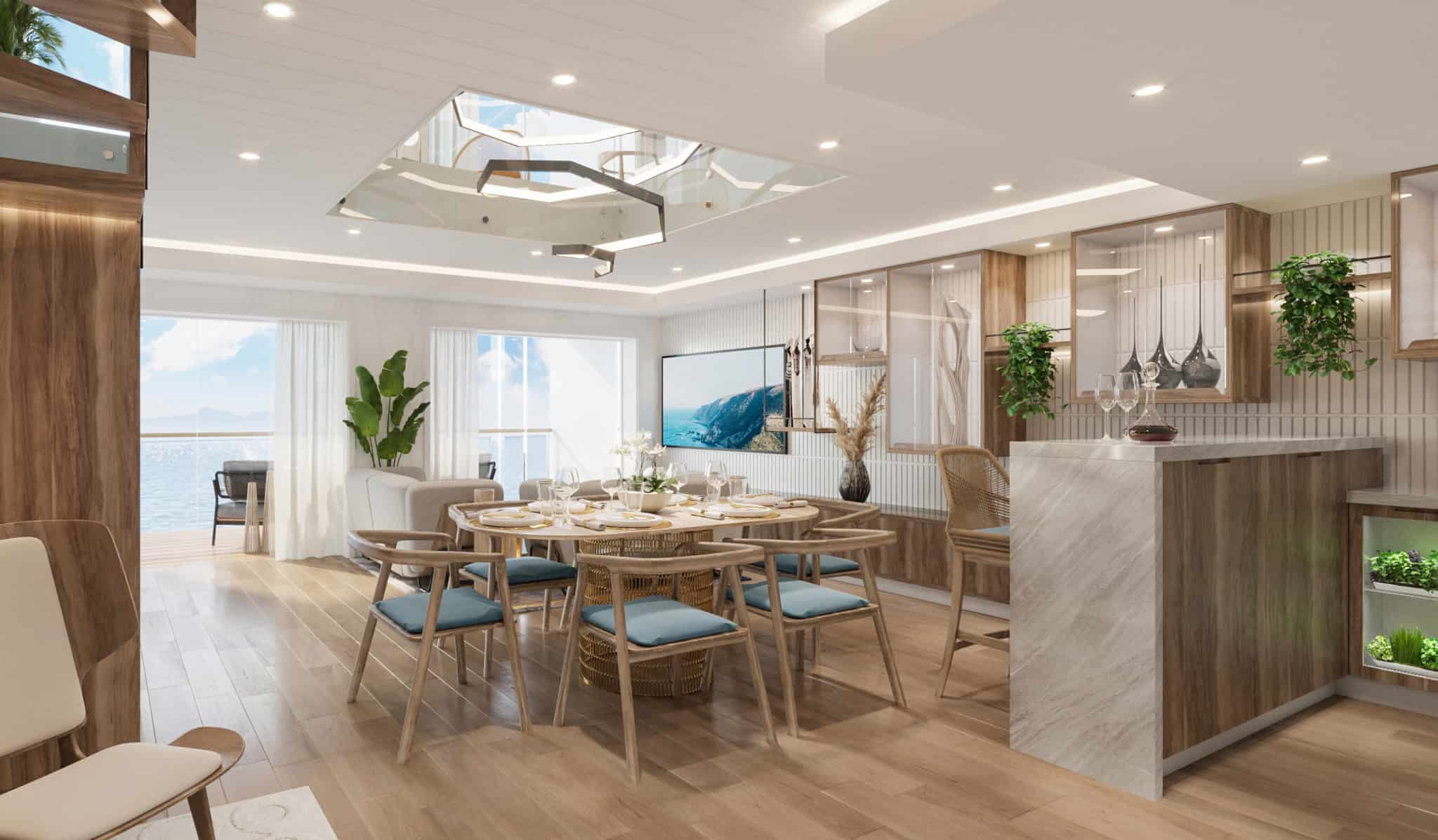 With space at a premium, Punton says flexible design and innovative storage spaces were critical to the design brief. Staterooms will feature flexible furniture including queen-size murphy beds that fold up to create space for a writing desk or dining table. Purchasers can consult with Storylines design consultants based in a new office in Miami to customize their staterooms.
Monthly Fees Cover Food, Drinks, & Fun
As with land-side condominiums, there are monthly fees as well, to cover upkeep of the ship, its facilities and amenities. But Storylines fees, starting at $2,365 per person, per month, include much more: all meals, served in over 20 unique dining venues or delivered to the stateroom; wine, beer, and select spirits; gratuities; high-speed WiFi; laundry pick-up, wash and fold; onboard activities and entertainment; visits to an onboard physician; yoga and fitness classes; and full use of gym facilities.
"You've got all the normal things you expect to find on a ship of this size, but we've done a very big twist on all of this to suit this long-term live-aboard lifestyle," says Punton in a video promoting the concept. 
"From the 20+ eating locations throughout the ship, catering to all types of cuisines and changing regularly depending on where the ship is, there's also 45 resident lounges, work spaces, libraries and kitchens throughout the ship so you can cook food for your friends and family."
READ MORE: Vaccinations are Leading the Rise in Future Cruise Bookings
Other onboard amenities include a movie theater, a 10,000+-book library, a microbrewery, and a hydroponic 'garden farm' that will produce herbs, greens, and other foodstuffs. One restaurant will be dedicated to serving food grown on the ship — which Storylines calls a cruise-industry first. There will be a spa and fitness center, juice bar, and salon. At the aft of the ship will be a marina area with kayaks, scuba gear and sailboats.

Entertainment will be offered in both indoor and outdoor spaces and include music, dancing, cooking classes, hobby clubs, and more. There will be enrichment too, in the form of guest speakers and local experts adding depth to the onshore experience in the ports.
"They Are People From All Walks Of Life"
Punton says Storylines is looking to attract a diverse blend of travel-loving, adventurous cruisers; from active retirees to remote-working professionals and even families who home-school their children. 
He credits a group of early supporters, now known as the Founders Circle, for helping to shape and refine the concept by sharing their ideas on what elements they would like to see incorporated in the ship, the onboard lifestyle, and the itinerary.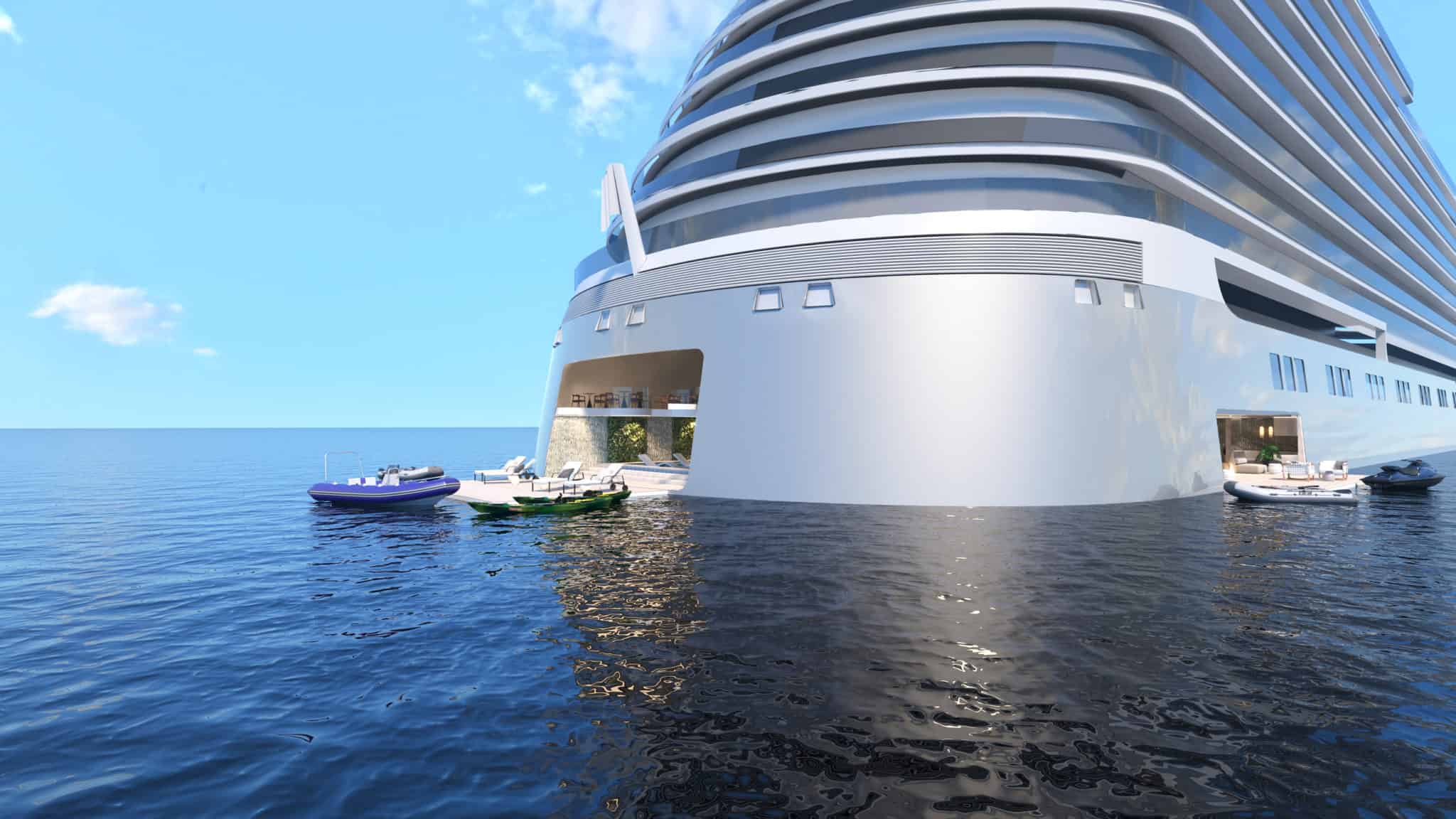 "They are people from all walks of life who believe in the founding principles of discovery, a live-aboard lifestyle, interactive experiences, participation in the community, contribution instead of exploitation, having a conscientious mindset, and being joint owners of the vessel," the company says on its website. The website also features videos and stories from future residents on why they have chosen to get onboard.
Around The World In 3.5 Years
The 741 ft. long, 55,000 gross ton MV Narrative, with a crew of 450, will chart a leisurely path through the world's oceans, circumnavigating the globe over a period of about 3.5 years. There's no rush to see as much as possible in 7 or 14 days, so the ship will spend three to five days in major ports, leaving plenty of time to explore. Even in smaller ports, most stops will include an overnight stay.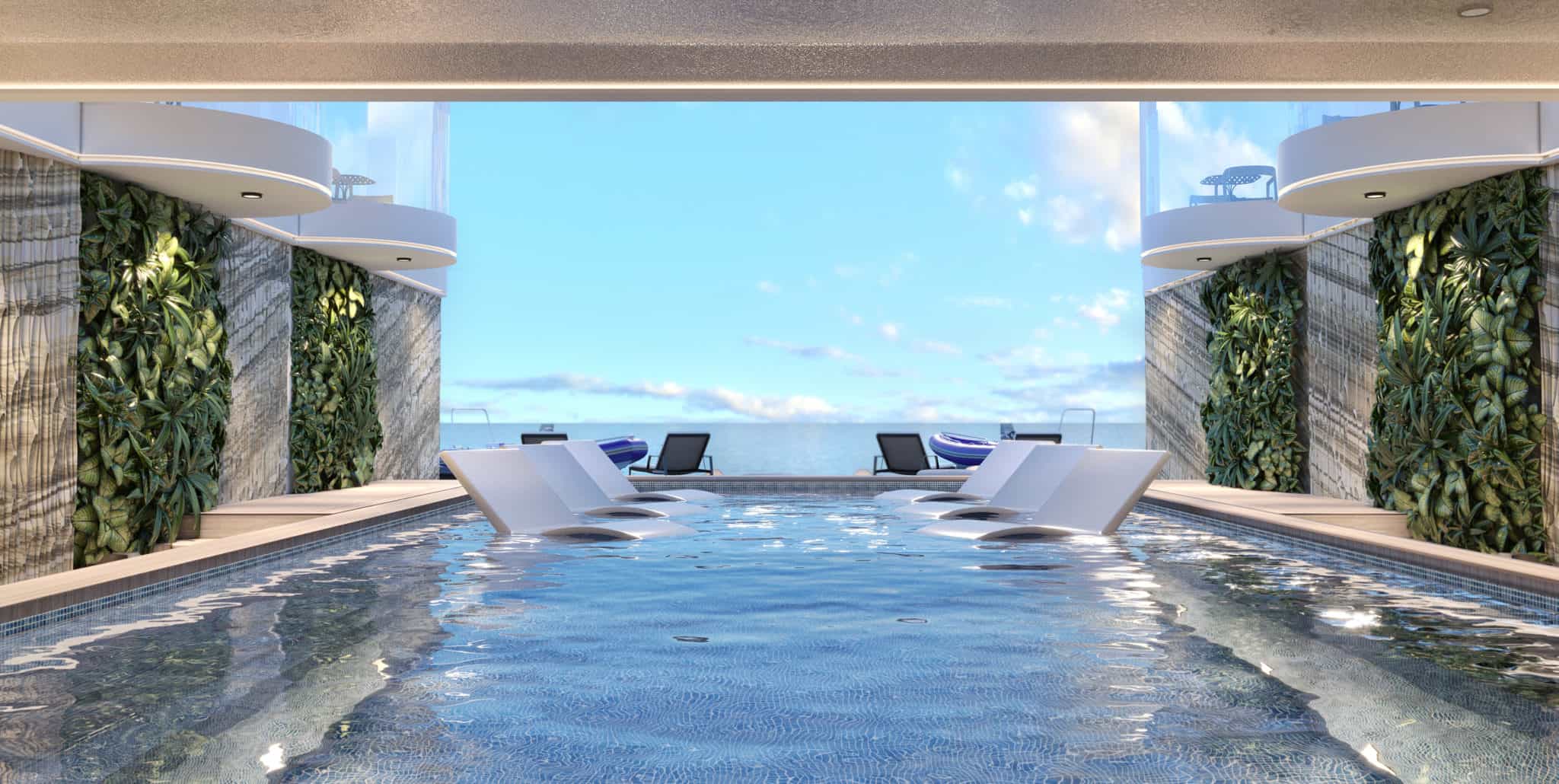 The ship's hull is currently being built, and Storylines says it is on the verge of announcing a shipyard — likely in Europe — where the engines and interiors will be built and installed. The MV Narrative will run mainly on low-emission liquefied natural gas, supplemented by power generation facilities with battery banks that can run the ship's generators and auxiliary power.
At a time when cruise ships have been mostly grounded for nearly a year due to the global health crisis, Storylines says health and safety will be critical concerns, even if the pandemic is easing into history by the time the ship launches.
"Storylines residents' life aboard is similar to a gated community," says Punton. "High-risk activities such as buffets have been replaced with 20 unique restaurants, passenger density at just 40 percent of a typical cruise ship, and as a residential ship, there is little turnover of passengers and crew. That combined with total control over what goes on and off the ship, the threat of COVID-19 exposure is greatly minimized or eliminated — allowing for safe cruising amongst a healthy, active community."