All eyes are on MSC Cruises this weekend as they attempt to restart Mediterranean sailings from Italy.
This is a major step for the industry, given that the company will be implementing many of the protocols others — including all of the major players in the American markets — are considering.
READ MORE: First Major Cruise Line's Emotional Return To Service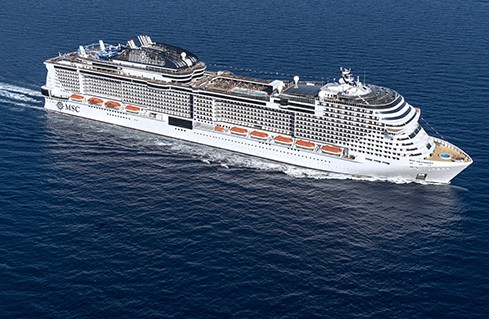 "During the pause in our operations, we focused on developing a comprehensive operating protocol that builds upon already stringent health and safety measures that have long been in place on board our ships," said company chairman Pierfrancesco Vago.
What Will Be Different?
Rapid testing will be mandatory upon embarkation.
Only cruise line-sanctioned shore excursions will be available.
Daily temperature checks will be done at various points around the ship.
Social distancing will be practiced in bars, restaurants and entertainment venues.
Masks will be left in every stateroom and available at various spots around the ship.
A new onboard guest relations center will allow staffers to handle guests digitally or by phone.
Perhaps not surprisingly, the policy which will not allow guests to leave the ship unless they are on an MSC-organized shore excursion has created some controversy.
MSC released a statement addressing the change, saying, "By taking this decision the company is able to ensure that every aspect of the guest's time ashore meets the appropriate standards of health and hygiene, from ensuring that transfers are properly sanitized, that tour guides and drivers are wearing PPE, venues and sites to be visited are pre-screened to ensuring there are reserved areas for MSC Cruises guests at attractions."
Where Will They Sail? 
The 181,541-ton MSC Grandiosa will be the first ship to depart from Genoa on Sunday, August 16 for a seven-night voyage. The ship will visit the Italian ports of Genoa, Civitavecchia and Naples.
The smaller 95,128-ton MSC Magnifica will sail the Eastern Mediterranean on August 29 for a seven-night voyage. That vessel will leave Genoa and call on Bari, Trieste, Corfu, Olympia and Athens in Greece.
READ MORE: Everything You Need To Know About MSC Cruises
In the U.S., MSC Cruises' ships will only return to service once the necessary approvals have been received from the relevant local and national authorities, including the U.S. Centers for Disease Control and Prevention, as well as from any ports they plan to call upon.
Last week MSC Cruises cancelled its Caribbean voyages through October 31, 2020. The new date aligns with the Cruise Line International Association having voluntarily extended the suspension of service of its member lines to that same date.