Grand Cayman is one of the most popular stops aboard Western Caribbean cruises and for good reason. The island is small, but there's still plenty to do for your family vacation.
Where Is Grand Cayman?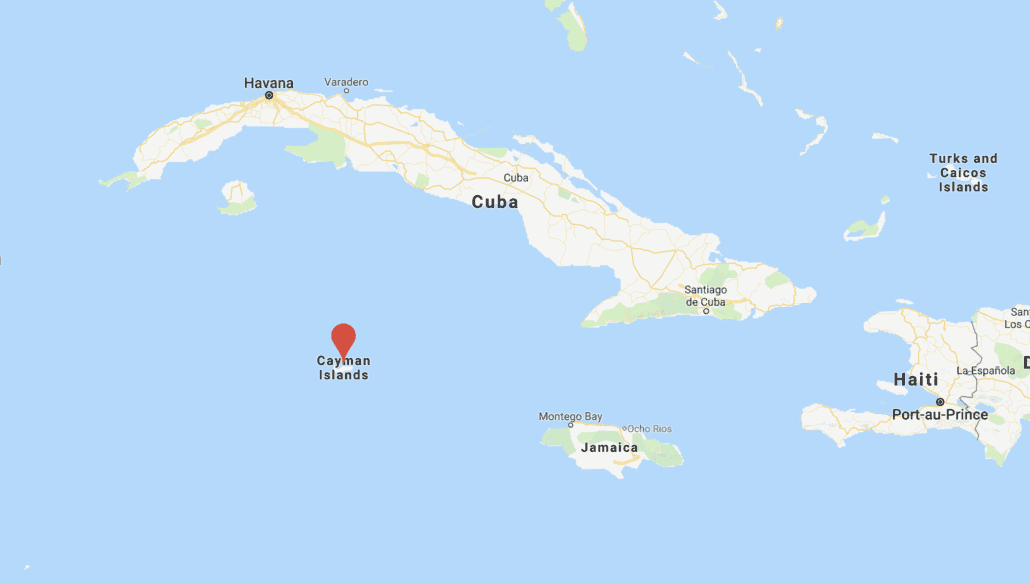 Grand Cayman is an island located in the Caribbean Sea, just south of Cuba, it's 222 miles west of Montego Bay, Jamaica. It's often visited by cruise lines that sail five to eight-night Western Caribbean sailings.
Additionally, as a British Overseas Territory, it is very safe. The primary language is English and the tourist infrastructure is well developed. Add in a delightfully warm climate and some of the friendliest people on the planet, it's no wonder that Grand Cayman received nearly 2 million cruise guests in 2018.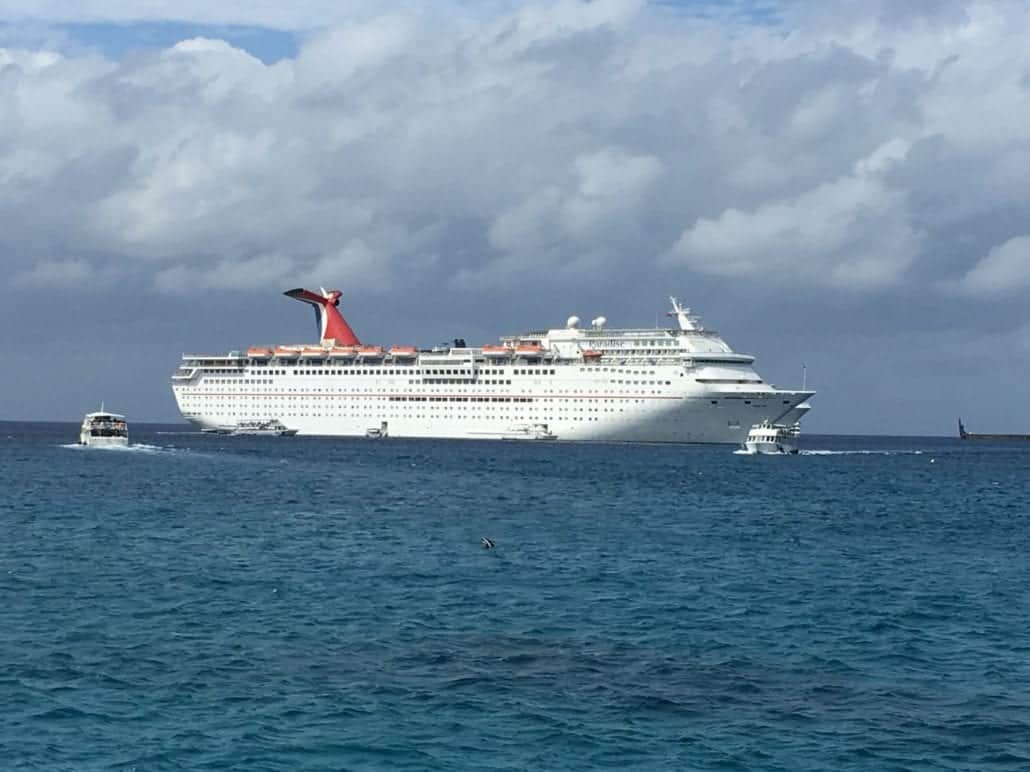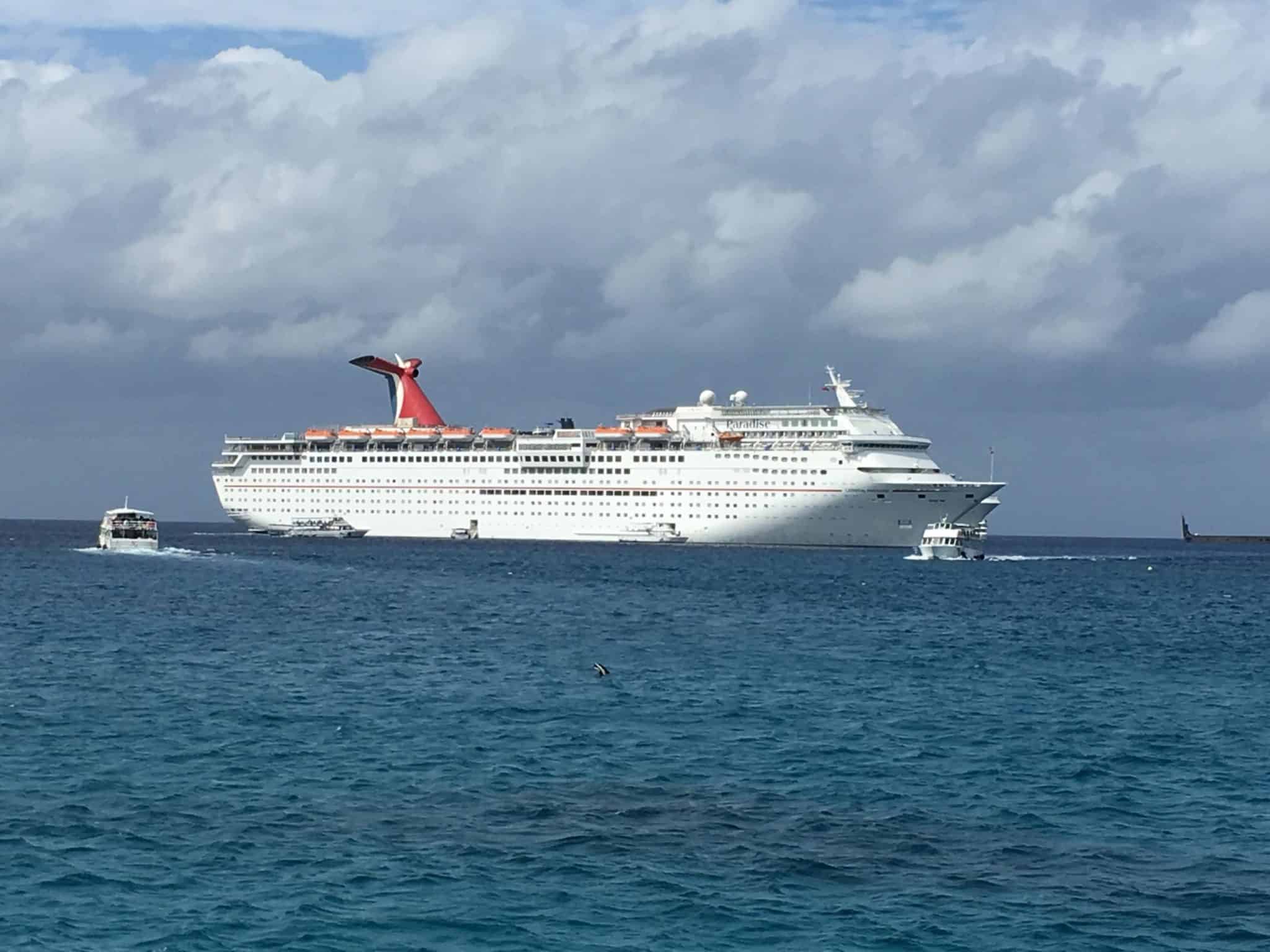 Grand Cayman is a tender port, meaning the cruise ship will anchor off the coast because of the shallow water, taking guests to shore via a smaller vessel known as a "tender". This port is located right off of Georgetown, which is the island's capital.
For families with children, there are a few activities that will satisfy both the kids and adults.
Grand Cayman offers a few choices that will suit most any age and are also pretty unique to the Cayman Islands — Stingray City and the Cayman Turtle Center. Not to mention spending a relaxing day, just enjoying the beautiful beaches!
Consider these family activities in Grand Cayman:
1. Stingray City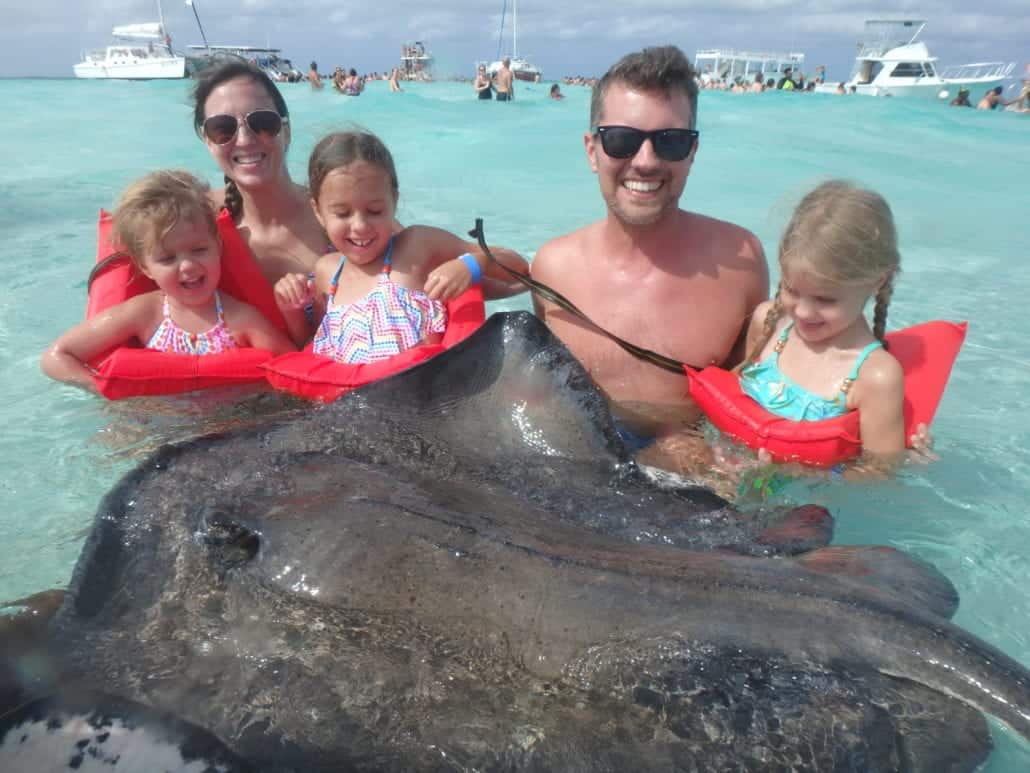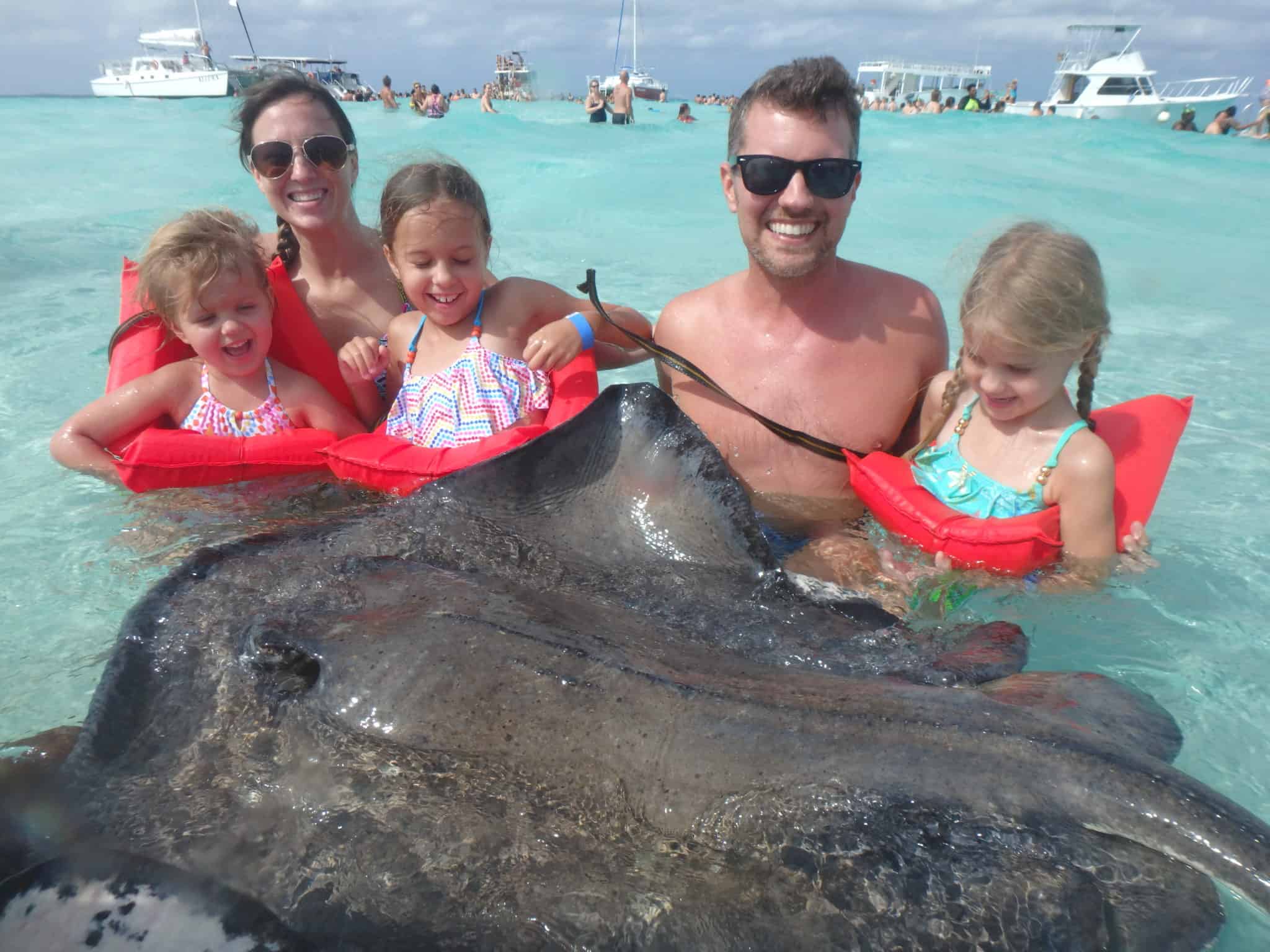 Over the last decade, several spots have sprung up around the Caribbean where visitors can interact with large(though somewhat intimidating at first), stingrays. Grand Turk and Antigua both have similar trips that can be arranged, but Stingray City in Grand Cayman was the first and, in our opinion, the best.
To begin with, it is very easy to arrange either a ship's tour or book through independent tour operators. Prices are also very competitive, at around $49 for adults and $35 for children under 12, making this an affordable option for families. If choosing an independent tour, the vans pick up passengers right outside the terminal where the tenders dock.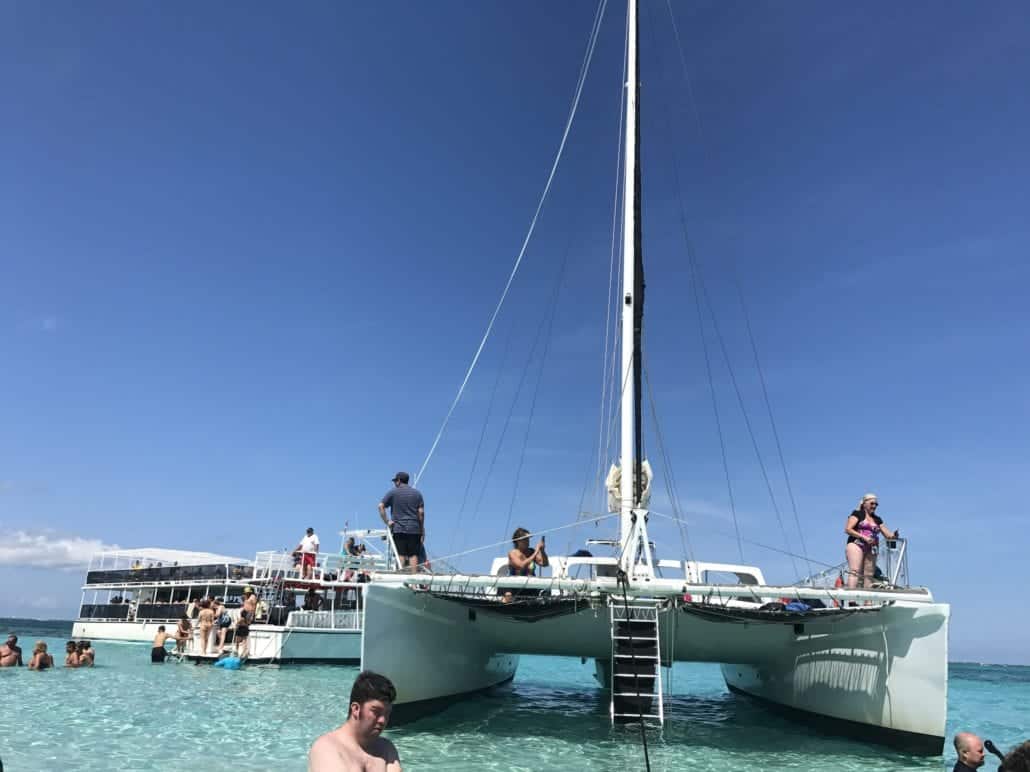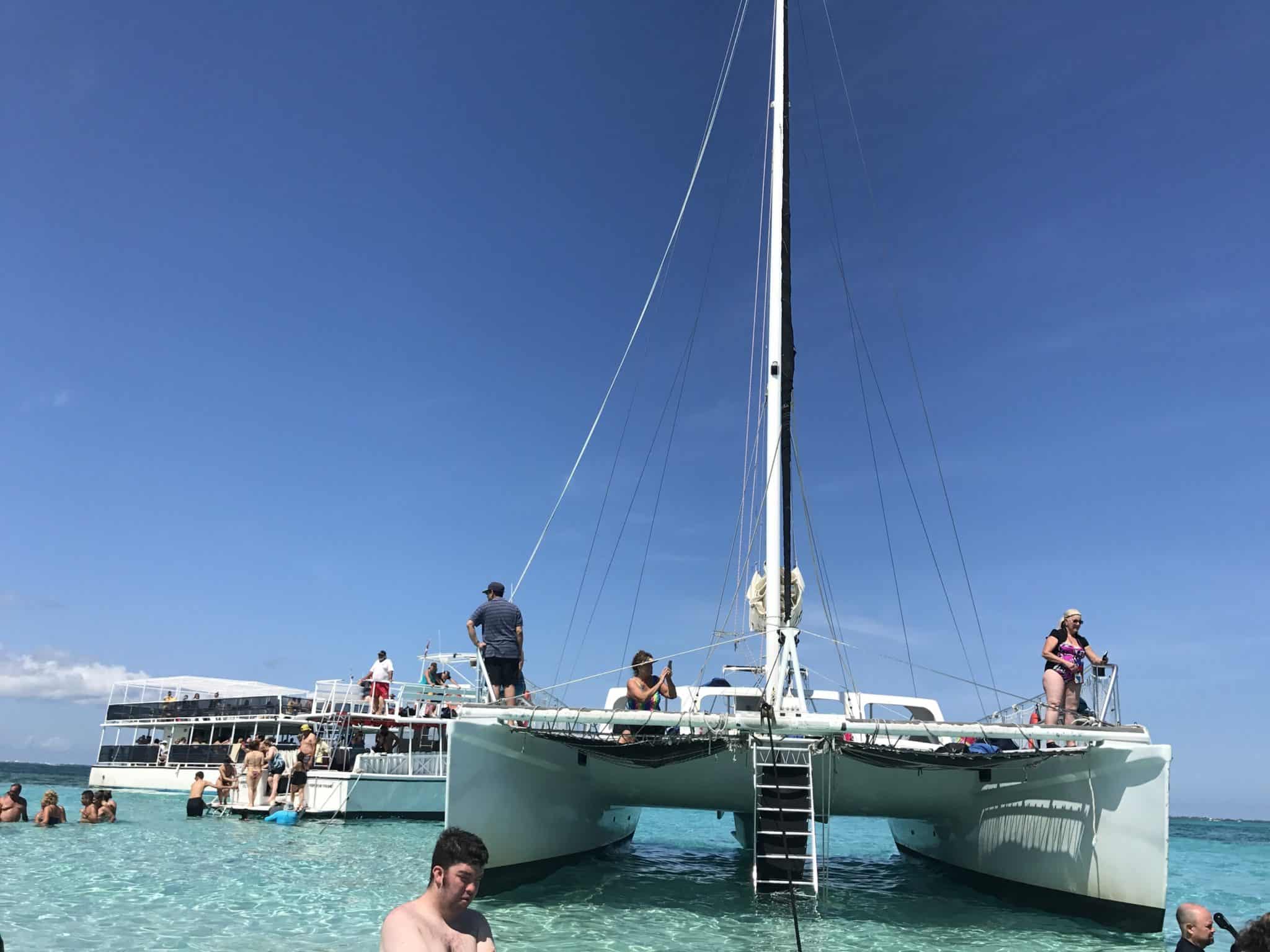 It should be mentioned, that sometimes the tenders dock you several miles east of Georgetown, close to Spots Beach. In either case, independent operators will know where your ship is at and meet you at the appropriate dock for any activities you may plan.
Generally, tours to Stingray City include transportation from the cruise dock, a nice boat ride to the stingrays, a second stop for snorkeling on coral reefs, and then returning to where you were picked up. Longer tours may include a beach stop or lunch, but usually, cruise ship passengers will not have time for extended trips.
Read More: Stingray City Tour Review
Once you loaded, it's about a 20-minute ride to the dock where the boats leave. Independent operators may stop at a hotel or two to pick up additional passengers, while a cruise package would head straight to the location. The Stingray City Sandbar is situated on the top end of a large bay on the north side of the island, which is about a 20-30 minute ride from the boat docks. Once there, guests put on life vests and can swim around with the large stingrays, while the boat crew uses bait to lure them closer. The shallow waters here are typically up to your waist.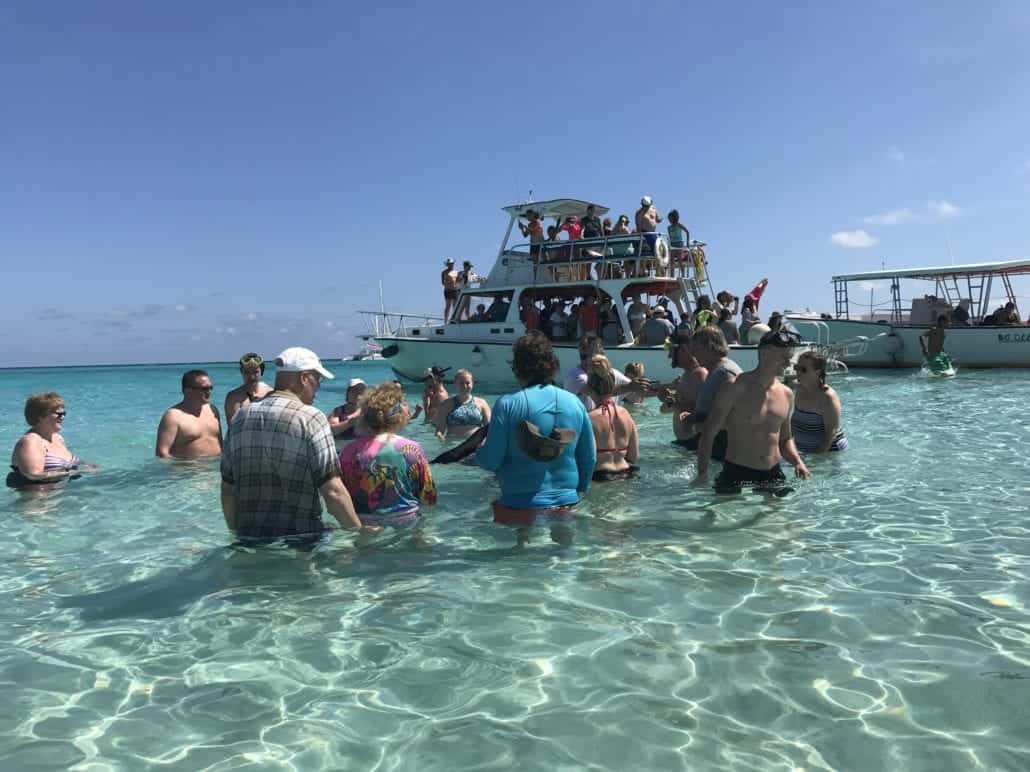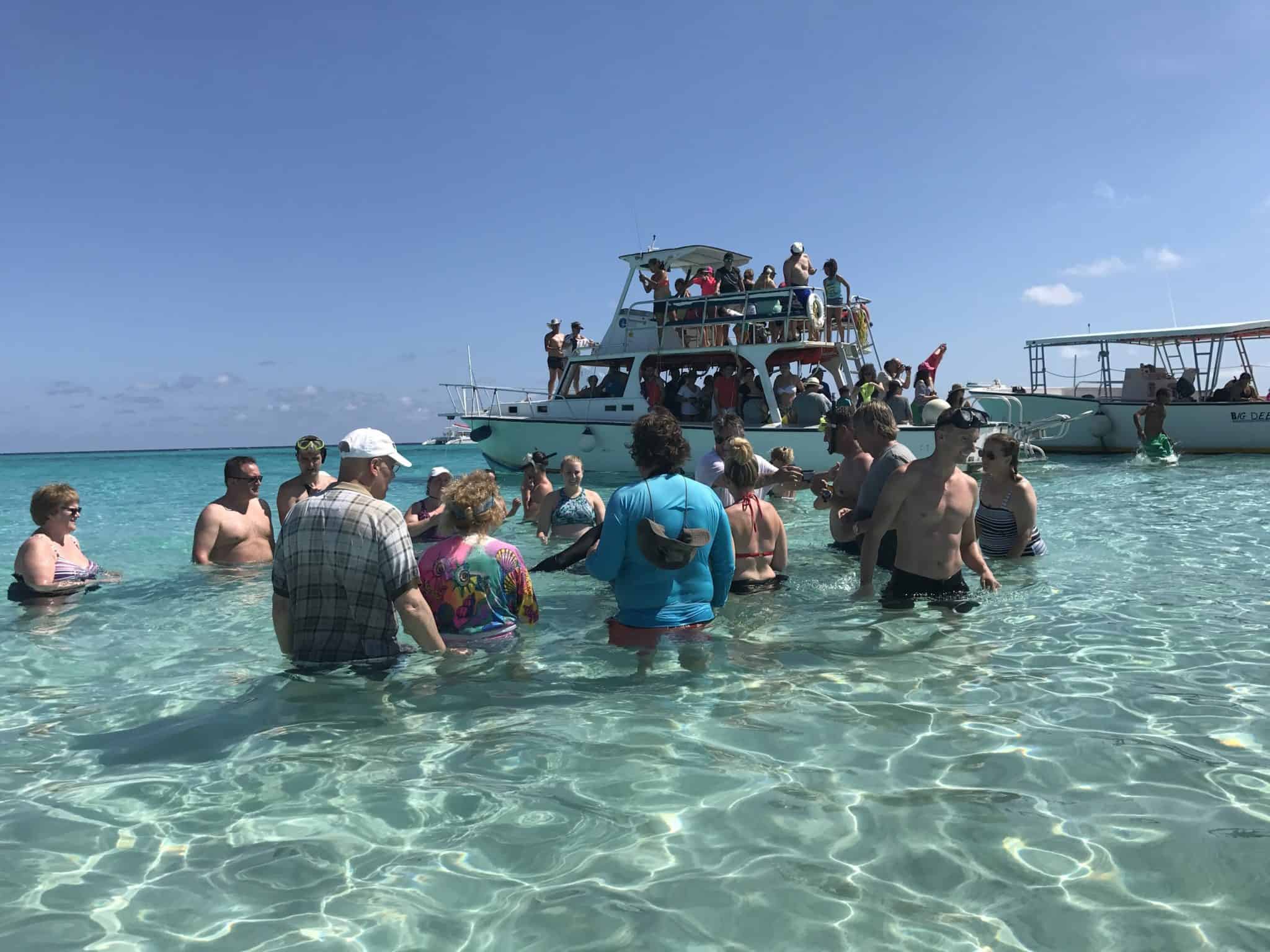 The rays are very friendly and curious, allowing people to gently touch, and pose for photos with crew assistance. Kids (and adults) seem to be a bit afraid at first, but once they see other people having fun with the animals their fears are assuaged.  After this, the boat heads to a second location where you can snorkel(gear provided) getting a up close look at beautiful coral and exotic sea life. After returning, it's a quick ride back to the dock.
2. Cayman Turtle Centre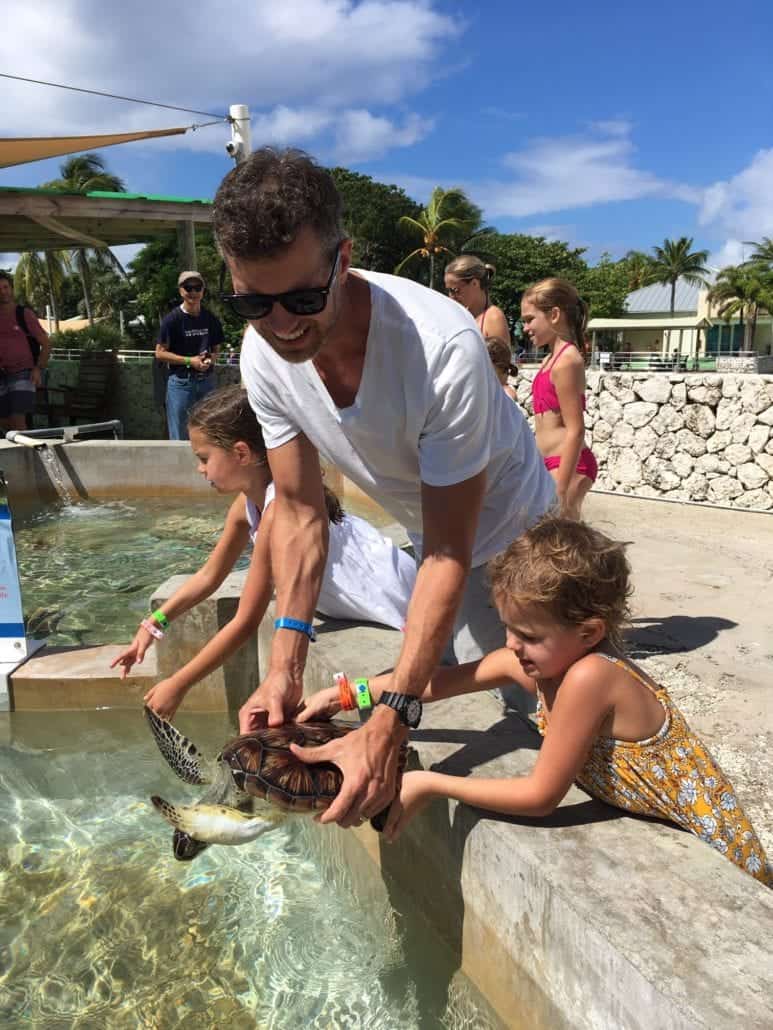 Originally named the Tortuga Islands, Grand Cayman is famous for its reptilian resident: the sea turtle. The Cayman Turtle Centre is an animal attraction located on the north end of the island.
Similar to Stingray City, you can use an independent operator, cruise tour, or even hire a taxi for a ride there.
While the cruise tour is a fairly good value, using a taxi or independent will get you there sooner, though there are extra fares. Taxi fare is around $40 each way, and entry is $18 for the Centre along with an upgrade option to swim with the turtles. Access to the small water park is also available for $27.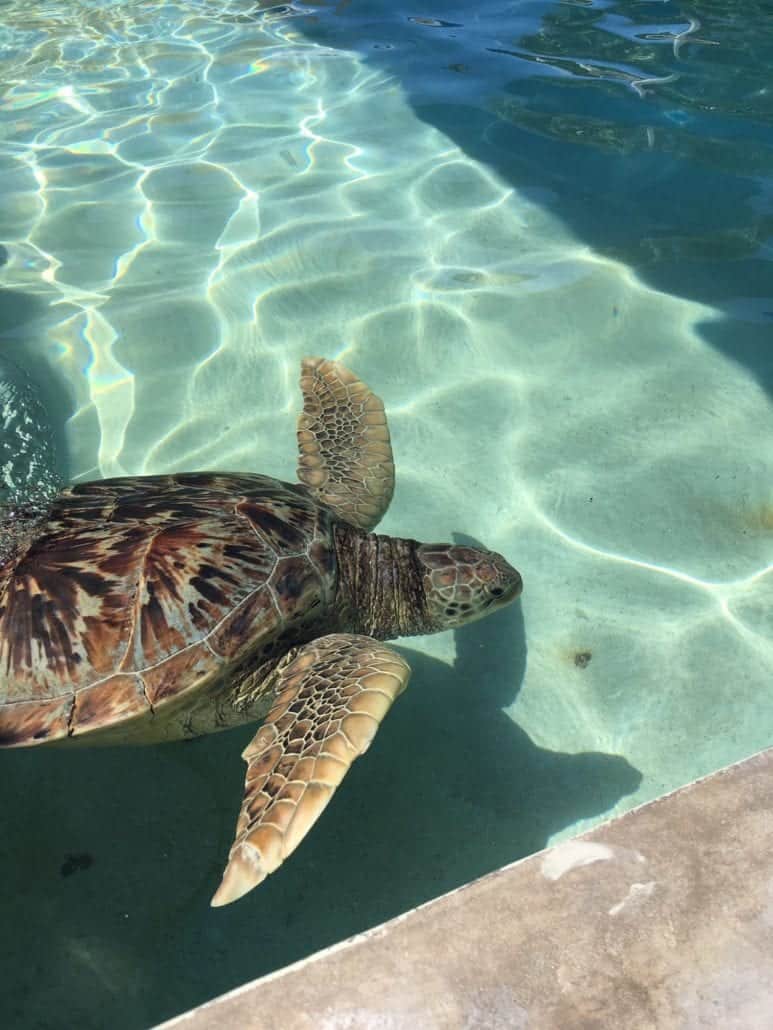 The Cayman Turtle Centre contains several zones that will appeal to families, including the option to snorkel in a large lagoon with the animals. If you are going to swim with the turtles, it is highly suggested to bring a change of clothes, towels, and a bag for your wet clothes. There are private changing areas and showers if you need to clean up after the swim.
At the lagoon floating vests, masks, and fins are given to allow an easier snorkeling experience. Turtles do not swarm the lagoon and they are not fed by visitors, so it is a bit of a hunt to find them, but very rewarding when you do!
Families enjoy searching for the turtles, watching them swim in the lagoon, and snorkeling around in a safe environment.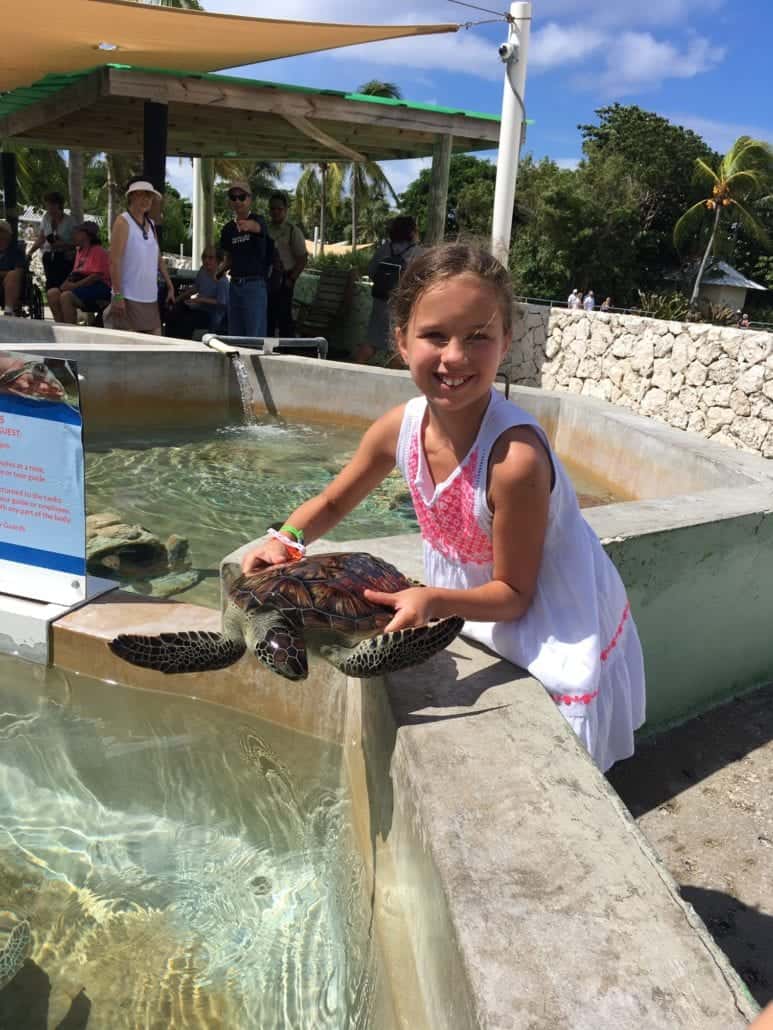 Lifeguards are nearby, but it is highly recommended to keep a watch on younger children. It should be noted that there is an additional charge to swim in the lagoon above the regular admission. For individuals not wanting to swim, there is still a touch area where the turtles can be held and observed up close. In addition to the turtles, there are other sea creatures at the Cayman Turtle Center, including an aviary filled with native birds, shark tank, and other marine life.
If you choose to use a taxi or independent tour, you will probably make a stop at "Hell" which is very nearby. Composed of exposed limestone, "Hell" is a fun stop to take some photos and send a postcard from the netherworld.
Generally, tours and taxis return to the tender pier after these stops, but if you have time you can check out the shops nearby(there are plenty of them!).
3. Fun in the Sun Beach Day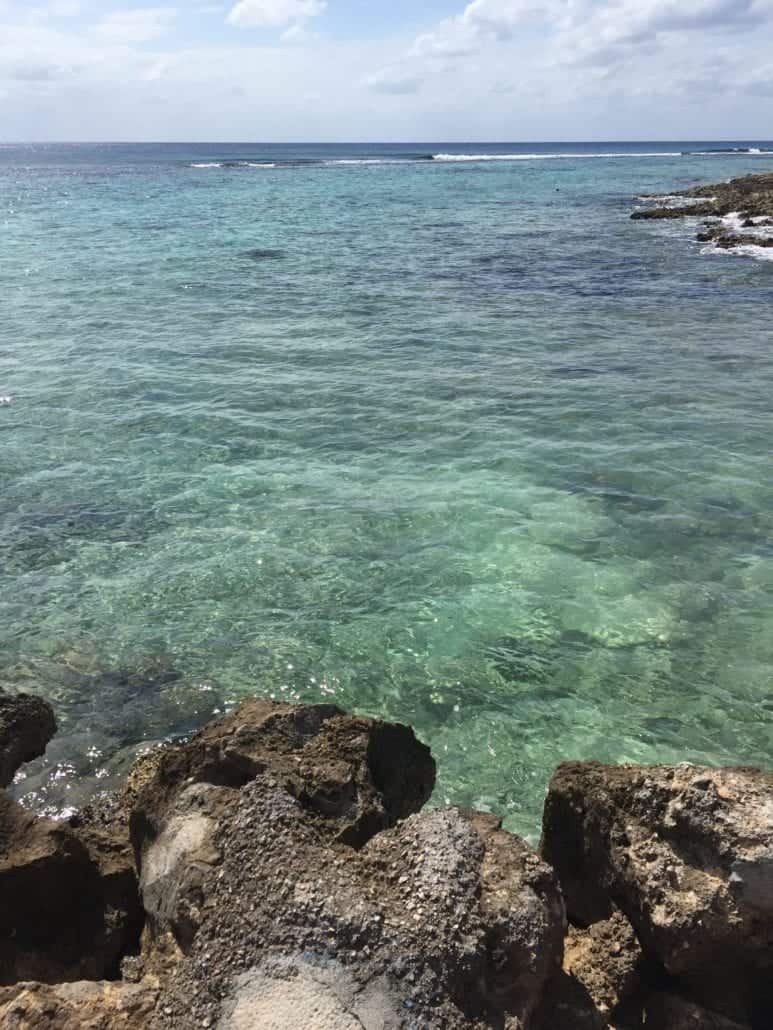 Naturally, as a Caribbean island, Grand Cayman has some really lovely beaches — the most famous of which is Seven Mile. If a family is not sure what to do or is on a budget, then a beach day may be the best option. Starting at about $4 per person, a taxi will whisk your family away to one of the Caribbean's most fabulous beaches lined with palm trees.
The primary public access point along Seven Mile Beach is at Calico Jacks Beach Bar, which has chairs, umbrellas, and water sports options for guests.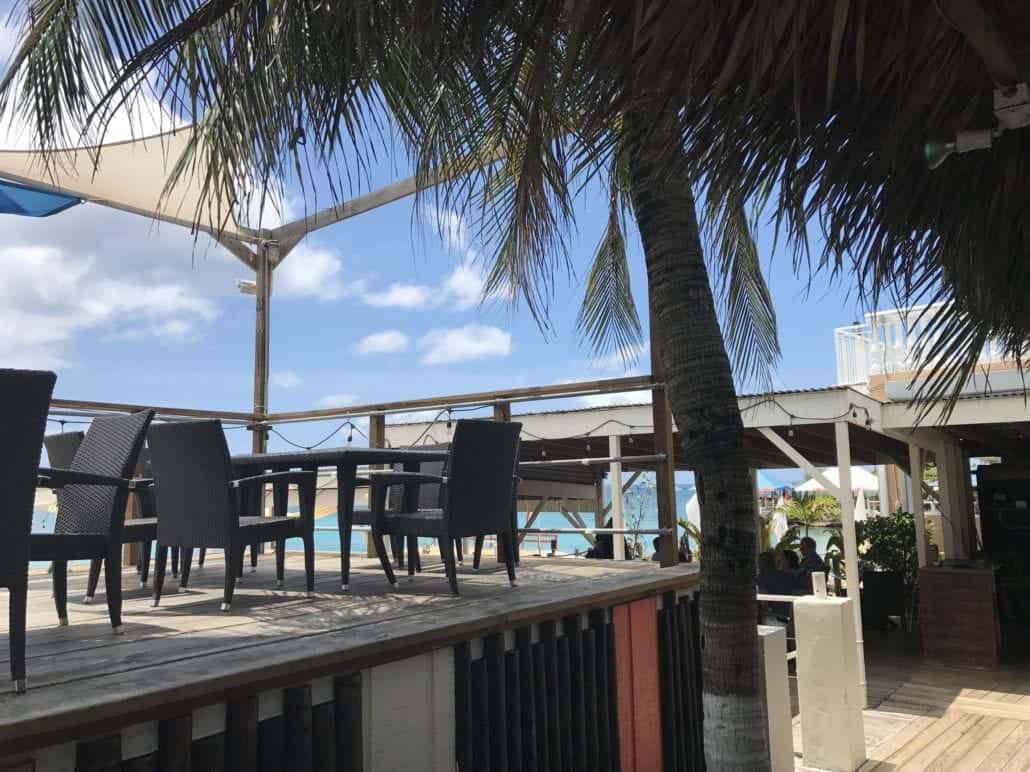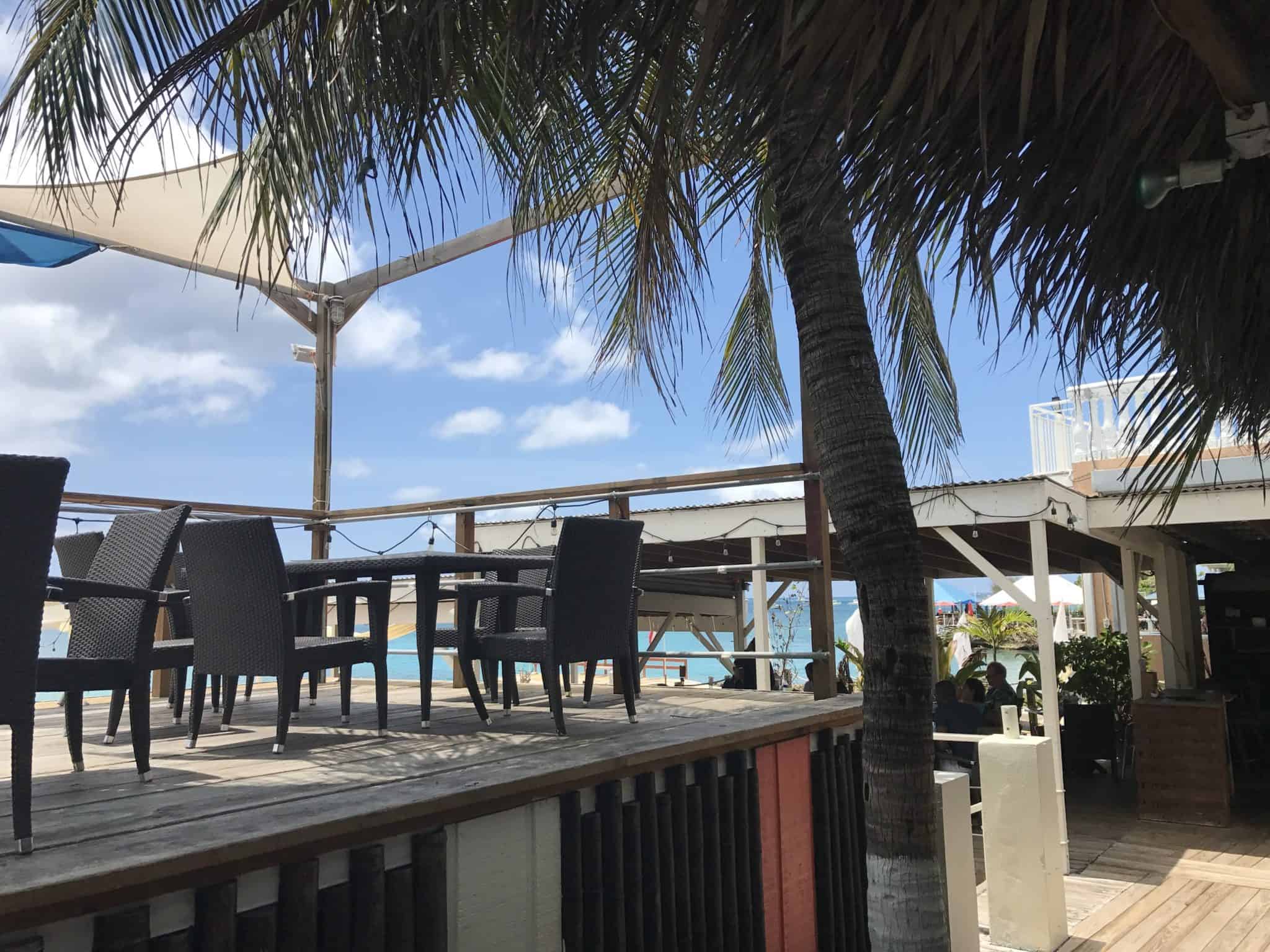 Another choice that visitors have while in Grand Cayman, is the Royal Palms Beach Club. For a $2 entry fee, you have access to the pool, beach, and an 'a la carte' restaurant. There are water sports equipment and cabana rentals available here as well. While the swim up bar is adults only, the rest of the facilities are open for any age.
For families, Calico Jacks or Royal Palms would make an excellent day at the beach.
Whatever you may decide, Grand Cayman is sure to provide family fun, for a variety of ages, interests, and budgets.
By guest author Michael York.