Touchdown, Barcelona! It feels great to finally get here but wow, I've been up for 32 straight hours and at the moment, I'm feeling every bit of it.
One real blessing was not having to worry about my luggage, as I took advantage of the cruise-line transfer service. This means they basically took my bag after I got off the plane and arranged for it to get to the ship and into my stateroom. If you've ever gone to Disney World and used the Magical Express Luggage Service, it's basically the same principal. It's not available at all ports, but it was here, and I was happy to make use of it.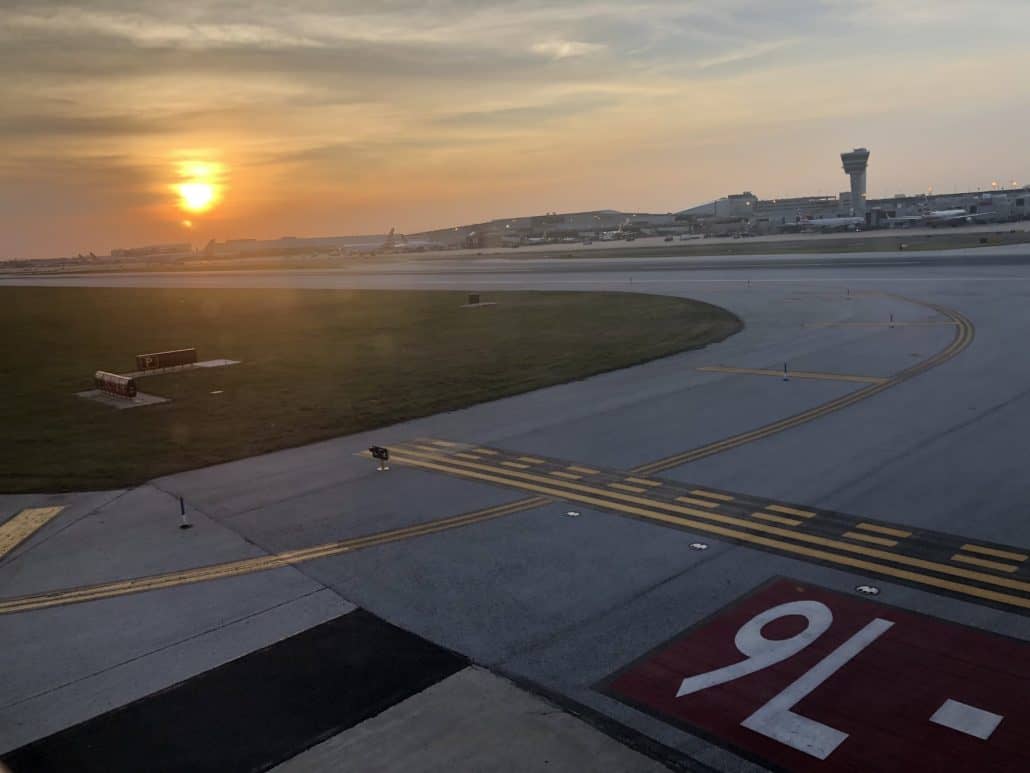 Embarkation went great. My flight landed at 9:00 a.m.,  we'd cleared customs and climbed aboard the bus that would transport us to the ship by 10 and had arrived at the pier by 10:30. No muss, no fuss, it was as quick and easy as any airport-to-pier transfer I've ever experienced. And honestly, that's a relief. It's one thing to deal with snafus in your own country, but when traveling in a foreign land and speaking just enough of the language to find a bathroom, the last thing you want is a difficult transfer.

They've recently renovated the cruise pier in Barcelona, and it looks amazing. From curb to ship, the whole process took about 30 minutes. It would have been even quicker, but we arrived before they'd begun allowing people to board, which started promptly at 11:15 a.m.

Stroll Down Memory Lane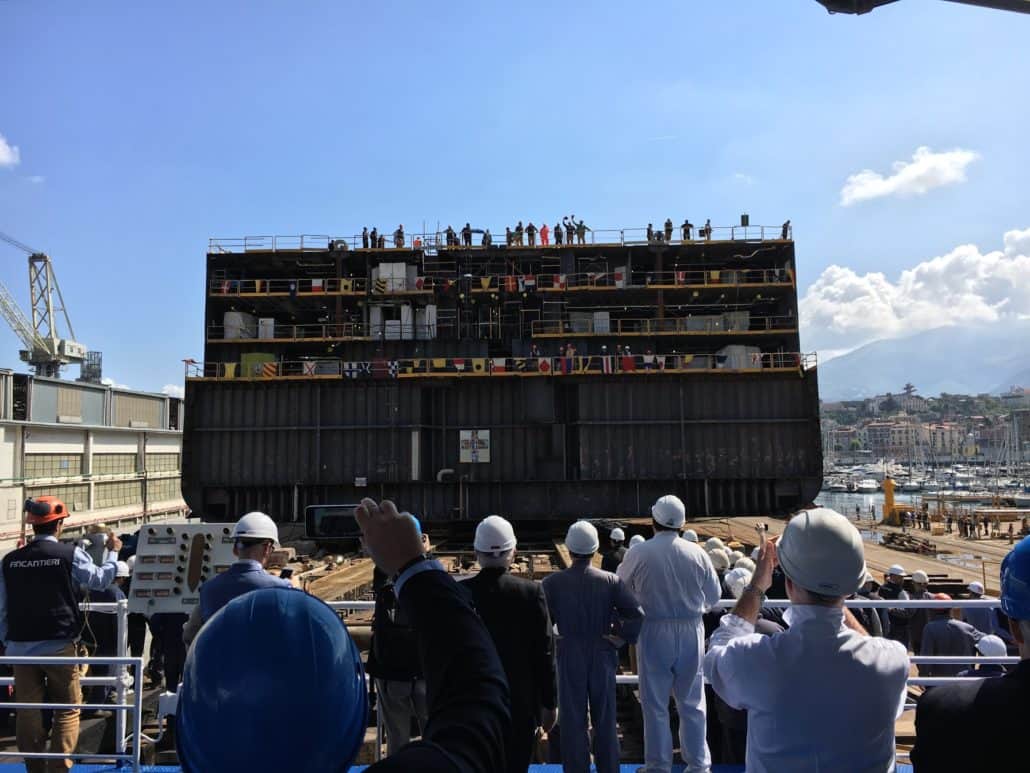 Before we get to the ship, can we just talk for a moment about what an amazing feat of engineering building a cruise ship is? It wasn't even two years ago that I visited Fincantieri shipyard in Naples to watch a section of Carnival Horizon be floated out. During embarkation, I was looking at this ship and marveling at what that one piece of steel — granted, a really big piece! — eventually became. The experience of having watched even a small part of the construction process makes the moment of seeing the finished product, let alone spending time on board, all the more exciting.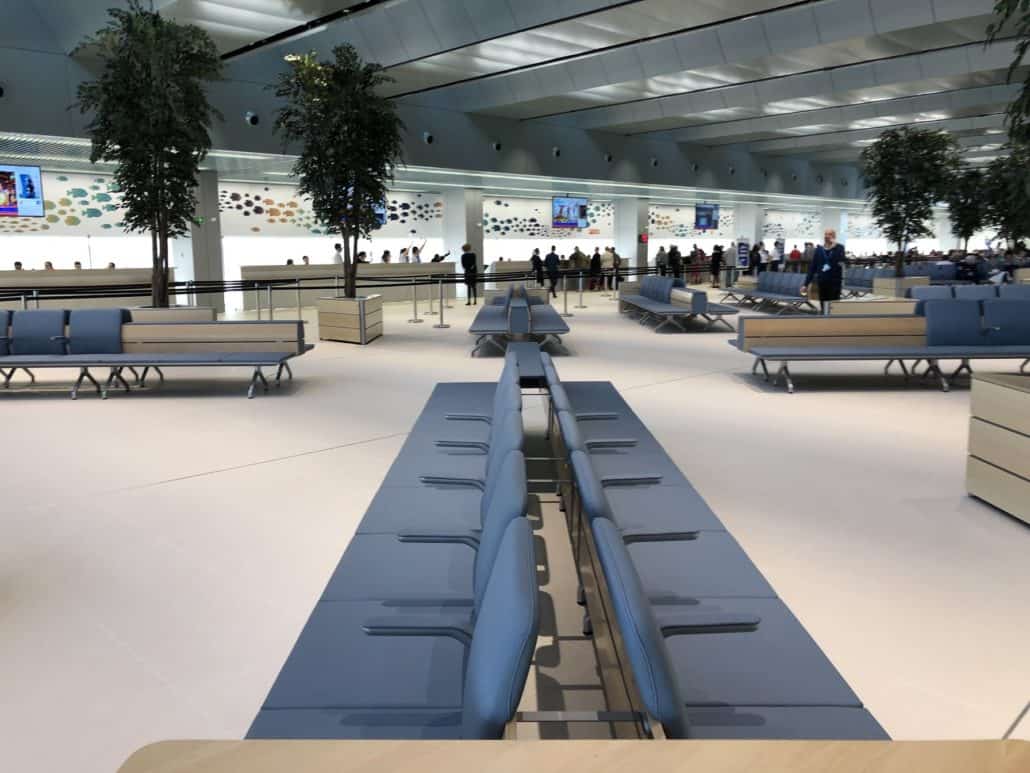 It's always so cool walking onto a new ship for the first time. On Carnival Horizon you board on deck three, which means the very first thing you see is the Dreamscape LED centerpiece that anchors the main atrium. Talk about making a big first impression! The Dreamscape funnels set the Vista class ships apart from anything else out there.
PRO TIP: Almost immediately, most people stop and whip out their cameras to take a picture of the images being projected on the Dreamscape and maybe grab a drink at the bar directly beneath it. Don't get caught in the crowd… go explore. The atrium will be there all week!

On Horizon's sister ship, Vista, blue is the prevailing color. On Horizon, the atrium's main color is red. The space features a very airy design that stretches up three levels. The main dining room is on level three, deck four has several shops as well as the entrance to the casino, and deck five offers more shops and the entrance to the promenade.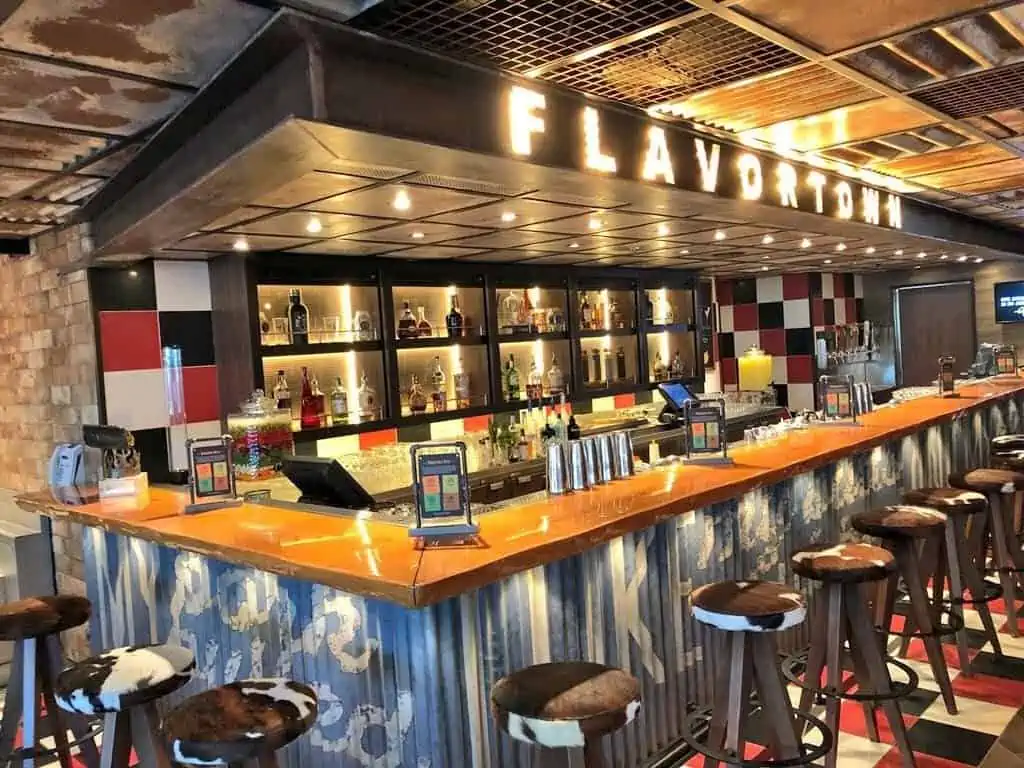 Once I was on board, I immediately headed for Guy Fieri's Pig & Anchor Smokehouse to check out the new public space. Those of you who usually head for the RedFrog Pub will have to make do with this awesome new venue, which takes the place of that one on Horizon. Truth be told, the space will remind you in a lot of ways of the RedFrog Pub, but with a few distinct decor elements (like the giant sign reading Flavortown) which tell you that you're definitely in Guy Fieri territory! Stupidly, I had breakfast on the plane — did I somehow forget that I was going to have access to way better food in a few short hours? — so I didn't grab BBQ for lunch.
I wanted to check out the Havana Retreat area on the aft end of deck five, so I headed there next. Yes, I know it's closed to everyone by those staying in Havana staterooms during the day, but I figured maybe I'd be able to take a quick peek. Heck, maybe I'd even be allowed to play the "I'm with the press" card to gain access! But no such luck. I was politely but firmly told to come back after 7 p.m., when the area opens to the public. And honestly, I'm glad to see them enforcing the rule. Let's face it: People pay a premium price to stay in those cabins, and exclusive daytime access is one of the perks they're ponying up the cash to enjoy.
The Scoop On Horizon's Wi-Fi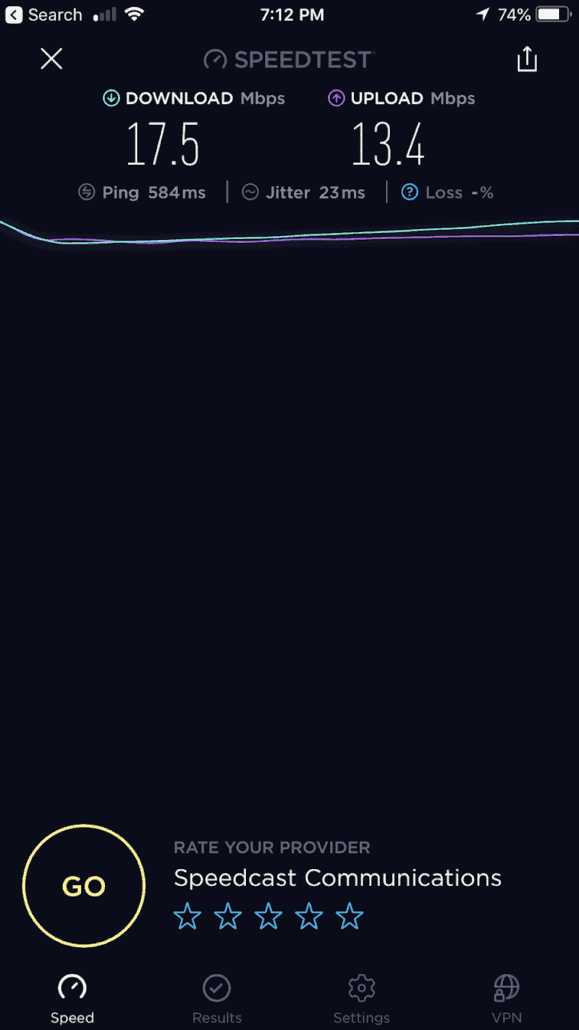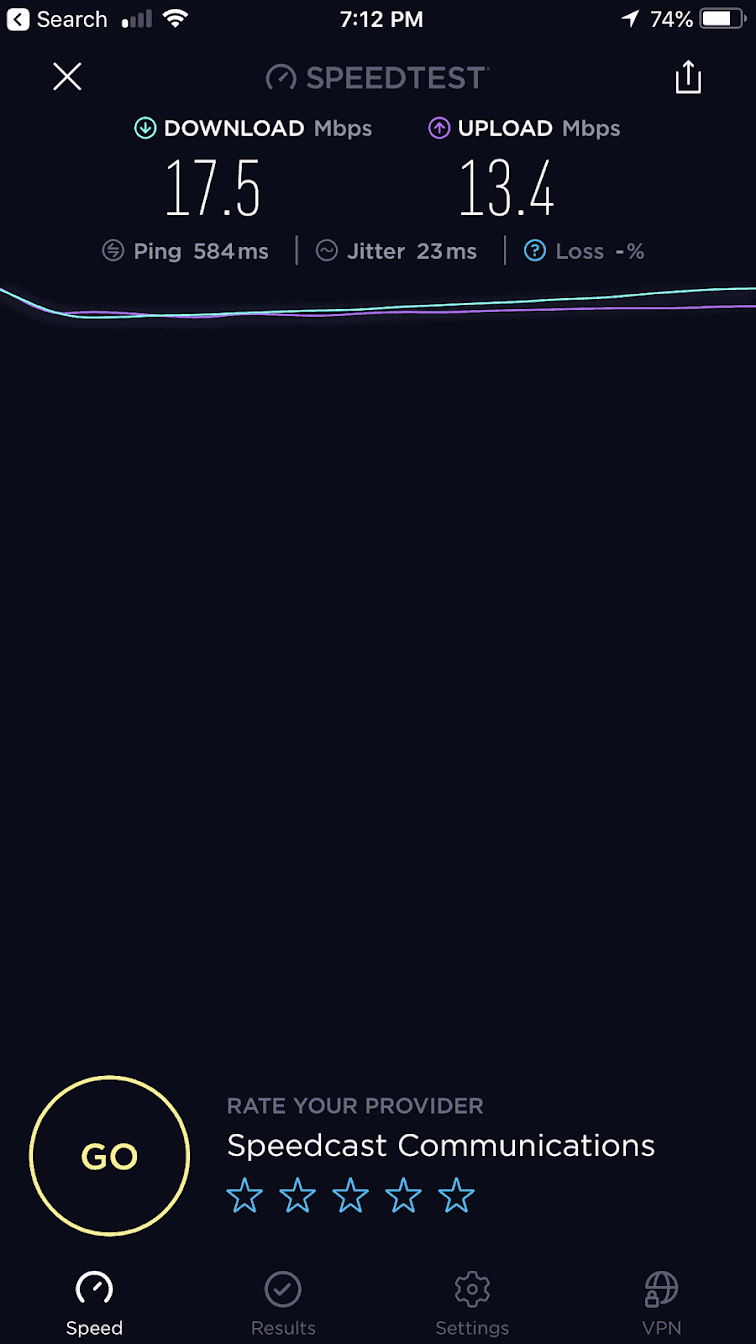 If you've sailed with Carnival before, you know the wi-fi prices are very attractive, starting at just $4 per day if you buy the plan in advance. On other ships I've sailed, the wi-fi has been really slow. When I did a speed test on the Carnival Magic back in February, the upload and download speeds were very sluggish. So once on board Horizon, I did a similar test. Now, I have the premium plan (after all, I have to file these daily reports, right?), but I'm impressed. While docked, the wi-fi gave me an upload speed of 13.4 megabytes per second and a download speed of 17.5 megabytes per second. Since that might be gibberish to some of you, let me put it this way: By comparison, the speed on Carnival Magic was 2.7 megabytes per second when it came to download speeds. And the upload speeds seem to be even faster.

Of course, the real test will come during sea days, when we're far from land and everyone on the ship is trying to make folks back home jealous by posting pictures to Facebook and Instagram!

Welcome To My Stateroom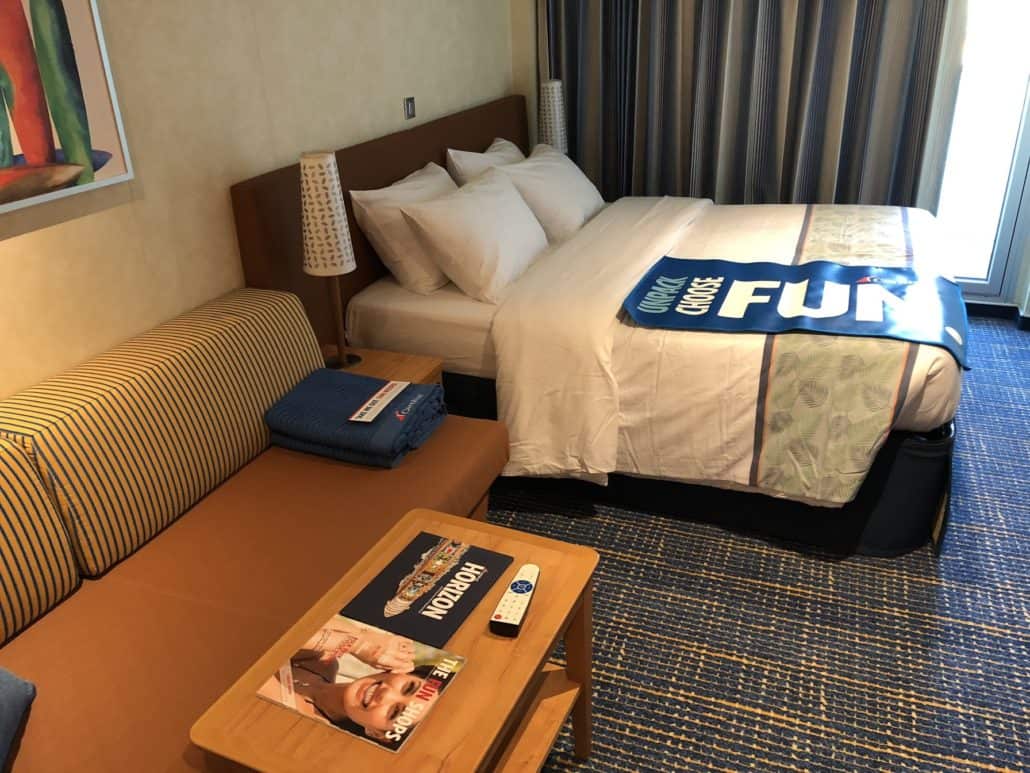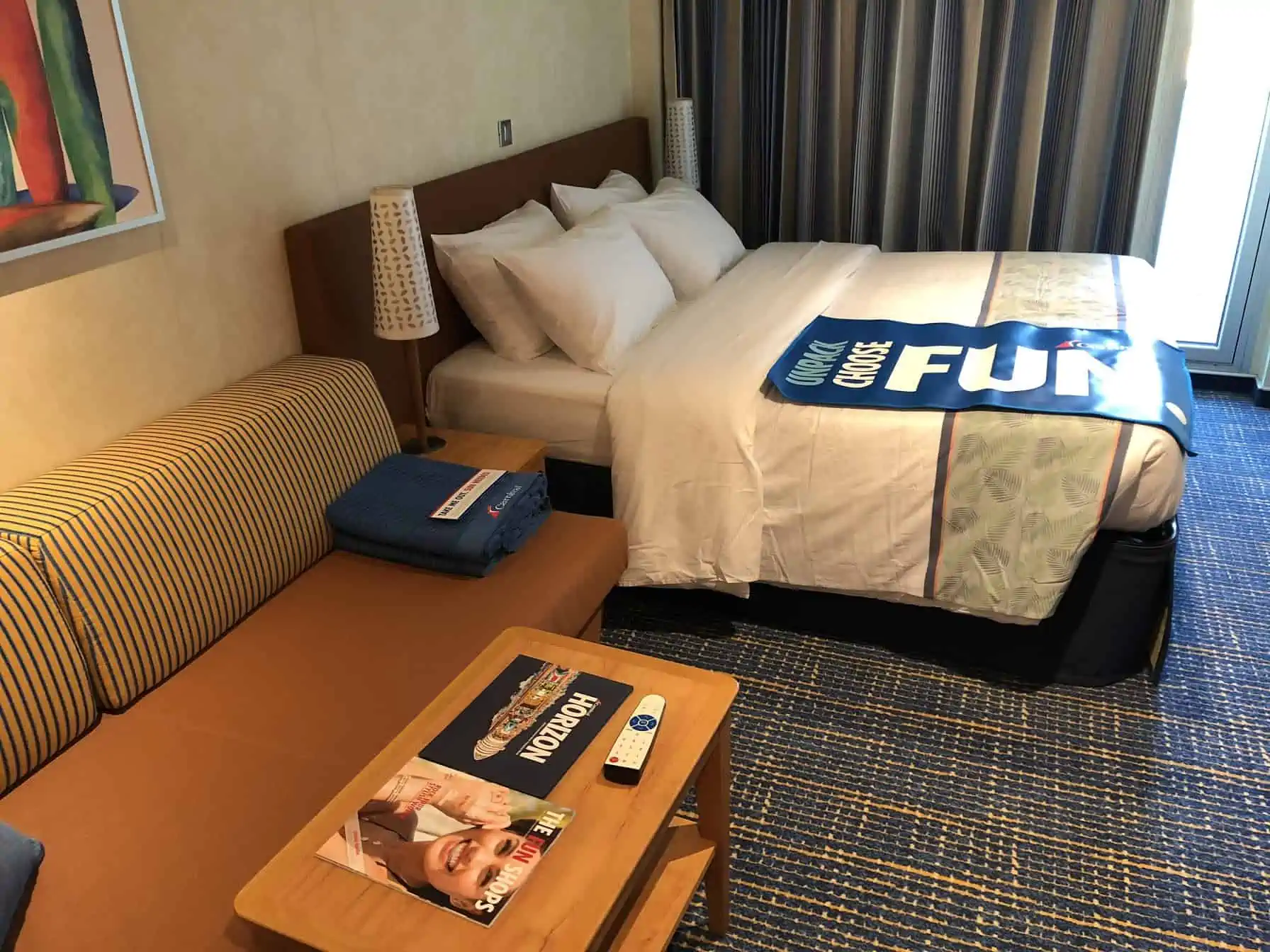 My cabin for this sailing is a balcony stateroom on deck seven midship,  so it overlooks the outside promenade on deck five.
If you're familiar with Carnival's staterooms then you know what to expect. The only difference I've noticed is a change in the color scheme throughout the cabin.  The curtains and bedspread are a little bit darker. Furnishing wise, all the basics are there. Three stand-up cabinets, the fridge, a safe a couch. It's exactly what you expect. (Unless, of course, you're staying in one of the Havana staterooms, but that'll have to wait for another trip!)

Those New Elevators You've Heard So Much About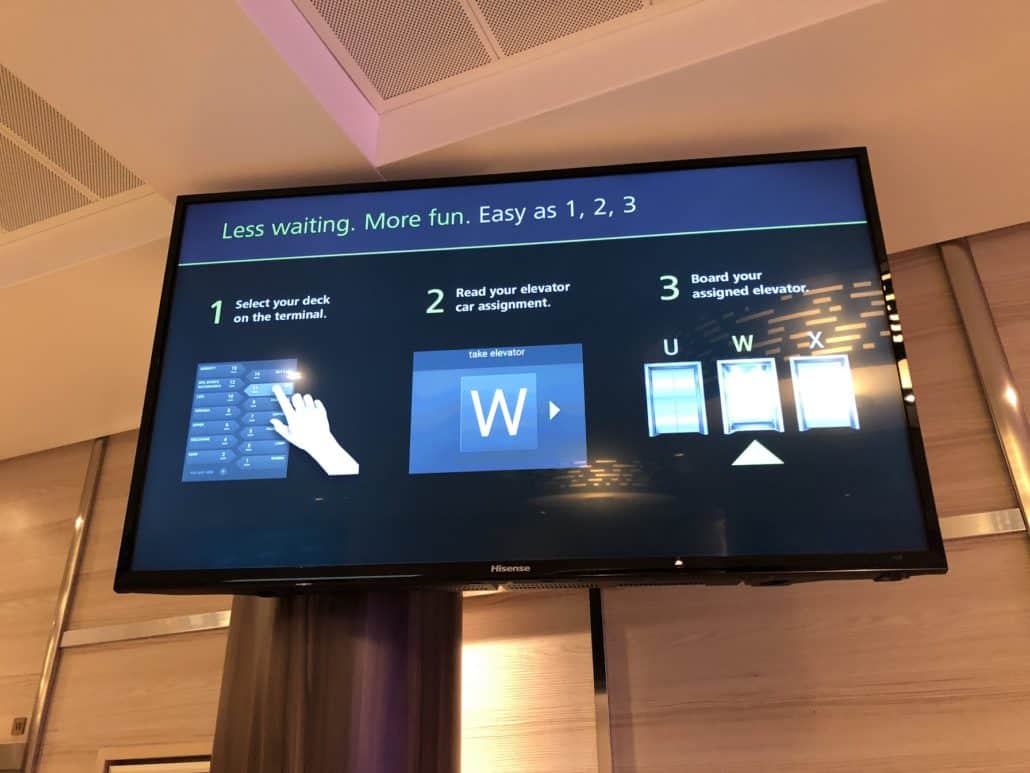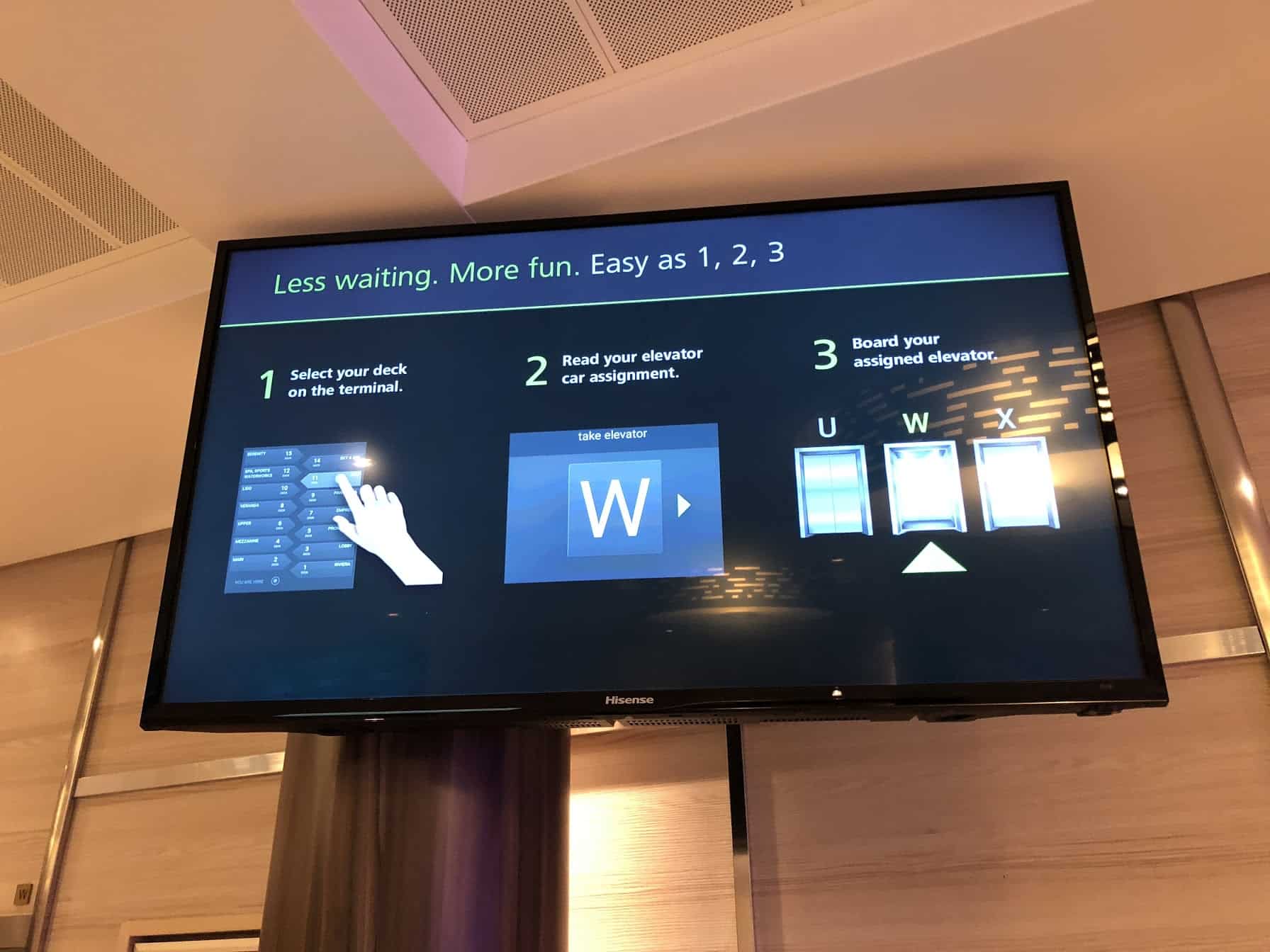 The elevators on Carnival Horizon are definitely different than anything I've encountered before, and more than a few people have been confused by them. Ironically, they're called "smart elevators" despite the fact my first interaction with them made me feel… well, definitely not smart! Here's how they work: Instead of pushing a button indicating whether you want to go up or down when you approach the bank of elevators, you select which floor you want to go to. The screen then tells you which of the elevators to board when it arrives.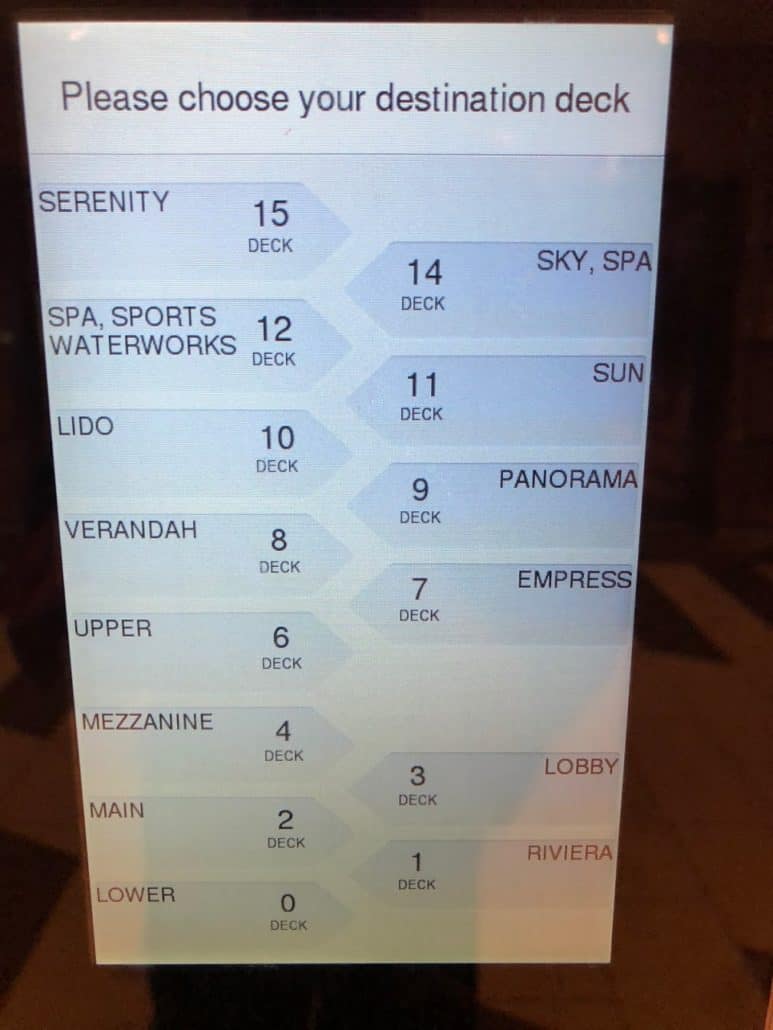 It's definitely weird getting into an elevator with no buttons… and already, I've seen more than a few people confused. But hey, they'll either adapt or wind up going for a lot of rides to the wrong floor! According to the Hotel Director onboard, the smart elevators will result in people spending less time waiting overall and will prove especially helpful on disembarkation morning, when they can handle up to 1,000 guests per hour.

And Away We Go!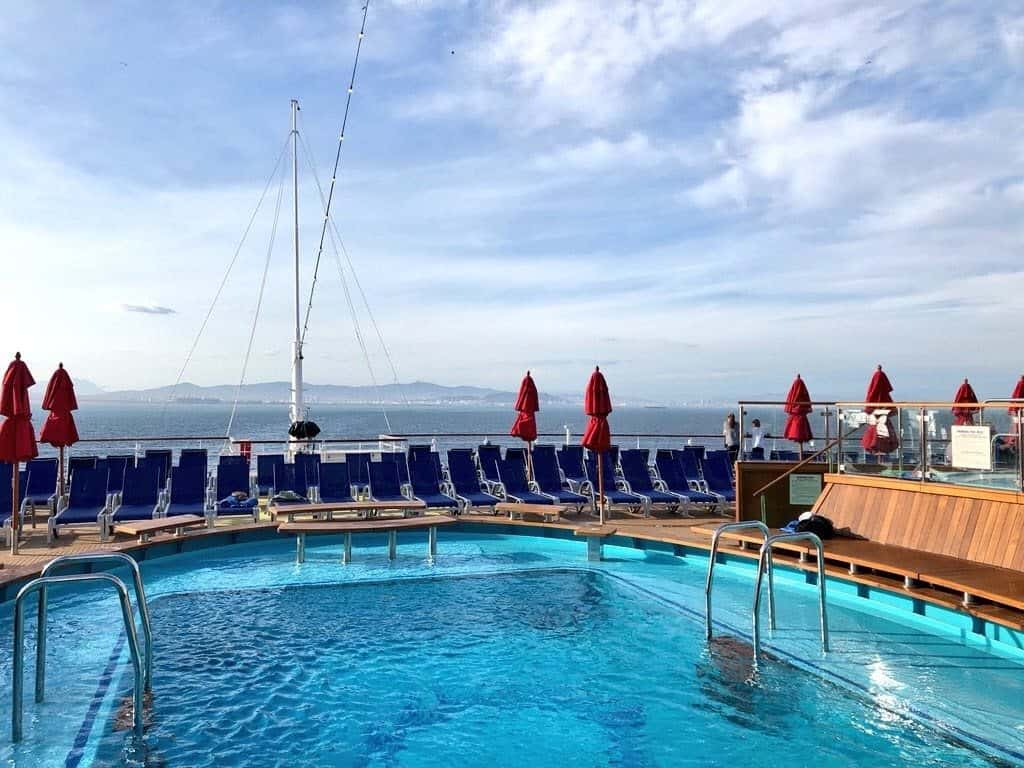 Sailaway parties on Carnival ships are always rockin'… and this time was no exception. In fact, it felt as if there was a special, heightened energy, maybe because this was a ship full of people who were excited to be on a brand new vessel. Like I said before, there's just something about that experience that can't be beat. The pool deck was packed with partiers, with the RedFrog Rum Bar and BlueIguana Tequila bar keeping everyone in a very good mood. I actually decided to skip the main event in favor of heading to a bar at the back of the ship and enjoying a much quieter sailaway with a buddy of mine who is also on board this week.
Calling It An Early Night

Rather than talk about the main dining room here, I'm going to save that for another day. Because to be honest, I was so exhausted that I barely remember being there. In fact, I basically swung by, grabbed a very abbreviated meal — a candied salmon appetizer followed by a pork loin — and called it a night.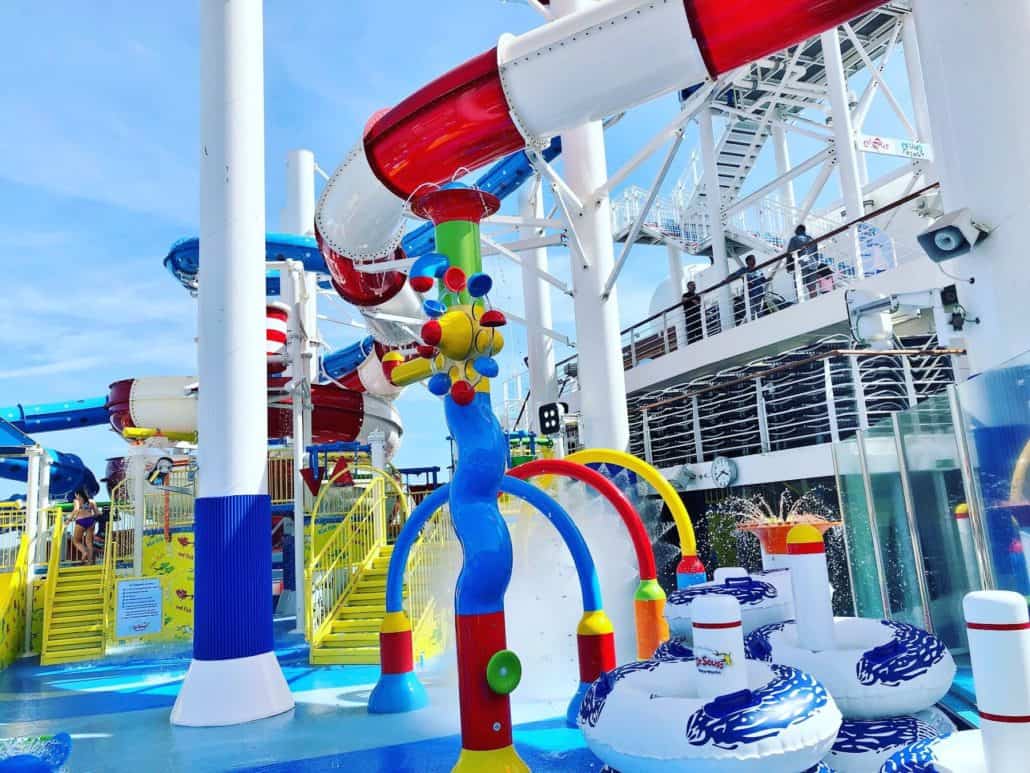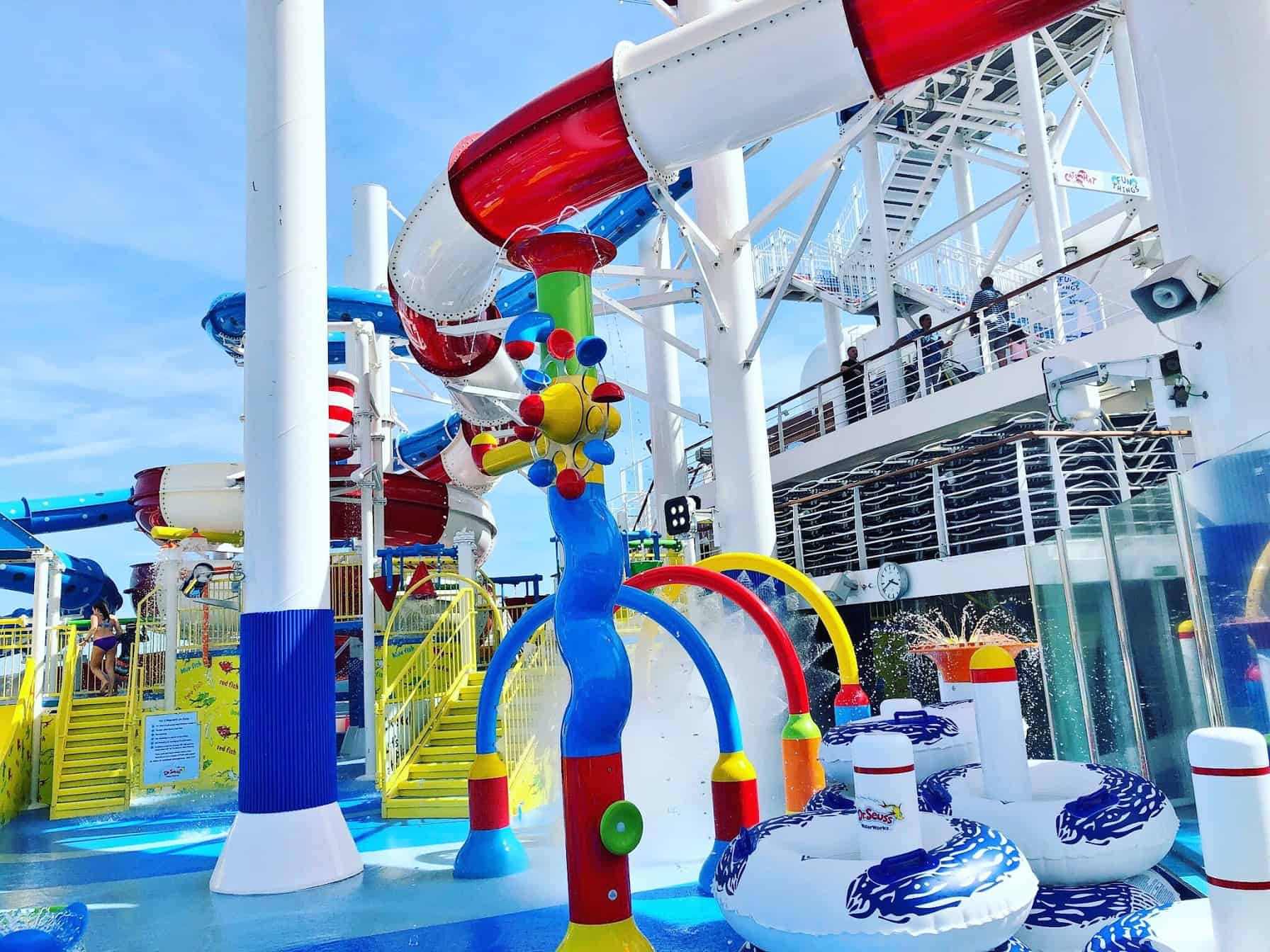 A Cruise Radio Listener asked via Facebook: On the Carnival website, it shows that Horizon holds 26 more guests than does the Carnival Vista. Why is that? – Drew
What better person to ask about the number of people and staterooms on board than the Housekeeping Manager?  She explained that the additional staterooms include several extra Havana suites, one additional stateroom on deck 11 and another three which have been added to the forward section of the ship. The Havana area now has 79 cabins, which is 18 more than were found on Vista. There are also 96 of the very popular Family Harbor staterooms, 104 spa cabins and 74 suites on Horizon.

Okay, I'm pretty sure that my eyes were closed as I typed half of this sea blog, because I've been awake for about 33 hours and jet lag is, as it always does, kicking my butt. So until tomorrow — a sea day which promises to help recharge my batteries — I'm saying good night.
SaveSave