A Carnival Horizon review from a guest who sailed her in June 2018 out of New York City. Since then the ship is now home ported in Miami.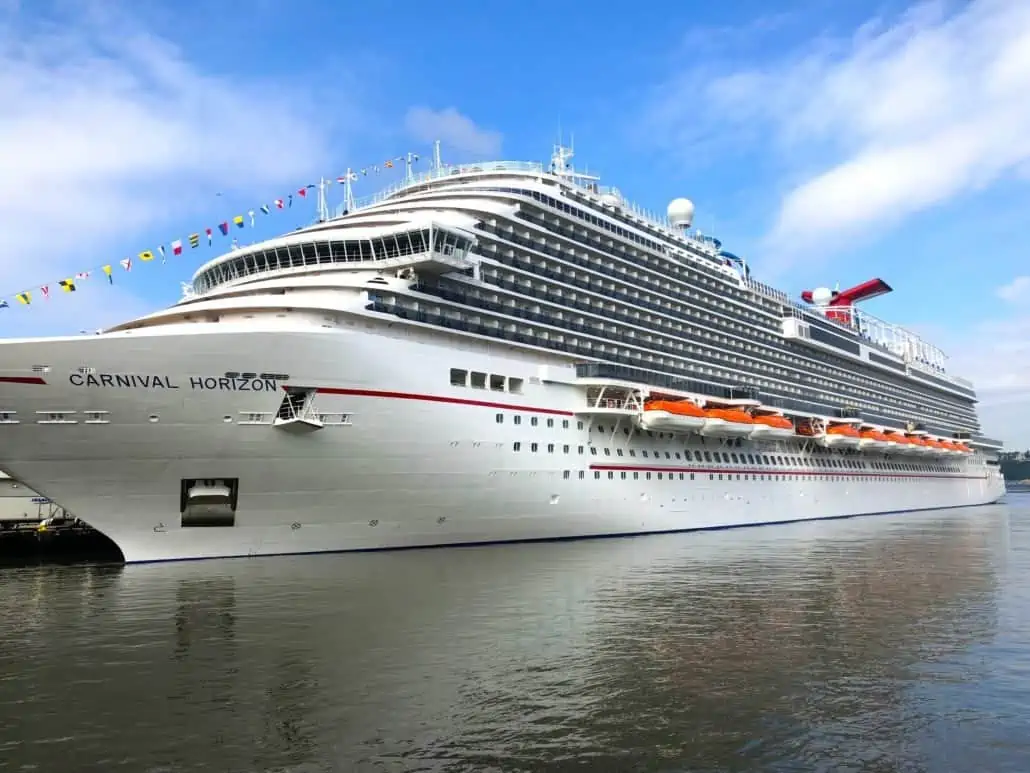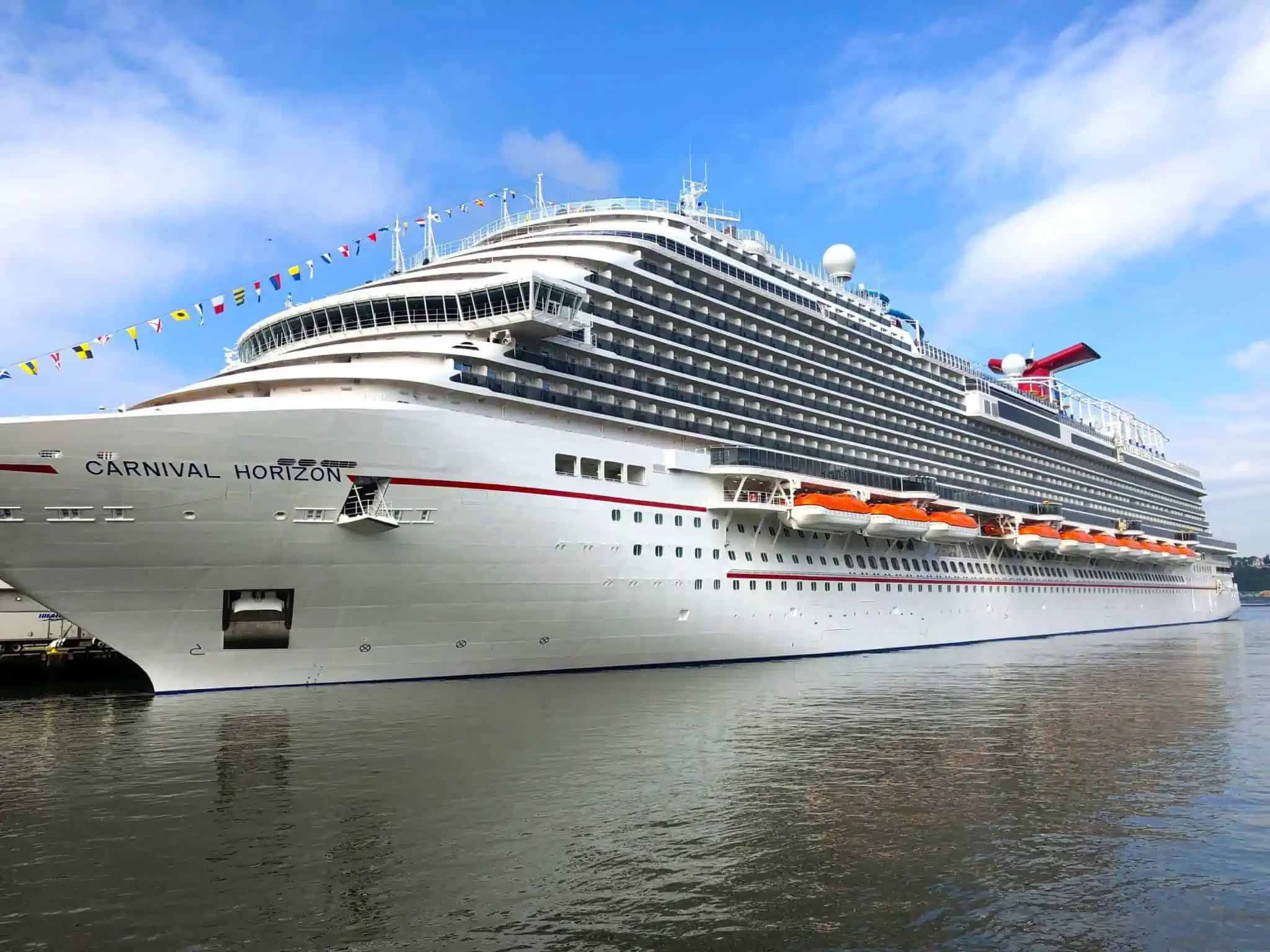 Embarkation was likely the most efficient I've ever experienced in New York. From parking to ship was at most an hour. That may not seem great, but for this port, it's very good. Check in was completed by scanning our boarding passes and passports on a tablet and sending us to the waiting area. No computers, photos, cards, or anything. In fact it seemed that overall security was maybe a little lax, but I'm sure they've got the bases covered.
View Carnival Horizon Deck Plans
Carnival probably needs to update the VIFP program since there are so many at the Platinum level these days. The priority waiting area at 11 am was more than just a little crowded.
Food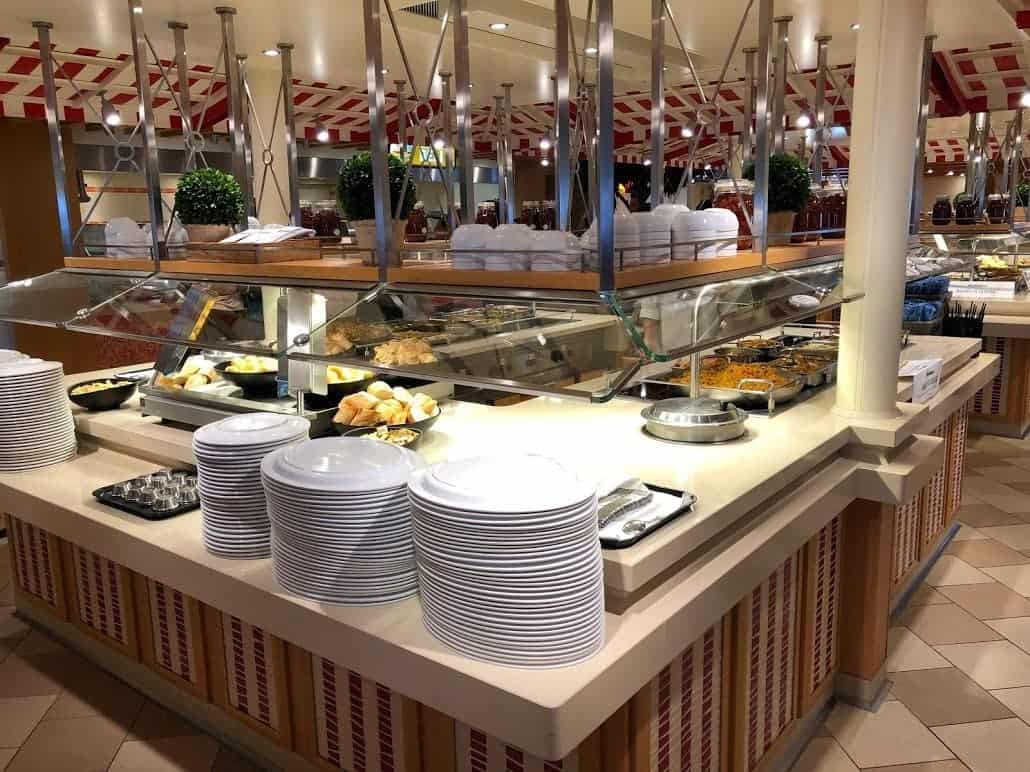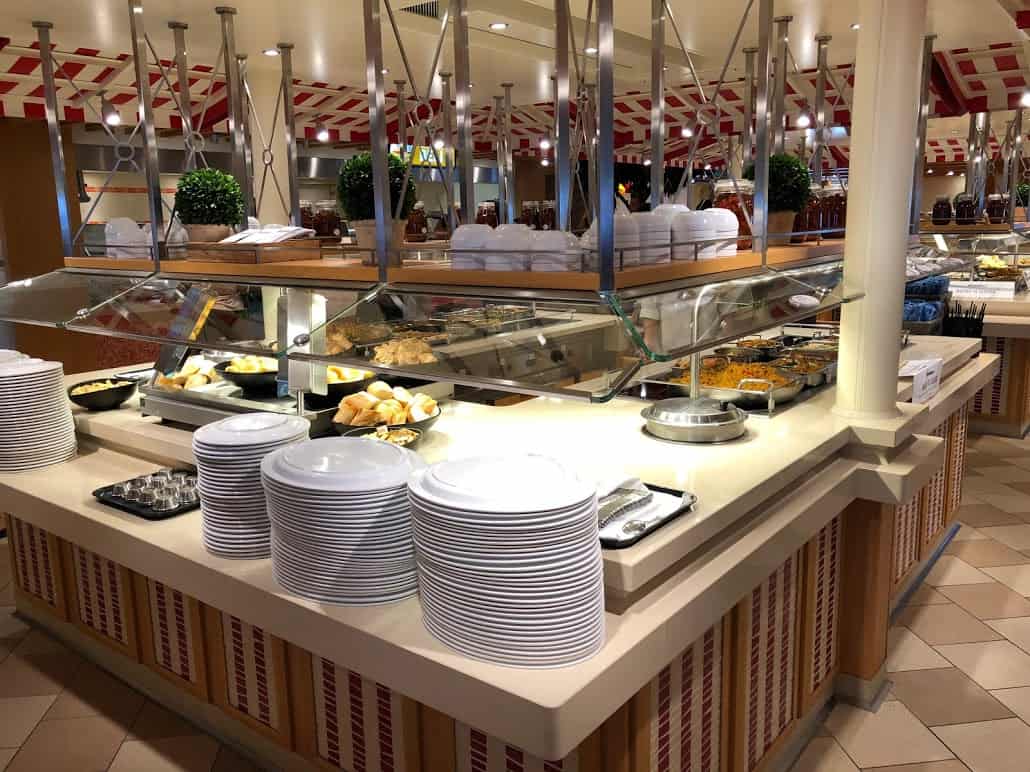 Where to begin? I don't even hesitate to say that the food options on Carnival Horizon were the best we've experienced at sea. I should add a disclaimer that we are old school when it comes to cruising with respect to specialty dining. A big reason we cruise is that you pay one price and enjoy the week at a good value. Modern cruising attempts to nickel and dime you to death by the end of the week and we'll buck that trend every step of the way. You don't have to fall for it, especially on the Horizon. So when I say food choices are plentiful, I mean free food is plentiful.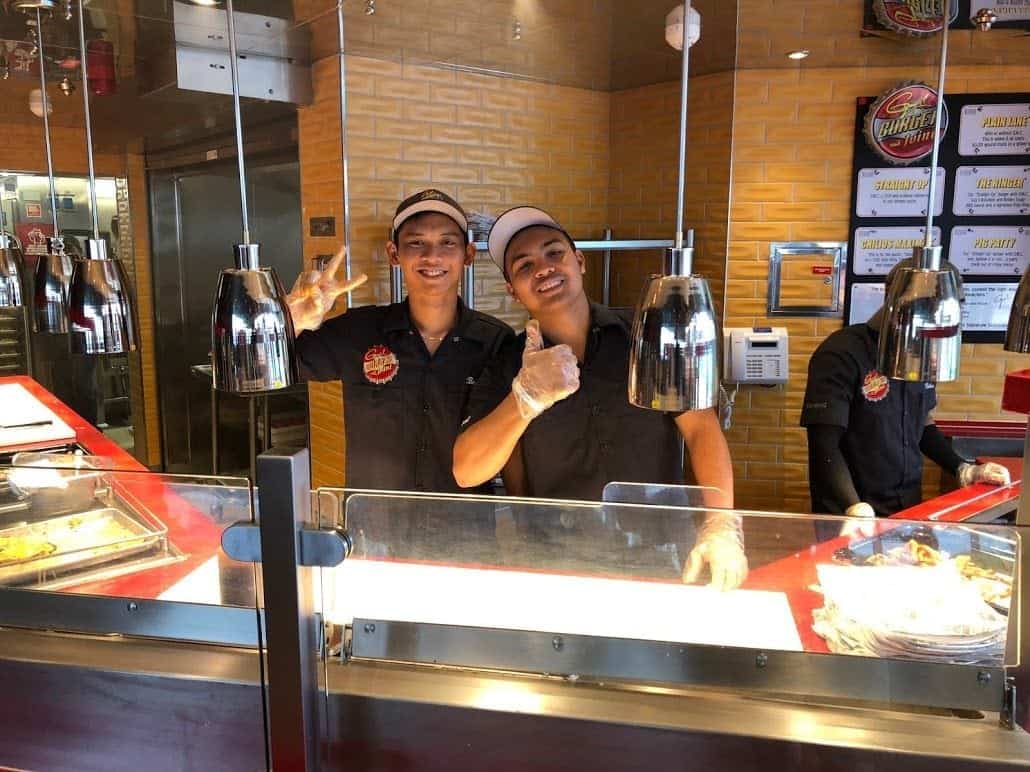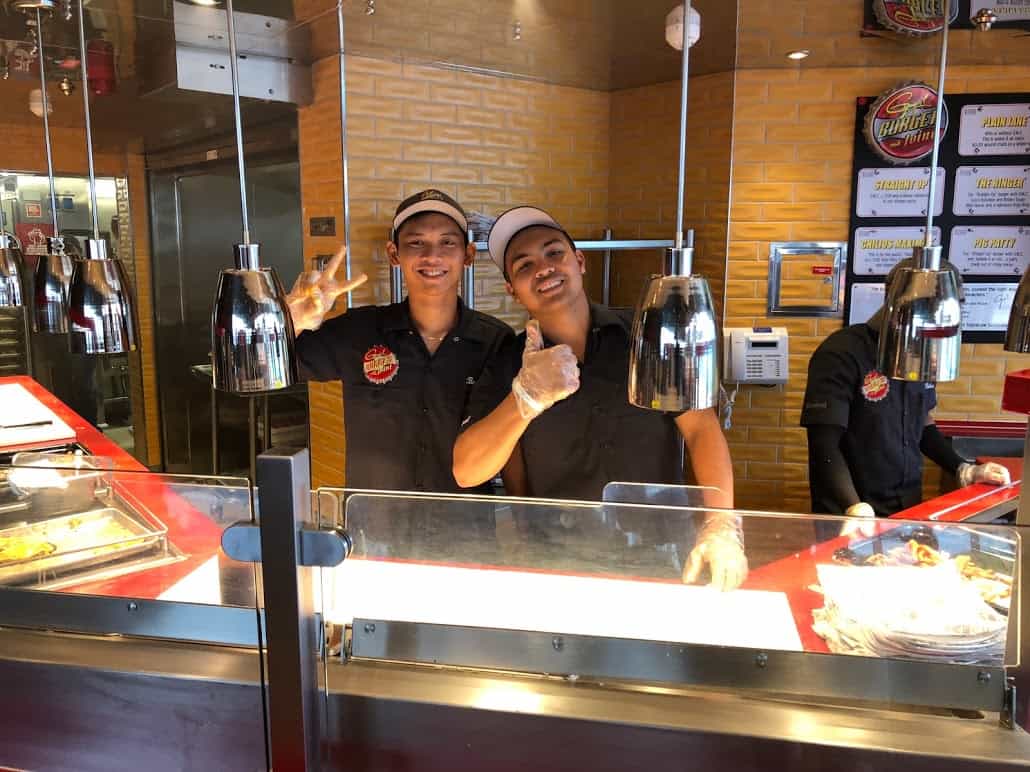 Guy's Burgers needs no description. It's the same on every ship and is excellent. The line may be intimidating at peak times, but it moves fast. If you're on the deck and don't want to go in and sit down for lunch somewhere, a Guy's burger on a deck chair will hit the spot.
Read More: 16 Dining Spots on Carnival Horizon
BlueIguana Cantina is a favorite for me as well. The burrito line can get long, but the taco line usually wasn't. Unfortunately, these aren't the fastest moving lines either since everything is assembled upon ordering. A nice surprise was that taco salads are available even though they aren't on the menu. At breakfast, BlueIguana serves burritos, arepas, and huevos rancheros. The latter we ate probably three days out of the week.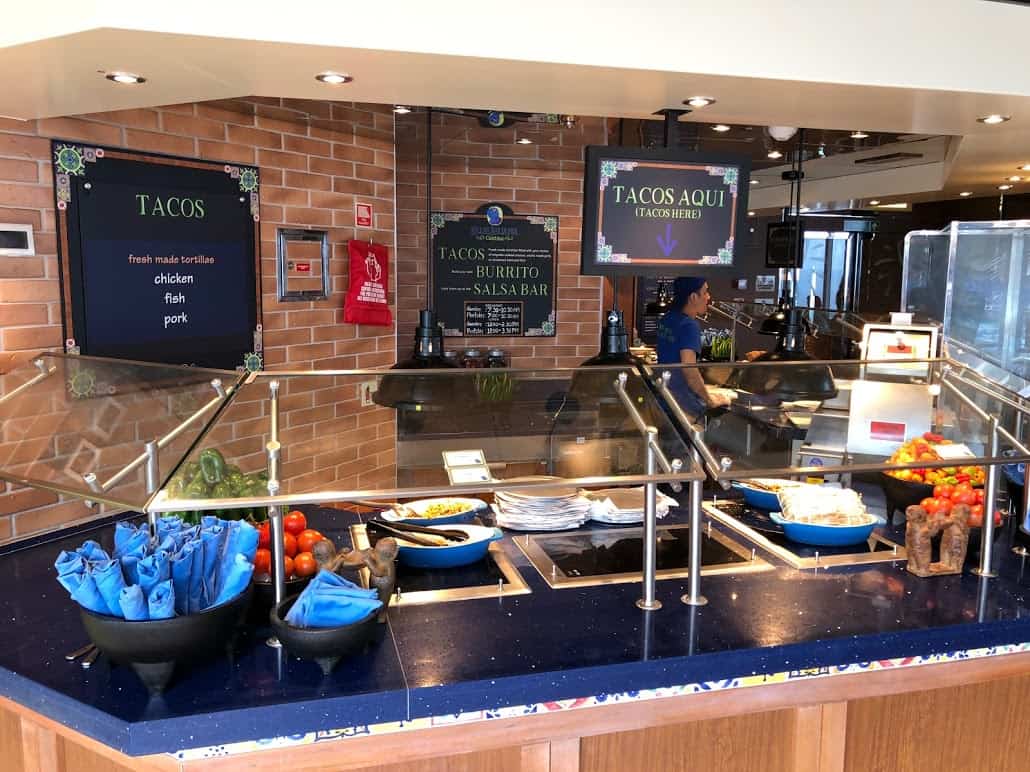 The buffet is largely an unknown to us, which speaks to the number of alternatives on Horizon. I did frequent the Cake stands which serve fantastic cakes and my wife loved the gelato. Gelato was two flavors a day but they were repeating by the end of the week. Other than that, I'm not sure we picked up a single thing from the buffet.
Carnival has kicked up the Deli quite a bit since it's introduction. We had several excellent sandwiches throughout the week and the cookies they serve were a favorite. The lines can get quite long and aren't at all fast. It's open longer hours than some other choices so it beat out the buffet a few times with us.
Read More: Pig & Anchor Smokehouse Brewhouse Review
Guys's Pig & Anchor Bar-B-Que is very good. We ate there first on embarkation day thinking the lines would be prohibitive later since its only open for lunch on sea days. These lines didn't turn out to be too bad and move quickly. The meat was good and the sides were fantastic. The brisket was often a little fatty and disappointing, but it's brisket so what do you expect? We didn't eat there for dinner, but they had live entertainment every evening and that seemed to be somewhat popular. They may have overshot with the space devoted to the restaurant. It's a huge space, but it never appeared to be filled to capacity. Perhaps others on this sailing were old-fashioned like us.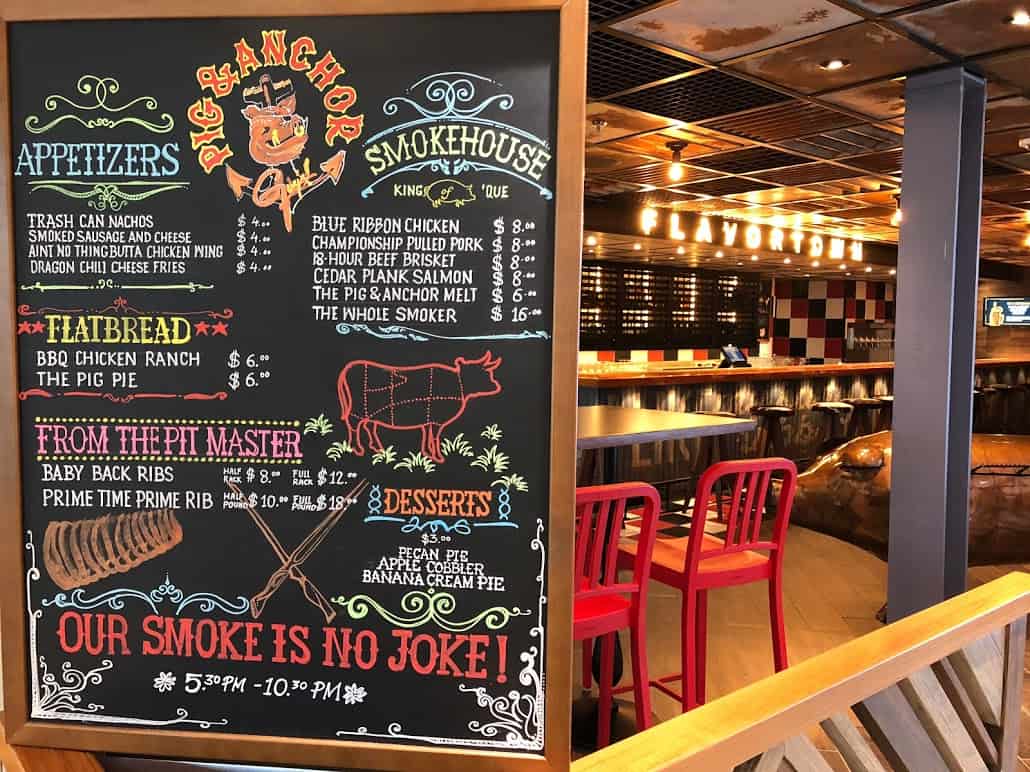 Ocean Plaza has food available for breakfast and lunch. Not nearly the selection that upstairs has, but it at least provides decent local alternatives if you are staying in the Havana area.
The main dining rooms were very enjoyable. Food choices were plentiful. We had early seating and our service team could not have been better. Dinner has always been a highlight of cruising for me and everything about traditional dining on the Horizon was great.
Deck/Pools/Havana
A highlight of the cruise was spending the week in the Havana area of the ship. With an inside cabin, you get the perks without much additional cost. The pool area never seemed crowded although much like Lido Deck, if you show up at 1 pm on a sea day expecting to find deck chairs you may be out of luck. The six "beds" for lack of a better word, were usually the first to go. We had one most days because I'm not one to voluntarily bake in the sun all day. I was often the first out there in the mornings due to my sleep schedule. In fact once I was there before it had been cleaned from the night before. The pool is small, but at most all week there were maybe 8 people in it at any one time. The two hot tubs are huge on the other hand and most times we had them to ourselves.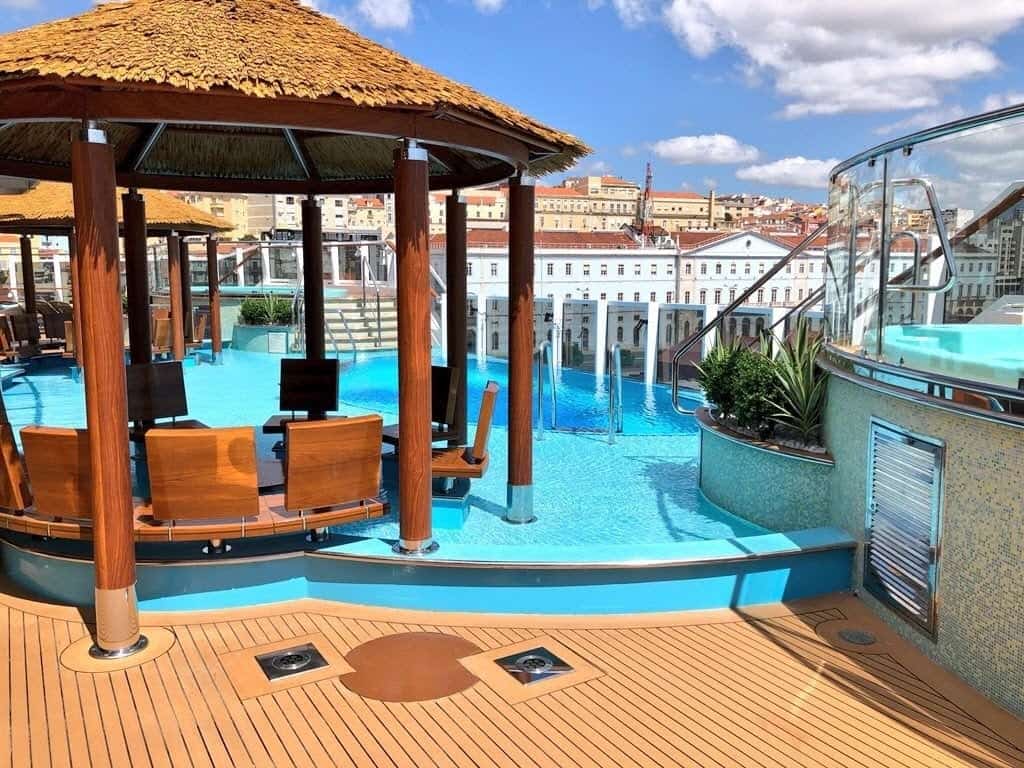 My chief complaint regarding Havana was the bar. As I mentioned, I'm an early riser and begin the coffee intake as soon as I'm out of the cabin. There is no coffee at Havana until 8 or 9 am. I honestly don't know for sure, because I'm generally done with coffee by then and had gotten my fill on Lido Deck. That was disappointing. But worse was that there was no water available until 10.
We're usually closing up deck time by 1 or so. The service at the bar itself wasn't too bad in the long run. Since there was usually only one bartender, it wasn't exactly quick, but not bad.
Read More: 39 Carnival Horizon Tips
I didn't care for the high shaded glass walls at Havana rather than the traditional rail. It's a small thing, but that and the coffee situation ensured that 5-7 am was often spent on Deck 10 aft enjoying the sea and sunrise.
We only ventured to the main pool once while the ship was at Amber Cove and it wasn't even slightly crowded. I will say however, that the presence of the big screen and it's movies would make the main pool pleasant, crowded or not. Other than that one time, we stuck to Havana.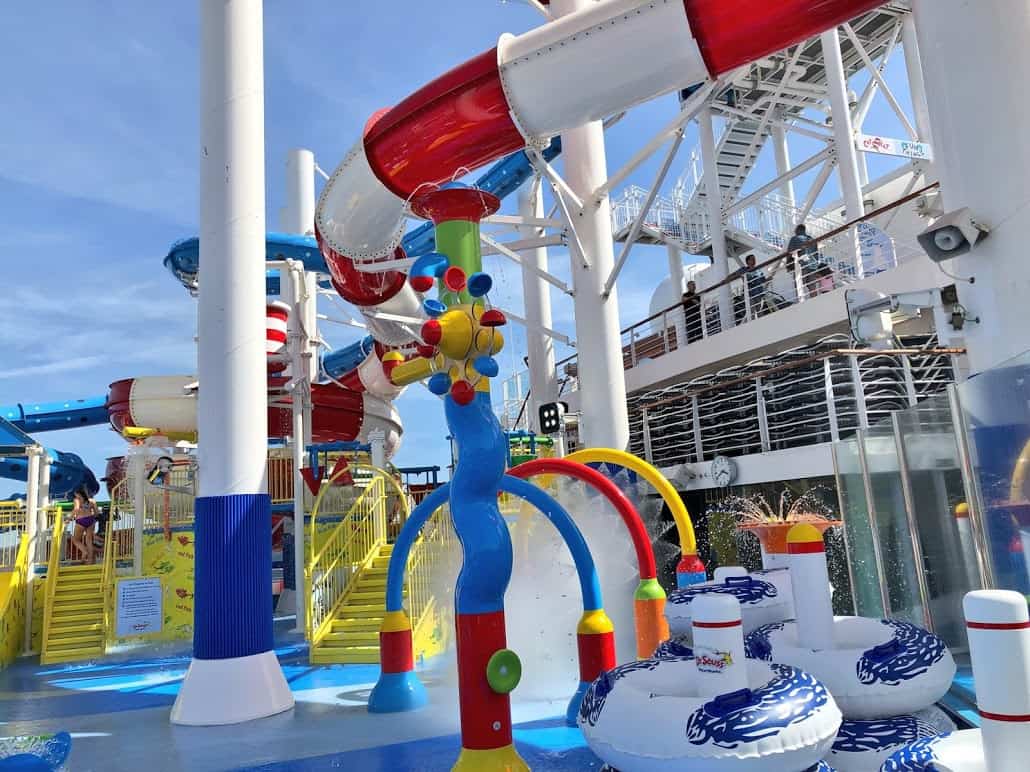 The red/white tube slide was very nice and fast. The blue slide was more traditional, and as usual, my son got stuck on it. So it was one and done for that one. I don't see what it would hurt to steepen those things a little. The tube slides are wonderful, but the others are often more trouble than they are worth.
Entertainment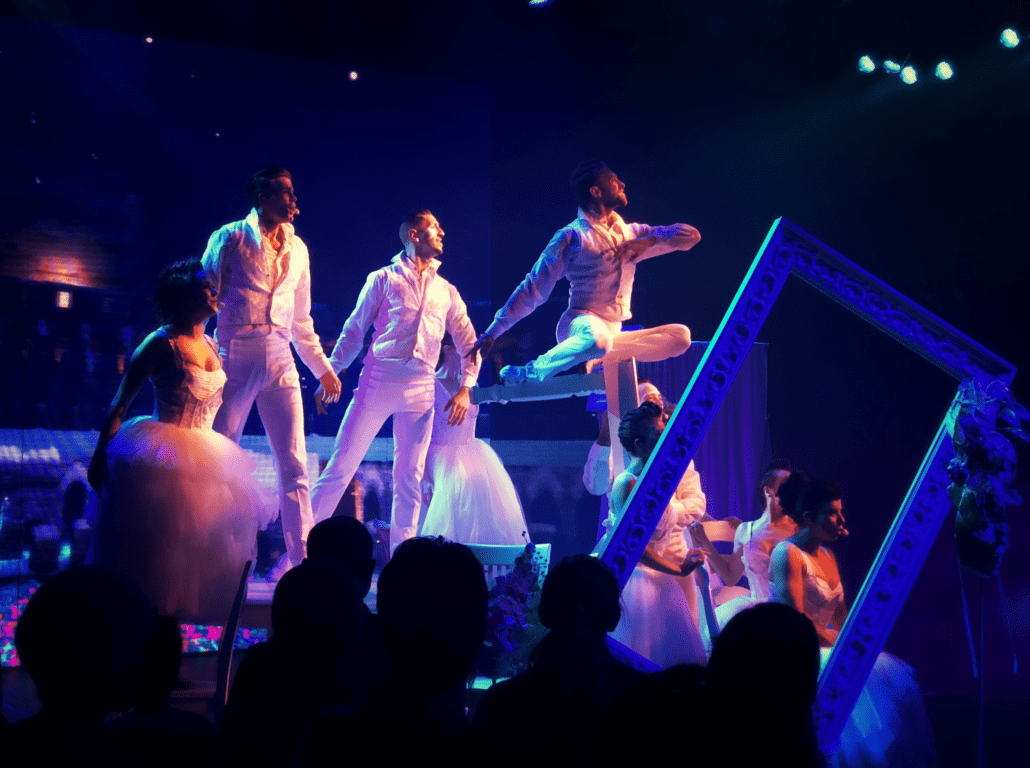 Celestial Strings is "can't miss." As far as production shows go, I'd venture to say it's been my favorite ever at sea. I don't even know how to explain it. Just go. Marcus Monroe was my other favorite show at the theatre. He is a juggler/comic who was very enjoyable. Those are the only shows I recommend in the theatre.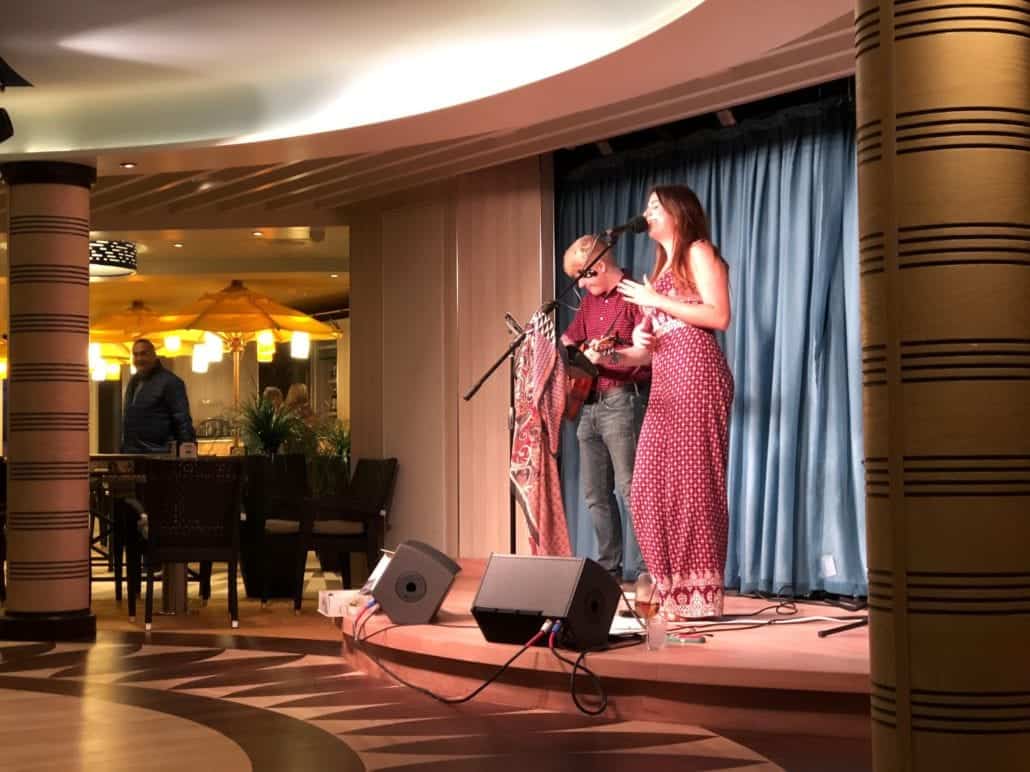 A highlight of the cruise for me were the atrium entertainers. I hope I'm not missing one but it appeared that 4 performers rotated throughout the week, the strings trio from Celestial Strings, Emma Jude, Jeffrey Munks, and a brass trio. Among those, Jeffrey Munks was my favorite. We watched this brilliant pianist a little nearly every day. I was happy to discover that his music is also on iTunes.
The other bands throughout the ship were very country-heavy and thus not for me. The band in the Havana Bar played Cuban music nightly and appeared to be a hit. The bar was most always crowded and dancers plentiful.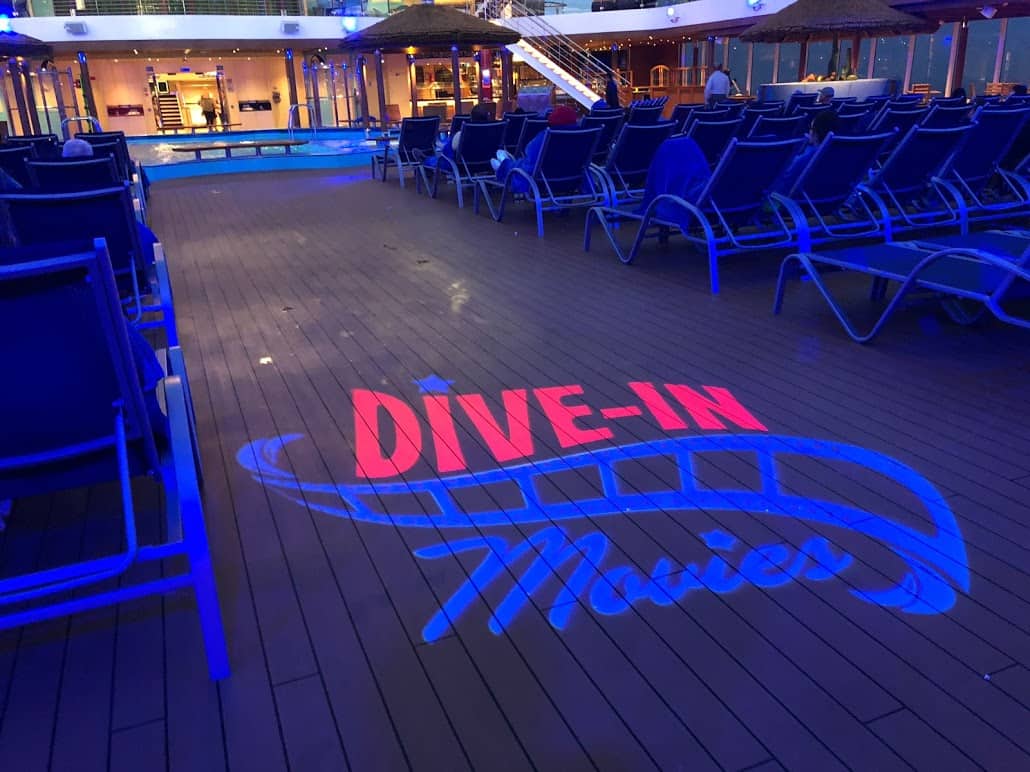 The IMAX is a nice idea. I wish there was more variety in the films though. The Panda film we watched was excellent. Thrill Theatre type-shows tend to bring on motion sickness for me. We did the first level which was okay, but nothing I want to invest my valuable cruise time in doing.
Dive-In movies are great. We watched one that week. Depending on what's playing, a movie on a deck chair may have been far more entertaining than much of what is in the theatre.
The Punchliner comedy shows could be so great if Carnival would bother to do it right, but for some reason they won't. It's among the most popular entertainment options, but it's held in the smaller lounge. If you want a seat, arrive at least 30 min early. Standing room only every single show, all week.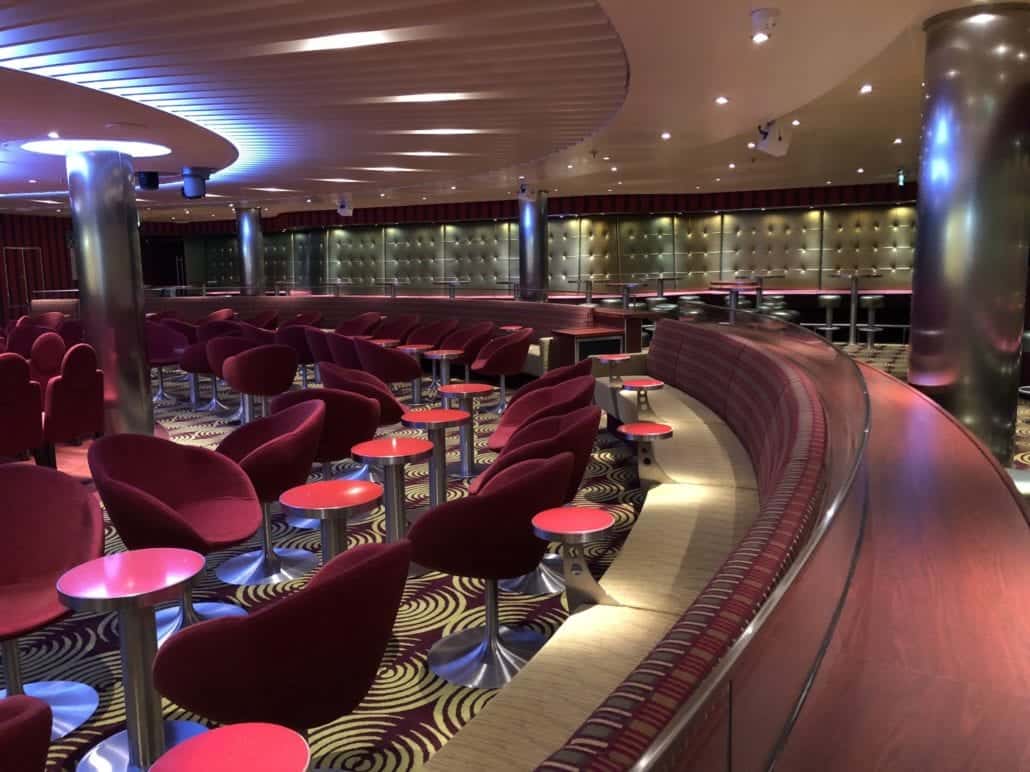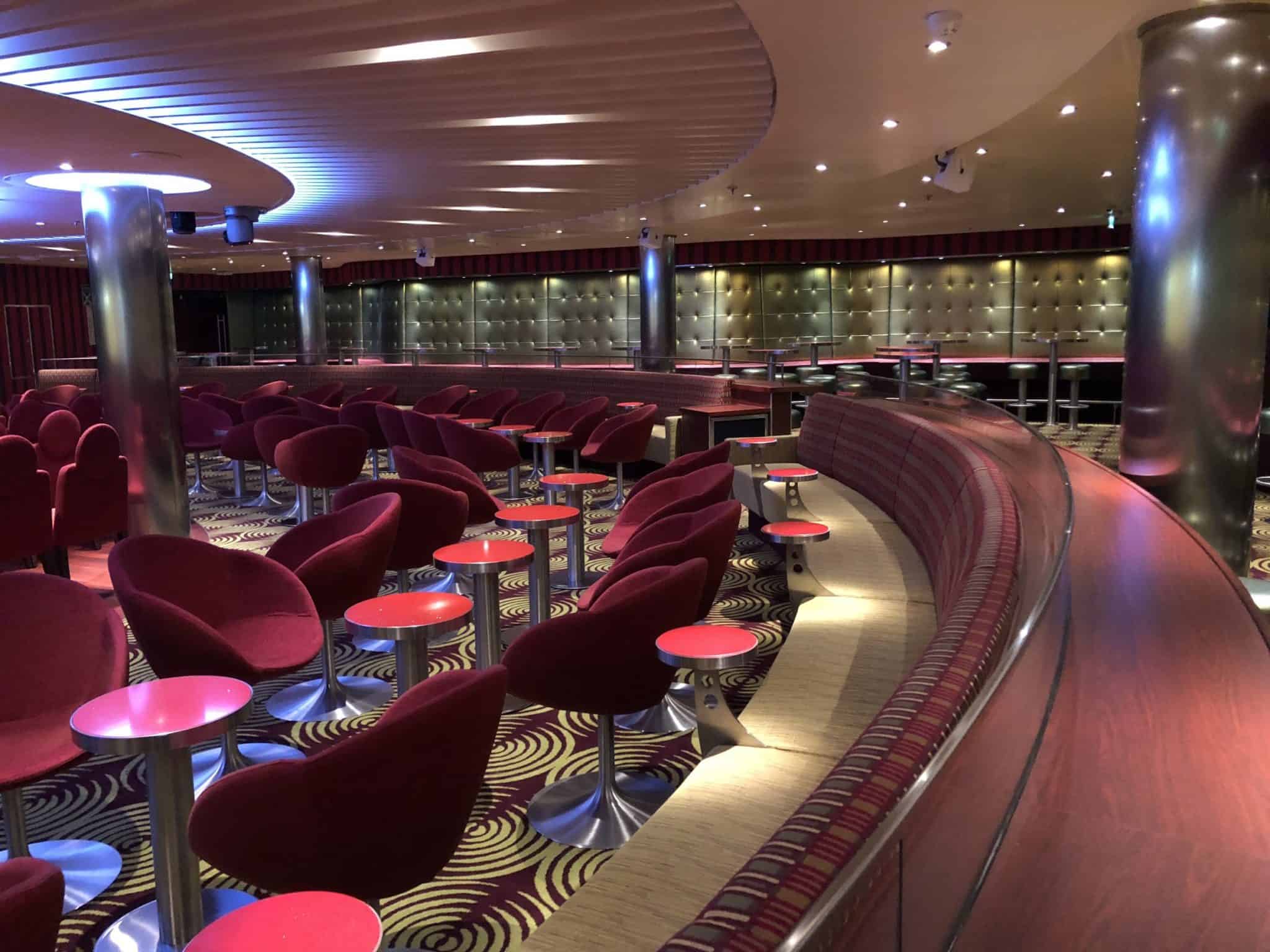 Two comedians the first half of the week and two the second half. Each does 2 PG sets which usually contain at least a little repeated material. I mention the PG sets because we can't go to the 18+ shows. Most places, such as movie theatres, acknowledge that if parents want their teen to see an R-rated show, that's their decision. Carnival doesn't play that way and instead imposes the no exceptions 18+ only rule.
The Liquid Lounge is a disaster. Uncomfortable, moveable chairs for the main seating areas. The comfortable ones are in the back. Huge circular booths in the main seating area as well. The layout is nuts. Moveable chairs in a theatre is nuts. You know what kids to do with movable chairs? And the posts.
As a civil engineer, I know pretty much anything is possible if you are willing to spend the money. I suspect the posts aren't a necessity as much as a money saver.
Ports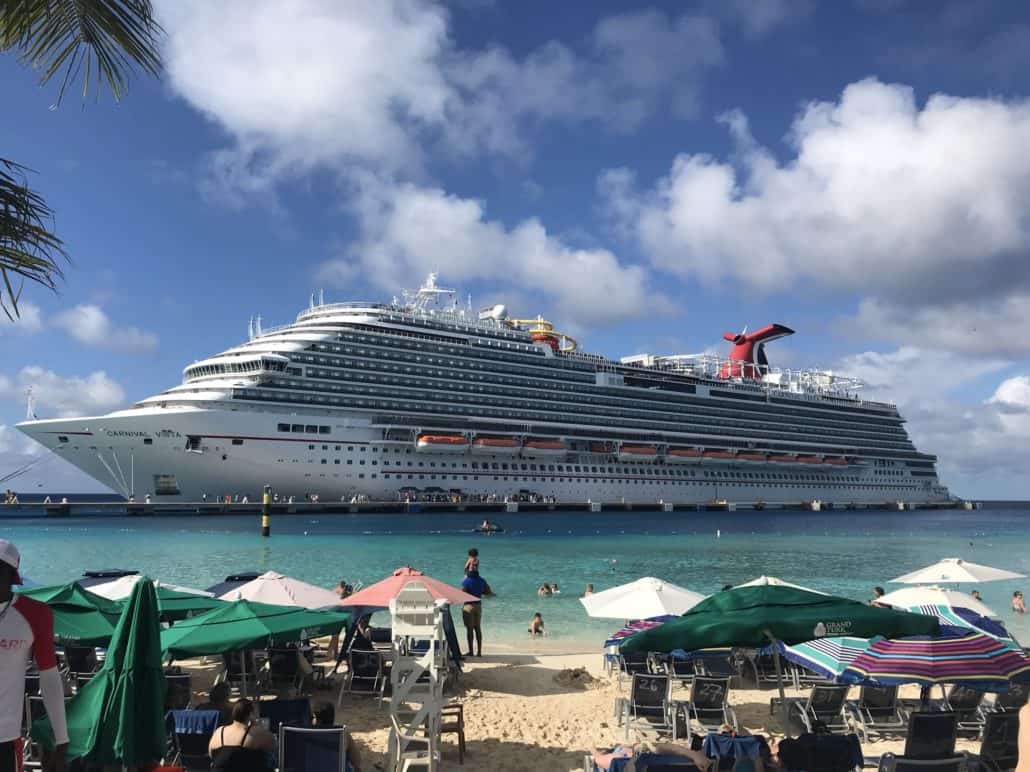 We enjoyed Grand Turk and San Juan very much. San Juan is always a favorite since you have all of the old city just off the ship. Grand Turk is good if you just want to go to the beach since its right there as well. The island is small enough and safe enough to explore on your own as well, which is what we did.
Amber Cove is beautiful, but since the port area was built by Carnival, you don't feel like you're in Dominican Republic so much as at a private island type-experience without the beach.
Debarkation
Debarkation was absolutely the most efficient ever. We likely got lucky with timing, but we had no lines except maybe a handful of people leaving the ship. We walked off, down the escalators, through customs, and outside. They hadn't called anyone yet since it was a half hour prior to the announced start time.
All in all, Carnival Horizon is a great ship as is evidenced by our recent booking of a Havana interior on Carnival Panorama in 2020.
Michael Davis blogged through this trip and you can read his daily entries here.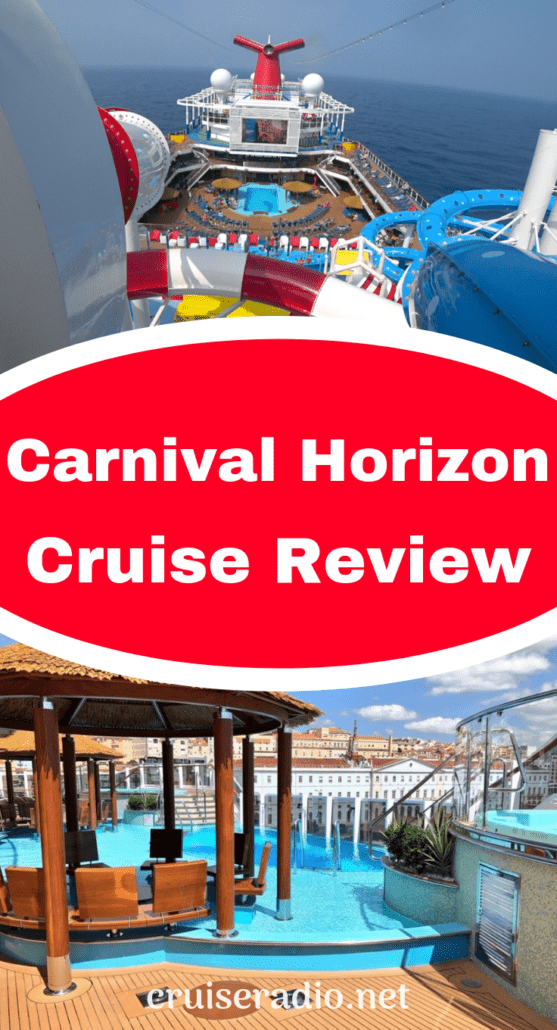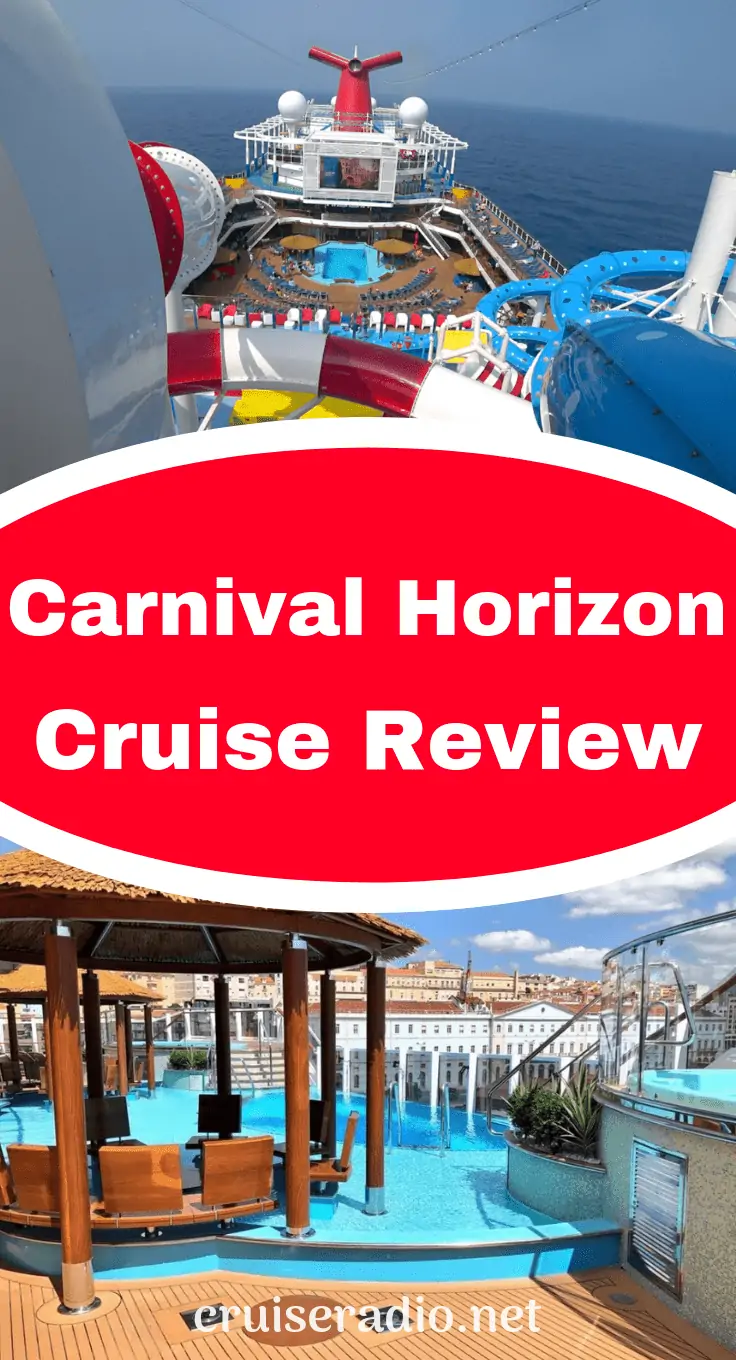 SaveSave
SaveSaveSaveSave