This morning I woke up to Majestic Princess pulling into San Diego harbor. Because I'd slept in, I wouldn't realize until we were leaving what a spectacular port this is to to sail in and out of.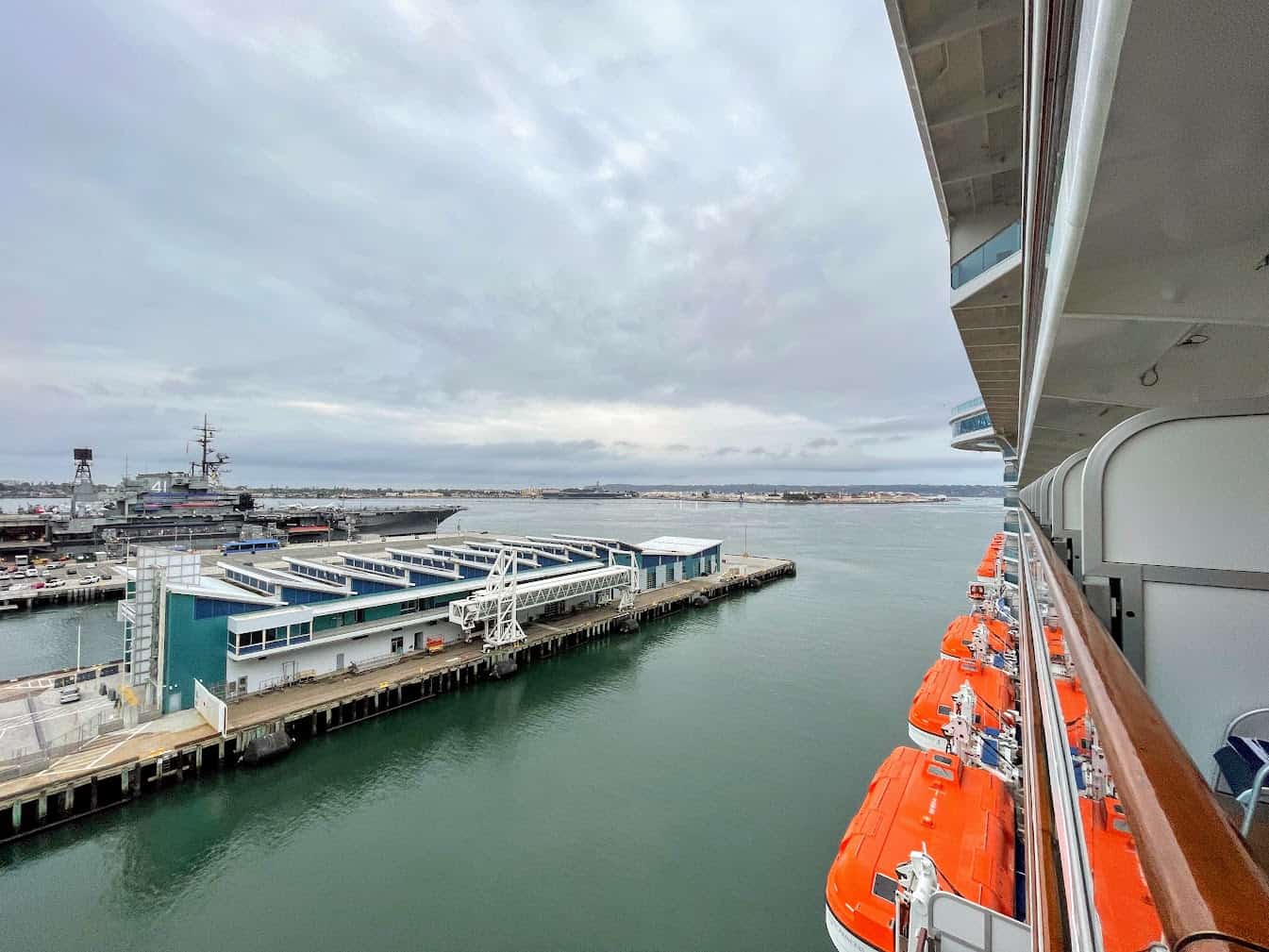 So far, the first 24 hours onboard have been great. As I mentioned yesterday, it's been years since I was on a Royal class ship. I'd forgotten just how much I like the layout and flow on these ships, including when it comes to the buffet and its food stations.
Unfortunately, my favorite spot in the buffet — The Bakery — is closed on this sailing due to the fact we're operating at reduced capacity. I was sorry to find this out, because The Bakery, as the name implies, is a fantastic go-to spot for things like fresh pie, breakfast pastries, cookies, rolls… it's probably a carb-avoider's nightmare, but I'm a sucker for stuff like that in the morning.
We hit the buffet for breakfast before heading ashore. I have to admit, the buffet's been sort of hit-and-miss for me so far… and I really want to like the food. Princess is generally very well-regarded when it comes to food.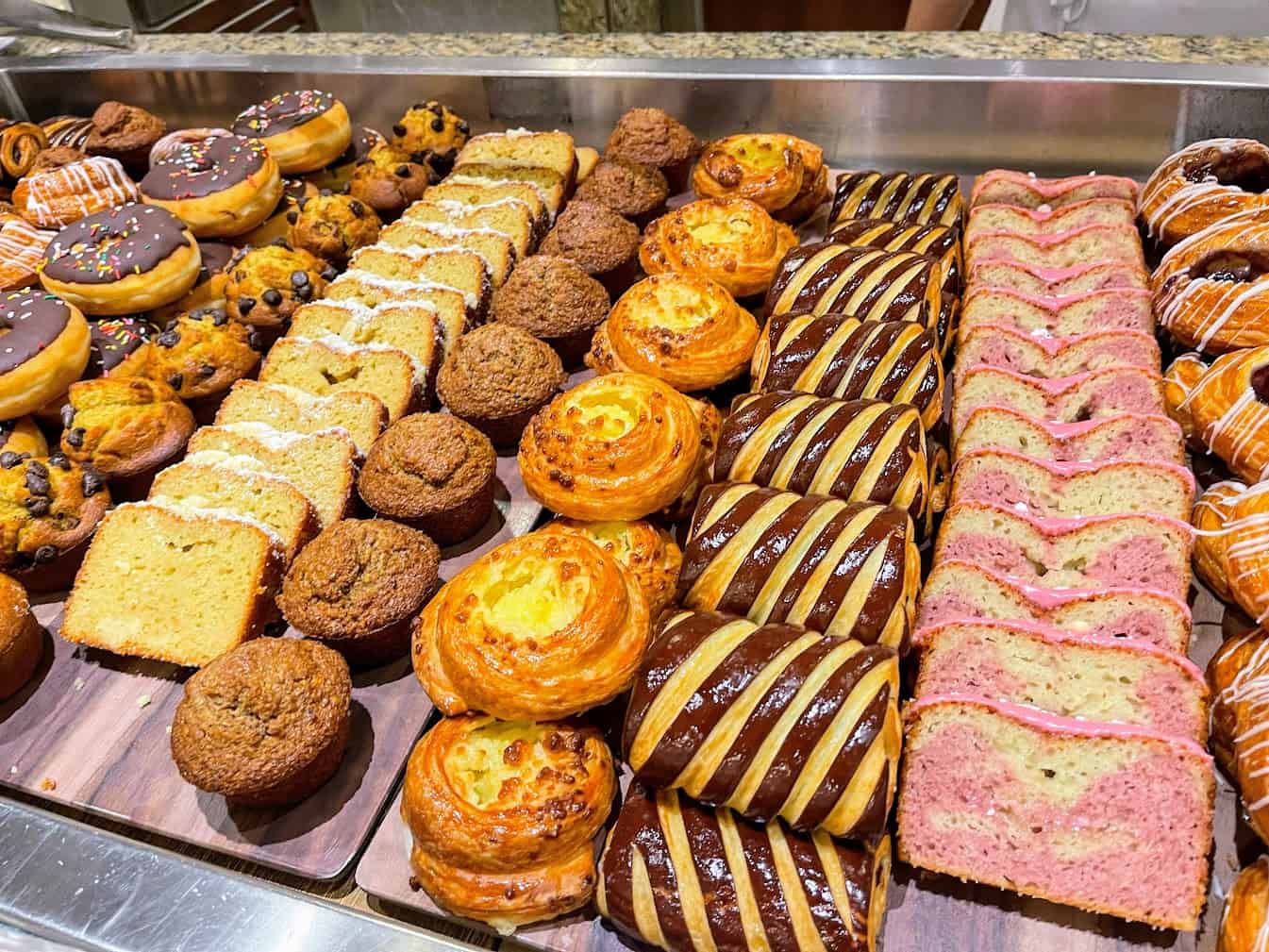 Yesterday, the embarkation lunch was fantastic… I had roast beef, a pear salad, and noodles. Today's breakfast, however, was a mixed bag. Some of the offerings were either rock hard or cold, although I eventually found great danishes — something I weirdly love eating on cruises but almost never on dry land. They definitely hit the spot.
Cruise ships can have a way of disorienting you, and sometimes you can't figure out the difference between left and right or forward and aft. I noticed on board the different color carpets for the port and starboard side of the ship. The port side has red carpet, and the starboard side has blue carpet. As soon as I stepped off the elevator, I knew to walk towards the red.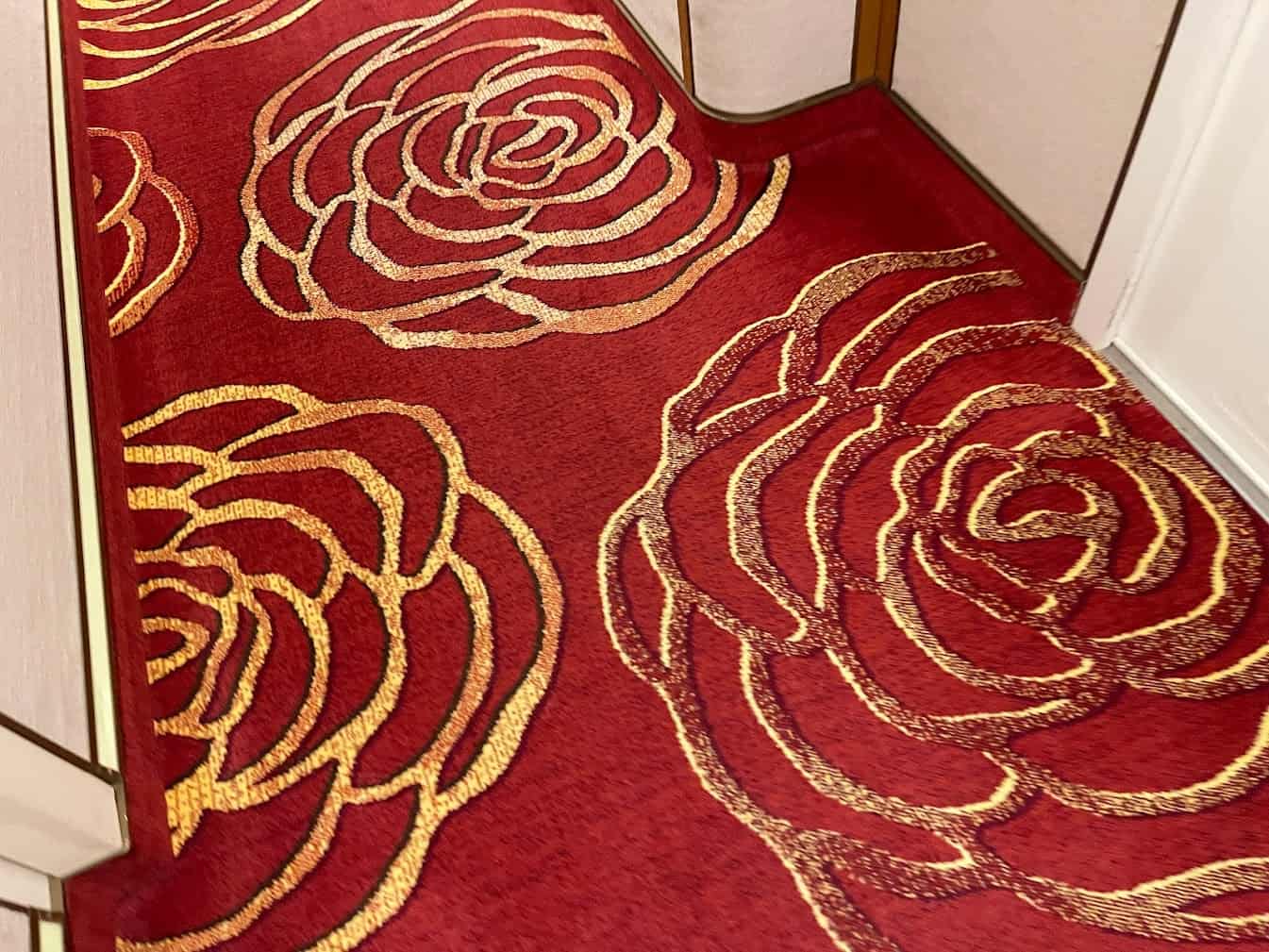 I like the Ocean Medallion technology because it allows you to tap the device to come and go from the ship. It's quick, simple, and another way to reduce touch points, as there's nothing to hand over to a crew member (like with a keycard).
San Diego is a beautiful port and very walkable, which is always an appealing quality for cruisers who don't necessarily want to have to jump on a bus or grab a cab to see something interesting. I had plans to meet my friend Peter, so I caught an Amtrak train up to Oceanside. The train station was only about a five-minute walk from the pier. I stopped on the way to take some pictures of Holland America's ms Koningsdam docked next to us.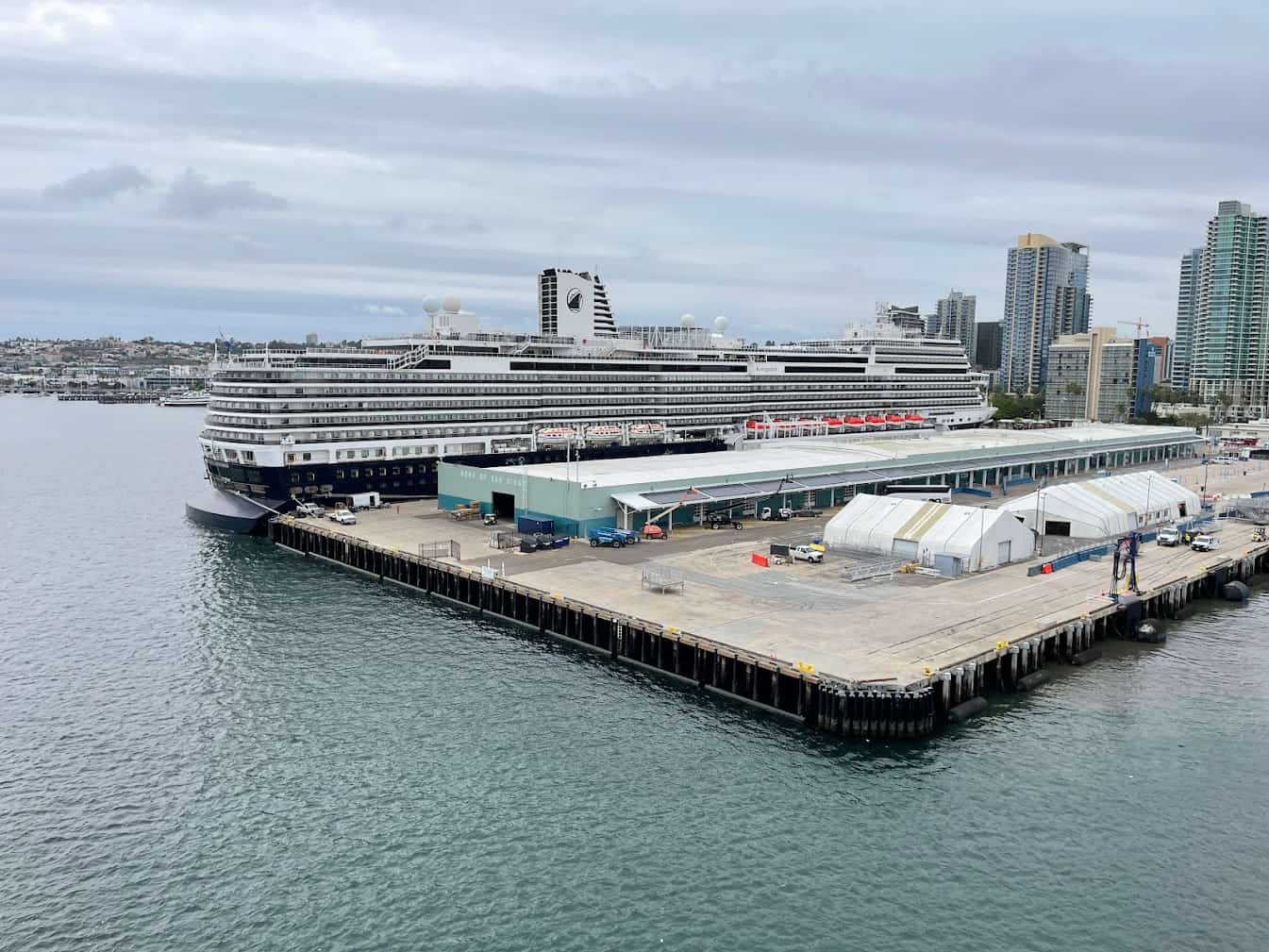 After visiting with my pal, I headed back to San Diego and had just enough time to do a quick catch-up at the pier with some other folks I know. Then it was time to get back on the ship.
READ MORE: 8 Tips For Preparing to Cruise in 2021
By this time, my stomach were growling. Princess ships are known for a casual Italian eatery called Alfredo's, which offers gourmet pizzas and other bites. Drawn in by the smell, I stopped in for a Hawaiian pizza and antipasto dish. This complimentary restaurant has topped a whole lot of "Best Pizza at Sea" lists over the years, and it was easy to see — or should I say taste? — why. Better still, the service was both quick and attentive, which was precisely what I needed as I wanted to be done in time for sail away.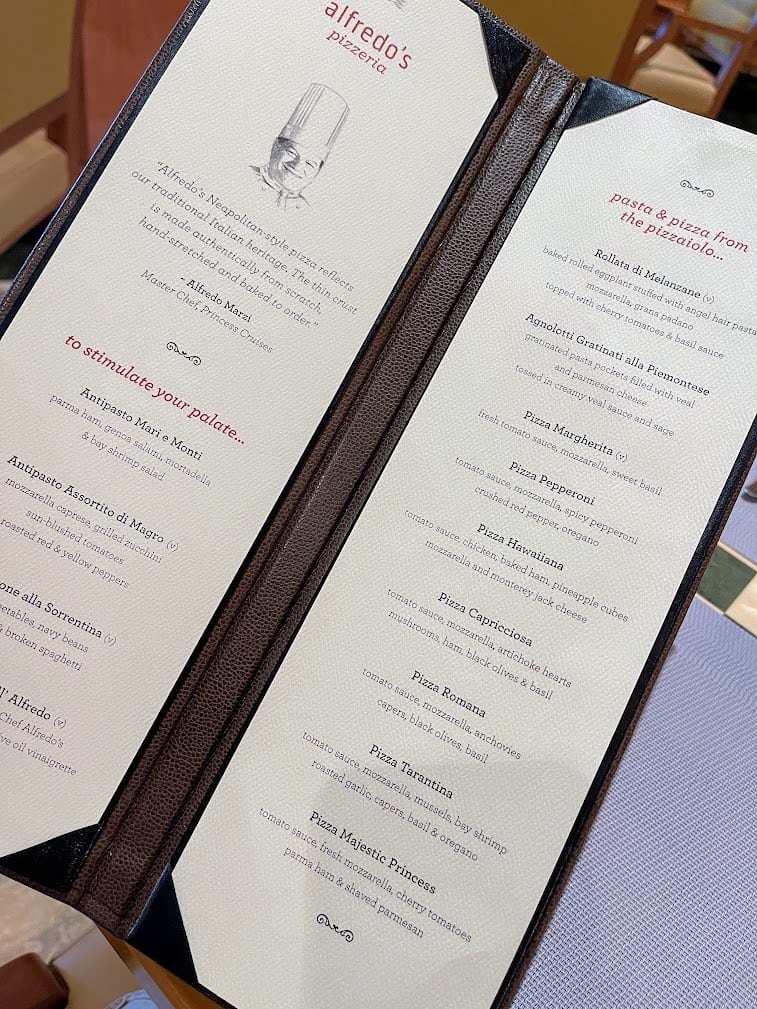 I realize it seems like all I've been doing on this trip is eating, and, well, that's at least partially true. It's been true on all the cruises I've taken since ships returned to service. Since I started cruising again in late June, I've been taking full advantage of every single eatery on cruise ships. Things we have taken for granted in years past are no longer overlooked. In a moment, all this could be taken from us again (although we hope not).
With the ship sailing less than half full, it would have been easy to enjoy sail way out of San Diego harbor from pretty much anywhere on the ship. But I wanted to take full advantage of my balcony, so that's where I headed.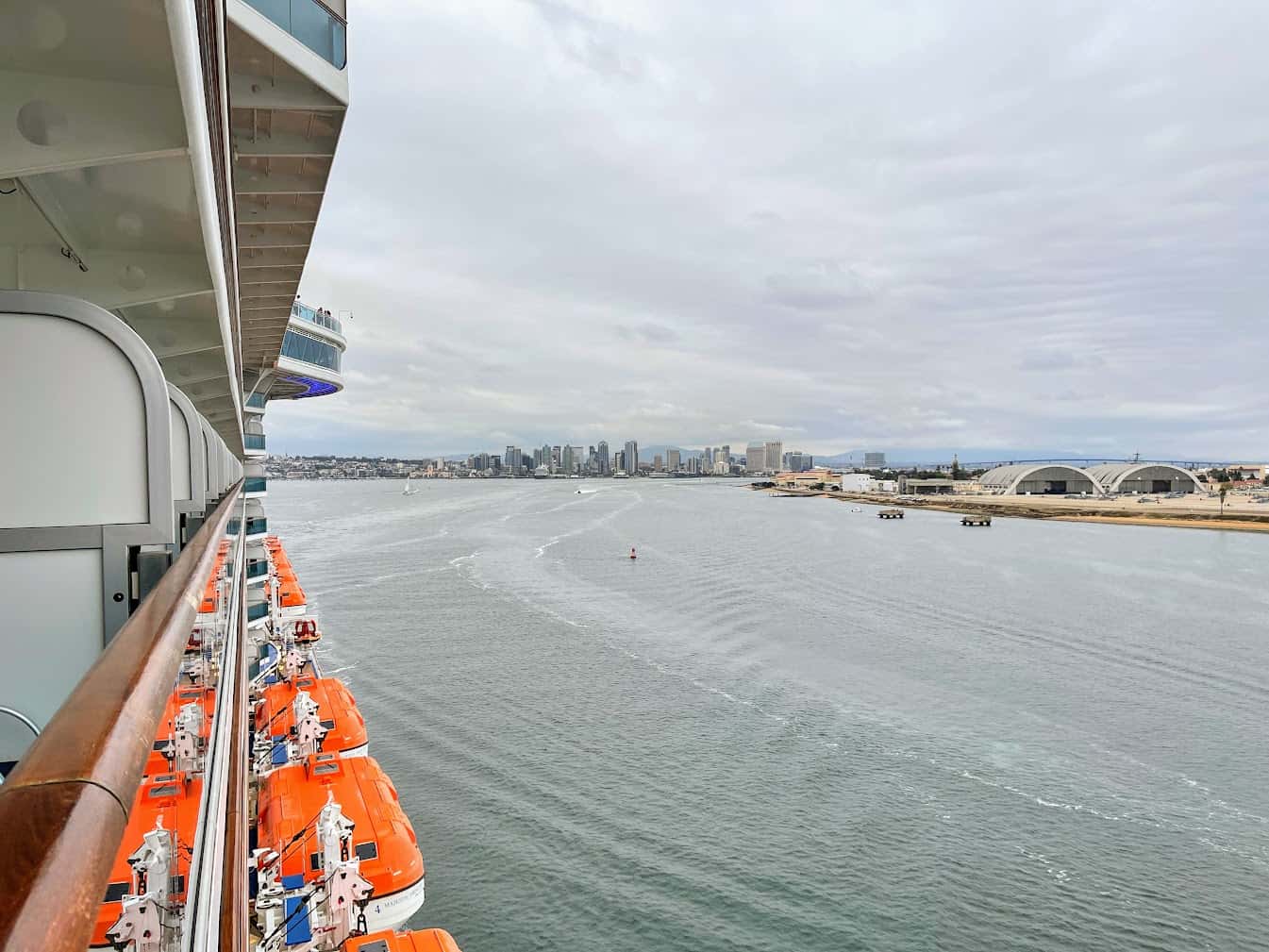 One of the cool features on this ship is something simple and yet breathtaking: Seawalk. This is a bridge extending 28 feet out over the ship's side on deck 16 — putting you almost 130 feet above the water — and made of glass. Even if you do not need to be in that area of the ship, you'll want to seek it out for the experience.
There's a bar nearby that's perfect for people-watching, and I loved seeing how different passengers reacted.
For some, it's a casual stroll that's no big deal. For others… well, let's put it this way: One woman closed her eyes, making her husband take her hand and lead her across the Seawalk just so she could tell people she'd done it.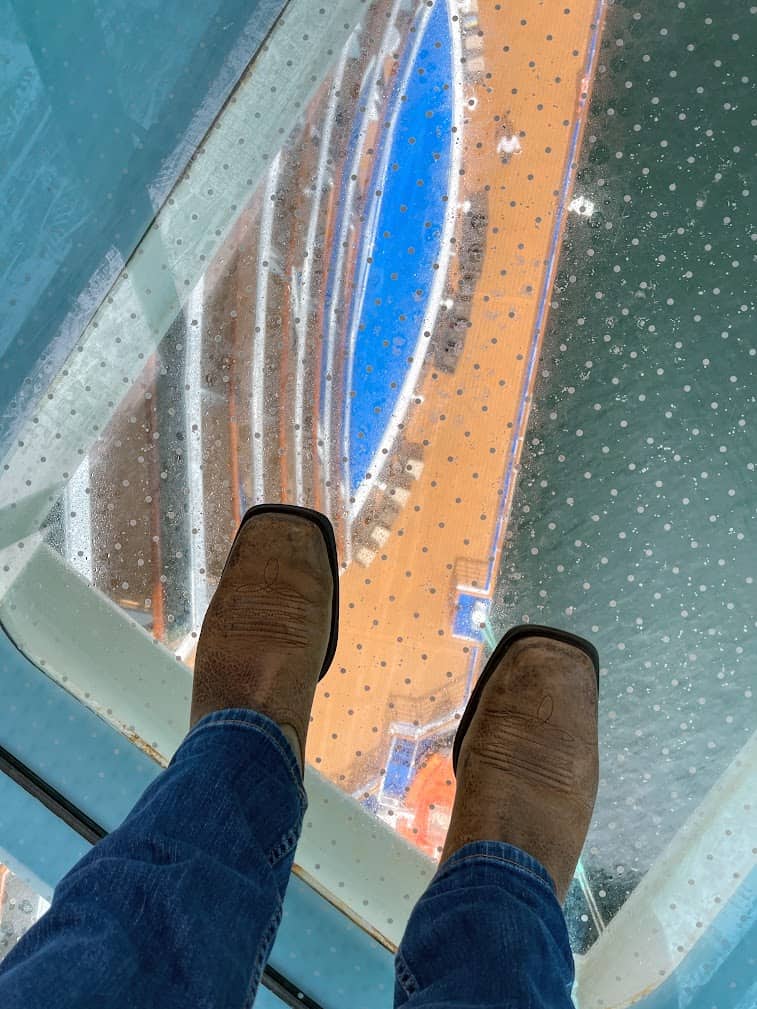 That's something I've always loved about cruising: seeing people push their own personal boundaries and try something new that they probably wouldn't do back home. Maybe they're ordering something exotic off the menu or, in this case, closing their eyes and saying, "Let's do this!"
For dinner, I headed to the French venue Bistro Sur La Mer, which is tucked away on deck seven with a set price of $29 per person. Right up front, I'm going to tell you that French food isn't my thing. I don't have anything against it, but it tends to be way too rich for my stomach.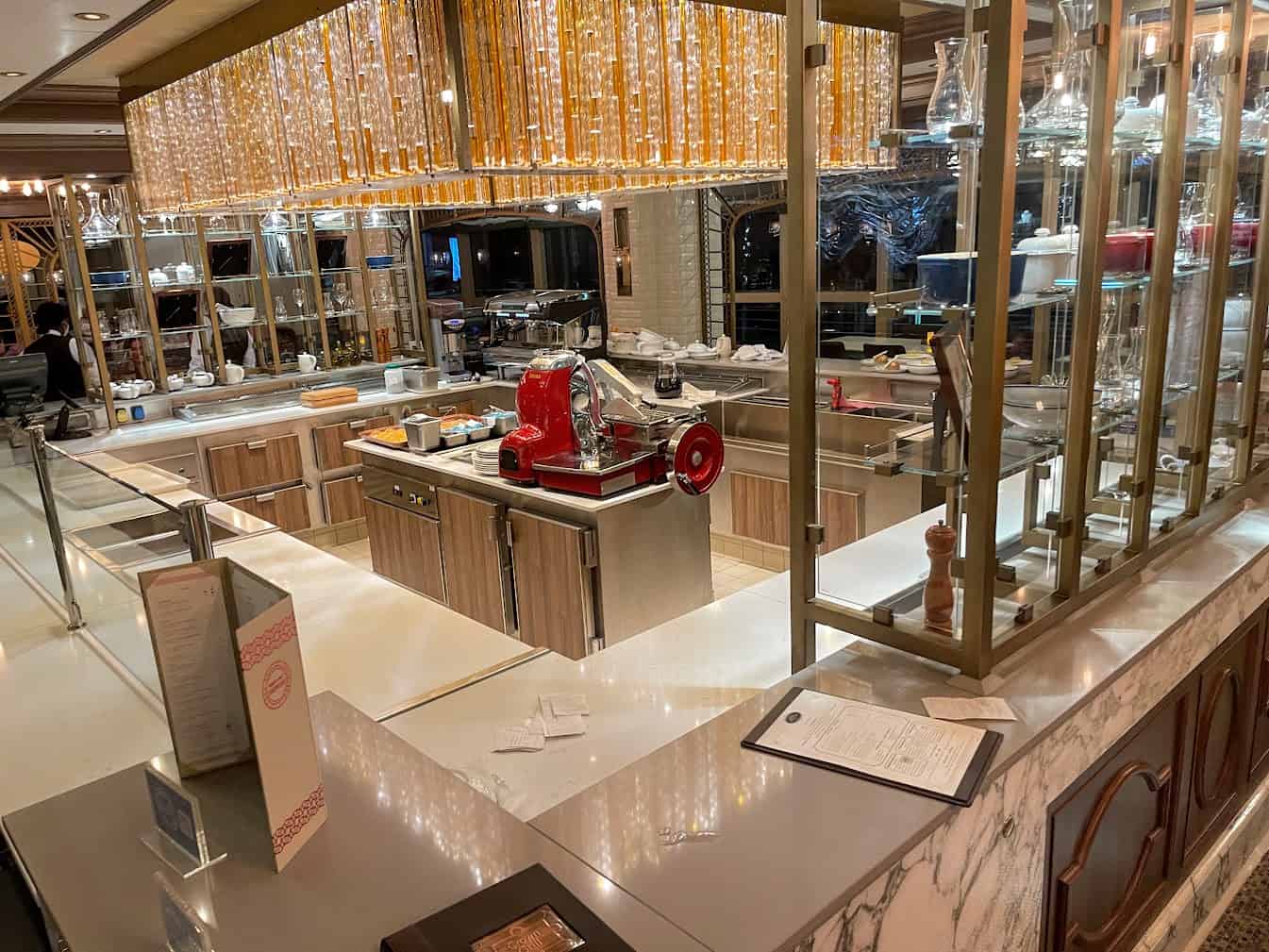 With that in mind, I played it safe and went with the seafood chowder (Lobster Bisque garnished with lobster, scallops, mussels and quenelle) served in a bowl with a puff pastry crust, followed by a beef filet mignon with sweet onion sauté and red wine jus, as well as hand-cut fries. I passed on dessert, but everyone else seemed to love theirs.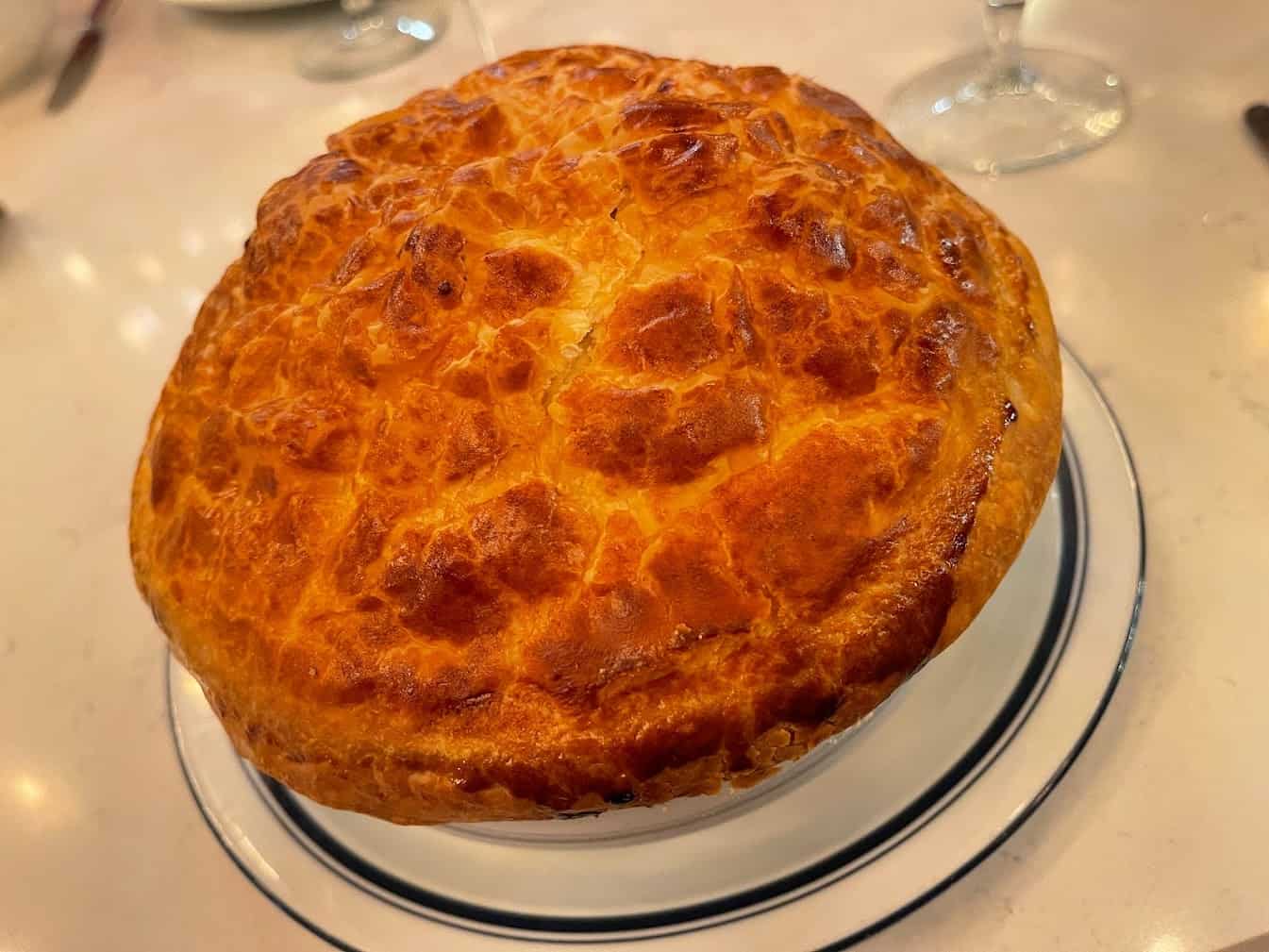 The meal took a solid two hours which for me is on the long side, but I get that when people go to this type of restaurant, they want it to be a very relaxed experience. It would probably also be easier to get out of there quicker with a smaller party. There were 11 of us at dinner.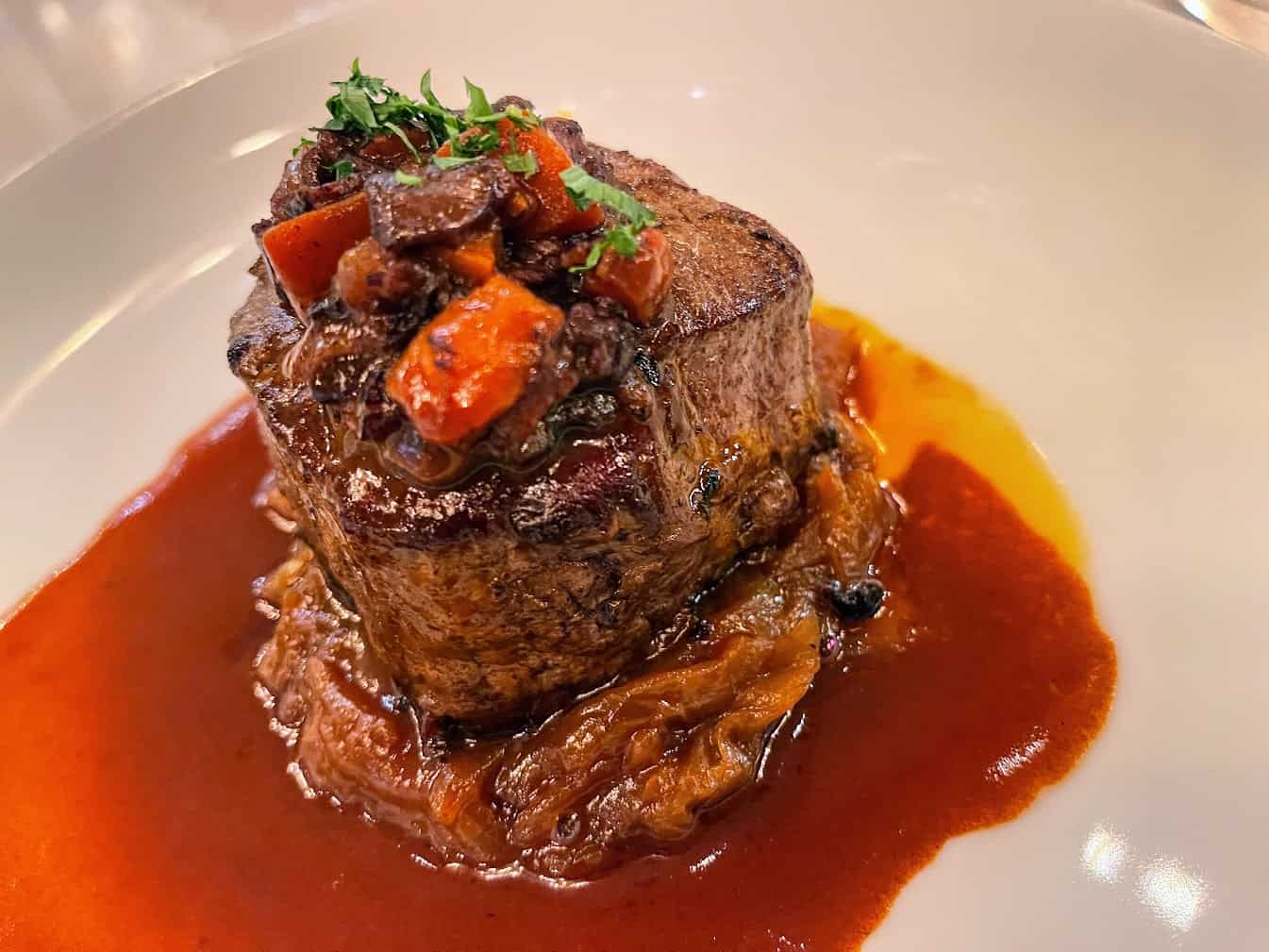 Outside the bistro, there was a live band playing and fellow cruisers were dancing down in the piazza. I wouldn't necessarily classify the bistro as an "intimate" venue because of the noise that can be heard from the atrium below. However, if the noise doesn't bother you, the food is solid for a specialty venue.
Speaking of the Piazza atrium, it really is the place to head if you want to do a little dancing. I have two left feet so you won't find me busting a move of any kind, but a lot of folks were really enjoying the live music, and not just in the atrium. Because the Movie Under The Stars was going to be Bohemian Rhapsody, they had a Queen tribute band do two sets.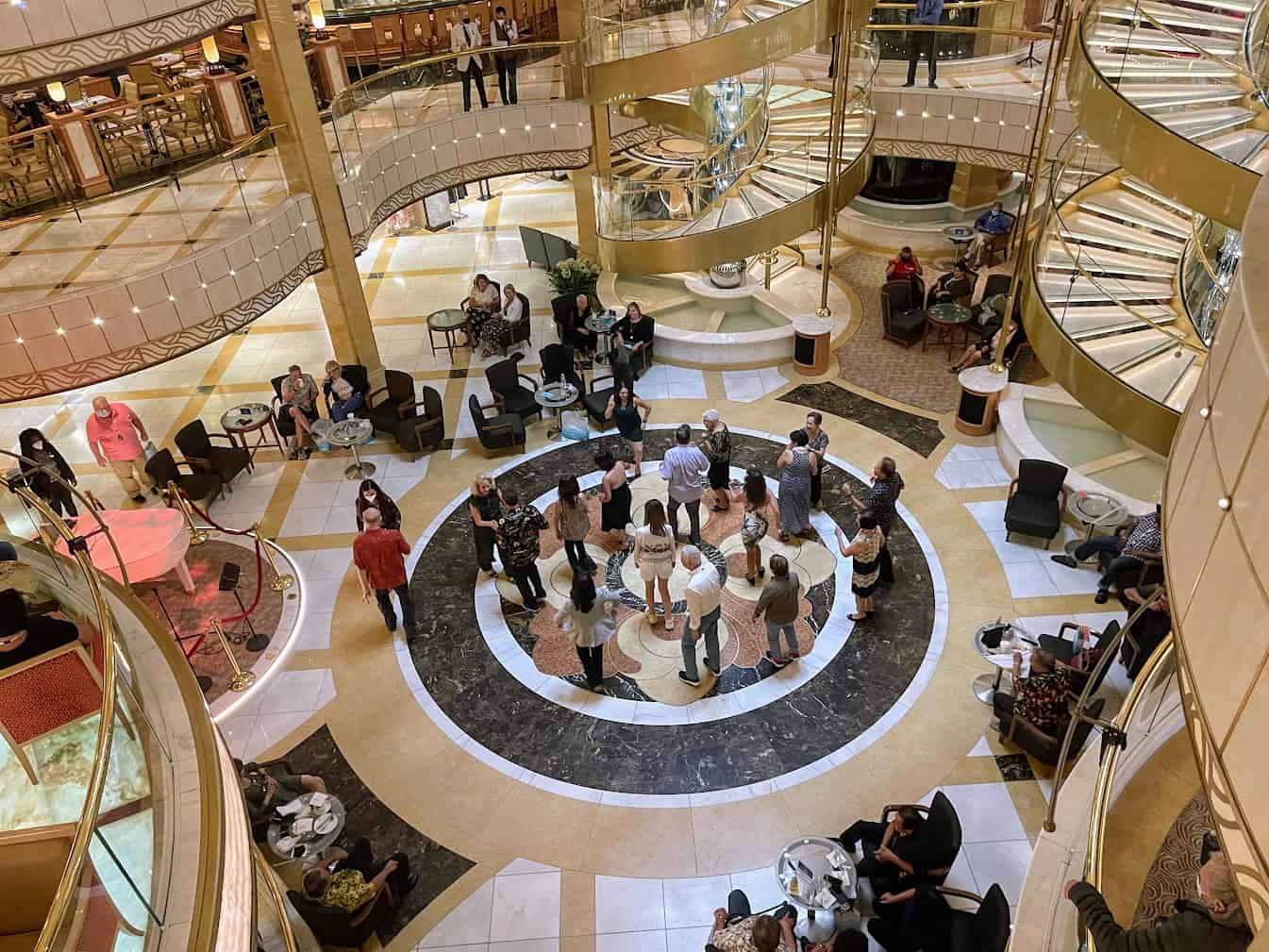 Something else I found out on this sailing was that they utilize the big screen during the day to air concerts. I don't know if this is new or I simply never noticed. But it got my attention when I walked by one day to see Shania Twain's 2014 Las Vegas concert playing.
The show in the Princess Theater tonight was an impressionist comedian who specialized in doing parodies of various musicians. I didn't recognize all of them, but he did a decent Garth Brooks parody to the tune of Friends in Low Places. It didn't last long because at this point it was 10 p.m. on the ship but my body was still on east coast time.
There's another specialty restaurant onboard called Harmony which specializes in high-end Chinese cuisine. I'm going to try to make reservations for that tomorrow night. One thing that's unusual about this trip is that, with it only being a three-night cruise, I won't actually be eating in the main dining room.
If you follow my trip reports regularly, you'll know I actually love eating in main dining rooms. But I will check it out by having breakfast or lunch in there one day before I disembark, promise.
Tomorrow we are in Ensenada, Mexico and my plan is to check out the Lotus Spa onboard, specifically The Enclave, which is their thermal suite.
Until then…
Check out yesterday's trip report: Day 1: Embarking Majestic Princess in Los Angeles