My first thought of a town called Molde is "Why the heck would they name it that?!" Obviously I know it's not an English word and it doesn't need to make sense to us, but those are just the first thoughts that jump into your mind, you know?
You can read yesterday's trip report here.
But trust me, Molde is beautiful and charming, and in some ways reminded me of my town back home. I definitely think that I could live there if I was willing to endure a Norwegian winter. First thing's first – it's not pronounced "mold" which is good news. It's like "moldah," which sounds nicer already, right?
I'm actually writing today's sea blog a few hours earlier than usual, because I want to get some preliminary packing done afterward. I don't want to wait until Friday to frantically pack everything – I want to enjoy Bergen on Friday and Geiranger tomorrow as much as possible.
Morning Meal
This morning, my mom ate breakfast in the main dining room and I decided to skip it and sleep a little longer before getting ready. I wasn't thinking about the fact that nothing would be open to eat from 10-12 except for room service, and our excursion was at 12:10 today so that wouldn't work. So I actually ended up ordering room service right between breakfast and lunchtime so that I wouldn't be hungry the whole time we were on our tour.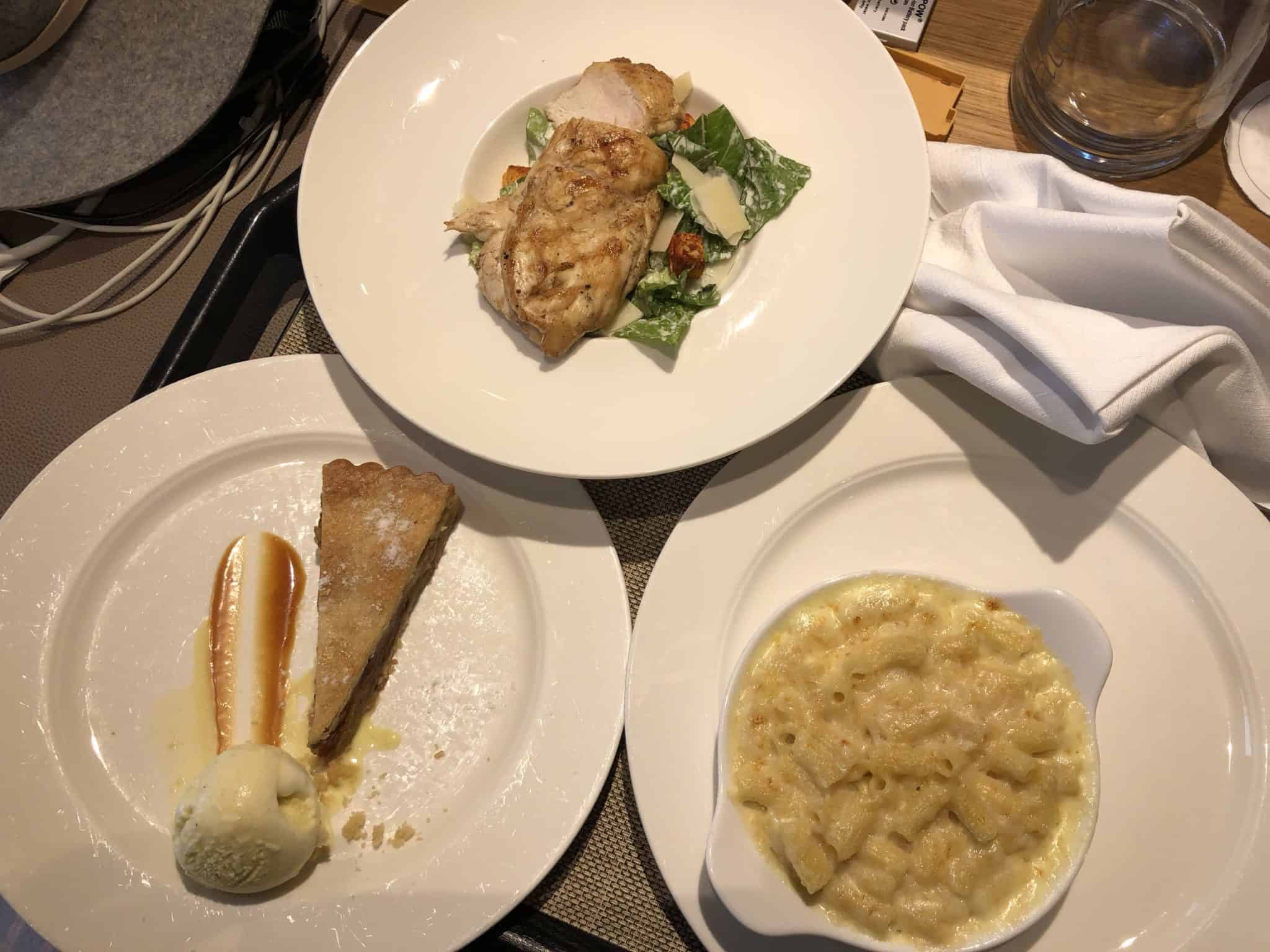 I ordered a caesar salad with chicken and without anchovies, a side of mac and cheese which I haven't seen anywhere else on the ship except on the room service menu, and a piece of apple pie with ice cream.
Without thinking, I actually ordered during a crew safety drill so it took a while for the chefs to get back into the kitchen and make my food, but once it arrived it was great. The salad was good but had way too much chicken in my opinion – there was more chicken than lettuce! The mac and cheese was amazing, it was made from penne and had this wonderful creamy cheese and was slightly crispy on top. The apple pie was delicious too. After eating that, it was time to finish getting ready and head out to Molde.
Molde Tour
Our Molde tour began with a stop at a beautiful rose garden on the grounds (or right next to the grounds?) of one of the most popular churches in town. The garden was on the rooftop of what looked to be an office building below, but the church was adjacent to it. There were roses, lavender, and lots of other colorful blooms. It was gorgeous.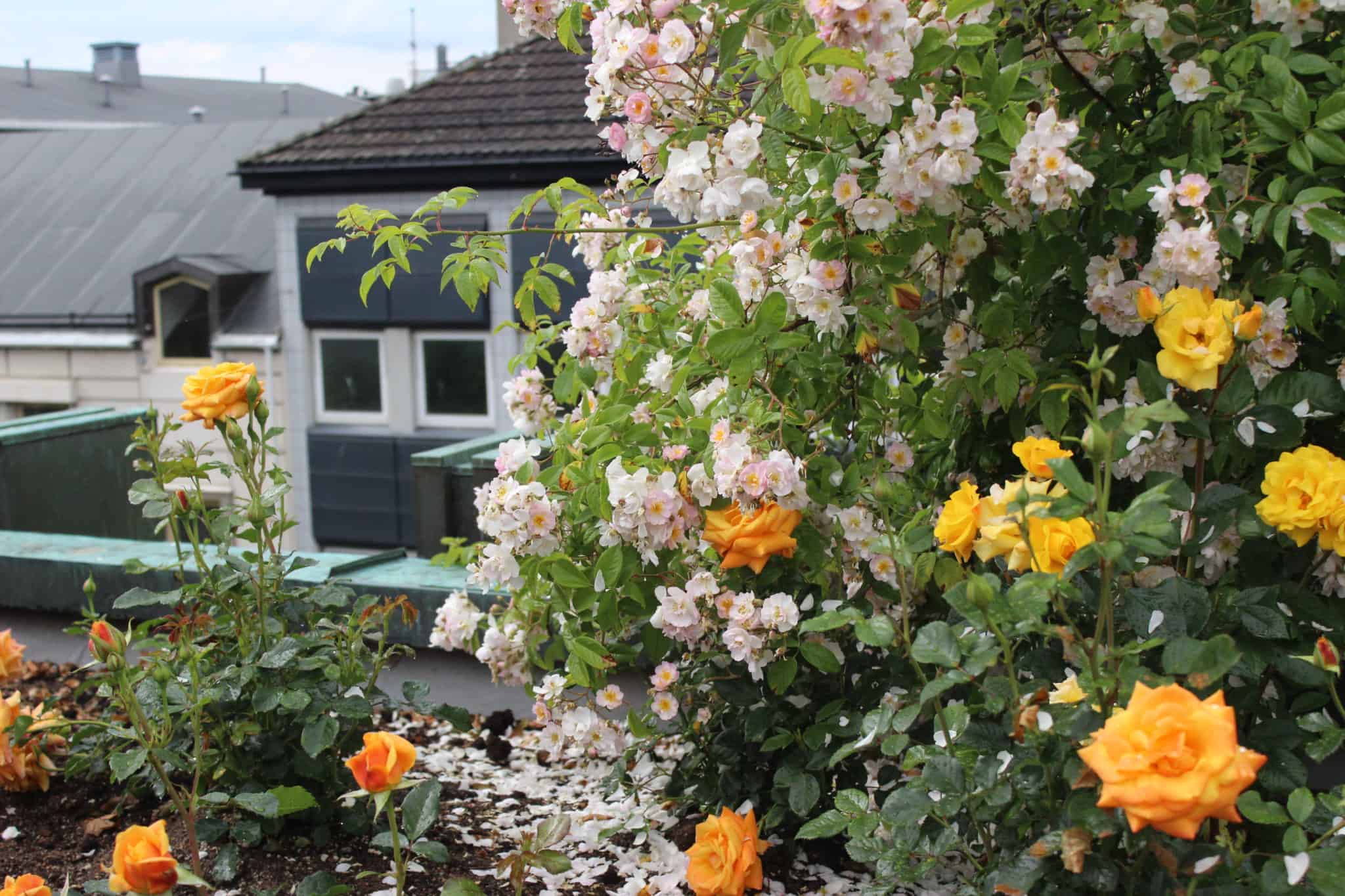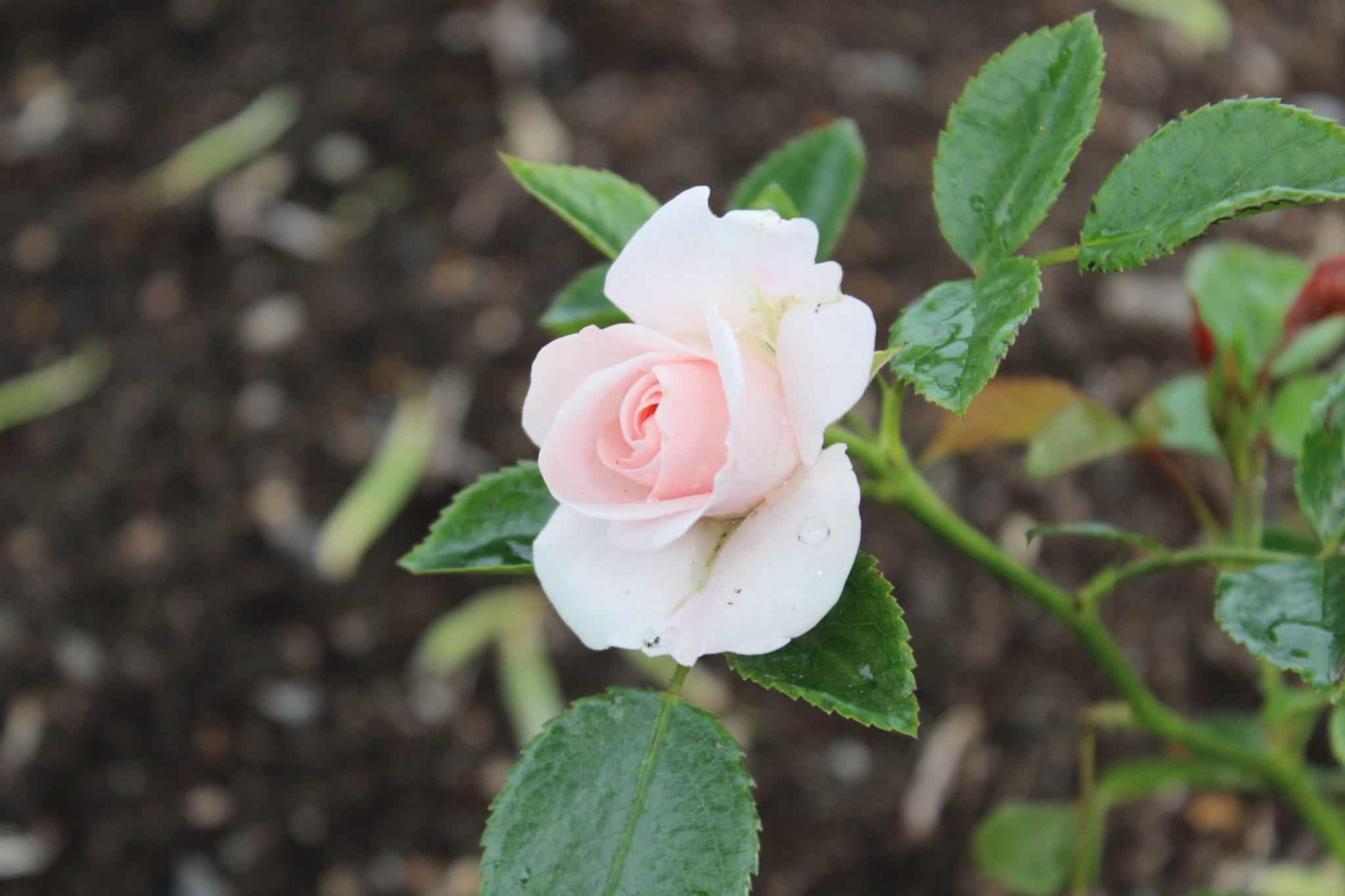 Our next stop was to a museum, called Romsdalsmuseet. There, we were first escorted into a big rectangular room with benches lining the walls. Then, kids that practice all year just to perform for the tourists that visit in the summer came in, singing to a violin, dancing, and wearing traditional Norwegian clothing. It was so, so neat. There was also a part where each child chose someone in the audience to do a dance with them in a big circle, and both my mom and I were among the chosen!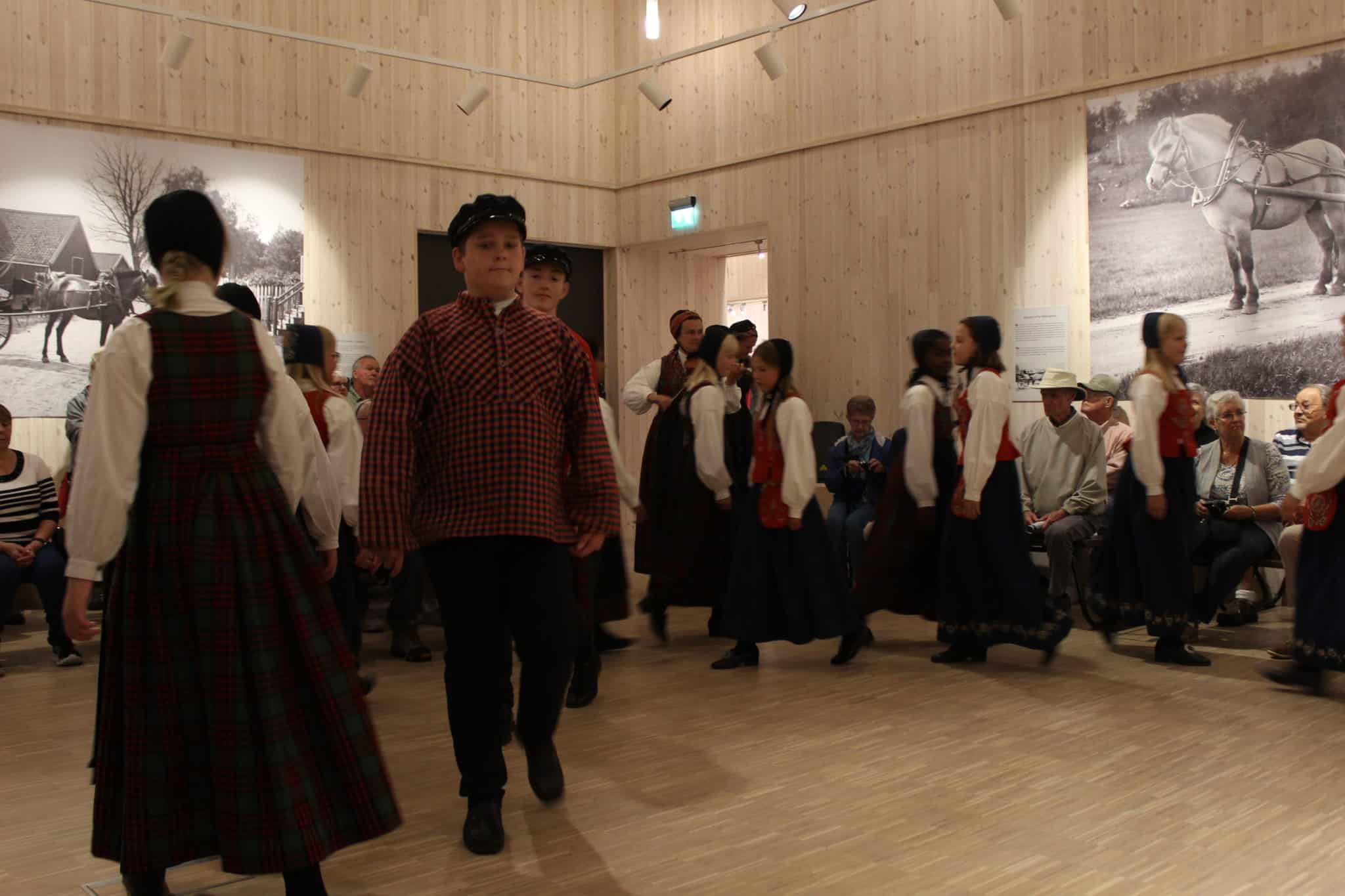 The museum had indoor exhibits, but what they told us about was the houses outdoors. If you've ever been to a living history museum where you go into the old buildings and learn about it from someone inside, this was exactly that.
There was a larger house that wealthy people had lived in back in the day, regular houses, a schoolhouse with a very strict teacher (seriously, she asks why you're late to class when you walk in and then you have to do a penmanship assignment that she grades! I got 5/6 which was better than most people!), a house where someone was using a spinning wheel, and another house where they were cooking flatbread for guests to try. We have a living history museum near where I live, and I honestly thought this one was more beautiful and interesting. But maybe it's just because I've been enjoying learning about the Norwegian culture so much!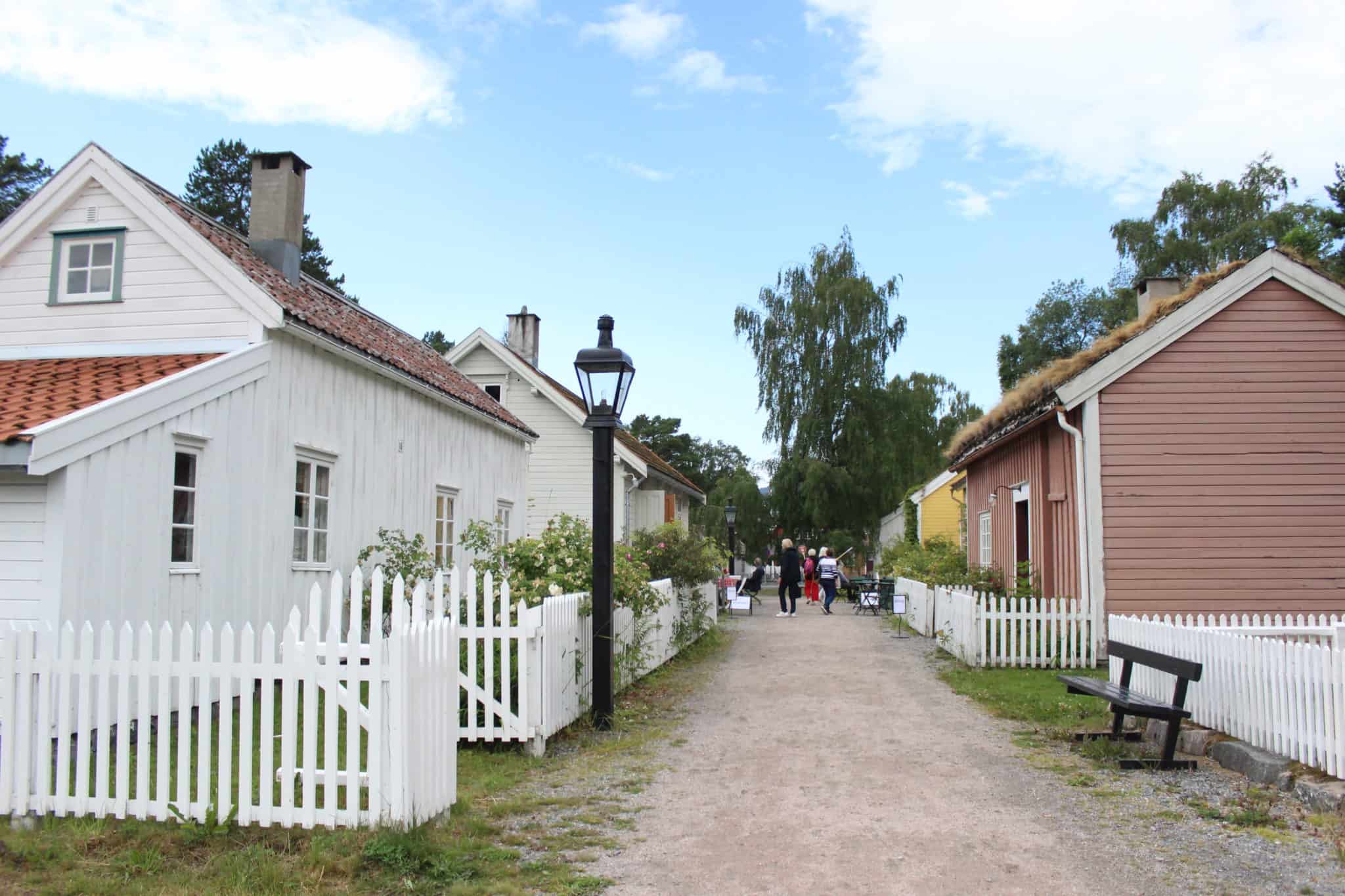 Our last stop was to a lookout point high in the hill overlooking Molde, our ship, and the multitude of mountain peaks that you can see up there. On a clear day, you can see 222 individual peaks. I didn't count how many I saw, but there were a lot. I couldn't help but think while we were up there, that God's fingerprints are all over this country. It was just stunning.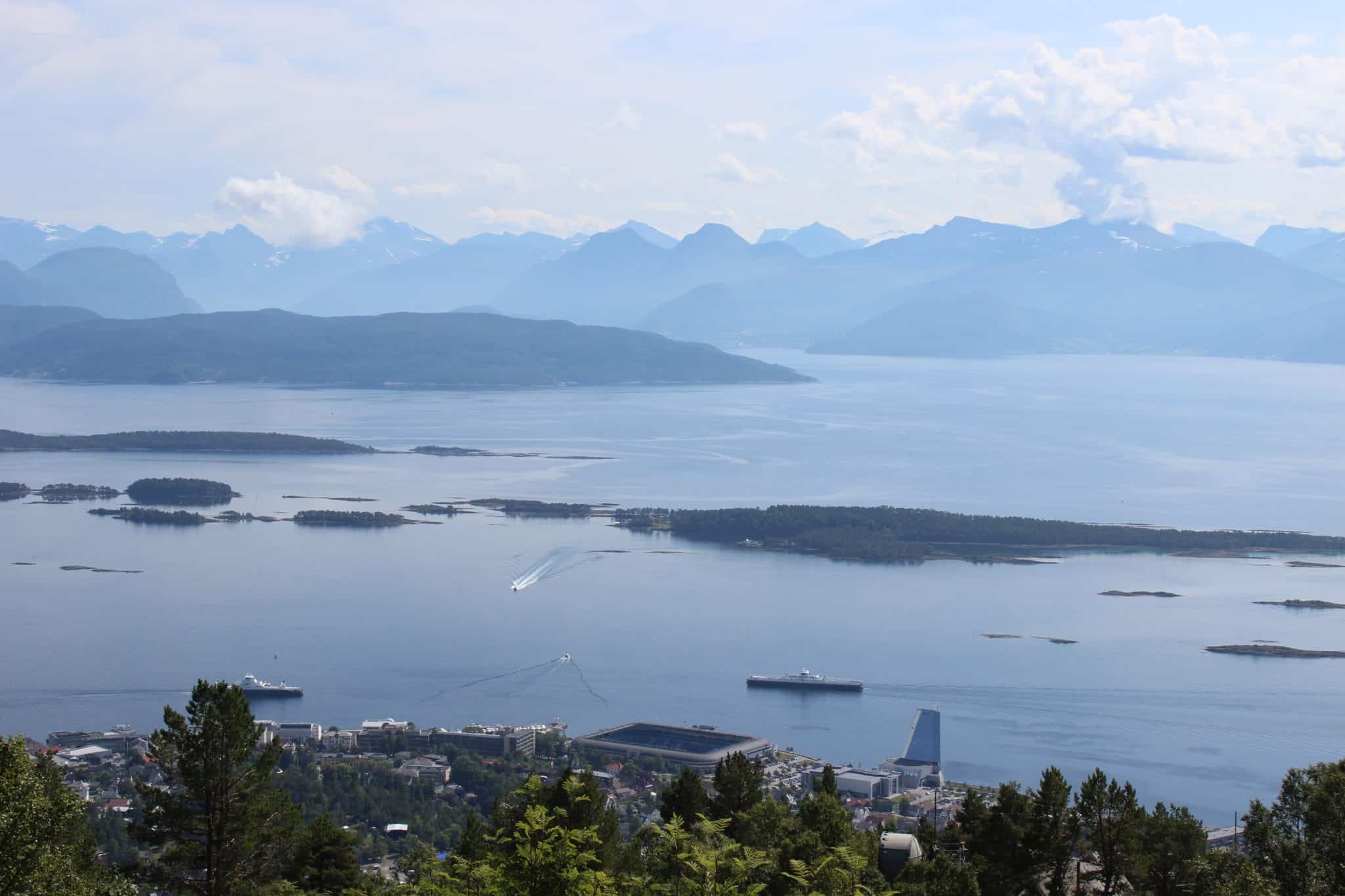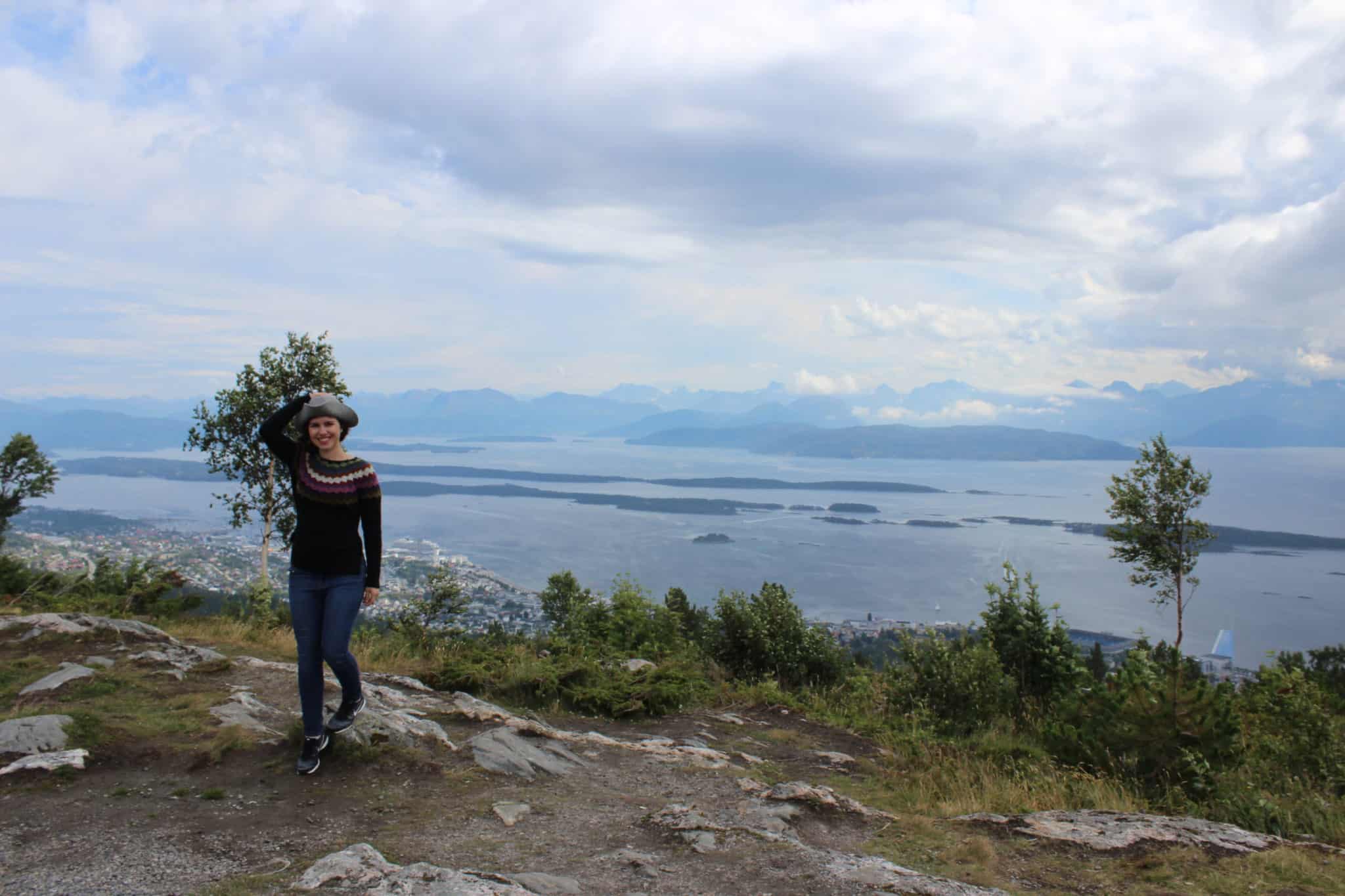 Shopping
When we got back to the cruise port, the tour guide told us that one of the shopping centers we had driven by was only a five minute's walk down the road. There were a few hours left before sail away, so we decided to walk down there and check it out. It was like a shopping mall – with a lot of clothing stores and other typical mall-type stores like housewares, shoes, and places to eat. I bought a long pink sweater on sale, and we also went into a homewares store with really reasonable prices and found some goodies, including loose-leaf tea and lots of pretty candles.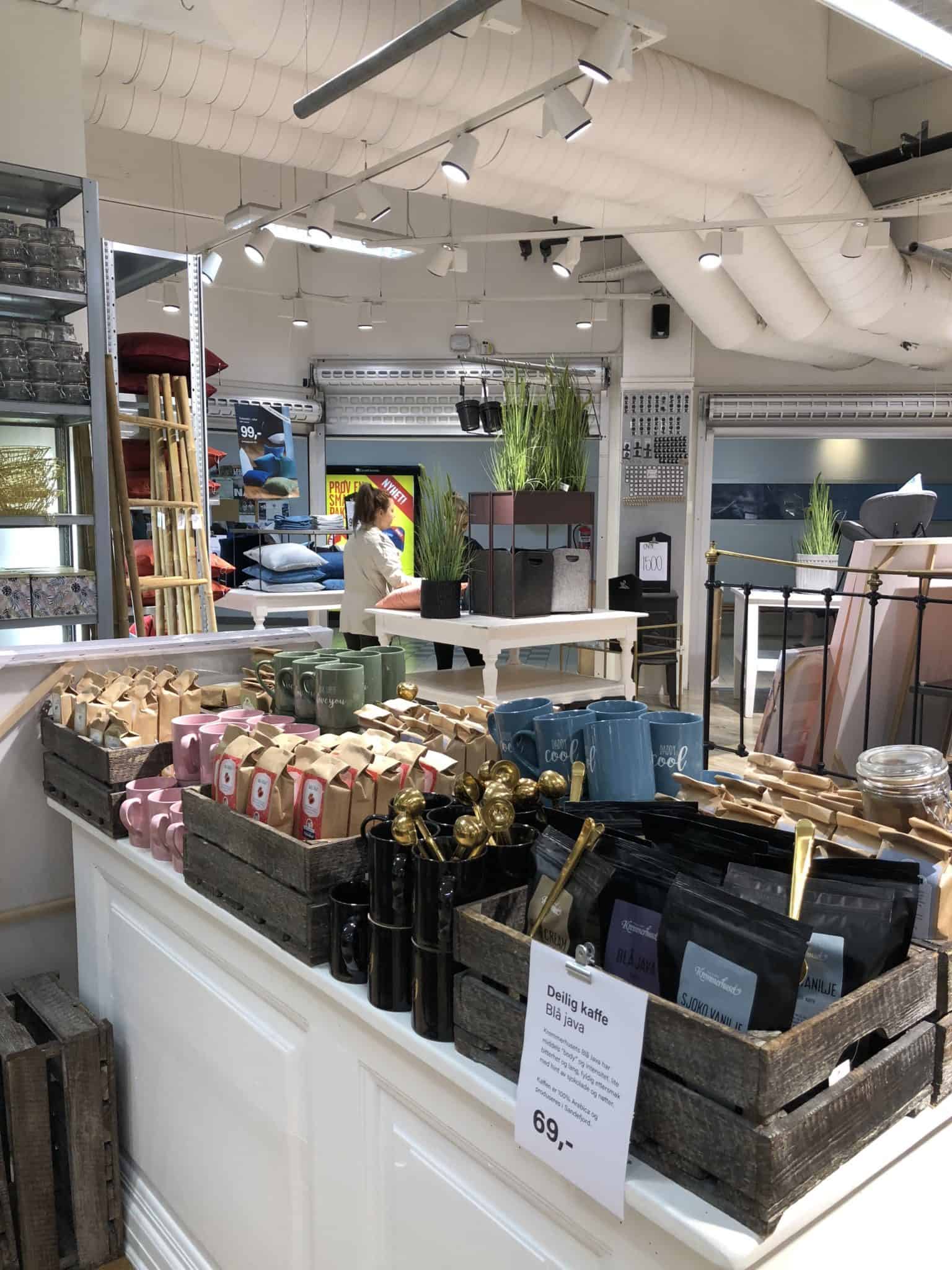 After the homewares store, we decided to head back to the ship. It rained on and off in Molde today, and was lightly drizzling when we walked back. We got back at a good time though apparently, because people that arrived back after us said it downpoured for a little while!
Pool Grill
Since nothing else was open at the unusual time of around 4 pm that we got back and were hungry, we headed up to the Pool Grill. I got a hot dog and fries (they were out of onion rings), and my mom got her usual Philly cheesesteak without the bun. It was good but I wasn't super hungry. I think with the unpredictable weather today, being sunny and warm then chilly and rainy, we were pretty tired. So after eating we actually took a nap, which was my first real nap this entire trip since the day we arrived in London. It felt wonderful, and I could have easily kept on sleeping.
Jewelry Buying & Dinner
I've been wanting one of the traditional Norwegian leather and tin bracelets that they sell on the ship and in various towns we've visited. Before dinner, we headed to the onboard Nordic Shop to each buy one. They're very elegant and you can tell there's a story behind them. I also bought a Viking ship necklace. Not like our cruise ship, but what you think of when you think of Vikings back in the day.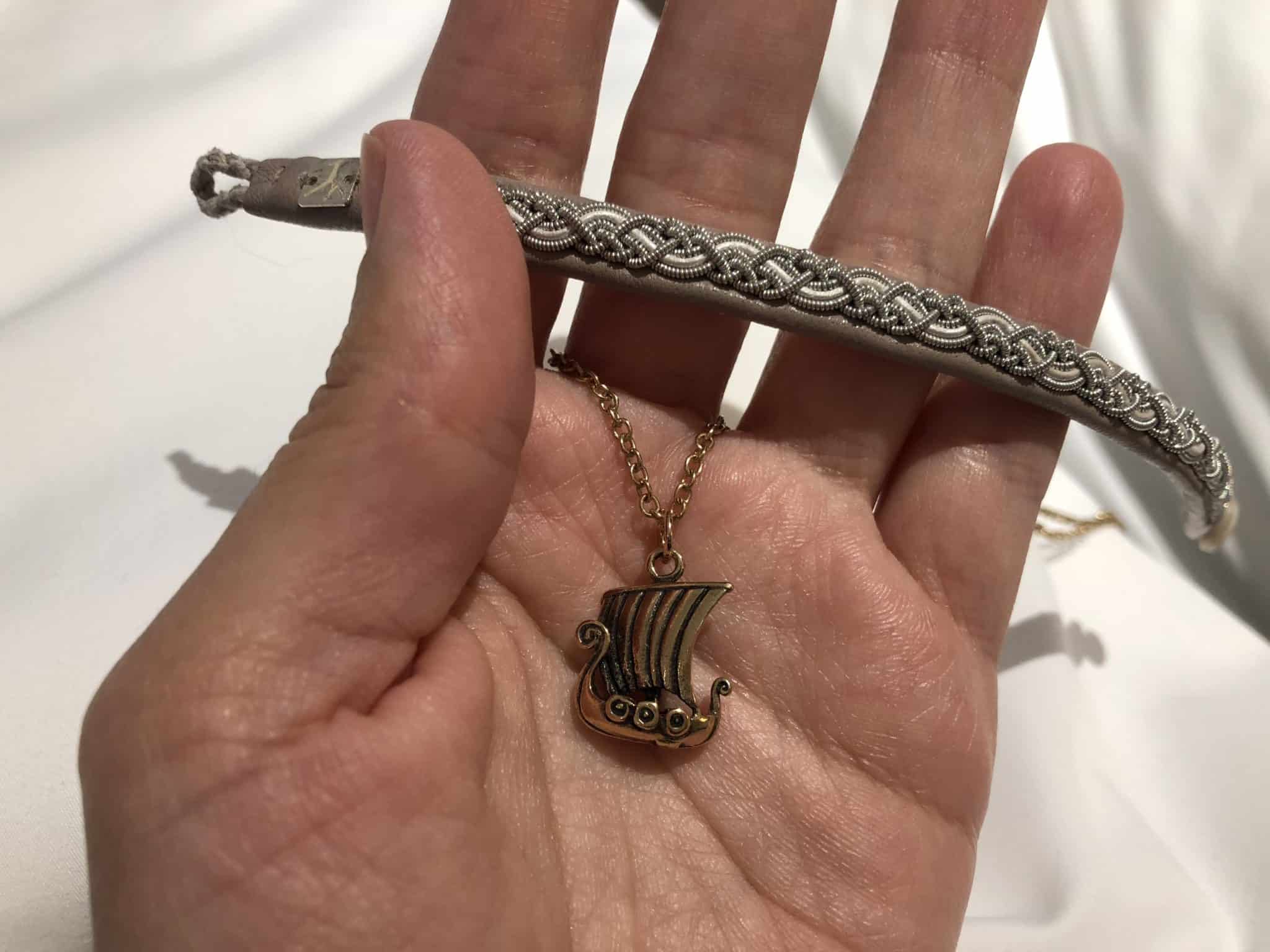 We've really come to love our usual waitstaff in the dining room throughout this cruise. Even though dinner is always an open seating on Viking ships, the staff determined from the beginning that if we wanted, we should have the same servers each night because they could get to know my mom's food allergies that way. So we've had the same ones every time, and they're just wonderful – it really makes us both look forward to eating dinner in The Restaurant.
Tonight, since we had pool grill food only a few hours before, I wasn't too hungry for dinner either. But I had a nice fruit medley appetizer and pasta with red sauce that had veal and mushrooms in it. Dessert was a delicious cherries jubilee, and it was a perfect size – not too large.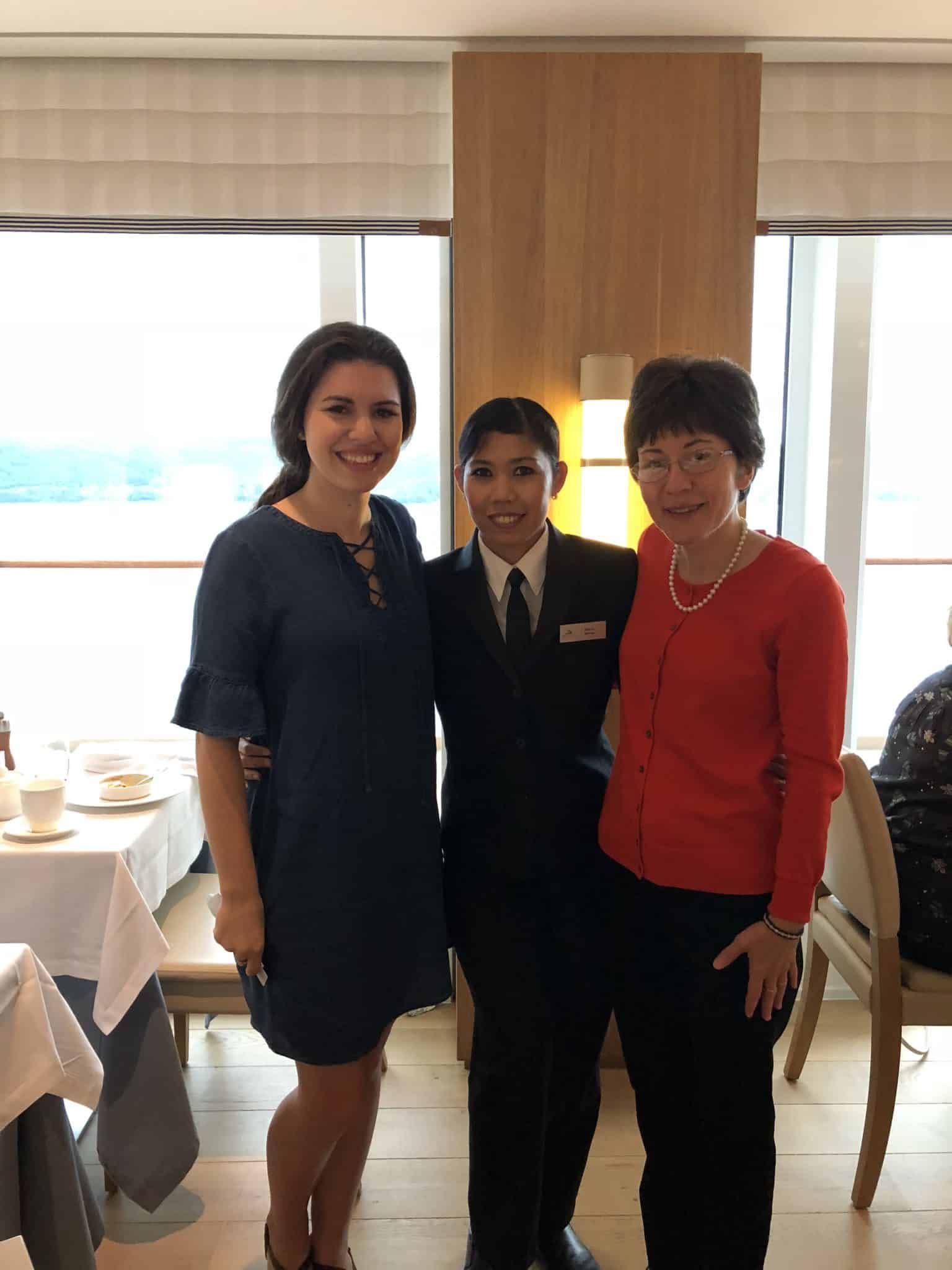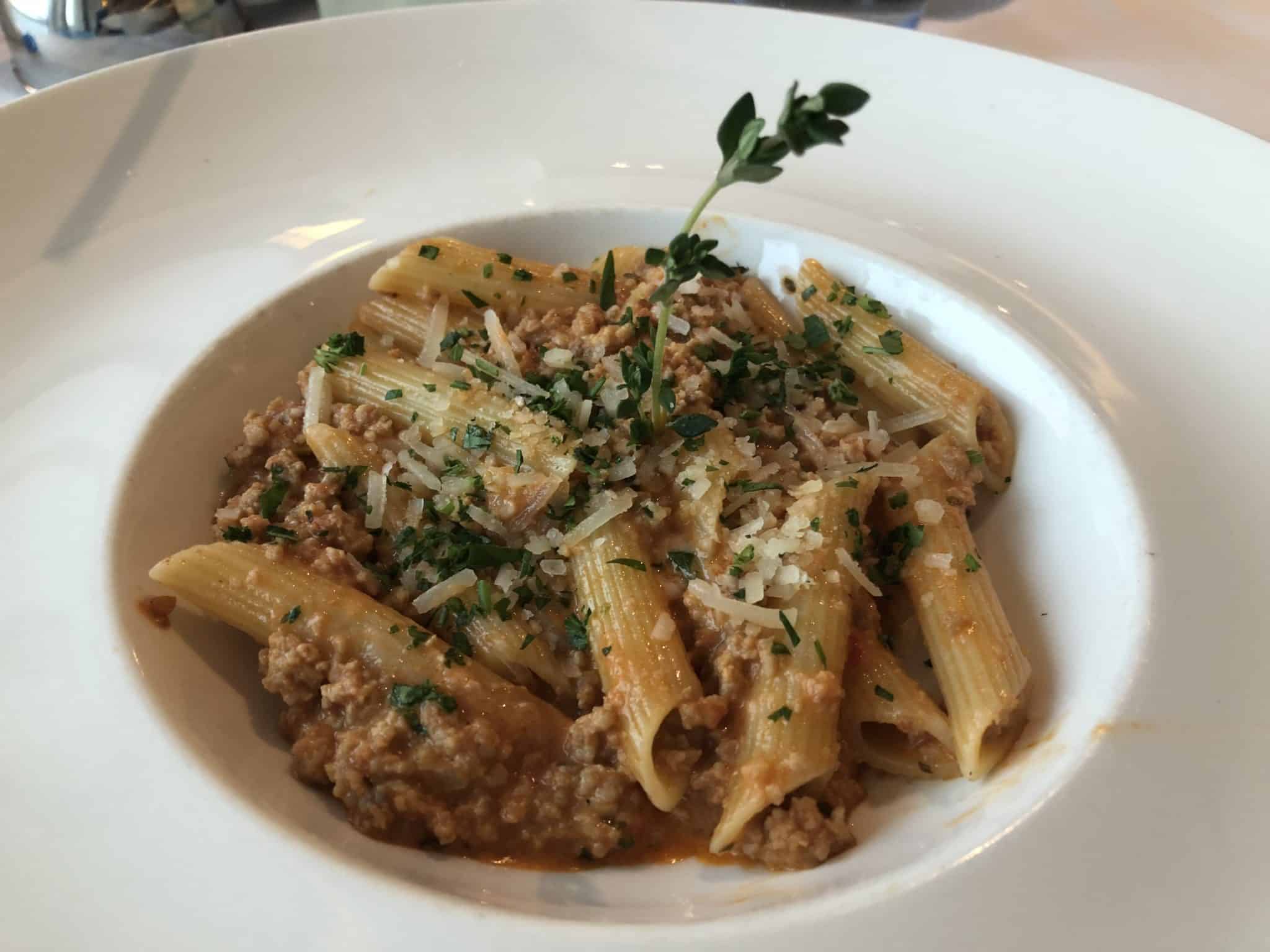 Back to Cabin
After dinner, I came back to my cabin and I've been here ever since. I took a few photos of passing scenery out on my balcony, and now I'm writing this post. As I said at the beginning, I want to start some packing and then if I have energy afterward I might go up to the Explorer's Lounge and hang out for a bit. But I have a feeling I'll just go to sleep after packing. We arrive in Geiranger at 8 am, and I want to be up before that to get some photos and video of us sailing through the fjord. Also – I most likely won't be publishing tomorrow's blog tomorrow night, because we won't have any internet in Geirangerfjord. But I'll try to have it up on Friday.
Goodnight!
Disclosure: Viking invited me on this cruise. As always, my thoughts and opinions are my own.