It was a cloudy morning when we docked in Kirkwall, Orkney Islands, Scotland today. Actually, it stayed cloudy for the rest of the day and threatened to rain, but never quite did. In fact, the most I noticed was some mist in the air, which was a nice surprise from what the forecasted weather was.
You can read yesterday's trip report here.
Today was our first port where the ship actually docked, which was great because it meant we could walk right off without having to wait for a tender boat. We ate in the main dining room this morning, where I had a light breakfast of some ham,  a chocolate croissant, and some banana slices. My mom had her usual omelet which was delicious as usual.
Visiting the Island
Our excursion around what locals call the "mainland" of the Scottish Orkney Islands (the largest of the islands which we docked at) wasn't until noon, so we decided to take the free shuttle into town for about an hour of exploring on our own before we had to get back to the ship to join the organized tour. Cruise ships that stop here dock at a commercial port, so there's nothing to do there besides take the shuttle into town, unless you want to take a 35-minute walk into town instead. Luckily, it only takes five minutes to get there on the bus, so it's very quick and painless if you have some time before or after an excursion.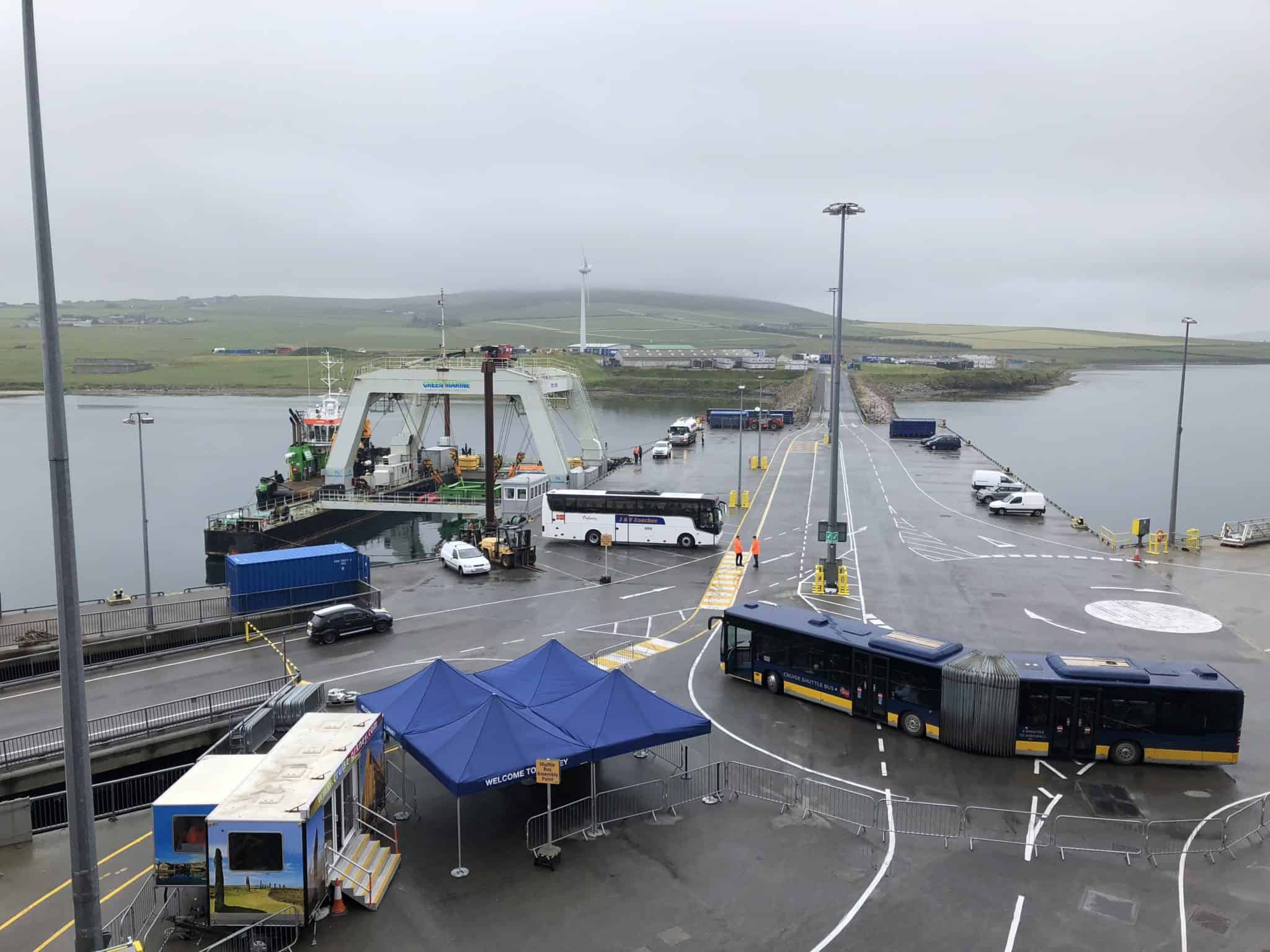 The town of Kirkwall isn't very large at all, but it seems like it is once you see how much of the rest of the area is just farmland and houses out in the country! We walked the narrow stone streets, visited some cute little shops, stopped by the grounds of Earl's Palace, and took a photo in front of the old door of the St. Magnus Cathedral. It's a very peaceful town, and we saw a bit of the local life as well as us obvious tourists with cameras in hand.
We got back to the ship just in time to board a coach for our highlights excursion, where we drove out in the countryside and saw lots of farms with cows and sheep, as well as Scapa Flow bay and a spot where freshwater is on one side of the road, and saltwater is on the other. There were also a ton of birds by the water called oyster catchers, because they eat oysters and their beaks are the perfect shape to do so. Also, there is archaeological excavation work happening on the mainland right now, because entire ancient buildings have recently been found just under the ground. It just so happens that our tour guide's husband actually volunteers at the dig nearby, cleaning and documenting each artifact that is found. We drove by and got to see the archaeological team hard at work, which was really cool.
You've heard of Stonehenge, right? The famous stone circle in southern England. Well, the Orkney Islands have some ancient stone circles of their own, and we got to see two of them. One we just drove by, which was the Stones of Stenness. The other we got out and were able to walk all the way around, which was a real treat – the Ring of Brodgar. It was huge, and there are many theories as to what it was built for back in the Neolithic period. It was neat to see something so old and significant in some way, even if we don't exactly know why. An added bonus was that the air there smelled so sweet, it really struck a chord with us. Our guide said that it was because of the red clover and meadowsweet flowers, and the scent was the most beautiful mix of flowers and fresh ocean air.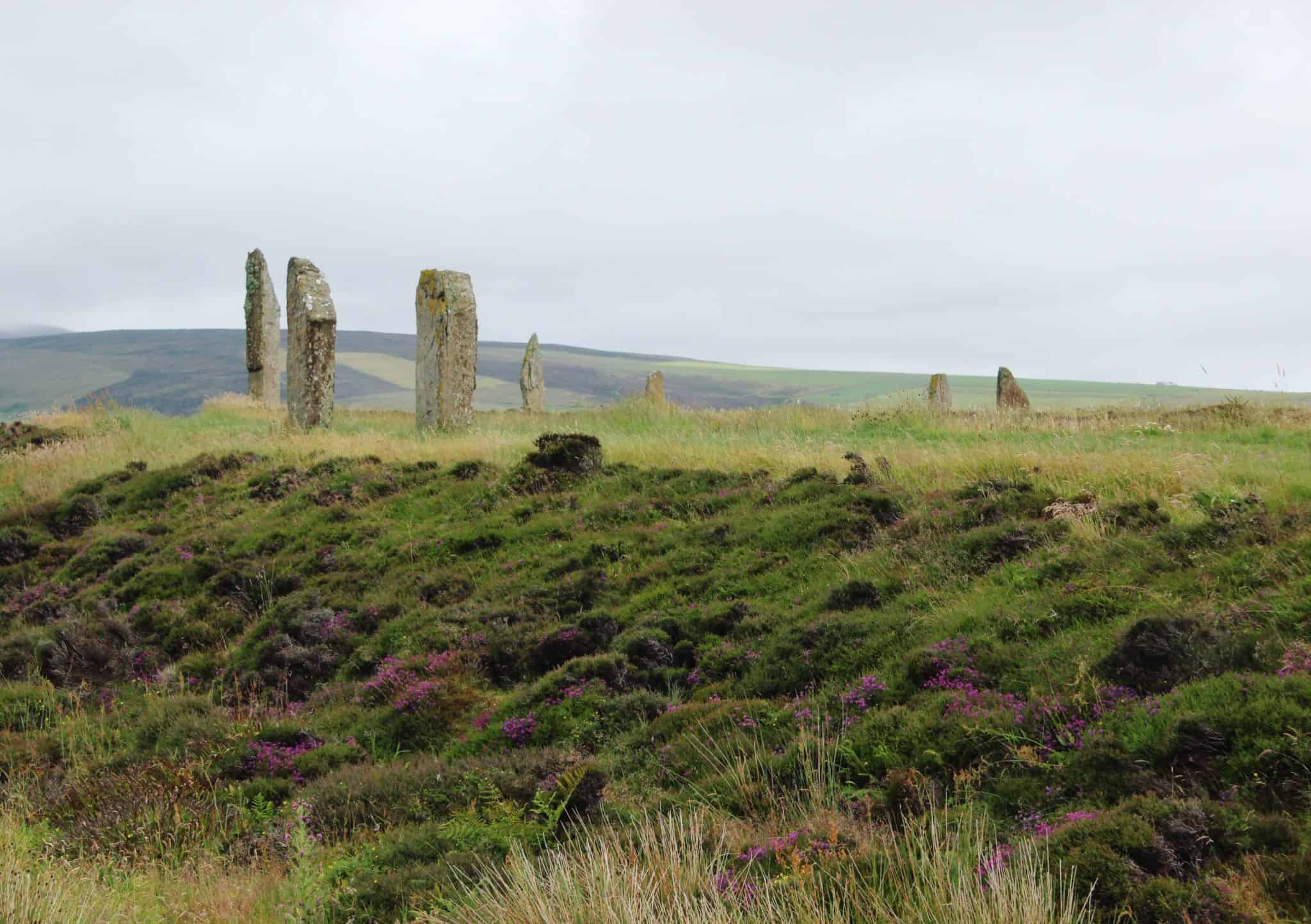 The other highlight was our stop in the town of Stromness, which was another cute little community filled with shops, cafés, famous Orkney ice cream, and colorful little flags strung across the street. We had some free time to wander around this town, and my mom and I wound up in a small bakery and store that sold local ice cream, which is one of the things the Orkney Islands is known for. I got the apple crumble flavor and my mom got both lemon and honey… it had real pieces of crunchy honeycomb in it! Every flavor was so yummy – mine tasted like a legitimate apple crumble dessert.
After our stop in Stromness, we boarded the coach once again and headed back to the ship. It was a misty, cloudy, chilly day, which from what our guide told us is a normal day there. There's something so magical about the Scottish Orkney Islands. Even though they're very far from many conveniences and amenities we're used to, the simple lifestyle there is absolutely beautiful.
Pool Grill
As usual, by the time we arrived back from our excursion lunchtime had passed and we needed to find something to eat besides ice cream. This meant the pool grill not only for us, but just about everyone else who arrived back on the ship around the same time. It was busy, but the line moved relatively quickly. This is one of the only times I've encountered a line on this ship – it's the least crowded cruises I've ever been on, and that's not because it's not full. It's because the guest to space ratio is higher than most other ocean cruise lines and people really have a chance to spread out and not be on top of each other. It's glorious.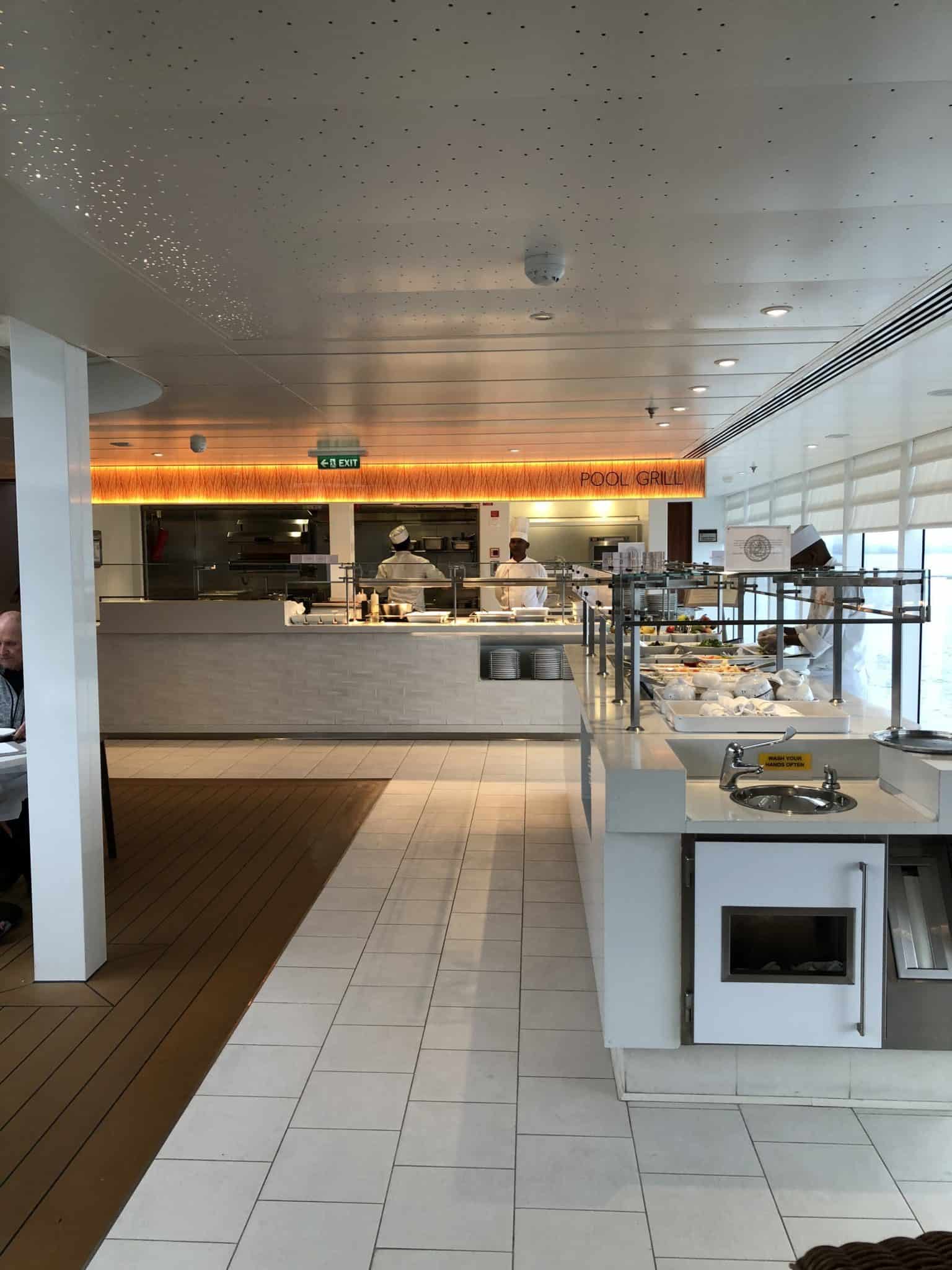 Anyway, I got a Mexican pulled pork sandwich, which was pulled pork, guacamole, and pico de gallo, and onion rings. My mom got a Philly cheesesteak sandwich without the bread, which she said reminded her of one of her favorite subs she used to eat long ago before she became allergic to grains. I also ordered a mojito, which tasted great. Needless to say, the pool grill satisfied our afternoon hunger pains.
Spa Time
Once we got some food in our stomachs, I was ready to see what this Nordic spa ritual thing was all about. You go from hot to cold and repeat, and it promotes detoxification and circulation. There's a steam sauna, dry sauna, snow room, cold water dump bucket, cold plunge pool, heated loungers, and hot tubs. The concept is that you just go back and forth between hot and cold things. So I started out in the steam sauna at the recommendation of the girl at the spa's front desk, and only lasted in there a few minutes before I couldn't handle feeling like I couldn't breathe anymore. Then I tried to use the snow room, but today's the day it is out of commission because it has to make more snow. Every week or so, they have to defrost the snow room and start it over so it doesn't get too full of the white stuff! So I went for the cold plunge pool instead, which felt freezing. I didn't last in there long either before I headed to the huge warm whirlpool, which is where I spent the rest of my time in the spa. I'll try to do better about the correct order of things next time, which will include the snow room!
Dinner
I went out of my comfort zone a little bit for dinner tonight, and tried an appetizer I would usually read on a menu and ignore immediately. It was a Scottish fish soup called Cullen Skink, made with onions and potatoes. It smelled really fishy when they set it down in front of me, but it actually tasted really good and I think it had a stronger smell than taste.
My entrée was some kind of Israeli couscous inside a puff pastry, which was also new to me but delicious. Dessert was also on the destination menu along with my appetizer – a Scottish cheesecake with whiskey sauce. I've been noticing that the desserts on this ship that are made with alcohol, usually taste very strongly of it. The first night it took me by surprise, but now I'm used to it. The whiskey taste was strong in tonight's dessert, but I thought it was very good.
We ended up lingering over dinner for a while, so I was full and tired by the time we arrived back at the cabin. I meant to go relax somewhere else on the ship, but time has escaped me! I have an excursion right in the morning tomorrow, and it's now 11:30 pm, so I'm going to bed as soon as I finish this post.
Tomorrow we're in Lerwick, Shetland Islands which means only one thing to me: Shetland ponies!
Goodnight.
Disclosure: Viking invited me on this cruise. As always, my thoughts and opinions are my own.