It's just after midnight, and still light outside. This is so crazy! I guess we really are in the land of the midnight sun now.
You can read yesterday's trip report here.
For me, today began with lunch. I woke up before then, but lazed around, did some work on the computer, and decided I didn't need breakfast and could do until lunchtime which we ate in the main dining room around 11:30. That's the beauty of a sea day – you have an entire day ahead of you with no schedule unless you really want one. (I, in fact, did have a schedule but it didn't begin until the afternoon.)
Lunch & Mixology
For lunch I had cold tangerine cream soup, a reuben sandwich with fries, and a brownie for dessert. I don't like rye bread, so I got my sandwich with wheat and it was great. After that, I sat out by the Lido pool for a while before heading to the Torshaven Lounge for a mixology class. Earlier in the week I signed up for it at guest services; it's $20 per person and I think it was definitely worth the cost.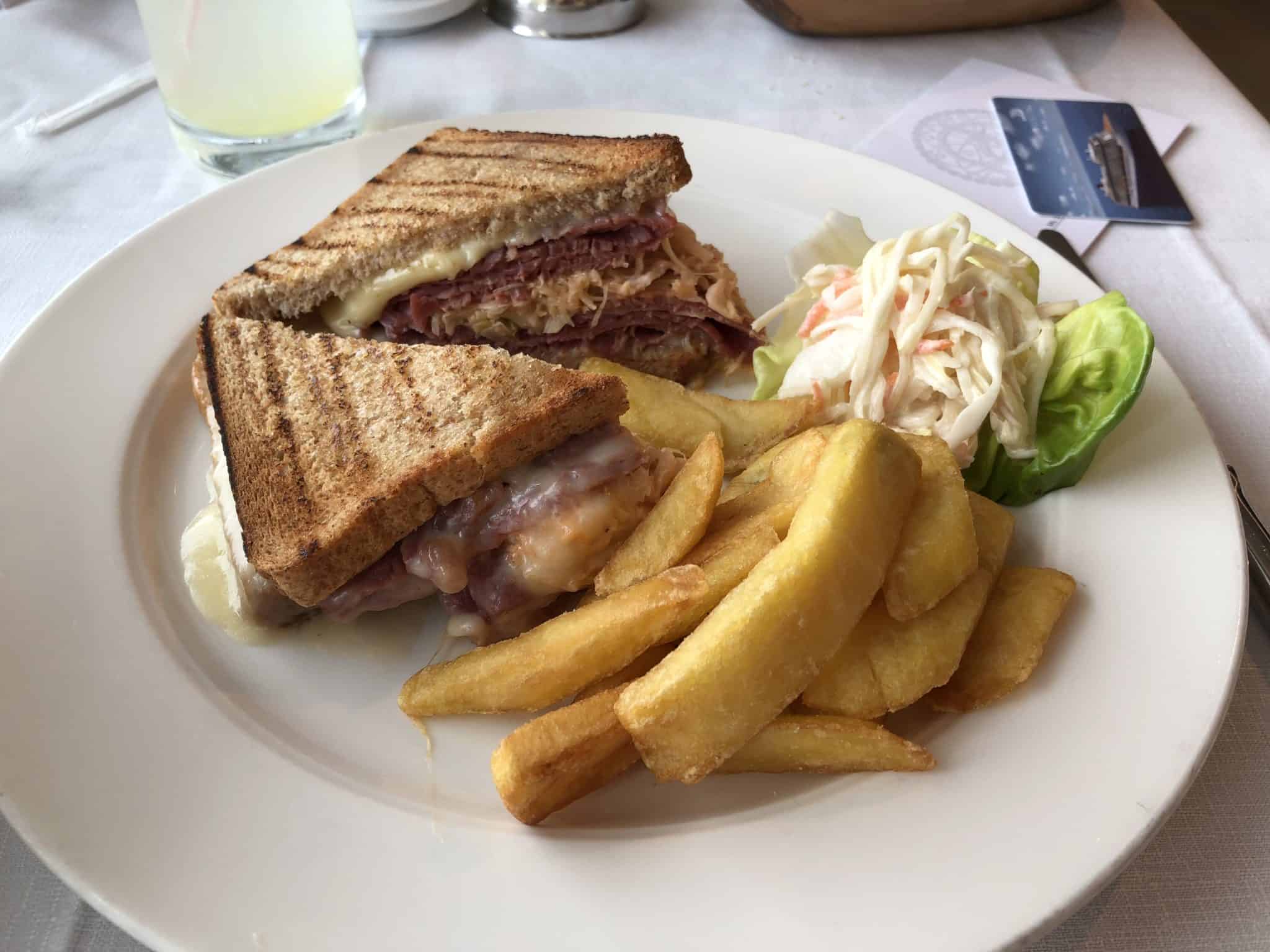 The bartenders that were teaching the class told us that usually there are lots more people, but today there were only three of us. It made for a nice, intimate atmosphere where we sat right at the bar and they could help each of us with the steps they were demonstrating.
We made four drinks in total that collectively used techniques including stirring, muddling, shaking, straining, and layering alcohols on top of each other in a glass. Liquids need to be layered based on which is most dense and has the highest sugar content, because those are the heaviest ones. We layered Kahlua, Bailey's Irish Cream, and Grand Marnier. The other drinks we made were a Manhattan, jalapeño passionfruit martini, and a specially flavored gin and tonic.
We were allowed to just taste them or drink them all entirely if we wanted, but I chose to sip because I had a galley tour immediately afterward and didn't want to be drunk for it! My favorite of our handcrafted cocktails was the jalapeño passionfruit martini.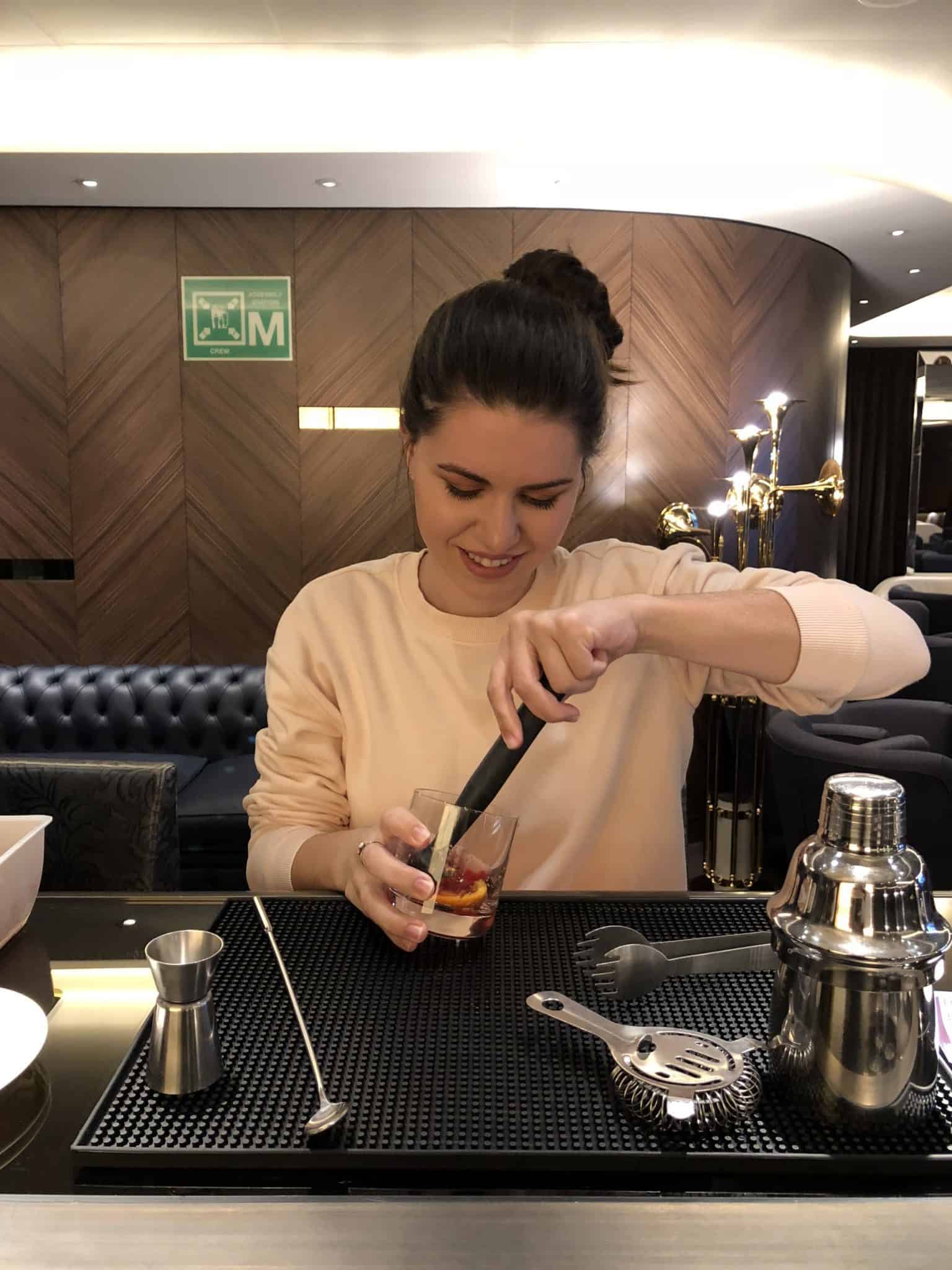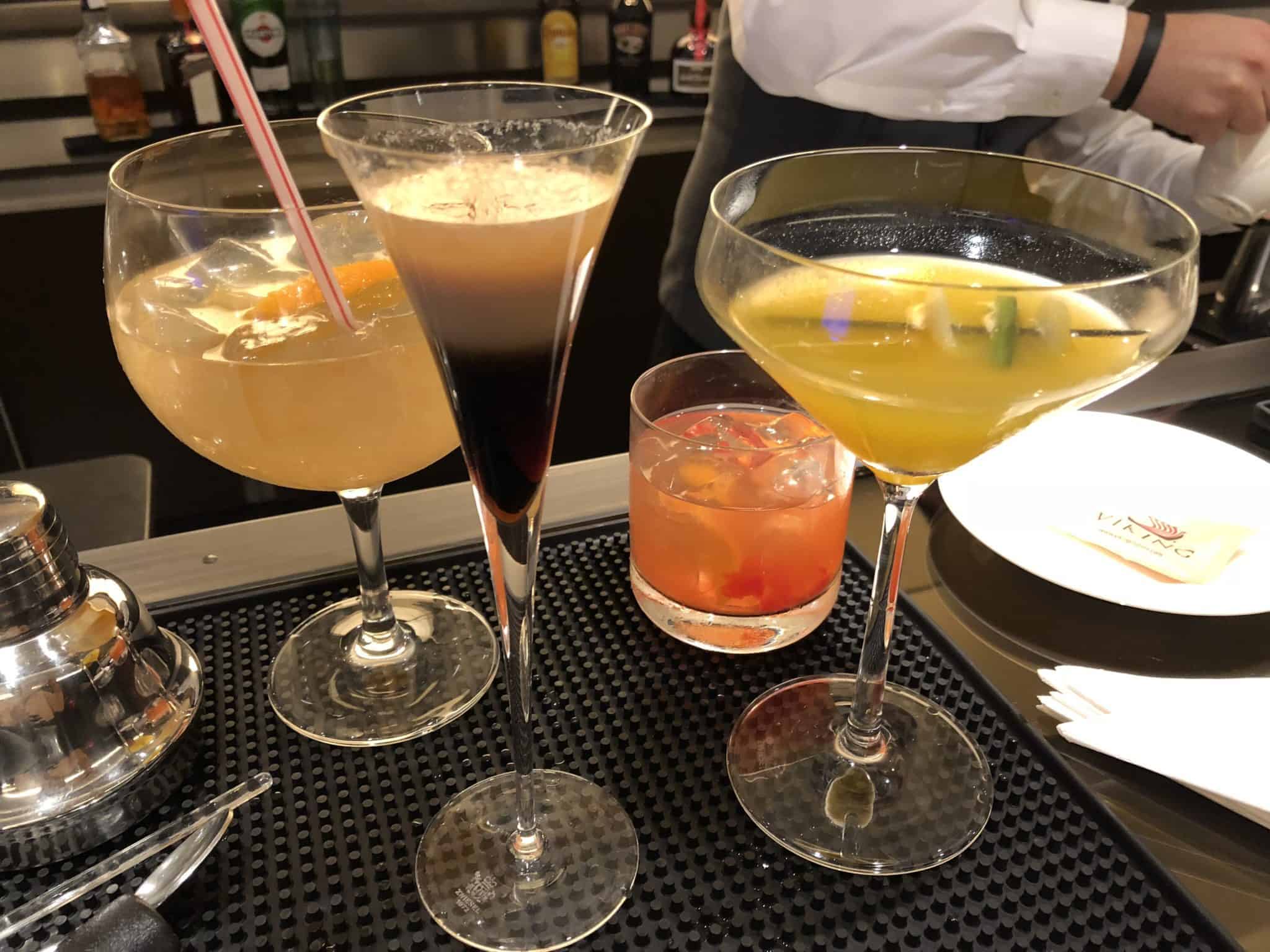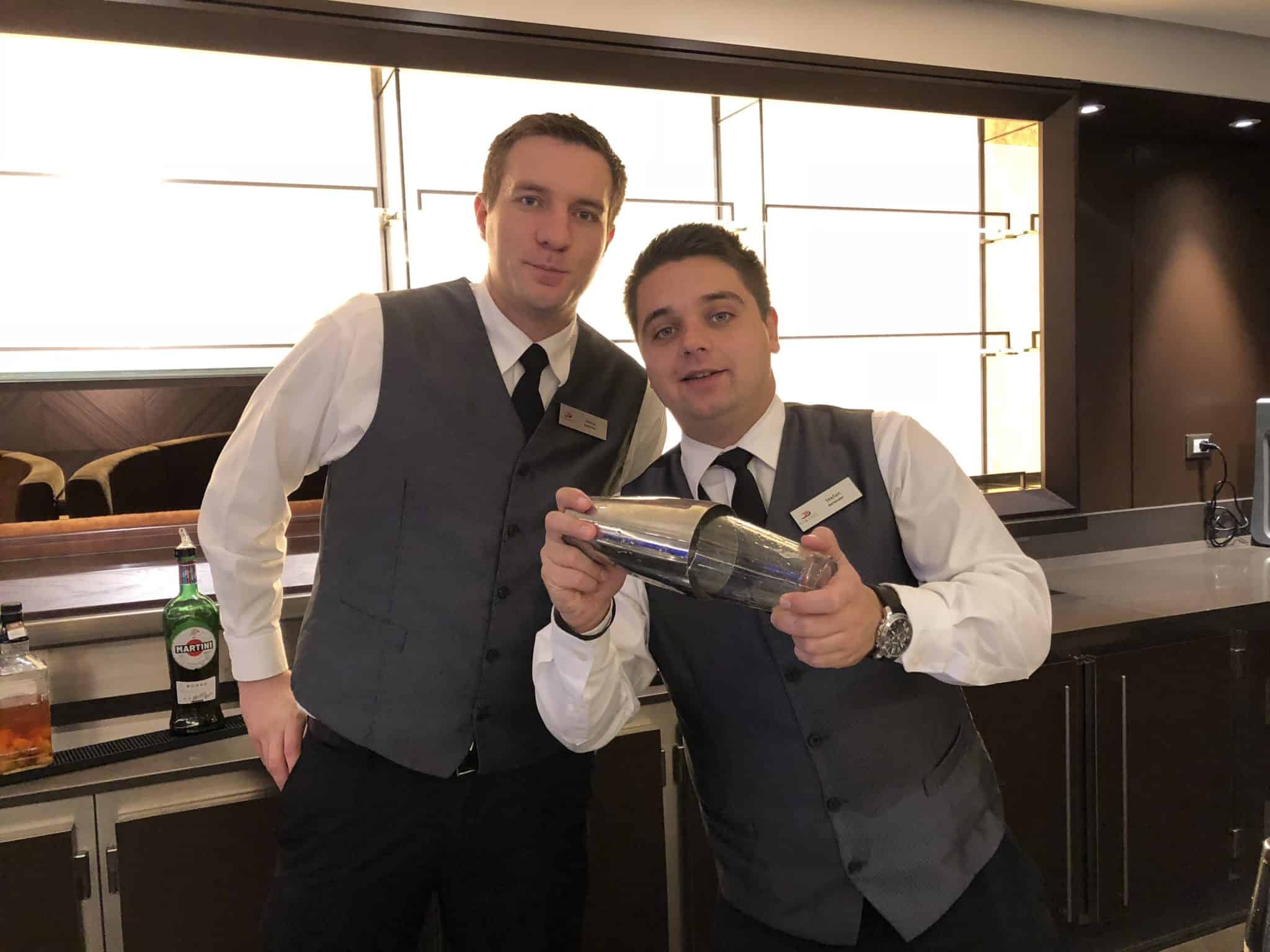 Galley Tour
We took a galley tour early this evening, which I also signed up for ahead of time at guest services. One of the head chefs takes groups of guests around various parts of the main galley on the ship and shows us equipment, workspaces, and some of the technology that makes the lives of cooks and servers a lot easier than it used to be on cruise ships. We also got to see the room where they hold cooking classes, where guests cook an entire meal together and then sit down to enjoy it afterwards. It was a really beautiful space. The tour is only about 30 minutes long and is free, so it's definitely worth taking if you're at all interested in what happens on a ship behind the scenes.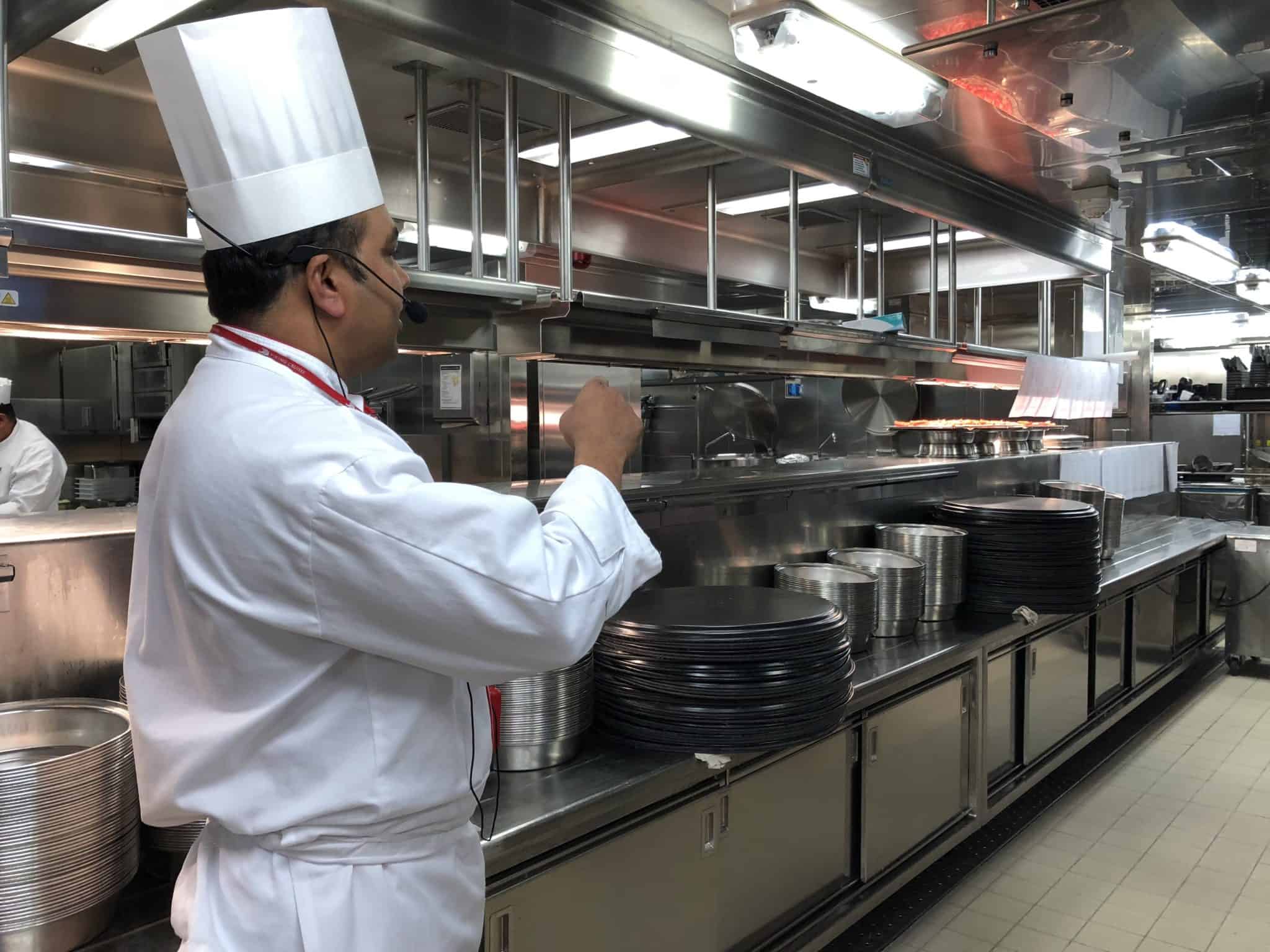 Special Dinner at Manfredi's
Yesterday we received an invitation to dine at Manfredi's tonight with some other guests and journalists with the captain of the ship and the hotel general manager onboard. Of course, we accepted and it was a wonderful meal with great conversation and stories.
Just like in The Restaurant, the table receives bread baskets with a variety of breads and rolls to choose from, and we also got little boards with a variety of pre-appetizer bites to try, including shrimp speared with asparagus, scallops on top of a tiny piece of bread, and what seemed to be a little-fried ball with mushrooms inside.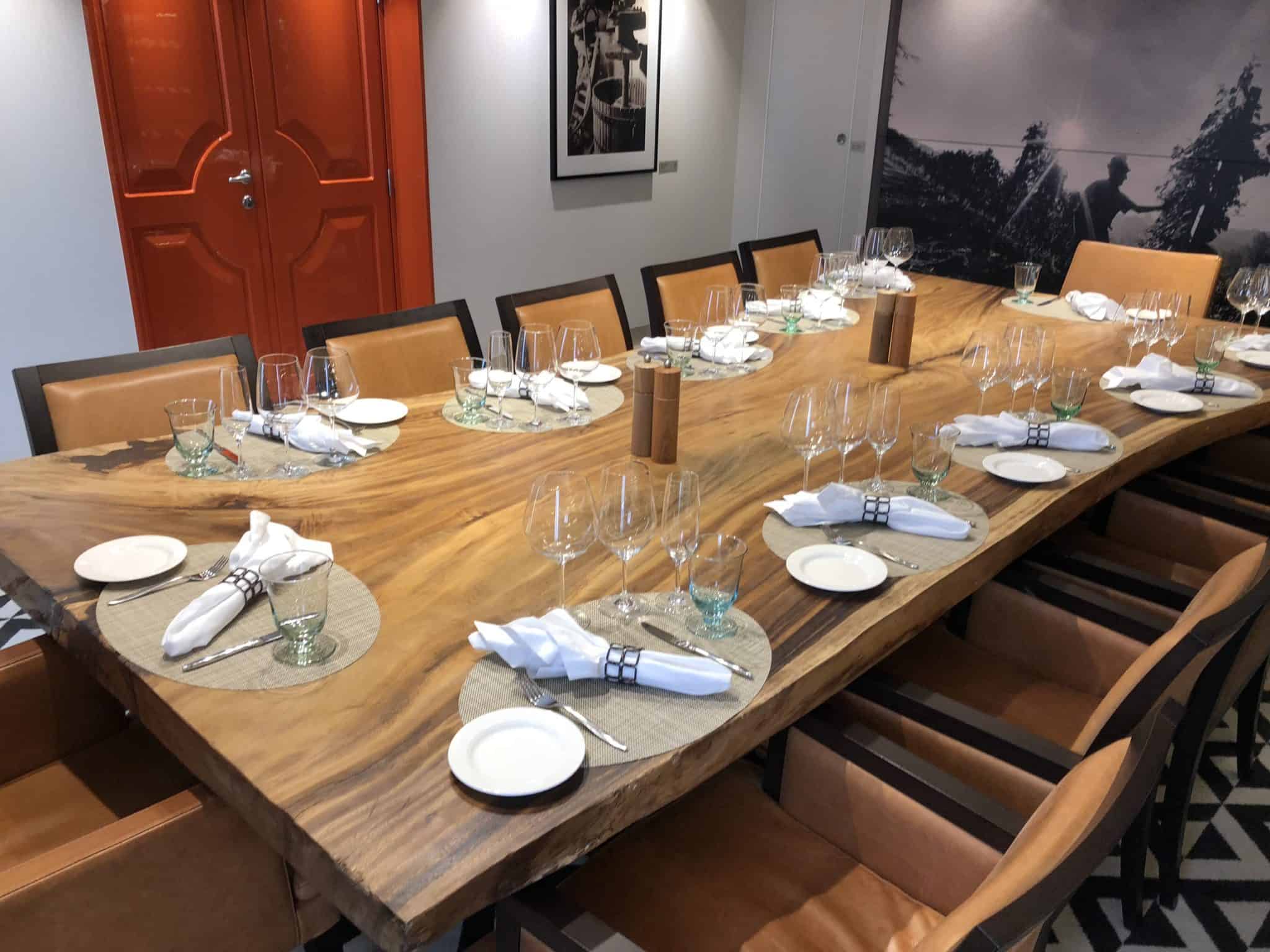 For my appetizer, I got a bean and pasta soup which is apparently very common in Italy. I got the ravioli as my main entrée, and I was very happy with the small portion I received. Often at Italian restaurants on cruise ships (in my experience), they stuff you so full you can hardly walk out when you're finished, which isn't a feeling I enjoy. So this was perfect. Dessert was tiramisu for me of course, and it was served in a bowl instead of like a slice of cake like I'm used to. But it was delicious.
There were ten of us plus the captain and hotel manager, and we lingered for almost three hours over our meal from start to finish. It was such a special experience.
Showtime
We have a special guest performer on the ship for just a few days – The Voice UK finalist Toni Warne. She performed a wonderful show in the Star Theater tonight, singing a variety of songs in a large variety of genres. Some were standalone songs, and some were beautiful medleys, like a medley of tunes from various Broadway shows, and a medley of popular Barbra Streisand songs.
The theater was nearly full and it was a night well spent – she really is an amazing vocalist and it's easy to see why she did so well on the UK's version of the singing competition show The Voice. I don't know it anyone had any idea she was going to be onboard for part of our cruise, but I'm really glad we happened to be on the particular sailing she joined!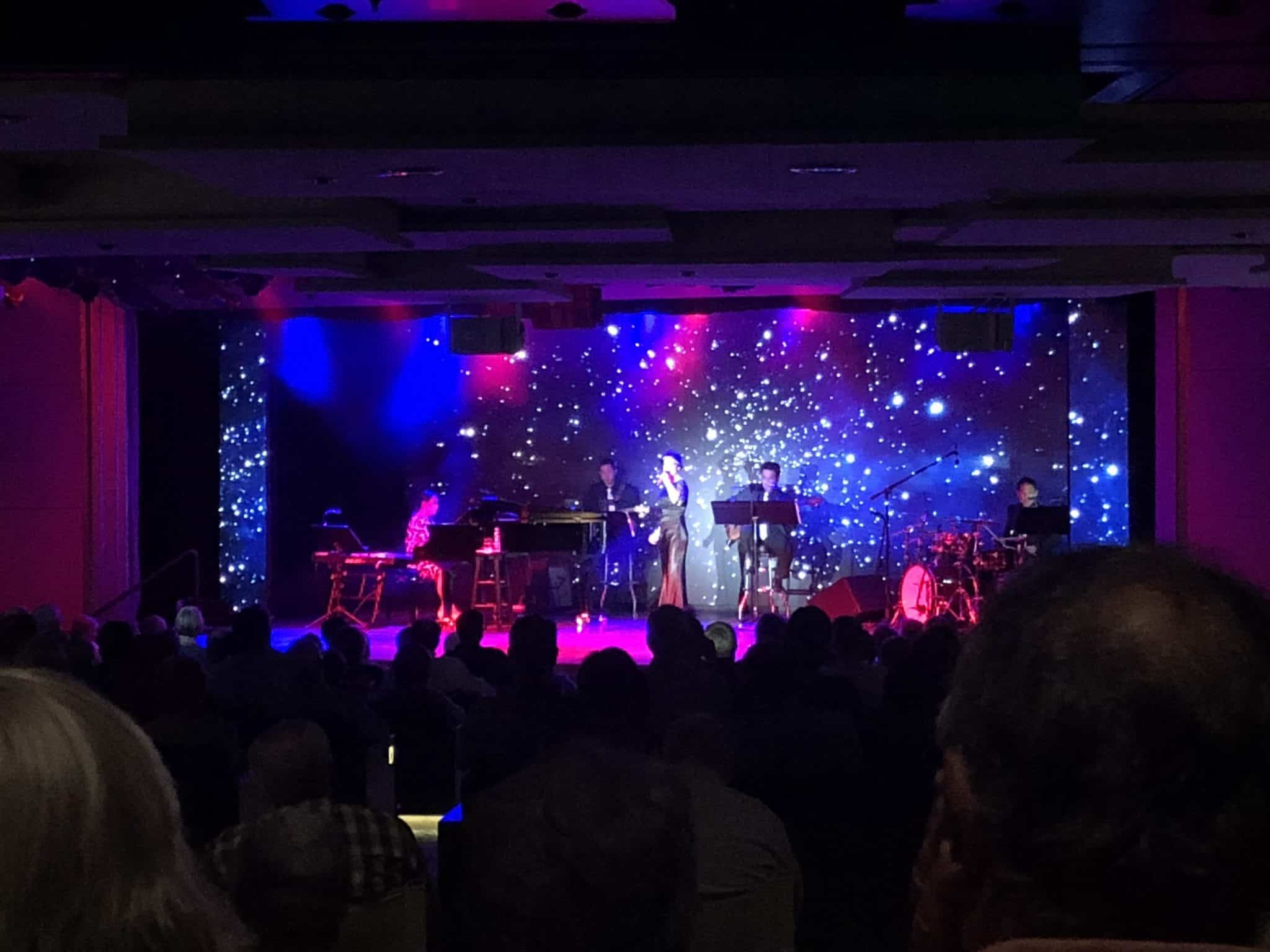 After dinner we went back to our cabin, and actually started to pack our things. I know you're wondering, what is she talking about – the cruise is only halfway over with. Don't worry, we aren't going anywhere. We have had an issue with our cabin shower from the beginning of the cruise, where the water temperature fluctuates severely and guest services strongly encouraged us to switch cabins. They assured us that it would be as easy a transition as possible and that someone would even help us move our things. So after several times of maintenance trying to fix it to no avail, we took them up on their offer. I have nothing but good things to say about guest services and how Viking handles situations in general – they really do accommodate guests and their needs as much as they possibly can. So we are now settled into our new cabin, which is one deck lower than our first cabin and on the other side of the ship. I think we will get used to it quickly.
Now it's time to go to sleep – even though it feels like 9 pm with the light outside, it is really almost 1 am now and we have our first port in Norway in the morning – Lofoten.
Goodnight!
Disclosure: Viking invited me on this cruise. As always, my thoughts and opinions are my own.